After exploring iconic landmarks like the Hagia Sophia and the Blue Mosque, there's no better way to soak up Istanbul's captivating and intriguing East meets West atmosphere than by sipping on a freshly made cocktail hundreds of feet up all wrapped up with a glorious view.
From the super trendy district of Beyoglu to the historical enchantment of Sultanahmet and beyond, there are many incredible rooftop bars in Istanbul that all provide a unique setting for an equally unique city.
Whether you're looking to dive into the best Istanbul nightlife or you're looking for a quiet atmosphere to enjoy classic cocktails, you can find all this and more in Istanbul.
Planning a trip to Istanbul last-minute?
Make sure you book your tours, places to stay, and airport transfers ahead of time to ensure availability!
Here is our recommended airport transfer in Istanbul:
Here are our recommended tours in Istanbul:
Here are our recommended places to stay in Istanbul:
Magnuara Palace Hotel (Gorgeous hotel in the historic centre!)
Cheers Hostel (Budget hostel near the Blue Mosque!)
---
The Best Istanbul Rooftop Bars
Sipping cocktails with an incredible view is one of the best things to do in Istanbul at night. Below you will find some of the best bars that serve up great cocktails, and fine wines, and all come with a stunning view.
1. 16Roof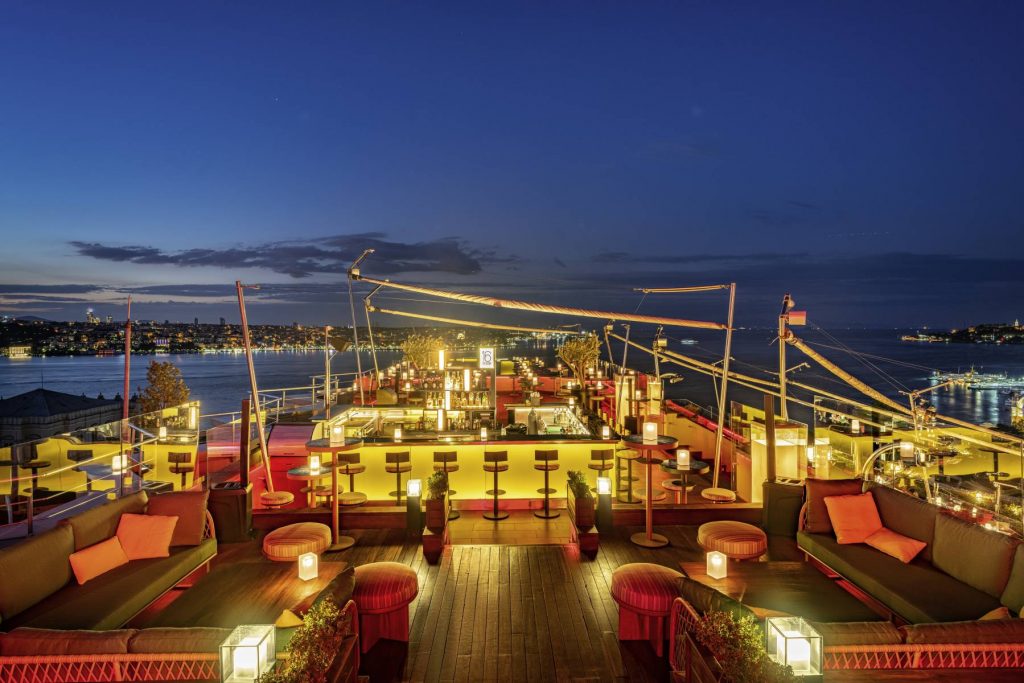 Hours: 5.00pm – 02.00am daily
Address: Visnezade Mah. Acisu Sok. N. 19, 34357 Macka Besiktas
Perched right on top of the beautifully designed five-star Swissotel Bosphorus, 16Roof is the perfect spot to unwind after a hard days exploration, enjoying a refreshing freshly-made cocktail or two with stunning views of the Bosphorus and the Asian side of the city.
Five-star hotels don't come much fancier than this so there's a smart casual dress code in place, but you'll want to scrub up anyway as with a live DJ playing selective lounge beats, it's certainly the place to be 'seen' at.
The bar area is open from 17:00 – 02:00 daily and making a reservation isn't usually necessary, apart from on weekends.
2. 360 Istanbul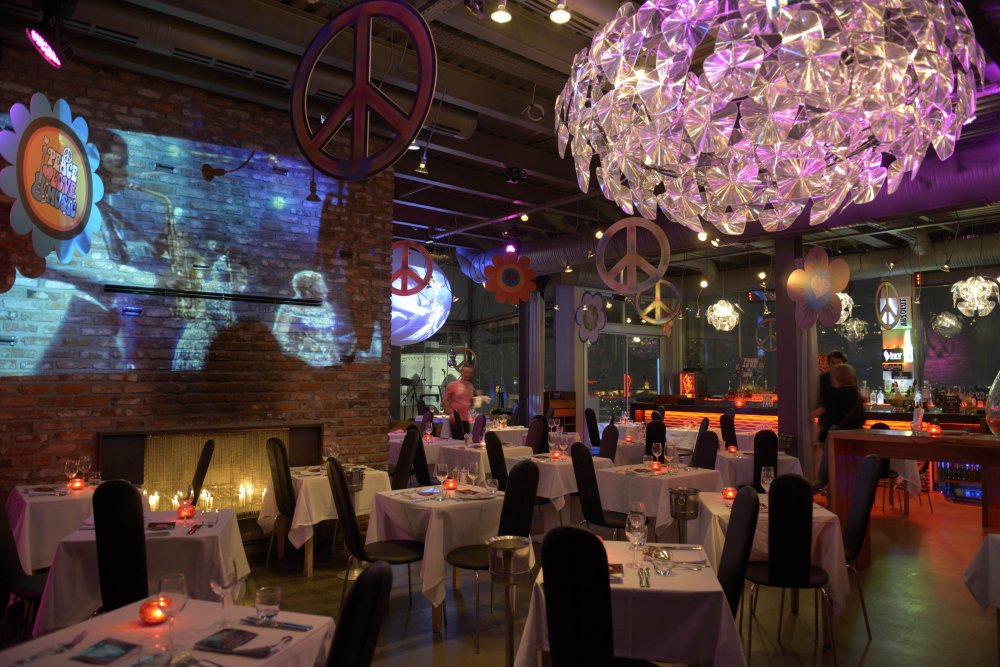 Hours: 12.00pm – 2.00pm Sunday – Thursday, 12.00pm – 4.00am Friday and Saturday
Address: Tomtom Mah. İstiklal Cad. No:163 K: 8, 34433 Beyoğlu/İstanbul
The next rooftop bar on our list is the well-known 360 Istanbul which, unsurprisingly, gives visitors a complete 360-degree panorama of Istanbul's Beyoglu district and beyond.
Once you're seated at one of the many urban chic rounded tables, marvel at some of the city's most famous landmarks with the Galata Tower always in sight, and if you've got a really good pair of eyes you might even be able to spot the Dolmabahce Palace in the distance.
The staff are extremely accommodating here and always make sure you are topped up with one of 360's many signature cocktails, which complements the vibrant atmosphere generated by the live acts and performances daily.
These include live DJs, fire shows, and belly dancers.
3. Mikla Restaurant and Bar
View this post on Instagram

Hours: 6.00pm – 2.00am Monday – Saturday, Closed Sunday
Address: Asmalı Mescit, The Marmara Pera, Meşrutiyet Cd. No:15, 34430 Beyoğlu

If you're looking for a rooftop restaurant bar, then you'll love Mikla Restaurant and Bar.

Coming in at number 86 in the 'World's 100 Best Restaurants' list is Mikla, a stunning contemporary rooftop restaurant and bar on top of the Marmara Pera Hotel serving quite possibly the finest Anatolian cuisine money can buy.

The restaurant has both international dishes and European cuisine, but it's not just the great food menu that is outstanding either, the rooftop bar area is also spectacular with all of the main points of the city in full view.

Mikla's expert mixologists have crafted a unique and completely Turkish cocktail menu allowing you to have creative cocktails and sample flavors you might never have considered before.

Mikla's wine selection is also a complete testament to the quality of produce served here, featuring a host of carefully selected wines from crisp whites to full-bodied reds.

4. The Bank Roof Bar

Photo Credit: The Bank Hotel Roof Bar

Photo Credit: The Bank Hotel Roof Bar

Hours: 12.00pm – 2.00am
Address: Azapkapı, Bankalar Cd. No:5, 34321 Beyoğlu

Located in one of the historical hearts of Istanbul, Karakoy, The Bank Hotel has a wonderfully unique feature up its sleeve.

Head up to the rooftop and you'll find a gorgeously decorated bar area with a fantastic view of Istanbul's Old City as well as the Asian side across the Bosphorus.

You'll be waited on hand and foot by attentive staff, offering a dizzying array of alcoholic beverages, from fine champagne to classic and contemporary cocktails to an impressive selection of whiskeys and wines.

There's even a range of homemade Turkish drinks, including soft drinks like a tangy and refreshing lemonade or freshly made Turkish Tea.

The Bank Roof Bar is one of the best rooftop bars in Istanbul and the perfect destination for a quick drink, and delicious food at any time of day, though I'd suggest heading up for sunset when the atmosphere starts to build with some unforgettable rooftop views over the city.

5. Snog Roof Bar

View this post on Instagram

Hours: 3.00pm – 3.00am daily
Address: Şahkulu, Galip Dede Cd. No:56 Kat:4, 34421 Beyoğlu

For rooftop venues that are a little more easygoing, Snog Roof Bar is an excellent choice that's just around the corner from one of Istanbul's most famous and well-visited sights – the Galata Tower.

On street level, keep an eye out for it because the entrance is very unassuming – after walking through a small corridor, catch an elevator up to the top, opening out into a gloomy, modern affair with a buzzing atmosphere.

The view from the terrace is wonderful with the Bosphorus, Hagia Sophia, and the Golden Horn in sight, and its proximity to the Galata Tower means it's probably the best place in the entire city to get a good picture of the tower itself.

The drinks themselves are quite pricey but the view of the Galata Tower more than makes up for it.

Read more: Best Coffee Shops and Cafes in Istanbul

6. Buyuk Londra Hotel's Terrace Bar

Photo Credit: Buyuk Londra Hotel's Terrace Bar

Hours: 3.00pm – 12.00am daily
Address: Asmalı Mescit, Meşrutiyet Cd. No:53, 34430 Beyoğlu

Situated in a building that dates back to 1892, The Grand Hotel de Londres has been standing proudly as one of Istanbul's oldest and most revered hotels.

Following a series of renovations, the hotel has kept its classical décor, which mimics the famous "Orient Express" train.

The result is a magnificent showcase of early 1900s design which you'll see throughout the hotel, even on the rooftop which is a spectacular place to spend some time, just like the famous American novelist Ernest Hemingway might have done on his visit to the hotel in 1922.

After strolling through the charming lobby crammed full of tasteful antiques, a small elevator will take you up to the rooftop bars where you'll find gorgeous panoramic views of the Golden Horn and Istanbul's Old Quarter.

If you're looking for a chic and cozy rooftop bar with a great atmosphere, a trip here is a must.

7. The Roof at the Ritz-Carlton

Photo Credit: The Roof Brasserie Ritz Carlton

Hours: 9.00am – 11.00pm in the summer months, and during the winter from 3.00pm – 11.00pm
Address: Suzer Plaza Askerocagi Caddessi, Elmadağ Cd. No:6, 34367 Şişli

The Ritz-Carlton brand is the epitome of luxury when it comes to hotels, and the facilities in Istanbul's offering are nothing short of exquisite.

It opened in 2021 and is located on the top floor, The Roof is a spotless environment to see out the day with a modern and sleek bar with panoramic views that sweep across the Bosphorus and Istanbul's skyline.

Like much of the décor within the Ritz-Carlton, its elegance shouldn't be understated, with fabric umbrellas and matching furniture, it's a place that you genuinely won't want to leave.

Take a dip in the elongated infinity pool and then chill out on the soft sofas sipping on a carefully crafted cocktail or two, an evening here will live long in the memory.

Whilst there's plenty of seating, a reservation is highly recommended.

8. Summit Bar & Terrace

View this post on Instagram

Hours: 10.00am – 2.00am daily
Address: Cihannüma Mahallesi Saray Caddesi No:5, 14th Floor, 34353 Beşiktaş

Only a short 15-minute stroll from the Dolmabahce Palace, the spacious and elegant Summit Bar & Terrace offers lucky guests the finest cocktails, stunning panoramic views, and vibrant evenings filled with energetic live performances.

Situated on the 14th floor of the stylish Conrad Istanbul Bosphorus Hotel, a visit to one of the best bars in Istanbul is always welcome as the modern interior and sunset-facing Bosphorus view make for the perfect setting for after-work drinks or a cocktail night to impress.

An electric mix of resident DJs and live musical performances combine to bring guests a lively, energetic atmosphere of locals and tourists together enjoying the unique ambiance of Summit.

9. Alexandra Cocktail Bar

View this post on Instagram

Hours: 2.00pm – 2.00am daily
Address: Arnavutköy, Bebek Arnavutköy Cd No:50, 34345 Beşiktaş

Arguably one of the lesser-known rooftop bars on the list, Alexandra Cocktail Bar is a cozy little hideaway located in the Arnavutkoy neighborhood of Istanbul which is super easy to reach if you're in Ortakoy or Besiktas.

It's an incredibly popular spot that only gets busier on the weekends, where you'll always find a mix of locals spending some precious time with friends and family over a cocktail, and tourists enjoying the views across the Bosphorus, also with a cocktail!

Alexandra prides itself on having a lively atmosphere, and with the variety of different floors in the bar each playing their own genre of music, there's surely something for everyone.

It's open during the week from 15:00 – 01:30 and on Friday & Saturday until 03:00 so you can party the night away.

10. A'YA Rooftop Lounge (Süreyya Teras Lounge)

Photo Credit: A'YA Rooftop Lounge

Hours: 3.00pm – 11.30pm daily
Address: Cankurtaran, Tevkifhane Sk. No:1, 34110 Sultanahmet-Eminönü, Fatih

For the last of our rooftop bars, we're taking the elevator up to the top floor of the Four Seasons Hotel Istanbul at Sultanahmet for what is probably the best view of Istanbul's piece de resistance, the Hagia Sophia.

Once you arrive open-air terrace on the top floor, you'll be greeted with moody, dim lighting which immediately creates a sophisticated and alluring impression as well as allowing the imposing structure that is the Hagia Sophia to take center stage.

Kick back and relax on the comfy traditional Turkish furniture, cocktail, or whiskey in hand, and just admire the view because it's something seriously special.

With live music on Wednesday and Thursday too and drink delicious cocktails, the A'YA Rooftop Lounge is undoubtedly one of the best night-time spots in the city.

---

Map Of The Best Rooftop Bars in Istanbul

To help you plan which bar to visit, here is a map of the above rooftop bars so you can plan where to visit.

---

Final Thoughts on The Best Rooftop Bars in Istanbul

One of the best ways to end a day of exploring on any trip to Istanbul is to sit in a hidden gem bar, taking in breathtaking views under the night sky whilst sipping on refreshing drinks.

Whether you're trying to impress a date, having a night out with friends, or just fancying a drink or two with a view, when it comes to the best rooftop bars in Istanbul, you'll find plenty to choose from.

I hope this list gave you some inspiration for bars in Istanbul with a rooftop. If you need more inspiration, check out our list of rooftop restaurants in Istanbul with a view.