For many years, travelers have been flocking to the Bodrum Peninsula for some sun-loving time at the beach. The peninsula is unique for it connects to two seas – the South is connected to the warm waters of the Mediterranean Ocean and the North and West connect to the glistening Aegean Sea.
For a beach vacation in Turkey, Bodrum is a hot spot for both locals and overseas tourists. Bodrum beaches are perfect for every type of traveler, from families looking for protected bays with gentle waves, to adventure travelers looking for seclusion. If you're into watersports, there's a beach in Bodrum for you, too.
But if it's your first time visiting the area and you're not sure which is the best beach in Bodrum for you and your travel party, then don't worry, because this guide will help you out.
I've listed all the best beaches in Bodrum in order of who they are most suited for, from families to watersport enthusiasts to adventurers. Go take a look…
---
Best Beaches in Bodrum for Families
Since many of Bodrum's annual visitors are family vacationers, we'll begin with our most family-friendly Bodrum beaches.
1. Bitez Beach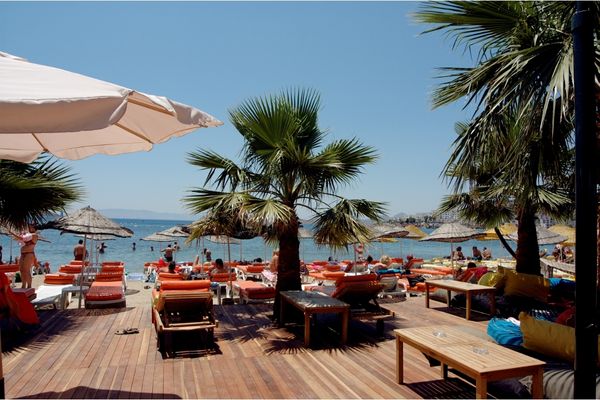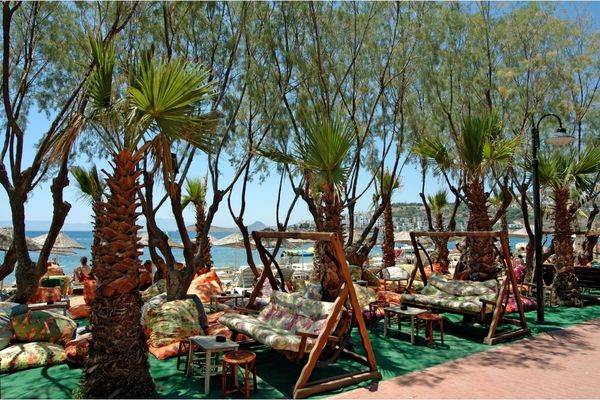 Location: 8km from Bodrum
Bitez Beach is one of the most popular beaches in Bodrum for families because it's in a sheltered position. The horseshoe-shaped bay protects the water from getting too rough, which makes it calm and gentle for swimming. The shoreline also gradually deepens rather than shelves off, which means that it's safe for small children to paddle on the edge.
While the beach isn't sandy per se, it's more a soft shingle, it's still very clean and gentle on the toes. In fact, it's one of the many Blue Flag beaches in Bodrum (an award given to the cleanest beaches in Turkey).
The water isn't so clear here because of the disturbance of the sand making the water a little misty, but it's still clean and refreshing. You won't find much fish here, so it's not ideal for those who like to snorkel.
You'll find plenty of facilities around you from restaurants to hotels, to showers and changing rooms. You can also find sun loungers (if you get there early enough) which are owned by the hotels. Some hotels let you use them if you buy a drink, others ask you to pay to rent them. It's best to scout around and check out prices.
You can also book boat tours and watersports such as parasailing from the shore.
2. Icmeler Beach
Location: 3.8km from Bodrum
Icmeler Beach is another great option for families. It's a small beach with a pebbly shingle terrain. The beach has stunning views of the vibrant green hills across the bay, a stunning contrast to the mesmerizing blue waters of the Mediterranean Ocean.
It's also located in a bay which means it's sheltered from the wind, though it is said the wind picks up later in the day after 3pm here.
The shoreline gradually deepens which is great for little ones who like to paddle in the water. You'll also see a safety nets to protect swimmers, but you won't find much fish if you like snorkeling.
You can find many straw umbrellas to give you shade from the sun, and there are plenty of restaurants nearby where you can fill up on some delicious Turkish and International cuisine.
There's a cabin and shower that visitors can use, but there is only one because the beach is small. If you're planning to drive, be mindful that parking is not easy around this area. It's also only a 20-minute walk from the main beach in Bodrum.
3. Bodrum Beach
For families not wanting to travel far for the beach, then Bodrum Beach is the best option. It's a well-maintained beach with ample facilities, such as showers, changing rooms and toilets.
There are plenty of sun loungers and straw umbrellas for visitors to use, though you may need to pay a small fee. There are a lot of restaurants and bars nearby where you can get refreshments and snacks.
The beach is shingly but it gradually slopes, making it a great beach for paddling. There are many boats in the water behind the swimming net and sometimes cruise ships park off the shore too.
The beach is in a horseshoe shape, which offers protection from the big waves. It's a great place for families with small kids, though it can get crowded in the summer because of its convenient location in the town.
Read More: Best Beach Resorts In Turkey You Can't Miss!
4. Kumbahçe Sahili Beach
Another great blue flag beach in Bodrum Town is Kumbahçe Sahili beach. It's a small beach next to Bodrum Beach, so you'll find it easily.
However away from the boats is a nice bay for swimming. It's sheltered from the wind and the waves are gentle. Like other beaches in Bodrum, it has a shingle terrain that can be hard underfoot, so make sure to bring water shoes or flip-flops.
The shoreline gradually slopes into the ocean so little ones can paddle on the edge without frightening mom and dad.
There are lots of umbrellas and sun loungers, and even restaurants that serve dinner al fresco on the beach. It's a stunning spot for sunset since it faces West.
One thing that it lacks is facilities like changing rooms and showers, but since it's in the city center you can most likely walk here from your hotel if you're staying in Bodrum.
5. Bodrum Yalı Çiftlik Halk Beach
Location: 13.7km south of Bodrum
If you're looking to venture out of the city, then Bodrum Yalı Çiftlik Halk Beach is a great option. It's a big bigger than the other beaches I've mentioned for families above, and so it's less sheltered from the wind.
The waves are still quite gentle though and there is a swimming net to protect swimmers. The shoreline is gradual for a bit and then shelves, so it's still safe for paddling but you will need to keep an eye on your children if they are not confident swimmers.
The beach is shingle like most beaches in Bodrum, but the pebbles are small so they don't hurt your feet. There are umbrellas and sun loungers, as well as a changing cabin and showers.
If you like snorkeling, you water is clean and clear which means you can find small fish here if you take a mask and swim a little further away from the shore (though still inside the safety net).
There are some cafes and shaded areas with trees, so you can escape somewhere to cool off when the sun gets too strong.
---
Best Beaches in Bodrum for Watersports
Another good reason to visit Bodrum is for watersports. The peninsula is all about the water, and since it juts out into the ocean, those looking for surfing, kite surfing, and parasailing will be able to find great places to do that from Bodrum beaches.
One of the best times to visit Bodrum for watersports is July when the temperatures are warm and the wind picks up.
6. Camel Beach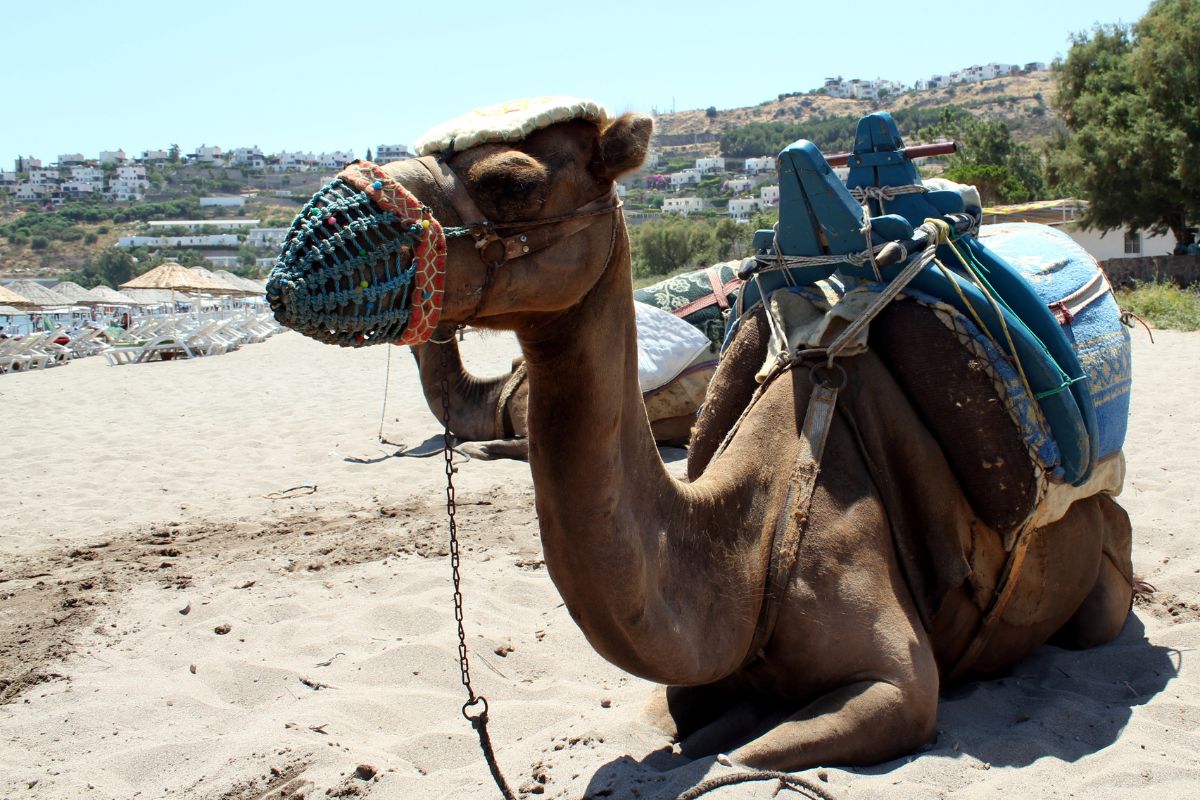 Location: 13.2km west of Bodrum
Camel Beach is one of the nicest beaches on the peninsula. It has crystal clear water and is one of the few sandy beaches in Bodrum. It's named Camel Beach because there are some camels who live here.
You will find plenty of sun loungers and umbrellas which belong to the bars and restaurants behind them. You can usually get a sunlounger for free if you purchase a drink, but each restaurant has its own terms.
The shoreline is shallow and gradually shelves, making the beach a safe place for families, but outside the bay is where the real action is.
From Camel Beach, you can take a boat out to a private island where you can kiteboard and windsurf. You can get one-on-one lessons with Kiteboard Bodrum if you don't know how to do it.
You'll also find a few people boating out here, but not so many that it feels dangerous to be windsurfing.
7. Gümbet Beach
If you don't want to go too far from Bodrum City center, then Gumet Beach is a good choice. It's a clean, sandy blue flag beach with lots of facilities and water sports.
From the shore, you can rent peddle boats and kayaks, as well as lots of boat tours departing from here. If you're visiting Bodrum for nightlife, you'll find plenty of beach bars here with DJs and live music.
Since it's close to the city center, it's quite busy, but for those looking to get out on the water it's the closest beach to the city that offers this facility.
8. Karaincir Halk Beach
Location: 21.4km west of Bodrum
Another great sandy beach in Bodrum that's excellent for watersports is Karaincir Halk Beach. The beach is located on the Western shore of the peninsula, which means once you leave the shelter of the bay the wind gets stronger, which is ideal for kitesurfing.
There's also a pier where you can get boat tours.
The beach itself is well maintained and has all the facilities you need including showers, changing rooms and toilets. There are also a few restaurants and bars where you can get refreshments.
There's free parking at the beach, but you will need to pay to use the sun loungers and umbrellas.
The water is clean and clear with gentle waves from the shore, ideal for swimming and paddling.
---
Most Beautiful Beaches in Bodrum
For those who are just looking for stunning settings and jaw-dropping nature, then you're going to want to check out some of these beautiful beaches in Bodrum.
9. Ortakent Beach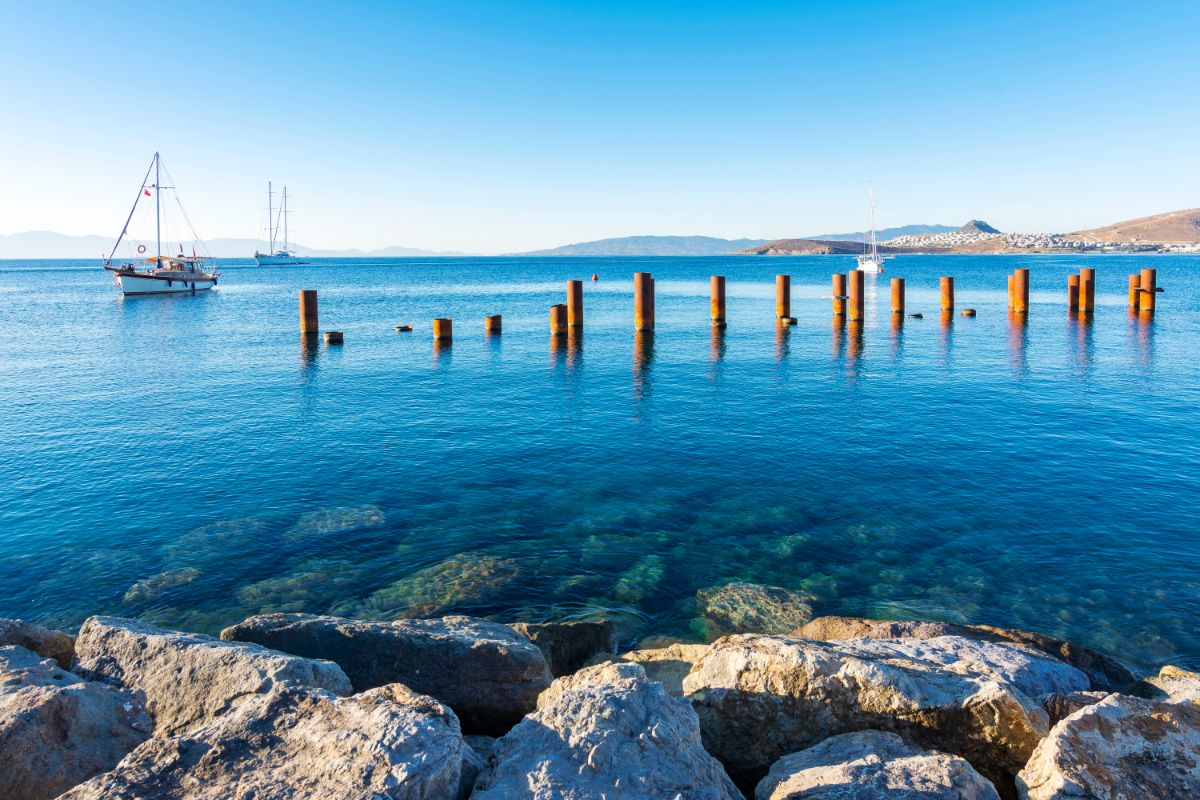 Location: 11.5km west of Bodrum
Ortakent Beach is a soft sand beach outside the city of Bodrum. It's a blue flag beach, which is the award given to the nicest beaches in Turkey. These are beaches that have been accredited by the Foundation for Environmental Education (FEE) (you'll find many of these blue flag beaches in Antalya).
The water is clean and clear, and there are all the facilities you would need such as showers and changing rooms. The water here is a stunning turquoise color, which is typical for beaches on the Mediterranean.
What makes this beach so stunning is its position. Since it faces west, it's ideally located for stunning sunsets.
10. Yalıkavak Halk Beach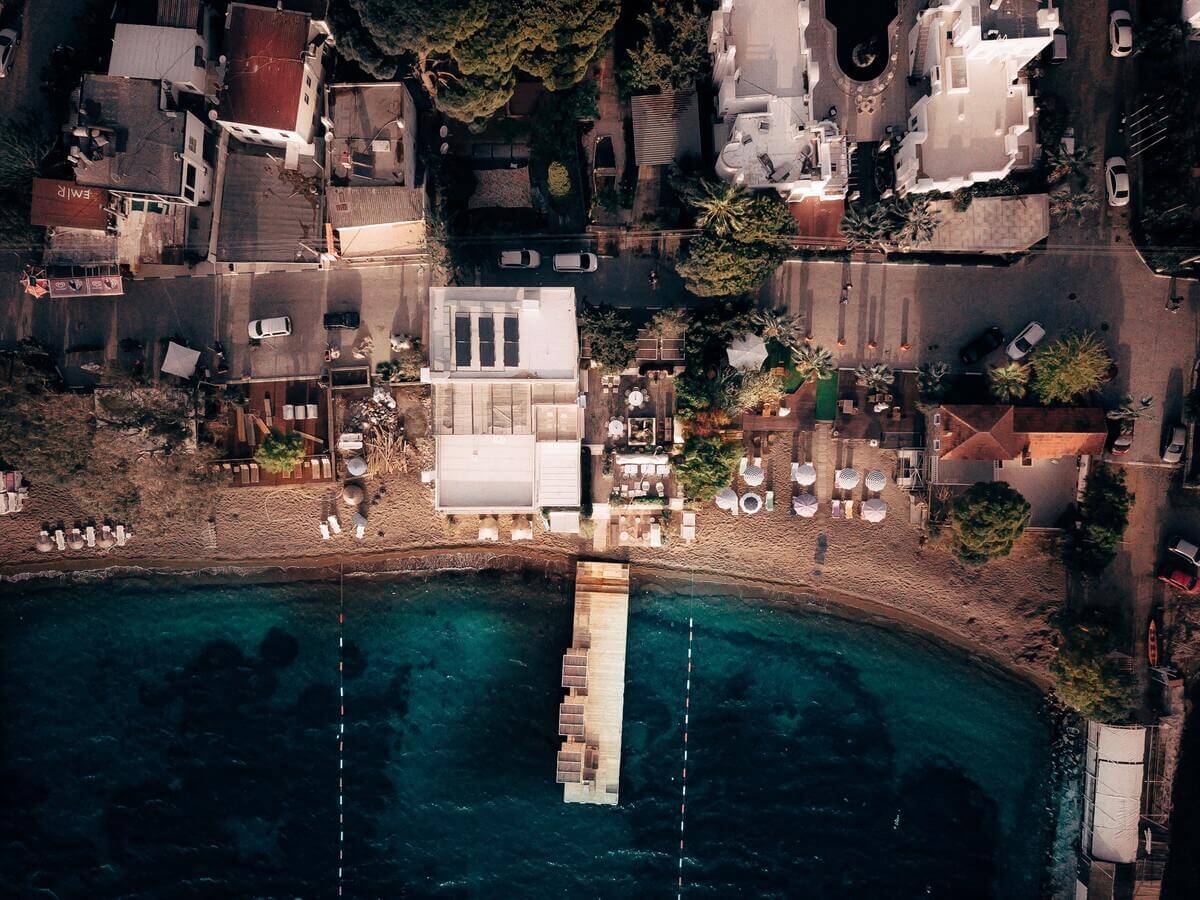 Location: 20.7km north of Bodrum
What makes Yalikavak Halk beach so beautiful is how calm it is. It's located on the Northern side of the peninsula which is relatively quiet compared to the South where Bodrum City is.
It's a small beach that's quite narrow, but you'll still find all the usual facilities here such as sun loungers, bathrooms and parking.
The waves are gentle and the water is clean and clear, perfect for swimming. You'll find a few restaurants and hotels in the area, and it's not too far away from downtown Yalikavak where there are more places to eat.
If you're looking for a quieter beach, this is a good option.
11. Aspat Beach
Location: 21km west of Bodrum
Aspat Beach is quite a popular beach in Bodrum and attracts many visitors – and for good reason. This palm tree lined sandy beach feels tropical, and the rocky hills around it make the setting stunning.
This beach is unique to the others in that it has a green space behind the beach where you can find loungers and umbrellas. Though the beach itself is lovely, this green area helps to keep the sand off your belongings.
Since it's located on the South of the peninsula you'll find turquoise Mediterranean waters that are clean and clear. The water on the shore is shallow, but it quickly dips off into a deeper pool, so keep an eye on your kids.
The beach is quite stoney so you'll want to bring some sandals or water shoes.
12. Turkbuku Beach
Location: 18.5km north of Bodrum.
Though it's a small beach, Turkbuku is one of the most beautiful beaches in Bodrum because of how clean and clear the water is. It's a bright turquoise color, and since it's in a bay, it's surrounded by lush green hills.
There isn't much in the way of facilities, as most of the beach is occupied by hotels and beach bars, but there are plenty of restaurants here if you want to get refreshments. Many of the hotels and restaurants allow you to rent their loungers and umbrellas.
The water is great for swimming, and since it's in a bay there are pretty much no waves.
13. Gümüşlük Limanı Beach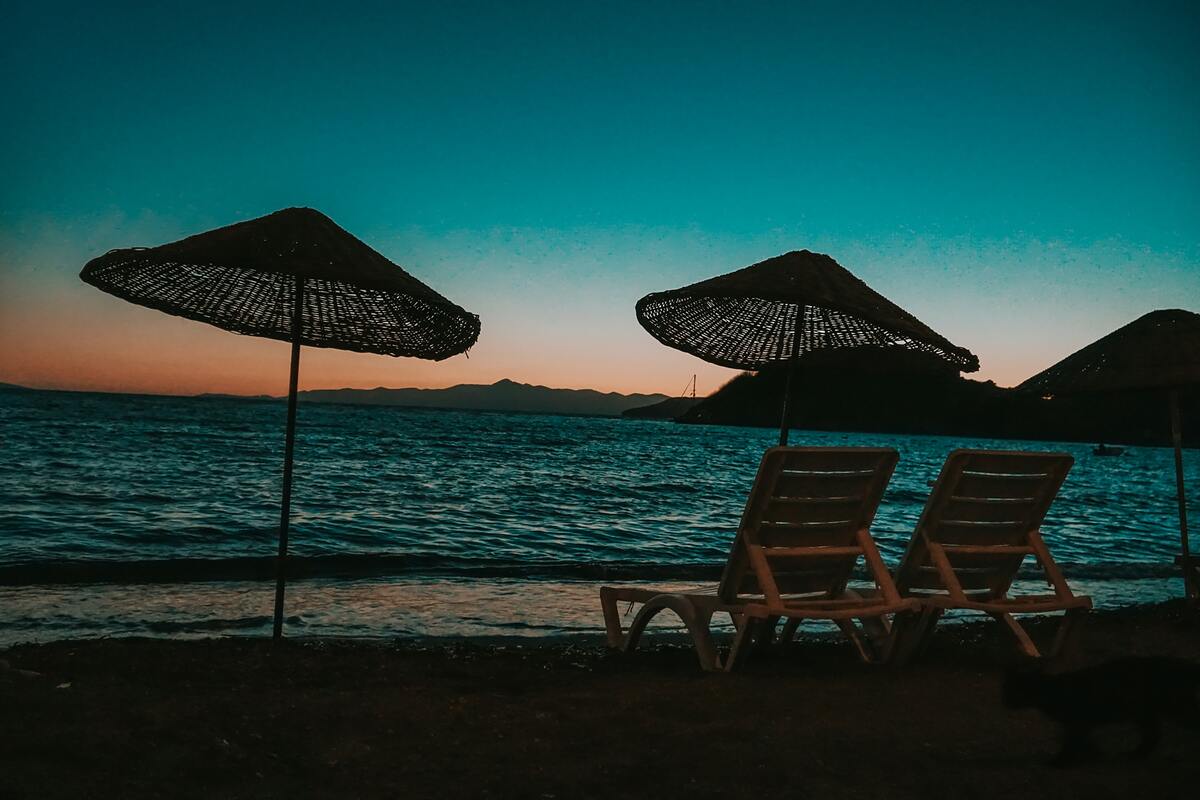 Location: 24.4km west of Bodrum.
This is another one of the best blue flag beaches in Bodrum. It's a very small beach that's mostly used as a bay for boat owners to keep their boats.
What makes this beach beautiful is the restaurants and boutique shops that lie on the edge of it, which have traditional architecture and bright, colorful plants and fauna. It adds an air of calmness to the place and it feels like you can truly relax here.
Since the beach faces west, it's a great place to watch the sunset whilst dipping your toes in the ocean. Many restaurants even have their tables and chairs in the shoreline, so you can dip your toes while you eat.
The bay is shallow and the waves are gentle, which makes it a great beach for families visiting Bodrum.
---
Best Secluded Beaches in Bodrum
If you're coming to Bodrum for that wow-factor vacation, then you're going to love these secluded Bodrum beaches. Some of these are only accessible by boat tour, so you know they are stunning if you have to take a boat there.
14. Black Island Beach
Location: available as a boat tour from Bodrum.
Since Bodrum is a popular area for beach vacationers, if you want seclusion you're going to need to travel far for it. However, Black Island's crystal clear bays are definitely worth the trip.
Located 4 miles off the coast of Bodrum, Black Island, or Kara Ada, is most famous for Meteor Bay, named because a meteor crashed here many years ago. Other stunning bays on the island are Aquarius Bay, Red Bay, and Rabbit Bay. You'll even find a hot spring cave that produces mineral-rich mud, that's supposed to help cure skin conditions.
The water around the island is so blue and inviting, that you'll find it difficult to say no. Since it's only boat trips that go to this island, you'll find very few people so you can enjoy the tranquility of the place without the crowds.
If you'd like to read more about islands in Turkey, click here to read our complete guide.
15. Orak Island Bay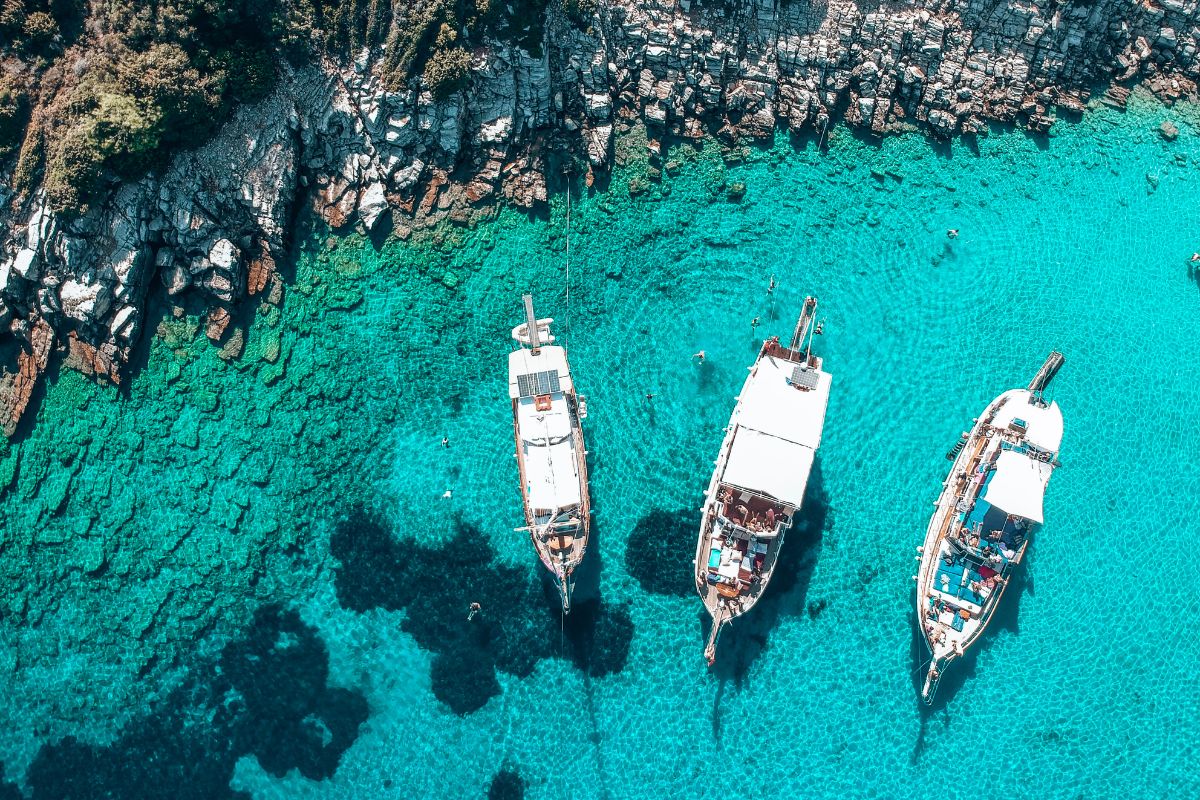 Location: accessible via boat tour from Bodrum
Another stunning island off the coast of Bodrum is Orak Island. The island is home to Rabbit Nose National Park and German Bay, which are known for their turquoise blue waters and unspoiled natural beauty.
Orak Island Bay is the most stunning bay on the island, which has white sand beaches and is a great place to snorkel or swim. The water here is so clear and blue that you'll feel like someone just photoshopped the Earth.
---
Map of Bodrum's Beaches
---
FAQs About Bodrum Beaches
Here's what people usually ask us about beaches in Bodrum…
Does Bodrum have good beaches?
Yes, Bodrum has beautiful beaches that attract visitors all year round. The South of the peninsula connects to the Mediterranean, while the West and North connect to the Aegean Sea. Both are known for their crystal clear, blue waters.
Does Bodrum have sandy beaches?
A few beaches in Bodrum are sandy, such as Karaincer Halk Beach, Gumbet Beach, and Camel Beach. However, most of Bodrum's beaches are shingle beaches.
Can you swim in Bodrum?
Yes, you can swim in Bodrum. The sea temperature is quite warm all year round.
---
Before You Go
So there you have it, those are the best beaches in Bodrum for every type of traveler. As you can see, there is no shortage of stunning beaches to choose from, but each beach offers something a little bit different.
We hope this guide helped you decide which of Bodrum's beaches were best for you and your travel party. If you have any questions, let us know in the comments.
Disclaimer: Some of the links above are affiliate links. That means if you book or make a purchase through the links, we will earn a small commission at no extra cost to you! The money will help run this site! Thank you!