If you are looking for a tropical vacation in Turkey, there is no better place to be than the incredible beaches in Antalya. This southern Mediterranean region of Turkey is nicknamed the Turquoise Coast, hugely due to its clear turquoise waters and long stretches of sandy beaches. This region has the highest concentration of blue-flag beaches in the country, a total of 213.
Visitors will find plenty of water sports on Antalya's beaches, as well as some of the most luxurious beach resorts in Turkey that are incredible and fun!
For that reason, we have decided to write this guide on the best beaches in Antalya and share with you some of our favorite attractions in Antalya!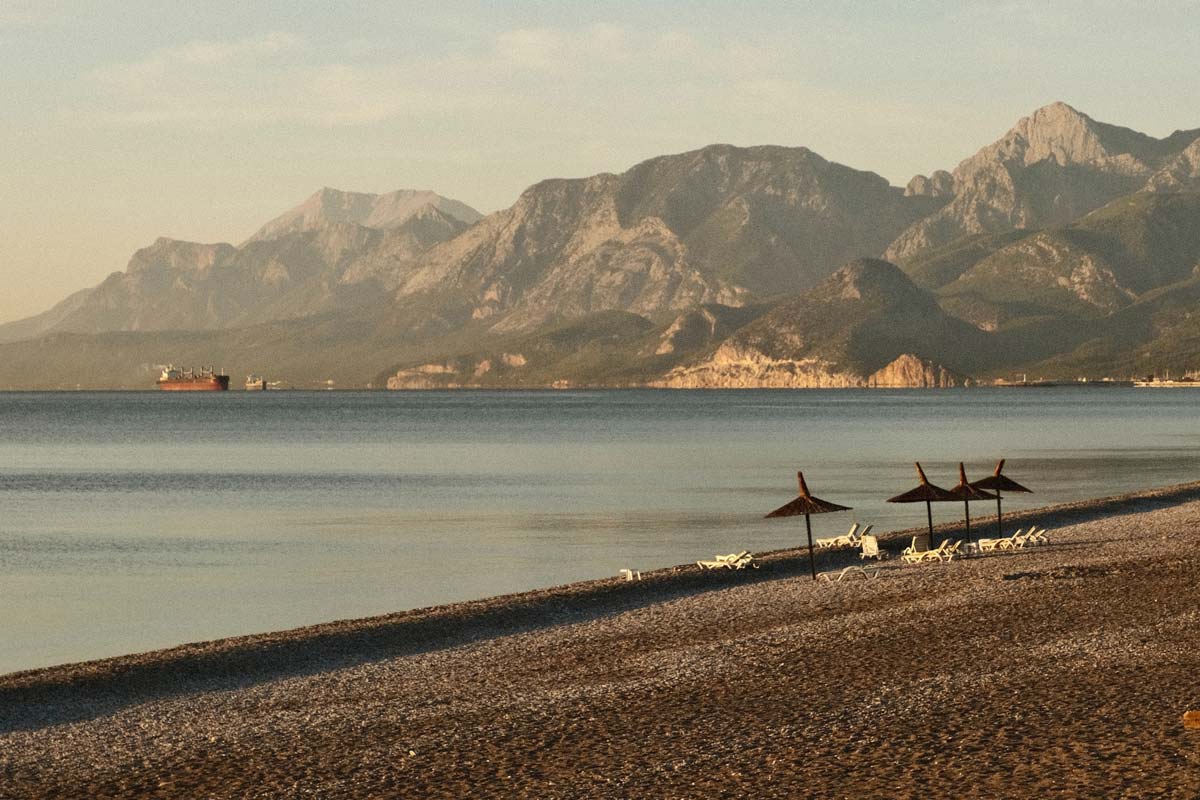 ---
Are There Sandy Beaches in Antalya?
Luckily for all beach lovers, there are plenty of sandy beaches in Antalya. Many of which are within a short drive or a short public transport ride from Antalya city center. Whether you are searching for beautiful beaches or crystal-clear water, Turkey's Mediterranean coast will provide that and more.
Though there are plenty of sandy beaches, there are also numerous pebbly beaches in Antalya.
To avoid some of the beaches with pebbles, here are some of the best sandy beaches on the Turquoise Coast of Turkey:
Cleopatra Beach
Lara Beach
Kaputas Beach
Cirali Beach
Patara Beach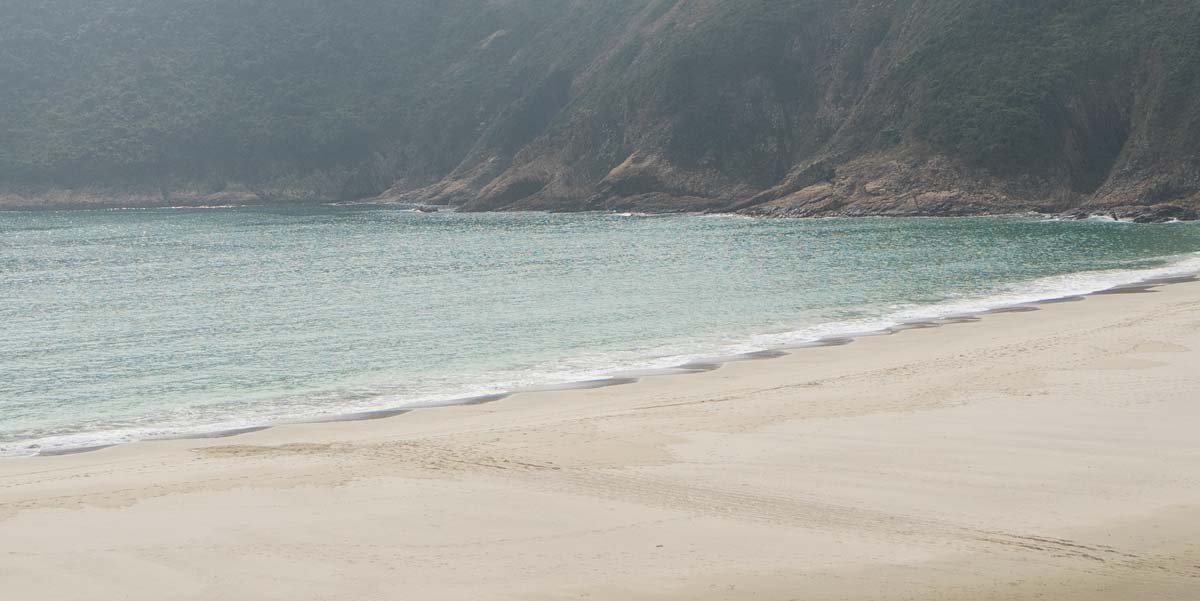 ---
Blue Flag Beaches In Antalya
If you are from somewhere else besides Europe, you might not know what a blue flag beach is. Simply put, blue flag beaches are pretty much the gold standard for beaches. The award is given out by the Foundation for Environmental Education (FEE).
In order to qualify for the Blue Flag, a series of stringent environmental, educational, safety, and accessibility criteria must be met and maintained.

-Foundation for Environmental Education (FEE)

For tourists, these beaches are guaranteed to have some of the cleanest waters you can find for swimming.
---
What Are the Best Antalya Beaches?
In no particular order, here are some of the best Antalya Beaches!
1. Lara Beach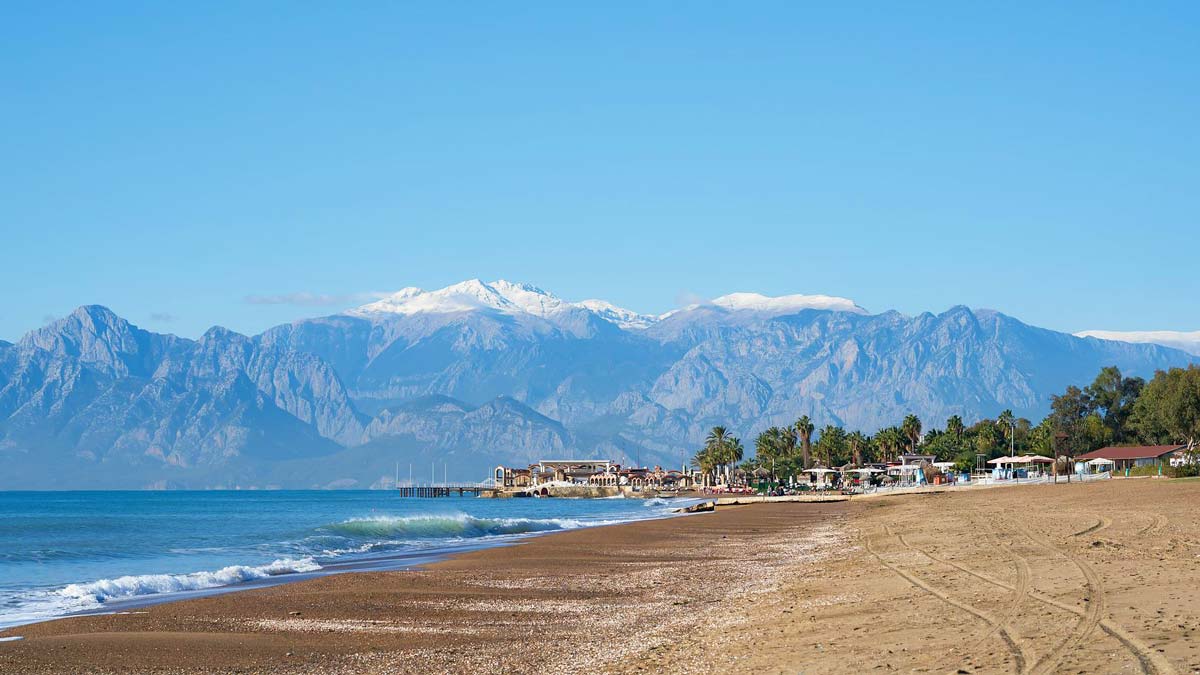 Lara Beach is perhaps the most popular blue flag beach in not just Antalya, but the entire Turkish Riviera. Boasting a long, sandy stretch of beach with crystal-clear turquoise waters, it is no wonder why Lara Beach in Antalya is so popular with visitors.
Lined with sun loungers and umbrellas that are available to rent for a low fee, this soft-sand beach is perfect for sunbathing and a must-visit on your trip to Antalya. You will be spoilt for choice with beach clubs and nice dining options to enjoy lunch overlooking the beach.
Located east of the city center, you can easily reach Lara Beach within 40 minutes using public transport or by car in 30 minutes. There are many facilities nearby, such as showers, bathrooms, and places for you to change.
Many holiday goers choose to stay in one of the many 5-star hotels and resorts that are situated at Lara Beach.
If you are searching for a high-end, cost-effective beach holiday, then staying at one of the Lara Beach resorts may be ideal as you will be only a stone's throw away from one of the best sandy beaches in Antalya.
Delphin BE Grand Resort is one of the best hotels in Antalya near Lara Beach.
2. Konyaalti Beach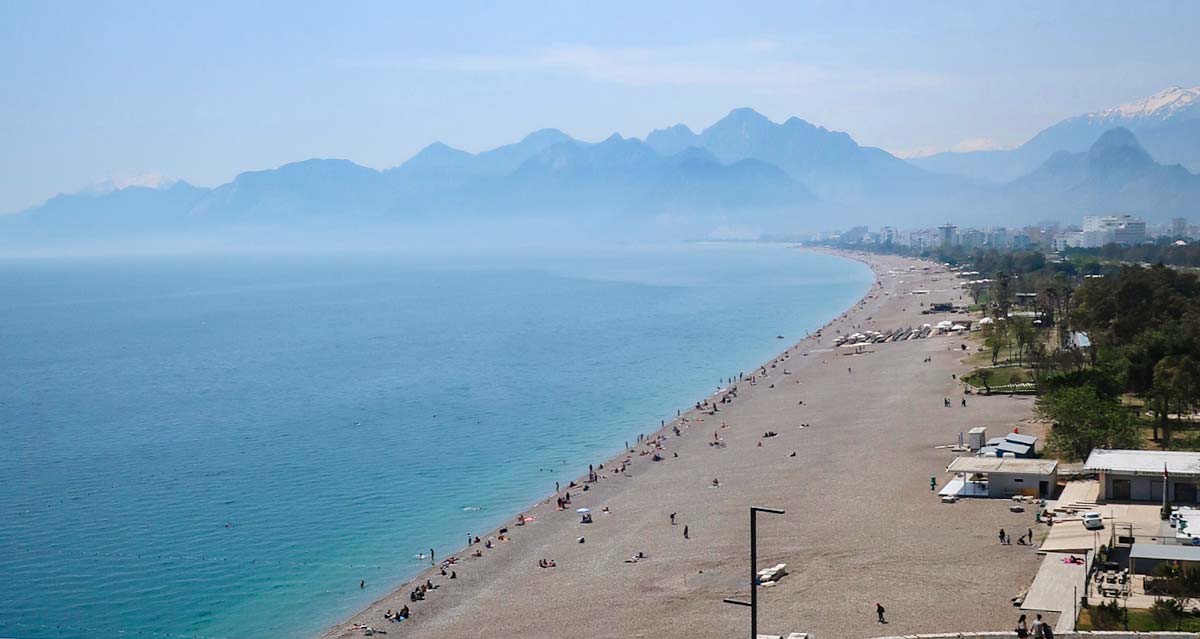 If you are searching for a stunning beach close to the center of Antalya then look no further than Konyaalti Beach. Just a short ride on public transportation, you will find 13 km of clear turquoise water that is perfect for swimming as well as several eateries and beach clubs close by, making it a popular choice for families.
The most magical part of swimming at Konyaalti Beach is having the dramatic Beydağları Mountains as you take a dip in the Mediterranean Sea.
At certain times throughout the year the mountains are snow-peaked, making your experience that much more unique as you swim or relax on the shores to work on your tan under the Turkish sun.
Konyaalti Beach is a pebble-covered beach, meaning the water stays clear and clean. Adjacent to the beach is a green park with plenty of shade to escape the heat or relax with friends and family. You'll find parts of the park situated on cliffs that give stunning views of the beach and the mountains behind.
Guests will find plenty of bathrooms, changing rooms, and showers available to use on Konyaalti Beach in Antalya.
3. Kaputas Beach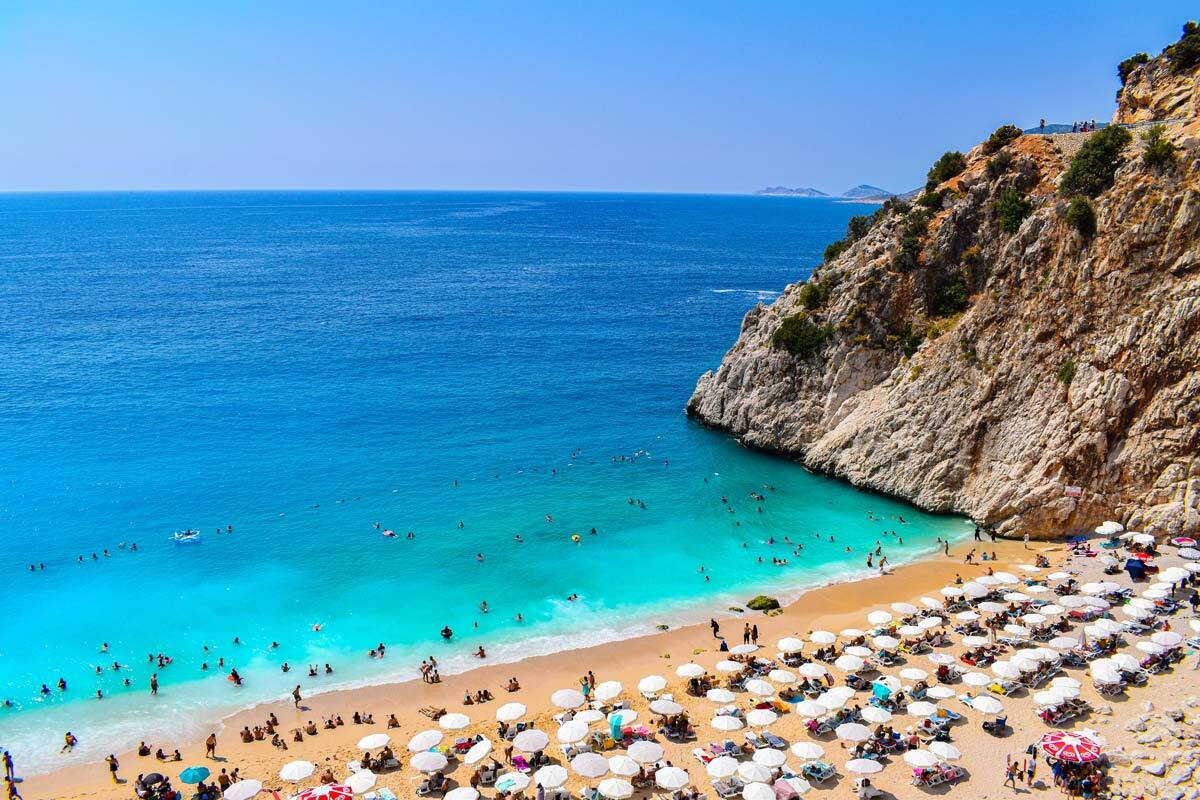 The blue flag Kaputas Beach is known as one of the most Instagrammable beaches in the Turkish Rivera and for obvious reasons, as its vibrant turquoise water will have you in awe at its natural beauty.
Kaputas Beach is reachable by car or taxi within 10 minutes from Kalkan or only 25 minutes from the center of Kaş. There is no entrance fee, however the use of the sun loungers and umbrellas will come at a small cost.
This golden sand beach is the number one summer destination thanks to its incredible turquoise waters for swimming and fine sand for sunbathing all day long.
The beach is surrounded by beautiful cliffs, meaning visitors can overlook the beautiful bay to take amazing pictures. It will be worth your while to stay until sunset to enjoy the incredible views over one of the best beaches in Antalya, Turkey!
4. Olympos Beach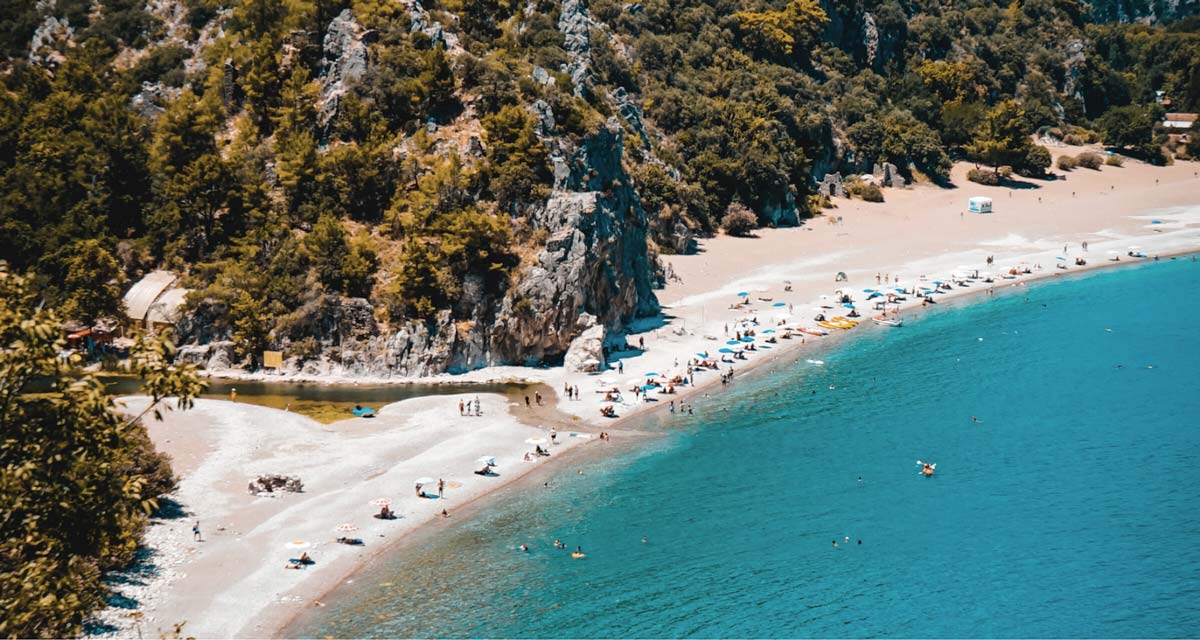 The Turkish Rivera is often referred to as the Turquoise Coast, with Olympos Beach being one of many to prove that this is a well-suited name. Serene, calm waters in a beautiful, secluded area make Olympos Beach a popular place to visit for many travelers from around the world.
This hidden gem is in a protected nature reserve and is surrounded by untouched greenery, allowing beach goers a taste of the best of what Turkey has to offer. If you are lucky, you might even encounter sea turtles.
At this beach there is no entrance fee, however you will not find any facilities like bathrooms, showers, or places to change, meaning you will need to go prepared. However, there are several eateries and cafes along the beach.
Nearby, you can also find Çirali Beach, a beautiful sandy beach that is only a 20 minute walk from Olympos.
Located next to the beach is the Ancient City of Olympos Archeological site, meaning history fanatics will be treated to seeing classical Roman ruins during their visit to this incredible beach.
5. Cleopatra Beach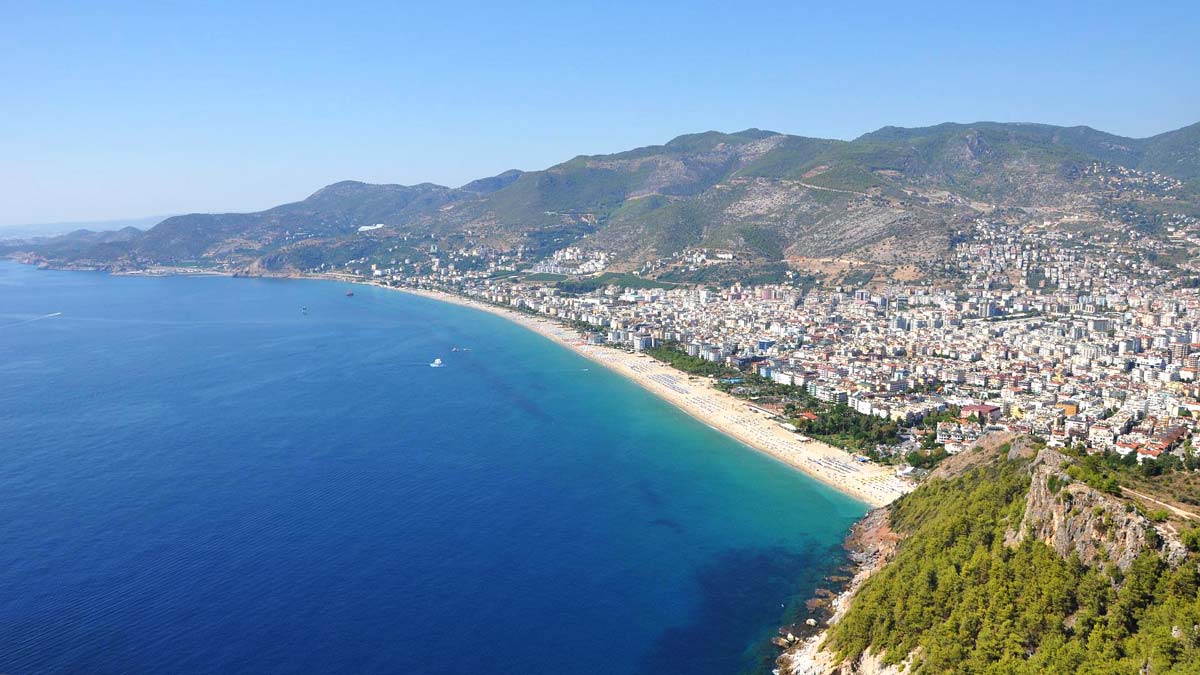 Named after the Egyptian queen herself, Cleopatra Beach is renowned for incredible blue waters, swimming, water sports, and great facilities. This famous blue-flag beach in Antalya District is situated in the small town of Alanya, a popular destination for families and international travelers alike.
The main characteristic of Cleopatra Beach is that it is a white sand beach. Tourists will easily find great hotels, restaurants, and bars along the promenade, all of which are located nearby the beach to maximize the summer holiday experience.
The main beach is around two kilometers from the center of Alanya and is reachable by public transport.
If you are looking to partake in some water sports on your summer holiday then head to Cleopatra Beach and try your hand at sailing, kite surfing, or scuba diving.
If you fancy taking a boat tour, Cleopatra Beach is a great place to do just that. Book in advance to secure yourself a great deal and enjoy seeing the coastline from a different viewpoint.
6. Patara Beach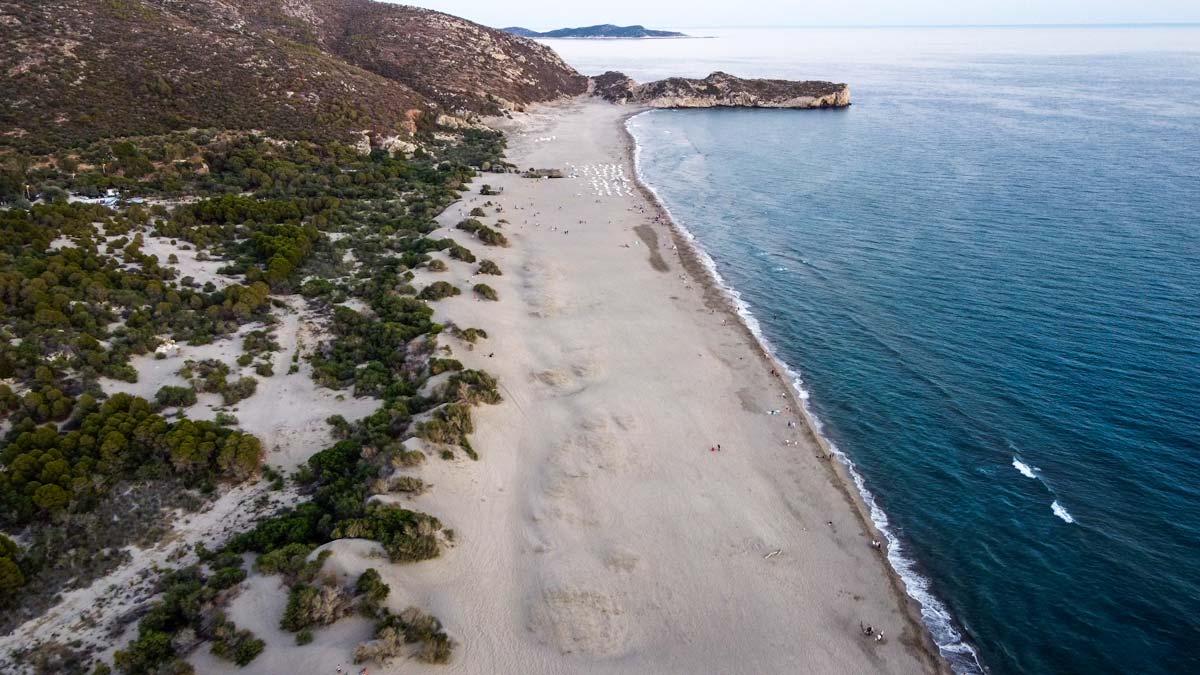 After a visit to the historical Patara Ruins, you can cool off at the beautiful, long, white sand Patara Beach. This beach is a must-visit during your time in Antalya if you are searching for a clean, quiet place to swim and enjoy the beauty of the natural area.
The sand dunes and surrounding areas are protected to enable the sea turtles to have a safe place to rest. One key thing to know is that, due to this, the beach closes at 8 PM.
This is one of the few beaches in Antalya with an entrance fee. The ticket can be bought in conjunction with the Patara Ruins ticket or separately from the ticket office on-site. Hiring a sun lounger will have an additional cost, however the shower and bathroom facilities are free.
Patara Beach takes the title as the longest beach in Turkey sitting at 18 kilometers long. It is easy to reach, by local minibuses or by car, and is only a 30-minute drive from the well renowned Kaputas Beach.
The nearest village is Gelemis, but you could plan to visit Patara easily if you were staying in either Fethiye or Kaş.
Read more: Best beaches in Fethiye!
7. Mermerli Beach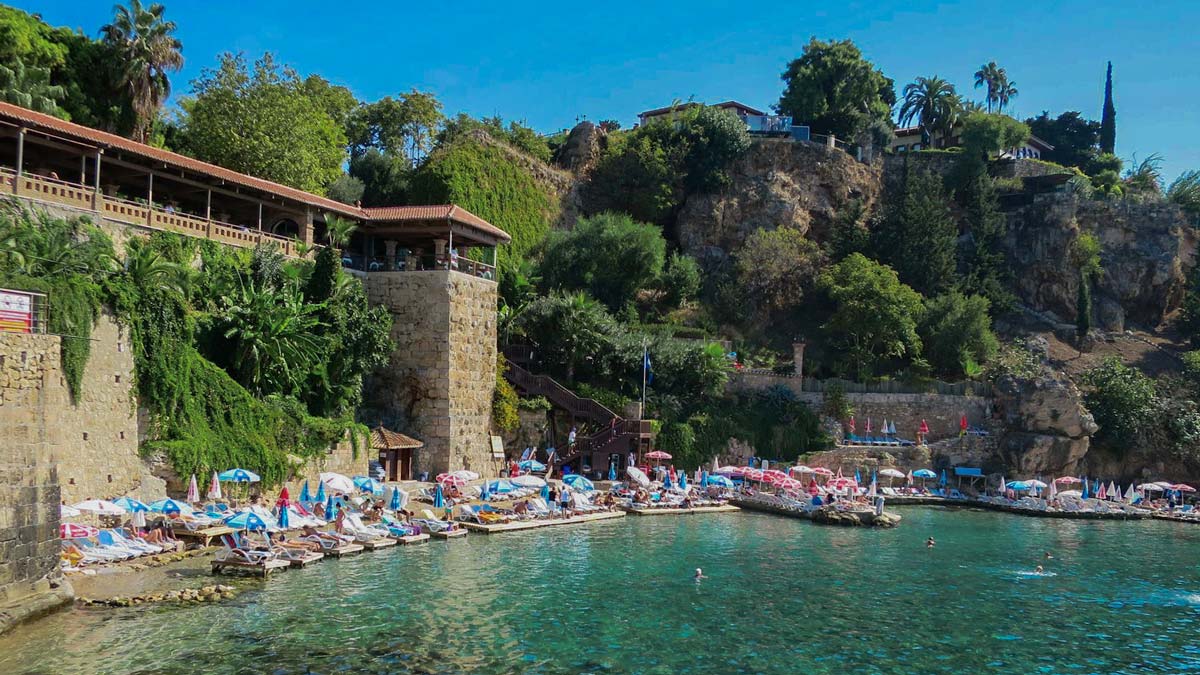 If you are looking for a beach around Antalya Old Town, then check out Mermerli Beach. In terms of location, this beach is the most convenient and is likely to be a walkable distance from your accommodation if you are staying near the center.
This is one of the smallest beaches in Antalya, so if you are visiting Antalya during peak season you should get there early to secure a great spot with an umbrella.
From your sun lounger, you will be able to look out across the Old Port and Marina of Antalya so you can watch as the boats head out for the day. One of the perks of going to Mermerli Beach is the number of great restaurants and cafes in close proximity.
The facilities at Mermerli Beach are free to use and include showers, changing rooms, and restrooms. Spend your time snorkeling, diving into the blue waters from the rocks, or relaxing on your rented sun lounger.
8. Adrasan Beach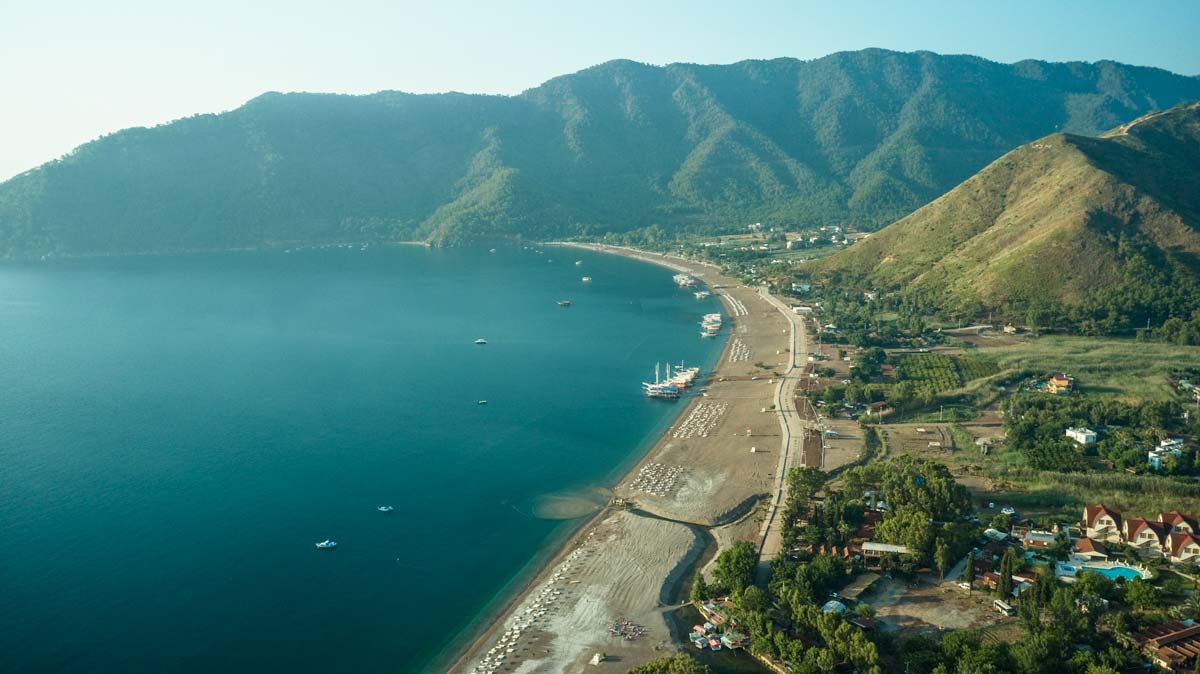 Adrasan Beach is ideal for swimming and for soaking up the Turkish sun while working on your tan.
Framed with hills on either side, this sheltered bay is perfect for all ages. Along the beach are restaurants and bars, which can provide beach-goers with something to eat and drink during their visit. These beach bars and restaurants also provide sun loungers for rent.
Make the most of the tranquility of the area by walking along the pebble beach or set yourself up at one of the beach clubs nearby.
If you are looking to take a day trip from Adrasan Beach, there are two boat tours that you can choose from. One to the popular island of Suluada or to Cenevis Bay, a hidden gem in the Antalya region.
9. Suluada Beach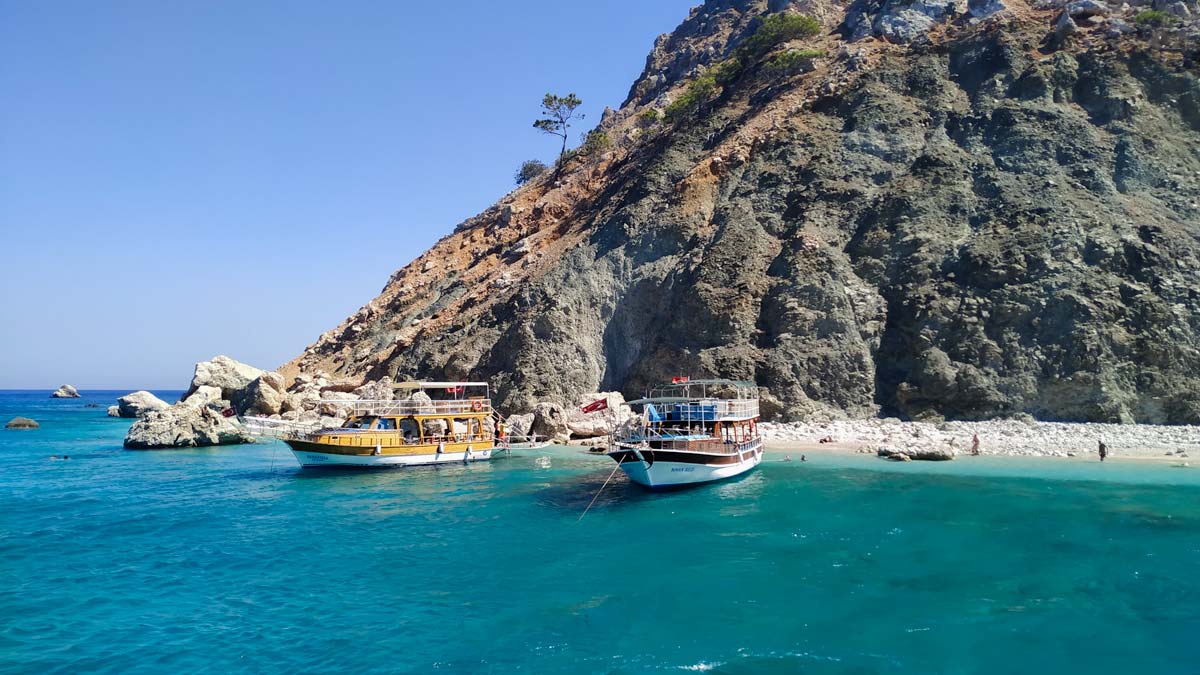 Want to have an island getaway without leaving Turkey's Turquoise Coast? Then Suluada Island should be on your radar.
Reachable only by boat from Olympos Beach or Adrasan Beach, this island is the perfect day trip from Antalya. Its Maldives-like blue water and small white pebbles will take your breath away.
Make sure to check out the natural spring (with drinkable water) that sits on Suluada Island. As this island is small and secluded there is no building infrastructure, meaning no restaurants or cafes.
The good thing is, if you travel here with an organized tour then food will be provided by the company. On your way to the island, you will pass by Suluada Coves and the many stunning bays of the surrounding beaches.
With some luck you will encounter some natural wildlife and marine life, such as turtles or fish. For many, this trip is a highlight of their visit to Antalya so be sure to book ahead if you are planning to visit this stunning island.
Read more: Which is better; Antalya or Marmaris?
10. Phaselis Beach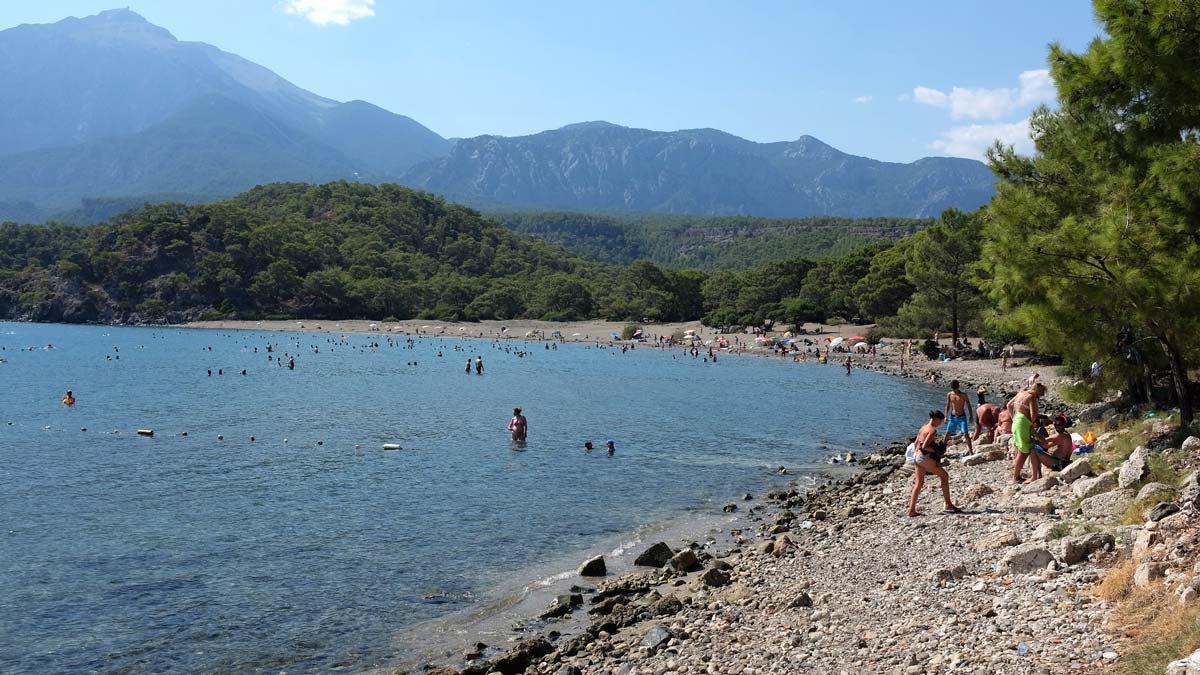 Separated into three bays—North Bay, Ancient Bay, and South Bay—Phaselis Beach is a unique beach in Antalya, with the ancient city Phaselis Ruins nestled right near the beach. After you meander through the ruins, you can choose between the three bays to relax or go for a dip in the beautiful clear water.
Kemer is the closest town and the best place to take the local minibuses from, as the journey is only 30 minutes. The beach has many trees in the area, meaning you will find plenty of shade to escape the hot sun. There are a few stalls that offer drinks and snacks but there are no restaurants so prepare accordingly if you plan to stay for the day.
Rich with Roman history, stories of pirates, and remnants of ancient civilization, this beach will offer you more than just a beautiful place to swim.
Some ruins remain underwater, so if you are a keen diver or have a snorkel with you, then you will enhance your experience that much more by seeing this underwater marvel.
11. Kiriş Beach
Just a one-hour drive from Antalya city center is Kiriş Beach and town. The water here is very clear so beach goers can enjoy snorkeling and swimming anywhere along the 2.1-kilometer stretch of paradise.
Pebbles cover this beach, as well as plenty of sun loungers and umbrellas, which you can rent for a fee. If you are wanting to upgrade your holiday experience, you could opt to stay in one of the high-end resorts along Kiriş Beach.
Kiriş Beach is another one of the incredible blue flag beaches in Antalya, thanks to its superb water quality. For your convenience, there are showers, bathrooms, and changing rooms here. To access the beach, you will find a wooden wharf with ladders leading into the sea.
Should you want to taste the local cuisine, there are many nice eateries and cafes in the area or in the town nearby.
12. Akçagerme Beach
One of Kaş's best-kept secrets is the blue-flag Akcagerme Beach. This pebble covered beach is favored by tourists and locals alike. Beach goers can expect to find sun loungers or cabanas for rent and free showers and toilets with a few restaurants nearby.
The beach itself is only 200 meters long and is framed with rocks at both ends, offering a gorgeous and unique scenery for all visitors.
This beach is located only 10 minutes drive from Kaş's center and is reachable by minibus from the Kaş Bus Station. Akçagerme Beach is great for families, as the beach comes equipped with an inflatable aqua park and calm waters that are perfect for swimming with young children.
There is a nice area that has picnic tables and even a barbeque if you want to cook your own lunch under the trees. Spend the day here with your family to experience an authentic Turkish summer feeling.
13. Tekirova Beach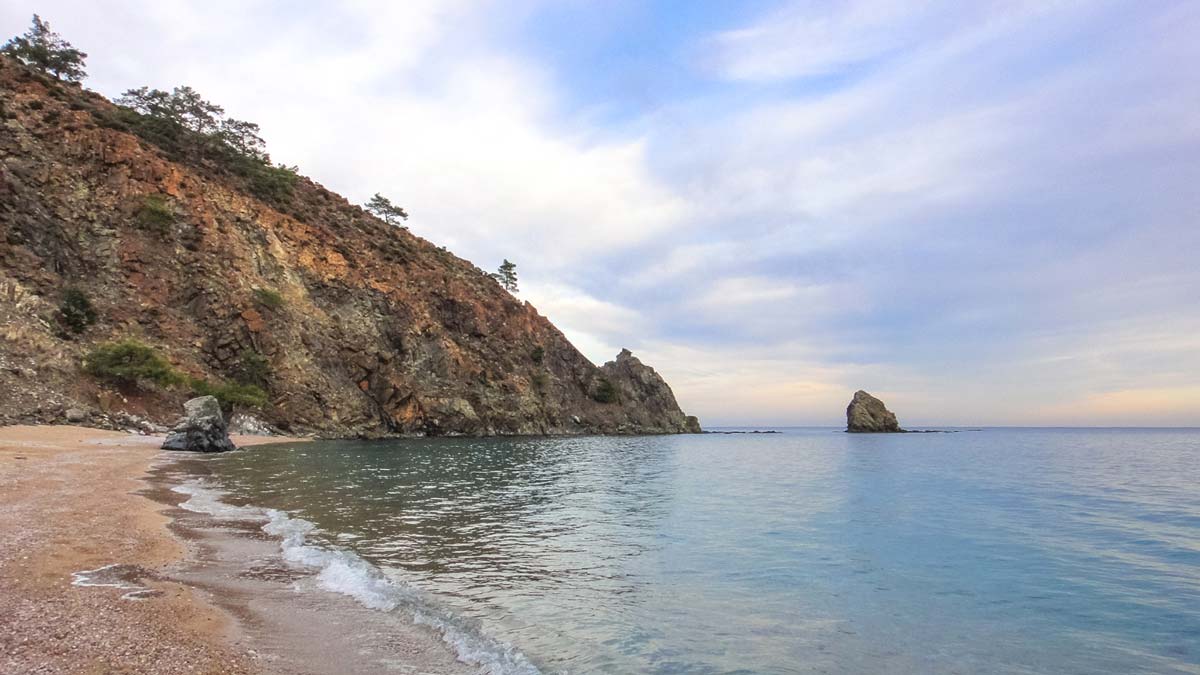 If you are looking for a long stretch of clean beach with a mountain view, consider the beautiful blue flag Tekirova Beach. It is only a 15 minute drive from Kemer and five minutes from Phaselis Ruins/ Beach, so it is very convenient to visit Tekirova Beach if you are in the area.
From Antalya, it takes about an hour to get to by car.
Showers, bathrooms, and changing rooms are available at no cost, however, to use the sun loungers and umbrellas there is a small charge.
Tekirova Beach also comes equipped with a wooden wharf reaching out across the water. Along the beach itself, there are a few restaurants and plenty more traditional cafes and restaurants after a short walk into Tekirova town.
If you have a sporty side then this might be the beach for you, as water sports such as parasailing, diving, ocean swimming, and jet skiing are very popular here.
If relaxing is also on your agenda, then you can find a nice, secluded space on Tekirova Beach to sunbathe for the day.
---
Best Beaches in Antalya Map
Above is a map of all the best beaches in Antalya we have mentioned. Because the district of Antalya is so massive, some of the beaches are situated far from Antalya city.
Luckily, there are plenty of small towns along the southern coast that travelers can use as a base for exploring the beaches in the area. If you click the small start next to the title of the map, you can save it to your personal device and use it for your trip.
Using this map, hopefully you can properly plan your visit and decide where to stay in Antalya when exploring some of the most amazing beaches in the region!
---
Antalya Beaches FAQs
Does Antalya have nice beaches?
The beaches in Antalya are incredible with turquoise waters and a mix of sand and pebbles, depending on which beach you go to. There are over 200 blue-flag beaches in the region, earning it the nickname "Turquoise Coast".
What is the best beach in Antalya for families?
The best beach in Antalya for families is arguably Konyaalti Beach. Though travelers will find that most of the beaches in Antalya are incredible for families.
What is the best beach in Antalya for water sports?
Cleopatra Beach is the best beach in Antalya for water sports, but Tekirova Beach is very nice as well.
---
Before You Go
With numerous beaches in Antalya, picking the perfect one cannot be more difficult. Hopefully, our guide gives you a good idea of where you'll be dipping your toes in the sand!
Disclaimer: Some of the links above are affiliate links. That means if you book or make a purchase through the links, we will earn a small commission at no extra cost to you! The money will help run this site! Thank you!