One of the biggest draws to Fethiye is the turquoise blue waters. After all, it's not called the Turquoise Coast for nothing! Whether you're into watersports or just relaxing on a sailing boat, there is no better place to enjoy the Meditteranean waters than from this ancient Port City.
Fethiye is surrounded by scenic coastlines, dramatic cliffs, and crashing waves, but the best place to enjoy this is at one of the best beaches in Fethiye.
The city of Fethiye is small and best known for its natural harbor. Here you'll find historic landmarks such as 4th-century BC rock tombs carved into a bluff.
However, the best beaches in Fethiye are not actually in the city. Most of them are a short drive out of the city in more remote locations. But don't worry, they are easily accessible on a half-day trip from Fethiye or day trip from Antalya.
In this guide, we will be showing you the best Fethiye beaches and how to get to them.
---
What Are The Best Beaches in Fethiye?
In no particular order, these are the best beaches in Fethiye and the surrounding Turkish beach towns and villages. Whether you're looking for something family-friendly or secluded, you'll find something for everyone on this list.
1. Ölüdeniz Beach & Blue Lagoon (Belcekiz Beach)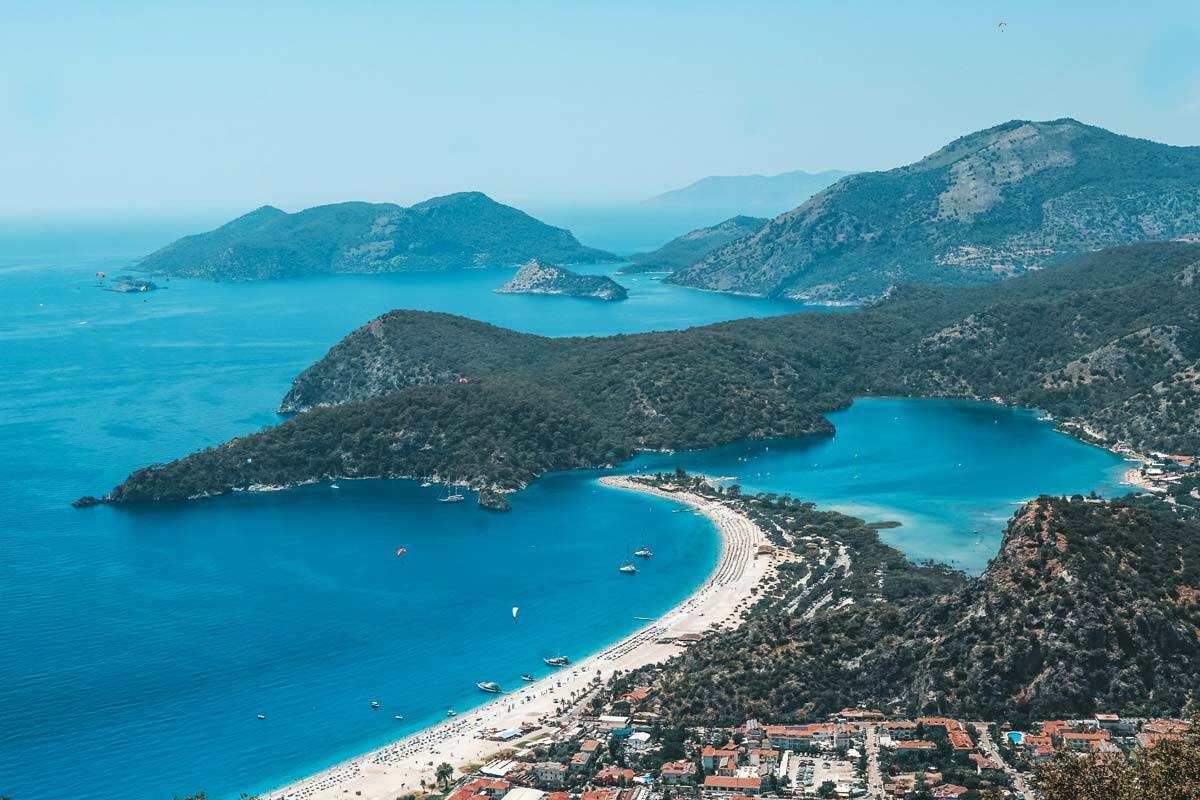 If you've ever received a postcard from Fethiye, I would bet good money that the picture on that postcard is of the stunning Blue Lagoon and Oludeniz Beach. This iconic Turkish landmark is located just a 30-minute drive south of Fethiye, and is rather unique since it has two parts; a long white sand beach stretches across the waters, dividing a large lagoon from the Mediterranean ocean.
The long sandy beach is called Belcekiz and is where most visitors come to bathe in the sun and swim in the warm waters. The beach is free to visit, but you can also hire sunbeds, peddle boats, or organize boat trips from the restaurants for a fee.
There are also many other things to do in Oludeniz such as hiking in the nearby mountains and paragliding.
The lagoon is called 'the dead sea' which is protected by the Ölüdeniz National Park. Just like in the Dead Sea in Egypt, the saline content in the lagoon is higher than in the ocean, meaning you float when you swim in it.
The beach is lined with beach bars and restaurants. The place really comes alive at night and if you're a fan of nightlife, you'll certainly enjoy it here. For history buffs, you'll enjoy wandering around the nearby area of Kayaköy which is full of ancient ruins. 
2. Kabak Beach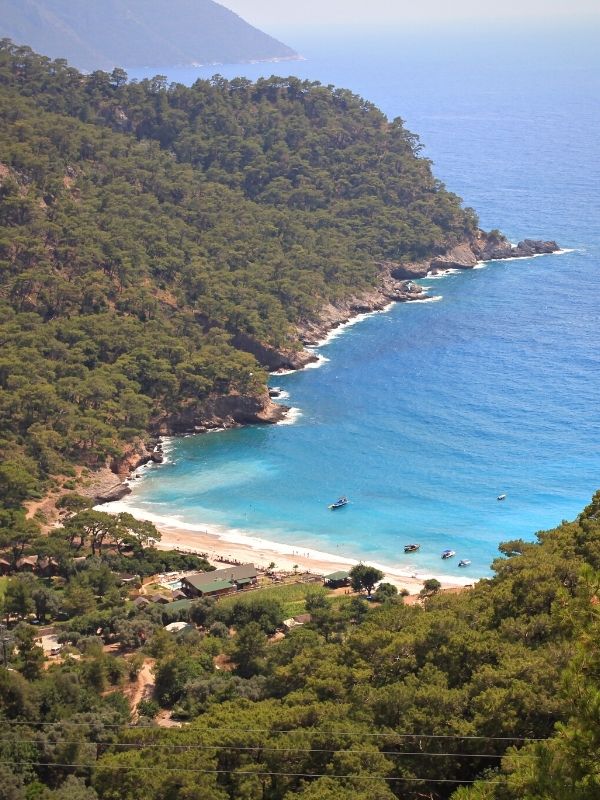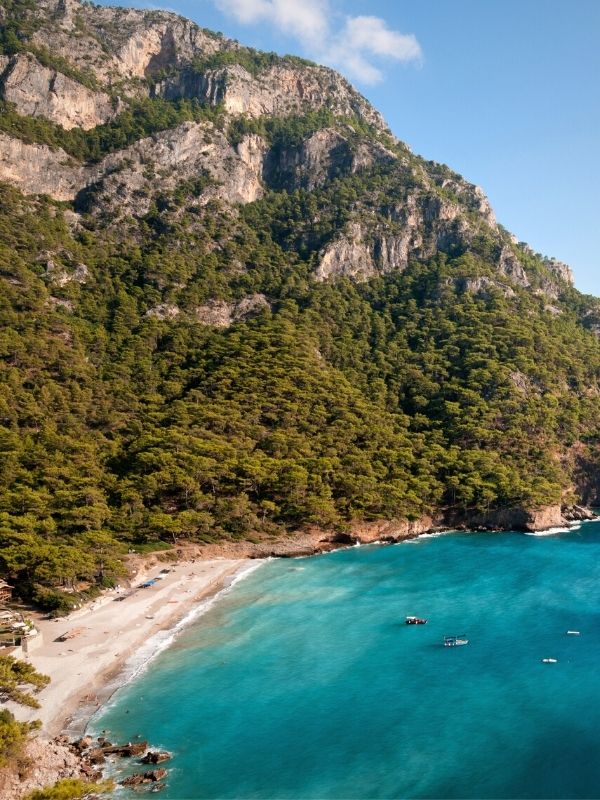 Located a 50-minute drive South of Fethiye is the stunning coastal area of Kabak. Kabak beach is small and secluded since it's not so easily accessible, but is one of the best beaches near Antalya and Fethiye.
There isn't a car park, so most people opt to take the bus which runs regularly from Fethiye Bus Terminal to Kabak every hour from 7 AM to 6 PM throughout the summer. If you do drive, get there early and know that you'll have to park your car on the road.
From the road, it's only a 30-minute walk down to the beach from where the bus drops you off. There is a shuttle bus that operates from the bus stop to the beach, but it is limited in capacity and costs a small fee.
If you decide to hike, the path is steep since it goes down the mountain, but once you reach the beach it will all be worth it.
There is a small cafe at the beach and a few restaurants and shops on the road down to the beach. Since it requires some effort to get there, many people choose to camp on Kabak beach, which is a great activity to do here. You can also rent a boat, scuba dive, or just relax on the soft sand.
3. Kumburnu Beach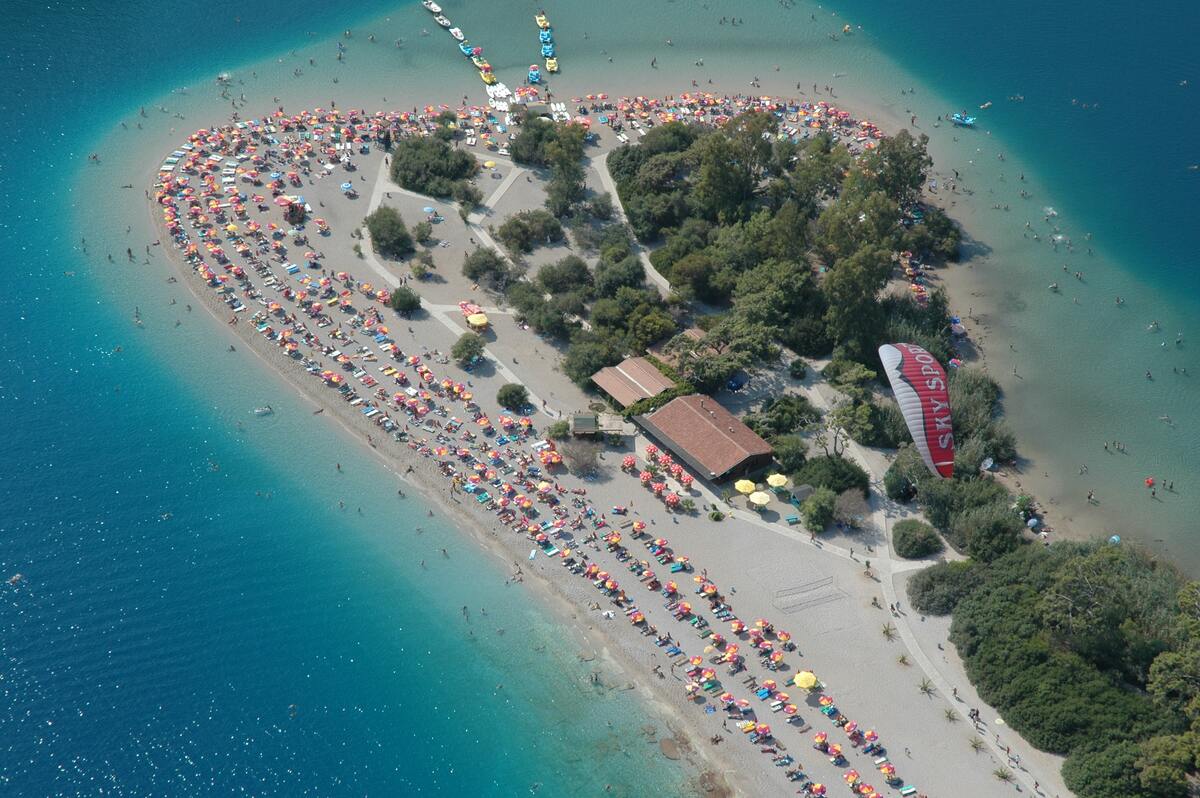 Okay so Kumburnu Beach is technically the same as Olundeniz since it's on the same stretch of beach, but it's so pretty it deserves its own mention.
The Kumburnu Beach is the very tip of the stretch of beach dividing Belcekiz beach and the blue lagoon. This is really the area you want to base yourself in if you want to swim in the lagoon and rent a paddleboat.
This part of the beach is not sandy, it's actually a light fine pebble, but it's just as soft as sand.
Here the waves are more gentle as they are protected by the bay, which makes it the perfect place for families. There are sun loungers to rent and toilets nearby. There are also lifeguards so it's quite safe to swim here.
It's free to enter the beach, you just need to pay for the facilities.
Read More: Luxury Beach Resorts In Turkey Worth Staying!
4. Çalış Beach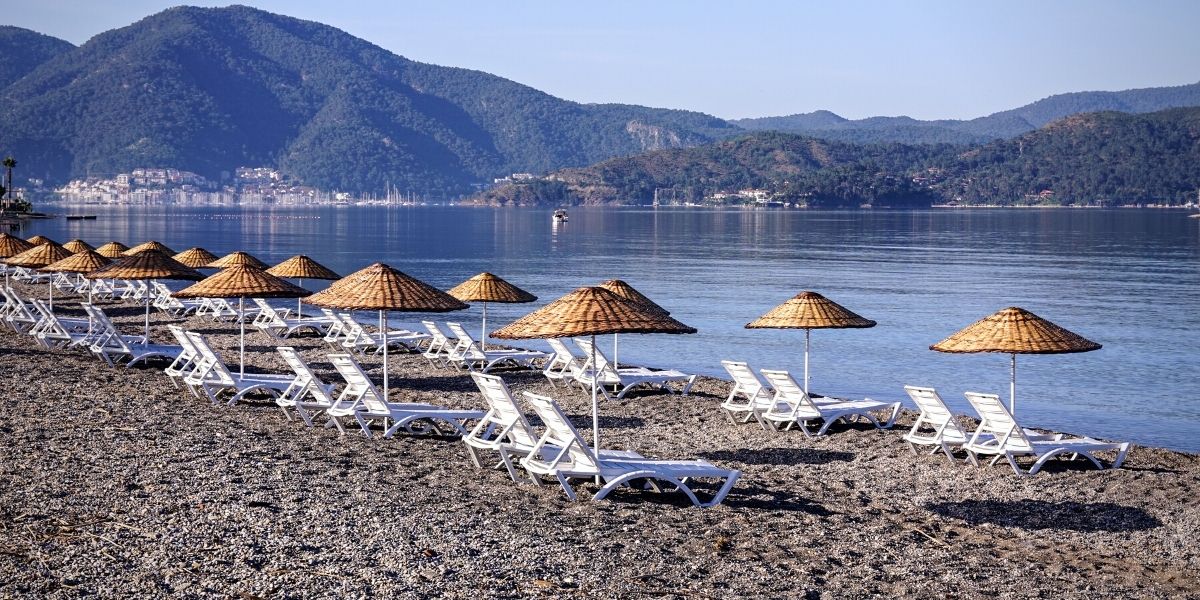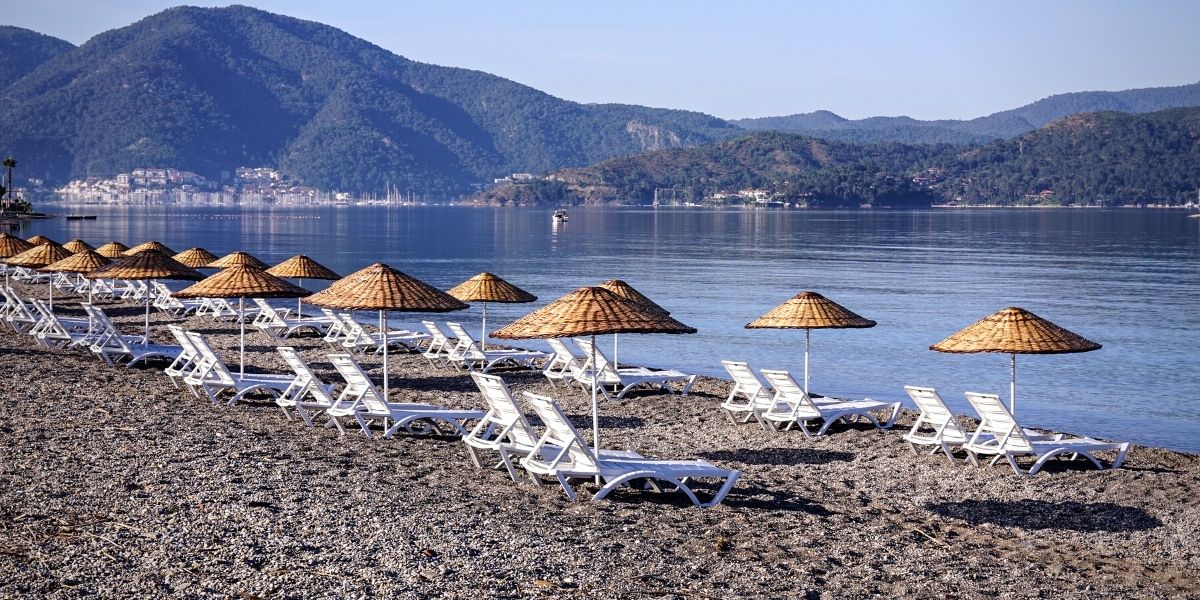 Located in the center of Fethiye is the charming Calis Beach. It's a 4km long shingle beach that's great for swimming and lounging on. Since it faces West, it's a great place to catch the sunset from one of its many top-rated bars and restaurants.
Sunbeds and umbrellas are available to hire for a small fee and there are also plenty of shops along the promenade selling refreshments and snacks. If you don't have long in Fethiye, then this is a great beach to spend some time on.
5. Kelebekler Vadisi (Butterfly Valley)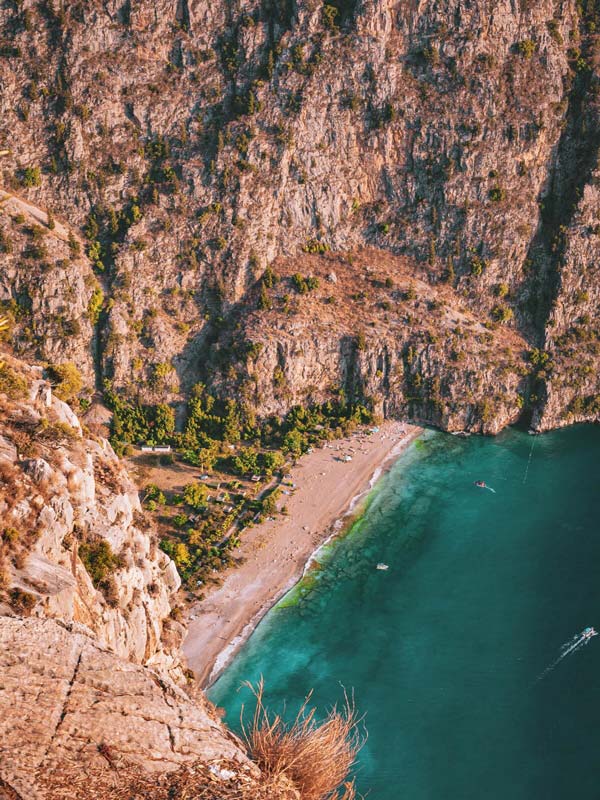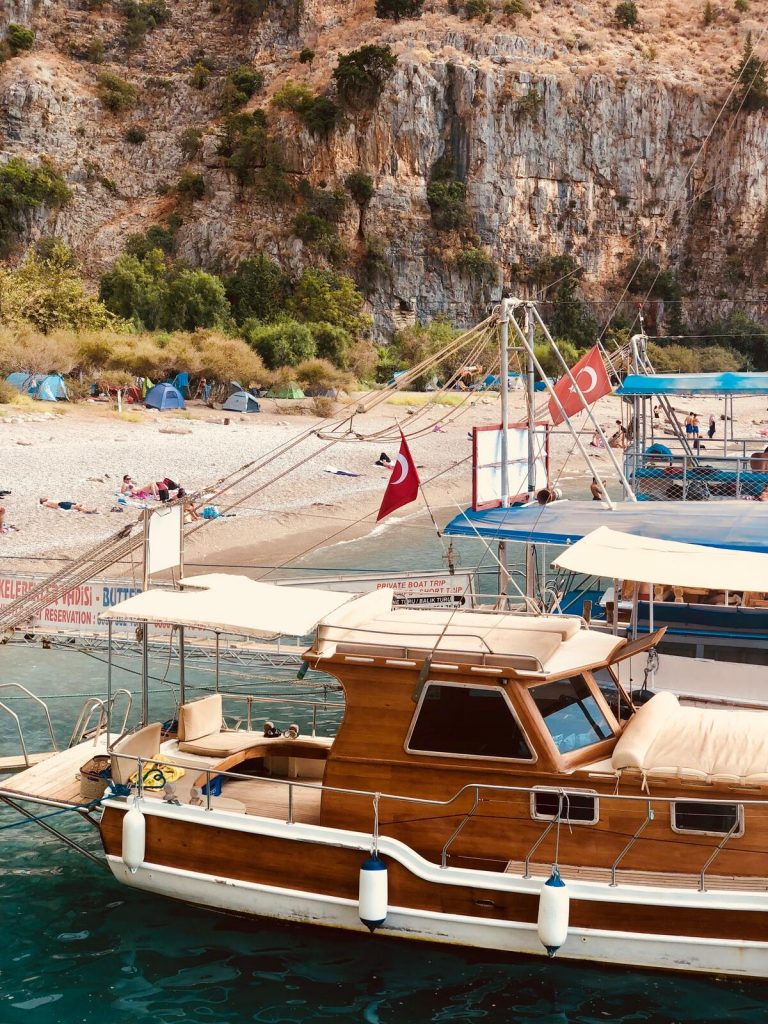 Located just a 50-minute drive south of Fethiye is the Butterfly Valley, named because of its diverse variety of butterfly species.
Nestled in this valley, is one of the most stunning beaches in Fethiye region, Kelebekler Vadisi. Similar to Kabak beach, Kelebekler Vadisi is located in a bay at the bottom of a cliff, so it requires some trekking to reach it or you can find boat tours that take you here.
The beach has a cafe and there are also some cute lodges you can stay the night in. You can also camp on the beach for a small fee. Near the beach is a stunning 50ft waterfall and hiking trails.
6. Şövalye Island
Sovalye Island is located just off the coast of Fethiye and is the only inhabited Turkish island in the area. It's most well known for its historical ruins and tranquil atmosphere since it is only accessible by boat from Calis Beach.
The island is very small, with only a few restaurants and beaches on the island. The sea here is warm and clean and is much quieter than the beaches in Fethiye. It's only a few kilometers from Calis Beach, so will take only a few minutes to reach the beaches on Savolye Island from Calis Beach.
It's free to enter the island but you do of course need to pay for the boat. We highly recommend staying for a sunset dinner here at the romantic Ada Restaurant, which offers a free boat ride from Fethiye to paying guests.
7. Katranci Bay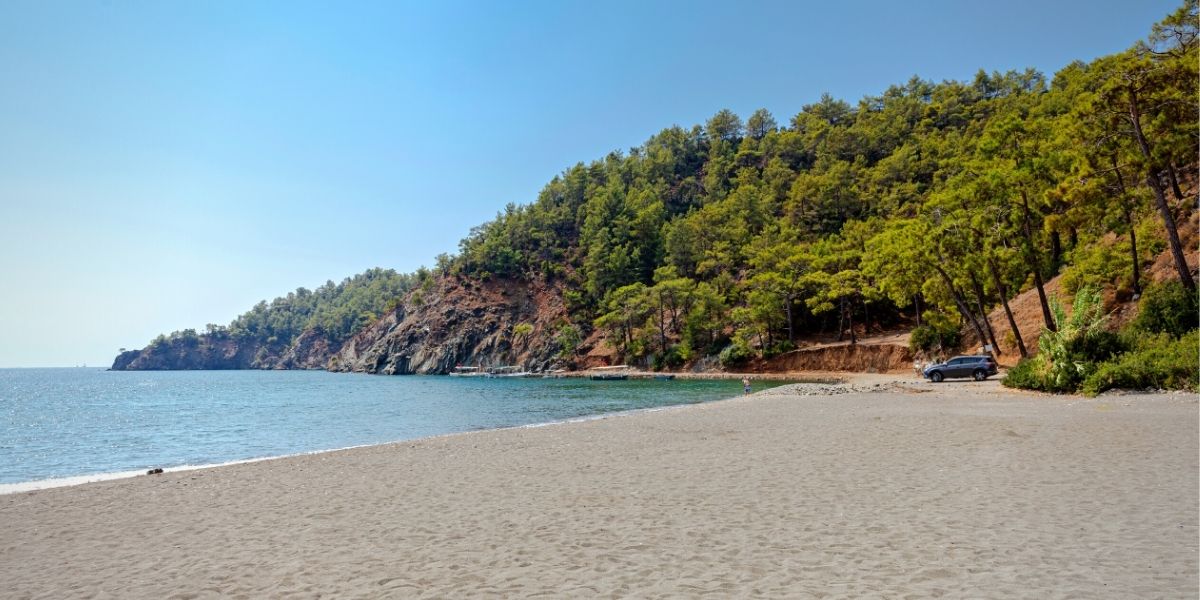 16km to the North of Fethiye is the stunning Katranci Bay, located in a protected National Reserve. This is a small, sheltered beach that is great for swimming and bathing. It's a great beach in Fethiye for families since there is a huge, sheltered picnic area next to the beach and a campsite.
You can hire beach umbrellas and sun loungers, or pitch a tent here for a small fee. There is a car park at the beach but you have to pay a small parking charge.
8. Inlice Beach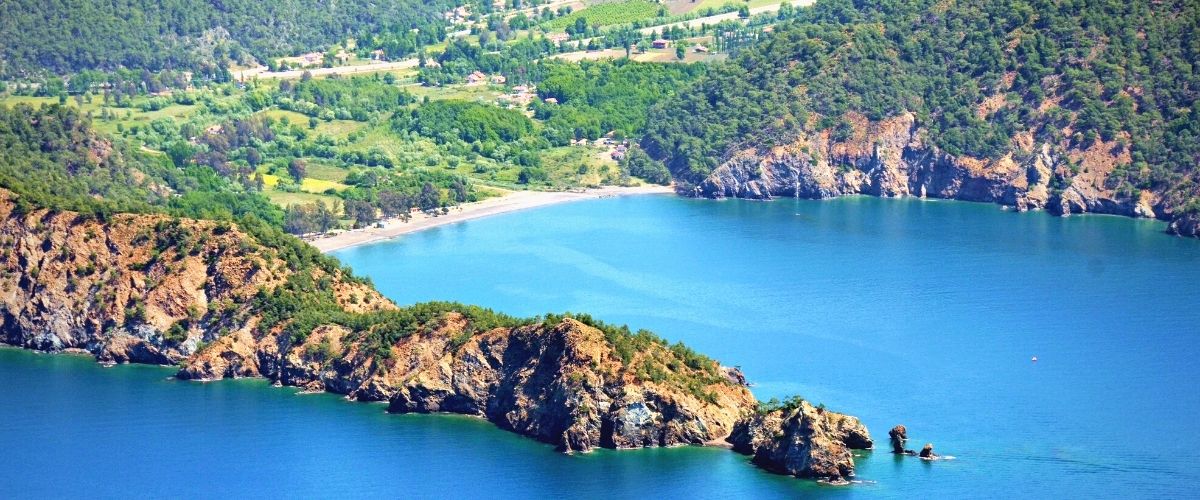 Located 23km (or 25 minutes driving) to the North of Fethiye is Inlice Beach. It's a public beach that is great for swimming and is reasonably sheltered by the bay, so the waves are gentle.
The beach is not sandy, but has a very fine shingle, which is common for Turkish beaches in this area. You can hire sun loungers and umbrellas and there are lifeguards in the summer. There are also changing rooms and bathrooms, as well as many great restaurants nearby too.
9. Boncuklu Koyu
Located just a short 20-minute drive south of Fethiye is the small and sheltered beach of Boncuklu Koyu. The beach is simply stunning, with soft white sand and rattan umbrellas. The water here is crystal clear and full of little fish, as well as super clean.
There is parking nearby, but you have to pay. However, many visitors say you can park on the road further up.
This is one of the smallest beaches on this list of the best beaches in Fethiye and so you will find prices to hire loungers and umbrellas to be more expensive. There is a restaurant here too which looks like a tropical island resort. The whole beach is surrounded by green trees and rocky cliffs, it really does feel like an escape from the city.
10. Kidrak Beach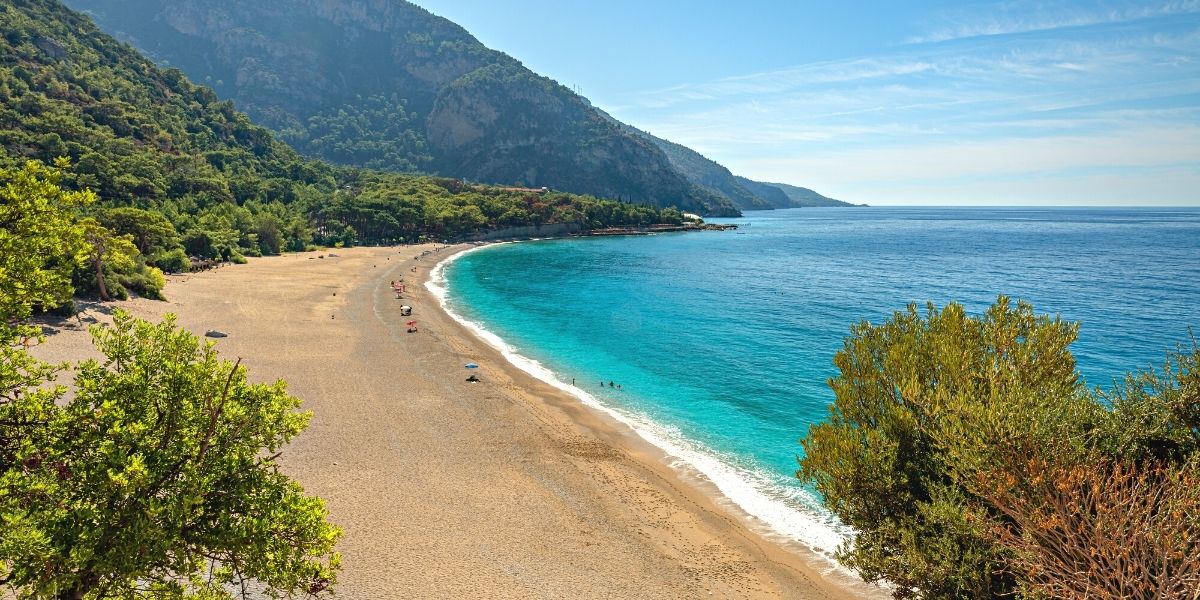 Saving possibly the best for last is Kidrak Beach. This gorgeous beach in Fethiye is best known for its turquoise blue waters, soft white shingle, and amazing sunsets. It's larger than other beaches in Fethiye, which means there's more space for visitors to spread out in.
Visitors can hire sun loungers and umbrellas, and there are also bathrooms, showers, and changing rooms that are available to use. The waves here are pretty strong though, so if you're not a confident swimmer then do not venture too far out.
If you feel like you are getting too much sun, dip into the shade of the pine forest behind you or take a break in the beautiful woodland restaurant.
---
Best Beaches in Fethiye Map
Above is a map of all the best beaches in Fethiye that we recommend. Because Fethiye is so small and many of the best beaches are located outside the city, some of these beaches require you to drive.
Luckily, they are all within an hour's drive so you won't have to travel too far to enjoy some the best beaches in the Mugla region.
Using this map, hopefully you can properly plan your visit and decide which beaches you want to see first. In fact, it's totally possible to include more than one beach in a day!
FAQs About Beaches in Fethiye
Here's what people usually ask us about Fethiye's beaches…
Are there sandy beaches in Fethiye?
Not really. The beaches in the Mugla region are more like a soft shingle than sand. However, some beaches are so fine it's almost like sand.
Is it better to stay in Oludeniz or Fethiye?
Personally, we think it is better to base yourself in Fethiye as there is more to do and it's central to all the best beaches.
What is the beach like in Fethiye?
The beaches in Fethiye are generally calm with blue waters and gentle waves. This is a popular destination for tourists though, so beaches do tend to be busy, even remote ones.
---
Final Word on Best Beaches in Fethiye
So there you have it, our top 10 beaches in Fethiye and the surrounding areas. As you can see, there's a little something for everyone on this list; whether you're looking for a quiet spot to soak in some rays or you're looking for a sheltered bay to take the kids, there's a beach for you on this list.
Disclaimer: Some of the links above are affiliate links. That means if you book or make a purchase through the links, we will earn a small commission at no extra cost to you! The money will help run this site! Thank you!