Are you looking for the best beach towns and coastal cities in Turkey? You are in luck.
Turkey is blessed with thousands of miles of stunning shorelines catering to every type of traveler. Nestled between the Mediterranean and Aegean seas, Turkey's coastline is a treasure trove of pristine beaches, charming towns, and vibrant cities waiting to be explored.
From the azure waters of Antalya to the golden sands of Bodrum, each destination offers a unique blend of sun-soaked relaxation, mesmerizing landscapes, rich history, and mouth-watering cuisine. And let's not forget about the seaside towns by Turkey's Black Sea in the North!
After having the luck to visit these beachside destinations, we are here to share 20 of our favorite coastal cities and beach towns in Turkey. Ready to soak up the sun, sea, and sand? Let's go!
---
What Are The Best Beach Towns in Turkey?
1. Ölüdeniz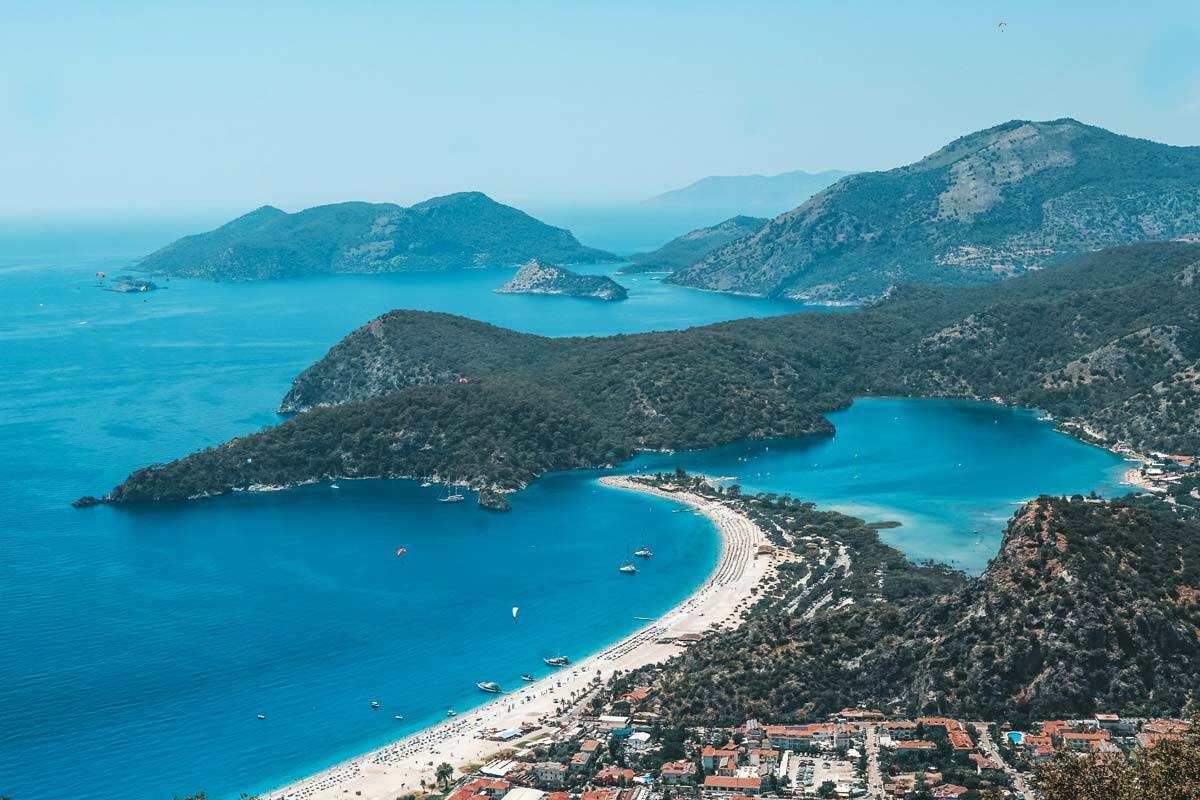 Ölüdeniz is without a doubt one of the most stunning and beautiful coastal towns in Turkey. Famed for its breathtaking Blue Lagoon, Ölüdeniz offers its visitors genuinely crystal-clear turquoise waters and powdery white sand beaches, all with the incredible contrast of the diamond-green colored, pine tree-laden mountains in the background.
Blue Lagoon isn't the only famous attraction in Ölüdeniz. Thrill-seekers will be glad to know that there's the option of paragliding off of the side of Babadag Mountain which rewards those brave enough with spectacular views of the rugged, mountainous coastline.
For those that want to stay on two feet, the Lycian Way Trail ends in the hills of Ölüdeniz and near Butterfly Valley, and after a long and strenuous hike through waterfalls, jagged clifftops and ancient ruins, you'll have the best views of Ölüdeniz and Fethiye in the distance.
2. Amasra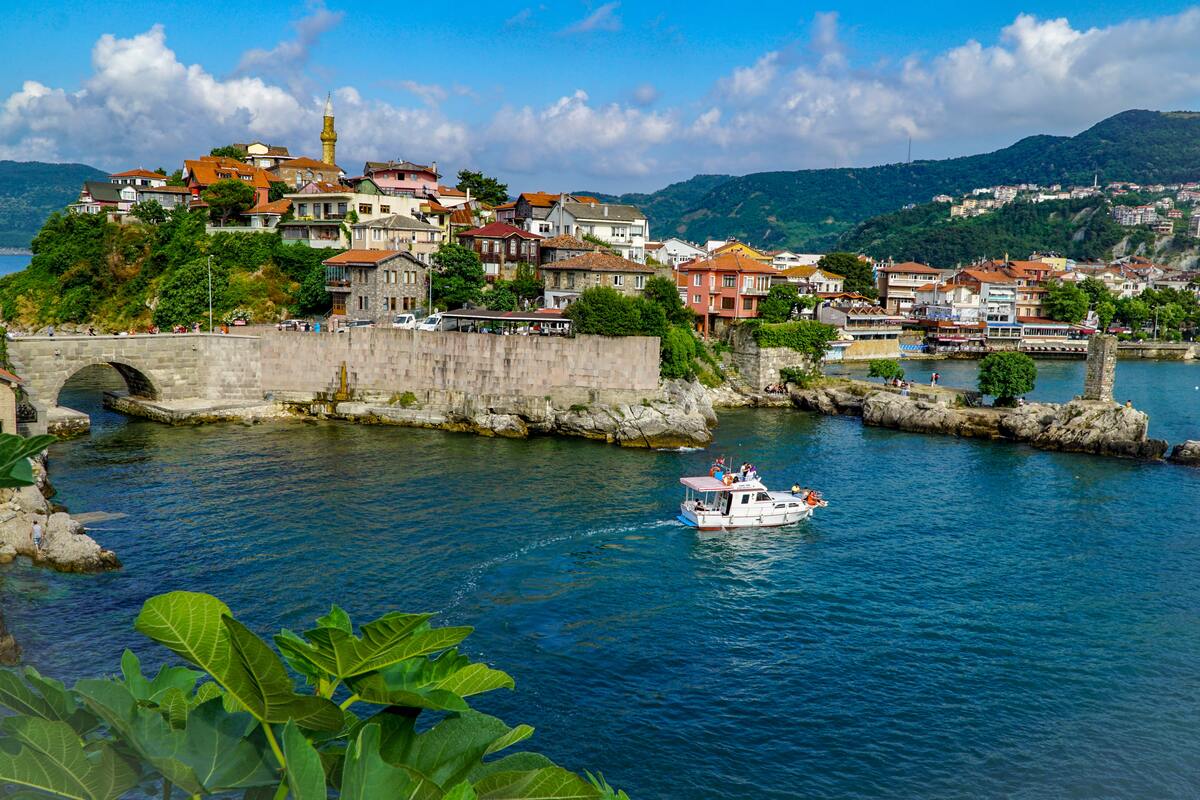 Perched on a small peninsula extending out into the Black Sea is the beautiful Turkish coastal town of Amasra. Full of charm and tranquillity, Amasra is a perfect destination for a summer holiday that's properly off the beaten track.
Amasra has a rich history with the ancient Greeks, Romans, and Byzantines all settling in the town leaving behind remnants of the empires that once were. The town is also home to well-preserved ancient ruins, bridges, and even a Roman castle.
There are also two picturesque bays, one on either side of the main peninsula, with beautiful soft sand and equally beautiful water. On an evening, the promenades come alive with the many bars and restaurants all vying for custom, serving cocktails, and freshly caught seafood.
Read More: Can You Swim In The Black Sea?
3. Cesme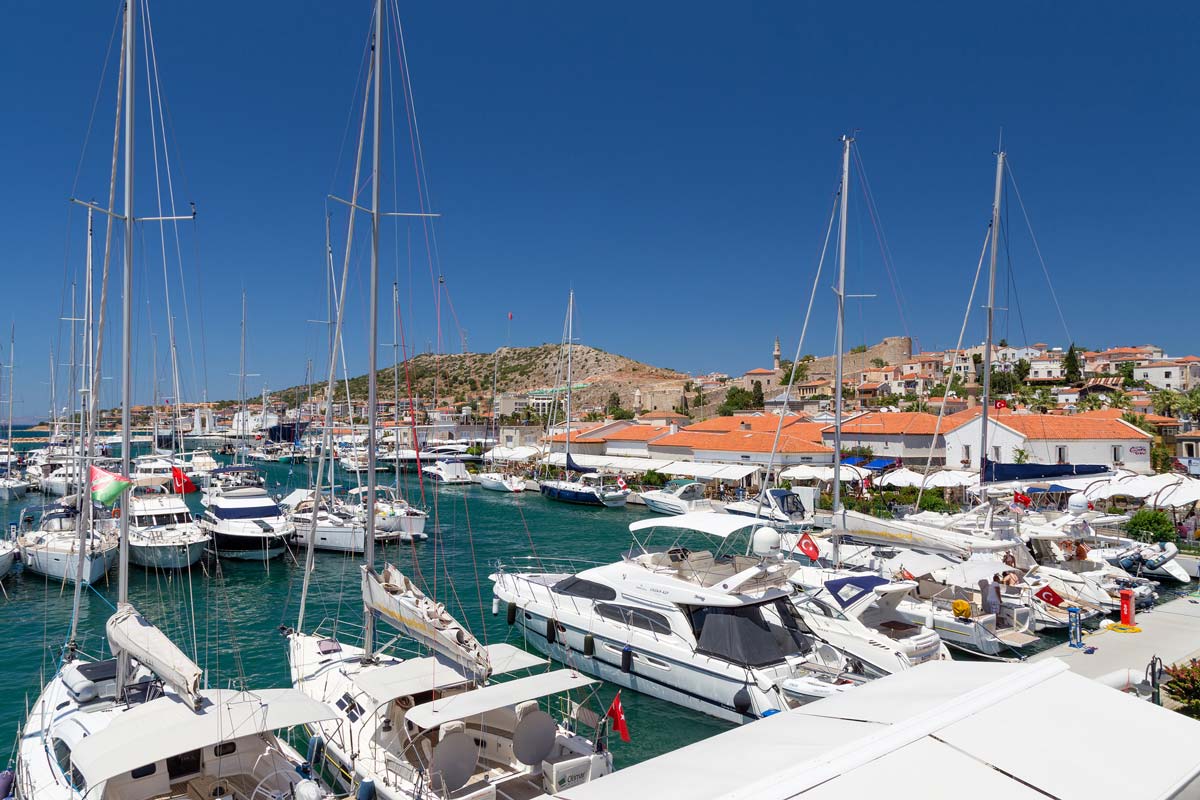 Named after the many Ottoman fountains found spread throughout the city, Cesme is a lovely little seaside town in Turkey, just one hour's drive from Izmir, that is becoming more and more popular with tourists and locals looking for a relaxing, yet lively beachside escape.
Hotels have largely taken over the beaches in the immediate area but there's still ample space for those wanting to just relax for free and take in the beautiful Aegean Sea.
Several luxury hotels and mega beach resorts line the beach giving you a misconception that Cesme is a busy resort town.
But among the all inclusive resorts, beach clubs, and snazzy bars, you'll find traditional narrow streets lined with quaint cafes, local restaurants, boutique hotels, and markets of a weekend giving you an amazing blend of vibrancy and all-important Mediterranean vibes.
4. Alacati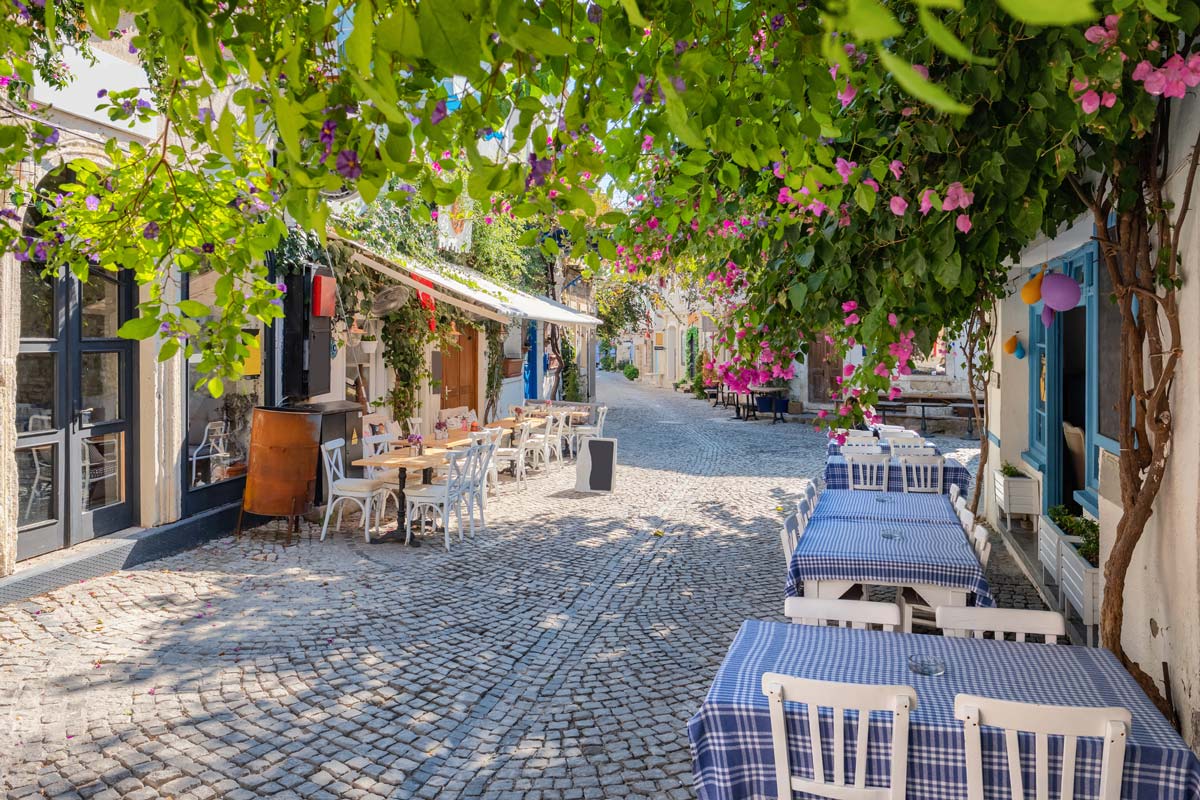 Alacati is a small beach town on the south Aegean coast, a little less than an hour's drive from the popular coastal city of Izmir.
This Turkish seaside town is known for its picturesque charm, with rustic stone houses smothered in the almost luminous pink of Bougainvillea and snaking cobbled streets of the Ottoman Empire filled with boutique shops, art galleries, and cafes combine to create an incredibly unique bustling but laid-back Turkish coast atmosphere.
Once you're done exploring all of the nooks and crannies of the old town, head down to the bay and test yourself with some windsurfing. Alacati is one of the best places in Turkey to windsurf due to the strong winds coming off of the open ocean.
5. Kusadasi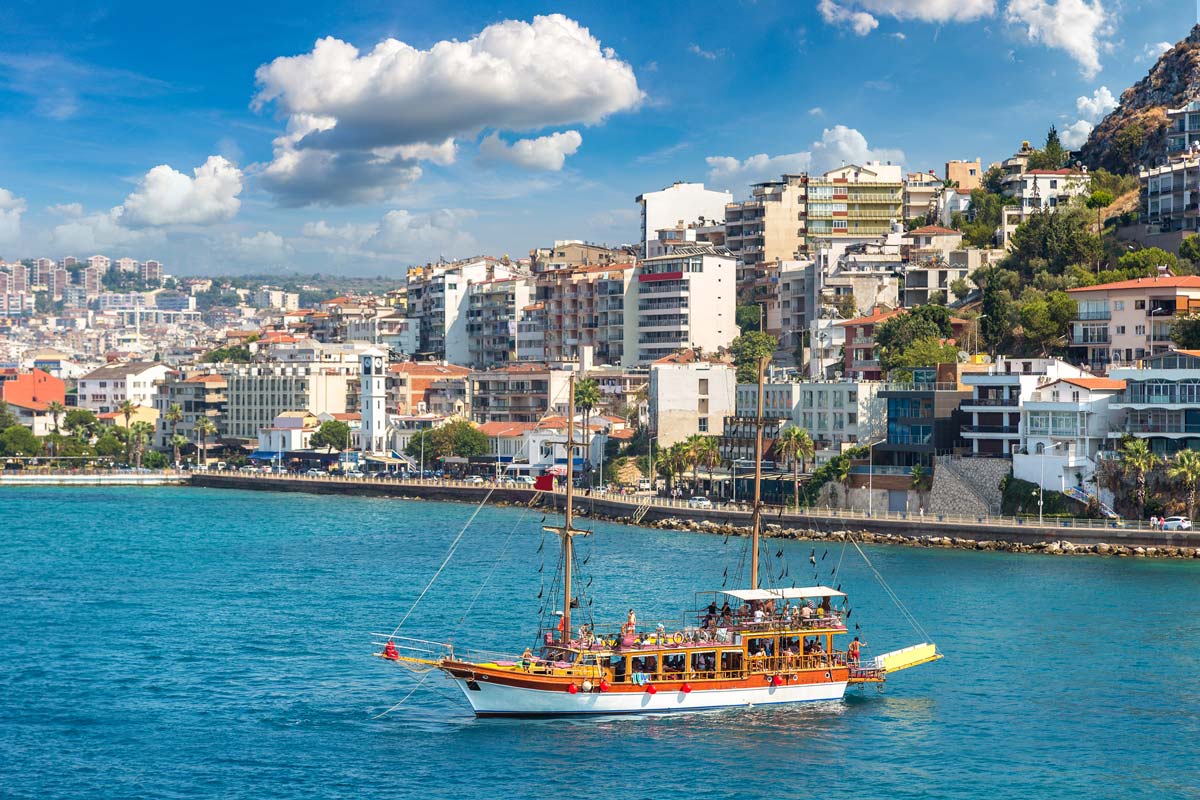 Kusadasi, nestled within its own bay, is an attractive beach town in Turkey often referred to as the gateway to the ancient city of Ephesus, which is just a 20-minute drive away. This makes it an ideal base for exploring the remarkable archaeological site as well as for a relaxed, beachside holiday perhaps with the children in tow.
Ladies Beach is one of the most popular spots to catch some Mediterranean sun, and its intriguing name is due to the fact only females were allowed to swim here during the Ottoman Empire's reign of the region.
Elsewhere, the palm tree-laden promenade is a peaceful evening walk along the beachfront leading into the multitude of bars and restaurants catering to hungry locals and tourists alike.
6. Kaş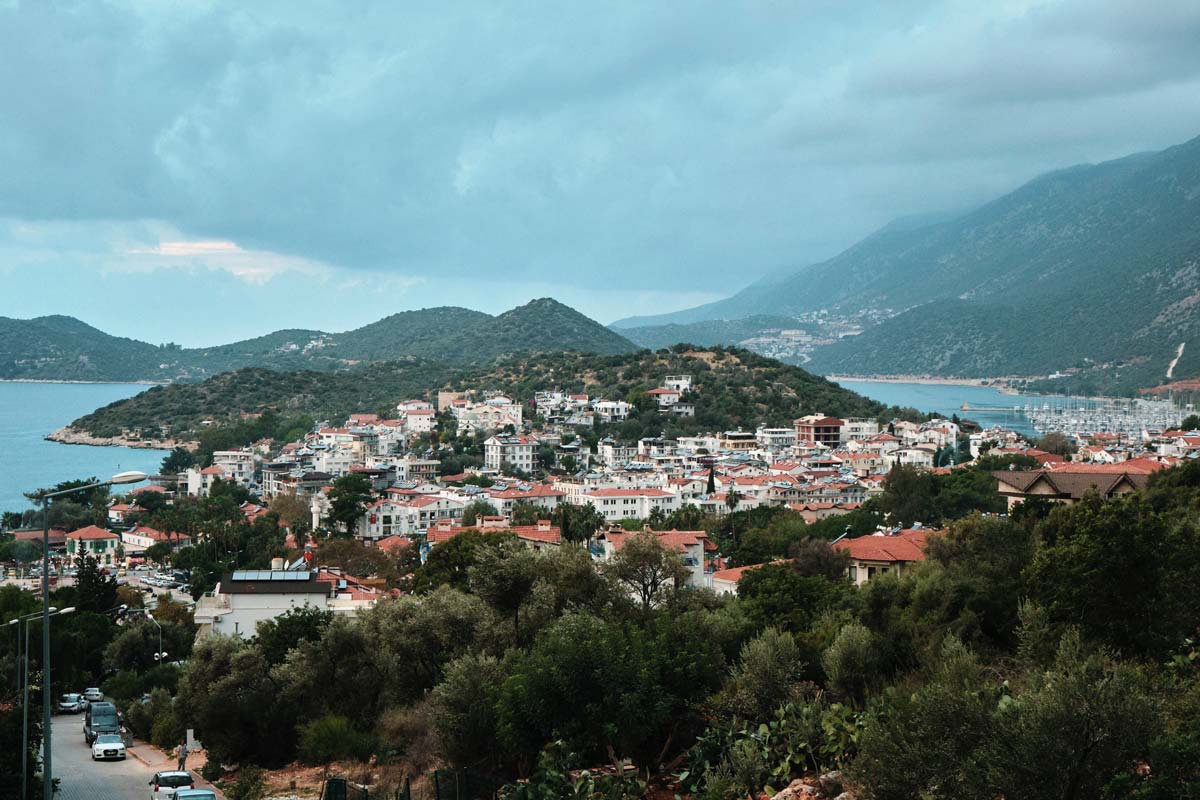 Moving further down south, Kaş is an unspoiled Turkish beach town in the province of Antalya, and a firm favorite of historians and archaeologists due to being built on the site of the ancient port of Antiphellus. Ruins that can be seen today include various hillside tombs and a perfectly preserved amphitheater dating back over 2000 years.
Aside from these fascinating relics of Turkey's past, Kaş is also home to some of the best beaches in Turkey. Kaputas Beach, nestled in the middle of towering cliffs, is one of the beaches in Turkey that's most dramatic, and Big Pebble Beach in the heart of Kas is another that's always a popular choice for swimming and sunbathing.
Don't forget to grab a snorkel or go out on scuba diving boat trips. Kaş is one of the best places for snorkeling and diving in the entire Mediterranean Sea with shipwrecks and plane wrecks to explore and various rare marine life to swim with.
7. Içmeler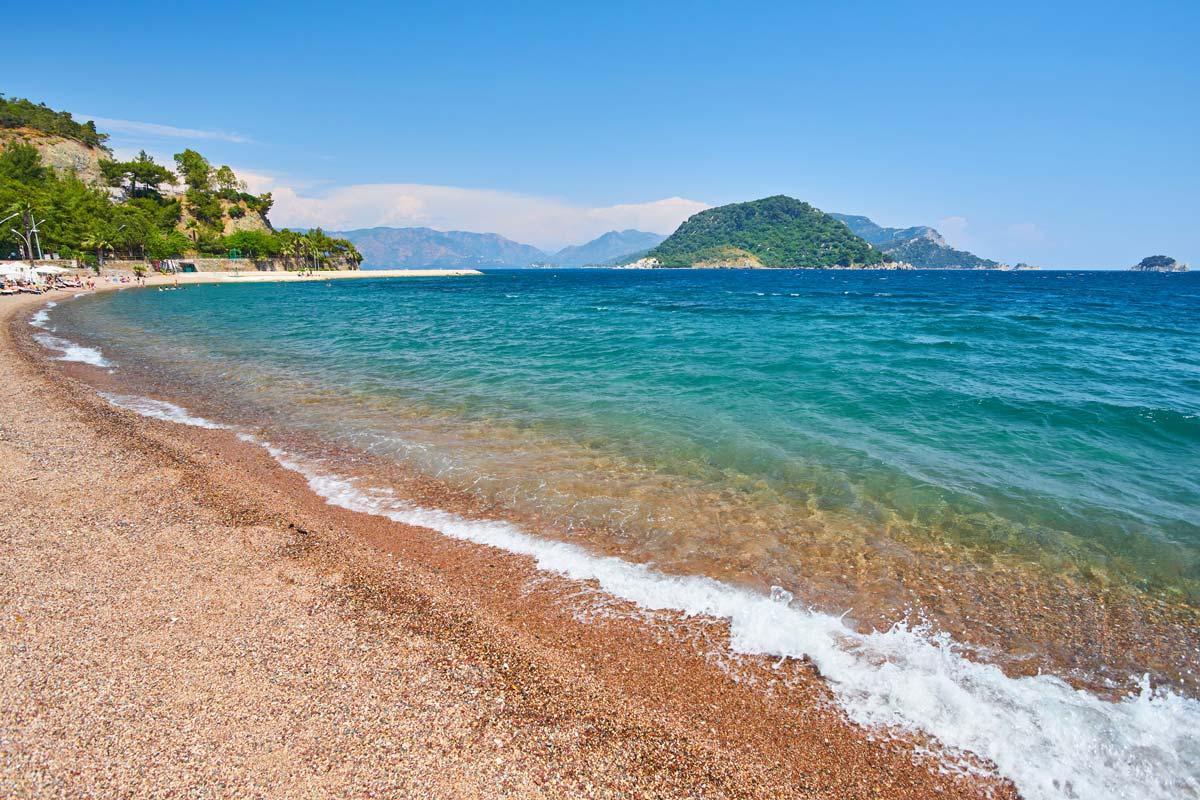 Much like the small seaside village of Oludeniz, Icmeler is a charming town completely surrounded on all three sides by pine forests in the mountains. With this in mind, Icmeler is a stunning little beach town for those that like to stay active through hikes and other activities.
The turquoise waters and white sand of Icmeler Beach are beautifully maintained, offering visitors hundreds of sun loungers and umbrellas. Along the beachfront, you'll also find plenty of bars, restaurants boutique hotels, and shops to keep you busy.
Being only a 15-minute drive away from the incredibly popular beach resort town of Marmaris, Icmeler offers a more laid-back atmosphere than its loud and busy neighbor but is still within close proximity to enjoy everything it has to offer.
---
What Are The Best Coastal Cities In Turkey?
1. Istanbul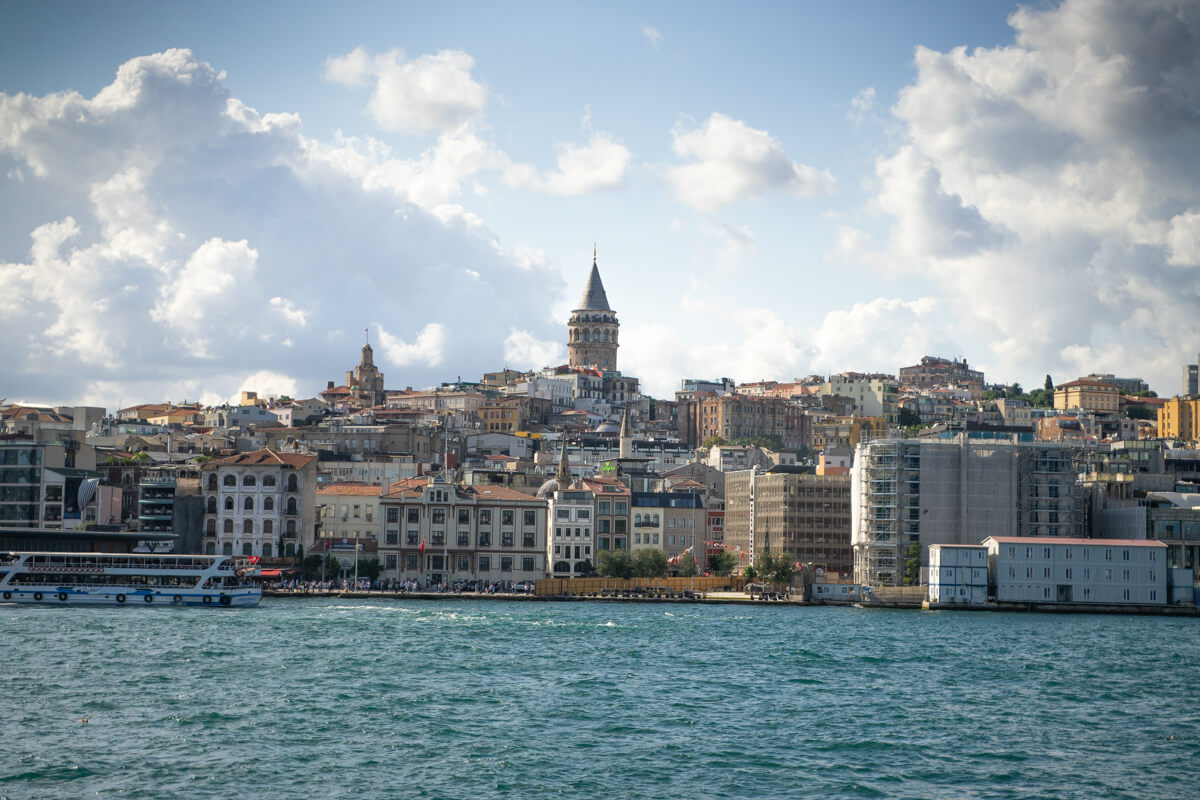 Istanbul is one of Turkey's most popular destinations, and for good reason. A melting pot of East meets West, where Europe becomes Asia. Now, many might not immediately think of Istanbul being a coastal city, but it's certainly right on the Turkish coast, two in fact. The Black Sea to the north, and the Sea of Marmara to the south, with the Bosphorus Strait flowing in between.
Exploring the best of what Istanbul has to offer will lead you to some incredible places, like the Hagia Sophia, a 1,500-year-old church turned mosque following the invasion of the Ottoman Empire, and The Blue Mosque, standing tall in Sultanahmet Square since the early 1600s with its famous blue-tiled interior.
A stroll down Istiklal Street will see you pass hundreds of shops, cafes, and restaurants with Turkish street food sellers on the side, and how can you forget a visit to the Topkapi Palace, the former headquarters-turned-museum of the Ottoman Empire before retiring back to one of the many boutique hotels in the city.
Read More: Suggested Istanbul Itineraries: 3 to 7-Day Options
2. Izmir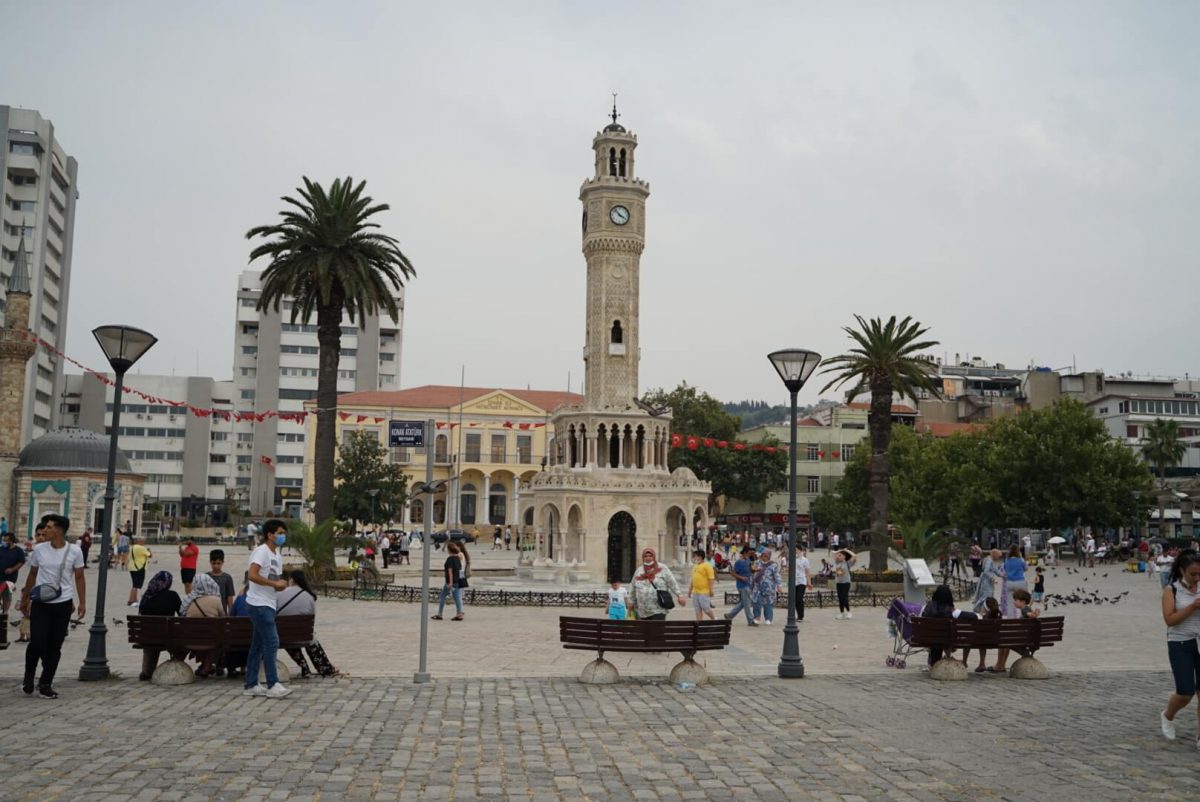 With a population of almost 3 million, Turkey's third-largest city happens to sit on the southern coast of the Aegean Sea, bathing in the gorgeous Mediterranean sun year-round. This makes it a perfect destination for any time of year. Even in January, the thick of the Turkish winter, temperatures still rarely drop below 12-13 degrees Celsius.
There are many things to do in Izmir. The myriad of mazy alleys and streets filled with shops, cafes, and restaurants all emanating some amazing smells just keep you wanting to explore deeper and deeper. If you fancy catching some fresh sea air, head down to Izmir's promenade which extends pretty much the entirety of the bay along the Aegean.
Finally, what's a visit to Izmir without seeing the famous Clock Tower? Built in 1901 in the city's Konak Square, it's become a symbol of the city and even featured on Turkey's 500 Lira banknotes.
Read More: Best Time To Visit Izmir
3. Antalya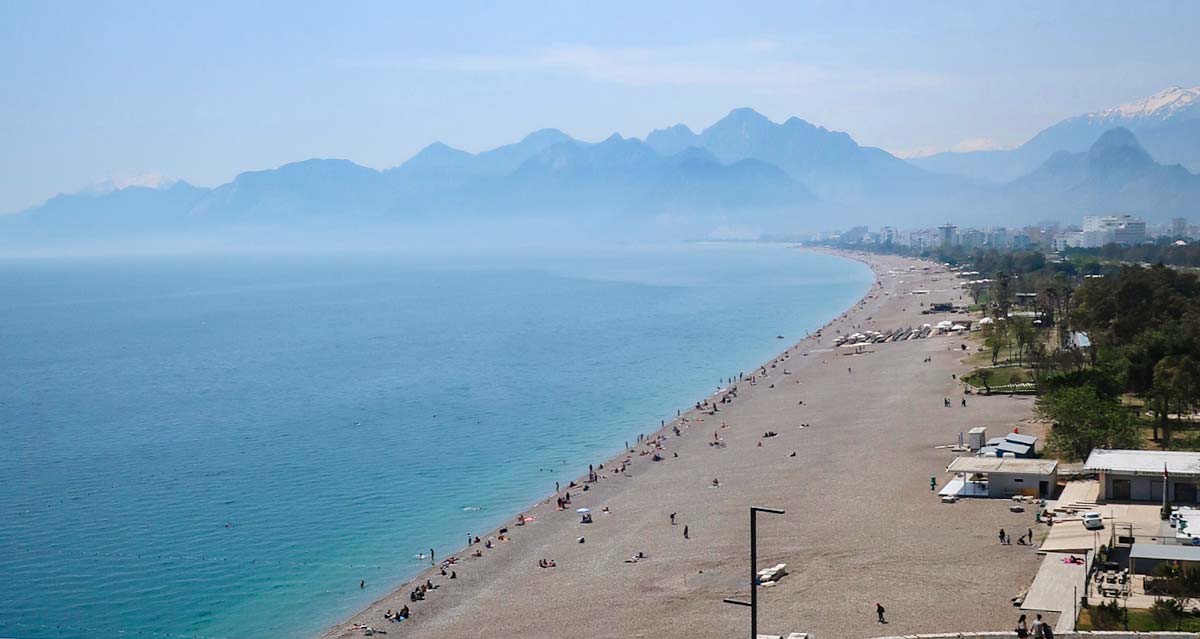 Antalya is Turkey's second most popular tourist destination thanks to its gorgeous soft sandy beaches of Kaputas, Kleopatra, Lara, and Konyaalti.
Part of the Turkish Riviera, many private beach resorts have set themselves up to cater to the mass influx of domestic and international tourists here in the summer months, but even beyond the golden sands and deep blue of the Mediterranean, there's still plenty to see and do in this incredible city and province.
Starting with Aspendos Theatre, this remarkably well-preserved ancient amphitheater is unmissable on a trip to Antalya, and just 25 miles from the center, it's the perfect day trip from Antalya for any history buff.
Duden Waterfalls is an amazing waterfall in Antalya and a popular option for holidaymakers wanting some adventure, and speaking of adventure, hikers will love the famous Lycian Way, which begins in Antalya and stretches over 500 kilometers of pristine Mediterranean coastline.
Don't miss Antalya's historic center, otherwise known as "Kaleiçi" or Old Town. It's a beautiful area that showcases the rich cultural heritage of the city. This district is where you can truly feel the historical and spiritual influences that have shaped Antalya over centuries.
And of course, we have to mention Lara Beach (again). It is perhaps the most famous beach in Turkey, a blue flag beach with long stretches of soft sand, beach clubs, water sports centers, and a stunning hotel zone.
Read More: When Is The Best Time To Visit Antalya?
4. Side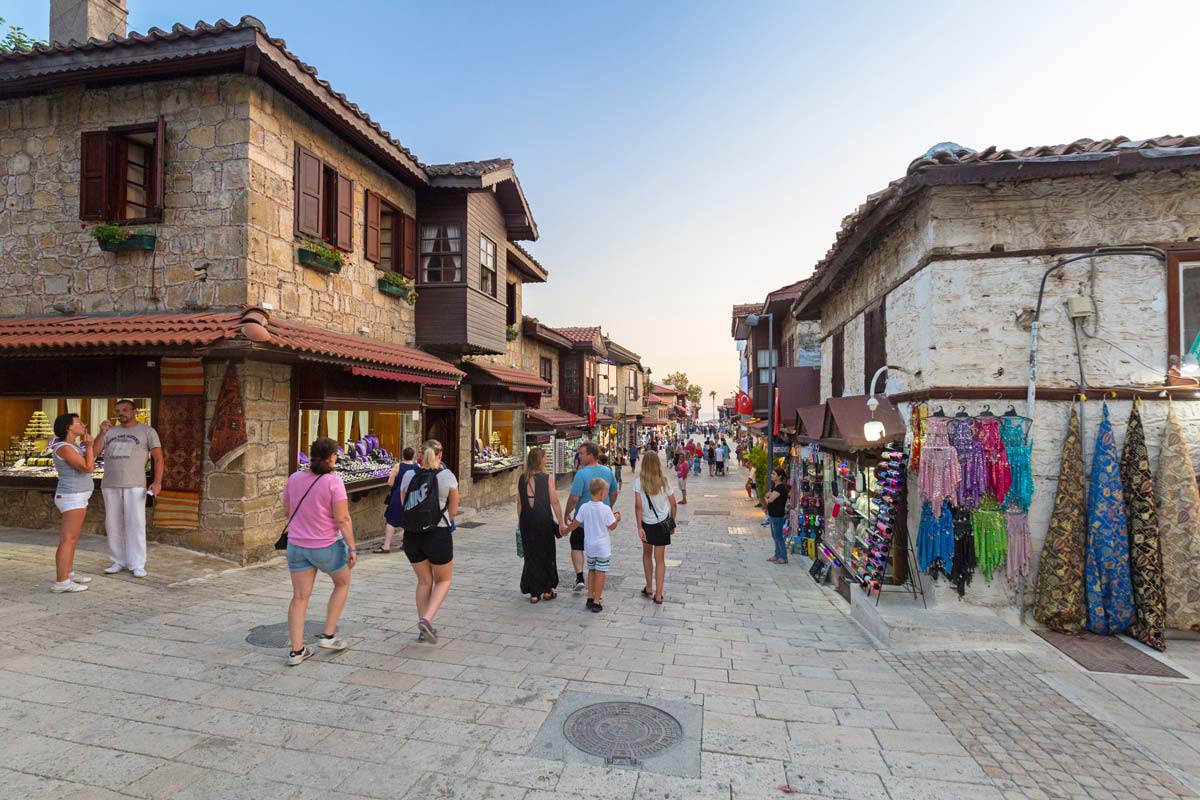 Heading an hour's drive east of Antalya city center sits the quaint town of Side (pronounced 'see day') on the famed Turquoise Coast. Mostly overshadowed by its much larger and more popular neighbor, Side often flies well under the radar of those wanting a typical Turkish beach holiday.
It's a beautiful blend of the typical Mediterranean natural beauty, with ancient history that makes one of the most beautiful cities in Turkey. Two beautiful beaches, appropriately named East & West Beach, effectively surround the historic town itself, and just a short 10-minute drive out of town, you'll find the jaw-dropping natural wonder of Manavgat Waterfall.
It's one of the most visited waterfalls in Turkey, with locals and tourists bringing picnics and spending the day at this stunning site.
5. Alanya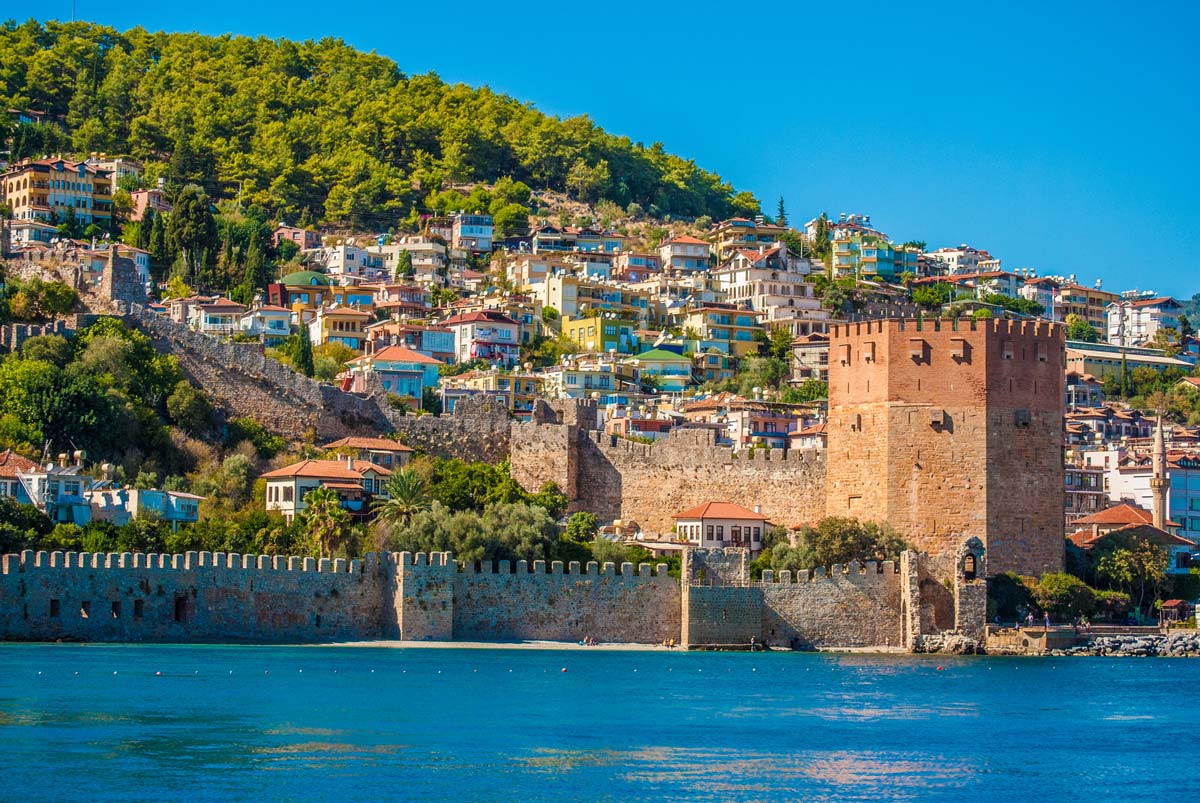 Not to be confused with the very similar-sounding city of Antalya, Alanya is a much smaller coastal city nestled away in between the imposing Taurus Mountains and the Meditteranean Coast, offering travelers a unique natural landscape.
Alanya has a deep history which is on show at historic sites even today, with the iconic Alanya Castle being the number one thing to do. Perched on a hilltop overlooking the Mediterranean Sea, it was built on the remnants of an ancient Byzantine fortress.
Other than visiting the most beautiful beach towns and white sandy beaches in the area like Cleopatra Beach, why not head out on an adventurous jeep safari where you'll traverse the mountainous terrain stopping off at canyons, waterfalls, and mud baths along the way? There are so many things to do in Alanya, despite being relatively small in size.
6. Marmaris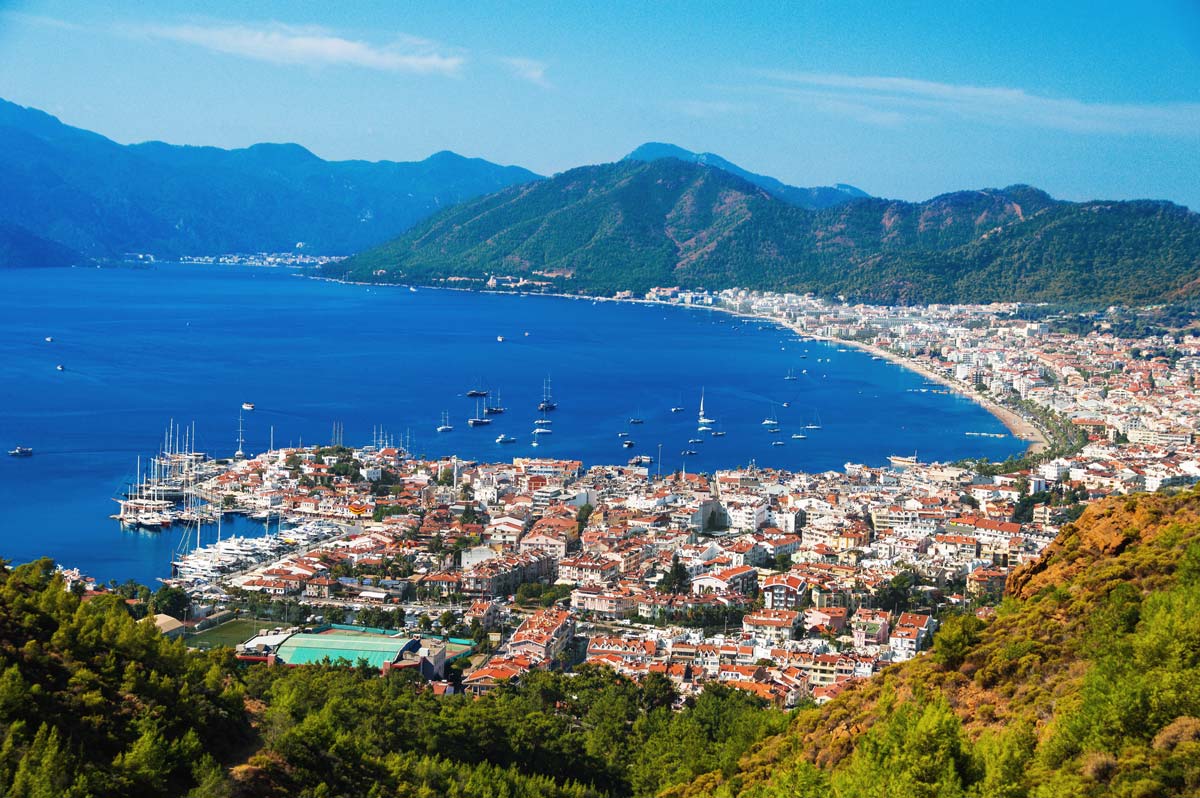 Marmaris is one of the most popular destinations for holidaymakers on Turkey's Mediterranean Coast and is evidenced by its heaving nature pretty much year-round. In recent times, it's become a little bit more party-oriented than catering to just families, but that's not to say it's all beers, cocktail buckets, and thumping music until the early hours.
Peaceful boat trips are one of the best things to do in Marmaris, making full use of the stunning blue seas and panoramic vistas at your disposal.
Marmaris Marina is also a pleasant place to spend the evening, with the lights from the boats and the many bars and restaurants along the waterfront, having some cocktails and a candlelit dinner is a great way to end the day. For the kids, Marmaris is home to some of the best waterparks in the country such as Atlantis and AquaDream.
7. Bodrum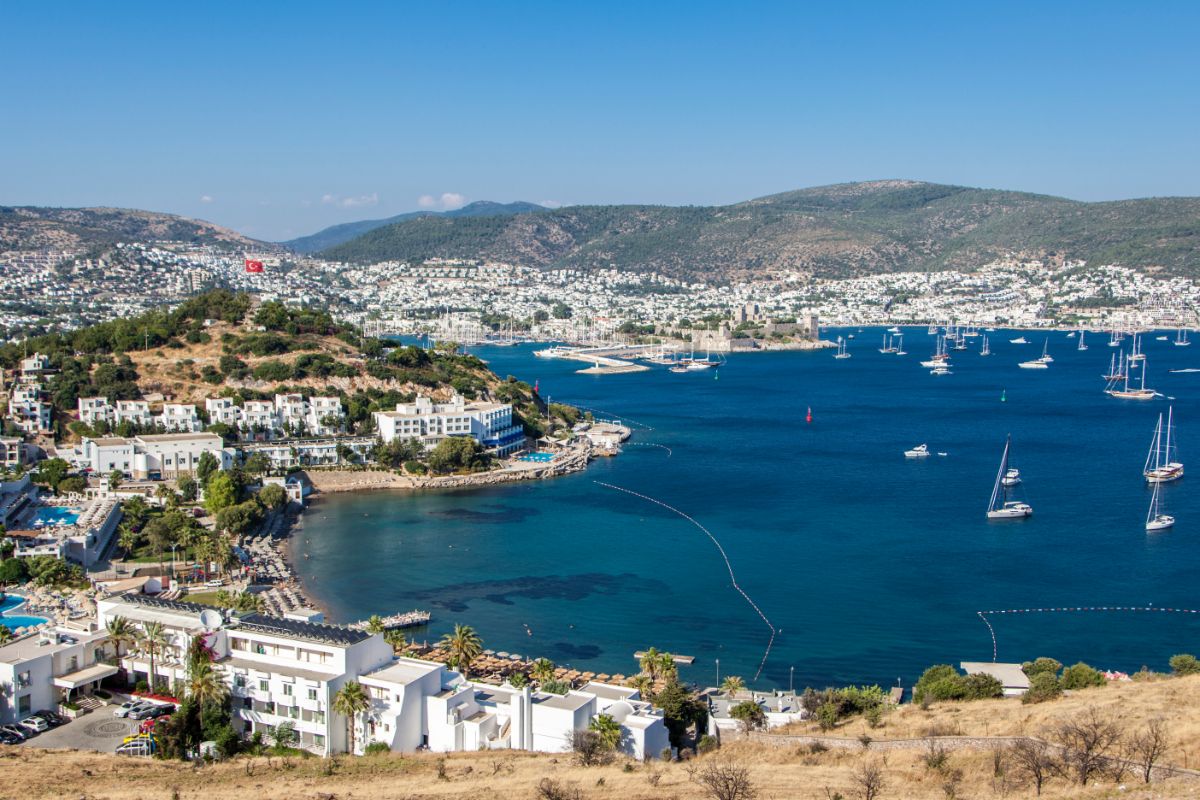 Situated on the South Aegean Coast is the beautiful coastal city of Bodrum, one of the most popular beach destinations in Turkey. Bodrum really comes alive in the evenings, when the sun goes down and everyone comes to enjoy the bars, restaurants, and boutique shops in the charming streets of the city's Old Town.
Nightlife in Bodrum is definitely catered to the tourist crowds here, with 'Bar Street' a bustling favorite, and when the night gets a little too heavy, the beautiful sandy beaches to recover on aren't far away. Gumbet Beach is a popular choice, as is Turgutreis, which is a 25-minute drive away, and hosts a wonderful local market on Saturdays.
Bodrum is also home to some of the most luxurious beach resorts in Turkey. So if you want to splurge on your vacation and be by the beach, then make sure you check out Bodrum!
8. Fethiye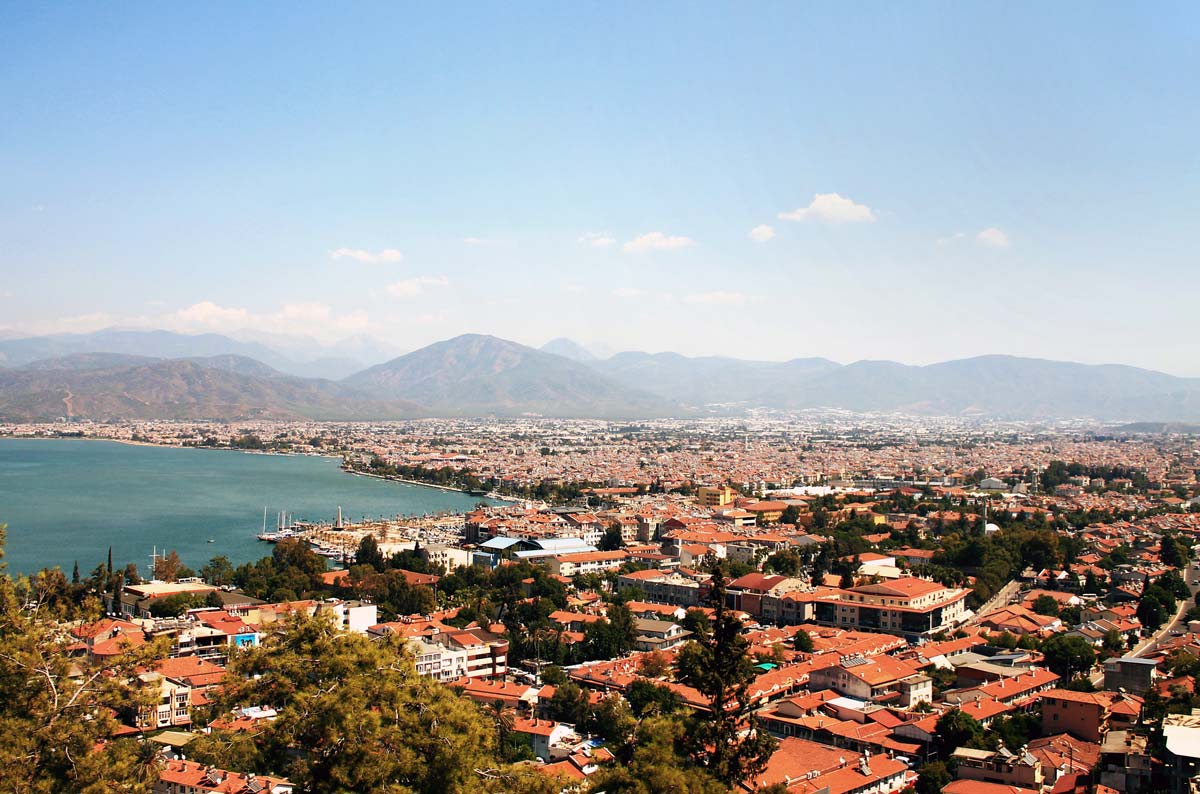 Fethiye is a picturesque port city on Turkey's Turquoise Coast and offers picture-perfect landscapes that are hard to beat anywhere on the planet. It's perfect for nature lovers.
The city itself is built upon an old ancient town, some of which you can still see today like the Lycian Rock Tombs (Amyntas Rock Tombs) that are carved into the mountainside. If you're up for it, you can actually hike up to these tombs and go inside. Turn around and you'll get incredible panoramic views of Fethiye and its bay, though there's not much inside of them.
Saklikent National Park is also a great day out, where you can hike through imposing narrow canyons and cool off the fast-flowing, ice-cold water. If you need some rest and relaxation, Oludeniz is not far away, and it's postcard-worthy Blue Lagoon. Oh – and don't forget a sunset dinner on top of Babadag Mountain. The views across the coastline are unmissable.
Fethiye is also a good base to explore the Butterfly Valley, a dense pine forest valley that leads to a secluded beach with turquoise waters and beautiful views!
9. Kemer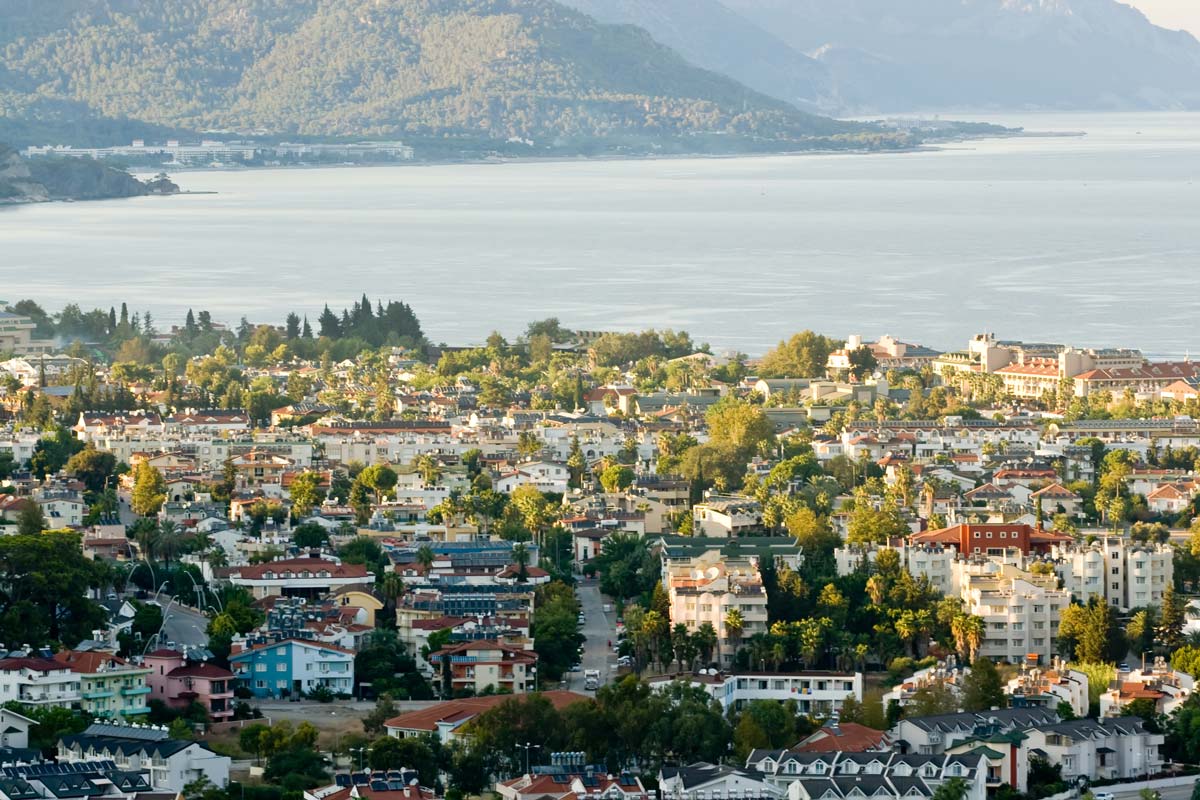 An old seaport dating back to the 7th century, Kemer is nothing short of a hidden gem when it comes to Turkey's Turquoise Coast.
One must-visit place is Tahtalı Dağı, also known as Mount Olympos. Whether you hike or take the Olympos Cable Car, reaching the summit rewards you with breathtaking panoramic views of the region.
Explore the ancient city of Phaselis, where you can wander through its well-preserved ruins and marvel at the ancient Greek & Roman way of life. It is believed that the ruins date back to 700 BC!
For a beach destination that features historic sites, stunning beaches, and beautiful mountains, Kemer is the place to go!
10. Trabzon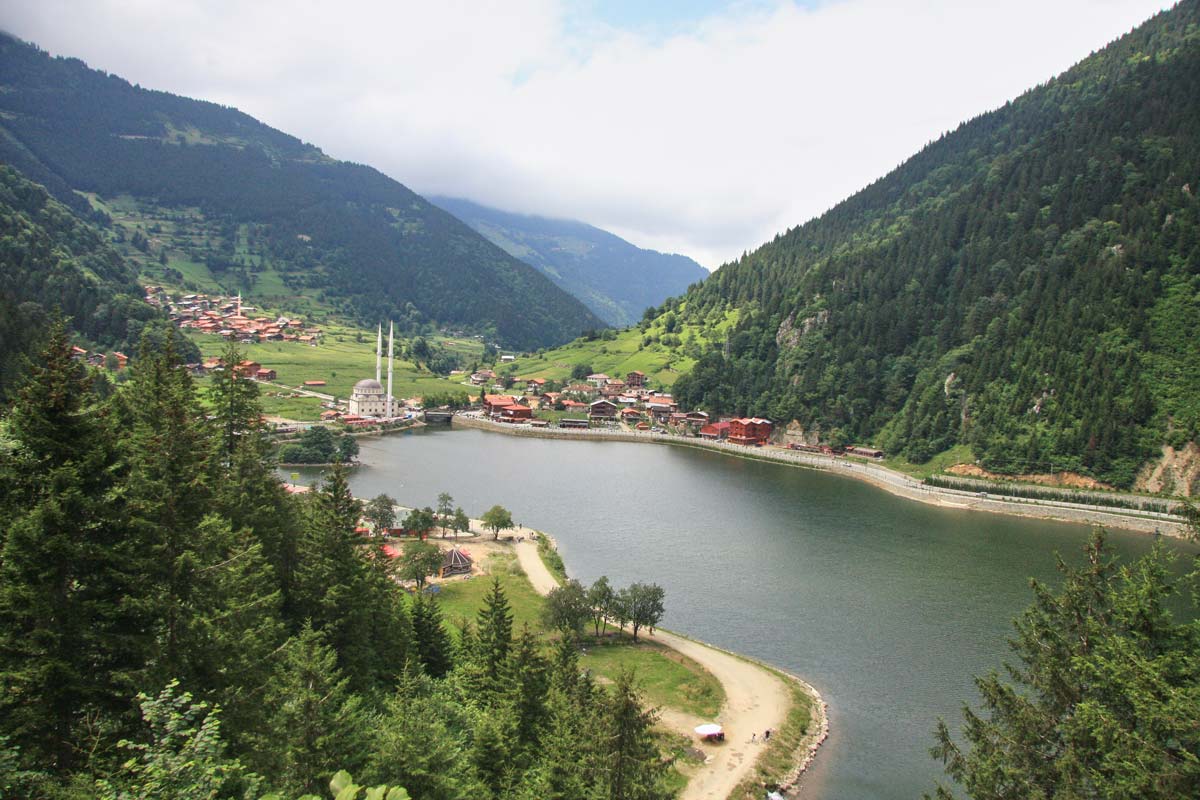 Leaving the turquoise waters of the Mediterranean behind, we find ourselves on Turkey's northern coastline with the Black Sea city of Trabzon. It's a far cry from any of the other sun-bleached, sand-filled coastal cities we've mentioned, instead focusing on the luscious hillsides and valleys of this often-forgotten region of Turkey.
The most famous attraction in Trabzon is the phenomenal Sumela Monastery. Built into a steep cliff 1,200 meters (3,900 ft) above ground in the Altındere valley, this ancient Orthodox monastery is one of the most stunning landmarks in Turkey.
Don't miss Uzungol, a natural lake and a picturesque village approximately 1.5 hours from the seaside city of Trabzon. The lake is situated on the foothills of the Soganli Mountains and is surrounded by lush greenery and high mountains, making it a perfect spot for nature lovers.
11. Mersin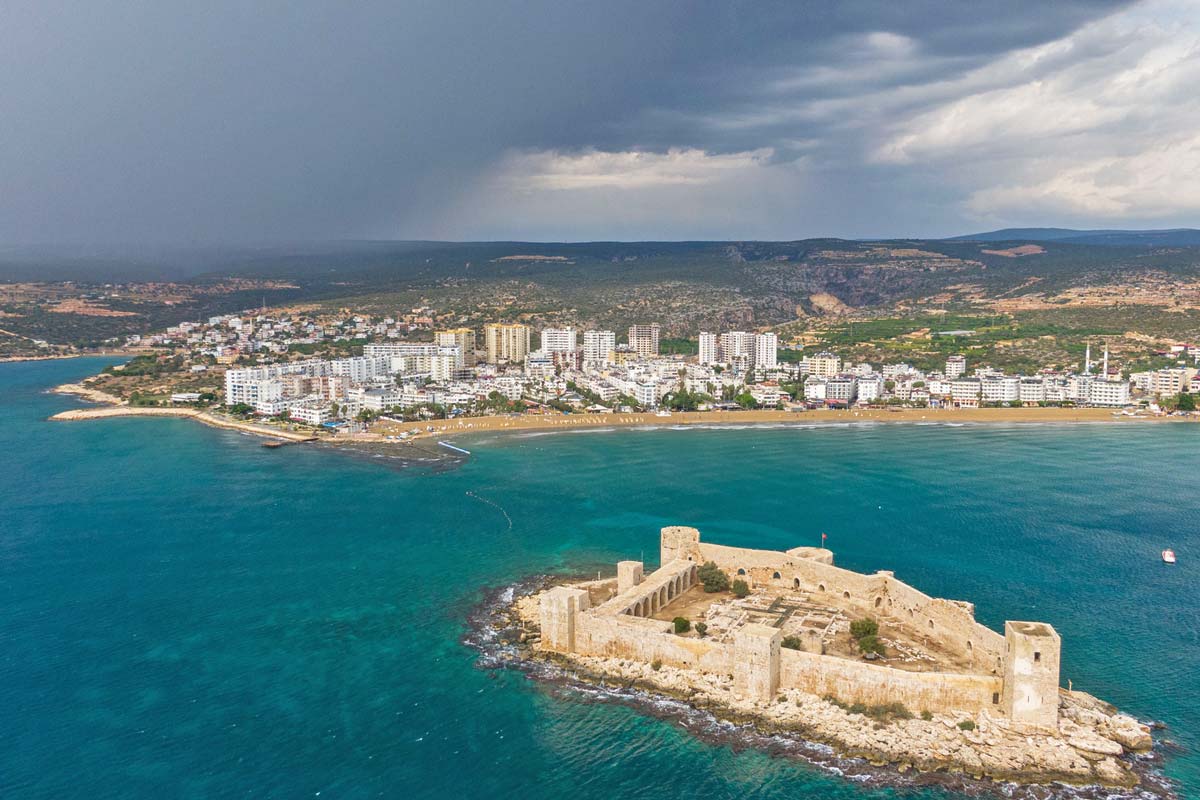 The Mediterranean City of Mersin is one of the best hidden gems in Turkey. The city is most famous for being built on the ruins of an ancient settlement, perhaps as old as more than 6000 years ago.
Mersin's geographical location, right on the cusp of the Middle East, brought together several empires, notably the Persians, Romans, and Byzantines.
Mersin's beaches are beautiful and relatively untouched, with Maiden Beach being the best along with Susanoglu near Silifke. In Mersin city center, Mersin Marina is one of Turkey's largest and features a huge variety of restaurants, cafes, and bars for you to enjoy, and whilst you're in the area, Saint Antuan Latin Catholic Church is a must.
12. Samsun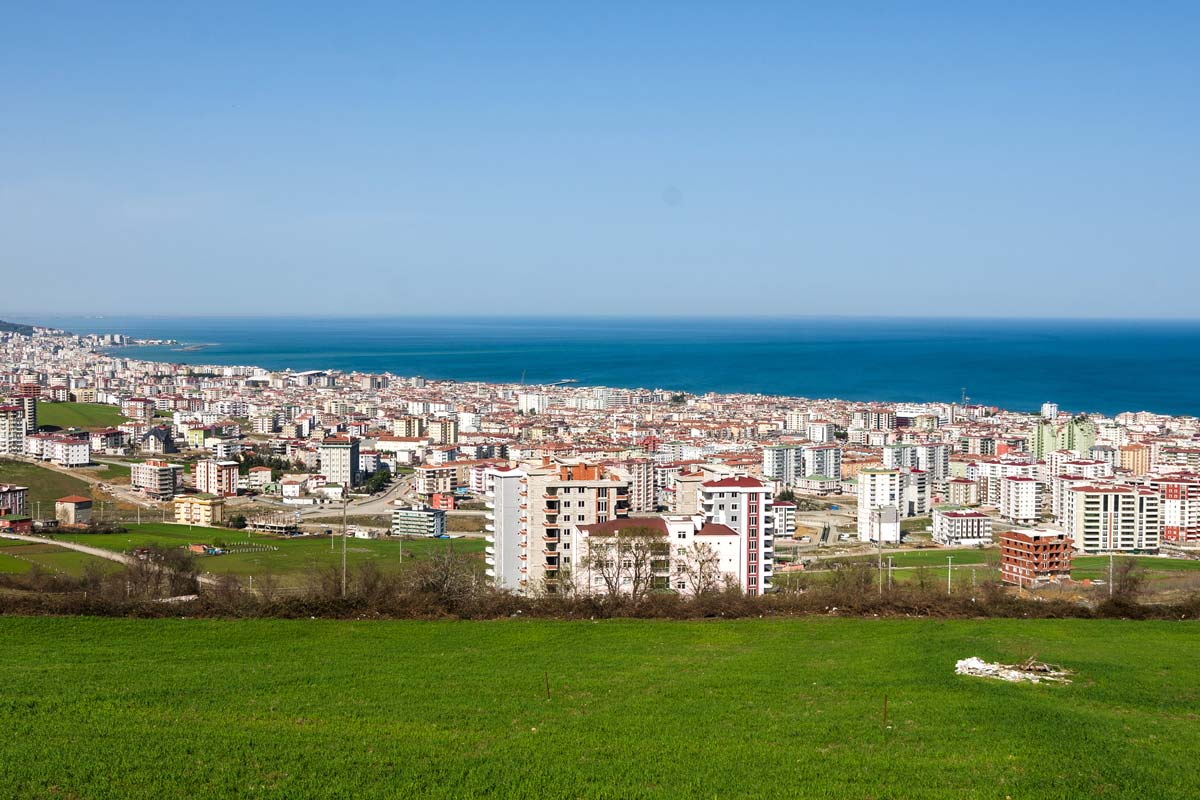 Situated along the Black Sea, Samsun is the largest city on the Turkish Black Sea coast, lying between the deltas of the Kızıl and Yeşil rivers.
The city is also known for being called Amisos, which is the name of the city under the Byzantines. It was only renamed Samsun after the Seljuq Turk took over in the latter half of the 12 century. The city is recognized as the place that inspired the Turkish War of Independence.
For beach lovers, make sure you check out Atakum Beach, a sandy beach that stretches a good portion of the city. It has a beautiful promenade with a cycling path, and it's lined with cafes and restaurants where you can sample local cuisine.
Because it is believed that the start of Turkish War Independence was started here, there are many museums dedicated to that event. Don't miss out on the Bandirma Vapuru Museum, a replica of the steamboat that carried Mustafa Kemal Atatürk from Istanbul to Samsun at the start of the Turkish War of Independence.
13. Çanakkale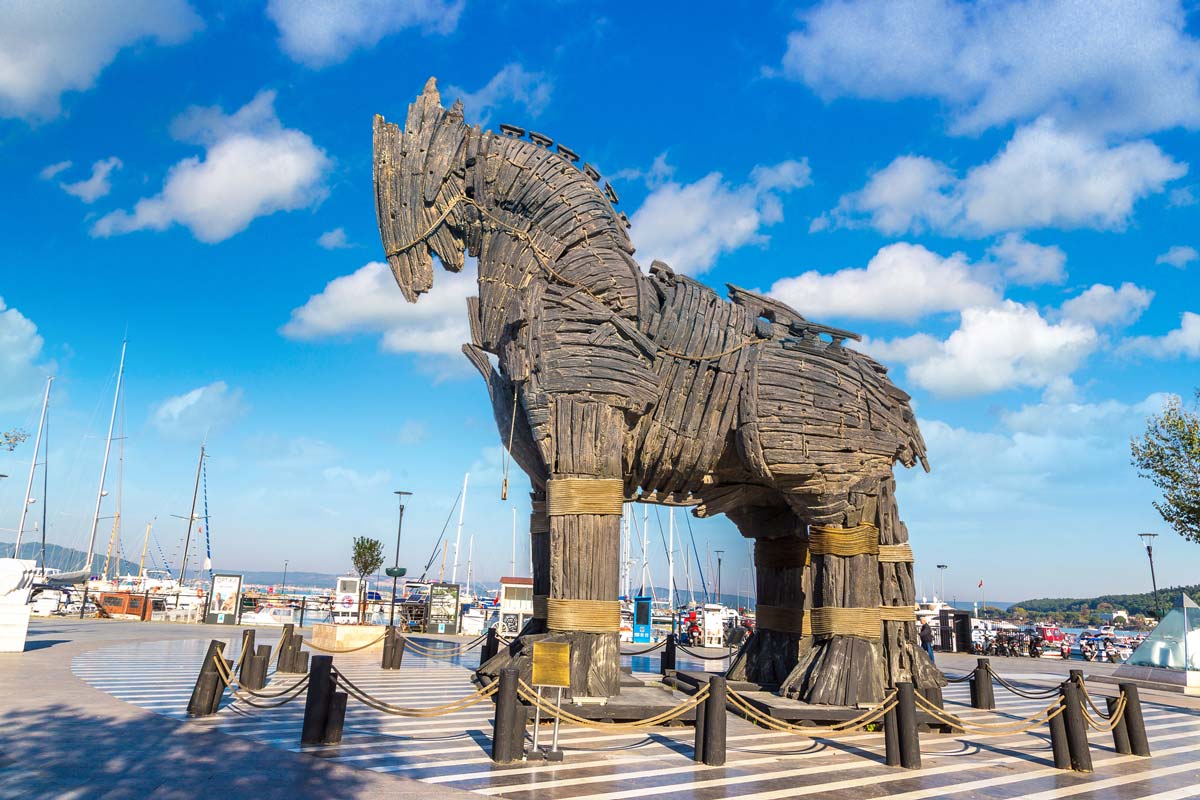 Tucked in the north Aegean Coast, The coastal city of Çanakkale is one of the most overlooked seaside destinations in Turkey. While there aren't stunning beaches like those destinations on the southern Turkish coast, Çanakkale has a beautiful waterfront with charming cafes and restaurants.
The landscape in Çanakkale is gorgeous, as visitors can admire the beauty of the extremely narrow Dardanelles Strait that decides Europe and Asia. The nearby Gallipoli Peninsula is best known for its significant role in World War I during the Gallipoli Campaign, or the Battle of Gallipoli. Here you can visit the Çanakkale Martyrs' Memorial, a powerful tribute to the fallen soldiers of World War I.
Çanakkale is also known for the ancient ruins of Troy, a UNESCO World Heritage Site that offers a fascinating glimpse into the Bronze Age civilization. The site gained worldwide fame through Homer's epic poem, "The Iliad," which recounts the story of the Trojan War.
---
Map of The Best Turkish Beach Towns And Coastal Cities
---
Beach Towns And Coastal Cities In Turkey FAQs
What Are The Best Places To Visit On The Turkish Riviera?
The best places to visit on the Turkish Riviera are Antalya, Fethiye, Bodrum, Kas, Kusadasi, Side, and Alanya. These destinations are home to some of the best beaches in Turkey and are filled with history and gorgeous landscapes.
Where Are The Best Beaches In Turkey?
The best beaches in Turkey are near the country's Southern Mediterranean Coast. It is also nicknamed the Turquoise Coast thanks to the high concentration of blue flag beaches and crystal clear water!
---
As you can see, there are plenty of amazing coastal cities and beach towns in Turkey! Whether you are looking for a destination with pristine beaches, a historic seaside city, or a lively port city with restaurants bars, and a lively nightlife, hopefully you found it in this article!
Disclaimer: Some of the links above are affiliate links. That means if you book or make a purchase through the links, we will earn a small commission at no extra cost to you! The money will help run this site! Thank you!