If you are looking for the most beautiful cities in Turkey, then you have come to the right place. Spanning across Europe and Asia, Turkey is a unique country with influences from all around the world.
Its diversity has created not only some of the most fascinating cultures, traditions and religions, but it has also left remarkable architecture and stunning landmarks that leave visitors in awe.
From ornate mosques to labyrinth-filled bazaars and white-sand beaches to lush green mountains, Turkey's beauty is both in its cultural heritage and landscape.
You might already know some of the most famous cities in Turkey, such as Istanbul, Cappadocia (or more specifically, Goreme), and Antalya, but there are so many more beautiful places in Turkey.
We are blessed with the opportunity to explore some of these gorgeous destinations on our own, and we are here to share with you 25 of the most beautiful Turkey's cities!
---
What Are The Most Beautiful Cities In Turkey?
1. Istanbul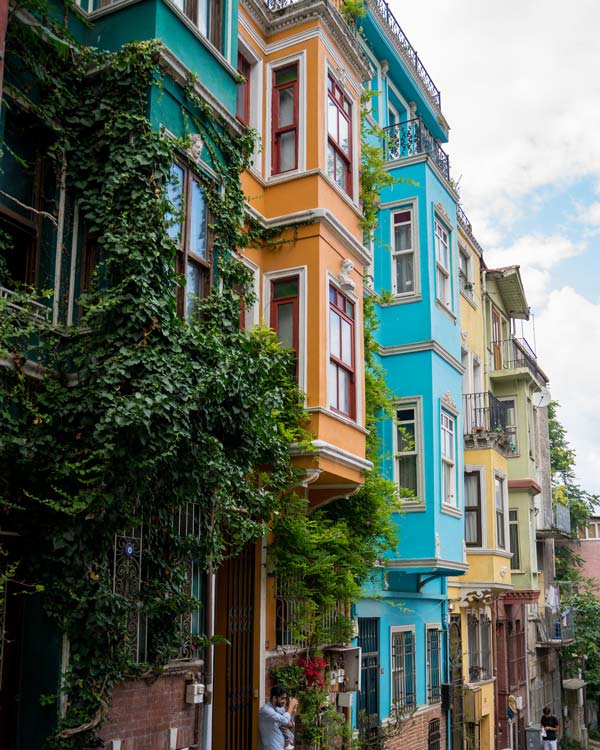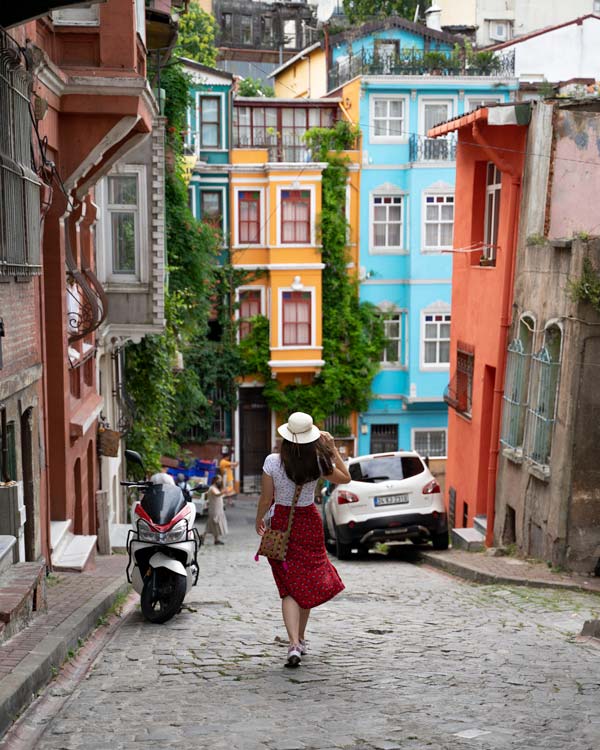 First up is the jewel in Turkey's crown – Istanbul, the largest and most populated city in Turkey with over 15 million residents. Straddling both Asia and Europe across the Bosphorus Strait, it is a unique city that sits on two different continents.
This bustling metropolis is regarded as the most beautiful city in Turkey thanks to its historic mosques featuring intricate calligraphy, cobblestone streets, and incredible views of the Bosphorus Strait, especially from Camlica Hill and Bosphorus Bridge.
Istanbul is a historically rich yet modern city, and it was inhabited as early as 3000 B.C. As you wander the streets here, you will see evidence of its Greek, Byzantine, and Ottoman past.
As for things to do in Istanbul, the must-see sights in this beautiful Turkish city include the dramatic Hagia Sophia, the Blue Mosque with its colorful Iznik tile work, and the sprawling and colorful Grand Bazaar, where you can shop 'til you drop!
Read More: Most Beautiful Places In Istanbul, Turkey
2. Goreme
If you are into breathtaking natural landscapes, then Goreme is going to be one of the most gorgeous cities in Turkey for you.
Situated in the Central Anatolia region of Turkey, Goreme is the historic center of the touristy region of Cappadocia, where you'll find unique rock formations known as "fairy chimneys", cave dwellings, and historic cave churches.
This small town in Cappadocia of only 2000 residents was awarded the status of UNESCO World Heritage Site in 1985. As you stroll around town, you'll find many local restaurants serving authentic regional food, as well as many stunning places to stay, some of which are cave rooms built from natural geological formations.
One of the best things to do in Goreme is to visit the Goreme Open Air Museum, which isn't your typical museum but a complex of cave churches that are decorated with ornate frescoes.
And if you really want to take in the panoramic views of Cappadocia, then hopping in one of the sunrise hot air balloon rides is a must! Don't forget to stay in one of the hotels in Cappadocia with views of hot air balloons as well!
Read More: Best Hotels In Cappadocia With Stunning Views of Hot Air Balloons!
3. Izmir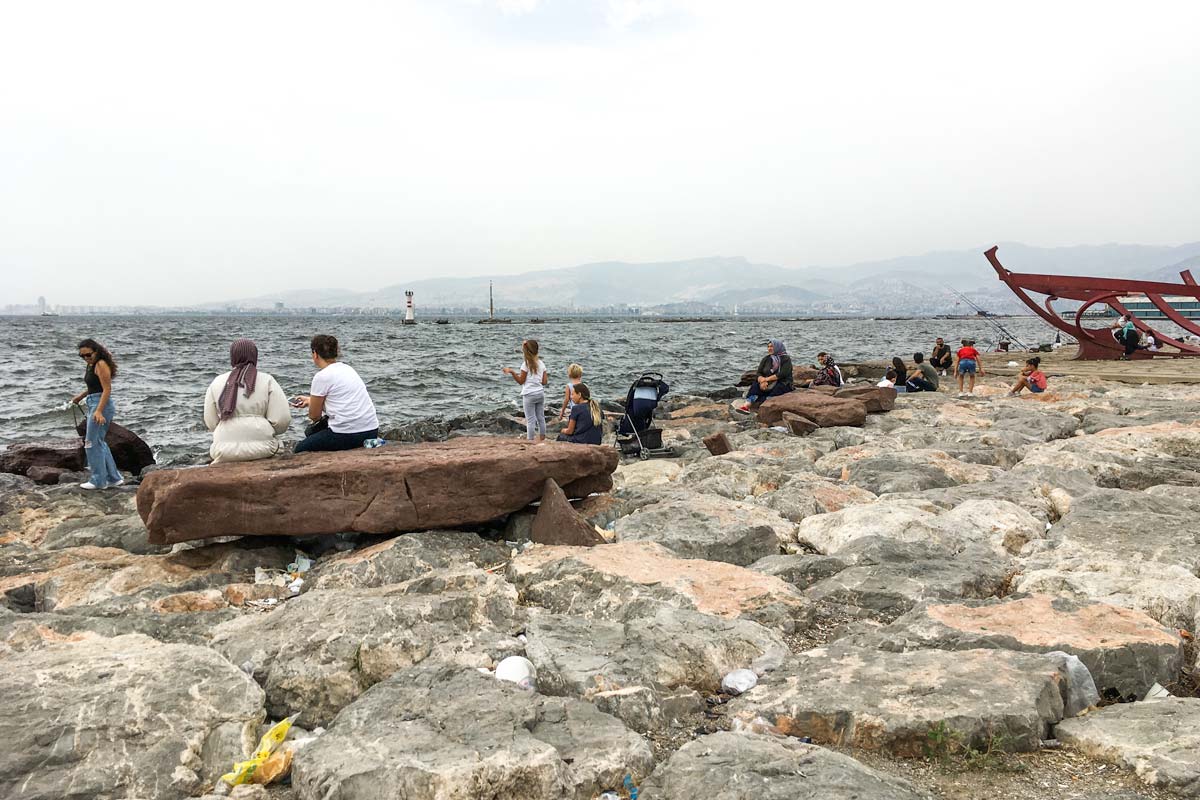 Built along the Aegean coast and steeped in history, Izmir is one of the most beautiful cities in Turkey. Its history dates back to ancient times and involves the Greeks, Romans and even Alexander the Great.
The city's stunning coastline along the Aegean Sea offers picturesque beaches, crystal-clear waters, and vibrant sunsets. While in the city, you'll find vibrant neighborhoods featuring charming streets, colorful architecture, and bustling markets.
Nowadays, the nation's third largest city is most known for its archaeological sites, including the Roman Agora of Smyrna, the Velvet Castle, which provides the city's best view, and the hilltop castle of Kadifekale.
The city is also a great place to explore other beautiful historical attractions such as Ephesus, Pamukkale, and more.
4. Antalya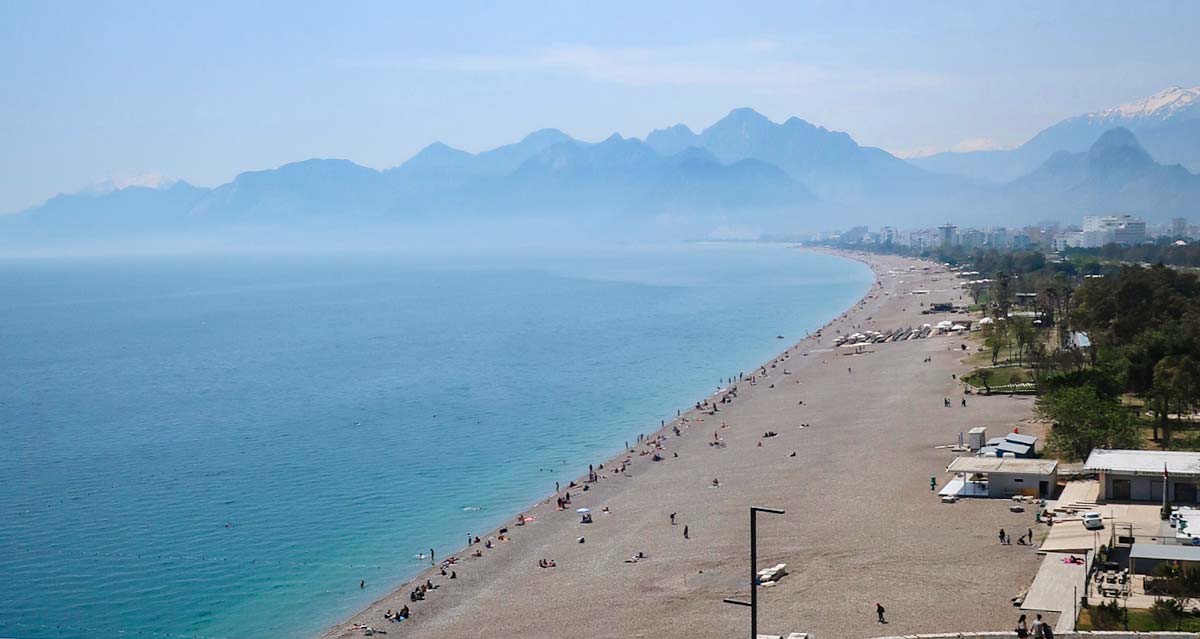 No list of the most beautiful cities in Turkey is complete without Antalya, a beautiful seaside city located on Turkey's famous Turquoise Coast in the southern Mediterranean. Here, you'll find some of the best beaches in Turkey, many of which are blue flag beaches, and a stunning mountainous backdrop to complement the views.
We rate it as one of the most gorgeous cities in Turkey because the ocean here is the most glorious shade of blue, and the beaches look like something from a travel magazine.
So, as you can guess, most of the best things to do in Antalya involve the sea, from exploring Antalya's white sand beaches like Konyaaltı Beach, Moonlight Beach, and Mermerli Beach to wandering the Old Harbor filled with yachts. It is here where you can take an iconic boat trip from Antalya as well.
If you're into history, Antalya has an Old Town called Kaleici, where you'll find historical buildings and narrow cobblestone streets lined with charming shops, cafés, and restaurants. Don't miss out on some of the archaeological sites here, such as Hadrian's Gate, Hidirlik Tower, and more. There are also plenty of great museums in Antalya worth visiting!
5. Alacati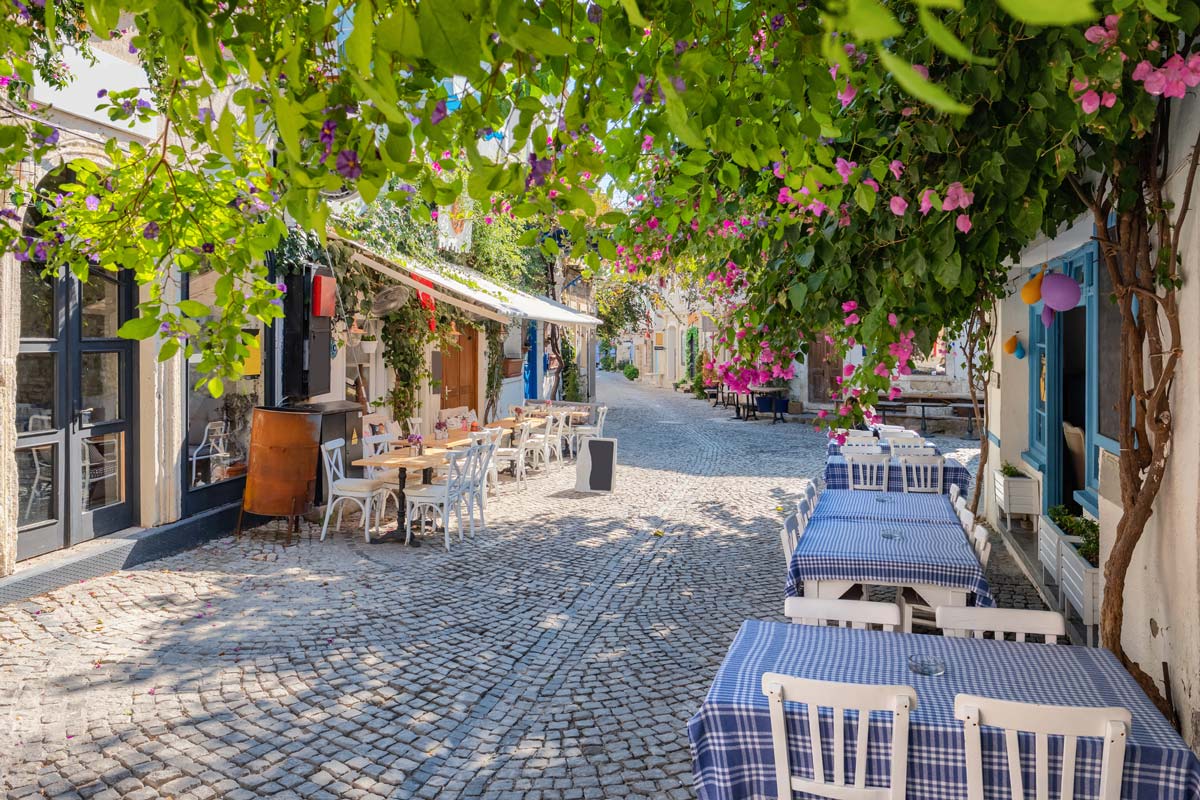 Situated on the Çeşme Peninsula, Alacati is a beautiful port town in Turkey. Once just a small village in Western Turkey, today it's a popular tourist destination, and, interestingly, the area got its name from the 'Alacaat tribe' who once called this place home.
Lying along the deep blue Aegean Sea, this city is one of the most beautiful places in Turkey because of its rugged, white sand beaches, vineyards, and unique stone architecture. Watersport lovers can enjoy adrenalin-pumping fun at the Port Alaçatı Marina, where jetskiing and inflatable boating are available.
However, Alacati's most beautiful feature must be the charming stone houses, adorned with colorful shutters and doors, and narrow cobblestone streets lined with vibrant bougainvillea flowers. These picturesque streets are home to chic boutiques, inviting cafés, and delightful restaurants serving authentic Turkish cuisine.
6. Cesme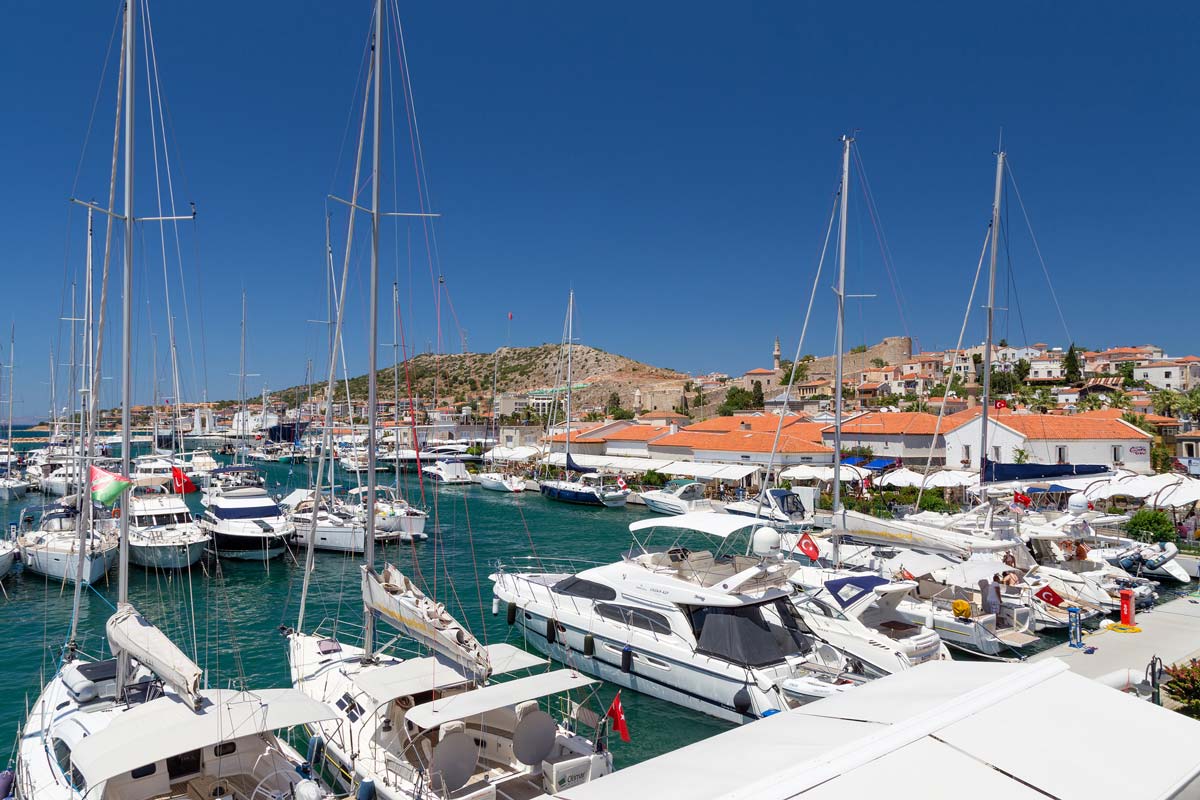 Just a short drive from Alacati is Cesme, a beautiful resort town known for its gorgeous sandy beaches such as Ilica Beach and Altinkum Beach, where visitors can relax and enjoy white powdery sand and crystal-clear waters of the Aegean Sea. Cesme's thermal springs offer therapeutic benefits and are perfect for rejuvenation.
Cesme is also home to the postcard-worthy Cesme Harbor, where travelers will find a lively area filled with upscale shops, restaurants, and bars, ideal for daytime and nighttime entertainment.
Lastly, Cesme Bay is famous as the location of the Battle of Chesma, a naval battle between the Ottoman and Russian fleets during the Russo-Turkish War. Those who want to learn more about the city's fascinating history can visit the Çeşme Museum and Cesme Castle.
7. Kusadasi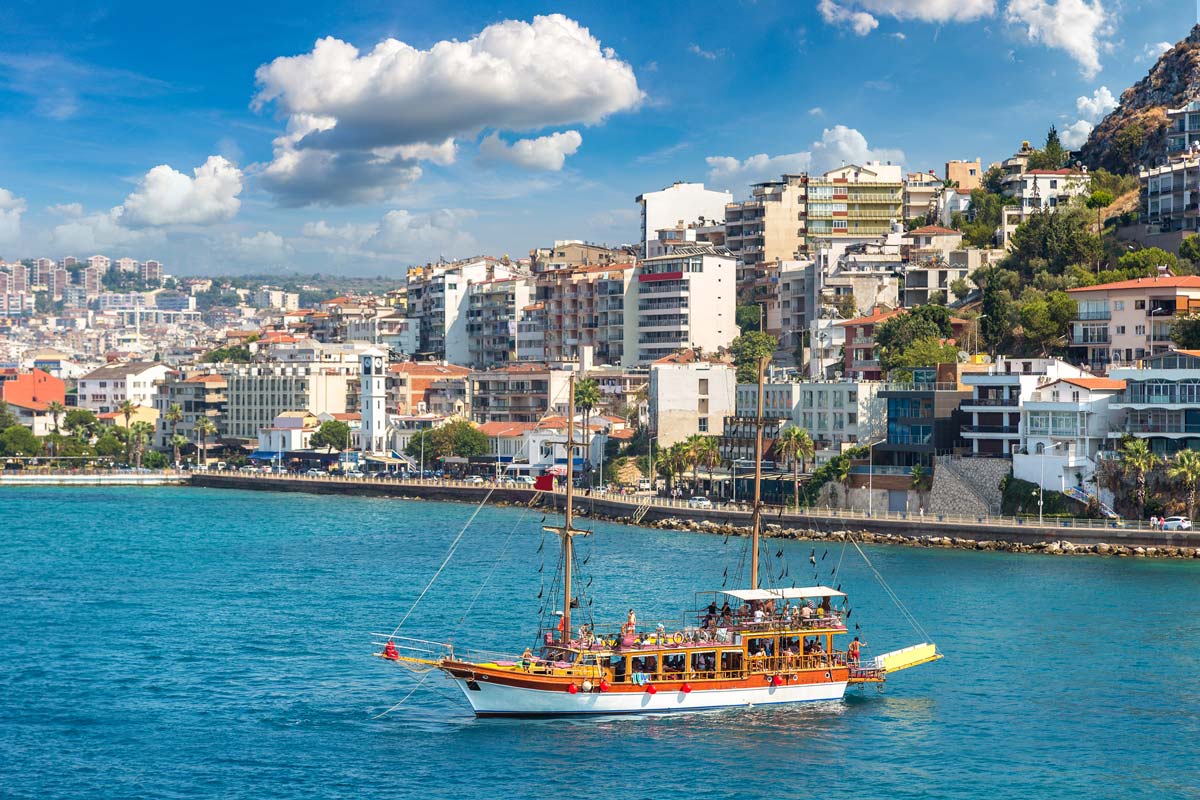 Kusadasi is one of the most popular beach resort towns in Turkey, thanks to its glorious beaches backed by an azure blue sea, fascinating historic ruins (the ancient city of Ephesus is within throwing distance), and the Dilek Peninsula National Park!
The city is also a popular cruise ship destination, and as such, it can get very busy here, especially during the summer months. The wonderful waterside promenade is the busiest street in the city, and it's lined with excellent colorful shops, restaurants, bars, and luxury hotels.
Our top tip for Kusadasi is to spend half a day wandering Kusadasi Castle on Pigeon Island, a unique island in Turkey that's connected to the mainland via a causeway. Of course, beach-hopping is a popular pastime in Kusadasi, too, and the best beaches here are Ladies Beach and Silver Sands Beach.
8. Bodrum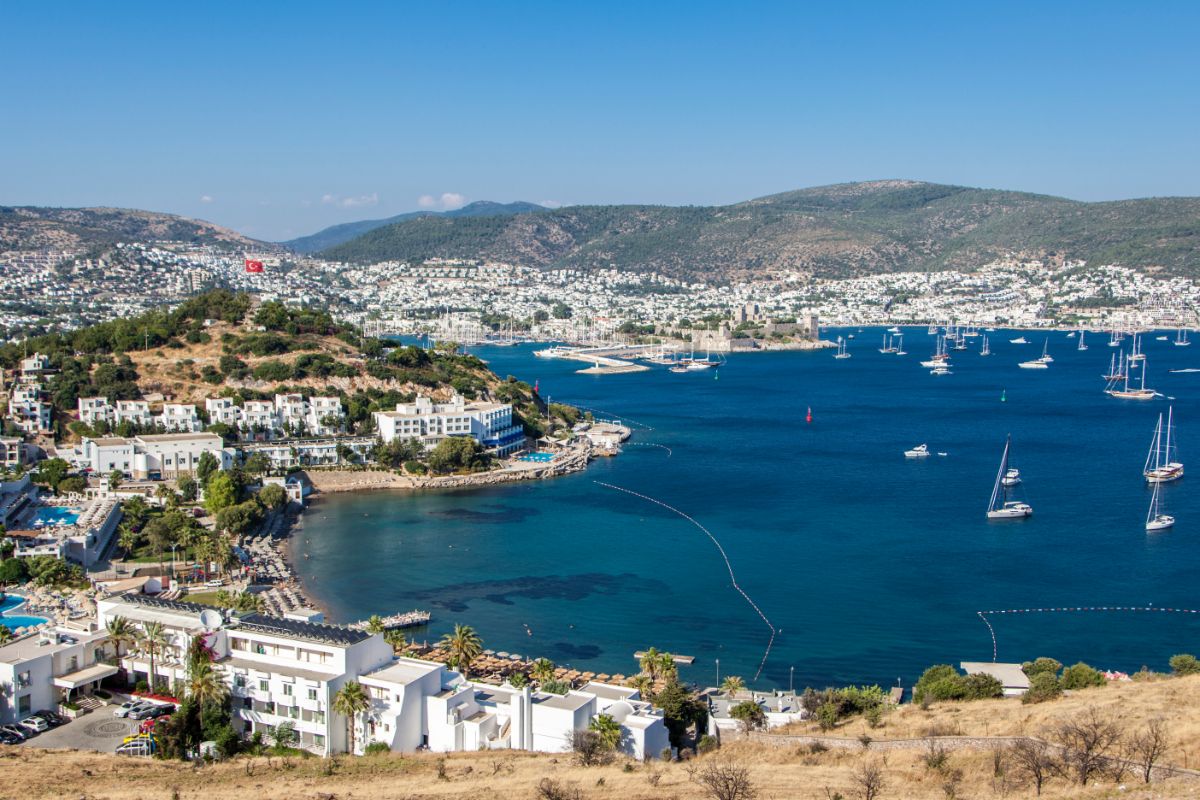 Bodrum is one of the most popular port cities in Turkey. Located in Southwestern Turkey, its aptly named Bar Street is widely recognized as one of Turkey's best places to party. And while the night is reserved for partying, you should spend your days here relaxing on one of the many clear water beaches that pepper the coastline – we love Yahsi Beach and Gümbet Beach.
The city formerly known as Halicarnassus thrived in the 5th Century under the rule of King Mausolus and his wife. When Mausolus died, his widow ordered the construction of the Mausoleum at Halicarnassus, regarded as one of the best sights in Bodrum. The Castle of St Peter is a must-visit attraction in Bodrum, and from the battlements of this 15th Century Castle, you'll be treated to an epic view of the harbor.
In short, Bodrum is one of the most beautiful and most-visited cities in Turkey thanks to its pristine beaches with crystal clear waters and luxurious resorts.
9. Fethiye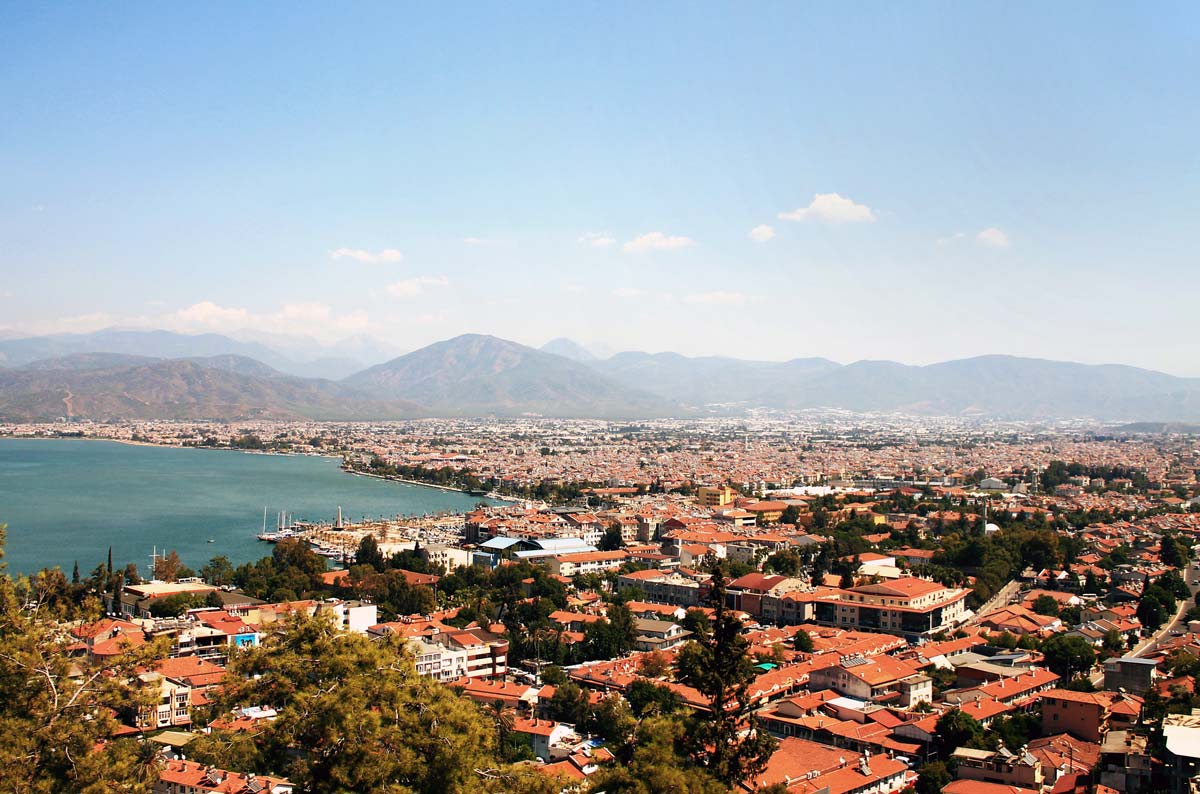 Fethiye is part of the Turkish Riviera – it's considered one of Turkey's most gorgeous tourist destinations thanks to its beautiful natural harbor, Mediterranean beaches, proximity to the stunning Butterfly Valley, and laid-back atmosphere.
The city is built on the ancient ruins of Telmessos (aka the "Land of Lights") – one of the most important Turkish cities during the Lycian era.
The best activities in Fethiye include a scenic cruise to the tiny islands in the harbor, paragliding over Ölüdeniz Lagoon (only for the brave, in my opinion!), or exploring the ruined city of Karmylassos just 8 km from the historic center. All of these activities are perfect for exploring the famed beauty of Fethiye!
10. Marmaris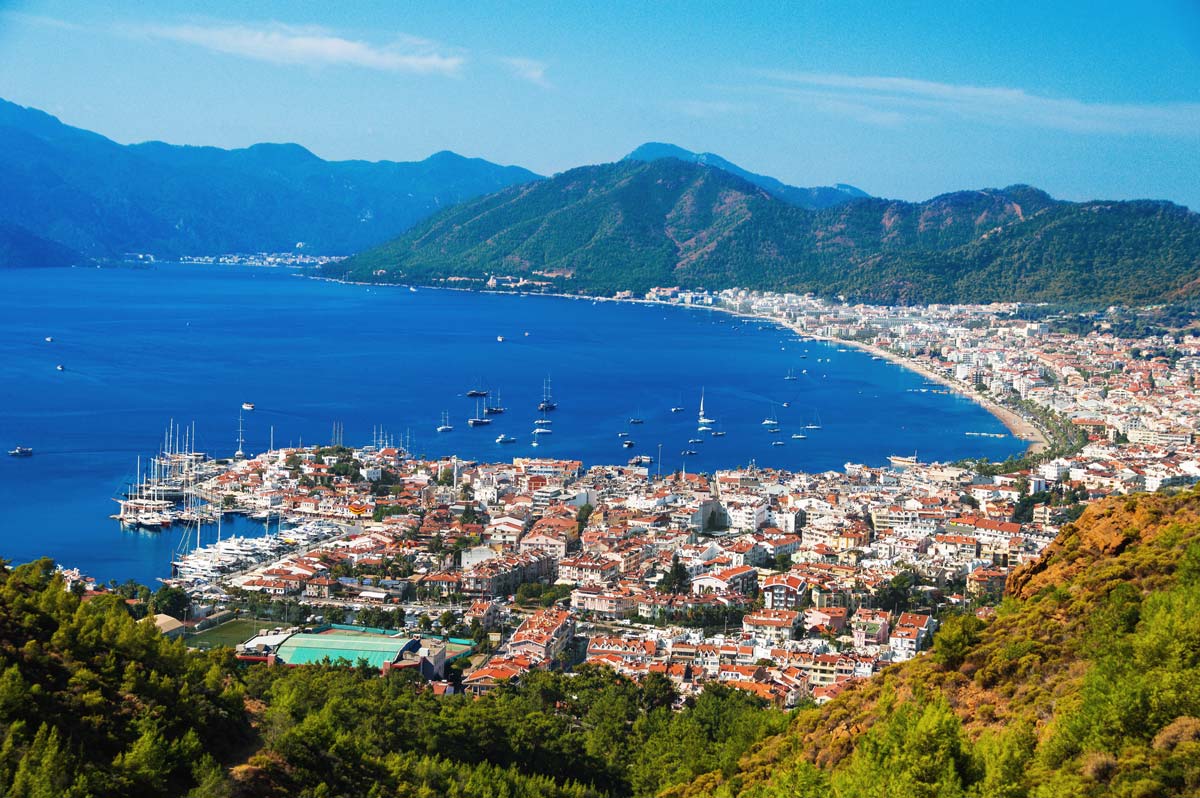 On the same stretch of coast as Fethiye lies Marmaris; with its charming old town, golden-sand beaches, and pine-covered hills, it's no wonder it often tops lists of the most gorgeous places in Turkey.
It became part of the Ottoman Empire in 1425, and in 1521 Marmaris Castle was built to be used in an attack on the Greek Island of Rhodes, which today can be reached via a short ferry ride from Marmaris.
Visitors to Marmaris should check out the Marmaris Grand Bazaar, aka the Carsi Market, for unique Turkish souvenirs or have some water-based fun at the Atlantis Waterpark. Of course, the city's beaches can't be missed, and Marmaris Beach is the biggest and one of the best here!
11. Alanya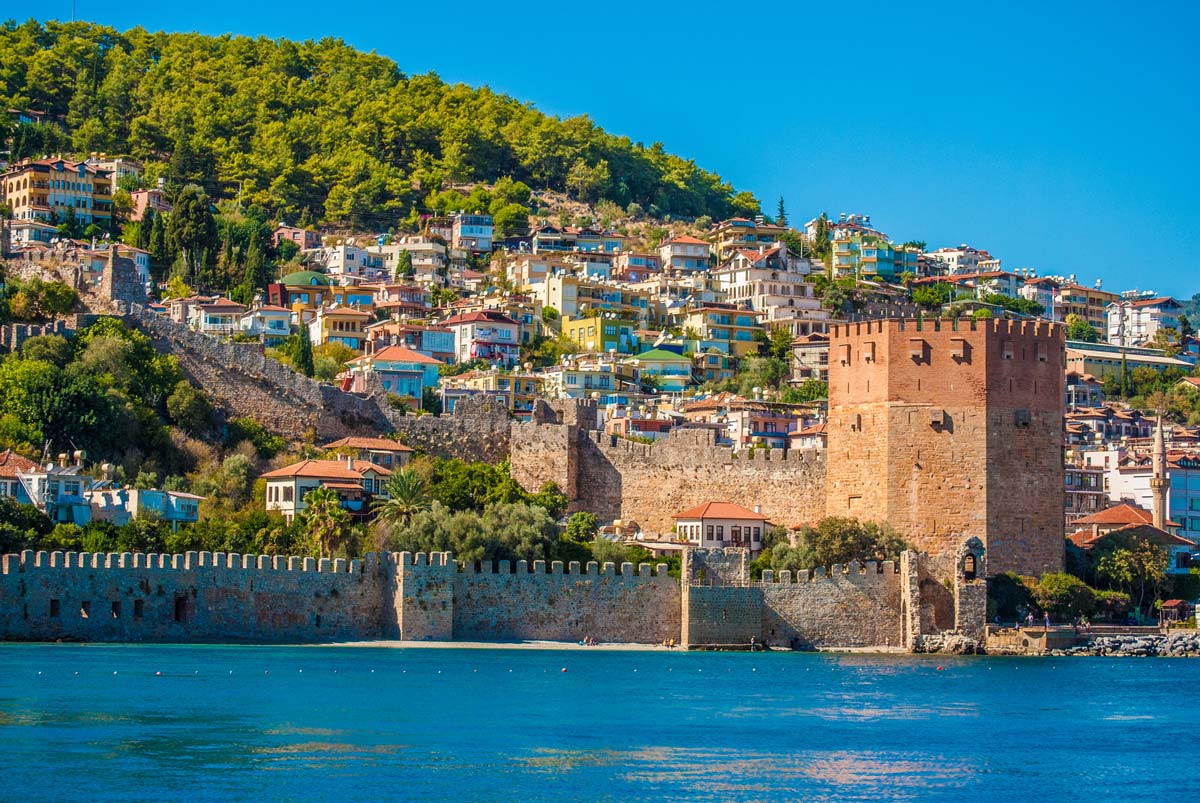 The Turkish Riviera town of Alanya is a true contender for the most beautiful city in Turkey thanks to its clear blue sea, epic sunsets, and authentic Turkish village vibe. It's also home to the famed Cleopatra Beach, named so because the Egyptian Queen is said to have swum here!
Alanya has changed hands many times throughout history – from the Romans to the Greeks to the Ottomans. And that mish-mash of cultures is reflected in the city's architecture and unique atmosphere.
Besides famous beaches, there are plenty of things to do in Alanya, from checking out the numerous restaurants, bars and shops at the harbor and exploring the town's famous Alanya Castle.
Built on a rocky outcrop, visitors can have spectacular views of the seaside town and the Mediterranean Sea at the Alanya Castle while they learn about the history of the town and the region.
12. Amasra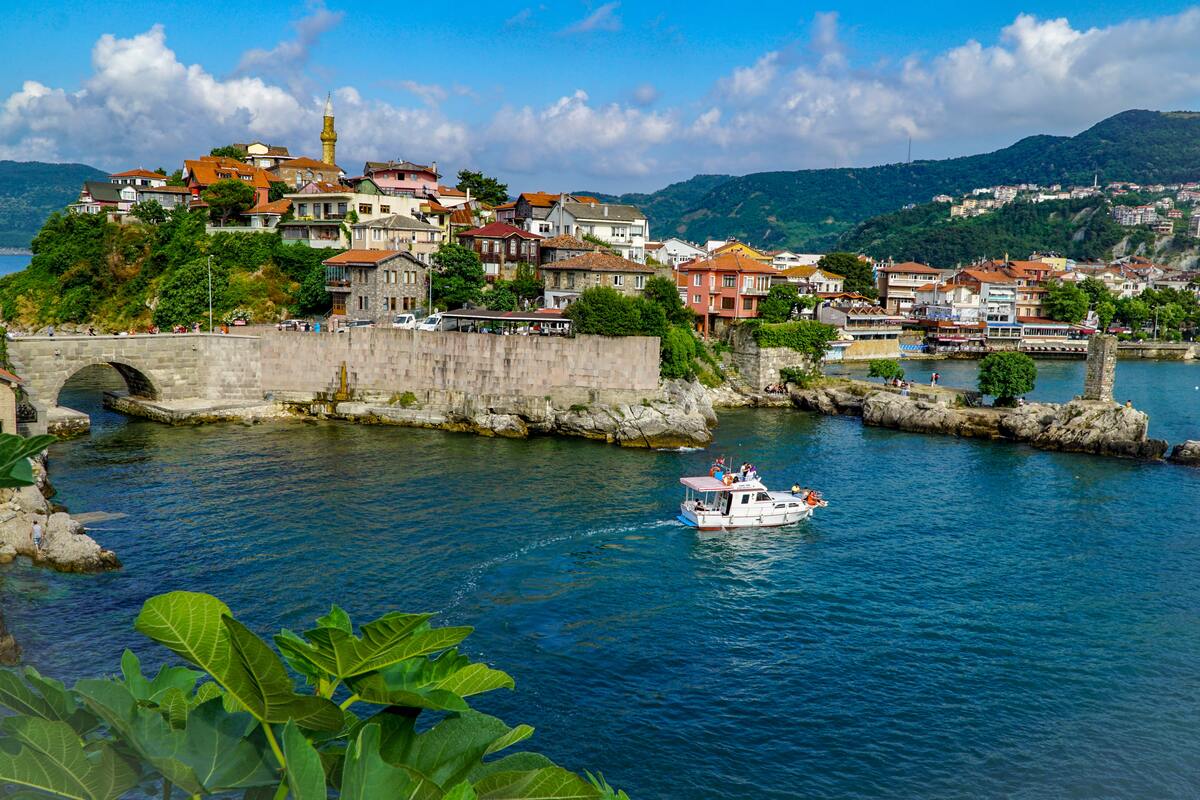 The tiny fishing village of Amasra hugs the Black Sea in Turkey's Bartın Province and is best described as a hidden gem.
History tells us that Amasra was part of ancient Paphlagonia and was called Amastria. It was even mentioned in the Iliad by Homer!
This Black Sea port town is renowned for being one of the country's most breathtaking places. It is where the crystal-clear sea meets lush green mountains, and the historic center is a mix of Byzantine and Ottoman influence. Visitors will find narrow cobblestone streets lined with traditional Ottoman houses, creating a nostalgic ambiance.
With a population of just 6,000 people, Amasra retains its small town charm that visitors love. There are plenty of memorable things to do in Amasra, from admiring the view of the bay and Rabbit Island from Kemere Bridge to hopping on a boat tour around Rabbit Island to enjoying a drink or some food with a view at the waterside restaurants.
Read More: Can You Swim In The Black Sea In Turkey?
13. Bursa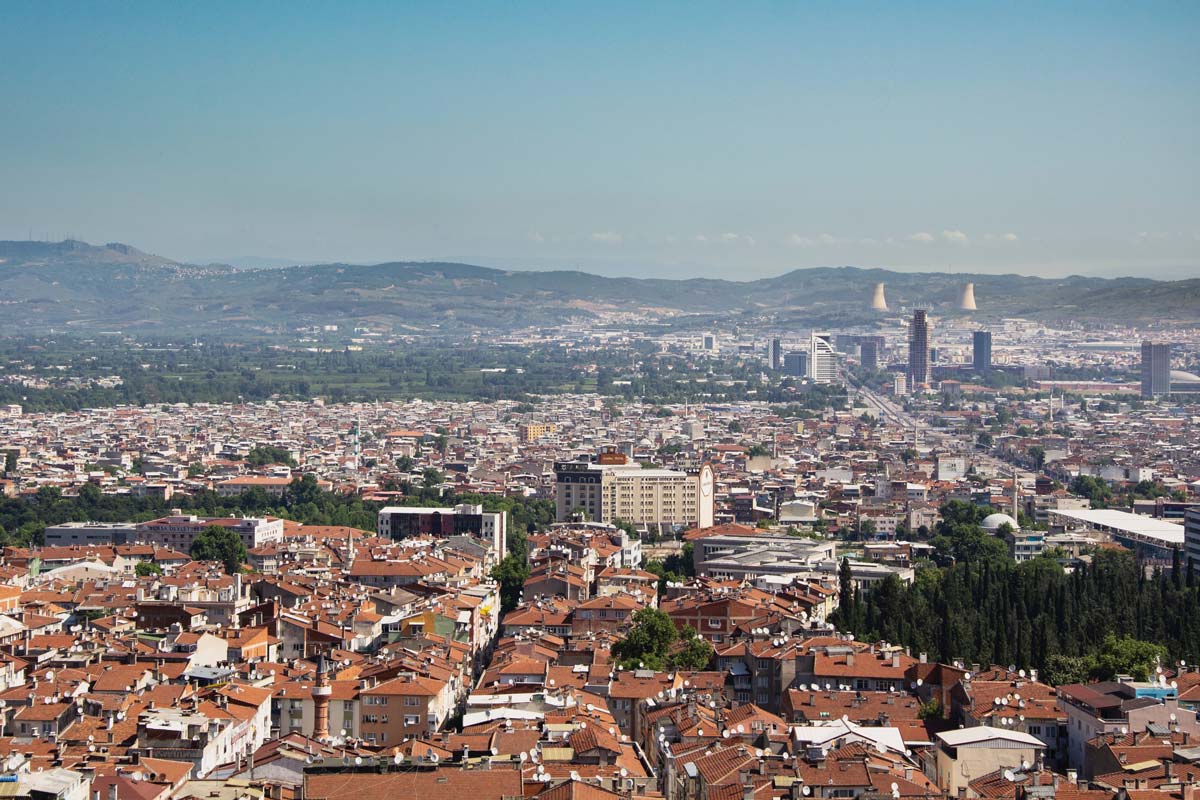 With a nickname like 'Green Bursa' it should come as no surprise why this large metropolis, home to many stunning city parks and nestled at the foot of the giant Mount Uludağ made our list of Turkey's most beautiful cities.
Located in the country's Northwest, Bursa played an important role in Turkey's ancient past, and in 1326 it became the Ottoman Empire's first capital city.
Like Istanbul, the conservative city of Bursa is known for its mosques, especially the 14th Century Great Mosque, which boasts 20 stunning domes. The fourth largest city in Turkey is home to one of the longest cable cars in the world. It's 8.2 km long and travels up the side of Mount Uludağ.
Uludag National Park is one of the reasons why Bursa is named "Green Bursa". It is one of Turkey's most lush national parks, and visitors can hike in the summer and go skiing in the winter. Undoubtedly, it is one of the most beautiful cities near Istanbul!
14. Kemer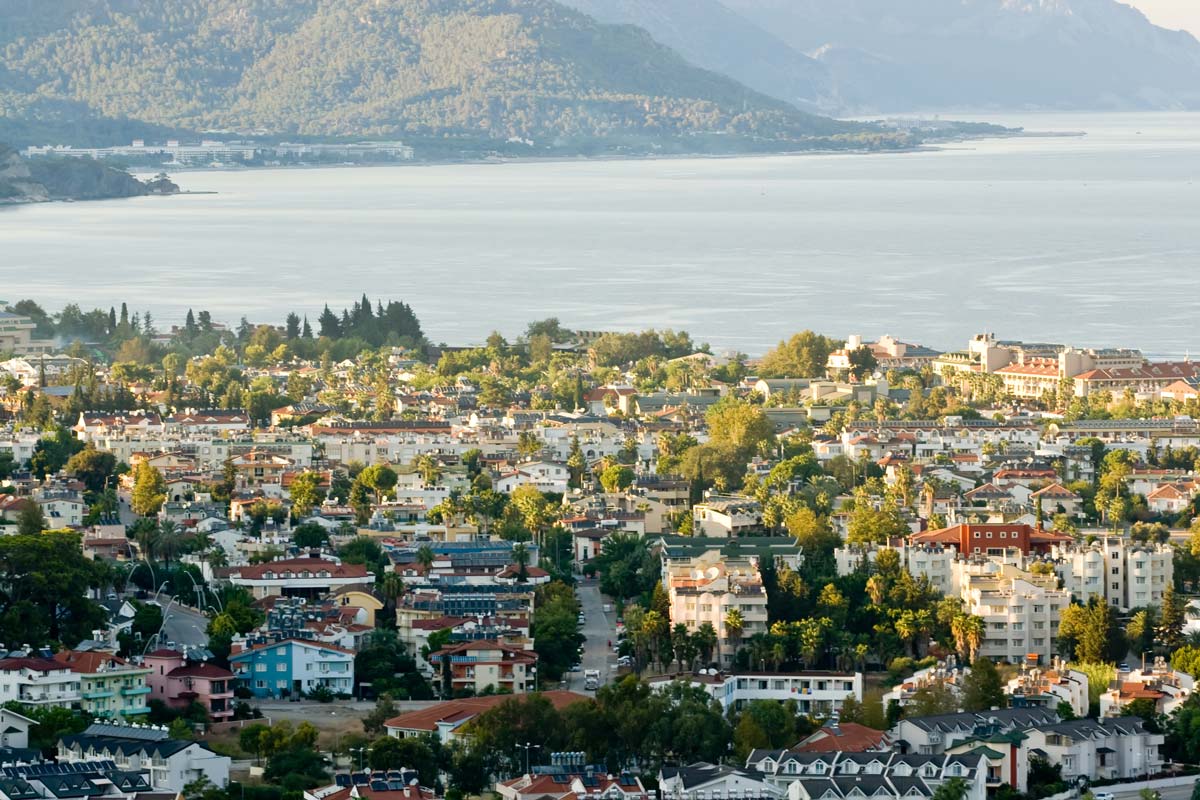 Kemer is situated on Turkey's Southern Mediterranean coast and its beauty is well-known due to its pebbled crescent-shaped beaches and the Olympos Cable Car, which climbs to the top of the lush Tahtali Mountains.
Formerly known as the Greek City of Idyros, it was believed to be founded in 690 BC and was once a very important sea trading port.
While if you're keen to have a beach day in Kemer, you can't go wrong with Kemer Beach; conveniently, it's the closest beach to the city center. FYI, watersport fans will want to check out Moon Light Beach, close to Yoruk Park. Kemer also has a vibrant nightlife, perfect for those looking to party!
15. Eğirdir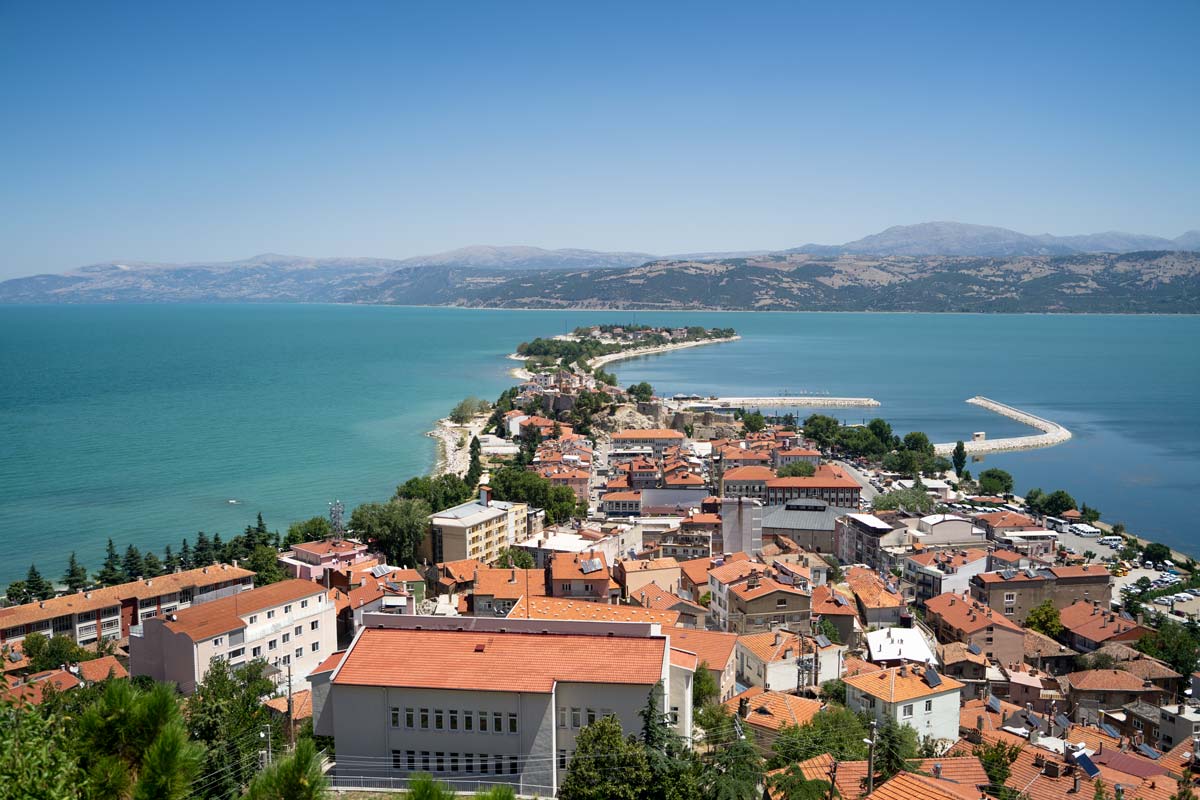 If you are looking for beautiful lakeside towns in Turkey, then you must check our Eğirdir. Located in the Isparata Province of Turkey, the town of about 16,000 residents is situated on the pristine Lake Eğirdir.
This small town is surprisingly one of the most ancient cities in Turkey. It is believed to have been founded around 1200 BC by the Hittites, and since then, have seen influences from Phrygians, Lydians, Persians, Greeks, Romans, Seljuks, and Ottomans.
Though there are few historic buildings and attractions left in the town (because it is not very touristy), then is the Eğirdir Castle worth checking out.
Visitors typically come to Eğirdir to enjoy the refreshing waters of Eğirdir Lake and the sweeping views of the lake. There are soaring mountains nearby where visitors can hike up and enjoy panoramic views of the region!
16. Trabzon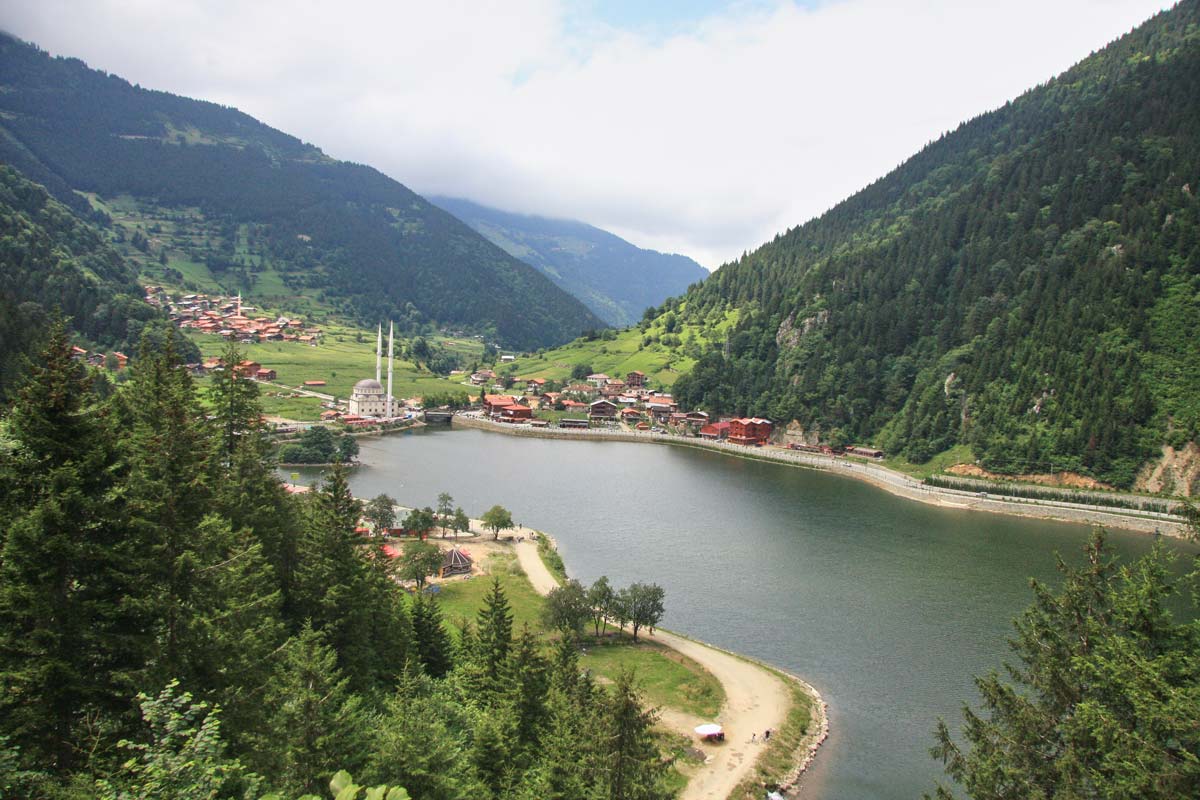 Built on the Black Sea coast in the Northeast of the country, Trabzon is nicknamed the Black Sea Pearl because of its beautiful ocean views!
Trabzon is famous for having its own Hagia Sophia, now a museum adorned with beautiful ceiling frescoes. But one of Trabzon's most beautiful and awe-inspiring buildings is Sumela Monastery, a short drive away. The Monastery is built into the side of a cliff and is an impressive engineering feat.
The city has sweeping views of the black sea, but the surrounding areas are even more gorgeous. Just a short drive from Trabzon is Uzungöl, one of the most beautiful lakes in Turkey. It is surrounded by lush green mountains, making it a popular destination for nature lovers that enjoy outdoor activities such as hiking, fishing, and picnicking.
17. Sirince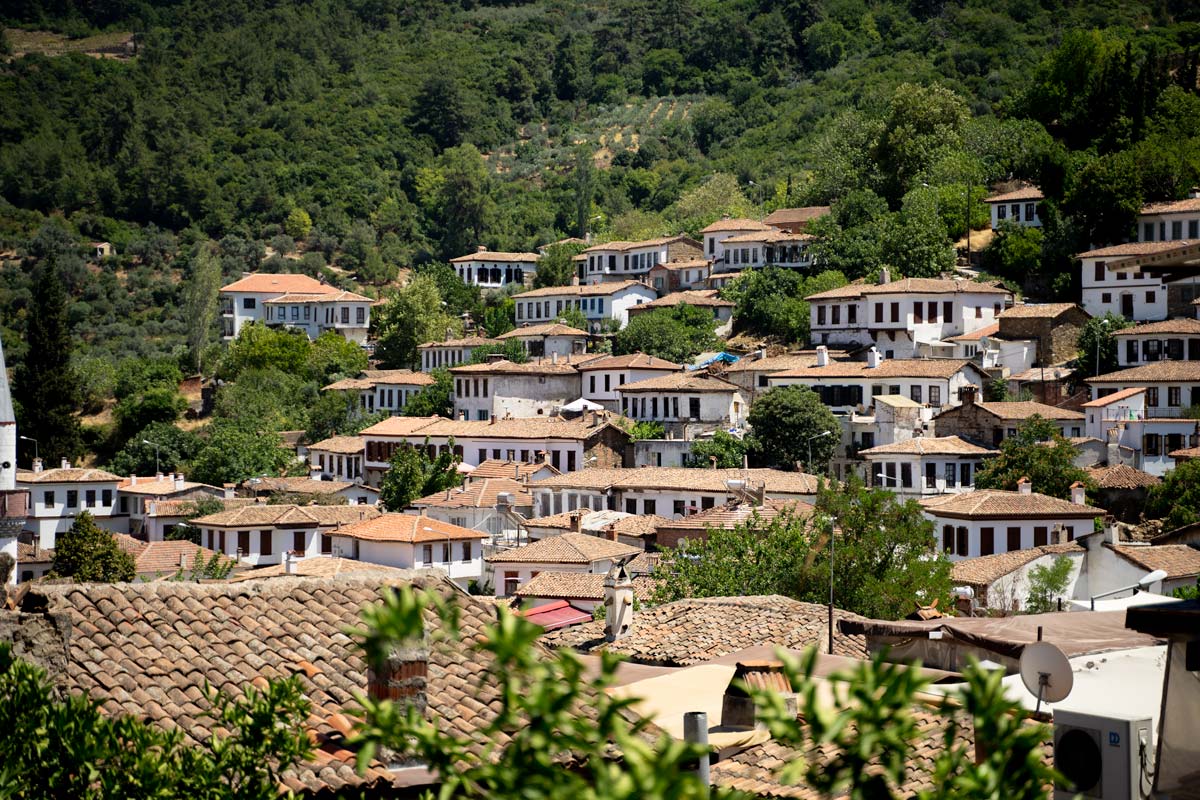 The quaint mountain village of Sirince is just a 15-minute drive from the ancient Greek City of Ephesus, one of Turkey's most popular tourist destinations. This sleepy village's beauty is remarkable with its traditional whitewashed houses with terracotta roofs and cobblestoned narrow streets.
This village also produces great fruity wine, so one of the best things to do here is go wine tasting. While the town is quite beautiful and charming, it is quite small. We don't recommend you spend more than a weekend in Sirince or you might get bored!
18. Van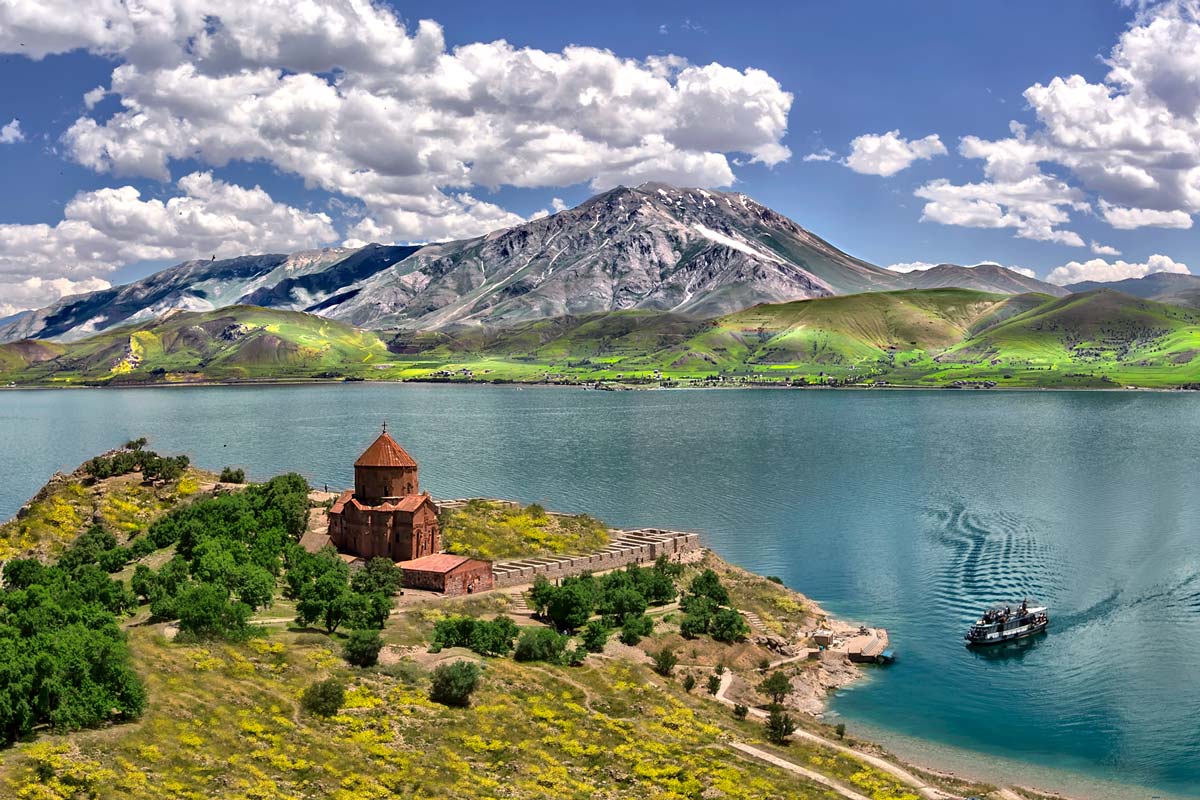 Located in the eastern parts of Turkey, Van is one of the most beautiful Turkish cities thanks to its location on the shores of the vividly blue Lake Van. It's a historically important city as it was once the capital of the Urartu and Armenian Kingdoms.
There are heaps to keep you busy on vacation in this sophisticated modern city, from visiting Akdamar Island, the second biggest island on Lake Van. It's home to the iconic Armenian Holy Cross Cathedral.
The Castle of Van is another must-visit in this wonderful city. This huge stone fortress is located at the summit of a 100-meter-tall cliff and boasts phenomenal views of Lake Van.
19. Erzurum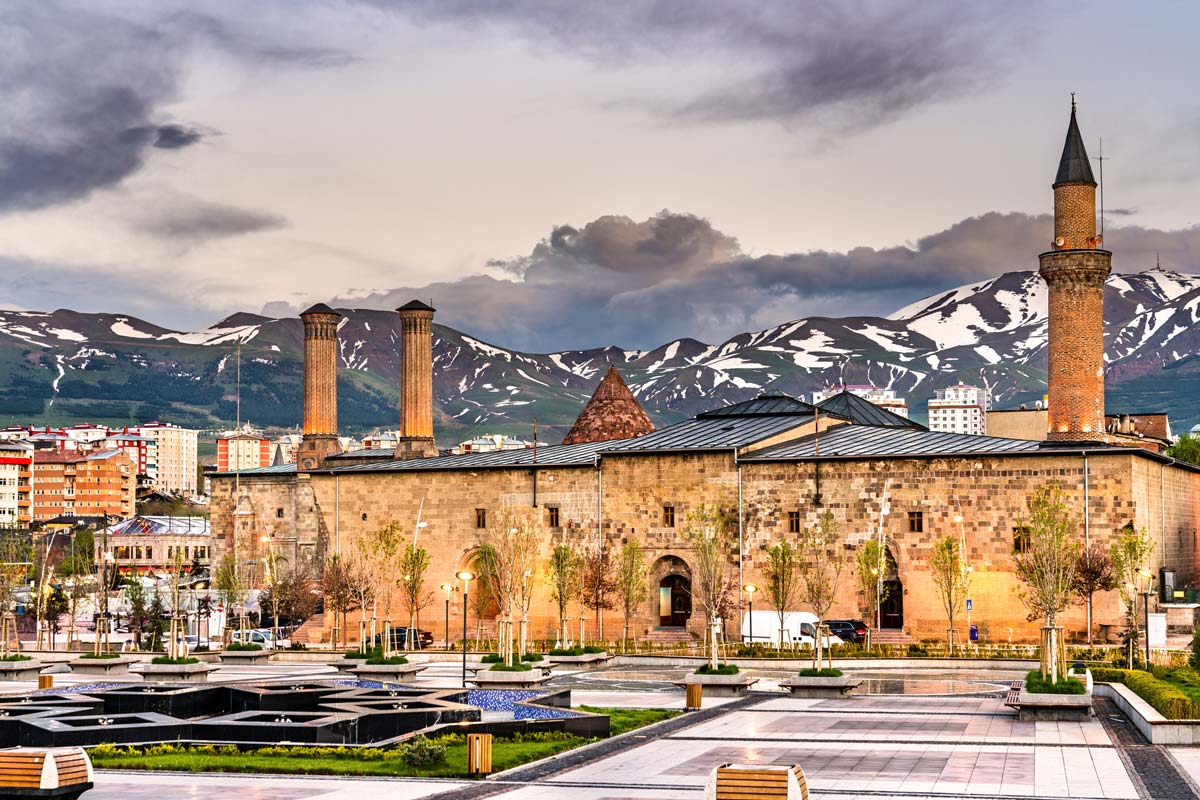 The picturesque city of Erzurum is located in Eastern Anatolia, off the beaten path. What makes it one of the most beautiful cities in Turkey is that it's situated 1,900 meters above sea level and is surrounded by soaring mountains and ski resorts, perfect for those that enjoy natural beauty.
This small city was founded in 4,000 B.C., and one can learn all about the many civilizations that settled here at the Erzurum Museum. Another must-see attraction in Erzurum is the Çifte Minareli Medrese, a beautiful medieval building that once served as an Islamic Seminary.
Erzurum's Central Park is a great place for a nature walk, and while you're there, be sure to snap some photos of Yakutiye Medresesi, which features stunning mosaic tile work.
Erzurum's unique blend of natural splendor and historical significance makes it one of the best cities in Turkey to visit for tourists.
20. Mersin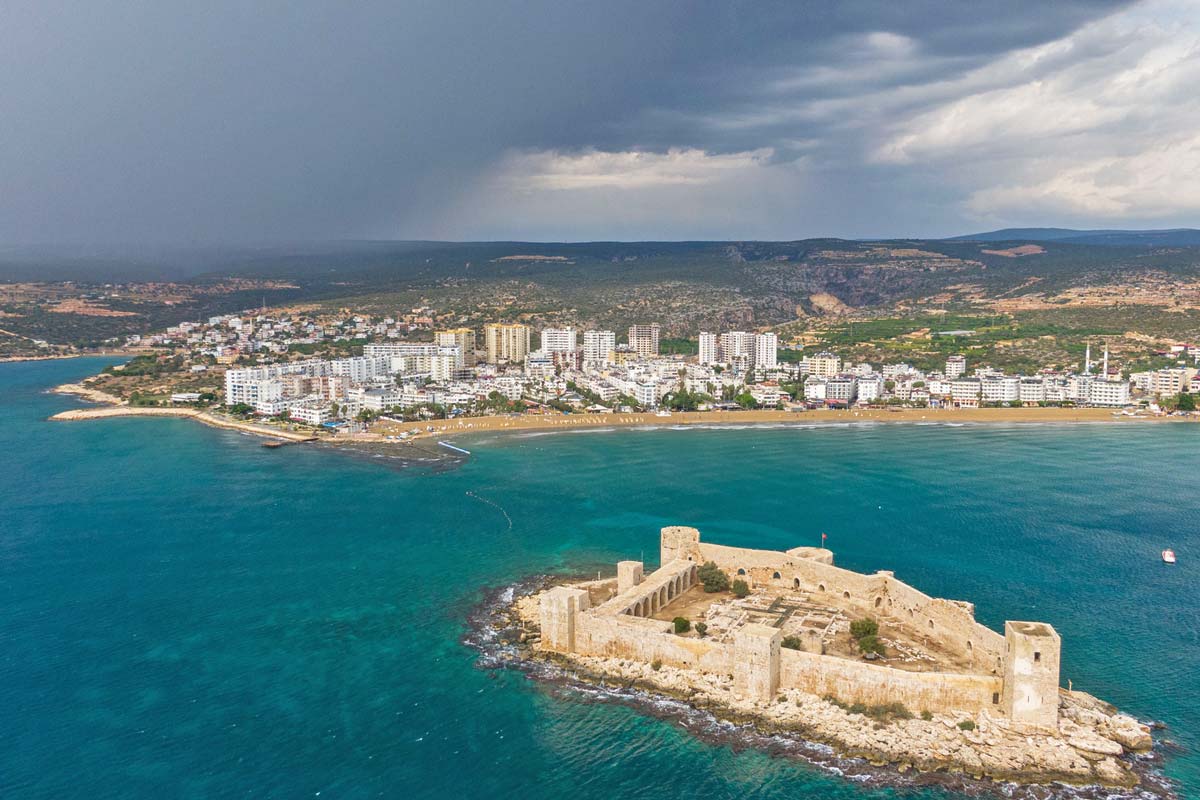 In the South of Turkey and along the Mediterranean Coast lies the city of Mersin, a popular and beautiful tourist destination because of its sandy beaches, fascinating archaeological sites, green open spaces, and easygoing vibe!
The surrounding Taurus Mountains provide breathtaking views and opportunities for hiking and exploring the natural beauty of the region.
When you are not sunbathing on the beaches or going for a refreshing swim, the Mersin Museum is a great spot to spend a few hours examining the various sculptures and archaeological artifacts discovered nearby.
Also close by is Gilindire Cave, also known as Aynalıgöl Cave, a beautiful cave system that can be accessed via a boat tour from the town of Aydincik or a 15-minute walk from the Antalya-Mersin highway.
If you have the extra time, make sure you check out the Maiden's Castle in Kızkalesi, a small town just an hour away from Mersin. It is home to one of the most iconic Turkish landmarks, the Maidens Castle (which is also what Kızkalesi translates to in Turkish), an island castle that is both historic and beautiful!
21. Side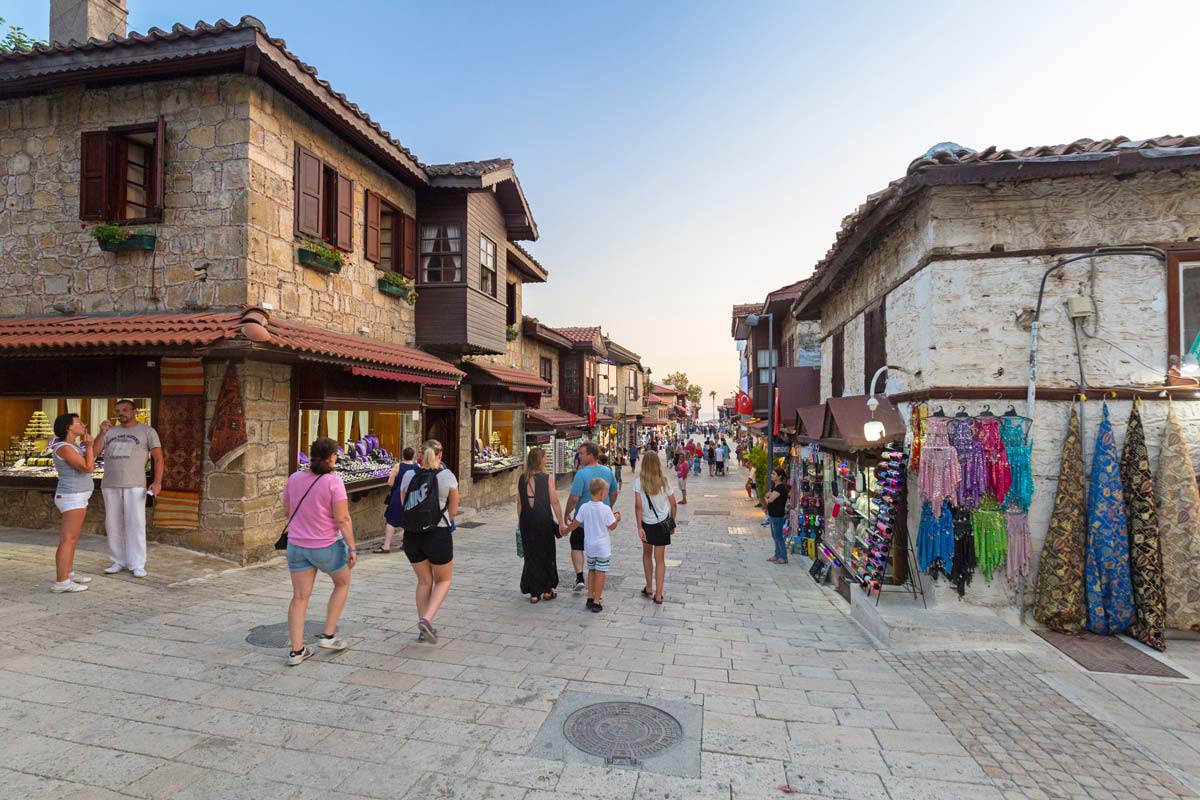 The best city to visit in Turkey if you're looking to mix history with beaches is Side on the Mediterranean Coast. A stunning tourist resort town, it's a sought-after destination thanks to its plethora of excellent beaches within easy reach of downtown – from Side Beach to Full Moon, and interesting Greco-Roman ruins.
So, history lovers will surely love checking out the city's ancient landmarks like the Temple of Athena on the harbor or the huge Roman Theater, which has an awesome view of the Taurus mountains from its top tier of seating.
22. Edirne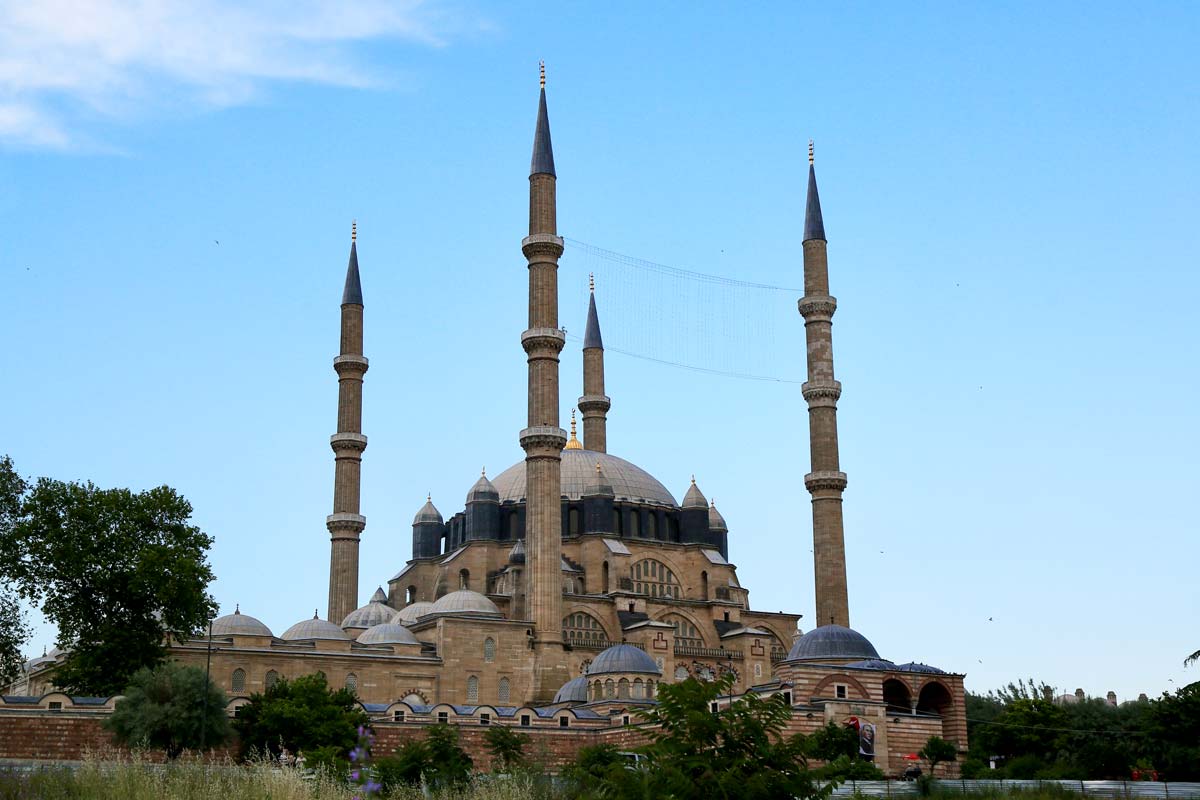 Edirne, in the Northwest of Turkey, is another historically important city as it once served as the capital of the Ottoman Empire. Interestingly, it was from Edirne that Mehmet the Conqueror initiated a successful military operation to capture Constantinople (now known as Istanbul!)
It enjoys a unique location straddling the Greek, Bulgarian, and Turkish borders, and that's only one of the most beautiful things about this city – Edirne's elegant mosques are a big attraction here.
The 16th Century Selimiye Mosque is considered to be one of the best examples of classic Ottoman architecture in Turkey and a present-day UNESCO World Heritage site. The mosque also houses the Turkish and Islamic Art Museum. The Üç Şerefeli mosque is also well worth checking out.
23. Eskişehir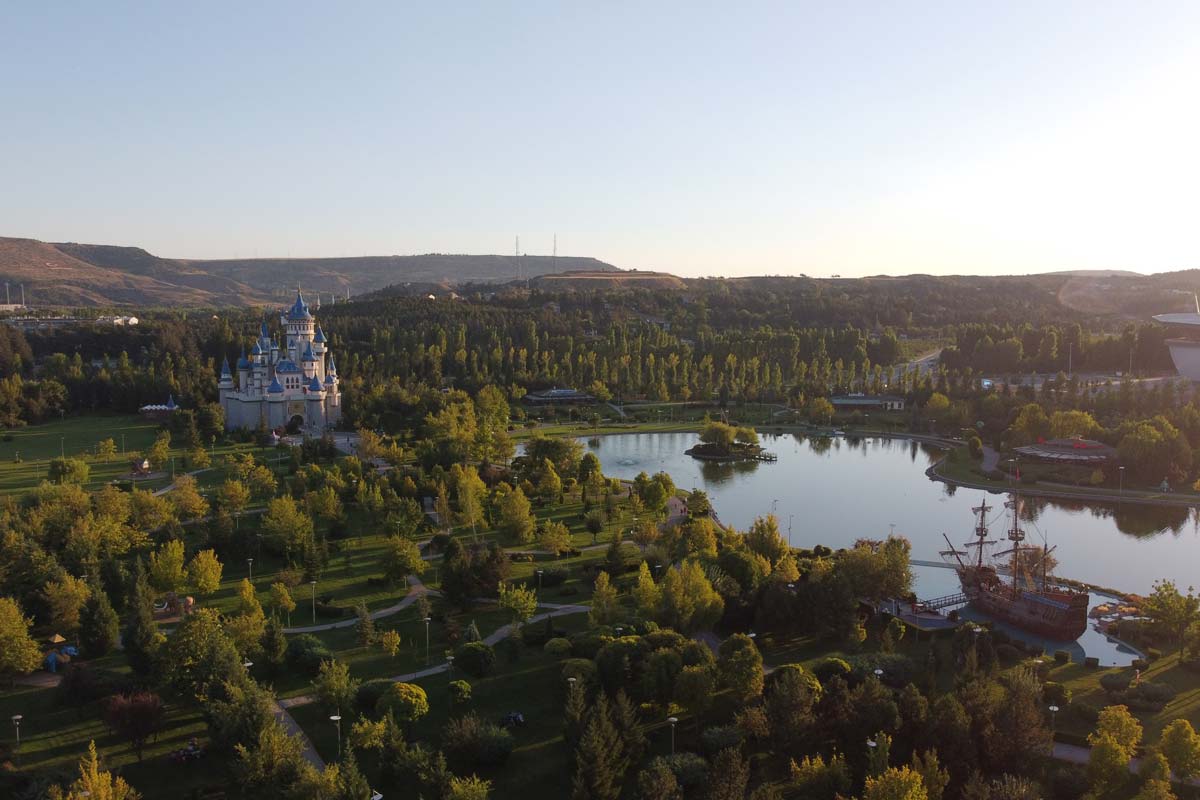 Meaning "old city," Eskişehir is a large, lively city in the country's Northwest and is 233 km from Ankara. It has a very European feel, thanks to the settlers from Crimea and the Balkans who came to the city in the 19th Century.
This modern city made our list because not only is it home to lovely parks and natural hot sulfur springs but it's recently been rated by Lonely Planet as the happiest and most liveable city in Turkey.
One of the top attractions in Eskişehir is the DisneyLand-esque Sazova Science, Arts, and Culture Park, one of the biggest amusement parks in the region. It features a large swimming pool, a zoo, a science museum, playgrounds, and a steam train that transports visitors around the park.
Art lovers will feel at home at the Odunpazari Modern Museum here, which exhibits over 1,000 pieces of modern and contemporary art.
24. Oludeniz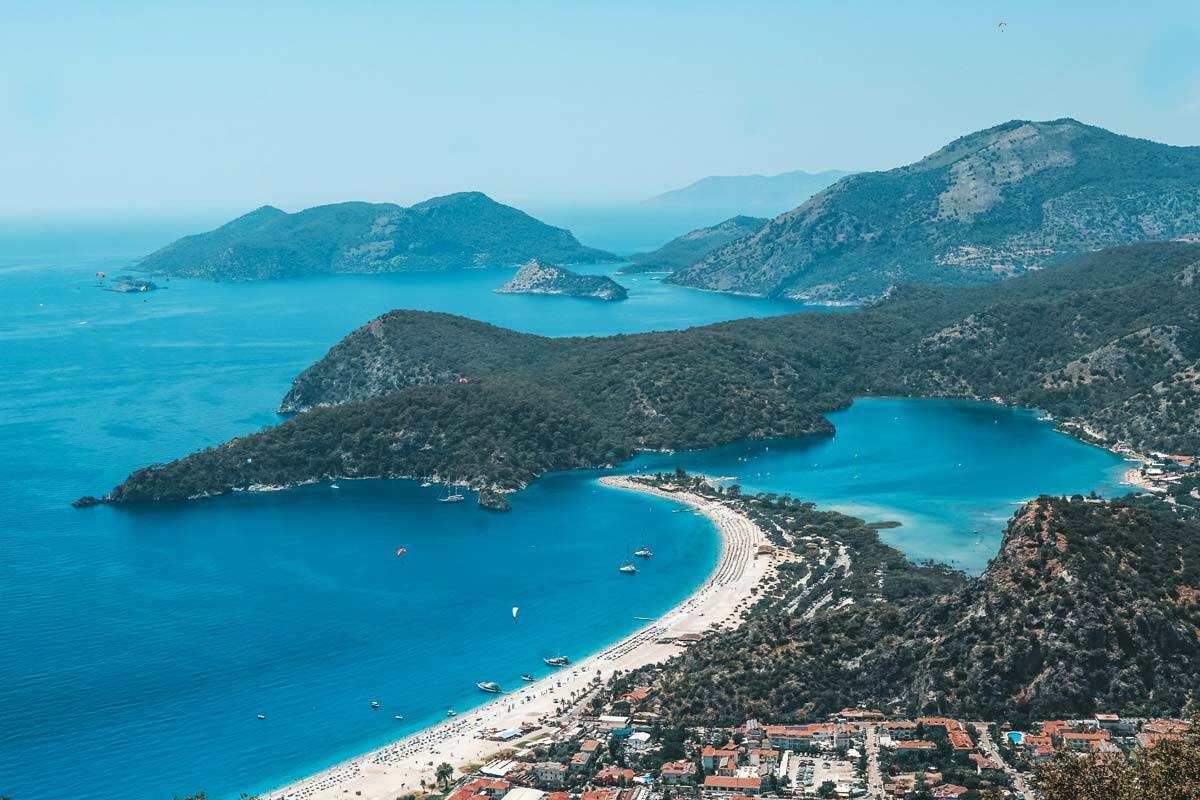 Undoubtedly one of the most famous and breathtaking beach resorts in the Mugla Province, Ölüdeniz literally translates to "dead sea," a nod to the city's top attraction, Ölüdeniz Lagoon (aka Blue Lagoon).
The calm, turquoise waters here are ideal for swimming, and if you do just one thing in this Turkish coastal city, make it a trip to this bucket-list-worthy nature reserve.
But there are more things to do in Ölüdeniz than just the blue lagoon; the crescent-shaped Ölüdeniz Beach is widely referred to as one of the world's best sandy beaches by travel writers!
25. Çanakkale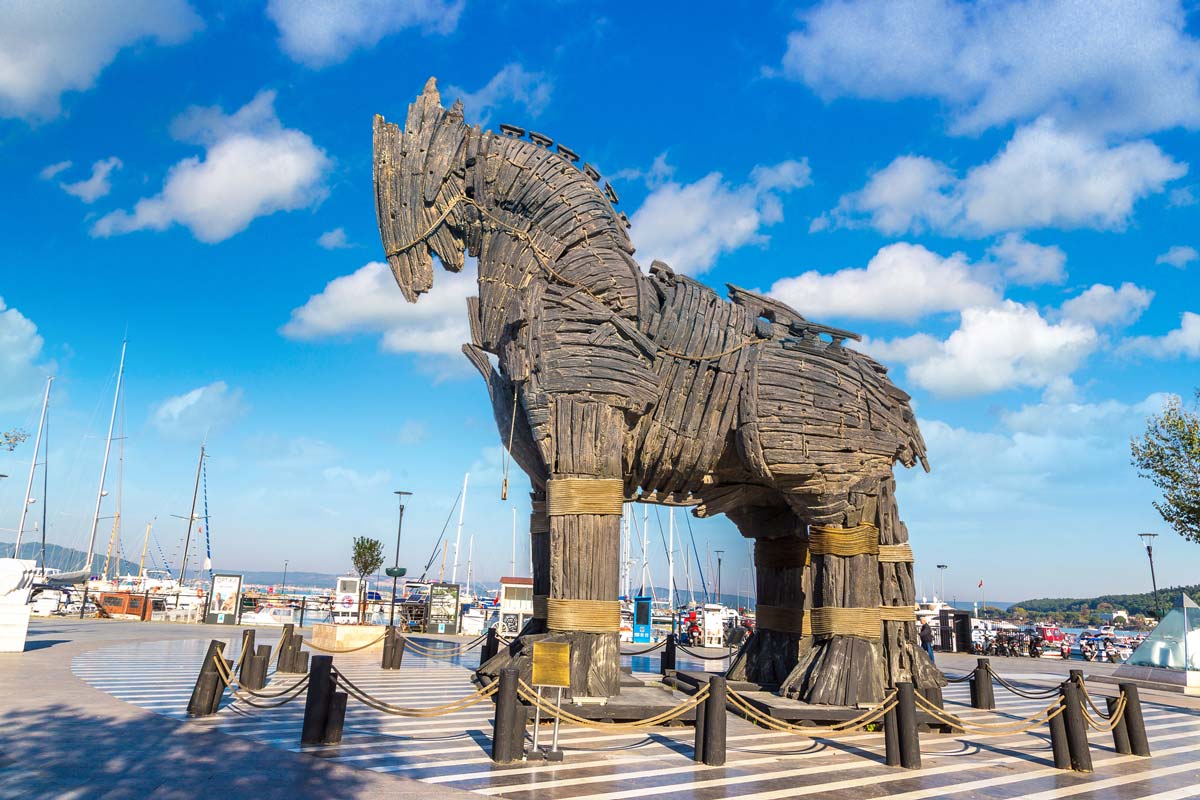 And last but certainly not least is Çanakkale in the Marmara region. It attracts thousands of visitors every year who flock here to explore Troy – one of the most famous cities of the ancient world and the site of the Trojan War.
The city is also the gateway to the Gallipoli battlefields, where you can learn all about the Battle of Gallipoli (which happened during World War I) and pay your condolences to the fallen soldiers.
But this coastal city offers prospective visitors more than its famed ancient sites. Beautiful sandy beaches, wineries, and excellent restaurants are also waiting to be enjoyed!
---
Map Of The Most Beautiful Cities In Turkey
Below is a map containing all of the beautiful Turkish cities we have discussed above. Using this map, you'll be able to plan a Turkey itinerary that includes as many as you wish (if that's what you want). It definitely helped us to see what the distance is between some of these places and see whether visiting them is worth it or not.
---
How Many Cities Are In Turkey?
There are approximately 145 cities in Turkey, per the definition that a city must have more than 50,000 residents. This number can change and fluctuate, depending on the change in population. The biggest and more populous city in Turkey is Istanbul, with over 15 million residents.
Some classify a city as having more than 10,000 residents. In that case, there are around 510 cities in Turkey.
It is also worth noting that some cities are still considered cities even though the population has dipped below the threshold.
---
Most Beautiful Cities In Turkey FAQs
What Are The Most Beautiful Small Cities In Turkey?
The most beautiful small cities in Turkey are Goreme, Eğirdir, Amasra, Side, and Alacati. All of these cities have less than 20,000 residents, retaining their small-town charm that is perfect for escaping some of the hustle and bustle of big cities.
What Are The Main Cities In Turkey?
The main cities in Turkey are Istanbul with over 15 million population, Ankara (the capital of Turkey) with over 5 million population, and Izmir with over 4 million in population.
What Are The Best Cities To Visit in Turkey?
The best cities to visit in Turkey are Istanbul, Izmir, Goreme (Cappadocia), and Antalya. Altogether, these cities are home to some of the most historic places in Turkey, beautiful natural landscapes, UNESCO World Heritage Sites, and breathtaking beaches.
How To Get Between Cities In Turkey?
There are many ways to get between cities in Turkey. The most affordable and convenient is usually the long-distance bus. However, depending on which cities you are going to, you might also be able to take a train or a ferry. Of course, you can always rent a car and drive or arrange a tourist shuttle.
---
Because of Turkey's rich history and unique geographic location, there are an abundance of gorgeous cities in Turkey. Whether you are looking for a city with white-sand beaches, one that is nestled in green rolling hills, or one filled with historic landmarks, there is a place for you.
We hope our list of 25 of the most beautiful cities in Turkey has inspired you to book a flight to this amazing country!
Disclaimer: Some of the links above are affiliate links. That means if you book or make a purchase through the links, we will earn a small commission at no extra cost to you! The money will help run this site! Thank you!