Antalya is a beautiful region known for its stunning beaches and resorts. But there is more to this region than its natural beauty, the area is rich with history and cultural heritage.
For those interested in learning more about Antalya and its fascinating past, there are plenty of museums in Antalya to learn from. Many of Antalya's museums focus on the history and culture of the region and some about Turkey as a whole.
Whether you're interested in archaeology, maritime history, or Turkish culture in general, there's sure to be a museum here that will appeal to you.
---
Museums in Antalya City
1. Antalya Museum (Antalya Archaeological Museum)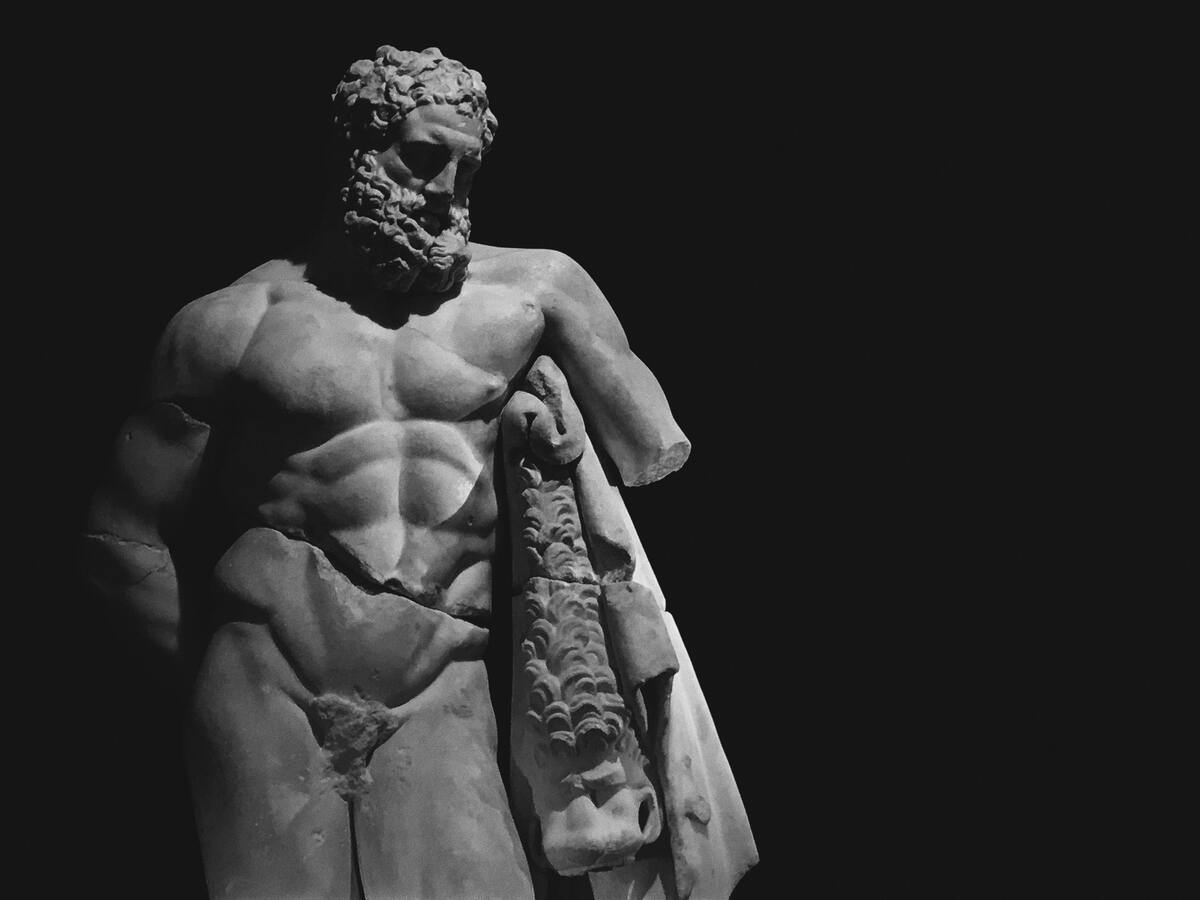 Visiting the Antalya Museum, or Antalya Archaeological Museum as it's otherwise known, was a highlight of my trip. The museum is one of the largest archeology museums in Turkey and features an impressive collection of ancient artifacts from the region, including Greek and Roman sculptures and mosaics.
One of the standout pieces was the statues from the city of Perge, depicting the Roman Emporers such as Plancia Magna, Emperor Hadrian, the Emperor Septimius Severus. The museum has thirteen halls, but these were found in the Hall of Imperial Statues.
I was also intrigued by the sarcophagi from ancient Roman burial grounds in the Sarcophagus Hall, each with unique carvings and inscriptions. The most beautiful was the Domitias sarcophagus, which is decorated with reliefs showing the twelve labors of Hercules. The hall features the sarcophagi of Heracles, Domitius Julianus, Domita Philiska, Aurelia Botiane and Demetria.
Overall, the Antalya Museum provided a fascinating glimpse into the region's rich history. I highly recommend a visit for any history or culture enthusiasts. If you only have one day in Antalya to spend looking at museums, make sure it's this one.
Antalya Museum Opening Hours: 08:30am – 8.00pm (box office closes at 7.30pm)
Antalya Museum ticket price: 90TL (free with the Museum Pass)
Address: Bahçelievler, Konyaaltı Cd. No:88, 07050 Muratpaşa/Antalya
Want to save money on Antalya Museums? Get the Museum Pass!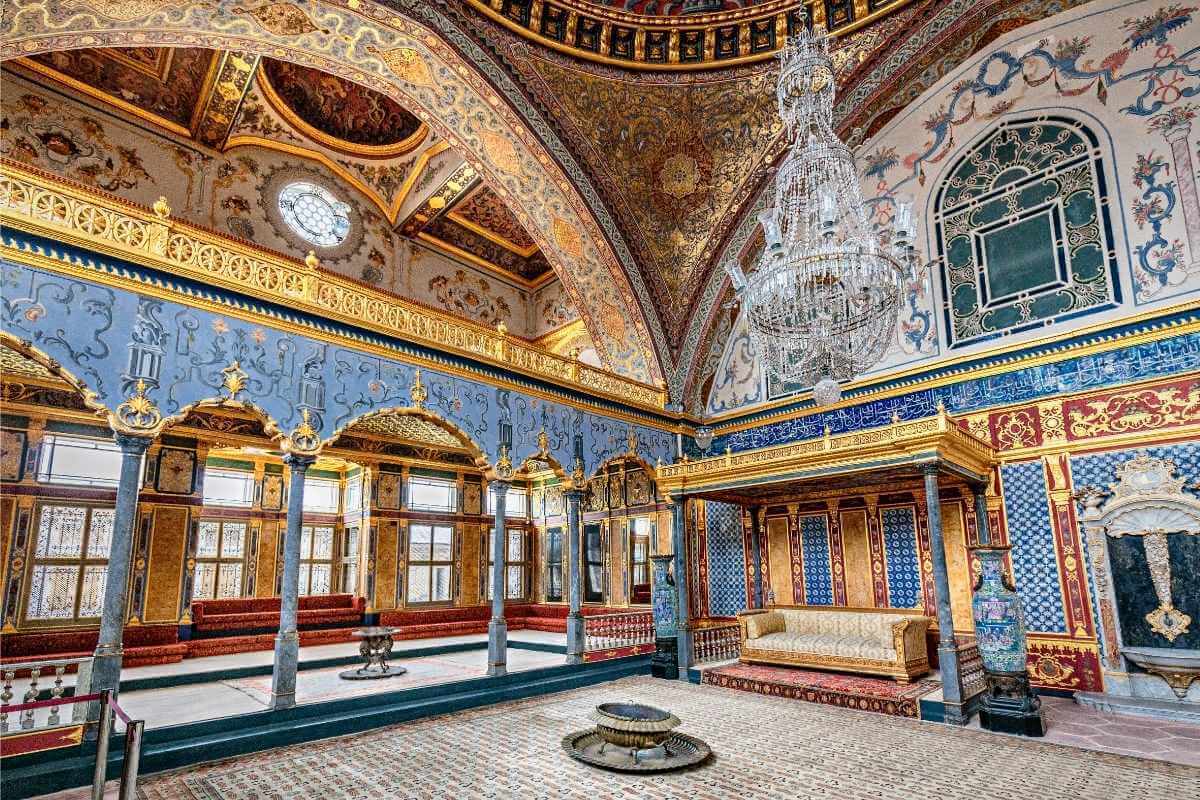 Get FREE access to over 200 museums in Turkey!
Make sure you get a museum pass to avoid standing in queues and save yourself some money on multiple attractions!
Get the pass delivered to your hotel for added convenience. Valid for 15 days!
2. Antalya Sand Sculpture Museum (Sandland Open Air Museum)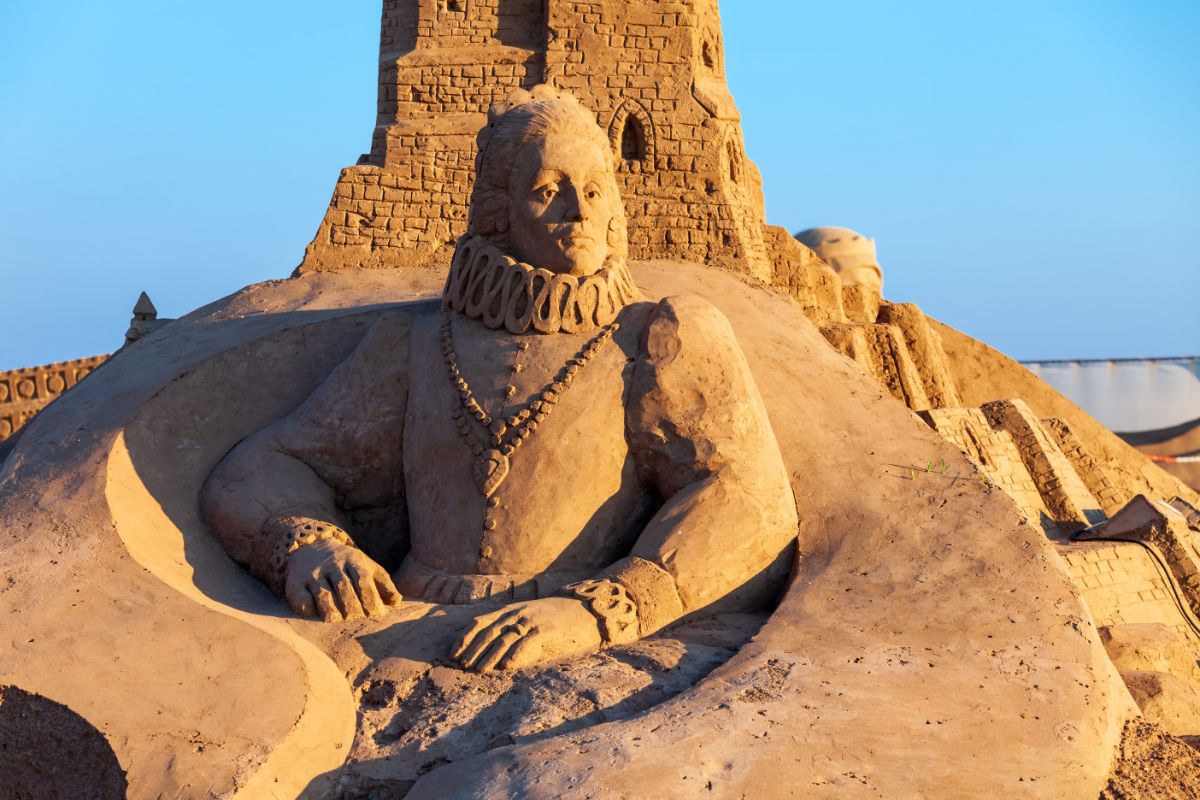 The Antalya Sand Sculpture Museum is the largest sand sculpture museum in the world and features a variety of impressive sand sculptures, ranging from famous historical landmarks to popular characters from movies and literature.
Since the sand sculptures are temporary, each time you visit the museum has a different theme. The theme as of February 2023, is Space: Visitors can marvel at lifelike depictions of Star Wars heroes, Wall-E, as well as sculptures relating to Galaleo and Leondardo da Vinci.
There are more than 100 sand sculptures at the museum and more than 10,000 tons of sand has been used. You will find the museum at one of the best beaches in Antalya, Lara Beach.
Visitors can also participate in sand sculpting workshops or simply admire the talent and detail put into each sculpture. With constantly changing exhibits, there is always something new to see at the Antalya Sand Sculpture Museum.
Museum Opening Hours: 9.00am – 11.00pm
Museum ticket price: from $8.00 USD
Address: Lara Beach, Antalya
3. Antalya Toy Museum
The Antalya Toy Museum is a must-see for any toy lover. With 3,000 toys on display, ranging from traditional Turkish dolls to modern action figures, there is something for everyone. The museum showcases toys from all over the world and some are as old as 1860.
One of the main attractions at the Antalya Toy Museum in Turkey is the extensive collection of handcarved wooden statues of children's favorite characters, from Pappa Smurf to Tom from Tom and Jerry.
Visitors can see handcrafted dolls, wooden trains and cars carved, and even antique coin operated mechanical rides. It's a great way to educate your child that not all toys are electronic.
In addition to the displays, the museum also has events which educate children about historical toys, as well as give you the chance to see some of the collection up close.
Overall, visiting the Antalya Toy Museum is a fun and nostalgic experience. It's a great activity for families or anyone who loves toys.
Museum Opening Hours: 9.00am – 6.00pm daily (Closed Monday)
Museum ticket price: free
Address: Selçuk Mah Yat Limanı Sok. No:112, 07000 Muratpaşa, Antalya, Turkey
4. Snow World Ice Museum at Antalya Aquarium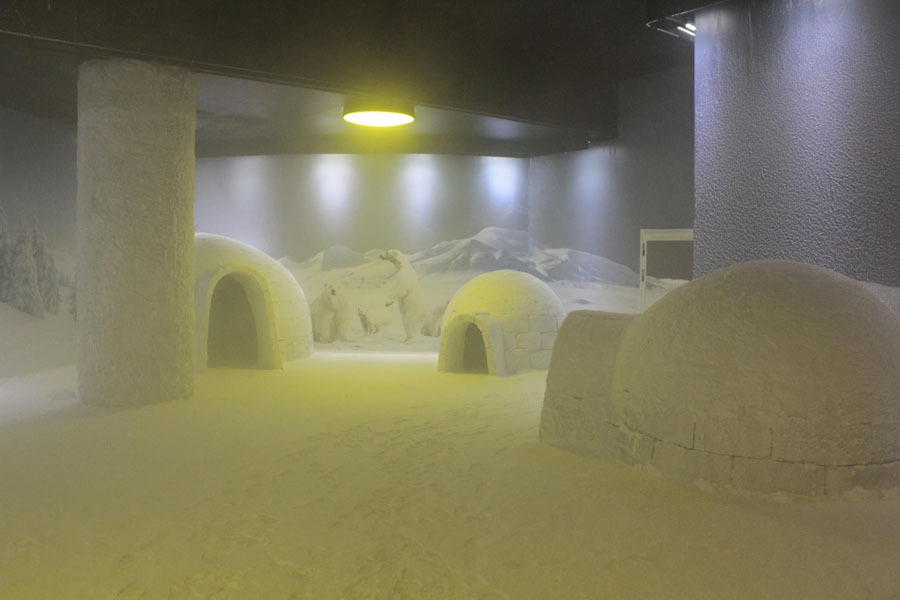 Although not technically a museum, the Snow World Ice Museum is a great place to visit in Antalya for family fun. It's part of Antalya aquarium and is an indoor snow area that spans for 1500 square meters.
You'll find igloos, sledging and St Nicholas's house. Visitors are given special clothing to keep them warm while they explore the snowy surroundings.
What makes the museum special is that it is kept at -5 C0, and achieves natural snow using water machines.
This is a great way to see how igloos are made without having to venture to Canada or Greenland to see them!
Museum Opening Hours: 10.00am – 8.00pm Monday – Friday
Museum ticket price: $35.00 USD
Address: Dumlupınar Bulvarı Arapsuyu Mahallesi No: 502 Konyaaltı, Antalya.
5. Suna and İnan Kıraç Kaleiçi Museum
Located in the historic Kaleiçi district of Antalya, the Suna and İnan Kıraç Kaleiçi Museum is a combination of two lovingly restored homes from the 19th century, a Traditional Antalya House and the Aya Yorgi Church.
The houses contain a diverse collection of artifacts, ranging from traditional clothings and furniture.
One highlight is the Hagios Georgios Church, which contains Çanakkale ceramics that belonged to the Suna & İnan Kıraç collection.
With its unique blend of cultural treasures, the Suna and İnan Kıraç Kaleiçi Museum offers something for every history lover.
Museum Opening Hours: 9.00am – 6.00pm daily (closed Monday)
Museum ticket price: 5 TL
Address: Barbaros Mah. Kocatepe Sok, Civelek Sk. No: 25, 07100 Muratpaşa/Antalya, Turkey
6. Atatürk House and Museum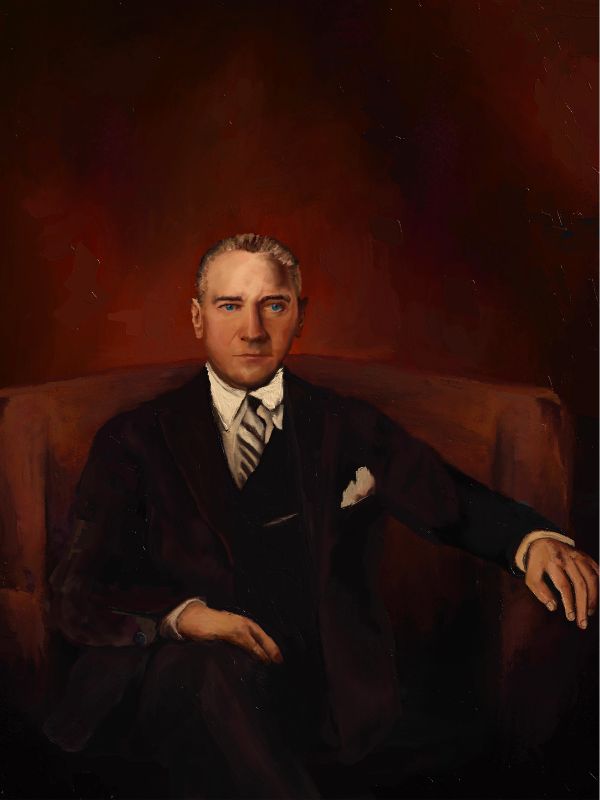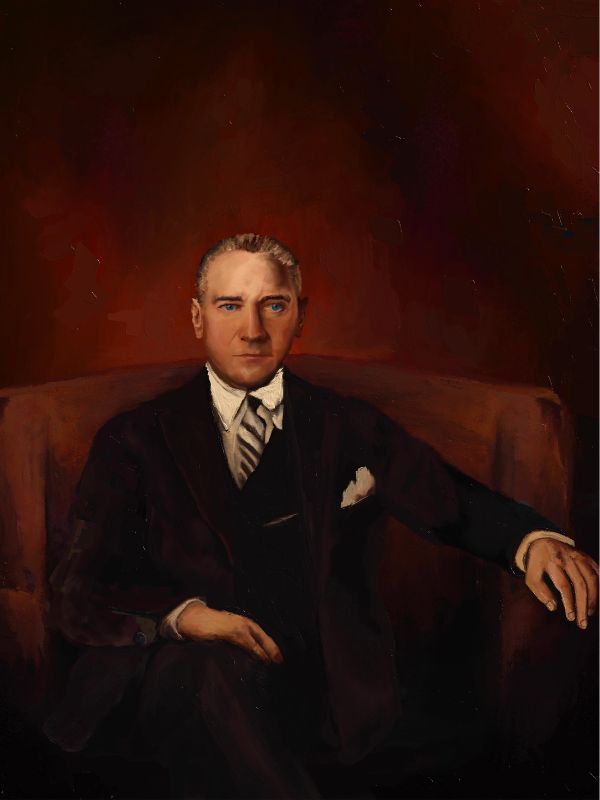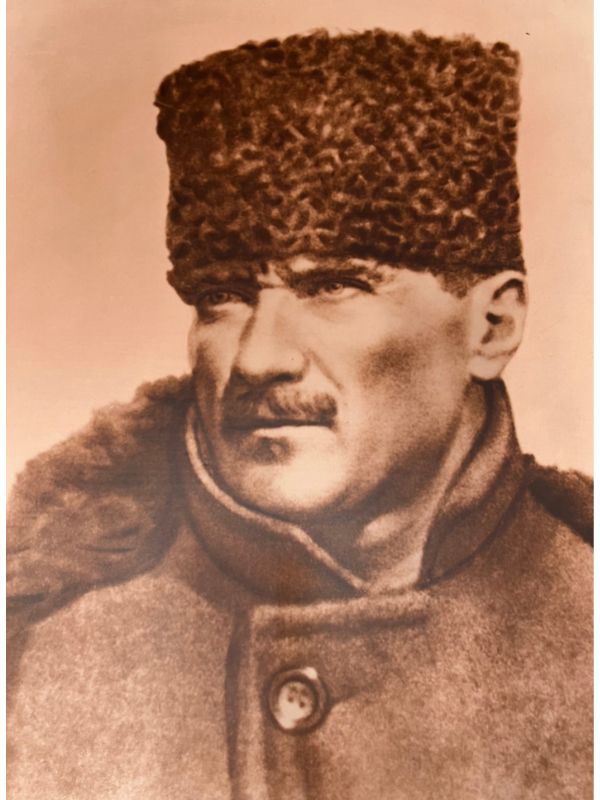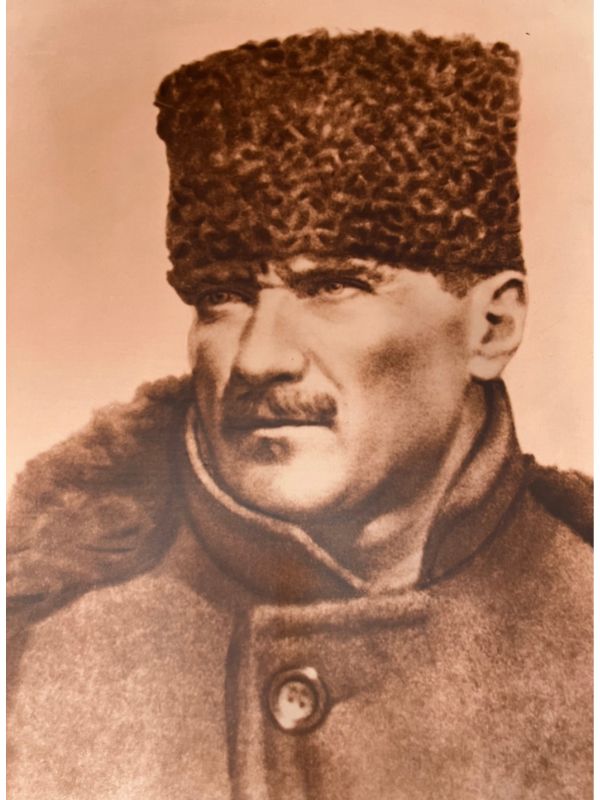 At Atatürk House and Museum, visitors can see personal belongings of Mustafa Kemal Atatürk, the founder and first president of modern-day Turkey. The house itself is a beautiful example of traditional Ottoman architecture.
Other exhibits include photographs, documents, and artifacts from Atatürk's life and his role in founding the Republic of Turkey. One highlight is the room where he passed away in 1938, preserved as a memorial. The clock in the bedroom is still set to 9.05am, the time of his death.
The museum also features temporary exhibitions related to Atatürk and Turkish history. A visit to Atatürk House and Museum offers insight into the life and legacy of an important figure in Turkish history.
Museum Opening Hours: 8.30am – 8.00pm daily (closes at 6.00pm on Sunday)
Museum ticket price: 10 TL
Address: Haşimişcan, Fevzi Çakmak Cd. No:11, 07100 Muratpaşa/Antalya, Turkey
7. Antalya Marine Biology Museum
This is a very small museum in Antalya dedicated to the preservation and conservation of marine life and the ecosystem.
It's aim is to care for and protect sea creatures, especially endangered species. It has nine species of shark, 150 species of fish, sponges, corals, as well as crustaceans such as crabs and lobsters, and Octopus and Squid.
It's very small and, honestly, not worth venturing out of your way for. If you happen to pass by it, then it's free to enter and worth checking out.
Museum Opening Hours: 09:30am – 6:30pm
Museum ticket price: Free
Address: Selçuk, Tuzkapısı Sk., 07100 Muratpaşa/Antalya, Turkey
8. Antalya Ethnographic Museum
The Ethnographic Museum in Antalya is distinguishable because of it's bright yellow exterior, which contrasts with the rest of the buildings in Old Town Antalya.
Antalya is a city that has a rich past, having been home to the Lycians, Romans and Ottomans over the past centuries. The best place to learn about the local history, culture and traditions is at the Ethnographic Museum.
The museum is a combination of two historical mansions that date back to the Ottoman Period. In the Lower Mansion, you will find Turkish-Islamic artifacts, as well as findings from excavations of Kaleici.
Some of the findings include ceramic tiles from the Aspendos Theater (which used to be a palace), and date back to the Seljukian period. These are some of the best preserved Ottoman ceramics and a great example of the style of that era.
The Upper Mansion is complete with artifacts from the Ottoman Period that were used in day to day life, as well as weapons, carpets and examples of Ottoman calligraphy. This part of the mansion is where you can learn about what day-to-day life in the Ottoman period would have been like.
Museum Opening Hours: Summer, 8.30am – 7.00pm, Winter, 8.30am – 6.00pm
Museum ticket price: Free
Address: Antalya Ethnography MuseumKılınçarslan Mahallesi, Civelek Sk. No:20, 07100 Muratpaşa
9. Soviet Lifestyle Museum (Museum of Soviet Life)
The Soviet Lifestyle Museum is a kitchy museum that showcases objects and artifacts from the USSR era.
The museum has hundreds of Soviet era memorabilia and even have clothes from the era you can dress up in. You can see shoes, boots, solider and police uniformas, and even instruments.
This museum looks deceivingly small from the outside but it's quite large on the inside. You can touch and play with many of the objects on display, and you can also buy vintage souvenirs from the 70s and 80s.
Be sure to ask the manager for information about the objects, they are always willing to explain and share facts and stories with their visitors!
Museum Opening Hours: Closes at 8.00pm
Museum ticket price: 15TL
Address: Güzelbağ, 07230 Muratpaşa, Antalya, Turkey
10. Dervish Lodge Museum (Mevlevihane Museum)
Located in Kaleiçi, this historic lodge known as the Mevlevihane Lodge, dates back to the Seljuk Period in 1377 and was restored in 2018. It is said that it was built by Sultan Alaeddin Keykubad in 1255 and was used as a Mevlevihane (a place where whirling dervishes meet) since the 16th century, as well as a palace bath.
The museum complex consists of a Mevlevihane, Hamam, and the mosoleums of Zincirkıran Mehmet Bey and Nigar Hatun, the mother of Sultan Korkut. Visitors will also see the graves of Mehmet Bey, Sultan Korkut's son, Mehmet Bey's son Ali, as well as Mustafa Dede Efendi, the Sheikh of the Antalya Mevlevi Lodge.
You can learn all about Mevlevi through interactive displays, as well as exhibits of clothing and memorabilia. The museum also offers classes on Islamic Philosophy, as well as provides seminars, music concerts, sema rituals and Mesnevi and Divan readings.
Museum Opening Hours: 8.30am – 5.30pm daily, Closed Monday
Museum ticket price: Free
Address: Selçuk, Selçuk Mah No:36, 07100 Muratpaşa, Antalya, Turkey
11. Face2Face Wax Museum
The Face2Face Wax Museum is located inside the Antalya Aquarium and is a display of waxwork figures of important people and celebrities.
See lifesize models of the British Royal Family including Prince William and Queen Elizabeth II, as well as Michael Jackson, Jackie Chan, Bruce Willis, Jonny Depp at Captain Jack Sparrow, Jennifer Lawrence as Katniss Everdeen, and Rown Atkinson as Mr. Bean. And so much more.
Unlike Madame Tussauds, you cannot get up close to these figures to take photos, but the figures are just as lifelike.
Museum Opening Hours: 10.00am – 7.45pm daily
Museum ticket price: part of the aquarium ticket
Address: Antalya Aquarium, Meltem, Dumlupınar Blv. No:477, 07030 Muratpaşa, Antalya, Turkey
Museums in Antalya Region
11. Side Underwater Museum
The Side Underwater Museum in Turkey offers visitors the opportunity to see various pieces of submerged sculpture and art. You will need to dive to see the artifacts in this museum, which is all part of the experience!
The museum is located 1.5km off the coast of Side, and has a collection of over 117 life-sized sculptures made from special materials designed to promote coral growth. Notable sculptures include the god of Poseidon, a mermaid, and whirling dervishes.
Some sculptures depict both historical figures and everyday scenes from daily life. There are also scenes from battles, including an army.
In addition to the unique underwater artwork, the museum also offers the chance to spot local sea life such as octopus, sea turtles, and Mediterranean seahorses.
Museum Opening Hours: dependent on tour operator
Museum ticket price: dependent on tour operator
Address: 1.5km off the coast of Side
12. Phaselis Müzesi
Phaselis is an open air museum containing vast amounts of Greco-Roman ruins that date back to the 7th century BCE. You can marvel at an agora and amphitheater, as well as the remains of its harbors.
Phaselis is thought to have been a port city and has three harbors. Excavations have found coins with ships depicted on them, implying that the sea trade was an important part of its economy all those centuries ago.
The city was conquered many times, first by the Persians, who hosted Alexander the Great here. It was them claimed by pirates for a while, before becoming a bishopric center in the Byzantine period.
It was completely abandoned in the early 13th century and fell to ruins.
Visitors can walk the remains of these ruins, including the former city wall and aqueduct, as well as the former Roman baths. This would make for an excellent day trip from Antalya. In fact, you can even take a boat trip from Antalya to the museum.
Museum Opening Hours: 8.00am – 7.00pm
Museum ticket price: 90 TL
Address: Tekirova, 07990 Kemer/Antalya, Turkey
14. Side Museum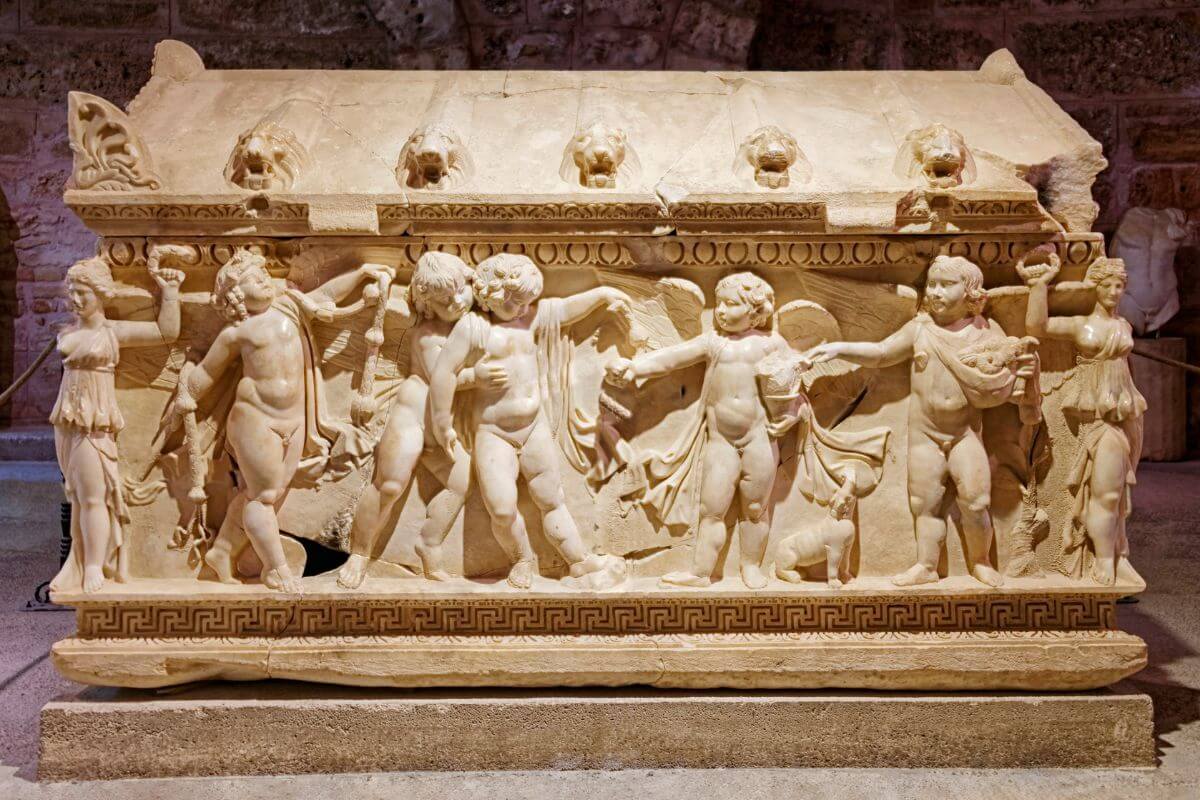 Side Museum is a fascinating museum set in a former ancient bath house (Agora Bath) which is thought to have been built inthe 2nd century AD.
The rectangular bathhouse is made up of five rooms; a cold room, a sweat room, two warm rooms and hot room.
Today the museum is no longer a bath, but a museum showcasing the artifacts uncovered during exvacations of sites in the Side region between 1947 – 1967.
The museum contains statues, sarcophagi, ceramics, and glass and bronze findings. You can also see coins belonging to both the Hellenistic, Roman, and Byzantine periods.
Museum Opening Hours: 8.30am – 7.45pm
Museum ticket price: 50 TL
Address: Side, Liman Cd., 07330 Manavgat, Antalya, Turkey
15. Ozel Yoruk Museum
The Yoruk's are a tribe of people who live in the Antolia region of Turkey. They are described as nomads because of their traveling lifestyle.
The word 'Yoruk' comes from the Turkish work yürü, which means "to walk." The Yörüks have been living in the region for as far back as the Ottoman Empire.
You can learn all about their lifestyle, social life and work, as well as see historical artifacts, at the Yoruk museum. It has around 1000 ethnographical pieces belonging to Yoruk culture.
You can learn about how they created things such as weaving and handicrafts, as well as other aspects of their work such as agriculture. There's also exhibits on Toruk food and husbandry. It's the best place to learn about this fascinating culture.
Museum Opening Hours: 8.30am – 5.30pm
Museum ticket price: Free
Address: Evren Mahallesi, Küme Evleri No:8, 07600 Manavgat, Antalya, Turkey
16. Alanya Archaeological Museum
Another great place to see archeological finds from the Antalya region is at the Alanya Archaeological Museum. Alanya has a rich history, having been conquered by many tribes such as the Greeks, Romans, Byzantines and Ottomans. You can see all aspects of this historical heritage at this museum.
Outside the museum, you'll see cannons, Muslim gravestones, marble sarcophagi, Roman tombs, and agricultural equipment.
Inside, the rooms are filled with archaeological and ethnographic artifacts such as ceramics, marble statues, terracotta materials, bronze items, coins, jewelery and glass and mosaic pieces from the Paleolithic Age, onwards to the Hellenistic, Roman, and Byzantine periods.
Notable pieces include a bronze-cast of Heracles that dates back to the 2nd century AC, which sites in the special Heracles Hall in the museum, and the extensive coin collection. The museum is small, but it's one of the top attractions in Alanya!
Museum Opening Hours: 8.30am – 8.00pm
Museum ticket price: 20 TL
Address: Saray, İsmet Hilmi Balcı Cd. No:2, 07400, 07400 Alanya, Antalya, Turkey
---
Map of Antalya Museums
To help you plan your museum hopping of Antalya, here is a map that shows where each museum is located.
---
Final Word on Museums in Antalya
So there you have it, those are the best museums in the region and city of Antalya. As you can see, there are plenty of fascinating places to help you learn about the history and culture of this fascinating region.
Do you have a favorite museum in Antalya? Let us know in the comments.
Disclaimer: Some of the links above are affiliate links. That means if you book or make a purchase through the links, we will earn a small commission at no extra cost to you! The money will help run this site! Thank you!