When planning a trip to Turkey, the hardest part is deciding how many days in Antalya to spend before you visit. Afterall, you don't want to leave before you've seen everything you want to.
Luckily, Antalya is one of those places you won't ever get bored, so if you end up staying longer than you planned, you've still got plenty of options for things to do.
Antalya is a region that 1,400 km², but people tend to stay in the capital, Antalya, or at one of the nearby resort towns such as Alanya or Side. If it's your first time in the region, we recommend you stay in the city of Antalya as it's easier to explore the region from there.
After having been to Antalya multiple times and spending weeks there, we are here to help you plan your Turkey itinerary.
When it comes to how many days to stay in Antalya, one shoe does not fit all travelers. It'll depend on a variety of factors, such as when you are visiting, whether you're backpacking or traveling as a family, and how you choose to get around.
Read on to find out how much time YOU need to spend in Antalya, Turkey!
---
How Many Days Is Enough For Antalya?
Generally speaking, we recommend spending at least four full days in Antalya for the typical traveler. If you only have a weekend of three days, then it's possible to squeeze everything in, but be prepared to do a lot of walking!
Four days gives you plenty of time to explore the attractions and the beaches without rushing. And if you do feel like you've explored all there is to see, you can never go wrong with another beach day.
One of the best things about Antalya is it's ideally located for day trips. You can take a day trip to many of Turkey's iconic landmarks within a day trip from Antalya. I'm talking Pammukale, the Perge Ancient City, The Lycian Rock Tombs, and even as far as Fethiye.
If you want to see other areas of Turkey without traveling around the country, you could spend 7 days in Antalya and add on a few days for day trips.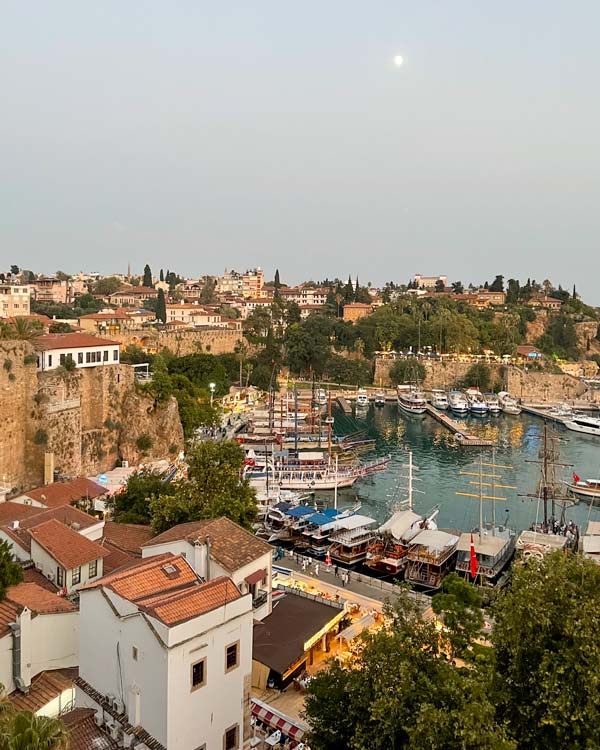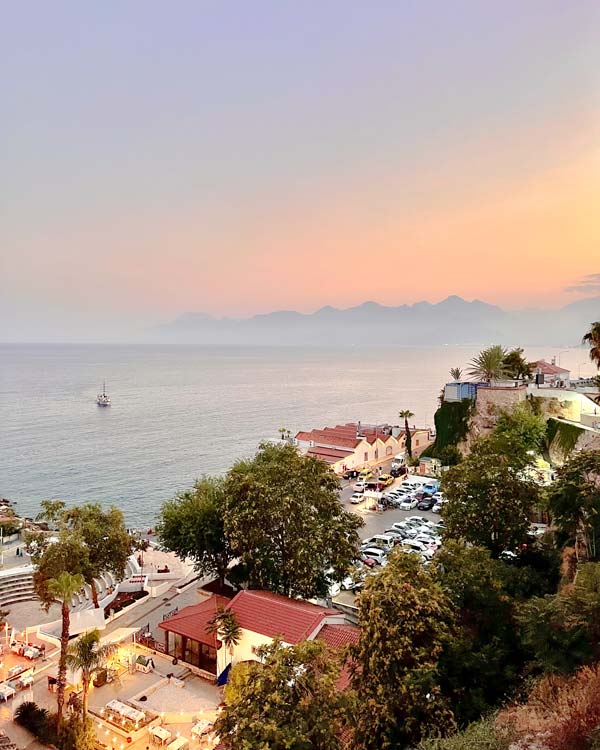 ---
How To Decide How Many Days In Antalya To Spend?
We understand that everyone has a different style of traveling and your travel companions need consideration too. Antalya primarily attracts a beach crowd, and some people might love spending seven days on a beach, but others like to incorporate some culture into their itinerary.
If you're traveling with kids, then will a beach keep them entertained for more than a day? And will your little ones be able to sit still in a long-distance bus to Pammukale if you want to take day trips? Some day trips mean three or four hours of traveling each day, sometimes longer, so this is something to factor in before you visit.
These factors can change how many days you want to stay in Antalya. Here are some of the factors that you should consider when planning your Antalya itinerary.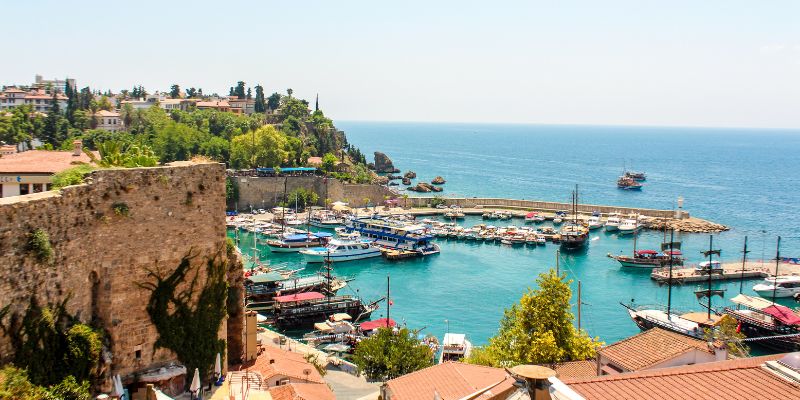 Are You Planning on Taking Tours?
Because Antalya is located in the center of Turkey on the South coast, it's the perfect location to base yourself in while taking tours to other parts of the country.
However, some of these tours require several hours on a bus (or even a plane) which might not suit family members. There are some tours nearby, such as boat tours from the harbor and short rides out to Koprulu Canyon, but the number of tours within the city of Antalya is smaller than those spanning further afield.
However, we understand that tours aren't everyone's cup of tea. But if you only have a short time to spend, they can be a great way of ticking off a bunch of highlights without the stress of organizing your own transportation.
If you are taking tours, 4 days in Antalya is generally a good number of days to stay.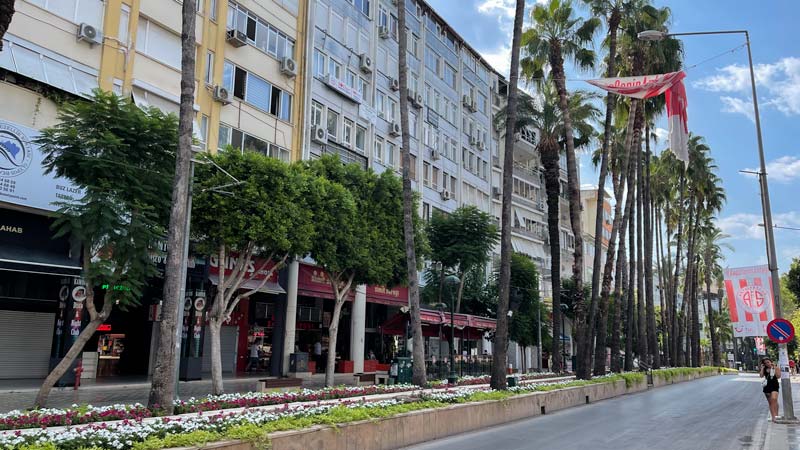 Are You Renting a Car?
Perhaps the best way to see Antalya is by renting a car. The region is massive and there are several stunning beaches in Antalya. However, if you get to a beach and find it's too crowded, or you want to visit several, it's going to take a lot of time and effort to use public transport.
Having your own car gives you the freedom to explore where and when you like. You can travel at your own pace and move on to other places if you decide somewhere isn't right for you.
With a rental car, you can even have transport from the airport in Antalya. It is the most hassle-free way of sightseeing in Antalya, plus you get to cover lots of ground in a short amount of time.
If you are hiring a car, then you can afford to stay only 3 days in Antalya.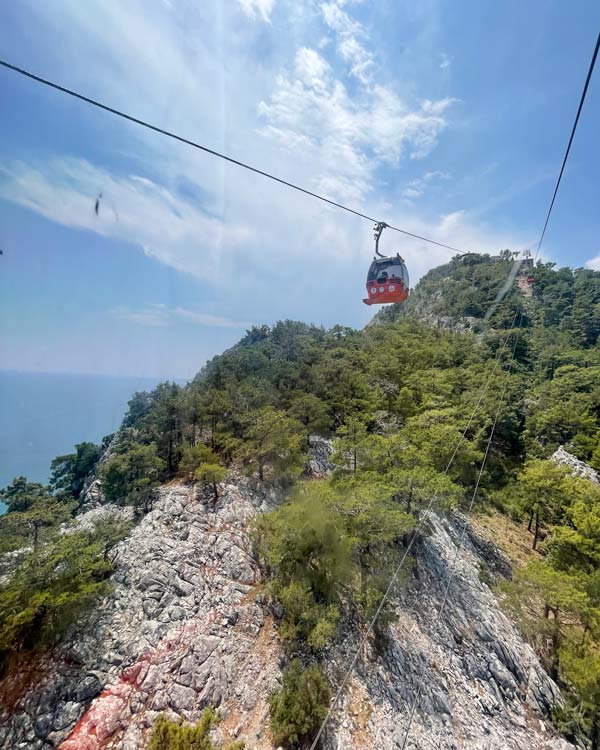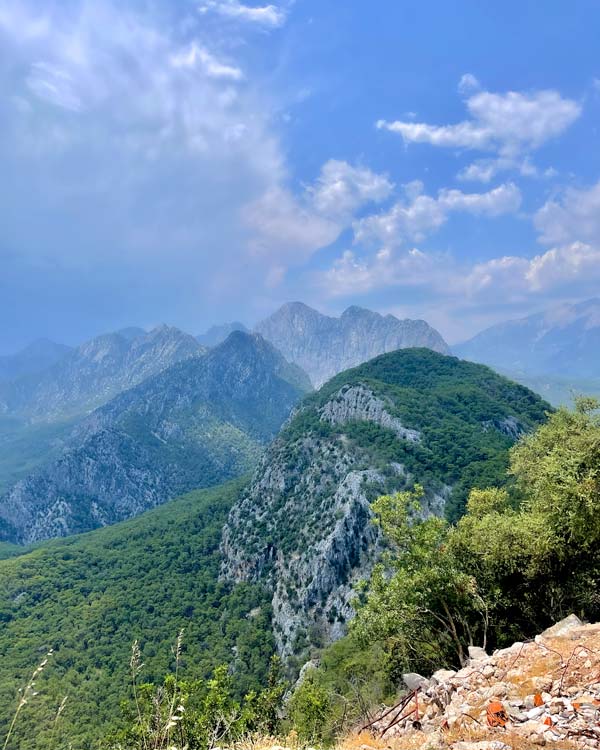 Are You Going to Take Day Trips?
We mentioned earlier about the convenience of Antalya's location and how easy it is to take day trips to other parts of the country.
However, these day trips require a lot of travel time. Antalya to Pammukale for example, is a good three hours on a bus each way.
Even if you're fine with the travel time, you might find the trip exhausting and you need a day of relaxation the next day. It's going to wear you out taking day trips back to back, so you need to plan your itinerary so they are spread out.
If you're planning on adding some day trips to your trip, we recommend staying for seven days in Antalya.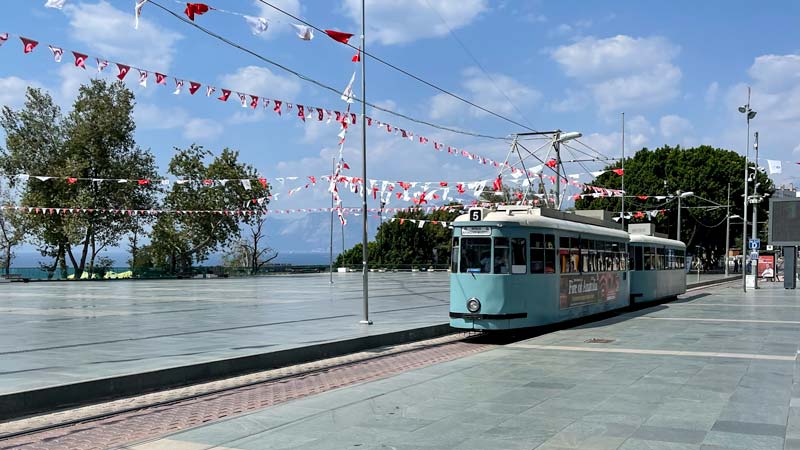 Are You Getting Around On Public Transportation?
Public transportation in Antalya is easy and efficient. There is a tram that connects you to most parts of the city, and there are minibuses (dolmus) that take you to the beaches and areas outside the city.
However, these buses have several stops, and it can take up to an hour to cover a distance you could drive in 20 minutes. Many of the bus drivers speak very little English, and the schedules are quite sporadic, so you could end up waiting at a bus stop for 20 minutes before a bus arrives.
If you are planning on taking public transportation to go sightseeing, it will slow you down. Using public transport, you might only be able to visit one area outside of town, and maybe two or three things in the center each day.
For that reason, if you are only planning on taking public transportation, spend no less than 4-5 days in Antalya.
---
Antalya Itineraries
Here are some sample itineraries of what to expect if you only have a certain number of days in Antalya.
1 Day in Antalya
Unfortunately, with 1 day in Antalya, you are not going to see much. Most people visit Antalya for the beaches, or for the history.
If you're getting around on public transport, you will only be able to see one beach. We recommend visiting Kaputas Beach which is known for its turquoise waters and sheltered bay.
If you prefer to stay in town, you can walk around the Old Town of Antalya, check out the old Roman Harbor and visit the Hidirlik Tower. You could then spend an evening at one of the beaches in the city, such as Konyaaltı sahili or Beach Park, but these beaches are not as nice as the beaches outside the city, in our opinion.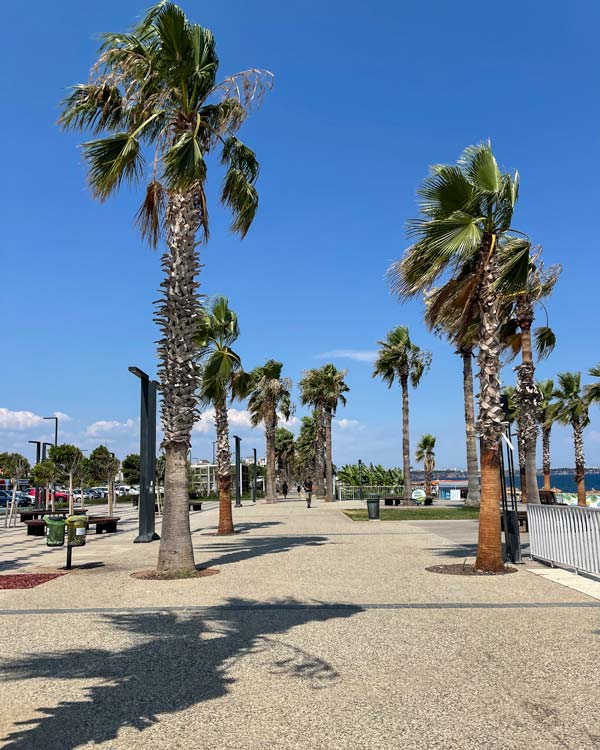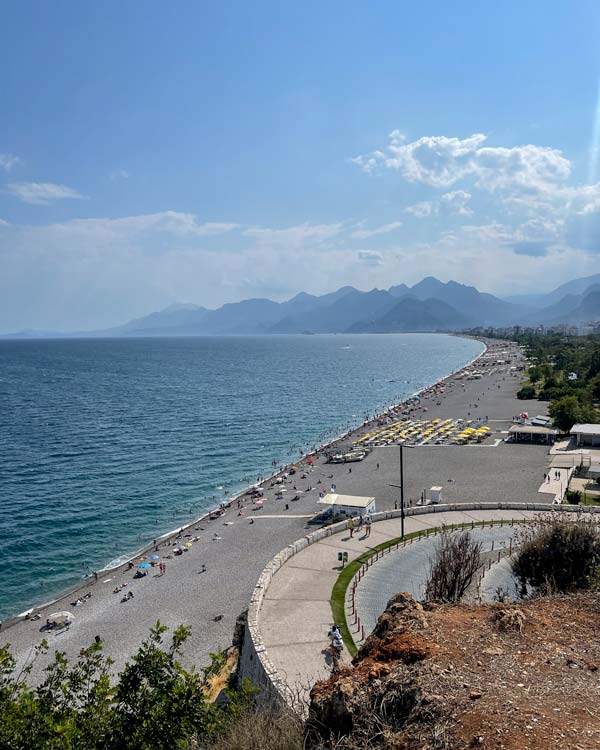 2 Days in Antalya
2 days in Antalya is the absolute minimum number of days you should spend in Antalya to see all the best of the region.
You could get around without hiring a car in 2 days, but it would help tons if you do as you can explore more of the beaches.
If you only have 2 days in Antalya, we would recommend spending one day at the beach and one day exploring the Old Town and the historic attractions in the city.
If you hire a car, you can spend a morning wandering the Old Town and then drive to a beach in the afternoon, or head over to the Koprulu Canyon and do a short hike.
If you are visiting in the summer, remember to stay out of the heat in the middle of the day. This will eat into your adventure time as you'll have to take breaks out of the sun.
3 Days in Antalya
3 days in Antalya is a good amount of time to spend in Antalya, but it's still quite short. The extra day means you can take a day trip such as a boat tour, or to the nearby Koprulu Canyon. You could also take a trip to the Lycian Rock Tombs or the Ancient City of Perge.
You will only have time to do one day trip, so you'll have to decide which one sounds more interesting to you. Even if you hire a car and drive, you might just have enough time to see the Ancient City of Perge and Koprulu Canyon in one day, but you'll need to set off early.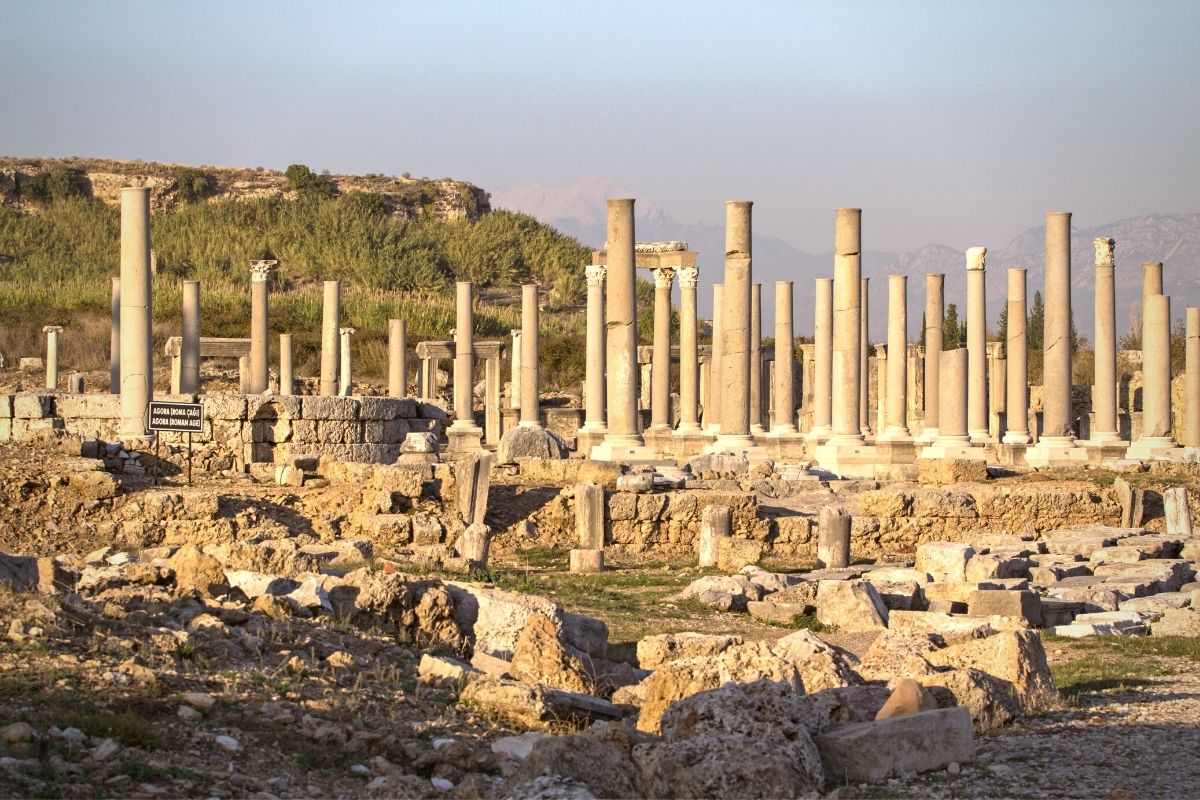 4 Days in Antalya
4 days in Antalya is what we think is the perfect amount of time to spend in the region, especially if you hire a car. With this number of days, you can take day trips without any tours and you can use public transportation to get to some of the further attractions, such as the Lycian Rock Tombs.
You can spend a day at the beaches, a day exploring the Old Town, a day hiking in the Koprulu Canyons, and a day taking a day trip of your choice. If you hire a car, you can whizz around a lot of sites and even drive to further away attractions such as Fethiye.
But honestly, with this extra day, you can afford to be more leisurely when visiting attractions which means the extra time spent on public transport isn't a problem.
If you can afford to spend 4 days in Antalya, you will find that you can explore more leisurely and not have to rush. You will have more downtime to relax and possibly save some money on your budget since you don't have to hire a car to get to all the places.
5 Days in Antalya (or more!)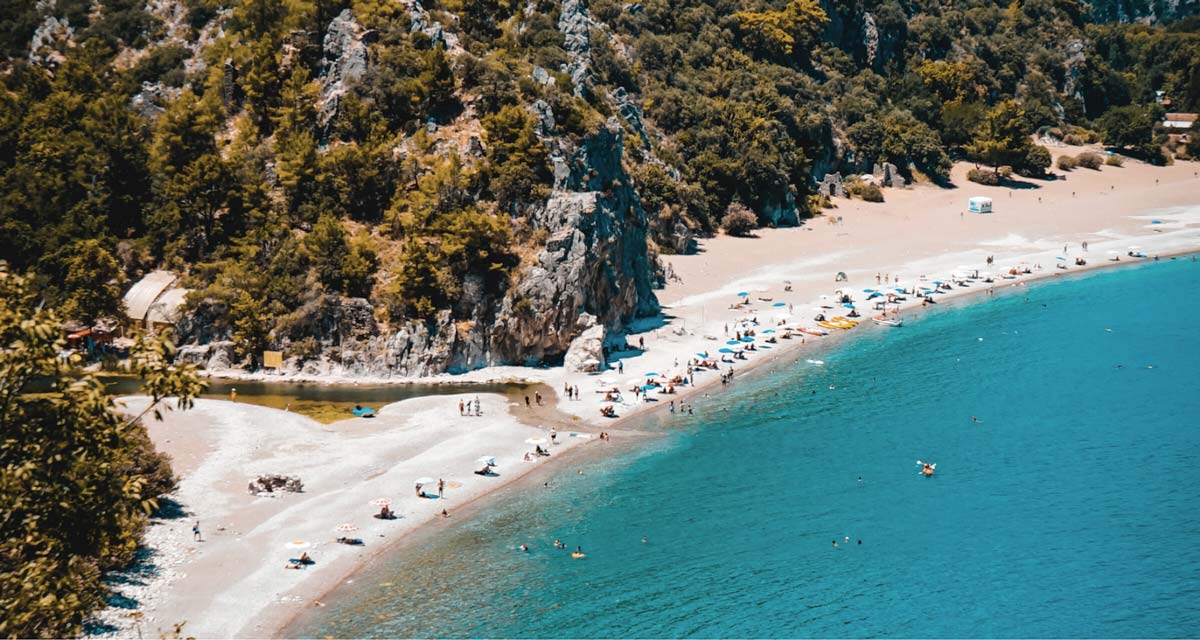 If you have more time to spend in Turkey and are thinking of Antalya as a base, you could spend five or more days here and not get bored.
You can take those day trips that are further away, such as to Pammukale, and have a day of rest afterward. You can also fill up those days exploring some of the more off-the-beaten-track beaches and nature spots such as waterfalls in Antalya.
If you're digital nomads like us that spend some days working on the laptop, then maybe 5 days or more in Antalya is perfect for you. With 5+ days, you can plan adventure days around your working days, and have time to recuperate after a night out on the town.
But if you're visiting only Antalya and have no plans to explore outside of the city, then you might find 5 days is a little too much. There are some interesting museums and waterparks that you can visit, but aside from spending extra days on the beaches you'll be short of options.
Will you get bored if you spend that much time in Antalya though? Definitely not. The region has so much to see and explore, and you'll find the waterparks are so much fun you'd happily go back another day.
---
How To Get To Antalya, Turkey
There are three ways to get to Antalya – flying, train or taking a long-distance bus.
By Flight
There's only one airport in Antalya, which makes it easier for those traveling by plane. The airport is located 14km outside the city center and takes about 25-30 minutes to drive to the Old Town.
There are several direct flights to Antalya from Istanbul each day, usually every two or three hours. The main airlines are Turkish Airlines and Pegasus.
From the airport, you can take a taxi (which we don't recommend because you'll get scammed) or pre-arrange an airport shuttle to your hotel.
By Long-Distance Bus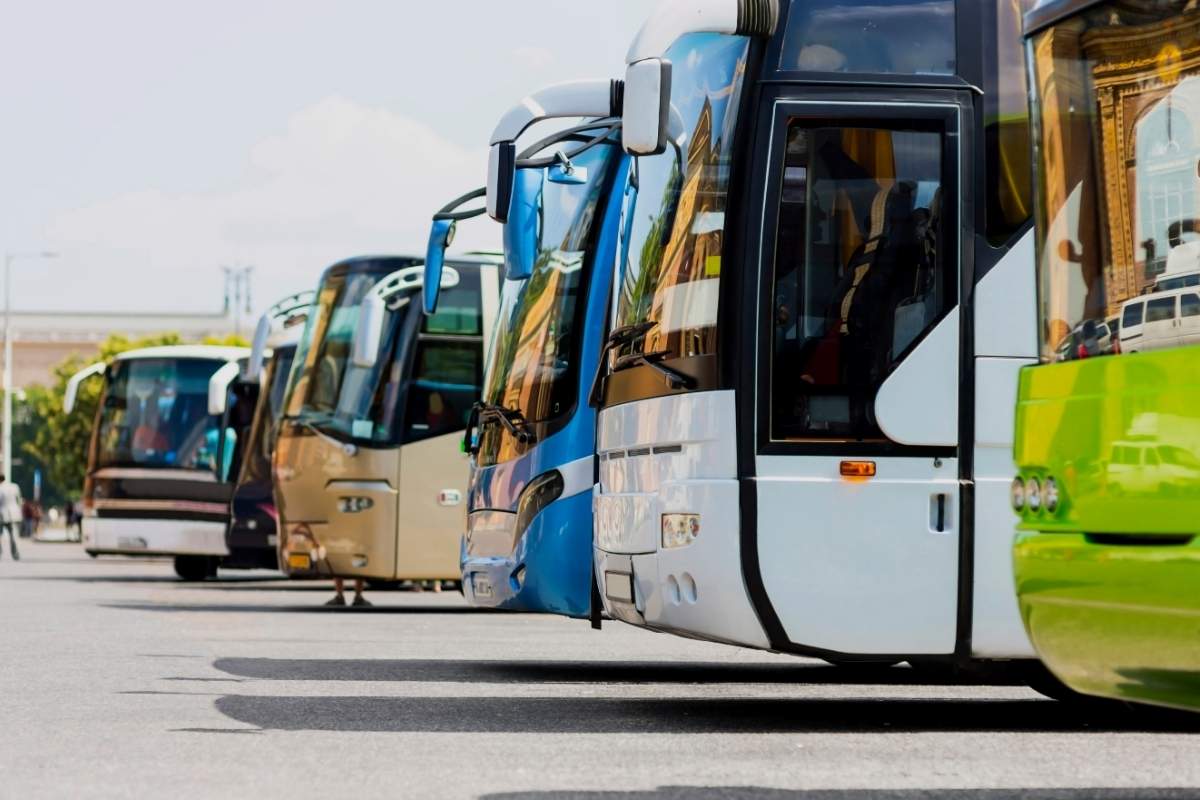 Turkey has a network of incredible long-distance buses that operate throughout the country, connecting places in Antalya with a variety of destinations.
They are more affordable than taking a flight, but the disadvantage is undeniably the amount of time they take. To put things into perspective, flights from Istanbul to Antalya take about 75 minutes, but a bus takes more than 12 hours.
Whether it is worth the effort or not, that'll depend on the type of traveler you are and what kind of budget you have.
One thing good about long-distance buses to Antalya is that they stop at Antalya Bus Station, which is 9km out of the city center. This means you'll need to catch another bus, taxi or transfer to your hotel.
To check long-distance buses in Antalya, you can use the official obilet site or busbud.com. We recommend busbud because foreign credit cards are typically declined when trying to reserve seats online at obilet.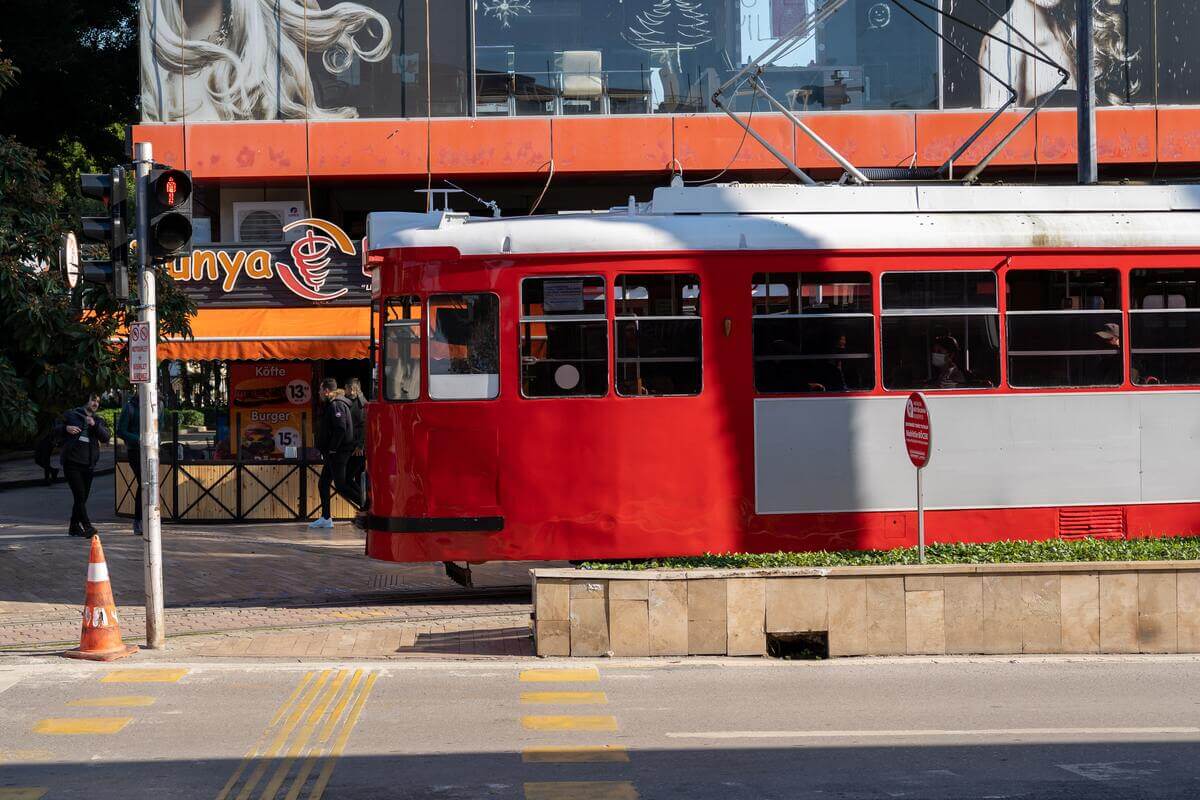 Taking a Train
The train is another way to travel, which is roughly the same price as a bus but a little bit longer. A train from Istanbul to Antalya takes around 14 hours. There are 27 stops between Istanbul to Antalya and usually stops in Konya where you have to change onto another train.
The train station in Antalya is located near the airport, so you'll also have to get a bus, transfer or taxi to the city center from the station.
Are you reading this from Turkey? Maybe you need a VPN!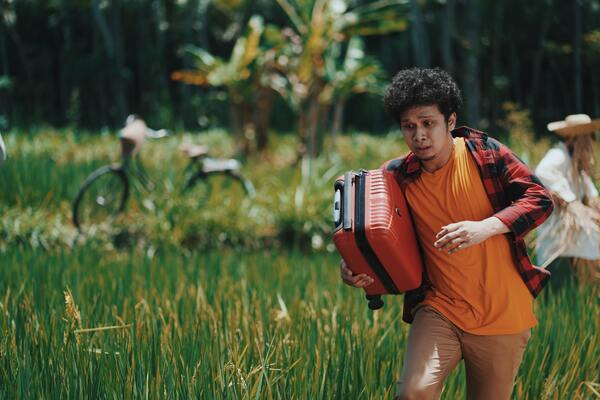 If you're already in Turkey, there is one thing you absolutely NEED: a reliable VPN.
You may find some of your favorite websites and apps are blocked in Turkey, such as popular hotel site booking.com
A VPN allows you to get passed this ruling and enables you to browse these sites without any hassle, and it's completely legal.
We use Express VPN when we're in Turkey and we'd recommend it to anyone. It's affordable, quick, and easy to use.
---
Where To Stay In Antalya, Turkey
Perhaps one of the biggest factors in determining how many days to spend in Antalya is your accommodation. Antalya is big, but only the city center, Old Town and beach resorts are generally safe for tourists.
Without a doubt, the best place to stay in Antalya is the Old Town. This historic area has access to some of the most popular attractions and is within easy reach of the beaches. Visitors will find a variety of accommodations here, from hostels to high-end hotels.
Here are some of the places we recommend…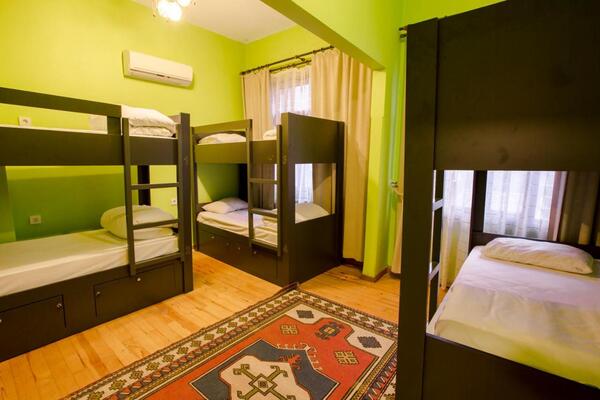 Best Hostel in Istanbul – Cheers Hostel
Cheers Hostel is the best-located hostel in Istanbul, nestled behind the Hagia Sophia and the Blue Mosque. It offers comfortable, individually styled rooms and dorms, with spacious shared bathrooms. The terrace bar and restaurant serve up kebabs and international cuisine for those who don't want to venture far for food and have wonderful views of Istanbul's Old Town.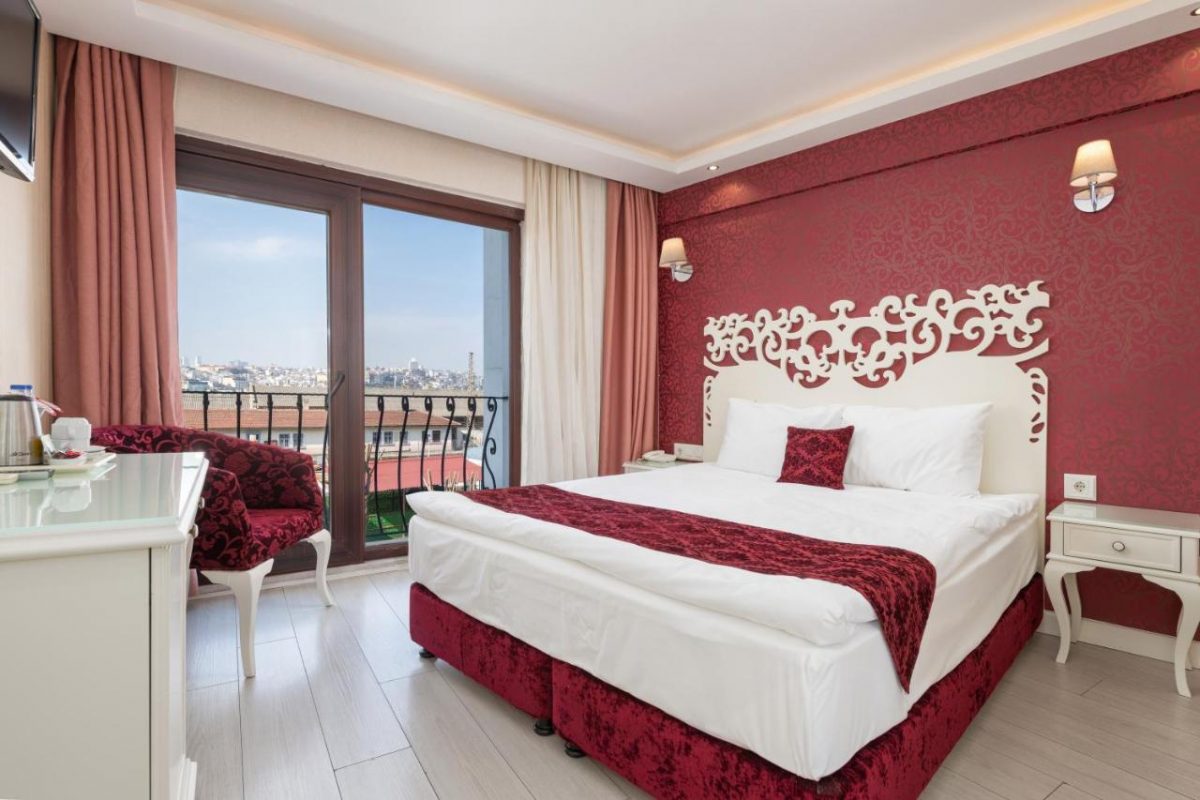 Best Mid-Range Hotel in Istanbul – Dream Bosphorus Hotel
If you're looking for a mid-range hotel in a great neighborhood, then Dream Bosphorus hotel is the ideal choice. It's located in the heart of Old Istanbul, in the Sirkeci area. Each room has been individually styled in traditional Turkish decor and comes with a private bathroom and 24-hour room service. Some rooms have views of the Golden Horn. Each morning a daily breakfast buffet is served and the Dream Café offers soft drinks and snacks throughout the day. Each afternoon, it's worth returning for free cakes and cookies.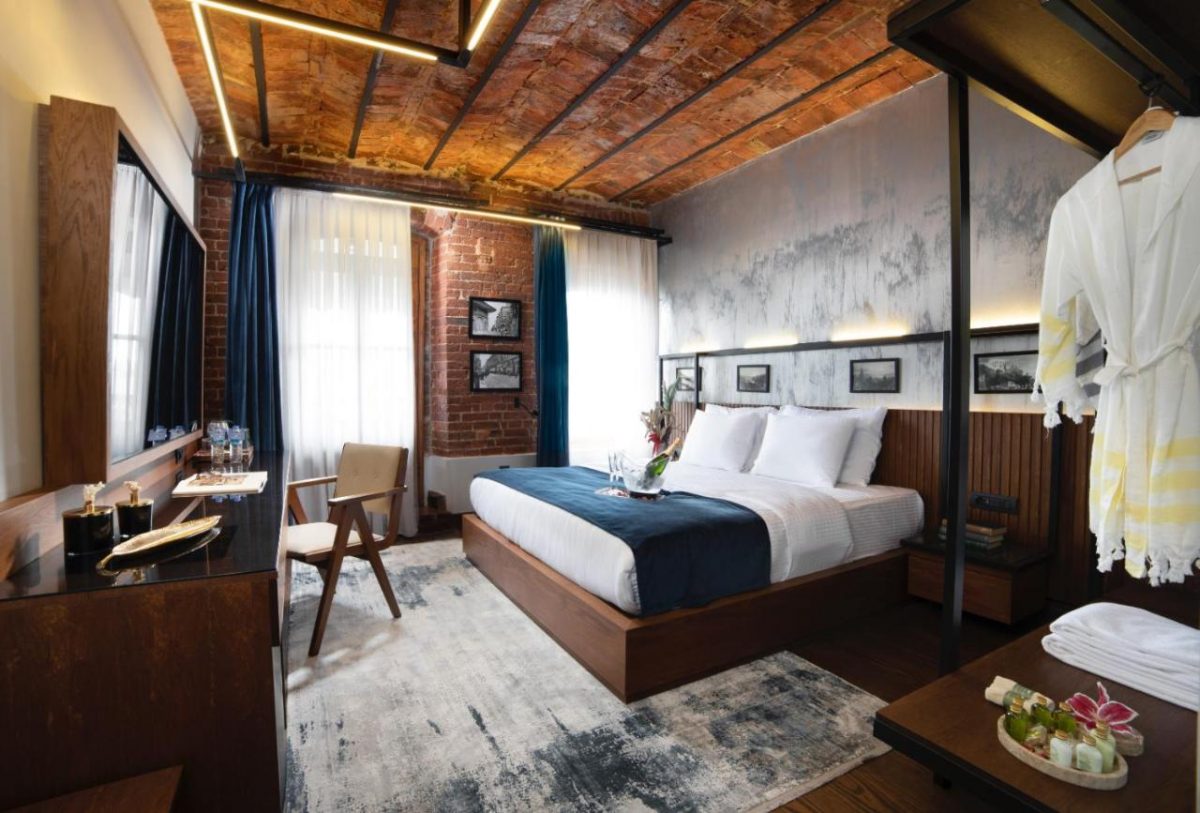 Best Luxury Hotel in Istanbul – Hotel DeCamondo Galata
Located on the riverfront in Kadikoy, the Hotel DeCamondo is the ideal place to stay for a luxury getaway. It has a stunning bar and terrace as well as an onsite restaurant and car rentals. Each morning, a continental or a la carte breakfast is offered, and when it comes to exploring, the hotel can help organize your tours and car rentals.
---
Best Time to Visit Antalya
The best time to visit Antalya is in the fall. September – November are perfect times, which is considered the start of the shoulder season in Antalya.
The summer crowds have gone home, the kids are back to school, and the weather is just right. This time of the year also sees little precipitation, and the weather is still around 31ºC during the day, perfect for lounging on the beach.
Winter is not ideal for visiting Antalya. It receives very strong winds and heavy rain, and the temperature can plummet to 15°C – 17°C. You can even see snow in the mountains nearby. November – February is when you see the most rain in Antalya.
Spring is great as the temperatures start to warm up after the winter and the sun starts to shine. It is a great time for hiking because of the cooler temperatures.
Summer is the most popular season to visit, but it is can get too hot for exploring the national parks and mountains, which is disappointing if you like hiking. Temperatures can reach up to 35ºC (94°F), so you'll need to make sure you're in a shady spot during the middle of the day. It's also incredibly crowded this time of year.
---
Travel Tips For Visiting Antalya, Turkey
Avoid the Midday Heat – Antalya receives over 300 days of sunshine a year, and the sun is deceivingly strong as you have a cool sea breeze. Make sure to find some shade during the day and drink plenty of water.
Get your visa before visiting – Gone are the days of Visas on arrival. Americans now need a visa for Turkey, so don't leave it too late, and make sure to sort this before you get there.
Plan your visit for the shoulder season – If you're not set on a specific time, then plan your visit for the shoulder season for cheaper prices and fewer crowds. The shoulder season falls from September – November.
Withdraw from ATMs instead of exchanging currency – The currency exchange shops tend to have a higher rate than your bank. Get cash from HSBC, ZiraatBanksi, or AKBANK for zero withdrawal fees.
Book accommodation in advance – Antalya is a popular place to visit and you'll find better rates on accommodation if you book in advance.
---
Visiting Antalya FAQs
Is 3 days enough for Antalya?
We recommend staying at least four days in Antalya, but if you're okay with missing a few landmarks then you could just about squeeze everything into three days.
Is 2 days enough for Antalya?
No, 2 days is not enough time to see the best of the region. You need at least one day to see the beaches, one day to explore history, and one day to explore nature.
---
Final Verdict
As you can see, deciding how many days in Antalya is no easy task. There's so much to see and explore, and it's also the perfect base to take day trips to other sites in the country.
If you just want to see Antalya, then 4 days in Antalya would be enough time. If you don't plan on traveling to other parts of Turkey, then you should stay for 7 days and add on some day trips.