Antalya is a resort town in the Southeastern region of Turkey. Its harbors are flanked by yachts and its beaches connect to the crystal clear, warm waters of the Mediterranean.
It's surrounded by mountains, hiking trails, and cascading waterfalls. As well as this, there are some iconic Turkey landmarks nearby such as the Taurus Mountain range, home to the Lycian Olympus Mountain.
Each year, Antalya receives over 15 million international tourists a year, and a further 7 million domestic tourists (according to statistics in 2019).
It's quite easy to see why Antalya is a place worth visiting but is Antalya safe? The simple answer is yes, Antalya is a safe city to visit.
However, like in any other city, it is always important to use common sense and follow the safety tips and advice before traveling.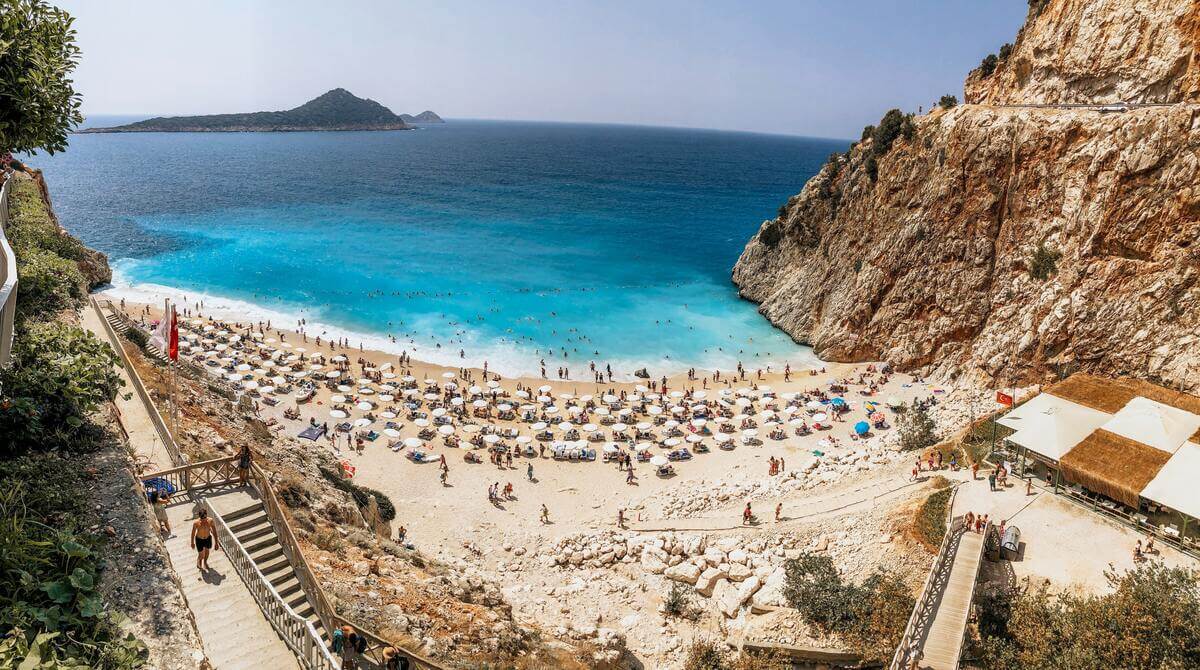 ---
Weather safety in Antalya
As a Mediterranean town, the weather in Antalya can be quite hot and humid in the summer and mild during the winter.
Though summer is generally considered the best time to visit Antalya, it is also when the weather is the most precarious. During the day, it can reach as high as 35°C with very little cloud cover, which means that there is very little protection from the sun. Bring lots of water with you when you take day trips from Antalya and explore the region. Sun protection is also a must, especially if you are planning on enjoying its fine beaches.
At night, it can cool down considerably to around 23°C, and you might even need a jumper.
December and January are the wettest months and it also occasionally sees snow, especially in the surrounding mountains. This is also considered monsoon season, and tropical cyclones do happen on occasion.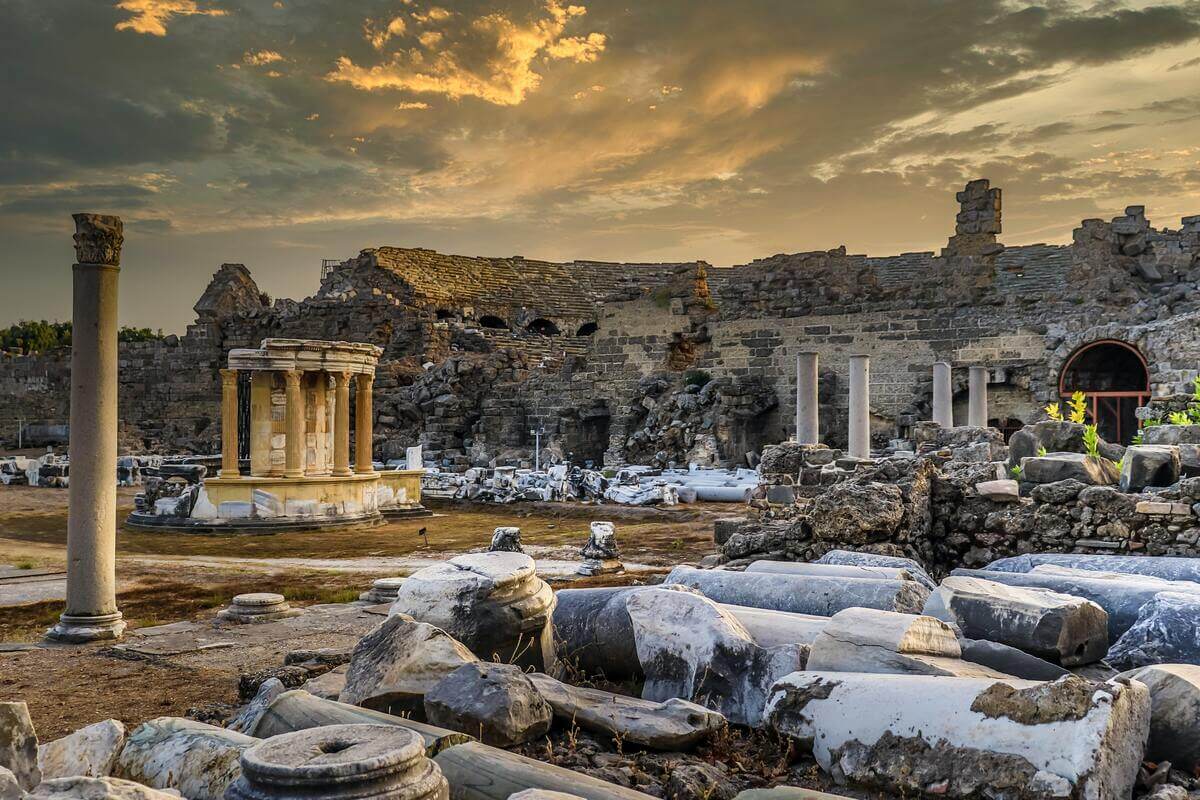 ---
Is Antalya Safe from Natural Disasters?
Antalya, like everywhere else in Turkey, sometimes receives earthquakes and tremors.
Though the city is built to withstand this, there hasn't been any major damage or loss of life due to earthquakes for some time.
The biggest danger in Turkey is forest fires. As the temperatures rise in the summer, forest fires are common along the South coast. In fact, recently in 2021, a massive fire along the Turkish Mediterranean Region ravaged the coast for over 14 days.
In some years, the fires have become so large that they have forced people to evacuate their homes.
---
Is there any crime or terrorism in Antalya?
While there is no doubt that Turkey is a very safe country to travel in, the UK Travel Advisory suggests that terrorist attacks are likely to happen in Turkey in the Southeast region near the Syrian border and in major cities like Istanbul and Ankara.
These attacks are usually targeted at the State and not at tourists, but you should make sure to stay away from any demonstrations if you see them.
The overall crime rate in Antalya is pretty low, though not uncommon. Antalya has a safety index of 72.83, which is pretty decent. To give you an idea of what that means, here are some of the safety indexes of other cities around the world:
| City | Safety Index |
| --- | --- |
| Tokyo, Japan | 76.71 |
| Chiang Mai, Thailand | 76.02 |
| Lisbon, Portugal | 71.76 |
| Stuttgart, Germany | 71.24 |
Credit: Numbeo
Petty crimes such as pickpocketing and bag snatching have been known to happen, especially around tourist areas. Major crimes are rare.
---
Is Antalya safe for solo female travelers?
Antalya is a safe place to visit for solo female travelers, but you should stay in the city center and not wander alone at night.
The city center is well-lit and has a strong police presence, but female solo travelers there have reported that some men behave stalkerish and creepy at night, so you should always use common sense when traveling alone.
When traveling alone, your biggest threat is scammers. Because you're alone, you're an easy target, so it's always a good idea to be vigilant about this. The locals will love to talk to you, and while some of them are honest and have good intentions, not everyone is looking to make new friends.
Use public transport wherever possible, and stay on the tourist path. It's always a good idea to stay in hostels so you can meet other like-minded travelers, so you can have company when going out for drinks at night.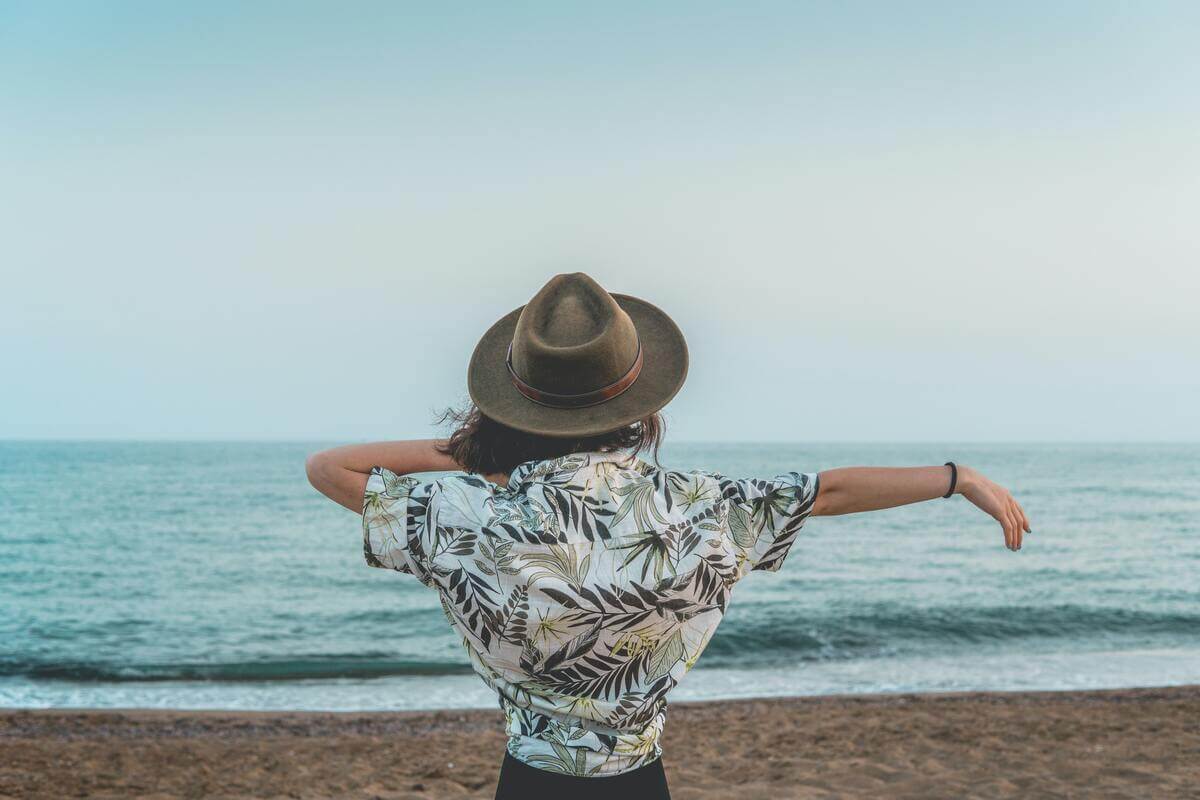 ---
Is public transport safe in Antalya?
Yes, public transport is safe in Antalya. The city has a fantastic public transport network where buses and trams run regularly and are on time. As well as these, they are often clean and well maintained.
Buses and trams are very safe and the drivers are honest and respectful. It's unlikely you will find any crime on public transport and the potential for scamming is of low risk. The tram can often be busy in the center, so it's a good idea to keep your bags close to your chest when confined in closed spaces.
Driving in Antalya is the biggest risk on public transport. Most hire vehicles are well maintained and of good quality, but your biggest risk is other drivers. If you are hiring a car, be mindful that Turkish drivers tend to ignore the rules of the road, so you'll need to keep your wits about you when driving.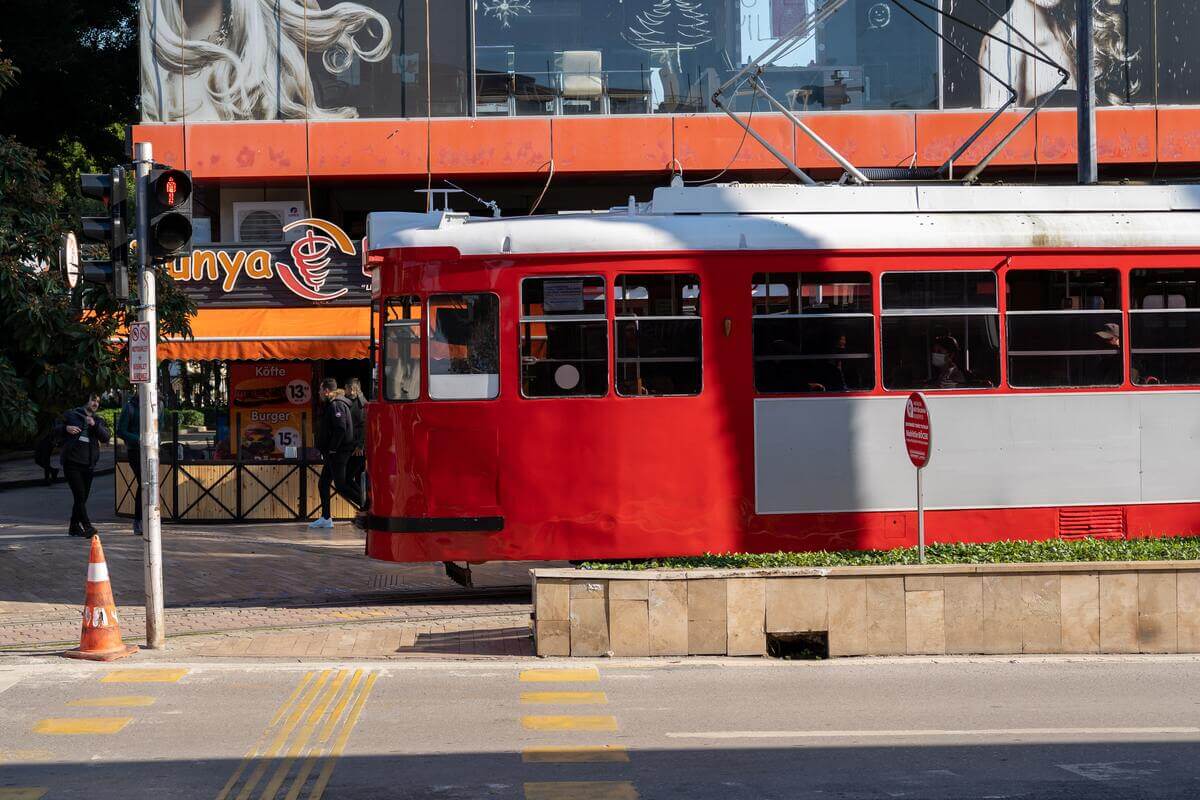 ---
Are Taxis Safe In Antalya?
Taxis in Antalya are licensed and safe for travelers. They are yellow and say "Taksi" at the top. Though taxi drivers are supposed to charge by the meter, some choose not to strike a "deal" with the passenger.
When a taxi driver attempts to do that, you know that you are being scammed and ripped off. Kindly tell them you would like to pay by the meter or look for another taxi. You could also ask the driver how much the journey will cost and agree on a price beforehand, rather than lead yourself to surprises at the end of the trip.
Most taxi drivers in Antalya are honest, but some try to take advantage of tourists by taking a longer route than needed to rack up the price. Make sure you have the navigation set up on your phone so you know where you are going and that you are not being taken advantage of.
Unfortunately, there is no Uber in Antalya but the taxis are generally trustworthy. You could always ask your accommodation if they can recommend a trustworthy taxi driver too.
---
Is Antalya safe at night?
The question is 'Antalya safe at night?' has a mixed bag of answers. Most travelers will tell you that they feel less safe at night than they do in the daytime, and this is because some shady characters come out at night.
On the whole, if you are staying only in the center, then Antalya is safe at night. However, we do recommend you go out in groups and don't stay out too late, especially if you plan on heading to bars and nightclubs. Take a licensed taxi home and make sure you don't leave drinks unattended.
Outside the city center it's not very safe at night. Many travelers have reported being harassed or followed. If you do go out at night, do not wander down any dark alleys or unlit areas. If someone approaches you, no matter how nice they are, do not engage with them and keep going.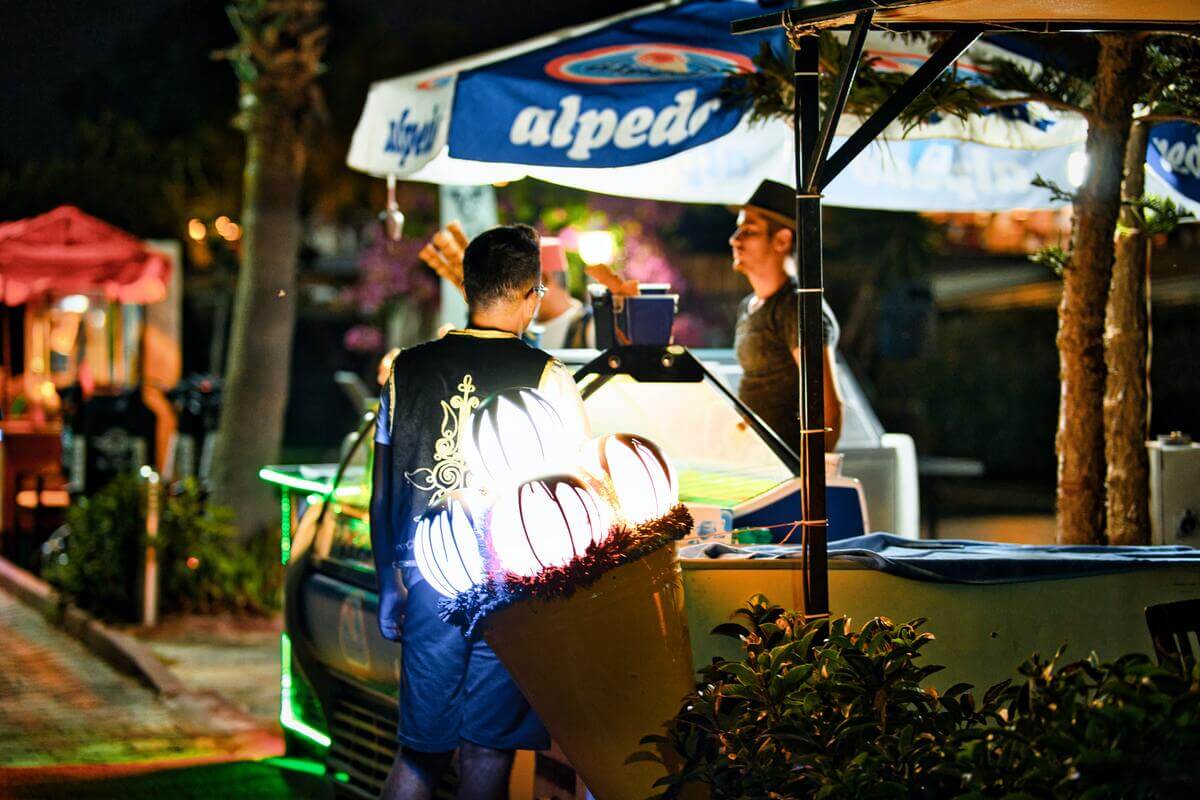 Read more: Which is better; Antalya or Marmaris?
---
Is The Tap Water Safe To Drink In Antalya?
Yes, just like in other major cities in Turkey, tap water is safe to drink in Antalya. Though just like the tap water in Istanbul, it is very hard water and has been filtered using a lot of chlorine, so many people don't enjoy the taste.
We recommend investing in a filtered water bottle so you can clean out that taste before drinking. But if you do drink the tap water, it's not going to harm you, it will just have a hard taste.
---
Safety Tips for Visiting Antalya
Before you visit Antalya, here are just a few safety tips to take with you…
Keep a close eye on your belongings when in public areas – particularly at night when there are fewer people around.
Avoid walking alone at night – even in the most well-lit areas.
If you do have to wander off the beaten path, stick to well-lit streets and avoid dark alleys or unlit areas.
Don't drink too much alcohol – as with all foreign places, getting too intoxicated is never a good idea when it comes to safety. You become an easy target for people that wish to take advantage of you. Plus, alcohol is banned in public places in Antalya.
Drink plenty of water and stay hydrated.
Wear sun protection in the summer.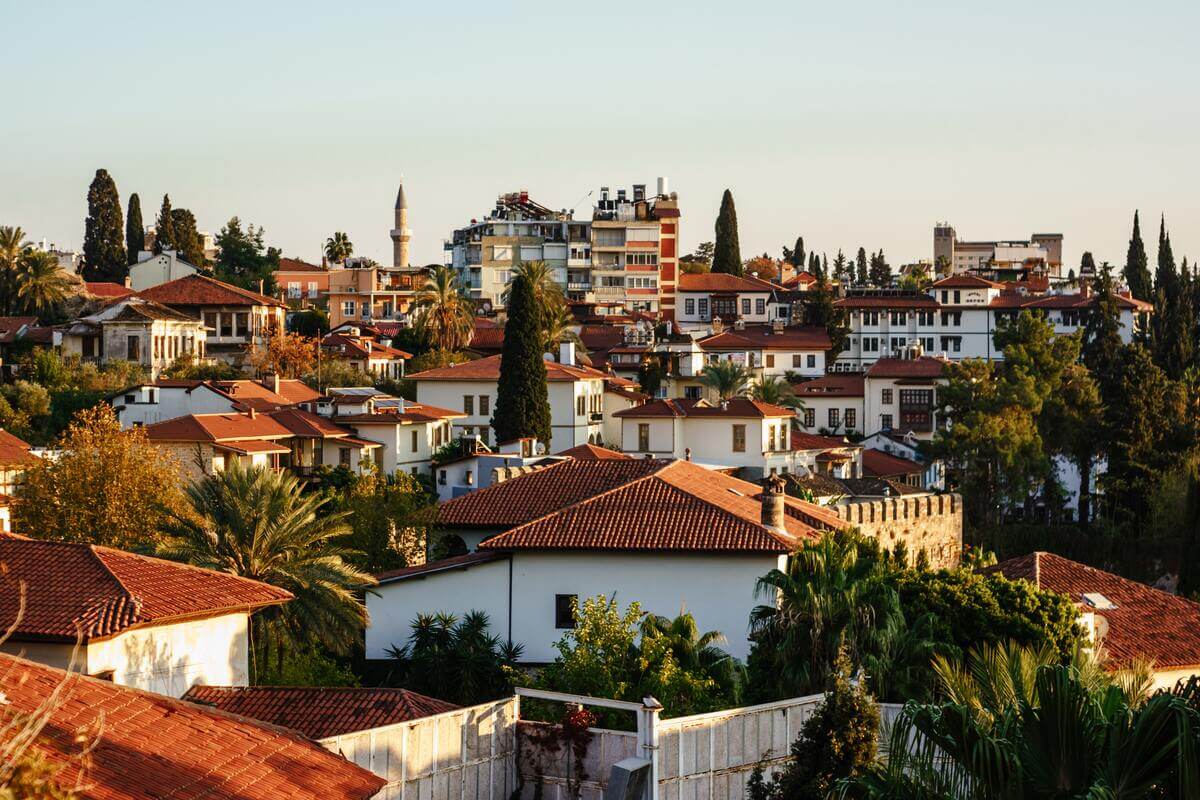 Read more: How many days in Antalya should you spend?
---
FAQs About Antalya Safety
Here's what people usually ask us about safety in Antalya…
Is Antalya a good holiday destination?
Yes, absolutely! As long as you take precautions and stay in touristy areas, you will have a great time.
Is Antalya Turkey worth visiting?
Antalya has many beautiful beaches, world-class resorts and historic sites. For that reason, it is definitely worth visiting Antalya.
Is there any trouble in Antalya Turkey?
Antalya's crime rate is low on the whole and there is rarely any trouble. But you should always exercise caution.
Do they speak English in Antalya?
The first language in Antalya is Turkish but most people speak English, especially in resorts.
---
Final Verdict
It's no doubt that Antalya has a lot to offer anyone who goes there. And because it's so touristy, it's definitely safe to visit in 2023.
Just take a few precautions to stay safe, don't wander around at night, and stay on the tourist path while you're there, and you'll be just fine.
Disclaimer: Some of the links above are affiliate links. That means if you book or make a purchase through the links, we will earn a small commission at no extra cost to you! The money will help run this site! Thank you!