Are you looking to the Turkish Riviera for your next vacation? You wouldn't be wrong to do so, the turquoise blue waters of the Mediterranean invite us all and the quaint historic towns offer the perfect backdrop to this stunning Turkish setting.
But you might be wondering which is better; Antalya or Marmaris? Both regions are incredibly popular destinations and each has its merits and issues.
In this guide, we'll be covering all you need to know about Antalya and Marmaris before visiting so you can make an informed decision about which place to visit.
We'll be looking at which is better for beaches, history, food, attractions, nightlife, and modern conveniences such as transport and ease of getting around.
---
Antalya or Marmaris for Beaches
One of the major reasons why anyone would be considering Antalya or Marmaris is to be near the gorgeous turquoise blue waters of the Mediterranean Sea and to soak up the warm Mediterranean climate.
Both of these beautiful cities in Turkey are situated on the Turkish Riviera which means they both have access to stunning waters.
However, for both destinations, the beaches in the city center tend to be busy and this can somewhat dampen the spirit of going to the beach.
That being said, Antalya has more beaches around the province, and it's easy to get to the beaches using public transport.
Some notably beautiful beaches are Lara Beach, Mermerli Beach, Konyaalti Beach, Çıralı Beach, and Kaputas Beach.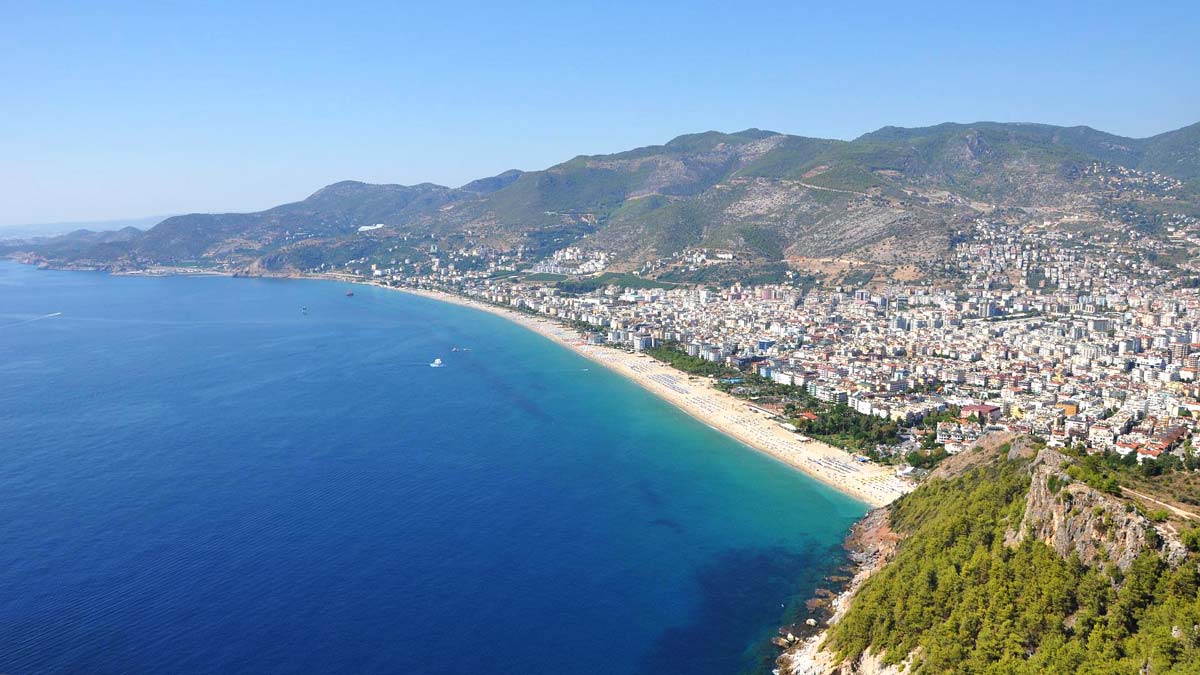 Antalya is also near to Alanya, which also has some beautiful beaches nearby that you can easily visit on a day trip from Antalya.
Cleopatra Beach in Alanya is a particularly beautiful beach worth visiting and is famously known as the beach that Cleopatra, Queen of Egypt, used to swim in.
In Marmaris, the Marmaris Beach in town tends to be overcrowded too, and we also didn't think it was that nice. The sand is a dark, dirty brown color and it stained our beach towel. The water is calm and shallow, but it wasn't the crystal clear blue that the Mediterranean Coast of Turkey is known for.
That said, there are several hidden gems that are quiet and waiting to be explored. Icmeler Beach is near to Marmaris and is particularly stunning and a popular favorite if you are looking for a nice sun bed with drinks and music. Icon Beach and Amos Beach are also lovely beaches and are sheltered in a bay.
Marmaris beaches tend to be more sheltered because of where it is positioned, which means the waves are gentler. If you're traveling as a family, you'll find Marmaris beaches are better for kids to paddle in because it's sheltered in a bay on the Datca Peninsula.
🏆 Winner: Antalya has more beaches to choose from and the public transport to them is better connected. When it comes to Antalya vs Marmaris for beaches, Antalya is better because the beaches are more beautiful and clean. However, if you are traveling as a family, Marmaris has gentler waves.
---
Antalya or Marmaris for History
Antalya has a long and diverse history and is packed with historical sites. It was built around 200 BCE by the Attalid dynasty of Pergamon. The port is said to date back even further to 150 BCE, when it was used as a base for King Attalus II's naval fleet.
The city was then conquered by the Romans who really made Antalya thrive. They built the Hadrian's Gate as well as many neighboring cities. In 1319, it fell into the Ottomans hands who ruled for five hundred years.
After WWI, the city was occupied by Italy for three years but was taken back by the newly independent Turkey after the Turkish War of Independence.
In Antalya, visitors can see many historical attractions including the Old Town, which has well-preserved ancient buildings. Some other historical attractions in the area are the old Roman Harbor, Hidirlik Tower, and the Termessos Ruins, and of course the many museums in Antalya.
It's also close proximity to the Ancient City of Perge and Aspendos, which are known for their ancient ruins.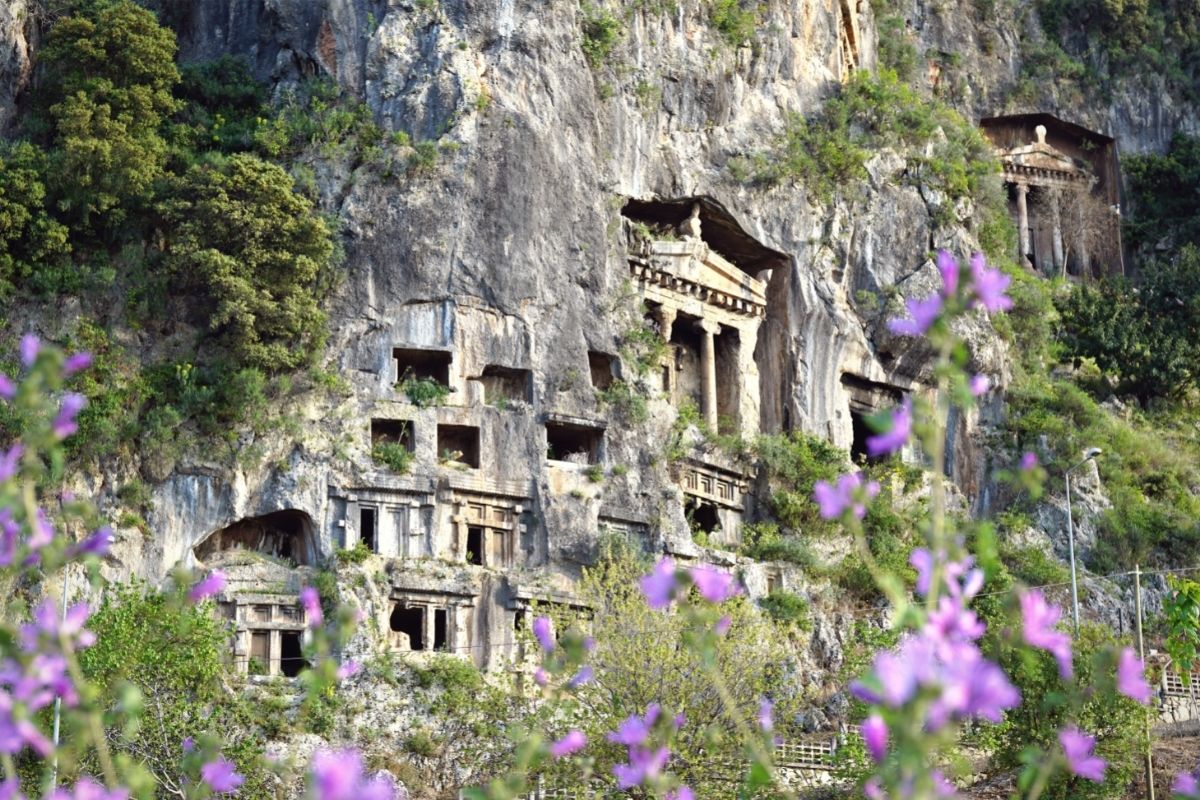 Antalya is also within a day trip to Demre, the gateway to the Myra Ancient City and Lycian Rock Tombs.
Marmaris's earliest history is unknown, but it is thought to have been founded in the 8th century BCE and known as Physkos, where a castle was built.
In 334 BC, Marmaris was invaded by Alexander the Great and the castle was besieged. The invaders saw value in the castle and repaired it to house a few hundred soldiers.
📖 Read more: Which is better: Antalya vs Alanya?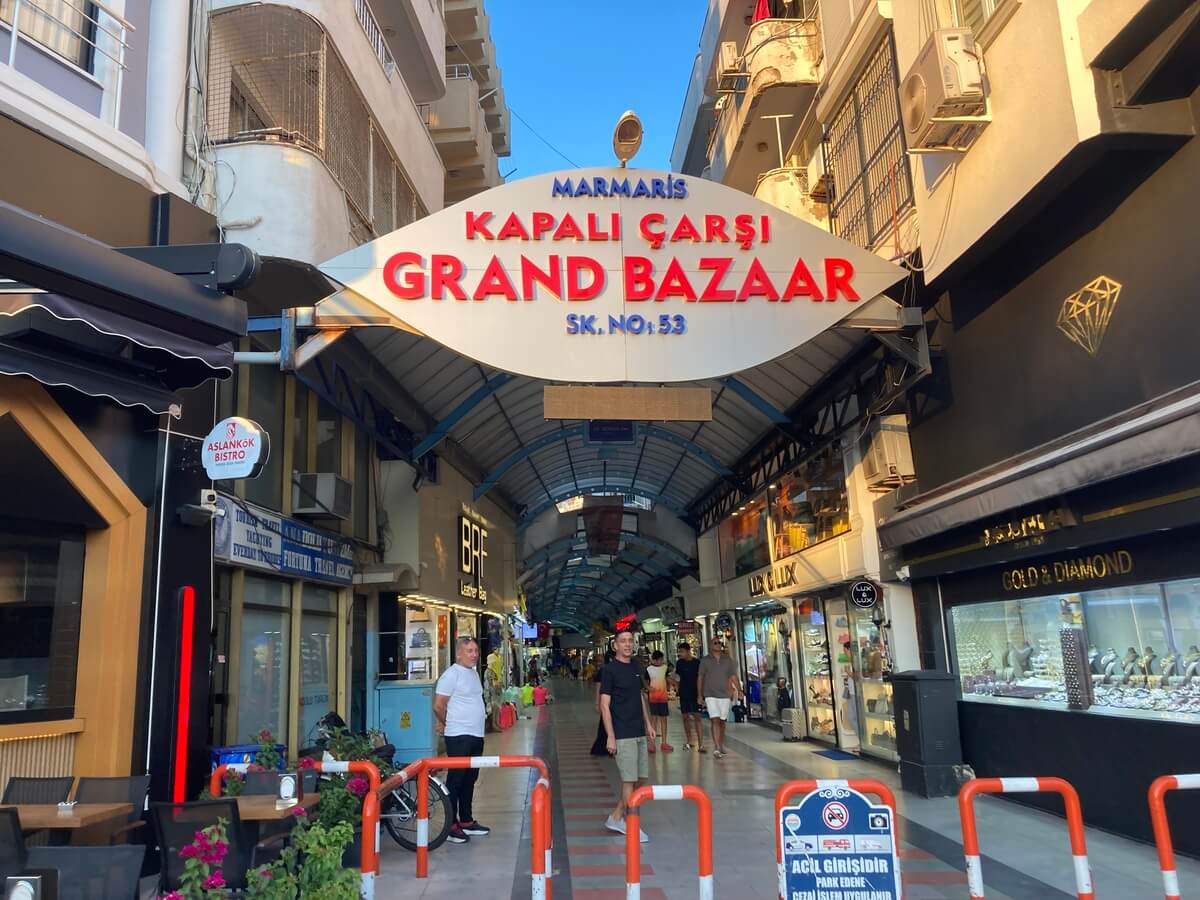 The city became known as Marmaris in 1260-1290 during the Beylik of Menteşe period. It became a port city and was considered part of Rhodes, Greece until it was conquered by the Ottoman Empire in 1425. The Ottomans rebuilt the Marmaris Castle in 1521 AD which would serve as a fortress against any assaults from Rhodes.
The oldest landmark resides just outside Marmaris. Archeologists uncovered a rock tomb that they believe dates back to 2300 BC and is said to belong to an Ancient Greek boxer known as Diagoras.
Aside from the castle, there isn't much in the way of history left in Marmaris. There are a few archeology museums and the castle, but not much else to see.
🏆 Winner: Antalya has better historical attractions and a more diverse history than Marmaris.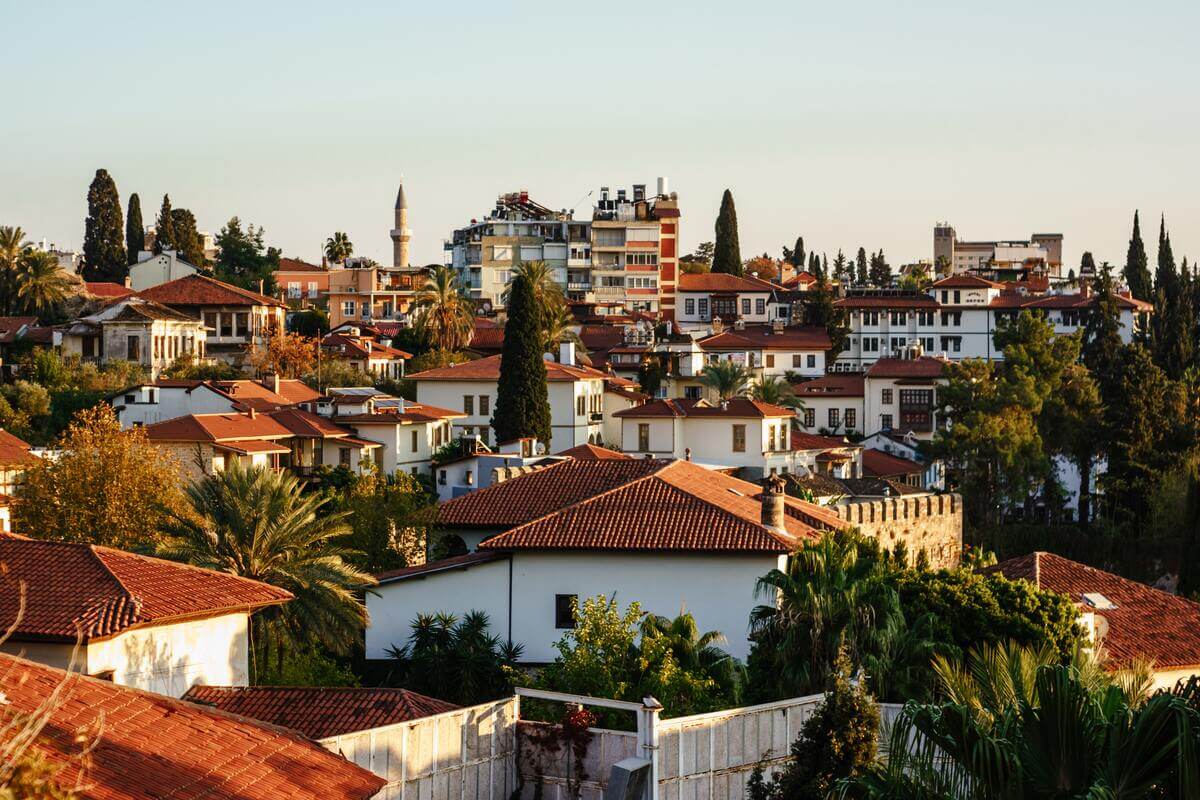 ---
Antalya or Marmaris for Attractions
No matter which side of the pendulum you swing towards, both Antalya and Marmaris have excellent attractions worth visiting. Beaches are plentiful, which we've covered, but aside from that, each city has its own unique attractions to visit.
Antalya has a historic center, known as Kaleici, which is rich with historical landmarks to check out. There's also the Roman harbor, Turkish Bazaar, and several fascinating museums. Then there are all the incredible water parks which are perfect for families visiting Turkey.
It's also really easy to get to other landmarks in Turkey from Antalya, making it the perfect base to explore multiple day trips. The Lycian Rock Tombs, the Taurus Mountains, and the Ancient city of Perge are all accessible within a day trip.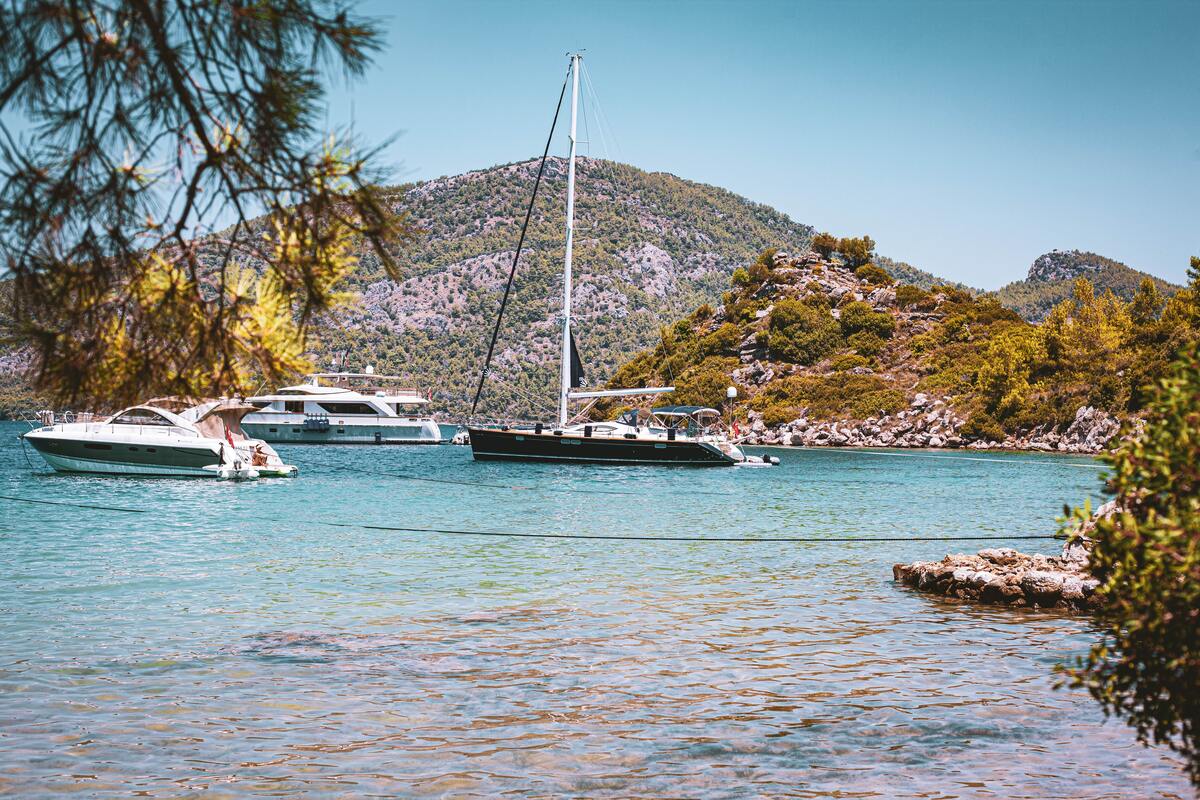 Marmaris is known for being a beautiful coastal town in Turkey, and as such, many of its attractions revolve around the water.
If you enjoy boat trips, snorkeling, scuba diving, water sports like jet skiing and parasailing, or lazing on the beach, these are the top things to do in Marmaris.
It also has a fascinating castle and some natural sites surrounded by pine forests that are perfect to hike in mild winters. If you're traveling with kids, there are a few waterparks too.
However, you might find that after a few days, you have seen the highlights of Marmaris. In Antalya, you could stay a week and not see it all.
🏆 Winner: Antalya has more attractions in the city itself and is perfectly located for day trips to explore other regions of Turkey. For this reason, Antalya is better than Marmaris for attractions.
---
Antalya or Marmaris for Food
Eating out is incredibly important and we know that it's always hard to find places to eat. However, when it comes to Antalya or Marmaris, you'll never have problems wherever you choose to visit.
Antalya has its own regional cuisine, usually including Tahini; from Tahini Piyaz Salad to Tahini Pumpkin Dessert, this creamy sauce is highly popular here.
Being by the beach, it's also known for its ice cream. But did you know you can try burnt ice cream and lentil ice cream here? These dishes are unique to Antalya and worth trying when you visit.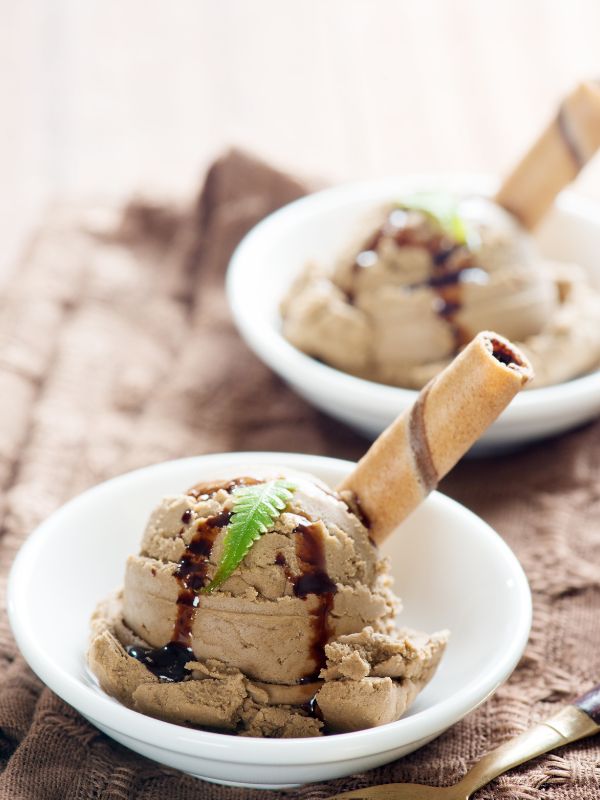 Marmaris has a wide array of cuisines. You can also find international restaurants serving European and Asian food, in case you like to eat food you know from back home.
Of course, you'll find Turkish cuisine here, but you'll find more restaurants that serve international cuisine than local ones because they target tourists.
If you're an adventurous eater, you'll find more restaurants in Antalya that'll cater to your palette. Both destinations have excellent seafood dishes, but we particularly love the stuffed mussels in Antalya.
🏆 Winner: Antalya is better for food than Marmaris as it has its own traditional Turkish cuisine.
---
Antalya or Marmaris for Families
Antalya is safe, but compared to Marmaris it does have a reputation for being a bit dodgy at night. If you stay in the city center, you won't have any issues, but if you're worried about safety then you'll want to make it back to your hotel after dark.
Antalya has so many attractions for families you won't ever be bored. There's the Toy Museum, Sandland, and all the waterparks such as Aktur Park, Karaalioglu Park, and Waterhill. There are also several waterfalls in Antalya and beaches to explore.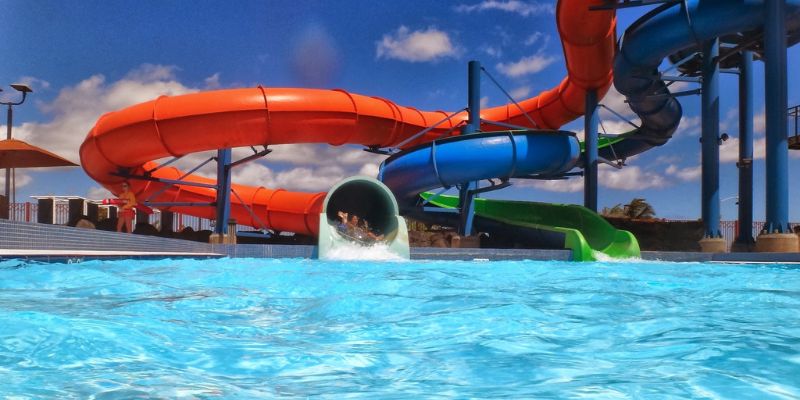 Marmaris is very safe with a low crime rate and a relaxed atmosphere. It's a much smaller city than Antalya, but it gets most of its income from tourism so tourists are treated well here.
In Marmaris, the waves are gentler for swimming which makes it better for families with young children. There are lots of family-friendly attractions such as the waterpark and all the fabulous beaches. However, you might find that after a week, you'll run out of things to do.
🏆 Winner: Marmaris ranks slightly better than Antalya for safety, so Marmaris is better for families with small kids. However, if you have older children who get bored easily, Antalya is better.
---
Antalya or Marmaris for Hotels and Resorts
When it comes to resorts, both Antalya and Marmaris have excellent places to stay. Antalya is bigger than Marmaris, so you'll find more options for vacation rentals, luxury resorts, all-inclusive resorts, and high-end hotels.
In the summer, both areas are hugely popular destinations and the best hotels get booked up quickly. However, Marmaris's top hotels tend to book up much faster because of the sailboats that come here this time of year. If you want to avoid disappointment, you should book your accommodation in advance.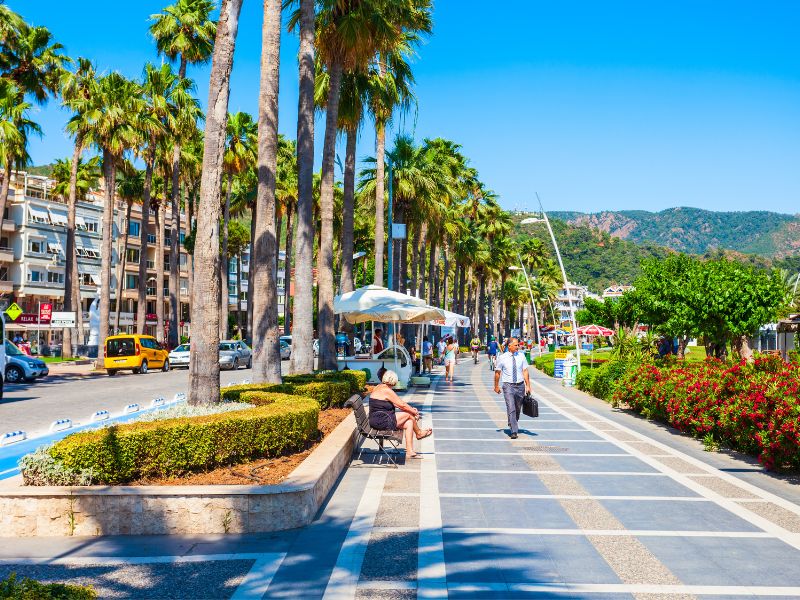 Antalya however is much easier to book last minute. You'll also find some of the finest high-end resorts in the whole of Turkey, including the seven-star Saturn Palace Resort Hotel.
🏆 Winner: Antalya has many accommodation options and some of the highest-rated hotels in Turkey. When it comes to resorts, Antalya is better than Marmaris.
---
Antalya or Marmaris for Nightlife
When it comes to vibrant nightlife in Marmaris, you'll find a handful of bars by the marina and the beach, but only a couple of nightclubs. Marmaris attracts more luxurious vacationers and boat enthusiasts, so you'll find high-end beach bars serving up delicious cocktails.
If you want to, you can party all night long in both Antalya and Marmaris, but when it comes to the variety and options of bars and clubs, Antalya takes the cake.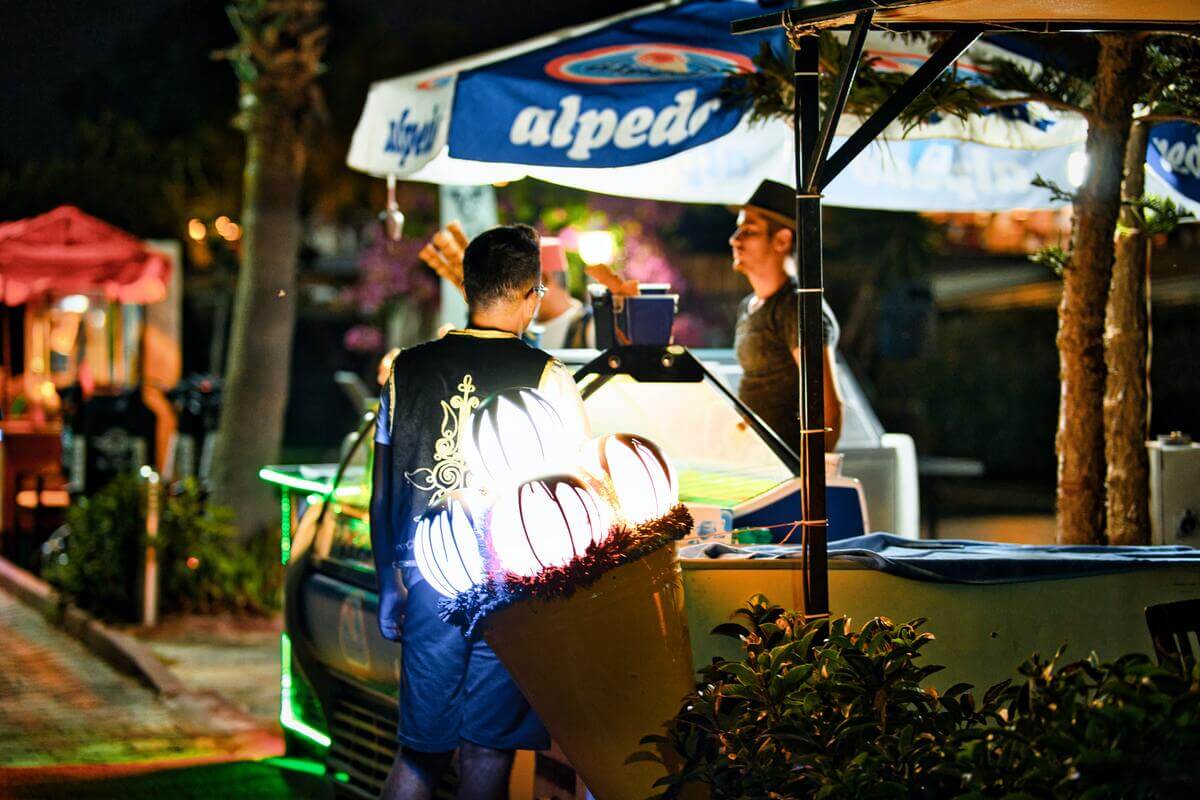 The nightlife in Antalya is often described as 'colorful' because of the array of options you can choose from. You can sit in a beach bar, or a cocktail bar, dance the night away in a nightclub or enjoy some live music in downtown.
The boulevard in Antalya near the harbor is aptly named Bar Street and is dedicated to bars and clubs. Unlike Marmaris, Antalya has a nightlife culture and attracts a younger crowd.
🏆 Winner: Antalya is better for nightlife than Marmaris as it has more nightclubs and bars, including Bar Street, which is a street dedicated to nightlife.
---
Antalya or Marmaris for Modern Conveniences
When we talk about modern conveniences, we are referring to how easy it is to get around to get groceries and basically access everything you need in your day-to-day life.
Vacationing shouldn't be stressful, so getting from A to B needs to be a breeze.
The nearest airport to Marmaris is in Dalaman. There is a direct bus from Dalaman Airport to Marmaris, saving you the headache of getting transfers or taxis. The city is also easy to get around, you can take taxis, taxi boats, or hire cars and bikes.
All of the things to do in Marmaris is within walking distance, and there are minibusses (known locally as dolmus) that can take you to the popular beaches and surrounding areas.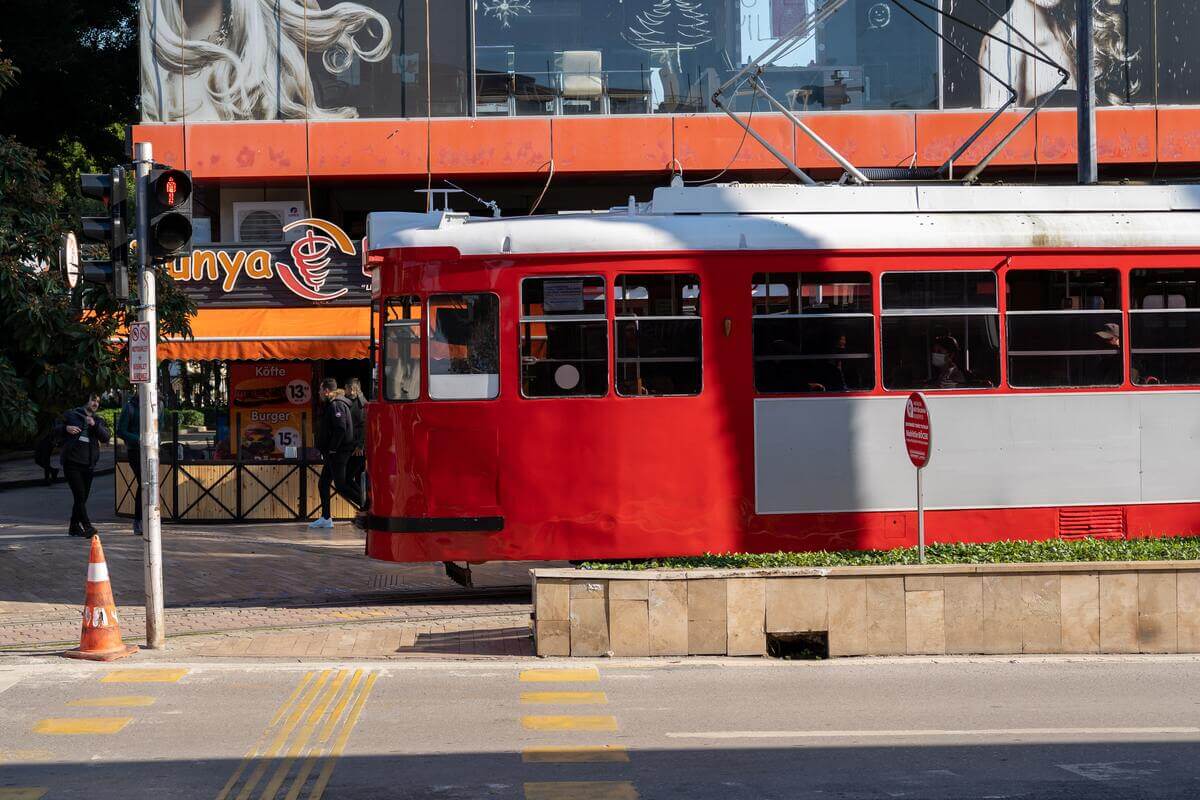 Antalya is much bigger which means more planning is involved in getting around, though it has its own airport that connects to the city center by tram.
The municipality is also well connected by a bus network, which takes you to many of the surrounding cities and beaches. However, to make day trips, you do need to plan ahead which you don't need to do as much in Marmaris.
Both cities have ample supermarkets, pharmacies, and a hospital. There are only a handful of pharmacies in Marmaris but they are all within walking distance of each other.
There is only one hospital in Marmaris that is rated average. Antalya has a few hospitals and several pharmacies, but they are all spread out over the city and require public transport to access them.
🏆 Winner: Marmaris is easier to get to places because it is much smaller. So for modern conveniences, Marmaris is slightly better.
---
Antalya or Marmaris For Price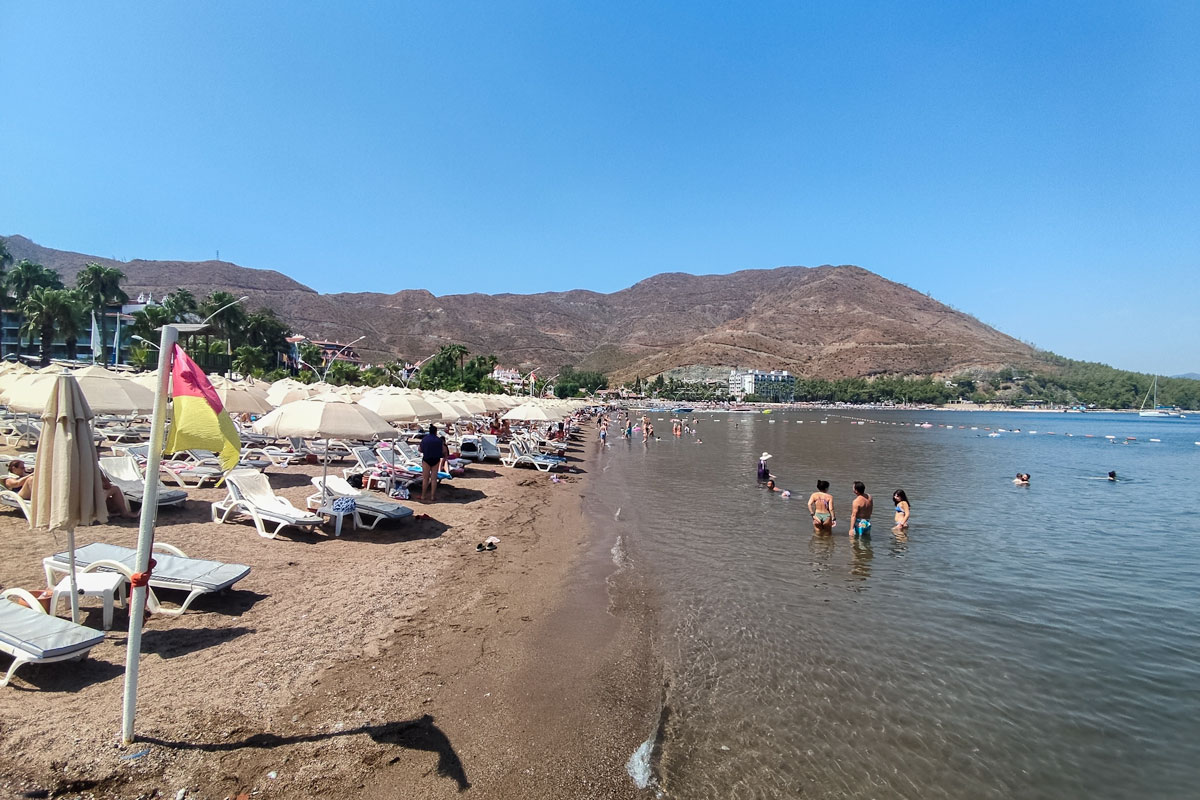 When it comes to price, Antalya is generally much cheaper than Marmaris. That is because Antalya is a big city full of locals, and subsequently, the prices of Antalya are adjusted based on their wages and cost of living.
You will find plane tickets to Antalya are cheap and convenient, with direct flights from Istanbul with several airlines, including Turkish Airlines and Pegasus Airlines. You can also get to the city center from Antalya airport by using the tram or bus network, and be at your hotel within an hour.
📖 Read More: Which is better: Antalya or Bodrum?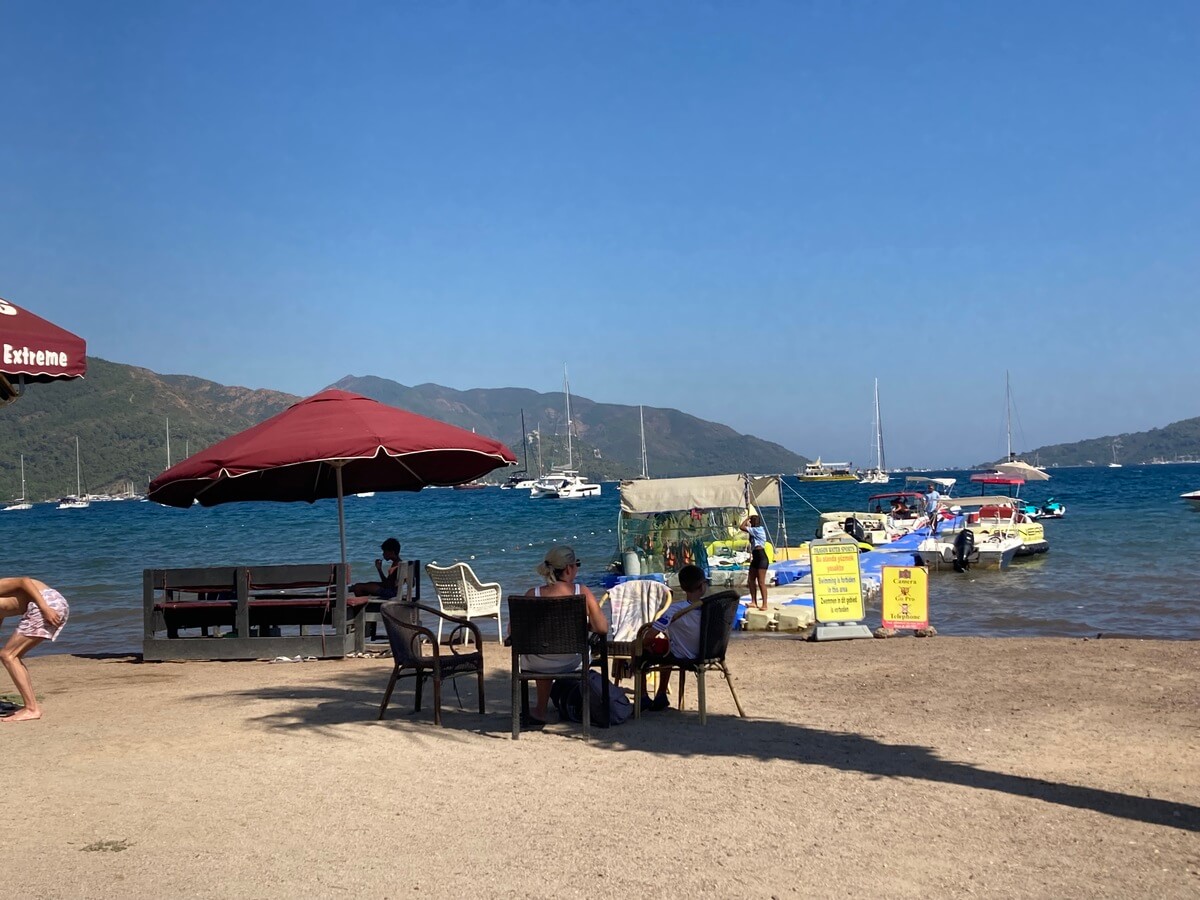 On the other hand, Marmaris is a full tourist resort town. You'll find restaurants that are specifically catered towards tourists, and most restaurants in Marmaris have their menu in a foreign currency like Euros, British Pounds, or USD.
The price for food is nearly double in Marmaris when compared to Antalya.
Accommodation is also much more expensive in Marmaris. Because the resort town is relatively small, there aren't many places to choose from. This lack of supply has increased the price, so for the same quality of hotel in Antalya, you'll be paying a lot more in Marmaris.
It's also more expensive to fly to, since you have to fly to Dalaman Airport and take a taxi or bus, which has a travel time of 1 hour and 20 minutes. So while your flight to Dalaman may be cheap, the ticket price of the bus is an additional expense worth factoring in.
🏆 Winner: Antalya is a lot cheaper than Marmaris, simply because it is a bigger city and you've more options when it comes to food, accommodation, and activities.
---
Marmaris or Antalya Comparison Table
| Category | Antalya or Marmaris |
| --- | --- |
| Beach | Antalya |
| History | Antalya |
| Attractions | Antalya |
| Food | Antalya |
| For Families | Marmaris |
| Accommodations | Antalya |
| Nightlife | Antalya |
| Modern Conveniences | Marmaris |
| Price | Antalya |
---
FAQs About Antalya or Marmaris
Here's what people usually ask us about which is better; Antalya or Marmaris:
Which One is Better Marmaris or Antalya?
Antalya is much larger and has more attractions than Marmaris. It's also better connected to beaches and has more history and a unique cuisine, so we personally think Antalya better.
Which is Hotter Marmaris or Antalya?
Both Marmaris and Antalya are on the Mediterranean coast so their climates are similar. However, because Antalya is more built up, travelers generally find Antalya slightly hotter than Marmaris. In winter months, Antalya has a slightly warmer climate than Marmaris.
Is Marmaris Worth Visiting?
Yes, Marmaris is worth visiting for a few days. It's the perfect place for people who want to relax on the beach and enjoy the turquoise blue waters.
Is Antalya Worth Visiting?
Antalya has a rich history, stunning beaches, and affordable resorts. It's definitely worth visiting Antalya on your Turkey adventures.
---
The verdict
Both Antalya and Marmaris have their pros and cons and attract slightly different vacationers. You'll find more backpackers in Antalya, and more luxury vacationers in Marmaris.
Marmaris is much quieter and attracts a more family-orientated vacationer. It's more off the beaten path and has a relaxing vibe to it.
You'll find less in the way of attractions, but it more than makes up for it in natural beauty. Because it's quiet, it lacks nightlife and you may find you've seen it all after a few days.
Antalya is a huge city with a ton of history to explore. It's surrounded by stunning beaches and national parks, and no matter what type of traveler you are, you will find you never get bored here. The nightlife here is popping, though it can be a bit dodgy in some neighborhoods at night.
Overall Antalya is better than Marmaris for a vacation destination in Turkey.