When it comes to choosing a family holiday in Turkey, many travelers are contemplating between two iconic beach resort regions; Antalya vs Bodrum.
Both Antalya and Bodrum are a region on the coast of Turkey, offering incredible beaches, thriving nightlife and some top-class resorts. While they have many similarities, they are also very different places, which often causes people to ask the question: which is better, Antalya or Bodrum?
This guide will look at all the reasons why you would visit the two cities and compare them based on their beaches, history, nightlife, resorts, food, attractions, family-friendly atmosphere, and all the modern conveniences such as how to get around and finding pharmacies etc.
So if you're deciding between Antalya and Bodrum, read on to see our comparison…
---
Antalya or Bodrum for Beaches
One of the main reasons why you would visit Antalya or Bodrum is for the beaches. It is their biggest selling point, however their beaches are vastly different.
Antalya is located on the Turkish Riviera, otherwise known as The Turquoise Coast because of the stunning blue Mediterranean ocean there. Antalya beaches are spread far and wide across the region, and there are many to choose from.
Antalya also has a beach in the city center, though it tends to be busy, which can somewhat dampen the spirit of going to the beach.
However it's really easy to get to beaches in the region using public transport. Some notably beautiful beaches are Mermerli Beach, Çıralı Beach, and Kaputas Beach. Antalya is also near to Alanya, which is another city that has some beautiful beaches nearby, such as Cleopatra Beach.
The beaches in Antalya tend to be sheltered by bays, which means they have gentle waves and are great for swimming, especially with small children. They also have all the facilities you need, such as changing rooms, restaurants and lounge chairs. And you can also find several secluded and stunning beaches that offer more privacy (though you have to hike to them).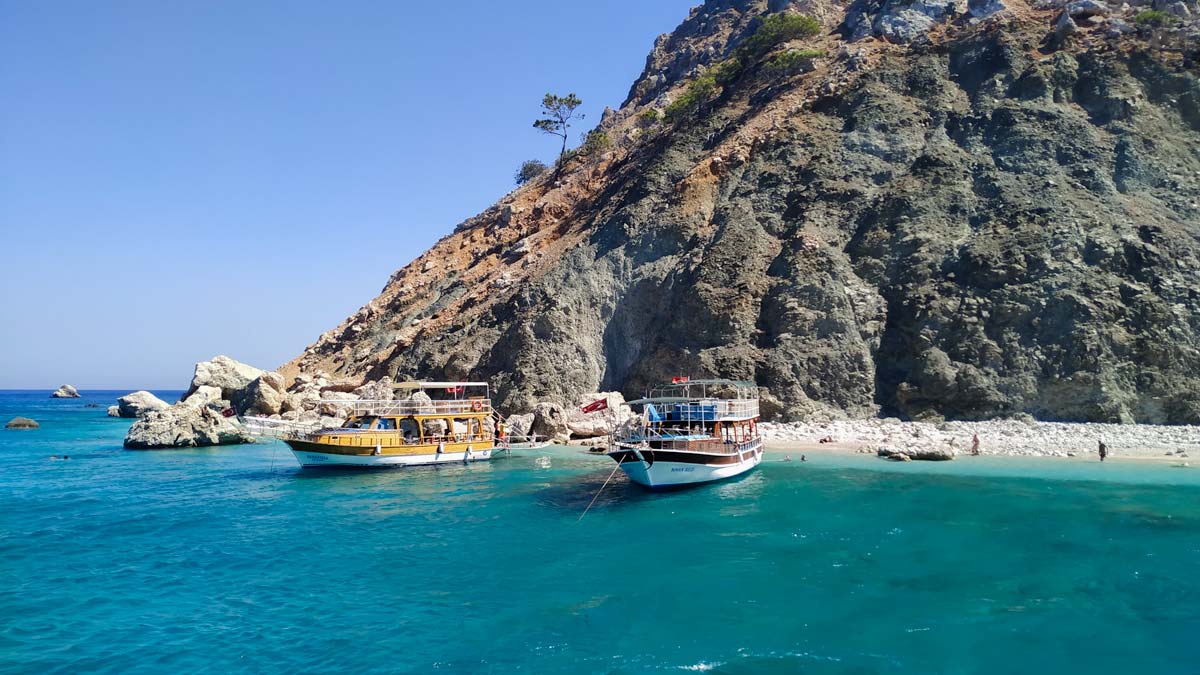 Bodrum region on the Bodrum Peninsula, which connects to the Aegean Sea in the southwest of Turkey. Bodrum is very close to Greece, and on a clear day, you can even see the island of Kos in the distance.
It's also possible to get a ferry from Bodrum to Kos and other parts of Turkey. The ocean in Bodrum is much more open, however the city of Bodrum is protected by a bay.
The beaches in Bodrum are actually located outside the city and span across the peninsula. They tend to be sandy beaches, but some of them are rocky or have shingles. A nice beach in Bodrum is Yahsi Beach, which has gentle waves for swimming, lounge chairs, and beach bars.
Unlike Antalya, Bodrum's beaches tend to have a lively atmosphere, with more restaurants, hotels, and beach bars lining them. It's less likely you'll find seclusion and privacy at the beaches here, but if you're willing to travel out, you can find more empty beaches such as Aspat Beach.
Winner: both Antalya and Bodrum have equally nice beaches, but Antalya has more beaches in the region. It also has a beach in the city of Antalya, which makes it slightly better than Bodrum for beaches.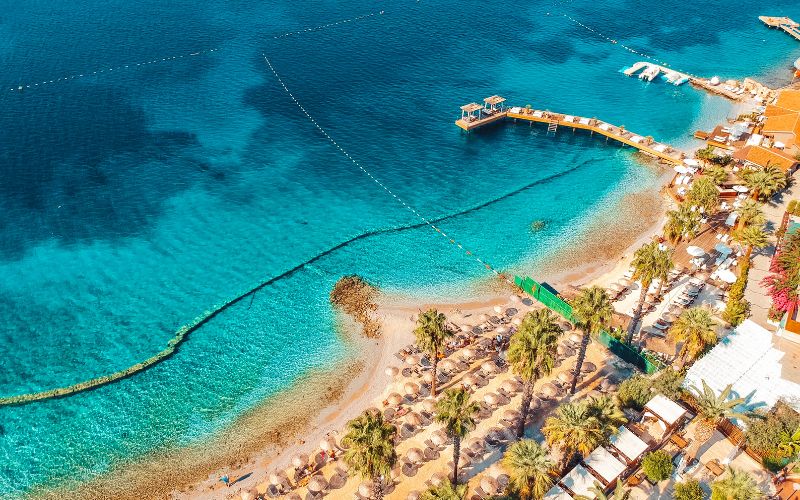 ---
Antalya or Bodrum for History
Antalya has a long and fascinating history. It is said to have been built around 200 BCE by the Attalid dynasty of Pergamon. The famous ancient port is said to have been built in 150 BCE, and used as a navy base for King Attalus II.
The city was conquered many times, and each tribe added something different to the city. The Romans settled here shortly after the Pergamons and expanded the city tremendously. They also built the surrounding towns and cities, as well as Hadrian's Gate as well as many neighboring cities. In 1319, it was taken by the Ottomans who reigned for five hundred years.
Antalya was also an Italian stronghold for three years after WWI. But it was given back to the newly independent Turkey after the Turkish War of Independence.
Much of Antalya's history can still be seen and explored, especially in the Old Town which features many ancient buildings and monuments. The old Roman Harbor and Hidirlik Tower are largely preserved, and visitors can see the remains of an ancient time at the Termessos Ruins.
Antalya is also within a day trip to Demre, the gateway to the Myra Ancient City and Lycian Rock Tombs.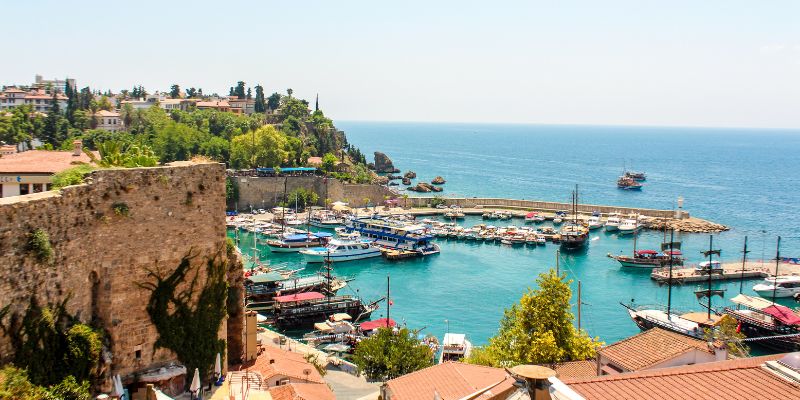 Bodrum on the other hand has a very different history. It was built on the ruins of the city of Halicarnassus, which was built in the 4th-5th centuries under the rule of the Persian Empire. Halicarnassus was ruled by Mausolus and his wife (and also his sister) Artemisia II which continued on to the Hekatomnid dynasty. The Hospitallers occupied the city until 1402.
The remains of this ancient time can still be seen today, as the castle, known as the Petronium or Castle of St. Peter, still remains in a well-preserved state. The castle was also a Christian stronghold during the Arab wars but was captured by the Ottomans in 1522.
You can also see glimpses of the past of this ancient city in the ruins of the Mausoleum of Mausolus, ruler of Caria (the ancient name for Anatolia). The mausoleum is said to date back to the 4th century BCE. There's also the Mausoleum at Halicarnassus which dates back to 350 BCE.
In the city itself, you can see glimpses of the Greco-Roman era at the Bodrum Ancient Theatre. The theater is said to date back to the 4th Century. The theater has been renovated to look like the original theater all those centuries ago.
The theatre is across the road from the Mausoleum at Halicarnassus so it's easy to see all the history of the area within a day.
Like Antalya, Bodrum was briefly occupied by Italy after WWI.
Winner: Both Antalya and Bodrum have a very different history. However, Bodrum's history is all in one place and can be explored in a day. Antalya has a large ancient Old Town, and several historical landmarks around the region. So Antalya is better for history lovers.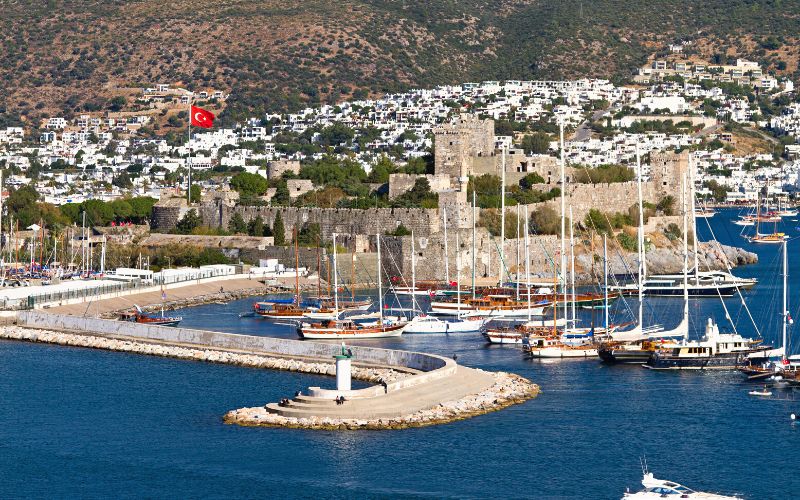 Read more: Which is better: Antalya or Alanya?
---
Antalya or Bodrum for Attractions
When it comes to attractions, both Antalya and Bodrum have excellent attractions worth visiting. Beaches are plentiful, which we've covered, but aside from that, each city has its own unique attractions to visit.
Antalya has a historic center, known as Kaleici, which is rich with historical landmarks to check out. There's also the Roman harbor, Turkish Bazaar, and several fascinating museums. Then there are all the incredible waterparks which are perfect for families.
It's also really easy to get to other landmarks in Turkey from Antalya, making it the perfect base to explore multiple day trips. The Lycian Rock Tombs, the Taurus Mountains, and the ancient city of Perge are all accessible within a day trip from Antalya.
When it comes to attractions, Bodrum relies heavily on its beaches. It has one waterpark, Bodrum Aquapark, and a few art museums. It also has a few museums, such as the Bodrum Museum Of Underwater Archaeology, Bodrum Maritime Museum, and Karia Princess Museum.
Of course, there are some historical sites to visit such as the ancient theatre and the castle, but aside from these attractions we've listed above, there isn't much else to do.
Winner: Antalya has more attractions and so is better than Bodrum for attractions.
---
Antalya or Bodrum for Food
Because both Antalya and Bodrum have a long history and were conquered by many tribes, their cuisine is diverse and unique to the region.
Both in Antalya and Bodrum, the food has a Mediterranean feel. They have plenty of sweet dishes, with burnt ice cream and lentil ice cream being stapled favorites in Antalya, as well as pumpkin pie and bergamot marmalade.
In Bodrum, you will find Sarayli, a light, sweet pastry dish, and Katmer, a type of folded pie. Bodrum desserts tend to be filled with almonds and sesame seeds.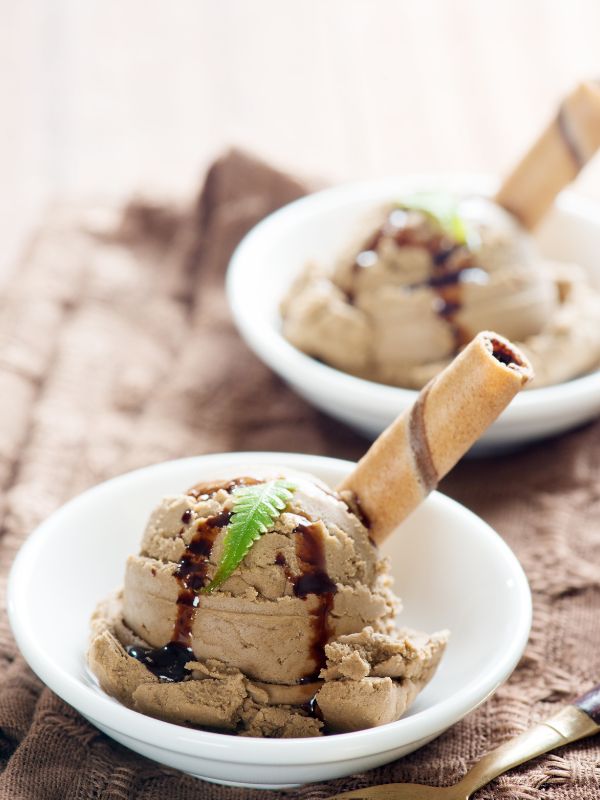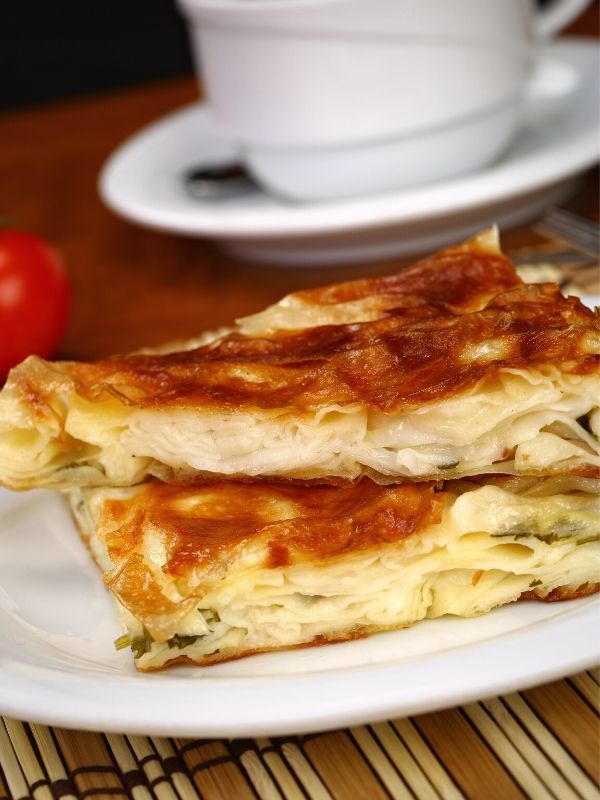 Dishes in Antalya also feature tahini, a creamy sauce that is popular in Eastern Mediterranean countries. While in Bodrum, dishes tend to be more hearty and traditionally Turkish. Its staple dish is boregi, which is popular all over the country.
When deciding on which place is better for food, it really depends on what flavors and dishes you like. If you're looking for more traditional Turkish food, then Bodrum is better, if you enjoy sweet treats, then Antalya is better.
Winner: Both destinations offer world-class cuisine and plenty of excellent restaurants. So when it comes to food, Antalya and Bodrum are equal.
Related guide: The Best Restaurants in Antalya
---
Antalya or Bodrum for Families
If you're visiting Turkey as a family, you're going to want to make sure the destination is suitable for families in terms of attractions, safety, and entertainment options.
Antalya is very safe, though some neighborhoods can be a bit dodgy after dark. For families though, the resorts offer a safe base and have plenty of entertainment options for the evening.
You'll find the beaches are very family-friendly, with gentle waves and lifeguards at pretty much every beach. If you're in need of other family-friendly attractions besides the beach, then you can head to the Toy Museum, Sandland, and one of several waterparks and theme parks, such as The Land of Legends.
The most popular waterparks are Aktur Park, Karaalioglu Park, and Waterhill. There are also several waterfalls in Antalya which offer a nice break from the ocean.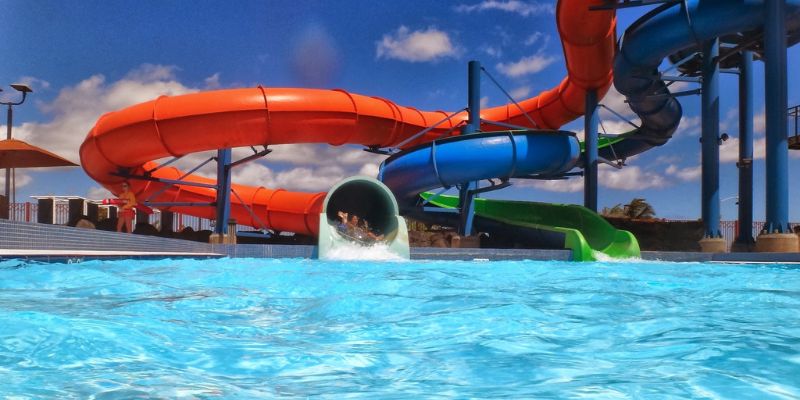 Bodrum is also a safe beach resort destination so you'll find plenty of family-friendly resorts on the beach. These resorts tend to be some of the best all-inclusive luxury beach resorts in Turkey that have so much to do that you don't really need to leave. We're talking outdoor pools with slides, tennis courts, games rooms, kids clubs and more.
In terms of attractions for kids outside of the resorts, well sadly this is where Bodrum falls short. There are plenty of beaches and they are all family-friendly, with lifeguards, and gentle waves and some have kayaks and peddle boats for rent.
Then there is Bodrum Aquapark, which is the only waterpark in the area. It's possible to take day trips to Pammukale or Ephesus from Bodrum, but while these are great for adults, small children won't appreciate them, or the long journey, to get to them.
If your kids will be happy to spend every day at the beach, or taking a boat tour to the outlying islands, then Bodrum will be a fine place for a family holiday.
Winner: Antalya has more attractions for children and so we think Antalya is better for families.
---
Antalya or Bodrum for Hotels and Resorts
When it comes to resorts, both Antalya and Bodrum offer incredible options. They are both big regions and very popular places, so you'll find plenty of options when it comes to vacation rentals, luxury resorts, all-inclusive resorts, and high-end hotels.
In the summer, both areas are hugely popular destinations and the best hotels get booked up quickly. However, Bodrum is popular in the summer and has more options when it comes to all-inclusive resorts. These tend to be better value if booked in advance because they offer discounted rates.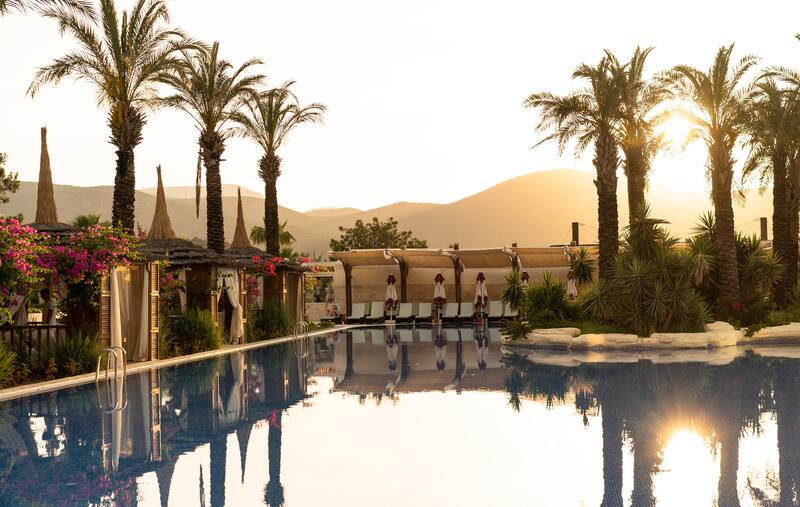 Antalya however is much easier to find a deal last minute. You'll also find some of the finest high-end resorts in the whole of Turkey, including the seven-star Saturn Palace Resort Hotel.
These resorts are more geared to couples and adult travelers, rather than families. Families looking for resorts will probably stay outside the city of Antalya in places like Lara Beach where the facilities (and price) are better.
If you're a family looking for a resort in the city of Antalya, you'll find a few but not as many as you would in the city of Bodrum.
Winner: For all-inclusive, family-friendly resorts, then Bodrum is better. But for world-class service and luxury, Antalya is better
Are you reading this from Turkey? Maybe you need a VPN!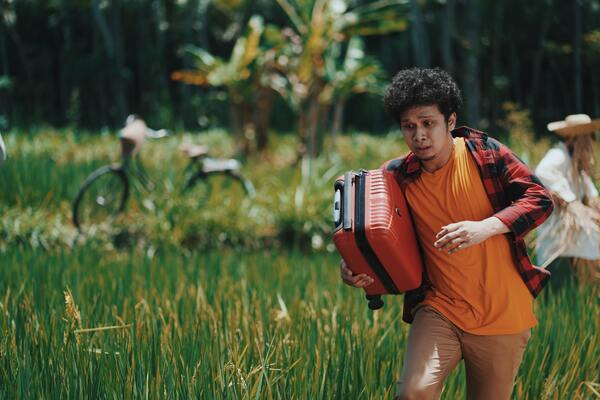 If you're already in Turkey, there is one thing you absolutely NEED: a reliable VPN.
You may find some of your favorite websites and apps are blocked in Turkey, such as popular hotel site booking.com
A VPN allows you to get passed this ruling and enables you to browse these sites without any hassle, and it's completely legal.
We use Express VPN when we're in Turkey and we'd recommend it to anyone. It's affordable, quick, and easy to use.
---
Antalya or Bodrum for Nightlife
When it comes to nightlife, you'll find a huge party scene in Bodrum. It's sometimes called 'The Ibiza of Turkey' because of the lively nightclubs.
If you're a young traveler looking to party, then you'll find a plethora of entertainment and nighttime parties in this region. You can also book onto party boats in the daytime and sail around the island, dancing to DJs and drinking cocktails.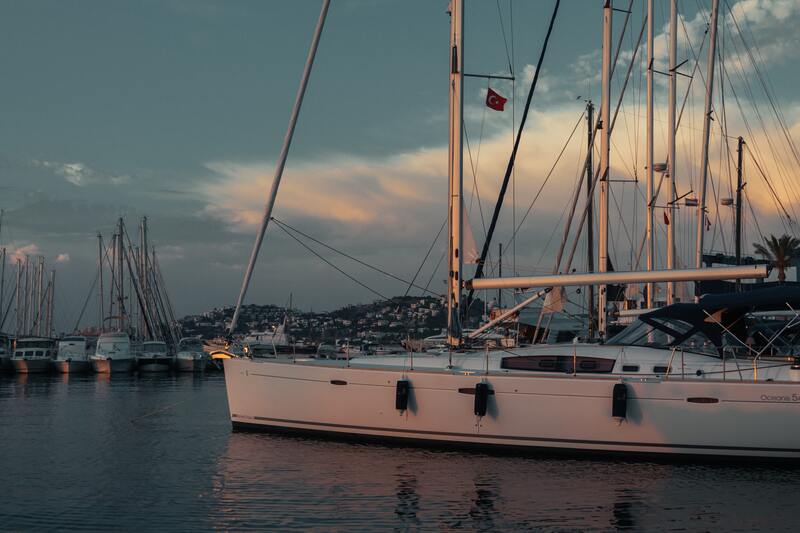 The nightlife in Antalya is also thriving. There's plenty of options of places to party, such as in beach bars, cocktail bars, nightclubs, and live music venues in downtown.
There's also a boulevard in Antalya called Bar Street, which is dedicated to bars and clubs. Like Bodrum, the nightlife in Antalya attracts a much younger crowd.
If you want to, you can party all night long in both Antalya and Bodrum, but because of its longstanding party reputation, Bodrum takes the top spot.
Winner: For nightlife, Bodrum is the winner because of its long-standing reputation as the Ibiza of Turkey.
---
Antalya or Bodrum for Modern Conveniences
Vacationing shouldn't be stressful, so you want to pick a destination that makes it easy to get around, and has plenty of supermarkets, pharmacies, and in case of emergencies, at least one hospital.
When we refer to modern conveniences, we mean having access to the basic essentials we have at home.
Luckily, both Antalya and Bodrum have plenty of these. Antalya has a really easy-to-use transport system, with a tram connecting the inner city and a bus network that takes you to all the surrounding areas. If you want to go to the beach, you don't need to hire a car.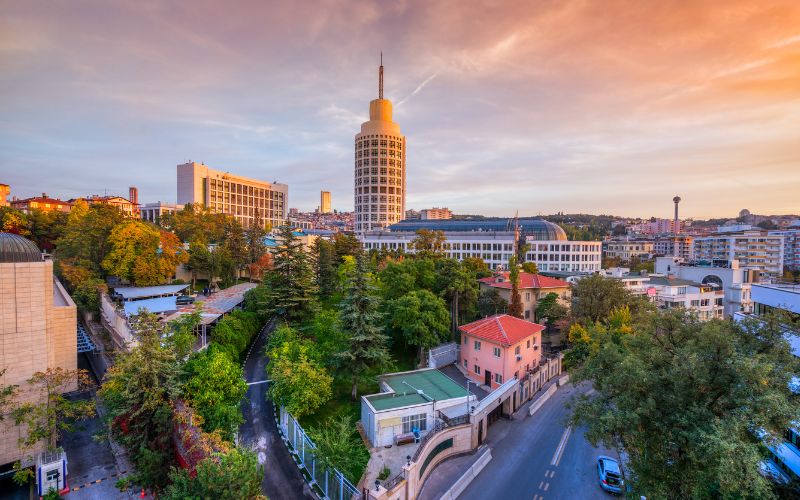 There are loads of pharmacies and hospitals in the inner city, so if you ever need to pick up medicine, you won't have to travel far. There's a grocery store or convenience store on almost every street.
Likewise in Bodrum, there are plenty of pharmacies and two average hospitals. Hopefully, you won't need to visit the hospital, but there is one in the center of Bodrum and one more just outside the city too.
In terms of transport, Bodrum has a minibus network that connects all the beaches and attractions. It's really easy to use and there are schedules posted at every stop. There is a bus terminal in the center of Bodrum and Yalıkavak and Turgutreis, which are all connected by roads passing all the attractions.
Like Antalya, you can get around Bodrum without renting a car and using public transport easily.
Winner: Both Antalya and Bodrum have plenty of pharmacies, supermarkets, and hospitals and are easy to get around. When it comes to modern conveniences, Antalya and Bodrum are equal.
---
FAQs About Antalya or Bodrum
Here's what people usually ask us about which is better, Antalya vs Bodrum:
Which is nicer Bodrum or Antalya?
In terms of natural beauty, both Antalya and Bodrum have some stunning nature spots. However, Antalya has more beautiful spots in the city itself, whereas in Bodrum, you have to travel to them. So Antalya is nicer than Bodrum.
Is Bodrum hotter than Antalya?
On average, the weather in Antalya is hotter than Bodrum. Antalya also gets more days of sunshine per year, so is the better place out of the two for the weather.
Which is better Alanya or Bodrum?
Bodrum is a big resort area, and Alanya is a small city. Bodrum has more attractions, better nightlife, and more beaches. So we would say that Bodrum is better than Alanya in those categories.
Is Bodrum Turkey worth visiting?
Bodrum is a thriving region with nice beaches, top-class resorts, vibrant nightlife, and all-round good weather. Bodrum is definitely worth visiting if you want an affordable beach holiday with a party atmosphere.
---
The Verdict: Which is Better?
As you can see, both Antalya and Bodrum have their pros and cons. They are both excellent destinations with fantastic beaches and top-notch nightlife.
When it comes to attractions, history, and generally things to do, Antalya has the edge over Bodrum. Bodrum has a lot of nice beaches but it falls short of other attractions.
If we had to choose one destination to visit between Antalya vs Bodrum, then Antalya gets our vote.
Did this guide help you make a decision? Let us know in the comments.
Disclaimer: Some of the links above are affiliate links. That means if you book or make a purchase through the links, we will earn a small commission at no extra cost to you! The money will help run this site! Thank you!