Antalya is one of the most popular cities in Turkey to visit and it's packed full of amazing beaches and historic attractions. But often the hardest part of any vacation is knowing where to eat in Antalya.
To help you out, I've listed 10 of my favorite restaurants in Antalya, from cozy and cute hidden gems to world-class cuisine and fine dining, to family-friendly restaurants.
Antalya is home to some of the best cuisines in the country, from traditional Turkish and Anatolian dishes to European plates and beyond. With all these options, it can be a difficult task narrowing down the choices.
If you're short on time and want to skip the hassle of hunting around for somewhere to eat in Antalya, then take a look at our top restaurants in Antalya.
Local Food in Antalya to Try
Before we get into the best places to eat in Antalya, let's quickly introduce to you some of the local cuisines. While you may be thinking that Turkish food is all the same across the country, this is very far from the truth.
There are many regional dishes that are unique to Antalya that you absolutely must make sure to try while you're there. These dishes can be found at some of the restaurants listed below, as well as from street food vendors.
Piyaz Salad
While Piyaz salads are not originally from Antalya, they are a very common and popular dish to eat here. The Piyaz Salad, sometimes referred to as a "White Bean Salad" in English is a Persian dish made with dried beans and onion, and seasoned with parsley and sumac.
The name Piyaz comes from the word "pidāz", which is an old Iranian word for onion.
It's a refreshing salad and is usually served as a side dish. It's the perfect side to have with a kebab on a hot summer's day in Antalya.
İşkembe çorbası (Tripe Soup)
This won't be for everyone's taste, but it is a common dish served in Antalya. İşkembe çorbası is a stew made with tripe that the locals believe can cure a hangover.
Phrygian Stuffed Pepper
Phrygian Stuffed Peppers are a hearty and healthy meal that's popular in Antalya. They are halved red or yellow peppers stuffed with meat and onions, and then fried with egg and flour, and then sometimes topped with tahini or yoghurt.
Kabak tatlısı
If you enjoy desserts, you'll be pleased to know that Antalya is not short of them. The Kabak Tatlisi is a dessert made of pumpkin which has been sprinkled with sugar and topped with milk, chopped walnuts, tahini, and kaymak (a type of cheese).
The result is a kind of chewy, sweet goodness that slightly resembles taffy.
It is usually served during the winter, so keep an eye out for this one on the menus if you're visiting Antalya during the winter.
Bergamots
Bergamots are a popular ingredient in Antalya, especially in desserts. They are grown locally and so this is a great place to get some fresh bergamot oranges if you see them.
The bergamot tree usually blossoms in the winter so you will see this ingredient more commonly used in the winter.
Halva
Halva is another really popular dessert in Antalya and is best described as a Persian fudge. You will find it's often made with Tahini (which is another ingredient commonly used in Antalya).
A great place to try this, though it's not a restaurant but a food stall, is Helvaci Ali, which has delicious Halva Semolina ice cream.
The 10 Best Restaurants in Antalya
Now you know what to sink your teeth into, it's time to introduce you to the best Antalya restaurants!
1. Seraser Fine Dining Restaurant
Hours: 12.00pm – 11.00pm daily
Address: Selçuk, Paşa Cami Sk. No:14, 07100 Muratpaşa
If you're looking for a romantic setting for date night in Antalya, then one of the best restaurants in Antalya for couples is Seraser Fine Dining Restaurant, located in the heart of Antalya's Old Town.
Visiting this restaurant is more than just getting a good plate of food. It's an experience, a total feast for the senses, which has been meticulously planned from the minute you walk through the door.
Expect an international menu, with classics like Moules Mariniere and Traditional Stuffed Quail, as well as more local Mediterranean flavors like fresh Sea Bass wrapped in Vine Leaves and Kebab, albeit not a Kebab as we all know it.
Seraser is in a beautiful setting too – a 300-year-old mansion with tables dotted around the stunning gardens.
If you're looking for somewhere fancy to finish up your holiday, or perhaps for a special occasion, you can't go wrong with Seraser Fine Dining Restaurant.
2. Vahap Usta Et Restaurant
Hours: 10.00am – 12.00am daily
Address: Gürsu, Atatürk Blv. No:160, 07070 Konyaaltı
A little way out of the immediate city center in the Konyaalti district is our next eatery, Vahap Usta Et Restaurant. Famous for serving up some of Antalya's best-grilled meats and kebabs, it's little wonder why this place is packed to the rafters every night.
Meat eaters will fall in love with this place for obvious reasons, but for those that don't eat meat, fear not, as this is Turkey after all and some of the best Turkish food is vegetarian, including the famous hot or cold Meze.
The open-plan dining room is also a great addition. It gives the restaurant a superb atmosphere as locals and tourists alike converse over the heady smells of the charcoal grill.
Vahap Usta Et Restaurant will cost you a little more than your standard restaurant in Antalya, but one thing is for sure, you'll certainly get your money's worth.
The quality of the meat and the food, in general, is second to none as is the attentive service from the staff.
3. 7 Mehmet
Hours: 11.00am – 12.00am daily
Address: Meltem Mahallesi, Atatürk Kültür Parkı, Dumlupınar Bulvarı No:201, 07030 Muratpaşa
Perched atop a luscious green hill overlooking one of the best beaches in Antalya, Konyaalti Beach, is another famous restaurant in Antalya, and one that's been delighting customers since it first opened back in 1937.
Originally starting out as a humble soup stall, 7 Mehmet is the brainchild of Antalya-born Chef Mehmet and has gone from strength to strength over the years, eventually becoming one of the city's best, and most talked about restaurants.
Today, you can wine and dine on some of the best food in the country, with third-generation head chef Mehmet Akdag and his staff pride themselves on the freshness of their ingredients, all of which are carefully selected depending on the season.
4. Ayar Meyhanesi
Hours: 12.00pm – 1.00am daily
Address: Kılınçarslan, Hesapçı Sk. No:59, 07100 Muratpaşa
If you're after something a little less extravagant, you can't go wrong with a traditional Meyhane at Ayar Meyhanesi. If you're unfamiliar with the term, it's the name given to a traditional Turkish restaurant serving copious amounts of alcohol alongside well-cooked, hearty food.
To put it simply, these are the places the locals frequent, and as a result, they can be loud and raucous, but you're guaranteed to walk out feeling satisfied after feasting on a wide array of Mediterranean delights.
With live music every evening and some of the region's freshest seafood, Ayar Meyhanesi is certainly one of the best Meyhane in Antalya, though it's admittedly a little more on the expensive side but so worth it nonetheless.
There's plenty of seating inside or outside, meaning you'll always likely be able to grab a table and enjoy the wonderful atmosphere.
5. Sirali Kebap
Hours: 11.30am – 12.00am daily
Address: Çağlayan, Eski Lara Caddesi No:419, 07230 Muratpaşa
Sitting high up on the Antalya clifftop with panoramic views across the deep blue Mediterranean Sea is Sirali Kebap, a famous kebab restaurant with an added twist of luxury.
Don't let the name fool you, because this is certainly not your average Kebab restaurant. With four other locations, two of which are international in Dubai and Tashkent, it's safe to say Sirali has been swept up in a wave of social media virality with its incredible Instagram following.
It's easy to see why they've generated such a massive online presence too, as the food they serve just looks genuinely next-level, thanks to their creative plating techniques and tender, juicy meat that just screams 'eat me'!
It's not all just for show either as the food is seriously tasty, with only the freshest ingredients being used in traditional Turkish and Ottoman recipes. To avoid disappointment, you should try to book a table here before turning up, especially on a weekend.
6. Vanilla Lounge
Hours: 10.00am – 1.00am Monday – Saturday, 11.00am – 1.00am Sunday
Address: Selçuk, Uzun Çarşı Sk. No:33, 07100 Muratpaşa
Perfectly located within Antalya's ancient citadel walls, Vanilla Lounge is one of those places that just does everything so well.
From the food and the service to the overall ambiance, it's everything you could want from a modern, yet contemporary classy restaurant.
The menu offers a wide variety of dishes, including both traditional Turkish cuisine and Asian favorites, all made with fresh, locally sourced ingredients. Vanilla Lounge's Mezze platters are perfect for sharing and the restaurant's stand out is the slow-cooked lamb shank.
Inside, you'll be greeted with a chic and modern interior, with beautiful plants and greenery being used to create a natural and fresh environment for you to dine in.
You'll also notice the variety of artwork and photographs on the walls that showcase Turkish culture and the history of Antalya, which we think is a great touch.
Vanilla Lounge is a great choice if you're after a low-key, but memorable lunch or dinner in the heart of Antalya's old town.
7. Ship Inn Restaurant & Bar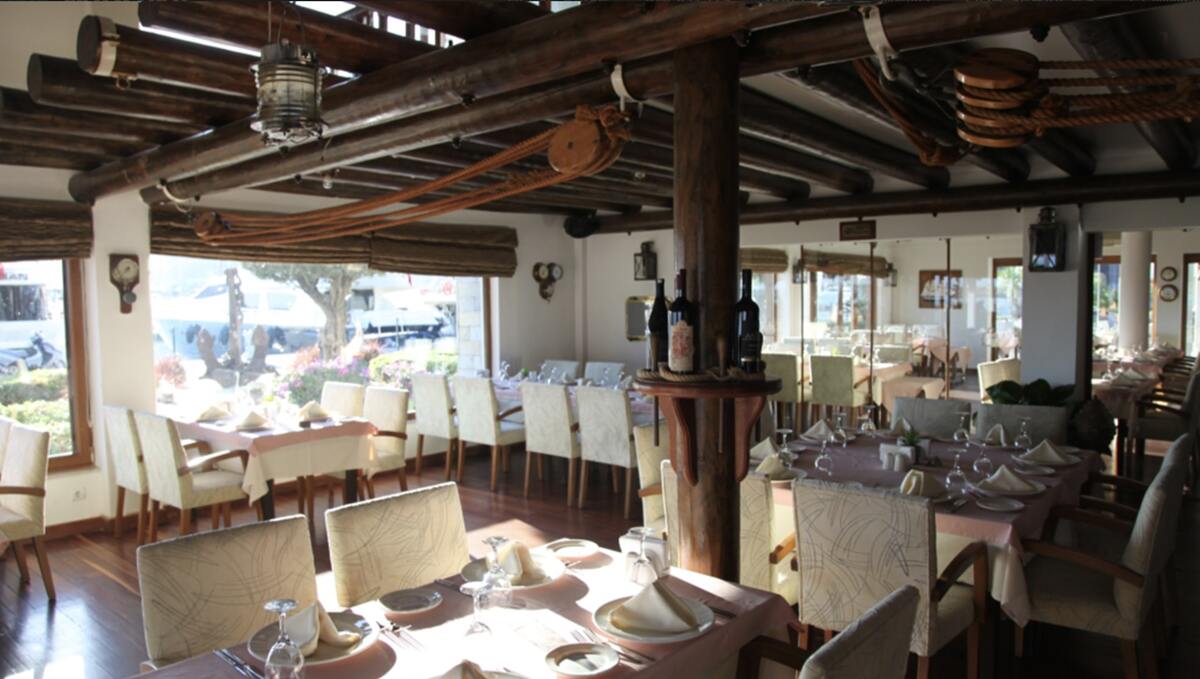 Hours: 11.30am – 12.00am Monday – Friday, 11.00am – 12.00am Saturday and Sunday
Address: Liman Mahallesi, Liman 2 Cadde, 07130 Konyaaltı
If dining with a pristine view is what you're after, then you should be looking no further than the Ship Inn Restaurant & Bar.
Located right in the middle of Antalya's Marina, you'll be able to sit on the restaurant's decking, right next to the deep blue Mediterranean Sea. With no cars whizzing around and nothing but the sea breeze and your company, it'll certainly be a calming experience.
The menu at the Ship Inn has a wide range of Turkish, Mediterranean, and European dishes making it perfect for a number of eaters. The Turkish Meatballs are a particular hit here, as is the freshly caught and grilled Sea Bass.
In terms of prices, it's super-reasonable considering the location and the type of food they serve. As a result, we'd recommend this place for a nice occasion as the view out into Antalya's Marina is pretty special, especially if you plan your trip to Antalya for the summer.
8. Topcu Kebap
Hours: 12.00pm – 8.00pm Monday – Saturday, Closed Sunday
Address: Elmalı, Kazım Özalp Cd. No:21, 07035 Muratpaşa
If you're not bothered about all of the fancy stuff and just want to sample the best of what put Turkish cuisine on the map, then you should be paying a visit to Topcu Kebap.
For over 130 years, four generations of the Topcu family have been serving lucky Antalyans and visitors to the city the original Turkish kebabs.
They specialize in Doner, Iskender, and juicy Kofte which is served on flatbread with a selection of fragrant vegetables to balance the rich meaty flavor of the kebabs.
Pair your kebab with a side of Tahini and perhaps some pickled green chilies to go with it, and you can't ask for a better, or more traditionally Turkish lunch than that. It's no-frills, honest good food served up by the people who know it best.
9. Pablito Bistro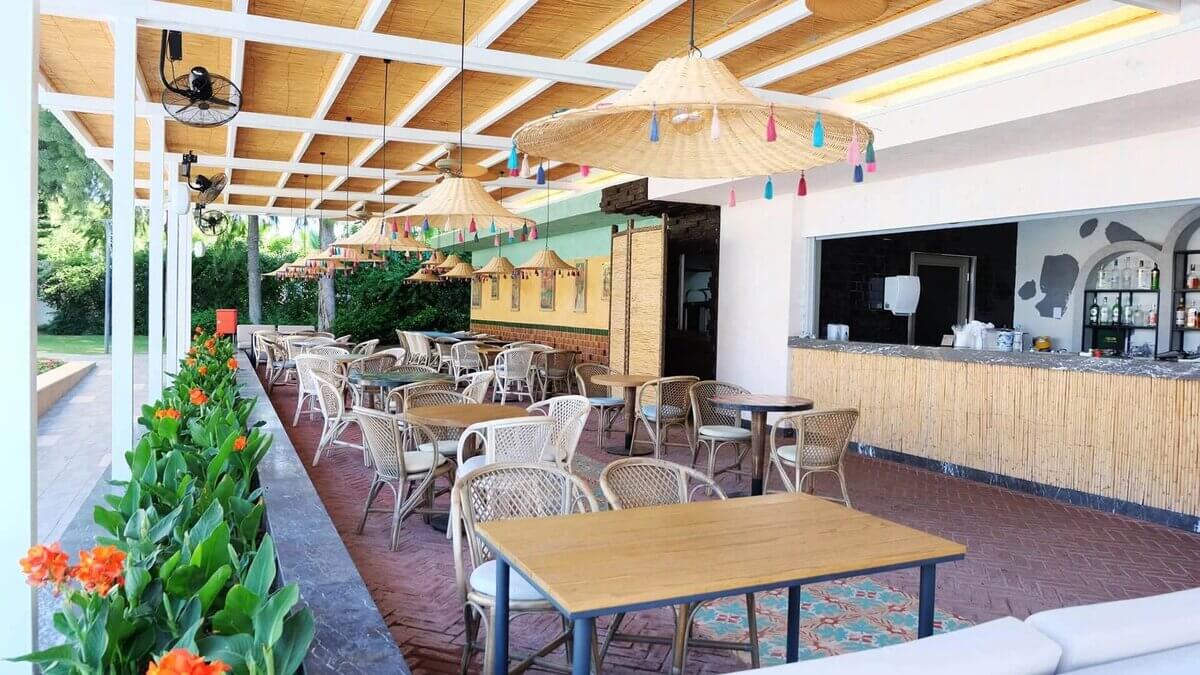 Hours: 8.00am – 12.00am daily
Address: Şirinyalı, Lara Cd. No:24, 07100 Muratpaşa
Whilst Turkish food is unbelievably moreish, all of the grilled meats and bread can cause you to hit a bit of a wall after a while, especially if you've been in the country for an extended time.
If you've hit that wall, or if you simply want to sample some more familiar tastes, then Pablito Bistro is your best bet.
Born from a Cuban migrant from Miami, Pablito Bistro serves up some of the freshest 'Western' food in the country, including Buffalo Wings, a wide variety of Burgers, and Pablito's signature, the Cuban Sandwich.
The restaurant's décor is pretty fresh too, paying homage to the owner's Cuban heritage with colorful photographs of his home country, making it a seriously unique spot in Turkey.
10. Yemenli Meyhanesi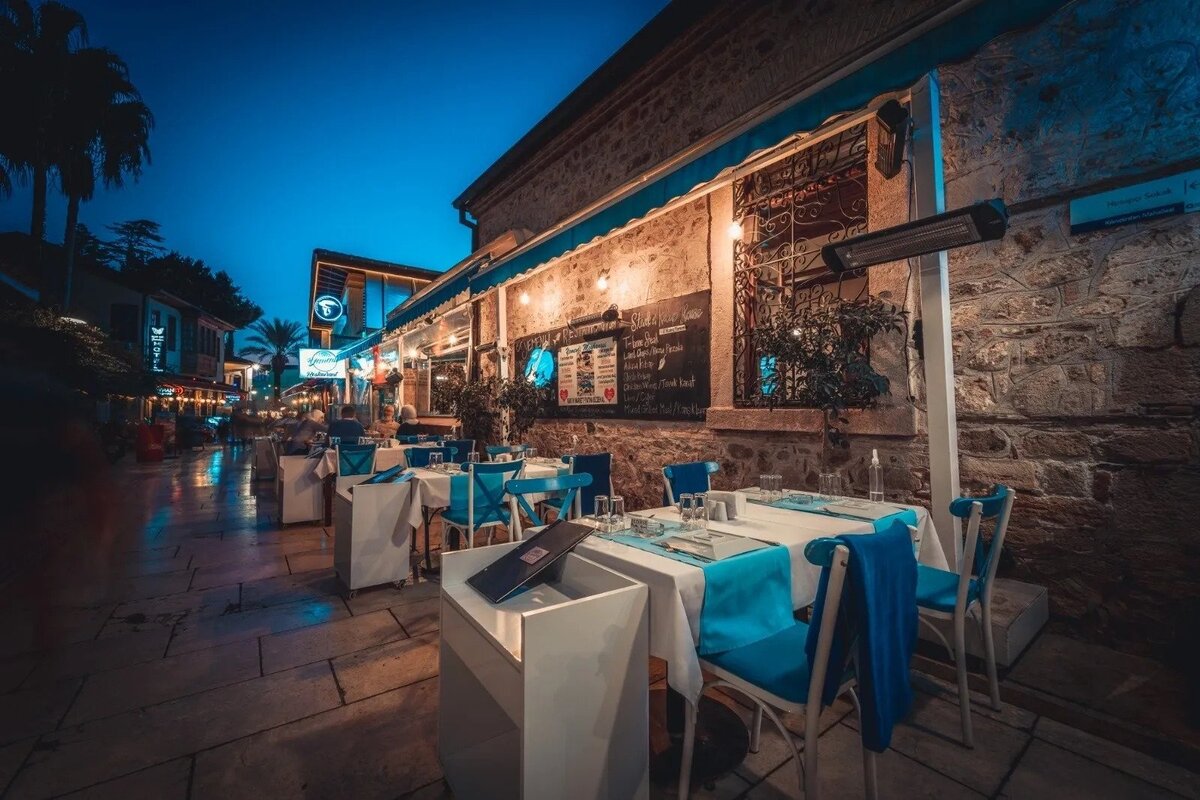 Hours: 11.00am – 1.00am daily
Address: Kılınçarslan, 16, Zeytin Sk., 07100 Muratpaşa
Tucked away down Kaleici's narrow streets in a beautiful historic stone building is Yemenli Meyhanesi. After officially opening its doors in 2010, this particular Meyhane has become one of Antalya's busiest restaurants.
Specializing in Mediterranean cuisine, Yemenli Meyhanesi offers guests a wide choice of food with everything from grilled meats to freshly caught seafood, including tiger prawns, lobsters, oysters, and the Anatolian specialty of grilled Octopus.
You'll have the choice of whether to dine al-fresco under the illuminated night sky or in the intimate indoor area, both of which benefit from the live music that's on every night.
If you're lucky, you might even attend when the belly dancers are booked in for some traditional Turkish entertainment.
Map Of The Best Restaurants in Antalya
To help you plan which restaurant is right for you, here are all the top Antalya restaurants on a map…
FAQs About Restaurants in Antalya
Here's what people usually ask me about places to eat in Antalya…
Are there any traditional dishes that are a must-try? 
Antalya's famed for its kebabs, so a şiş köfte from Topcu Kebap has to be a must-try. As you'll be right by the Mediterranean Sea, it'd be rude not to sample some super-fresh grilled seafood too. This region of Turkey is famed for its Octopus. 
Is it necessary to make a reservation at popular restaurants in Antalya? 
Antalya comes alive during the busy summer months, and as such, most restaurants have ample seating available. Visitors can usually turn up on the night without worrying about reservations. 
Are there any restaurants that specialize in seafood? 
Plenty! Some of the most famous include Ayar Meyhanesi and Seraser, but you'll usually find seafood-oriented restaurants close to the Marina.
Final Thoughts on the Best Restaurants in Antalya
That concludes my list of the best restaurants in Antalya and I hope that it gave you some inspiration for where to eat.
Whether you're looking for a restaurant with delicious food, stunning views, and hospitable locals, there is something for everyone on this list.
Wherever you choose to dine, there can be no doubt that with its unique culture, relaxed atmosphere, and breathtaking scenery, Antalya is the perfect spot for an unforgettable culinary adventure!