Antalya is one of the most popular tourist spots on the Turkish Riviera, and not just because of its jaw-dropping coastline and world-class beach resorts.
Antalya is located near many of the best landmarks in Turkey, and its reliable transport system means it's really easy to explore other areas in the country.
One of the main reasons to visit Antalya is its location. Being practically in the center of the country and nestled on the Turkish Riviera, you can pretty much take a day trip to most of the top sites in the country!
If you're putting together your itinerary, then you might want to add some day trips from Antalya to your list. While Antalya itself has a whole host of incredible attractions, no trip to Turkey would be complete without visiting some of these Antalya day trips.
---
How to Take a Day Trip From Antalya
First things first, let's talk about the ways you can take a day trip. Antalya is a huge city and has a very reliable and trusty transport system. However, some of these day trips are quite a distance, so what is the best way to get to them?
If your chosen attraction is more than an hour or two driving distance outside of Antalya, your best bet would be to hire a car. While buses run regularly and are usually reliable, they are quite slow, and since you're wanting to take a day trip you'll want to save as much time as possible.
Some of these day trips require you to fly. Yes, on a plane! But don't worry, since these attractions are hugely popular, airlines have scheduled flights from as early as 6 AM and returning as late as 11 PM, meaning you could actually fly across the country and see sites and come back the same day. Crazy, right?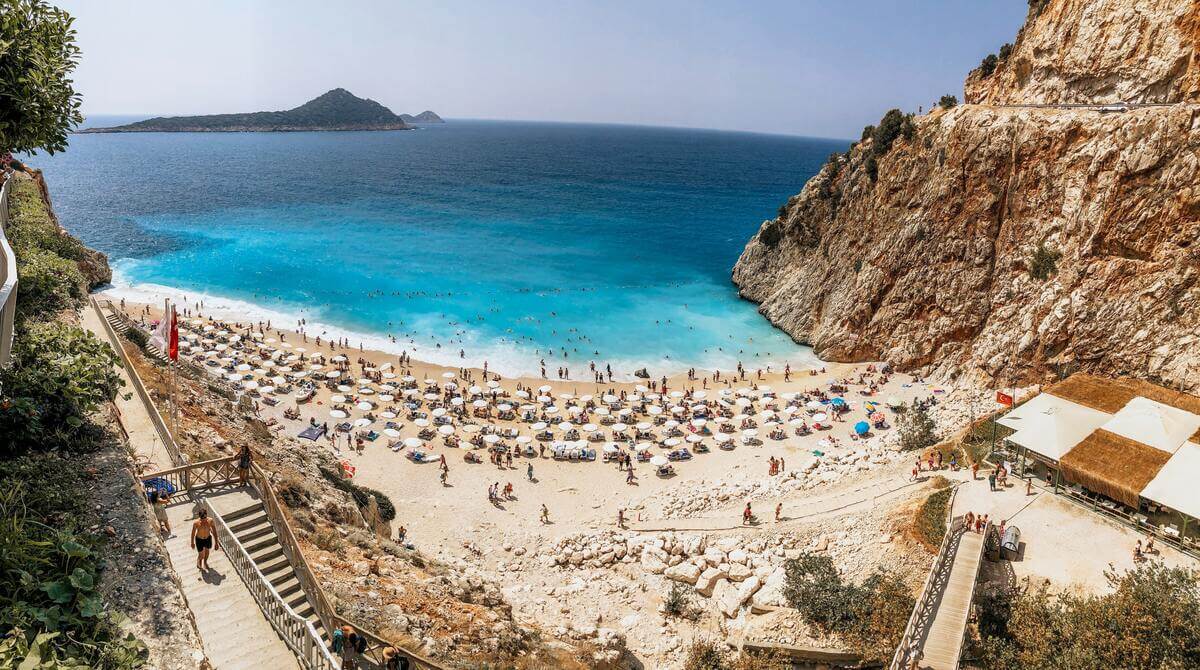 Another great way to see day trips is through guided tours. This is the best way to see attractions for those who prefer a 'no fuss' way to travel since everything is planned and prepared for you.
In most cases, taking a tour from Antalya is safe and usually cover entrance fees and the cost of your transport, but this is not always the case. Do check with the tour company first to make sure, otherwise, it will be a very costly day out.
Tours will pick you up from your hotel, or a central location, for added convenience.
If you would prefer to do a DIY Antalya day trip, no problem! We prefer to work it out for ourselves too. Below in each of our recommended day trips, we have shared our recommended 'way to get there', which could be by bus, plane, hiring a car or tour.
It's a good idea to see which attractions interest you the most, before thinking about transport as you might decide you'd like to take a couple of these day trips from Antalya.
---
The Best Day Trips from Antalya
So without further ado, here are the best day trips from Antalya, from historic landmarks to iconic natural settings, these attractions simply cannot be missed out on any Antalya itinerary.
1. Ephesus
Standing not far away from the ever-popular tourist town of Kusadasi, is one of the most iconic cities in the ancient region – Ephesus. This oasis of archeological sites is one of the most famous landmarks in Turkey, known for its breathtaking 10th century BC Roman and Ancient Greek ruins.
The site covers almost 6.6 square km, featuring a wide collection of incredibly well-preserved Greco-Roman ruins. Ephesus was once the second largest city of the Roman Empire and therefore one of the most important; it became a UNESCO World Heritage Site in 2015.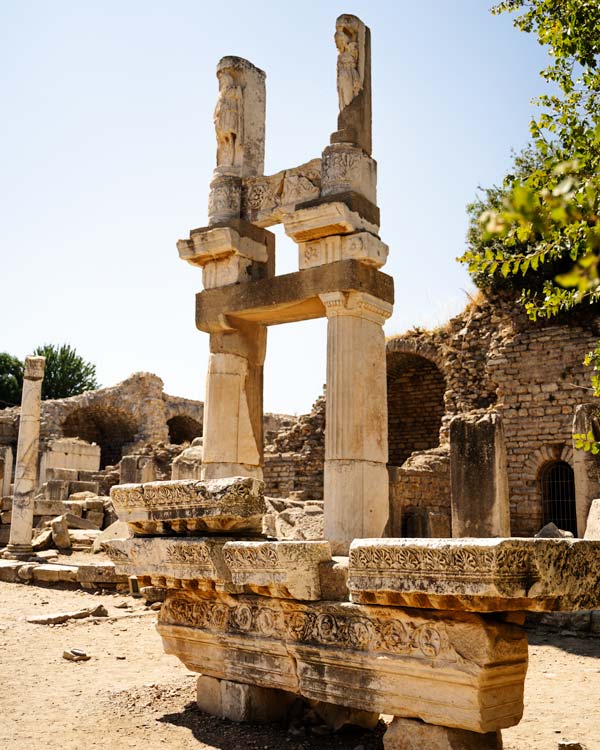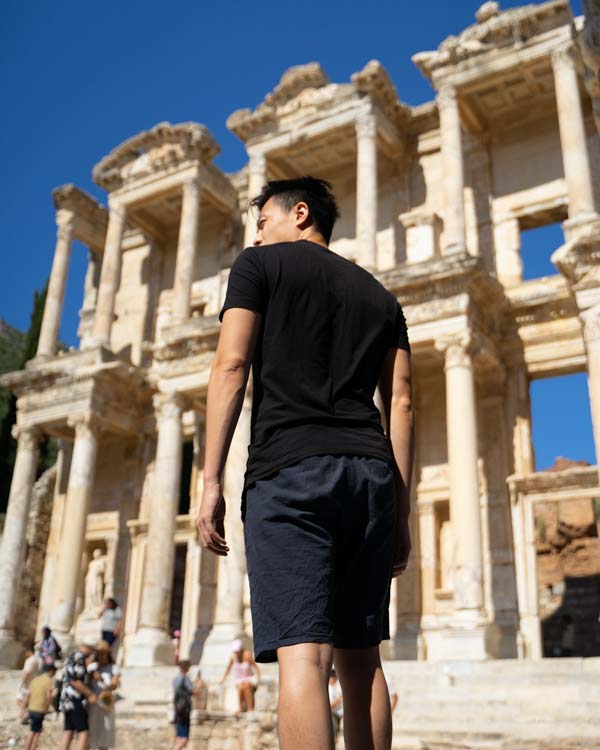 It's home to one of the Seven Wonders of the Ancient World – the spectacular Temple of Artemis. Over twice the size of any other similar ancient Greek temple sites, it took almost 120 years to complete, before being burnt down in 356 BC.
Other important sites in the complex are the Library of Celsus, Temple of Hadrian, and the mighty Roman Amphitheater capable of housing 24,000 spectators.
Ephesus is simply a must-see attraction when looking for ancient city day trips from Antalya.
Distance from Antalya: 411 km (255 miles)
Travel time: 5 hours by car, 7 hours by bus, 7 hours 25 minutes by train, 1 hour 10 minutes by plane plus an additional train for 1 hour.
Best way to get there: To get to Ephesus, you must first get to Izmir. From Izmir, there are three ways to get to Ephesus.

Take a plane from Antalya to Izmir Airport (1 hour 10 minutes). From Izmir airport, there is a train (1 hour) directly to Selcuk.

From Selcuk, you can walk for 10 minutes to Ephesus, or take a minibus or taxi. There are flights with SunExpress that leave at around 9.20am, and get to Izmir at 10.30am, which would mean arriving at Ephesus at midday at the latest.

We would recommend staying in Selcuk to get some lunch before visiting Ephesus since you'll want to avoid the midday heat. Return flights operate as late as 10.30pm from Izmir Airport with SunExpress so there is plenty of time to enjoy the sites.
2. Lycia Rock Tombs
For a perfect day trip adventure, head around two and a half hours south of Antalya, navigating your way along the beach road, following the beach and turquoise Mediterranean waters, and you might begin to see something rather extraordinary appear.
You will have officially entered the land of the Lycians, the name of the people that lived in this area since the records of Ancient Egypt. The Lycians (pronounced Lik-ee-ans) believed that once you died, your spirit was carried to the afterlife by magical winged creatures.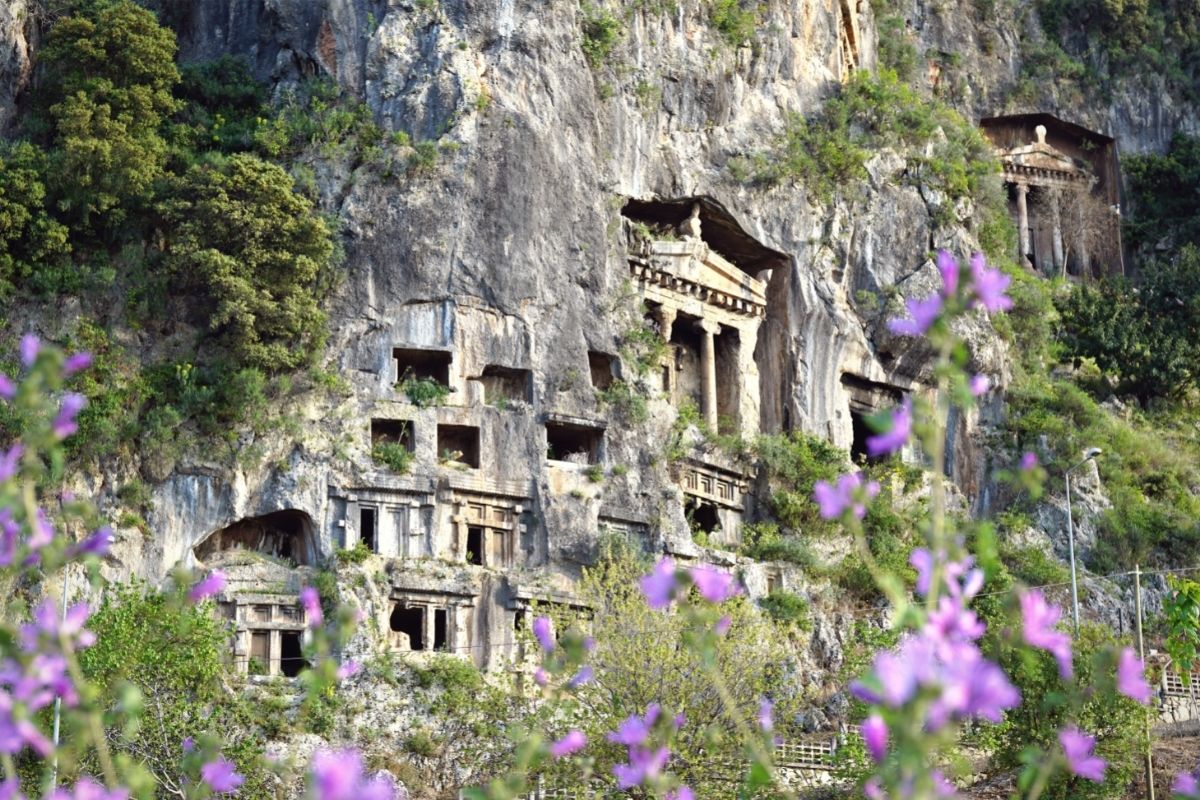 To greater the chances of reaching said afterlife, the Lycians built intricately detailed tombs carved high up into the mountainside, they were mostly reserved for the Kings and Queens of the era.
Built almost 2500 years ago in 500BC, remarkably, these tomb sites are still in excellent condition today and can be seen in huge numbers across the region.
Distance from Antalya: 139 km (86 miles)
Travel time: 2 hours 20 minutes by car, 3 hours by bus, not available by train
Best way to get there: The best way to get there is by hiring a car or taking the bus. Since it takes a couple hours, we recommend starting as early as possible.
3. Cappadocia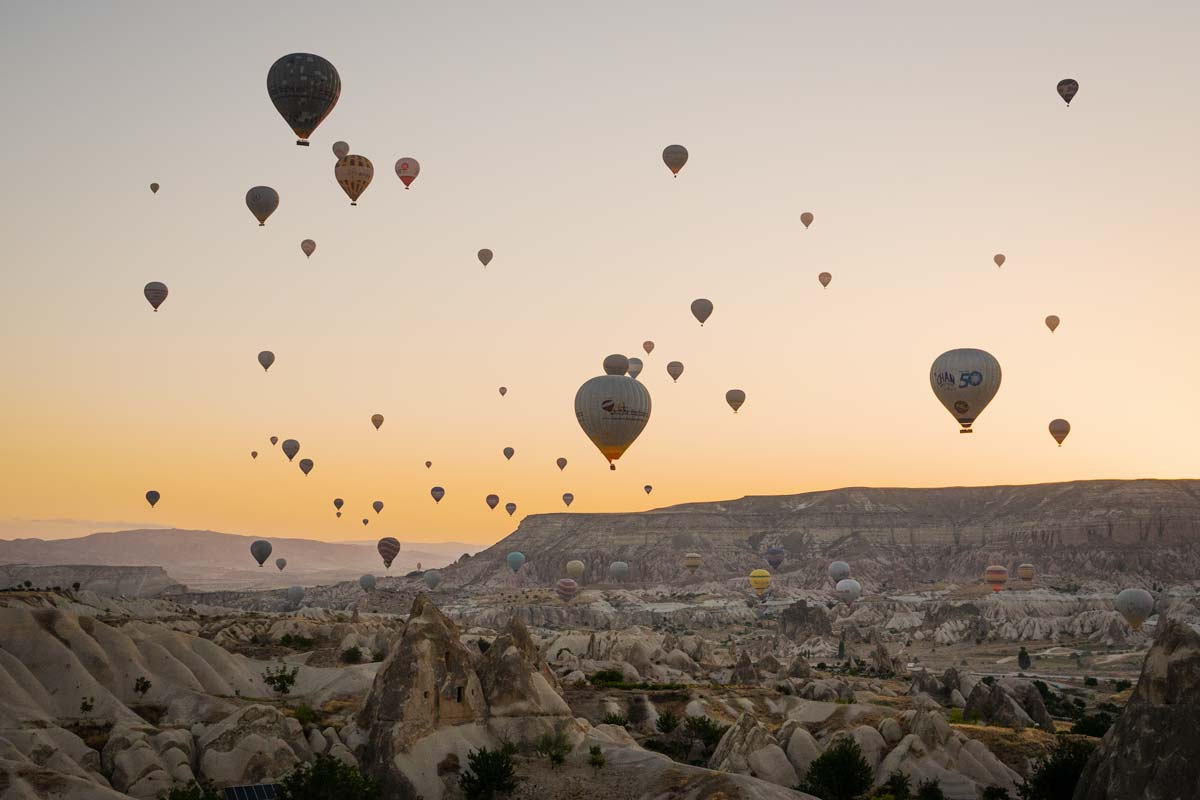 Contrary to popular belief, Cappadocia isn't just a city, it's actually the name for the entire central region of Turkey.
Famous for its breathtakingly beautiful landscape and fairytale-like hot air balloon rides that fill the morning sky, Cappadocia has so much to offer the weary traveler wishing to spend a few days in the area. It's an excellent place for hikes too, with many trails dotted around the towns leading you to historical chimneys, castles, and sunset views to die for.
For something a little out of the ordinary, you should consider a guided tour of Derinkuyu Underground City, a vast, deep, underground city that was effectively a defensive haven during the brutal invasions of the Middle Ages, large enough to shelter up to 20,000 Cappadocia locals.
The distance from Antalya to Cappadocia is quite far, so you're going to need to fly if you want to see it in a day.
Distance from Antalya: 575 km (357 miles)
Travel time: 7.5 hours by car, 10 hours by overnight bus, 1 hour 15 minute flight from Antalya to Kayseri Erkilet Airport.
Best way to get there: Since it's a long drive, the best way to get there is to fly. You can find flights leaving as early as 3AM with Turkish Airlines, transfer in Istanbul, and arrive in Nevsehir at 8AM.

You will find return flights with Turkish Airlines at 8.50 PM and gets into Antalya at midnight, so you have a whole day of exploring. Since you only have a day, we recommend opting for either the green tour or red tour. You'll be tired after, but it will be so worth it.
4. Koprulu Canyon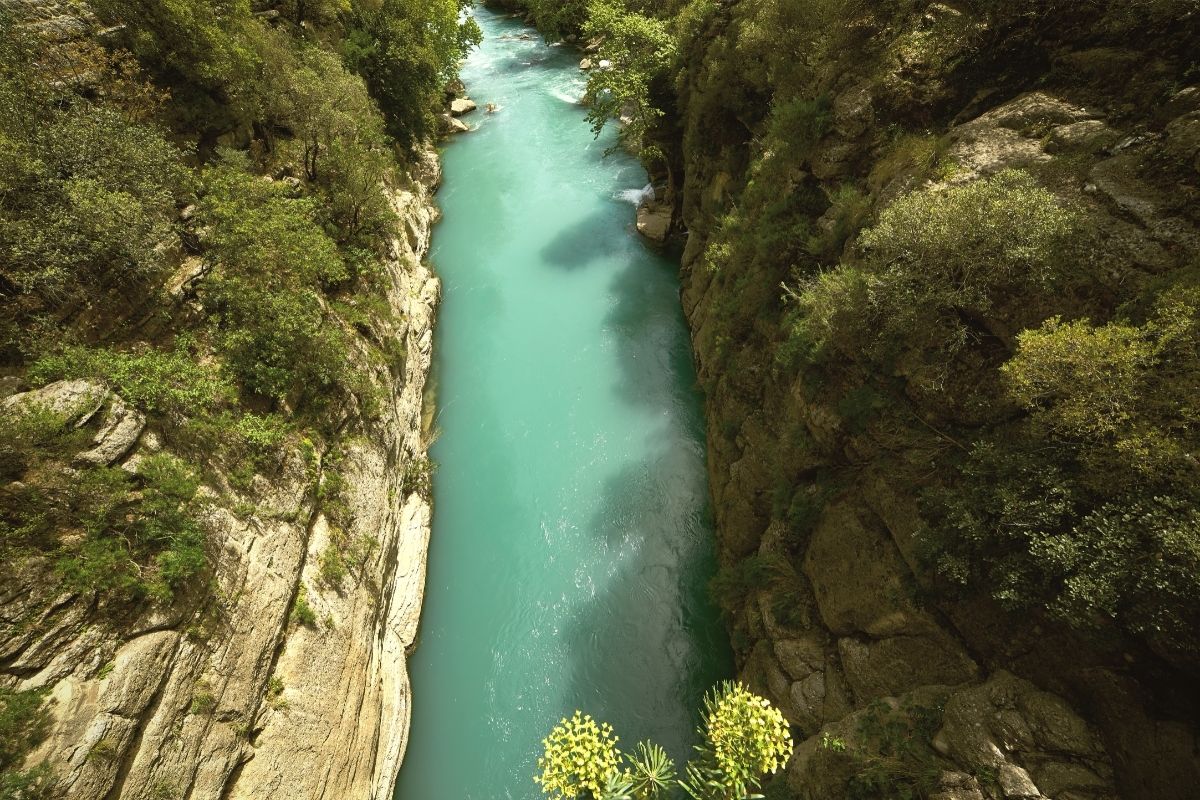 One of the more popular day tours from Antalya and the local region is Koprulu Canyon. A favorite of the locals and tourists alike, it's a strikingly picturesque national park for swimming, relaxation, and for those brave enough to attempt, even some white water rafting.
Perfect for escaping the heat of the beach. With a monumental stone bridge across the Canyon itself the star of the show, there are also smaller bridges more than worthy of checking out too, allowing you to capture the perfect Instagram shot.
With activities like horse riding and wildlife safaris on offer as well, there's so much to do here that you might even decide to make use of the camping facilities at the canyon.
Distance from Antalya: 91 km (56 miles)
Travel time: 1 hour 40 minutes by car, 45 minutes by bus to Serik and 50 minutes taxi, not available by train
Best way to get there: Since you would need to take a bus and a taxi (and a 50 minute taxi journey would be expensive) the best and most economical way to get to Koprulu Canyon is to hire a car and drive.

If you don't drive, you can find private tours to take you to Koprulu Canyon from Antalya, which will pick you up from your hotel and drop you back at your hotel after a full day of exploring.
5. The Taurus Mountains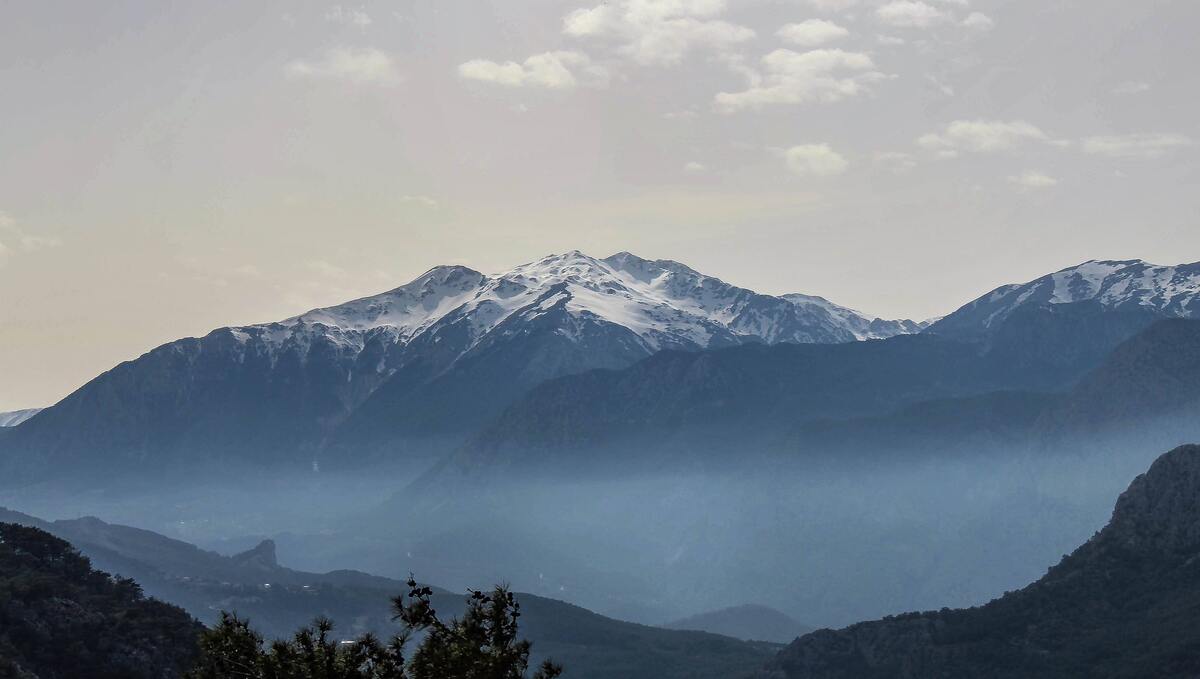 Running almost parallel with the gorgeous Mediterranean sea lies the snow-capped peaks of the Taurus Mountain range (well, snow-capped in the winter). Throughout Turkey's rich and diverse history, the Taurus Mountains have remained an iconic symbol of its mythological past.
Boasting rugged limestone terrain and towering peaks and cascading waterfalls, the mountain range is home to small, traditional villages where you can stop for a local lunch and get to know those that live in this remote region of Turkey.
Interestingly, the range gets its name from the historic culture of the surrounding land with the bull (Taurus) and being only a few hour's drive away, it makes for an excellent day trip from Antalya.
Distance from Antalya: 250 km (155 miles)
Travel time: 3 hours by car, not available by bus or train
Best way to visit: Since there are no trains or buses, the best way to visit is to hire a car and drive. Alternatively, you can find excursions from Antalya that will pick you up from any hotel and drop you home after. If you don't drive, a day tour is your only option.
6. Marmaris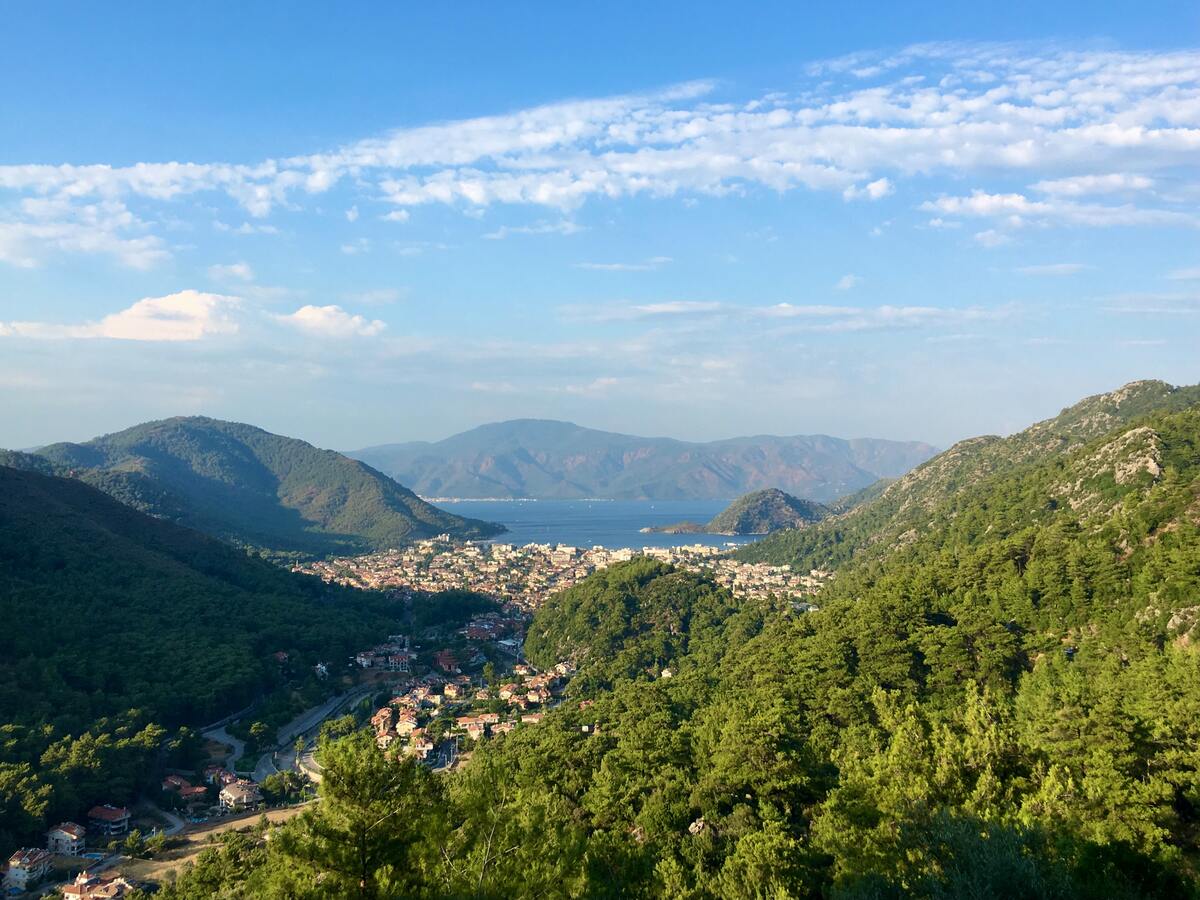 Marmaris is an immensely popular tourist resort city nestled along the golden sands of the Turquoise Coast. Arguably one of its main drawing points is the fantastic beach on offer. Not only is the sea warm and crystal clear, but its sand is also sumptuously soft making it an ideal place to catch some rays.
If you'd like a more active day trip, then fear not. Marmaris is scattered with a variety of water sports options ranging from jet skis and pedalos to banana boats and even parasailing.
After a day at the beach, head down to the local markets, sampling some traditional Lahmacun and washing it down with a cold Efes or Ayran at one of the bars along the seafront.
Distance from Antalya: 317 km (196 miles)
Travel time: 4.5 hours by car, 5.5 hours by bus, not available by train
Best way to get there: Since it's a long drive, you're only option would be to hire a car and set off very early.
7. Konya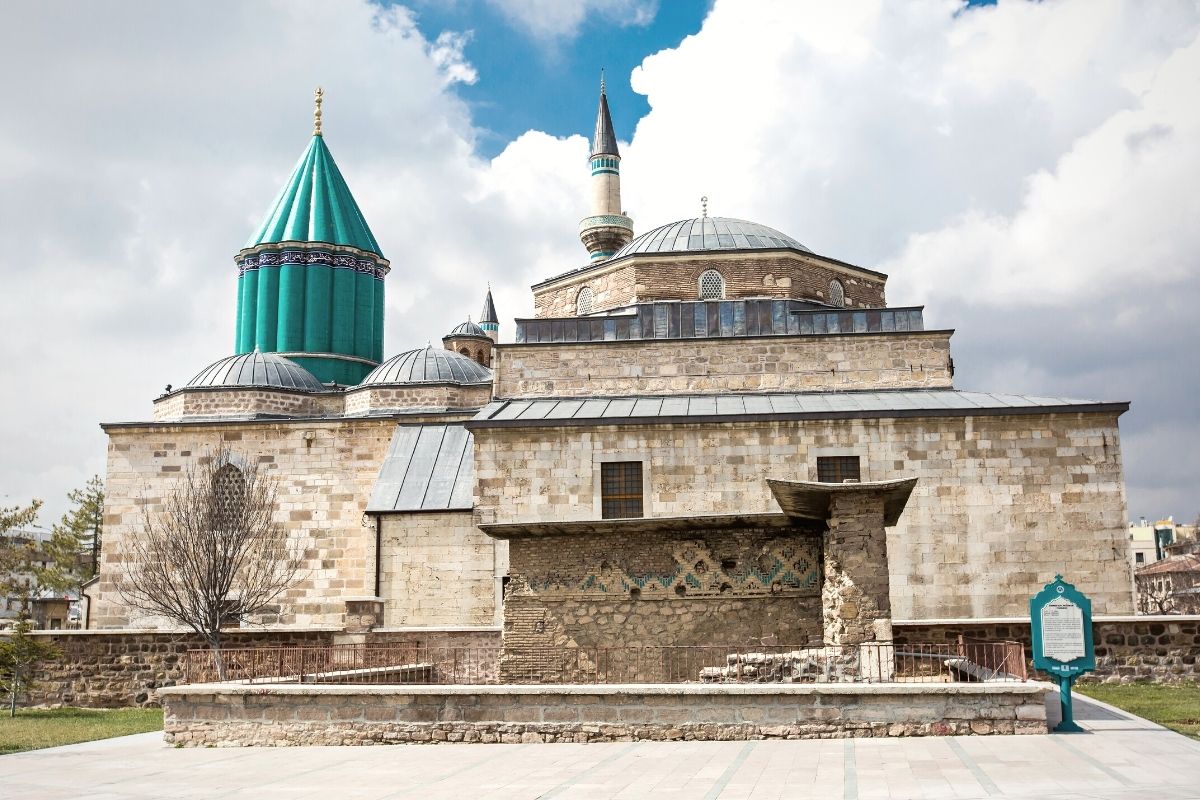 Konya is a major city in south-central Turkey and is steeped in history after having been inhabited since the third millennium (3000) BC. Within Turkey itself, it's widely regarded as the country's 'spiritual' capital and as a result, has been almost forgotten about by tourists from all over.
One of the main attractions in Konya is the fascinating tomb of the Persian Sufi mystic Jalal ad-Din Muhammad Rumi, or better known as Rumi. He's often regarded as one of history's best, and most influential poets. Rather confusingly for the tourist, Rumi's tomb name is the Mevlana Museum.
Even if you aren't familiar with Rumi or his work, the Tomb is simply a must-see when in the area. The interior is sure to take your breath away. Best of all – it's free!
Distance from Antalya: 300 km (186 miles)
Travel time: 4 hours by car, 6 hours by bus, not available by train
Best way to get there: it's going to be a long trek, but you've got little choice but to hire a car and drive. You'd need to get up early, but it's doable.
8. Pamukkale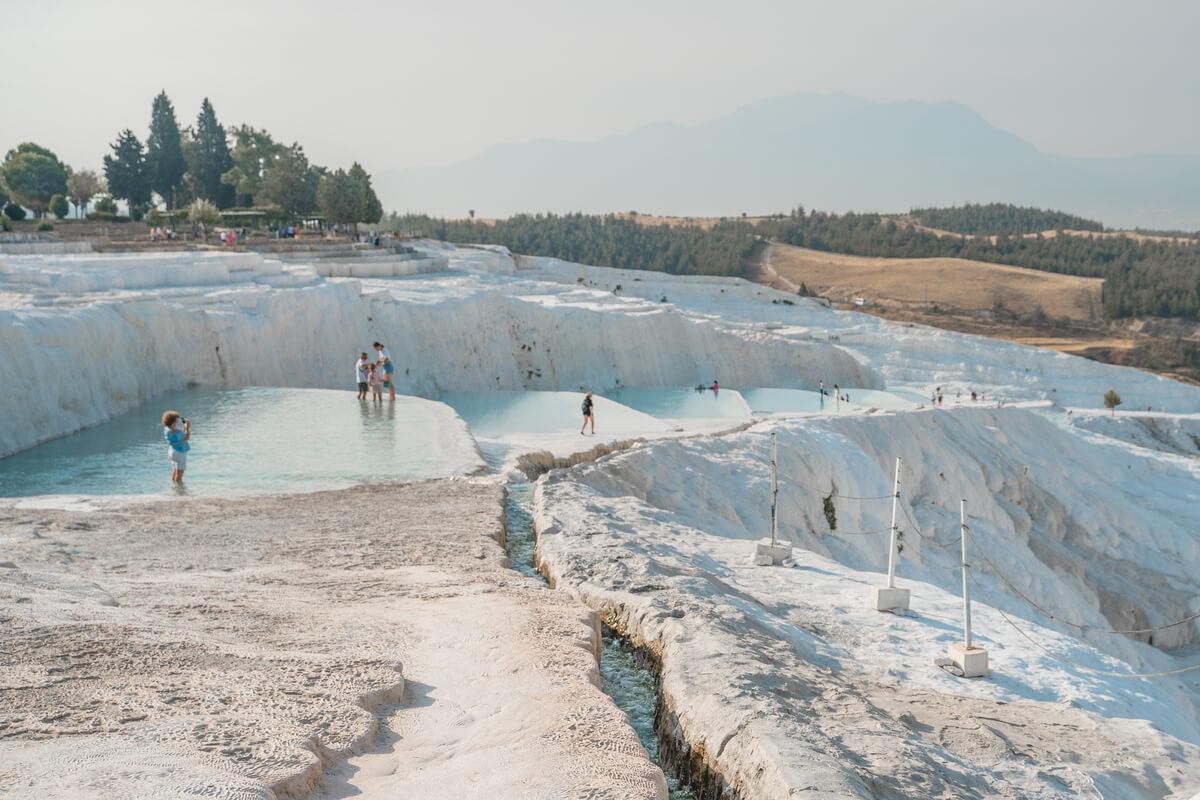 Where to start with Pamukkale. Just like Cappadocia, Pamukkale is a mesmerizing UNESCO World Heritage Site and is probably one of the most photogenic places on the planet. This is exactly why you would be a fool not to visit whilst you're in the country.
Pamukkale literally translates to 'Cotton Castle' in Turkish, and is a completely natural site known for the carbonate mineral which has been left by the flowing waters of the Cal Mountain. It's also famous for its hot water thermal springs which you can actually swim in.
Once you're done exploring the scenery of Pamukkale, you can head to the ancient Greek city of Hierapolis which is located at the top of the mineral deposits. We'll speak more about Hierapolis a bit further below. For a day trip from Antalya to remember, this is the one.
Distance from Antalya: 240 km (149 miles)
Travel time: 3 hours by car, 3 hours 15 minutes by bus, N/A minutes by train
Best way to get there: The best way to get there is by hiring a car or taking a bus, since the bus is only 15 minutes longer. If you don't want to look up bus times and plan your day, you can also take a guided tour to Pammukale, which also stops by Hierapolis.
9. The Ancient City of Perge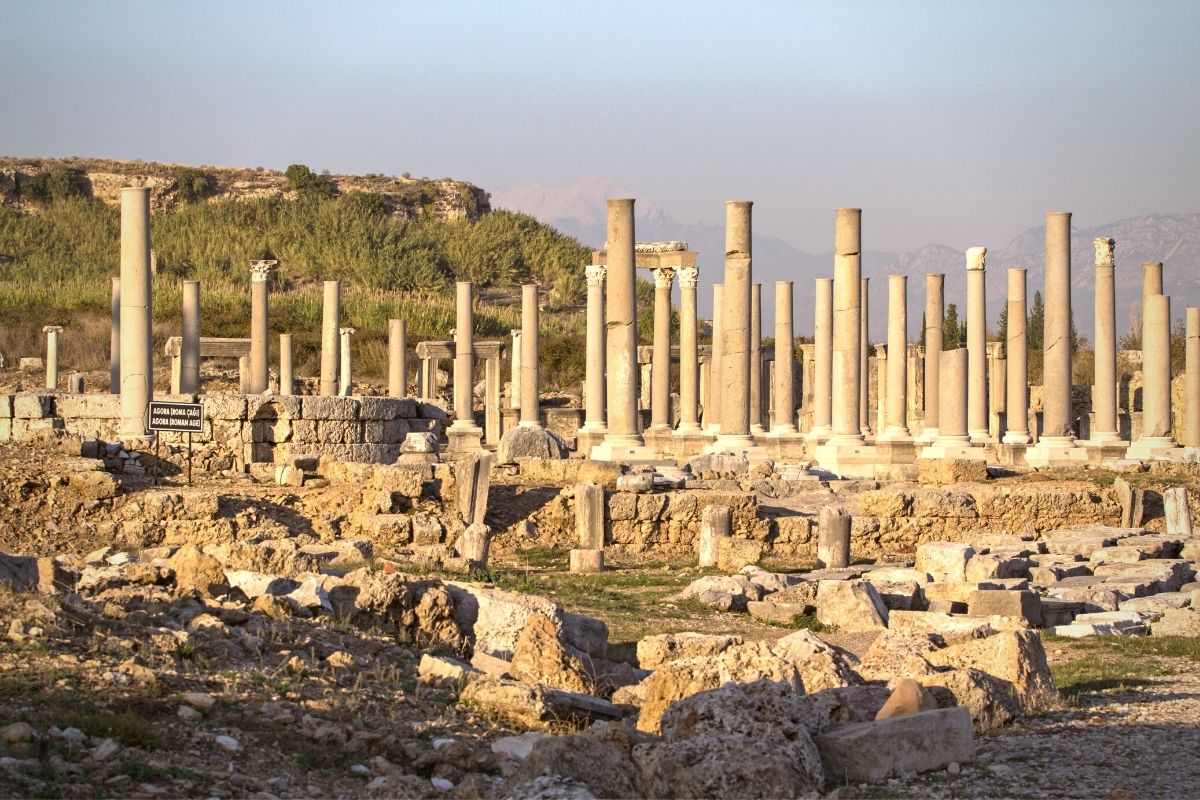 Wonderfully easy to get to from Antalya city is the stunning ancient city of Perge. Known for its magnificent amphitheater that housed a capacity of 15,000 people, the old Roman ruins date back well over 3000 years.
The Perge site is vast of ancient ruins, and with buildings like the city's temple, crumbling school buildings, and its traditional Roman baths to marvel at, you'll get an idea of what life was really like at Perge all those years ago.
Perhaps most interestingly, Alexander the Great was noted to have ridden horseback through Perge's gates. Only a short 20-minute drive outside of Antalya, Perge is one place you cannot afford to miss.
Distance from Antalya: 16 km (10 miles)
Travel time: 20 minutes by car, 1 hour 10 minutes by bus, not available by train
Best way to get there: Perge is a really easy day trip to get to by hiring a car or taking a public bus. Buses go direct from Mevlana Cd-1 Antalya and depart every 20 minutes. It takes just over an hour, so it's completely doable to do this by yourself.

If you want a no fuss way to travel, you can find tours that take you to Perge, as well as to other sites nearby like Aspendos and the waterfalls. If you're not hiring a car, this might be a good option since it's not easy to get around these other places by public transport.
10. The Sunken City of Kekova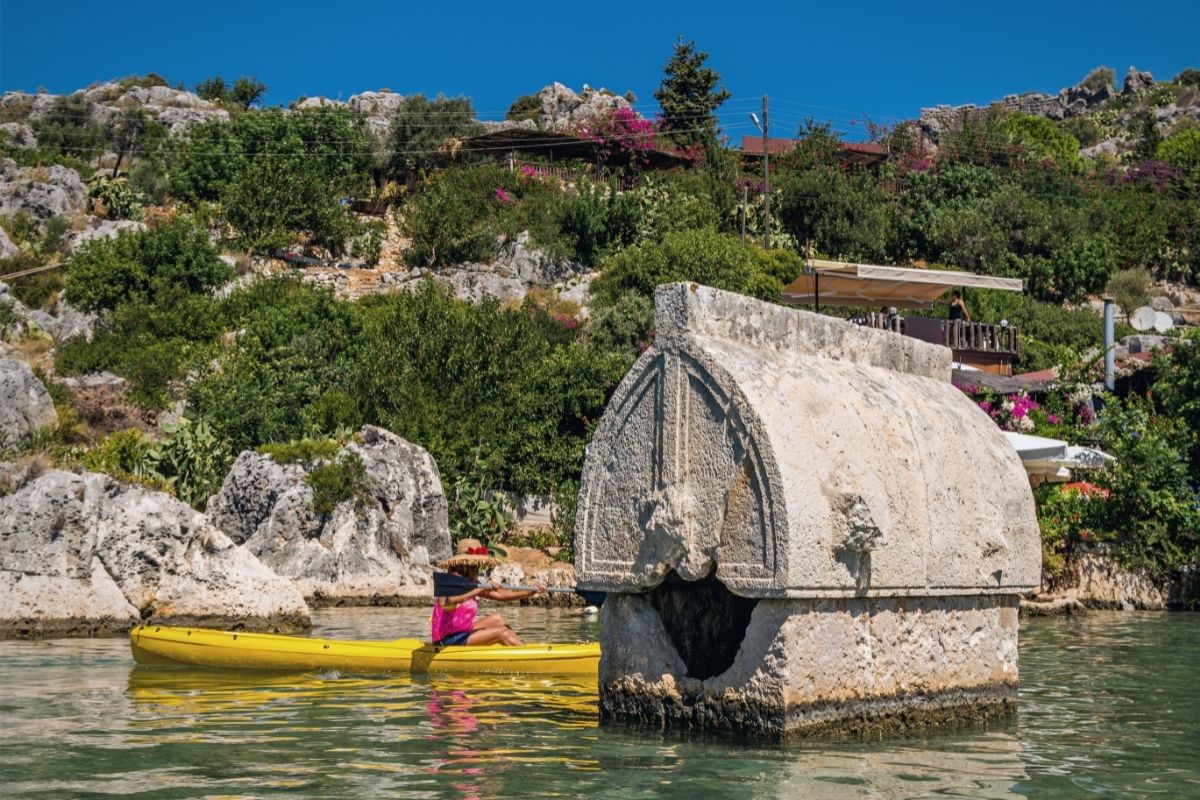 If you'd like to get off the beaten track and see something that most have not, then simply take a boat trip to the small Turkish island of Kekova from the coastal town of Demre. Its waters and coast line are beautiful, however, what really steals the show is the partly sunken ruins of the ancient town of Kekova that once stood on the island.
Destroyed by an earthquake during the 2nd century, Kekova was rebuilt and remained a working dockyard until it was abandoned due to Arabic invasions.
The Turkish government have banned swimming around the ruins due to looting, however it still makes for excellent viewing with plenty of opportunities to get great pictures. You can take boat tours and kayak tours.
Distance from Antalya: 140 km (87 miles)
Travel time: 2 hours 20 minutes by car, 3 hours by bus, not available by train
Best way to get there: The best way to get there is by hiring a car and driving, or you can take the bus since it goes direct from Kızılırmak Cd-5 to Demre.

From Demre, the only way to see Kekova is by boat tour, which you can purchase on arrival in Demre.If you don't want all the fuss, it's also possible to book a tour from Antalya which picks you up and drops you off at your hotel.
11. Hieropolis Ancient City
Like Perge, the ancient city of Hieropolis dates back to the early 2nd century BC and was built in its location to make use of the hot thermal springs from nearby Pamukkale. Because of this, it was known as a 'spa town' and thousands flocked to Hieropolis to experience the natural wonders on its doorstep.
Unfortunately, like many ancient Greek cities in the area, it was destroyed by an earthquake that didn't leave much standing. However, you can still see the well-preserved theater and its necropolis with tombs to give you an idea of the layout of this magnificent place. The North Gate is also largely preserved.
History buffs and travelers will also revel in the fact you can also see the tomb of Philip the Apostle too.
Distance from Antalya: 240 km (149 miles)
Travel time: 3 hours by car, 3 hours 15 minutes by bus, not available by train
Best way to get there: Like Pamukkale, it's just as easy to drive as it is to take a bus, but if you don't fancy driving or navigating your way to the bus station, then you can opt for a tour which takes you from your hotel to Pamukkale and the Heiropolis and drops you back home again.
Read more: 16 Fascinating Museums in Antalya
12. Tahtali Mountain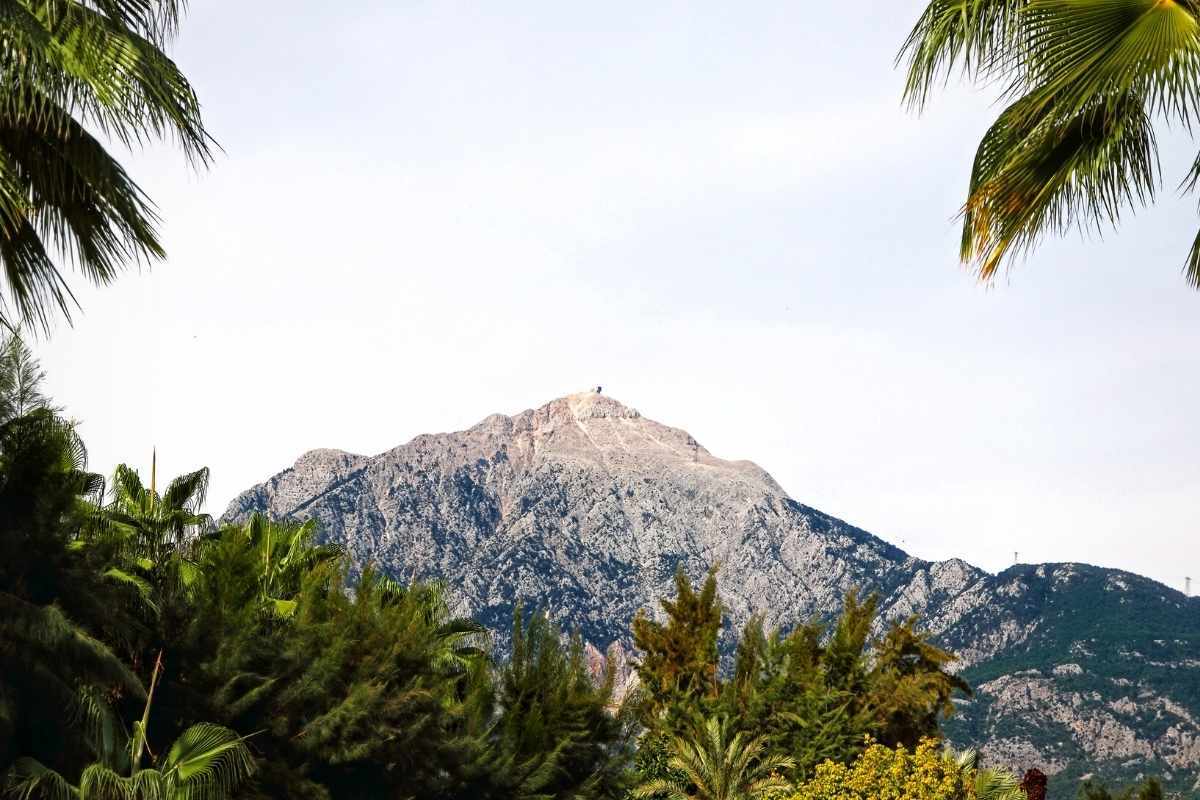 The Tahtali Mountain, also known as Tahtali Dagi or Lycian Olympus, is one of the largest peaks in Southern Turkey. Standing mightily tall at a whopping 7,762 ft, back in Ancient Greece the mountain was called Mount Olympus.
If you're unfamiliar with Ancient Greece and its mythology, Olympus actually means 'home of the gods'. As we've pointed out, there are many ancient cities lying in ruin across this area of the country and that's no different with Tahtali. The 2700-year-old town of Phaselis lies in ruin at the base of the mountain which you can visit for yourself.
If climbing a mountain isn't particularly your thing whilst on holiday, luckily, there is a funicular which takes you to the summit of the peak, giving you easy access to the sublime views of the region.
Distance from Antalya: 72 km (44 miles)
Travel time: 1 hour 20 minutes by car, 1 hour 20 minutes by bus, not available by train
Best way to get there: Unless you're thinking of hiring a car to visit other day trips from Antalya, it's probably easier to get a bus.

If you don't like figuring out bus routes, then you can always opt for a tour from Antalya. Though this does include the funicular to the peak. If you want to hike, you would find it easier to hire a car as you can park at the trailhead.
13. Kuzdere Passage Hike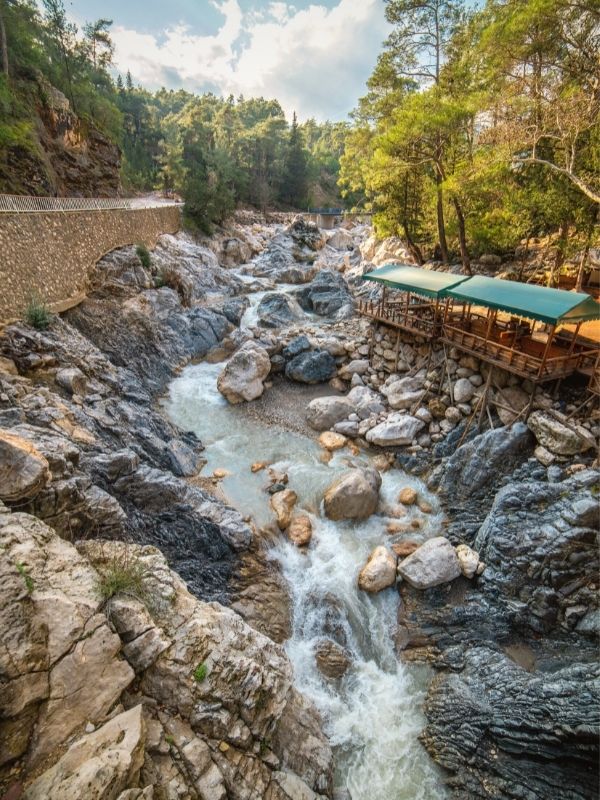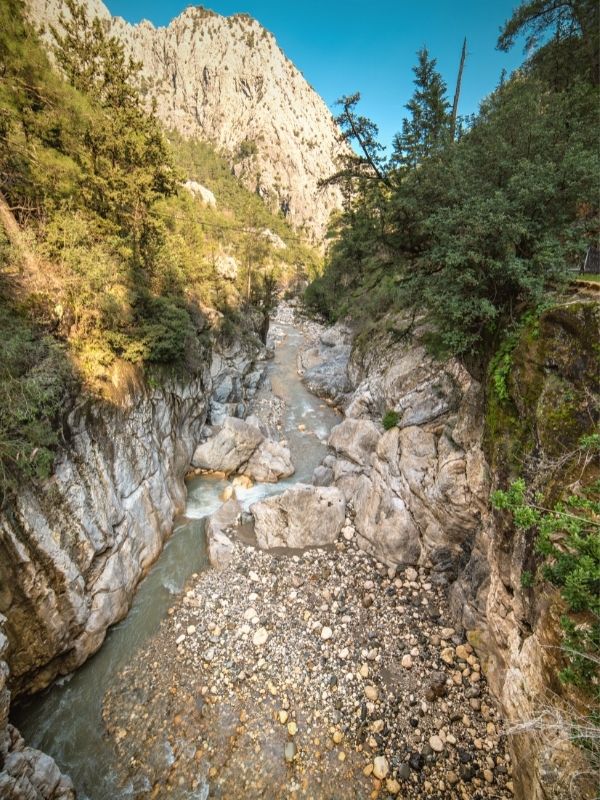 The Kuzdere Passage is a gorgeous hiking trail that is part of the much larger group of trails called the Lycian Way. If you're into hiking and love to get your blood pumping, then this should be at the top of your to-do list if you're in the area.
Under 1 hour from Antalya, it leads you through jaw-dropping valleys, past a fast river, lush green woodland, and incredible views, there really isn't any excuse not to head out and explore on foot.
Oh – and did we mention, natural springs are conveniently located along the way for you to take a break and cool off from the scorching Turkish sun. Bliss!
Distance from Antalya: 46 km (28 miles)
Travel time: 45 minutes by car, 1 hour 10 minutes by bus, not available by train
Best way to get there: Since it's not too far out of Antalya, you can get a public bus to Kemer from Antalya Büyükşehir Belediyesi-2 and then take a taxi to the trailhead.
14. Fethiye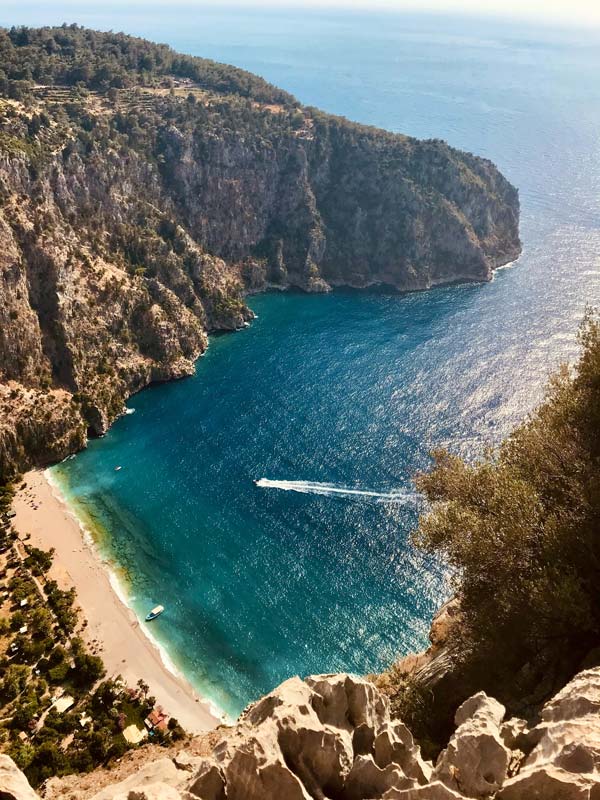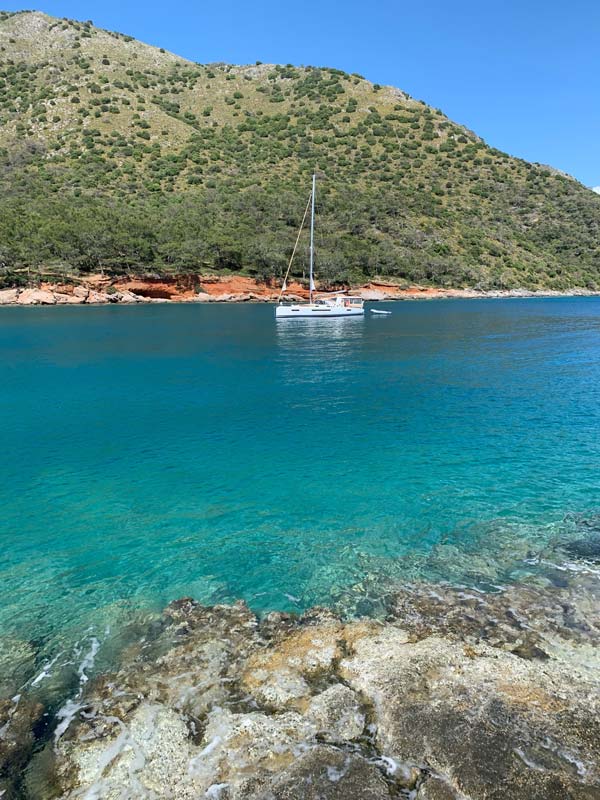 Fethiye is an extremely popular port city and one of the best day trips from Antalya, with tourists visiting from all over the world, and for good reason too.
It's got everything a coastal city needs – from huge, stunning Fethiye beaches and promenade, exquisite Turkish restaurants specializing in the most delicious, fresh seafood, to huge forested mountains like that of Mount Babadag, Fethiye is one excersion you simply have to make.
To make your excursion even more special, you can actually have a delicious three-course meal at the summit of Mount Babadag, giving you access to the most incredible views along with your meal as you watch the sunset.
Distance from Antalya: 196 km (121 miles)
Travel time: 2 hours 40 minutes by car, 3 hours 15 by bus, not available by train
Best way to get there: Since it's a long way, you'd find the easiest option is hiring a car and driving there yourself. However, buses do run directly from Antalya bus station so if you don't drive, this is an option.
Read more: Which is better; Antalya or Marmaris?
15. Adrasan-Suluada Island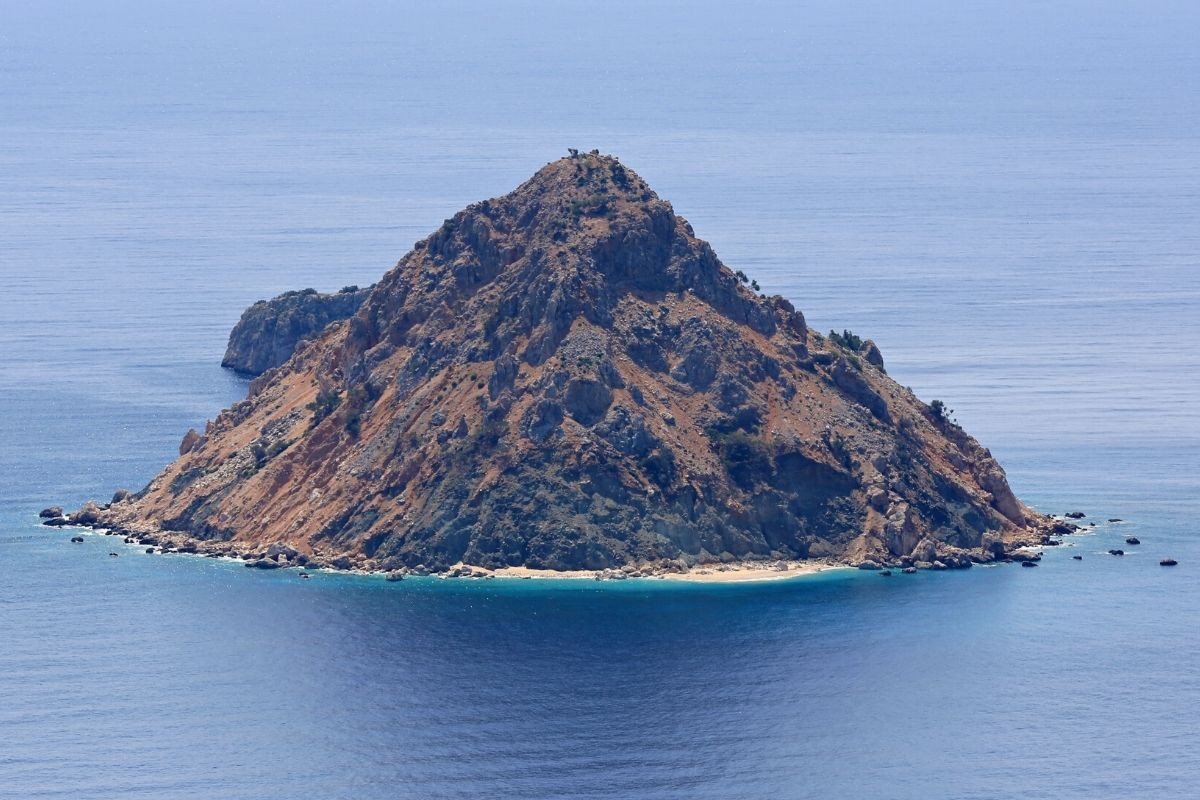 If boat trips and a golden beach in Antalya are what get you up in the morning, then you should be all over this day trip to the Adrasan-Suluada Island. Just a short 40-minute sailing away, you'll be given access to a small but wonderful island.
Often compared to the Maldives, Suluada's calm turquoise waters are home to a natural reef and as a result, you can have the pleasure of getting up close to a vast array of marine wildlife.
With no electricity or running water on the tiny island, it's really only for day trips, however, if you'd like to spend multiple days there, you can stay in the nearby town of Adrasan or Olympos.
Distance from Antalya: 90 km (55 miles)
Travel time: 1 hour 30 minutes by car to Adrasan, or 1 hour 50 minutes by bus, and then 45 minutes by boat
Best way to get there: Since its an island, the only way to get there is by boat. You will need to get to Adrasan first, where the boats depart from.

You can either drive or take the bus from Antalya bus station. Buses depart every 3 hours so make sure to check the times before you go. If you're worried about time, you can also book a tour in advance. These boat tours pick you up from your hotel and drive to Adrasan where a boat is waiting for you.
16. Goynuk Canyon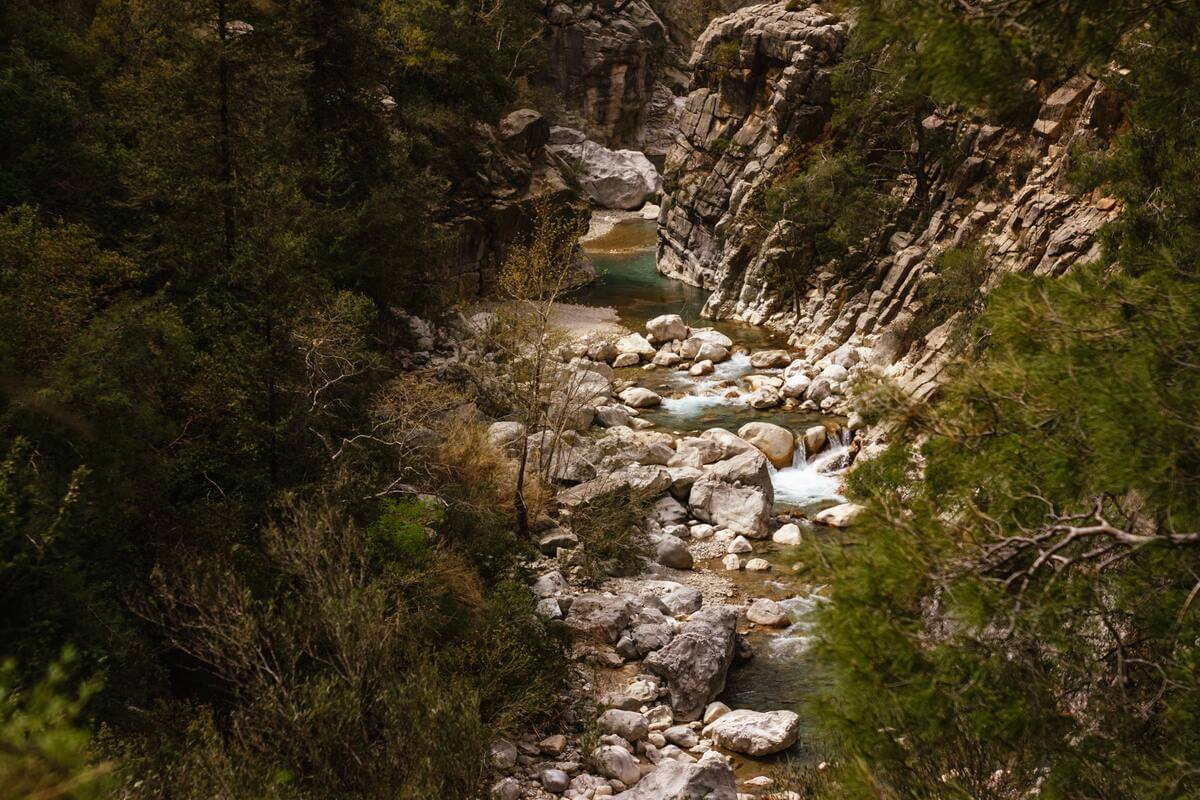 If you're looking for an active day trip nearby Antalya, then Goynuk Canyon is one of the places you simply HAVE to visit. Famous across the region for its astounding beauty, a variety of activities can be done at the park utilizing the rugged terrain it sits upon.
At the heart of the canyon is a fast-flowing wild river that's used for white-water rafting, and a little further in you can find a gorgeous waterfall and the opportunity to go on a safari tour that makes the most of the nature and beauty of the park.
You'll need to carry some change as there is a small entrance fee to gain access to the Canyon.
Distance from Antalya: 36 km (22 miles)
Travel time: 45 minutes by car, 50 minutes by bus, not available by train
Best way to get there: It's very easy to get to by public bus. Buses leave from Kızılırmak Cd-5 every 8 minutes and take you directly to the canyon.
17. Kemer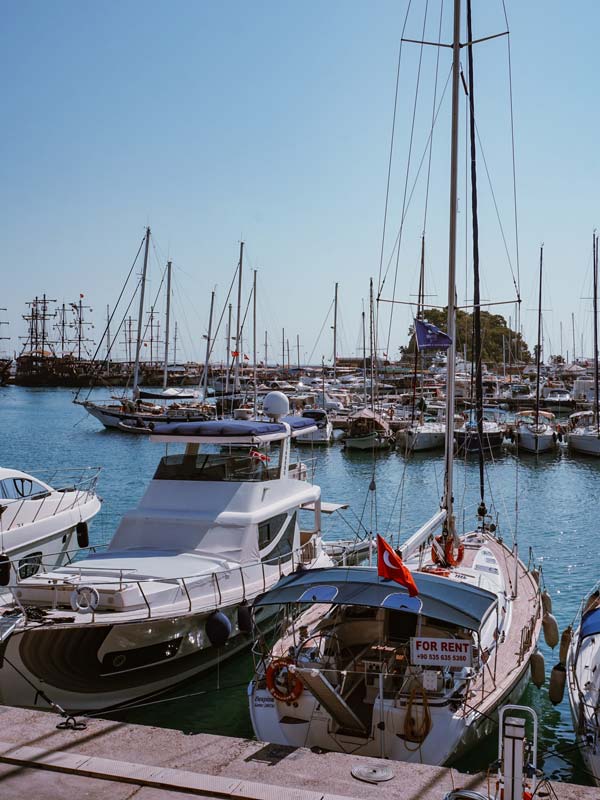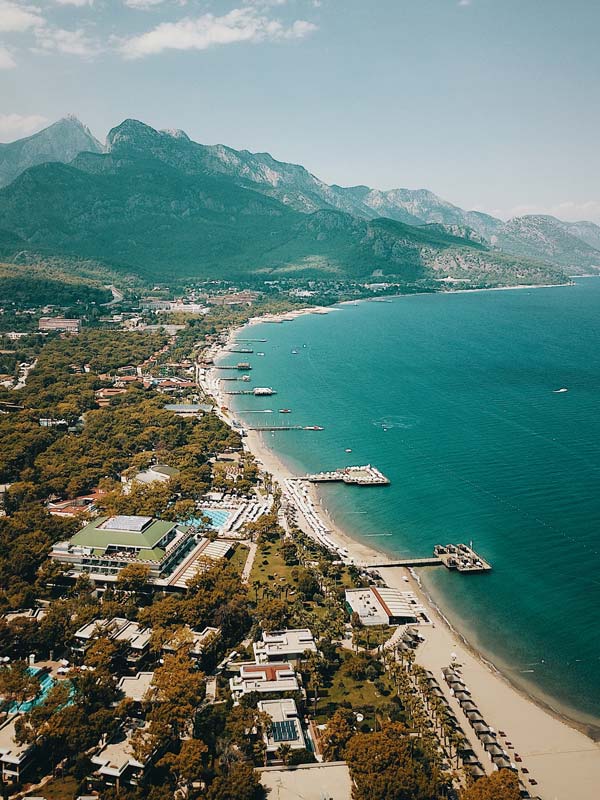 Kemer is an idyllic town on the coast of the Turkish Riviera that's free and easily accessible from Antalya. Widely known for its huge stretch of pebble beach together with its large marina, Kemer is a beautiful spot if you'd like to get off the beaten track and do some sightseeing.
Behind the town, nearby, is the sumptuously green pine forests of the Beydaglari National Park, where you can go for hikes and explore the hills of southern Turkey. This is also the location of the beginning of the cable car to the summit of Tahtali Mountain (Olympos) which we touched on earlier.
Kemer's market is also a fantastic place to source local produce, running every day from early morning to early evening.
Distance from Antalya: 44 km (27 miles)
Travel time: 45 minutes by car, 45 minutes by bus, not available by train
Best way to get there: There is a public bus that leaves from İl Sağlık Müdürlüğü and takes you directly to Kemer. It runs every 20 minutes and takes 45 minutes. Of course, if you're interested in learning about the history and culture of Kemer, you can book day tours from Antalya too.
---
FAQs About Antalya Day Trips
Here is what people usually ask us about day trips from Antalya…
How many days is enough for Antalya?
3 days is probably enough to see Antalya, but if you're adding day trips, you might want to extend your stay to 5-7 days.
Is Cappadocia close to Antalya?
No, Cappadocia is far from Antalya by 413 km. It is best to fly to Cappadocia from Antalya as the bus takes 8.5 hours.
What is Antalya best known for?
Antalya is best known for its world-class resorts, Mediterranean beaches and historic Roman landmarks.
Is Pammukale close to Antalya?
Yes, Pammukale is about 3.5 hours from Antalya by car. The distance is 236 km.
---
Final Word on Day Trips from Antalya
So there you have it, our top 17 Antalya day trips! As you can see, there is a huge variety of attractions to choose from. While you might be thinking some of these are not possible as a day trip, with some careful planning and organization, anything is possible!
Is there somewhere on this list you would like to go to? Let us know in the comments.
Disclaimer: Some of the links above are affiliate links. That means if you book or make a purchase through the links, we will earn a small commission at no extra cost to you! The money will help run this site! Thank you!