Antalya is the beating heart of the Turkish Riviera and is all about being on the water. With miles and miles of gorgeous Turquoise coast, as well as some wild, untamed rivers and mysterious off-shore islands, it's the number one place to take a boat trip in Turkey.
In fact, there are so many boat tours in Antalya to choose from, that it can be overwhelming choosing between them. To help you decide, we've put together a list of the best Antalya boat trips and tours, so you can put together your epic Antalya itinerary.
Whether you're looking for diving adventures, private yacht cruises, snorkeling adventures, day trips to uninhabited islands or party boat tours – these are the best boat trips in Antalya for any type of traveler…
---
The Best Group Antalya Boat Trips
Let's begin with some group boat trip options. These are the best options for any type of traveler on a budget as you simply book your ticket, and spend the day exploring with other like-minded travelers.
Whether you're a family, group of friends, couple, or solo traveler, these boat trips will be right up your alley!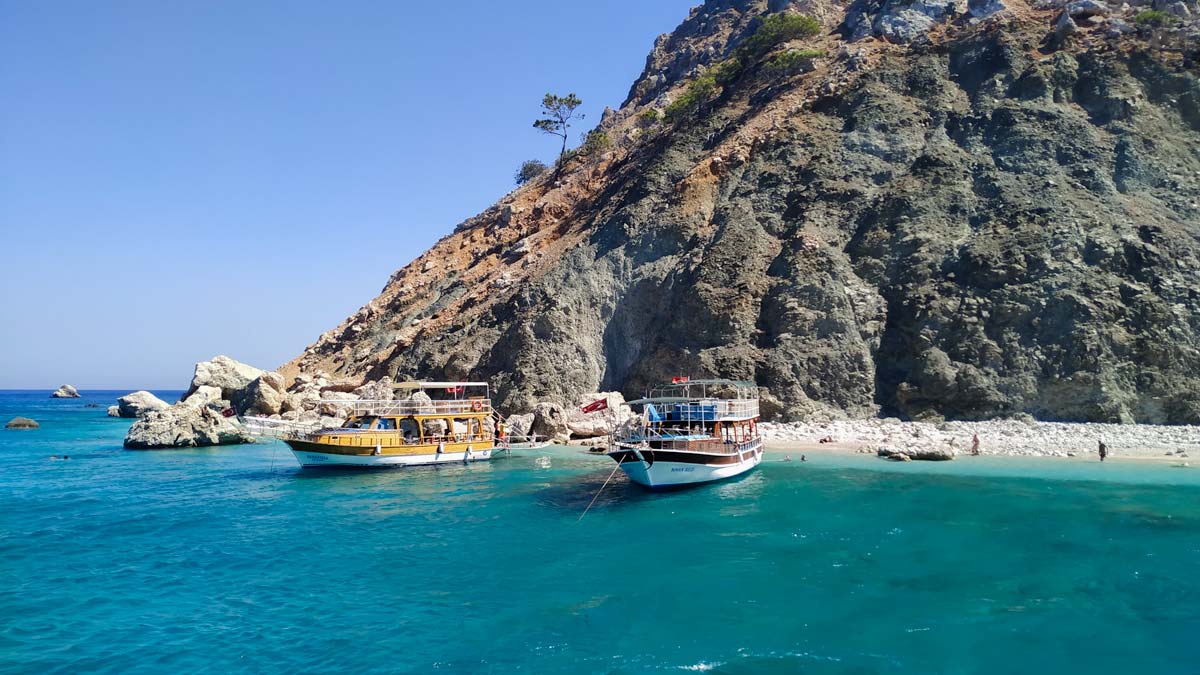 Nicknamed the Turkish Maldives, Suluada Island is a true paradise in the Mediterranean Ocean. The name 'Suluada' translates to Watery Island in English, and it refers to the freshwater source that's found on the island. However, it's the beaches that bring people here.
The uninhabited island is surrounded by pristine, white sand beaches and crystal clear bays. There are plenty of snorkeling spots around the island where you can see lots of fish and marine life. You'll sail past Love Cave and Love Beach, Cennet Bay, West Beach, and Fener Bay.
On this boat tour from Antalya, you start by driving to Adrasan, which takes around 1.5 hours. You will then board your boat, and sail around the stunning landscape as well as stop and swim or snorkel in the best spots.
You'll also get to snorkel in the Hacivat Bay on the way home – this is a famous rock formation in Antalya and is named because it looks like a character from a Turkish play named Hacivat.
This is a full-day tour with pickup and drop-off from your hotel. Just pack your sun hat and shades, plenty of sun cream, and of course, your swimsuit. You will also need to bring your own snorkeling gear, but you can rent this from in Antalya town for a reasonable price. You'll also be treated to a lunch on board, which has vegetarian options as well.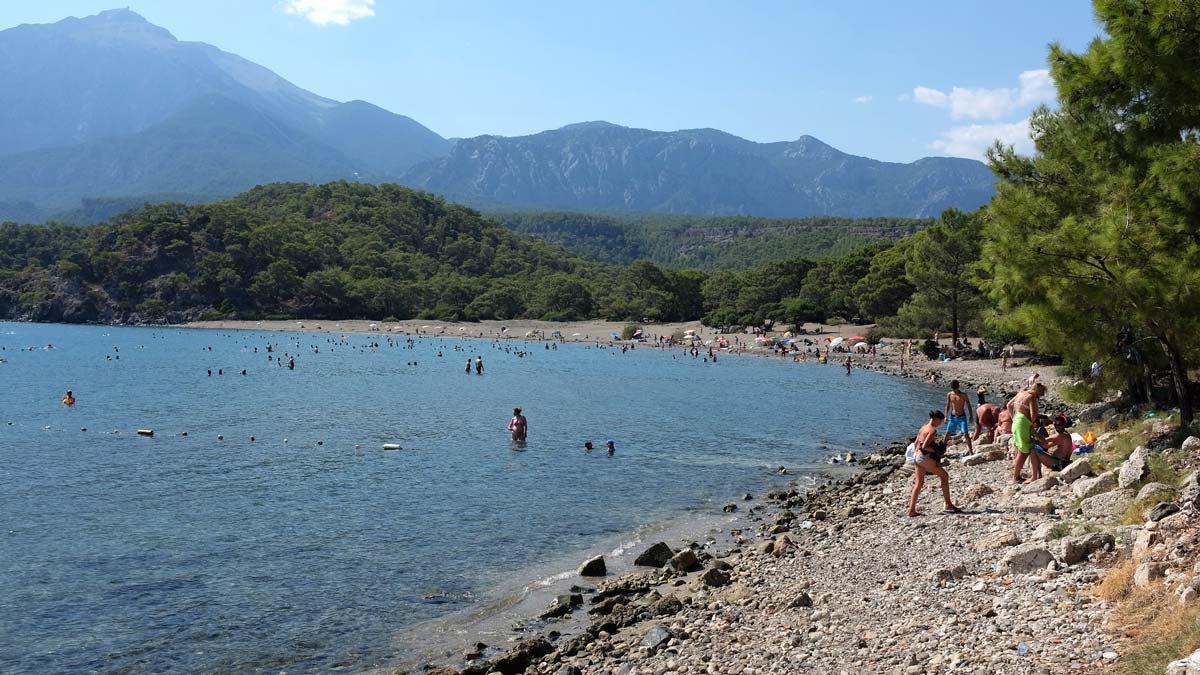 If you're looking for a more historical boat tour, then the pirate boat from Kemer Beach to Phaselis Bay is the bout tour for you. As you discover the stunning bays around the Mediterranean ocean, you'll be transported by a pirate-themed Gallion, which looks like something out of a Pirates of the Caribbean movie.
The ship will take you to the ancient Greek and Roman city of Phaselis, which is now an open-air museum in Antalya. The city is now in ruins, which is said to date back to the 7th century BCE.
Wander around the agora and amphitheater, former Roman Baths, and aqueducts, before heading back to the ship to do some more exploring.
You'll have some time to swim in the shallow waters of Phaselis, before having lunch. Then, you'll sail to Paradise Bay, which as you can imagine by the name, is a stunning beach. You might also get to see the beautiful Mehmet Ali Bükü bay for swimming if there's time.
The final stop on your journey is the Alaca Water, a gorgeous inlet filled with coral, which is the perfect spot to do some snorkeling before returning home. The entire tour takes around 6-8 hours, so do plan for a full day.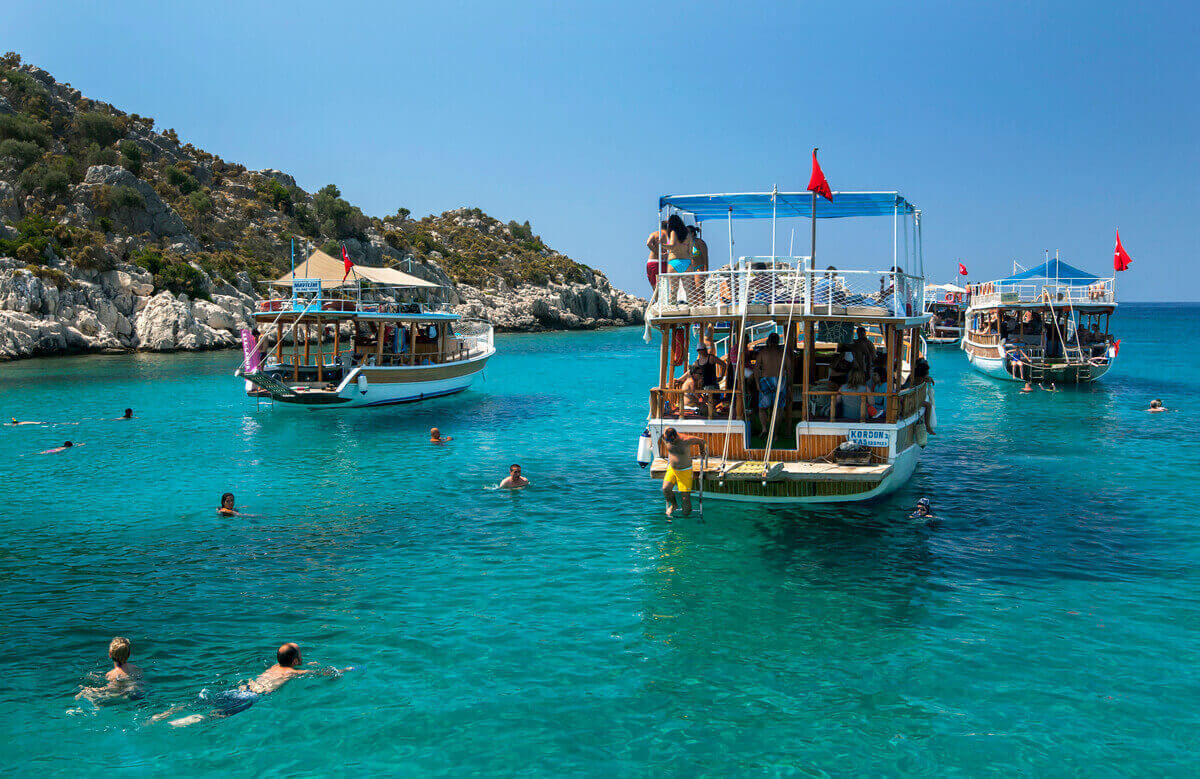 If you'd like to get off the beaten track on your boat tour, then consider a trip out to the small Turkish island of Kekova, which is just a short boat ride from the coastal town of Demre.
Here is where you can see the partly sunken ruins of the ancient town of Kekova, the most famous of which are the tombs that are partly submerged in the water.
Kekova was largely destroyed by an earthquake in the 2nd century but was rebuilt and used as a dockyard until it the Byzantine era. As soon as the Arabs invaded, it was abandoned.
Although the Turkish government has banned swimming around the ruins because of problems with looters, you can still rent kayaks and paddle close by or take a boat trip out to see them.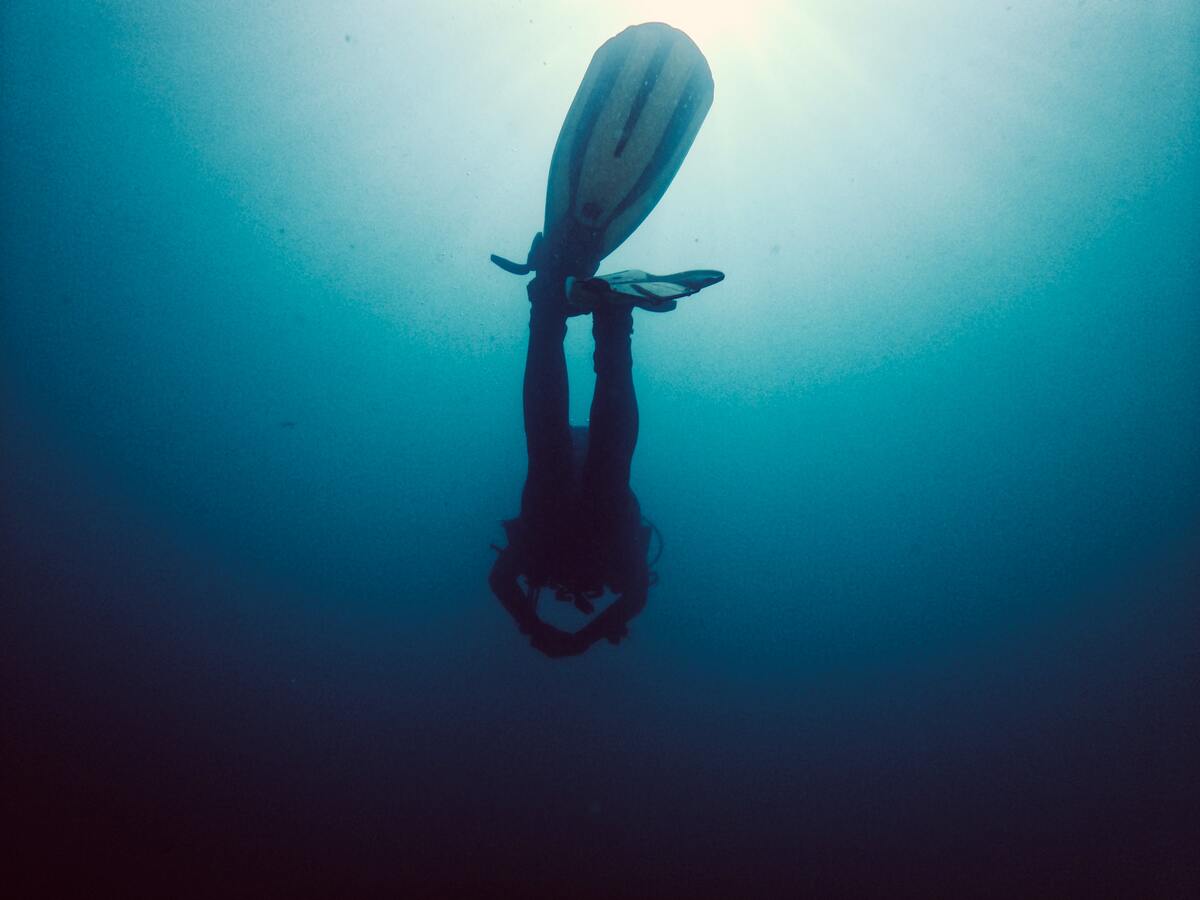 It wouldn't be a trip to the Mediterranean without a day spent scuba diving. This is one of the most popular things to do in Antalya, and for good reason.
Nestled below the ocean are a shipwreck, corals, captivating caves, and plenty of marine life. You can see it all on this diving excursion, which is suitable for divers of all skill levels – that means you too, beginners!
This is a full-day boat tour that takes you to several diving spots off the coast of Antalya. You'll get picked up from your hotel and meet your professional diving guide.
The dive sites are chosen according to weather conditions, and you'll also be split into groups depending on your skill level, so if you have been diving before you don't have to worry about being held back.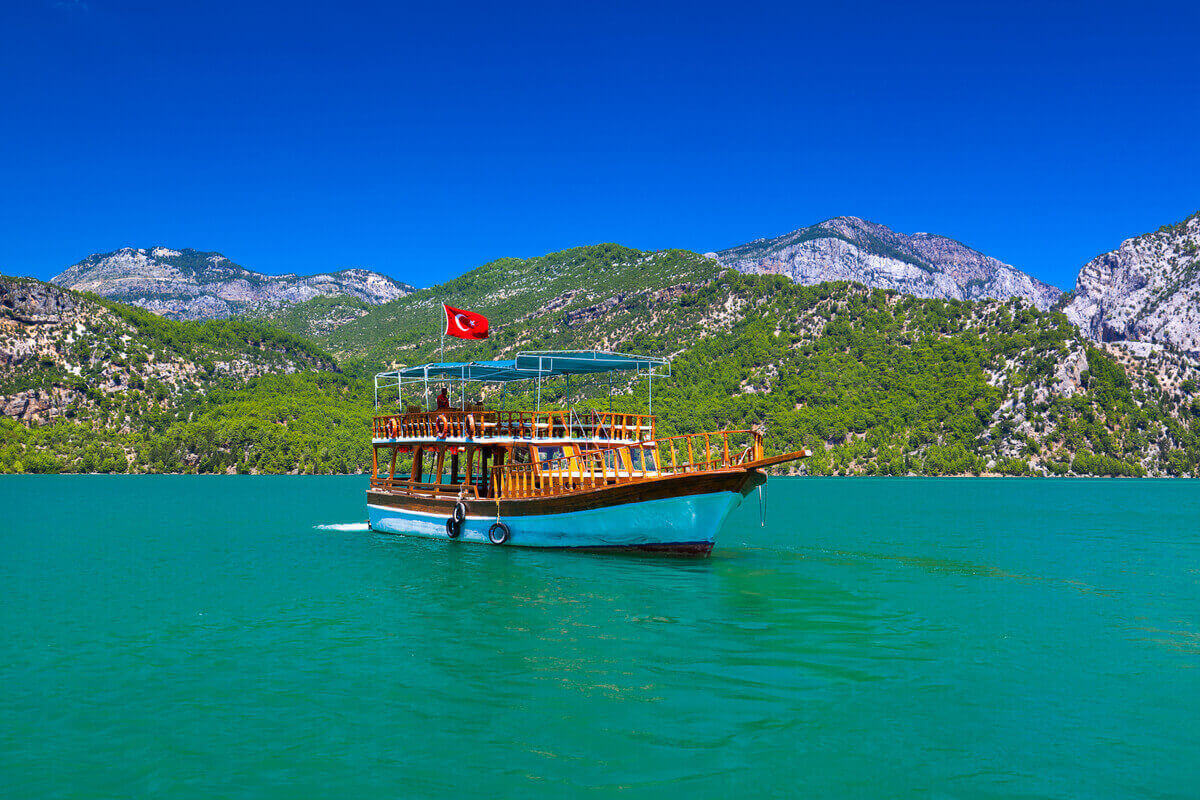 For those who are tired of seeing the ocean, you can head inland to the serene landscape of the Green Canyon. Sit back and relax on a cruise through an emerald green lake sitting at the base of the Taurus Mountain range.
The canyon is around 14 kilometers long, plus a further 3 kilometers into its Little Canyon. The lake is surrounded by lush woodlands and glistening limestone cliffs.
If it pleases you, feel free to take a dip in the cool waters and feel that blissful water cool your skin.
Make sure to be on the lookout for a rare brown fish owl that calls this canyon home!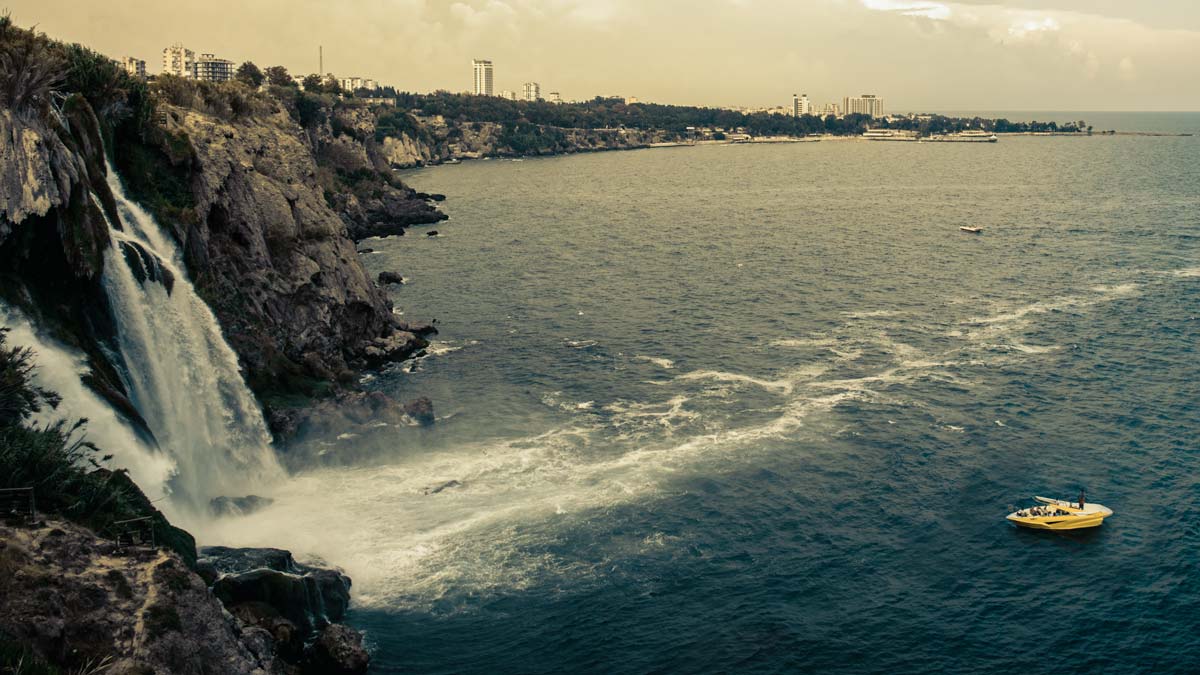 Located about 10km out of Antalya is the Duden Waterfalls. There are two falls, Upper and Lower; both connecting to the Düden River which starts in the Taurus Mountain Range.
The Lower Düden Waterfall is the most famous waterfall in Antalya because its water drops 40 meters off a cliff into the Mediterranean below. This is the advantage of seeing the waterfall from a boat trip, as you get the best view of the water dropping into the ocean below.
The Upper Waterfall is a bit of a walk from Lower Falls, but the walk strolls through forest-lined pathways and through the natural caves. Here you can see the waterfall up close from a viewing platform.
Because of its close proximity to the city, this boat trip in Antalya is only half a day, so the rest of the day is spent exploring some of the top attractions in the city, such as Hadrian Gate and the old city of Kaleici.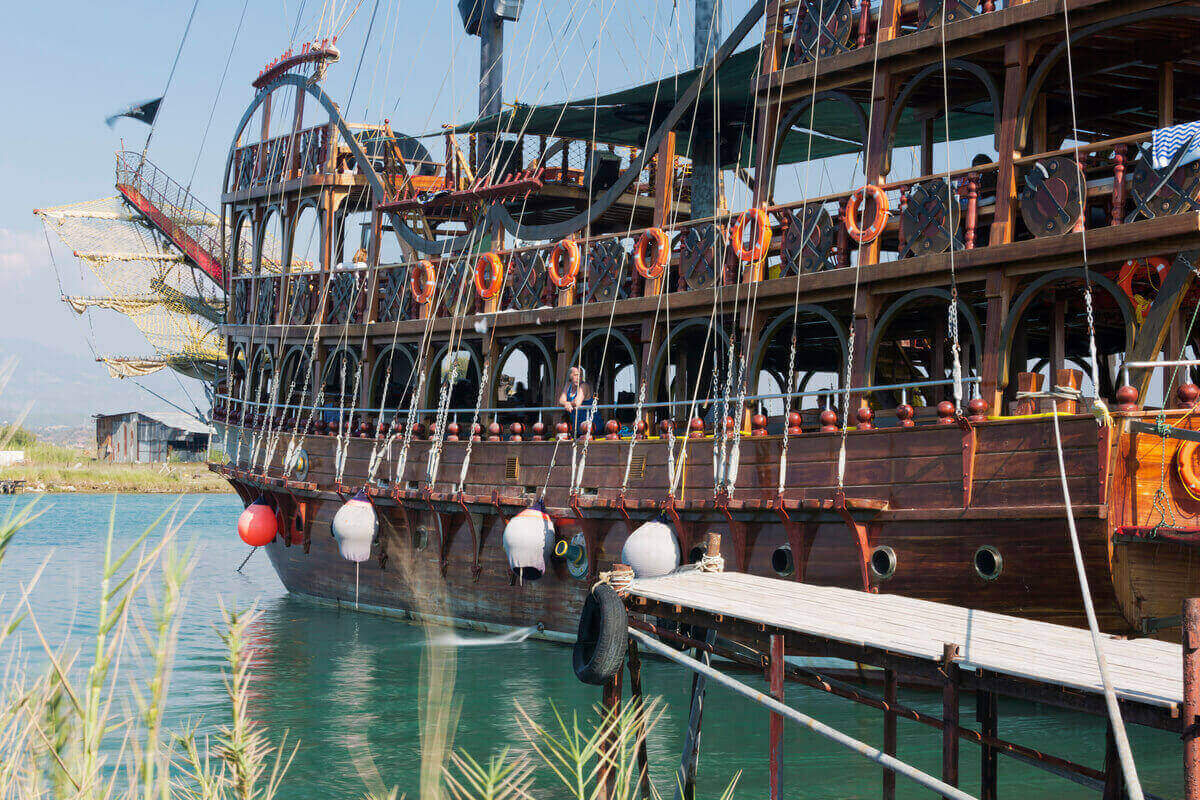 Another historic boat tour in Antalya takes you to the Manavgat coast. Here you can see sea turtles sunning themselves by the bay, followed by a visit to a 2nd-century-old Roman temple of Apollo.
After visiting the lively town of Manavgat and exploring the markets, you'll get to spend time swimming in either the sea or river. The boat will cruise down the river so you get an excellent view of the town and all its bustling atmosphere.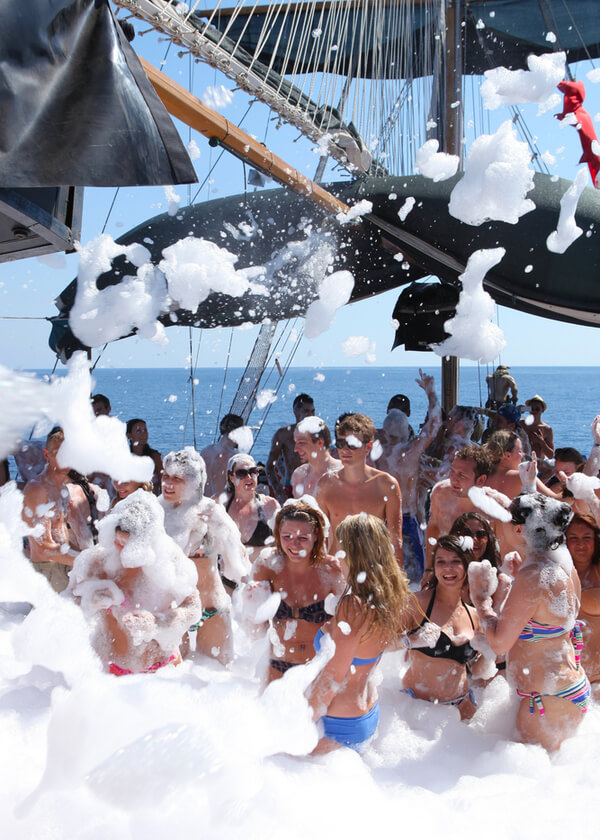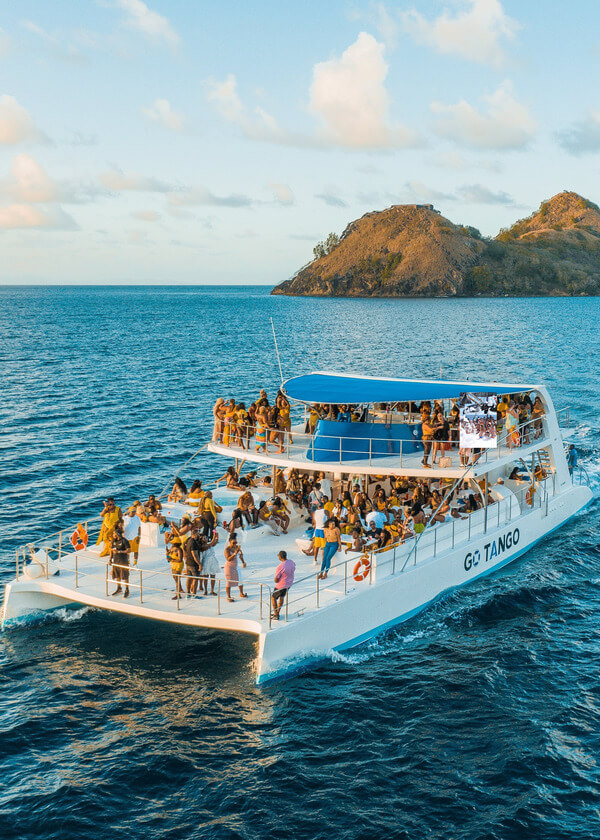 Antalya's nightlife and party scene are second to none, and it's one of the major reasons why Antalya is worth visiting. But for a truly unique party experience, grab your bikini and your vodka as the Mega Star is about to set sail on the party cruise of your life!
The boat sails around the stunning Mediterranean ocean, stopping at places where you can swim if you want to. The DJ is dropping hit after hit, and there's even a foam party.
Lunch is provided so you can keep your belly full while you party. There is a full bar service and you will also get picked up and dropped off at your hotel.
---
Private Boat Trips in Antalya
Not everyone likes to spend the day hanging out with strangers. Of course, a private Antalya boat trip is going to cost you more than the group tours, but what you get out of it are a more personal experience, a tailored itinerary, and long-lasting memories.
And if you're traveling as a group and split the cost, it can be quite affordable. Here are the best private boat tours in Antalya.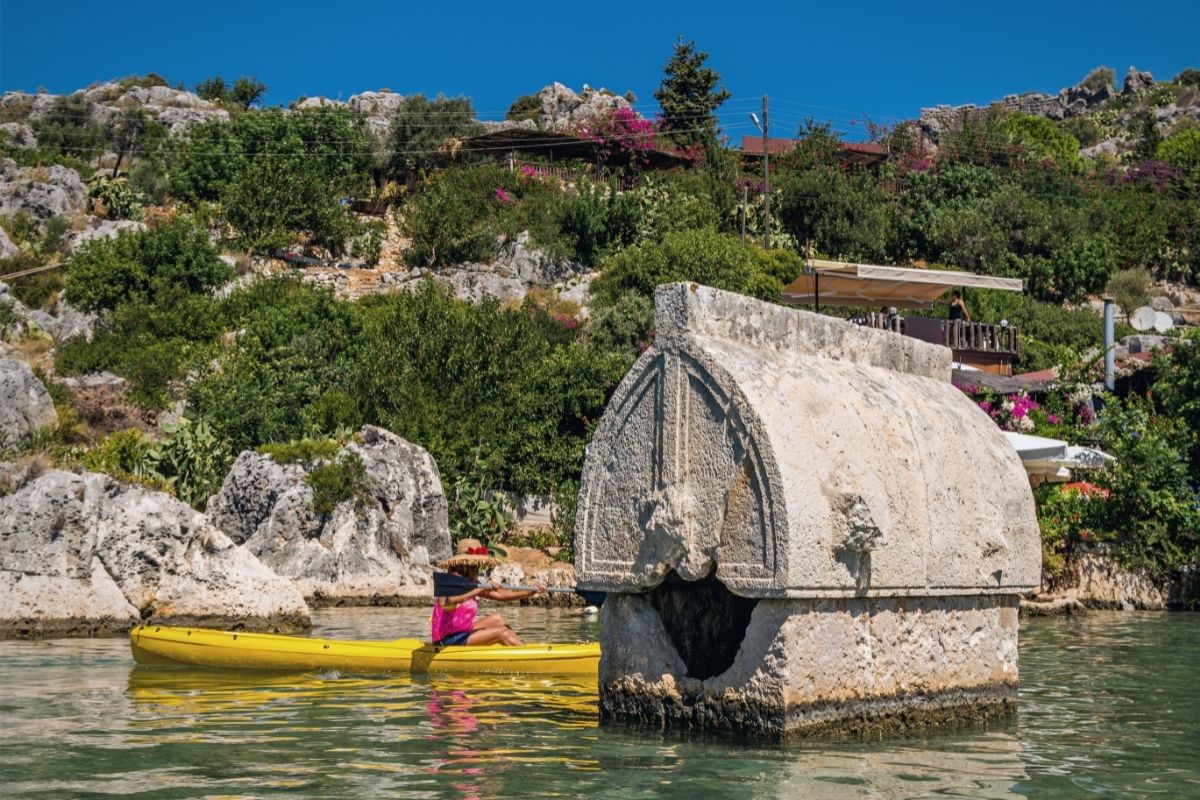 If you fancy visiting Kekova but without the throngs of people, consider booking a private tour. This allows you to go at your own pace, stop off where you choose for a swim, or spend longer exploring ruins and caves.
You'll be joined by a local guide who will share with you their knowledge of the history of Kekova and its ruins. You'll also get a good view of the ruins beneath the surface from the glass bottom of the boat.
The cruise also goes to Akvaryum Bay, which is the perfect place for a swim. The final stop is Kalekoy, an authentic village known for the striking Simena Castle.
If you want to add some water sports to your itinerary, you can do just that as you head to Gokkaya Bay. You also pass by a pirates' cave which is full of majestic natural structures.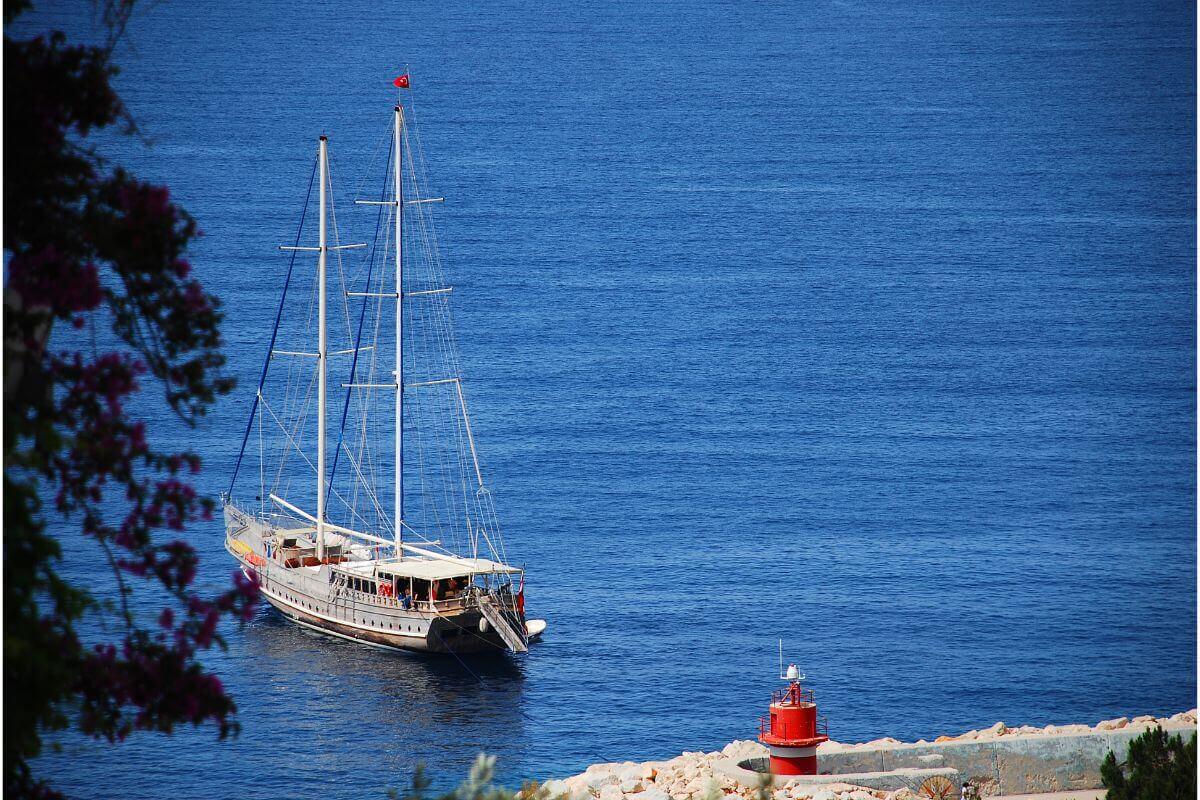 For a unique experience, head to the scenic Kas Islands in Greece, sailing on a beautiful 55-foot (17-meter), traditional wooden gulet yacht.
As you hop from island to island, you'll get plenty of chances to stop and snorkel and swim, as well as see an epic sunken ship and underwater canyon. All snorkel gear can be provided.
The tour includes a Turkish-style lunch and can carry up to 15 passengers, so grab your mates and head to Kas! If there's anywhere special you want to go, chat with your captain, as the schedule and itinerary can be fully customized.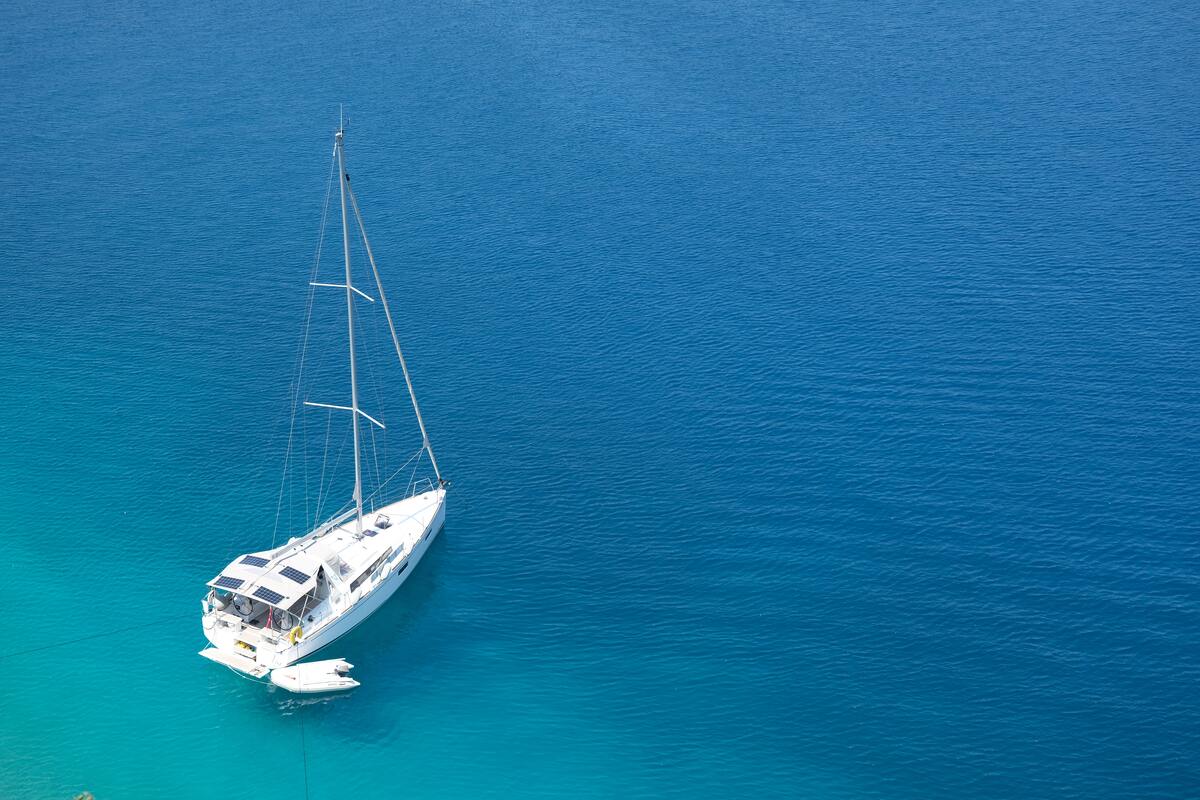 If you want to cruise the gorgeous Turquoise Coast at your own pace and on your own itinerary, no problem! Simply hire your own private yacht and explore!
The yacht is able to carry up to 12 passengers, and you can stop and swim anywhere you want. The yacht also has fishing and snorkeling gear, so no need to pack your own.
You'll be treated to lunch or dinner on board, as well as hotel pick up and drop off. This is the most flexible boat tour in Antalya, perfect for those who love to plan every detail of their trip!
---
Tips for Taking An Antalya Boat Tour
If you've found a boat tour in Antalya that sounds exciting to you, then make sure you consider these words of advice before you book.
Book in advance. Taking a boat tour is one of the most popular day trips in Antalya and it's quite common for boat tours to sell out. Don't leave it to the last minute and book early.
Pack plenty of water. The sun in Antalya is very hot and in the summer, it receives very little cloud cover. Make sure you stay hydrated.
Wear reef-safe sun cream. This follows my previous point about the sun. Protect your skin and wear sun cream, but if you plan on doing some snorkeling, make sure that it's reef safe as some sun creams are harmful to the corals and fish.
Bring snacks. Every boat trip we've taken has usually included lunch, but lunch can sometimes be later in the day at around 2 pm. We prefer to eat a bit earlier, so took some snacks to keep us going.
Bring a towel. You always need a towel, even if you don't plan on swimming. Trust me!
Pack flip-flops. If you're planning on visiting any beaches or islands, flip-flops are a must!
Get a dry bag for your camera gear. We've made this mistake before and came home with a soaking wet camera. Luckily a bag of rice later and our camera was fine. But the bag of rice trick isn't fail-safe so do get a dry bag if you can.
Don't forget your swimsuit! This might seem obvious but we've seen it happen!
---
FAQs About Antalya Boat Tours
Here's what people usually ask us about boat tours in Antalya…
How much is a boat trip in Turkey Antalya?
The cost of group boat trips in Antalya ranges from $20 – $50 per adult and $10-$50 per child. If you are looking to get a private boat tour, you will need to pay for the boat, captain, and crew for the full day. This largely depends on the type of boat and itinerary, but you could spend anything from $800-$2,000 per day.
What is the best Antalya Boat Party?
The best Antalya boat party is the Mega Star Boat Tour which has a DJ, foam party, alcohol, and BBQ, which comes highly rated.
Are there any short boat trips from Antalya?
Yes, there are. The shortest boat trip from Antalya is the Duden waterfalls boat trip which is about half a day.
---
Before You Go
So there you have it, those are the best boat tours in Antalya and as you can see, there are plenty of options to take. We hope this guide helped you plan your itinerary and decide which is the best Antalya boat tour for you.
If you have any questions, or have a boat tour you want to recommend, let us know in the comments!
Disclaimer: Some of the links above are affiliate links. That means if you book or make a purchase through the links, we will earn a small commission at no extra cost to you! The money will help run this site! Thank you!