Those looking for something a little bit different to explore on their trip to Oludeniz should consider taking a step back in time at the Kayaköy Ghost Town.
This abandoned village has a haunting, yet peaceful atmosphere, with many opportunities to capture unique photographs whilst also gaining an insight into the not-so-distant history of Turkey.
If you're thinking of visiting the Ghost Village of Kayaköy but you're not sure what it's about, what to see and do there, or how to get there, then keep reading to discover everything you need to know about this enchanting abandoned village.
---
History of Kayaköy Ghost Town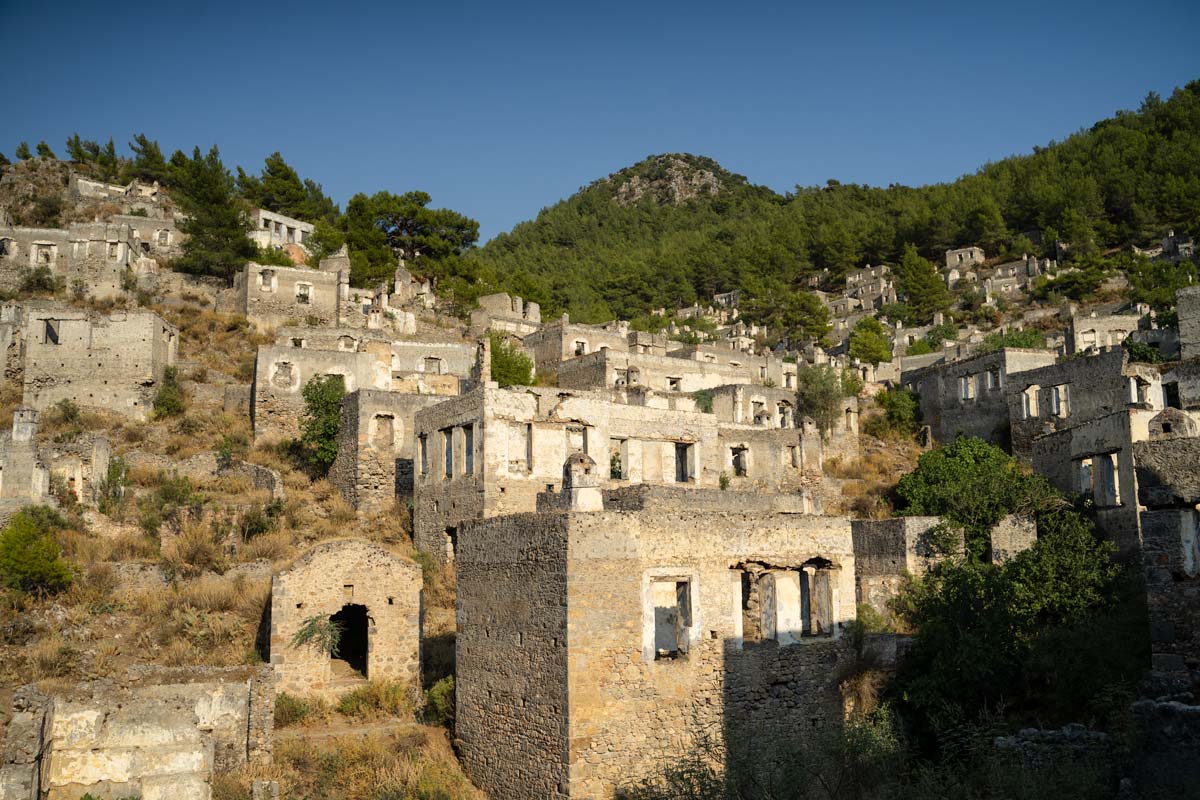 Kayaköy was once known as Karmylassos during the ancient period, with some evidence pointing back to as far as 3000 BC. However, the ruins that lie here today were built in the last half 19th and first quarter of the 20th centuries, and belong to a Greek settlement known as Levissi.
What was once a thriving and wealthy town, was left abandoned in 1923 after a population exchange with Greece, and left to ruin.
There are 760 structures in the town, including two churches (known as Panayia Pirgiotissa and Taxiarhis), 14 chapels, 2 schools, and a customs building.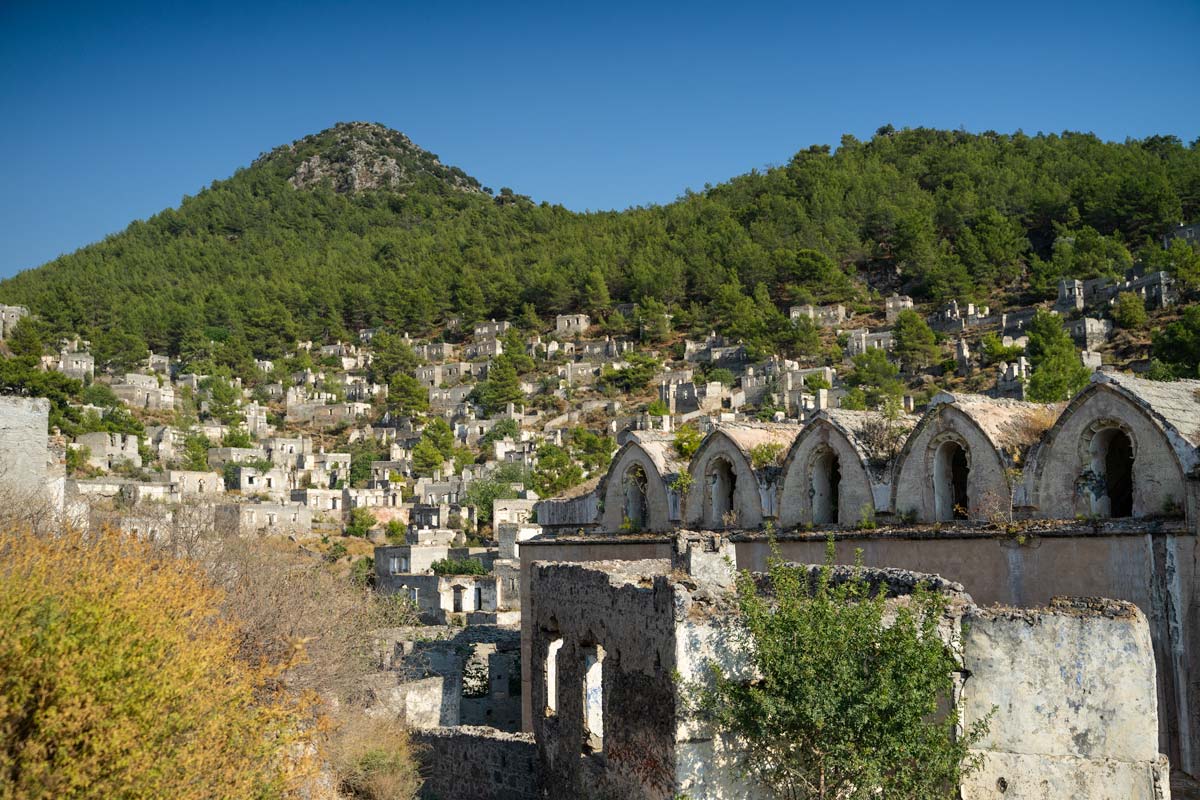 The buildings were built on a natural surface on the hillside, and because there were no springs for water, each building has an accompanying cistern.
The main trade of Levissi was leathercraft, and evidence of pits used for the production of leather still remains in the basements of the homes in the village.
In its prime, the houses would have had wooden roofs and windows, with wooden shutters. They were approximately 50 square feet and built in a rectangular shape, with two stories.
If you want to see what the houses would have looked like, head to the south side of the village where the cafes are located, as you can see some renovated buildings there that are a homage to what the homes would have looked like.
Today, Kadakoy Ghost Village is a protected area.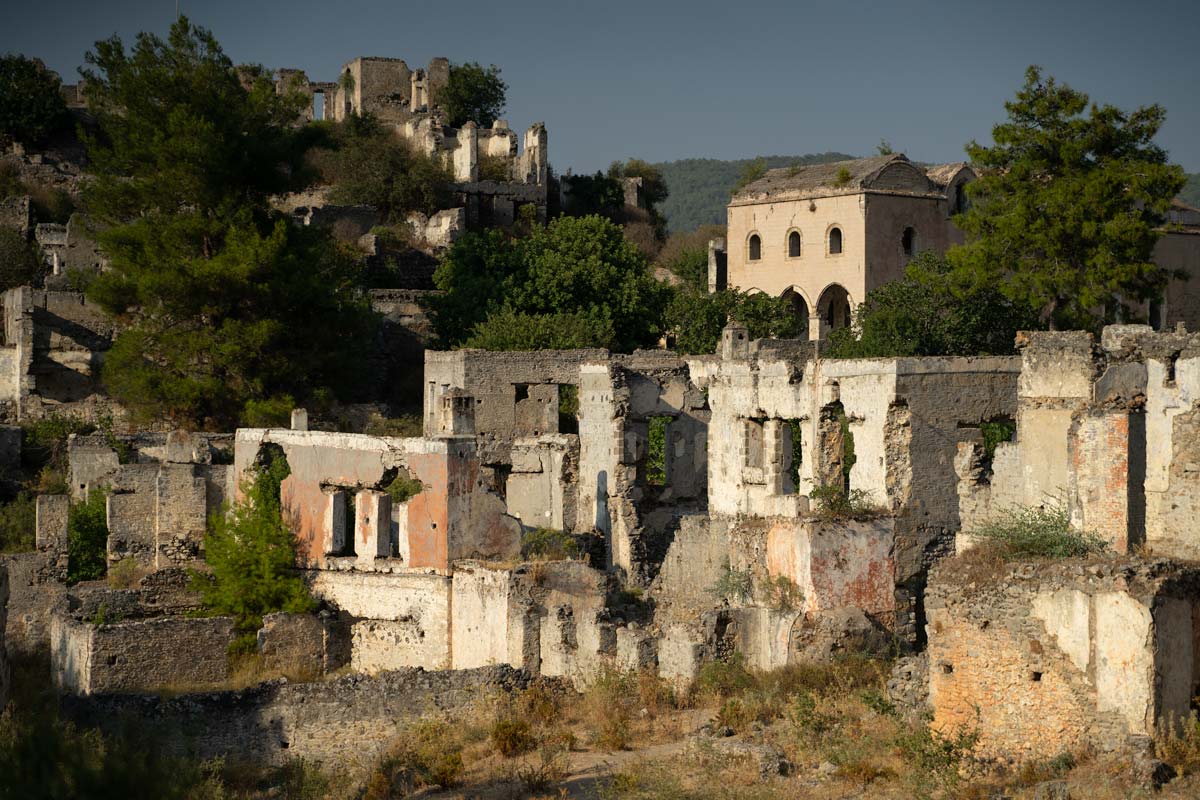 ---
What to see in Kayaköy
Kayaköy is a small village that's best known for its ruins, so named the Ghost Village of Kayaköy. Though most people come to Kayaköy for the ruins, there are plenty of other attractions in the village to check out.
Some of the abandoned buildings have been rehomed and renovated into quaint cafes, art galleries, and restaurants.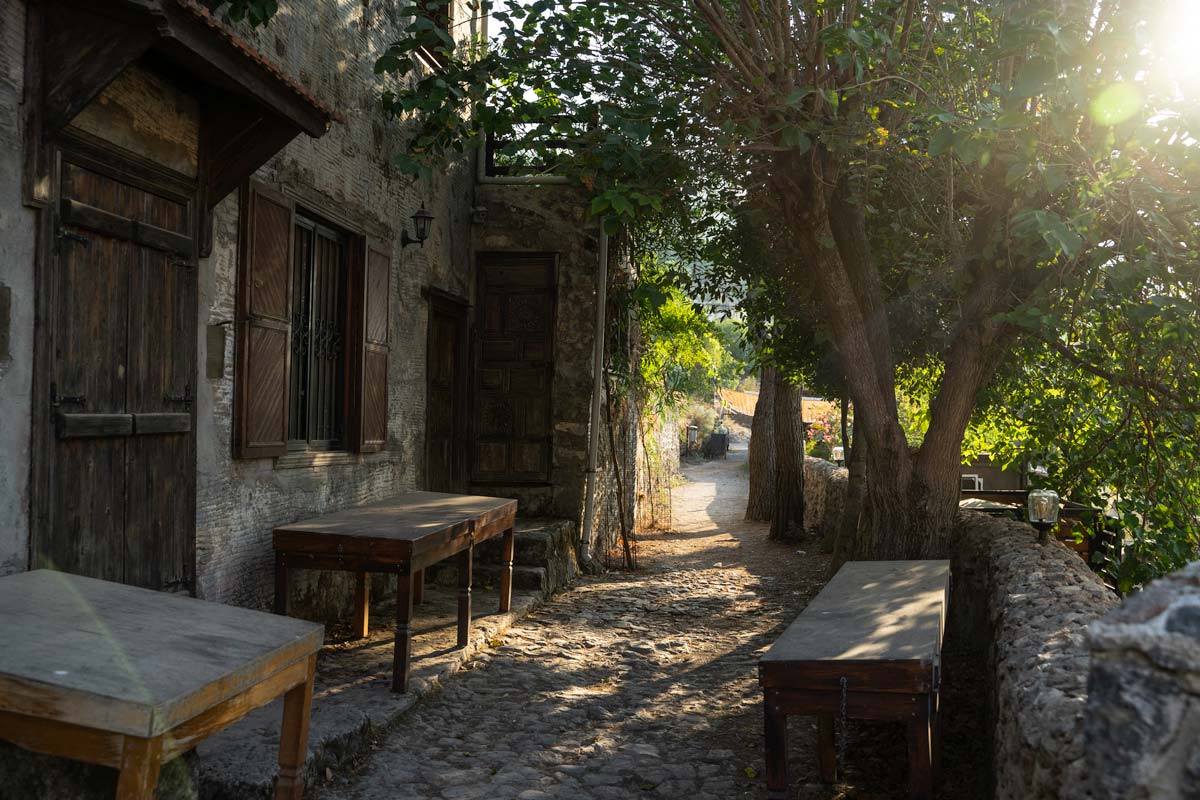 There are also several hotels and resorts in the area that offer a quiet stay near the famous Blue Lagoon in Oludeniz but without crowds.
You can also take a horse riding tour of the village which takes you past the ruins and over the nearby mountain trails.
There is also a quiet and secluded beach just 1.5km from Kayaköy, called Soguk Su Koyu, which you can access by hiking through the forest trail of the Ghost Village. You will find the entrance to the trail by the restaurant entry gate and then follow the red-painted spots and arrows.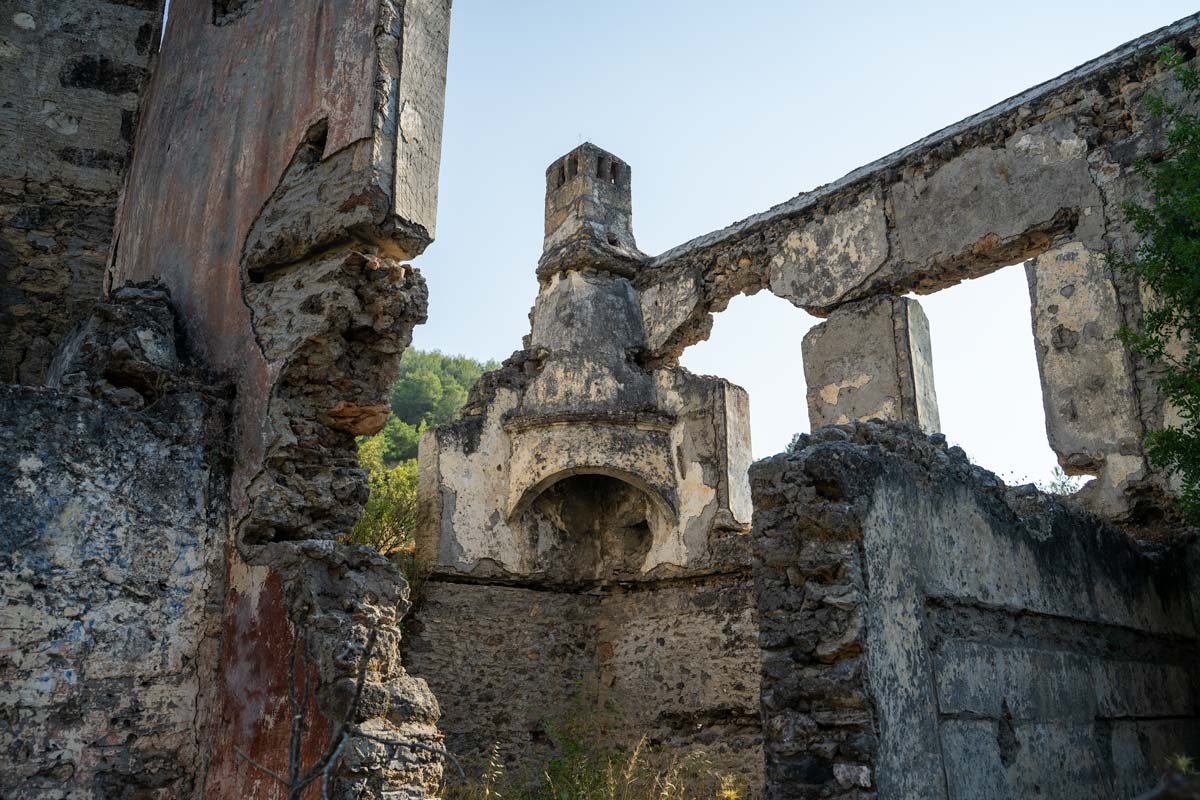 Inside the Ghost Village of Kayaköy, there are a few structures you should make sure not to miss. The first is the old school, located at the top of the hill. From here you have incredible views of the ruins and surrounding mountainous landscape.
There are also two churches, which are both very well preserved compared to some of the houses in the village. You cannot enter the churches due to safety concerns, but you can still admire the beauty of their architecture through the chainlink fences.
You should also make sure to look out for cisterns and hearths (fireplaces) still attached to the buildings. The buildings with cisterns on the outside were a sign of wealth, and many of the buildings still have their cisterns in tact (be careful not to fall in any!).
---
How to Get to Kayaköy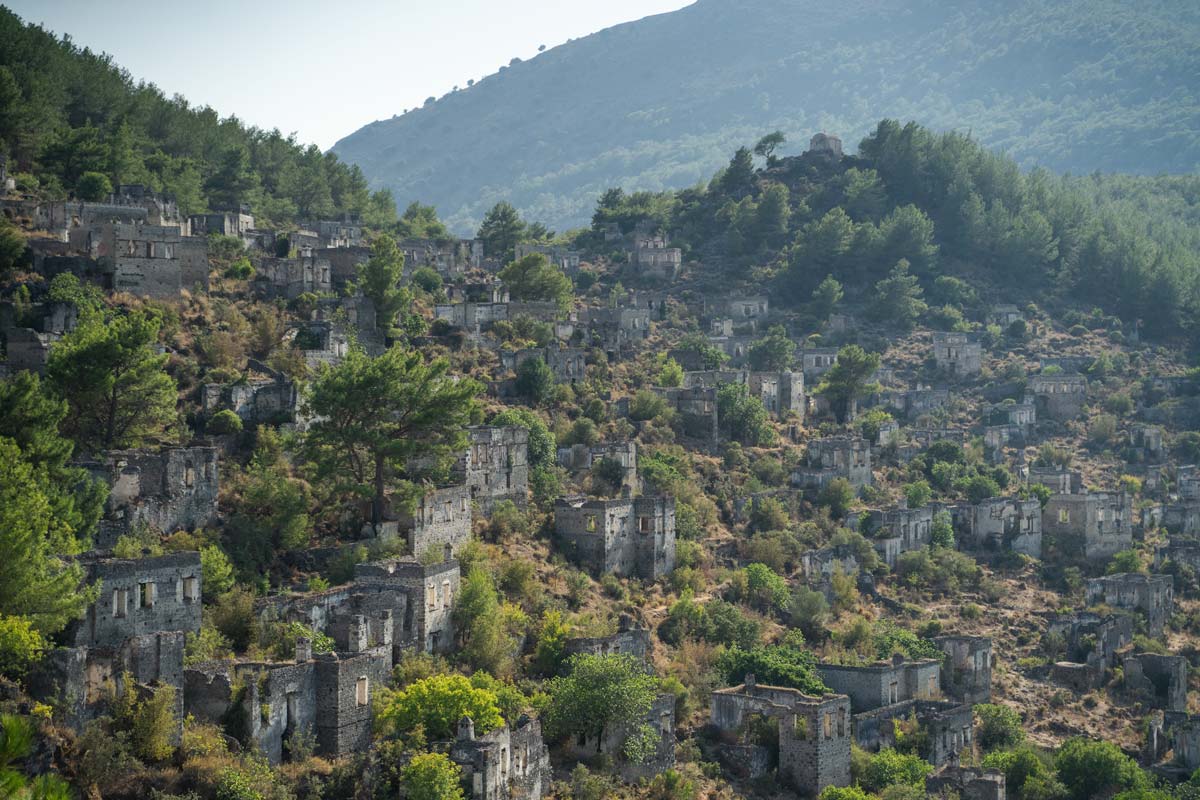 To get to Kayaköy you must first get to Fethiye. You can get a dolmus (minibus) from Dalaman Airport directly to Fethiye and it takes around 1 hour.
From the bus station, you should walk a short distance to the Erasta shopping mall. From outside the shopping mall, you will see a bus stop – this takes you to Kayaköy via Oludeniz (the town only, not the beach).
The minibus comes every 15 minutes and accepts cash and card payments. Note that there are not so many buses coming back, so you may have to sit a while at the bus stop in Kayaköy for a bus. There is a bus stop outside the entrance to the Kayaköy ghost village.
If you don't want to wait, you can get a yellow taxi from a taxi stand on the main road in Kayaköy, though they charge by the meter which can be quite expensive.
Related Reading: Things to Do in Oludeniz and Fethiye
---
FAQs About Visiting Kayaköy
How long does it take to visit Kayaköy?
How long you spend in Kayaköy really depends on how interested you are in the village. It's quite a large village but there are only two or three paths (well, paths you can access) so it doesn't take more than an hour to see the main portion of the village. However, we also walked down the main road to see the second church, water fountain and stop by the cafes, which took another hour. Allow 2-3 hours for your visit to the whole village of Kayaköy.
How much is the entrance fee for Kayaköy?
The entrance fee as of August 2023 is about $2 USD (60 Turkish Lira), however as the Lira fluctuates it may not be 60 Lira at the time you visit. Expect to pay around $2 for your entrance to the village.
When is the best time to visit Kayaköy?
The best time to visit is in the evening at around 4.00-5.00pm when the crowds have dispersed. The ticket office closes at 6.00pm, but there is no gate so you can still wander around the village as long as the sun is still up. Alternatively, go early in the morning and miss the tour buses.
What are the opening hours of Kayaköy?
The ticket office is open from 8.30am – 6.30pm from May – October, and 8.30am – 5.00pm from November – April.
---
Before You Go
Whether you're a history buff, photography enthusiast, or you've just had enough of the beaches in Fethiye, be sure to add Kayakoy in Turkey to your list of things to do.
Although eerily still and magnificent, it's amazing to see how nature has reclaimed this village in as little as 100 years. It's also still easy to see how this village would have looked in its prime, which would have been bustling and beautiful.
Kayaköy serves as a fascinating reminder of what happens when we leave nature to take its course.