Turkey's turquoise coast is one of the most beautiful regions in the country and is mostly associated with beautiful beaches and serene nature.
But there are more things to do in Oludeniz and Fethiye besides the beach, though to be clear, with all coastal towns you can expect a lot of the attractions to take you out on the water!
Known for its breathtaking natural beauty, Ölüdeniz and the nearby city of Fethoye offer a plethora of activities and attractions that cater to every type of traveler.
Whether you're looking for the most beautiful beach to wind down on, you're an adventure seeker looking to try your hand at paragliding, or you want to discover some hidden gems – here are all the unmissable things to do in Ölüdeniz you cannot miss!
---
Things To Do In Oludeniz
1. Relax on Ölüdeniz Beach and The Famous Blue Lagoon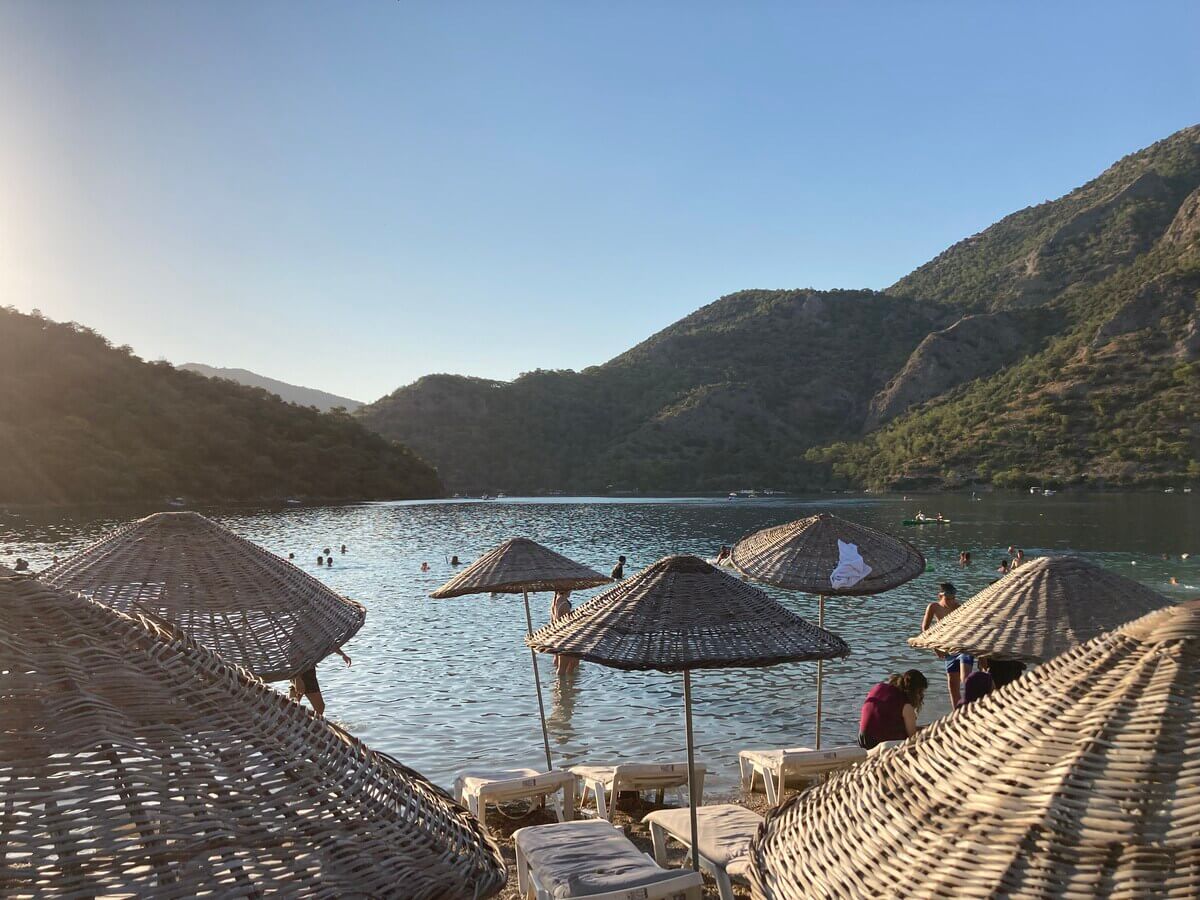 Let's kickstart our list with the main reason people visit Oludeniz in the first place. The iconic Ölüdeniz Beach (and Belcekız Plajı) and the Blue Lagoon is the most photographed spot in Turkey and is THE beach you see on all the postcards.
It's known for its crystal-clear turquoise waters, which are as breathtaking in person as they are in pictures.
Nestled within a breathtaking natural landscape, Oludeniz Beach and the Blue Lagoon captivates visitors with its idyllic setting, surrounded by lush green hills and mountains, and a long stretch of sand that cuts off the lagoon to the ocean provides a tranquil escape from the bustling world.
There's no shortage of ways to enjoy the azure waters of the Aegean Sea here. You can partake in numerous watersports, such as parasailing, boat tubing, or jet skiing. If you prefer something more relaxing, rent a paddle board or paddle boat in the lagoon area.
You can even grab a snorkel mask and dive beneath the surface to discover the vibrant marine life that swims near the ocean water's edge.
Visiting Oludeniz Beach is the most popular thing to do in Oludeniz, so if you want to avoid the crowds, I recommend you visit after 5 pm when the families head off and the beach is less crowded.
Note that the Blue Lagoon is in a nature reserve (it's free to enter) but it does mean the beach closes at 8pm.
2. Go Tandem Paragliding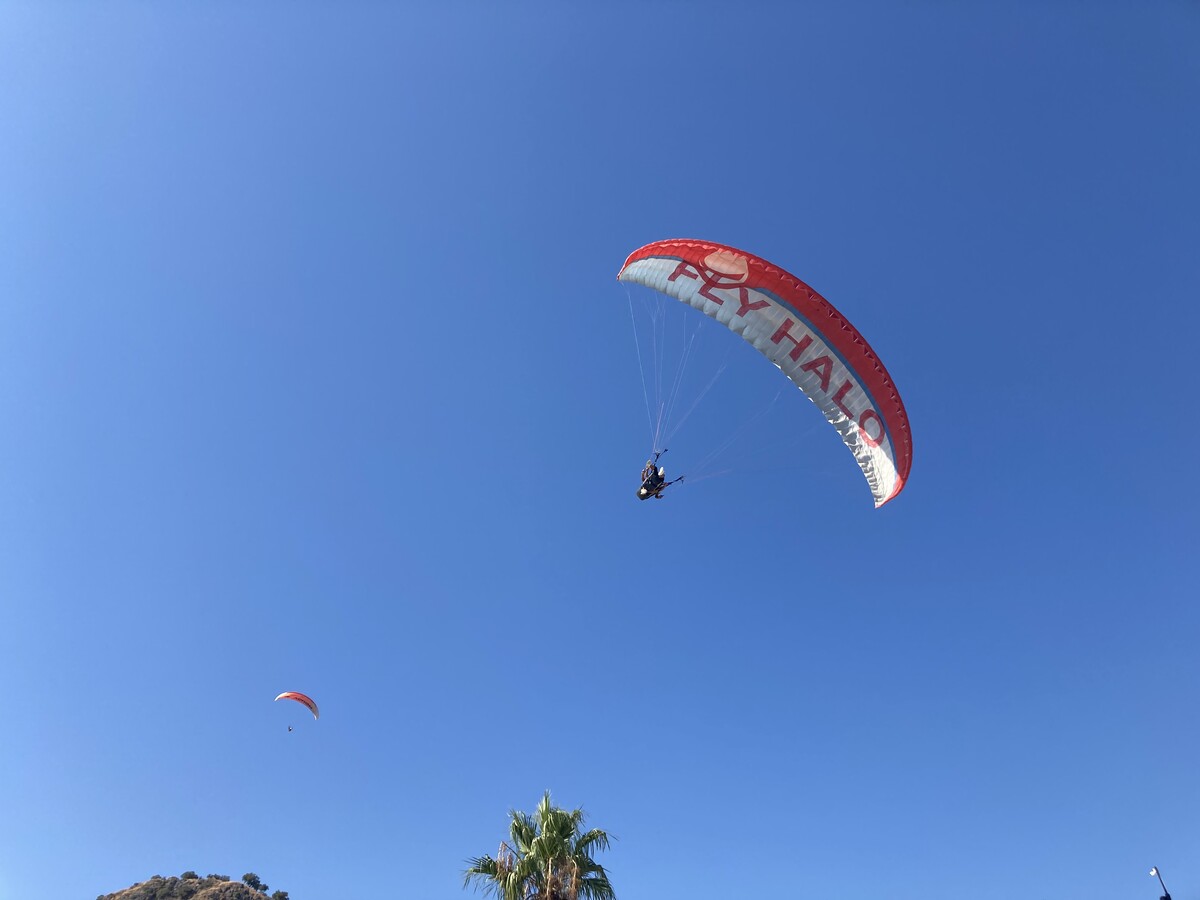 One of the most popular adventurous things to do in Oludeniz is paragliding, which sees hundreds of thrill seekers taking to the skies throughout the day.
Experience the thrill of flying over Ölüdeniz's stunning landscapes with a tandem paragliding adventure, looking down over the Blue Lagoon and over the rocky arid mountains.
It's an adrenaline-pumping activity that will leave you with memories to last a lifetime. It's also considered one of the best places in the world for paragliding, as you launch from 6500 ft (1960 meters), one of the highest take-off points in the world. This means you get a flight time of around 25 minutes.
Best of all is that the weather is usually always on your side, and it's said that 80% of days are flyable.
If you're not sure you're up for paragliding, head over to Oludeniz Beach to watch the paragliders come in to land on the boardwalk. It still amazes me how they are allowed to land where people are walking, so be mindful of that when you're wandering along the promenade!
3. Visit the Ancient Ghost Village of Kayaköy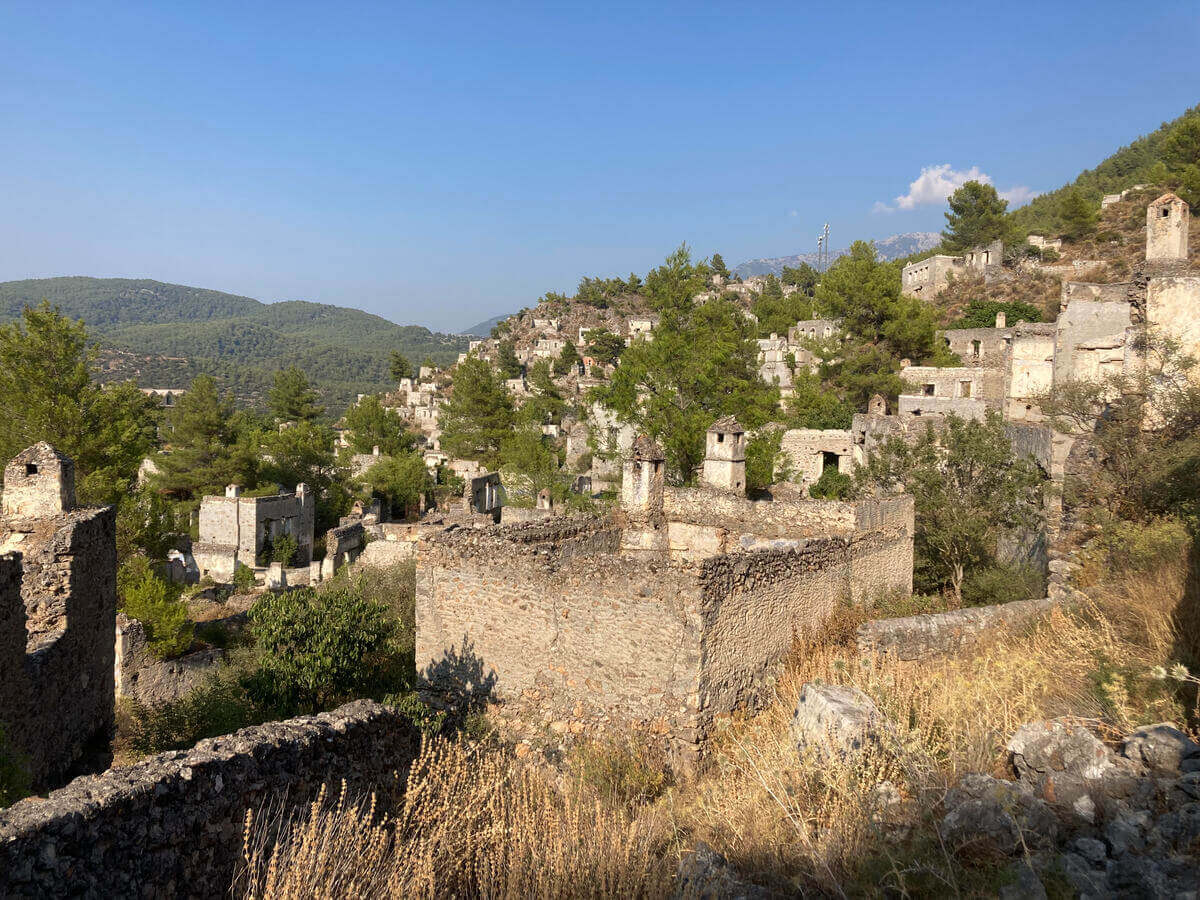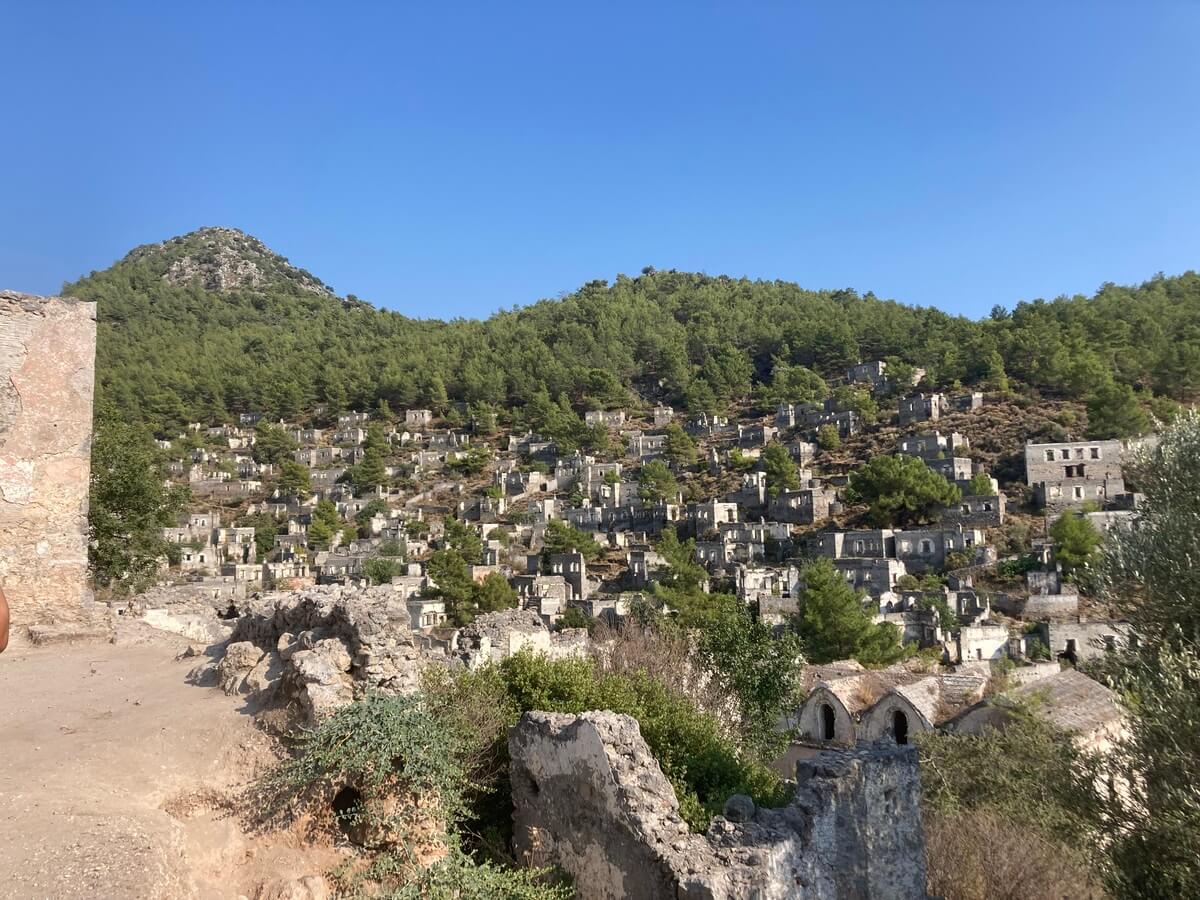 For history buffs, you'll find the captivating and alluring abandoned village of Kayaköy a real treat. Once inhabited by a Greek community, it now stands as a hauntingly beautiful ghost town with well-preserved ruins.
It is said that the town, which was once called Karmylassos, was inhabited as far back as 3000 BC. However, the houses you see standing on the slopes were built during the late 19th and early 20th centuries and became completely abandoned after a population exchange in 1923.
The buildings were left to decay. The once wooden roofs and windows have now gone, and the stone walls, cisterns and fire places are now largely rubble. What you can see now are the ruins of 176 houses, 2 churches, 2 schools, and 14 chapels.
As you explore the abandoned houses, churches, and streets, you can visualize what this town might have looked like in its prime.
4. Discover Butterfly Valley and Kelebekler Vadisi Beach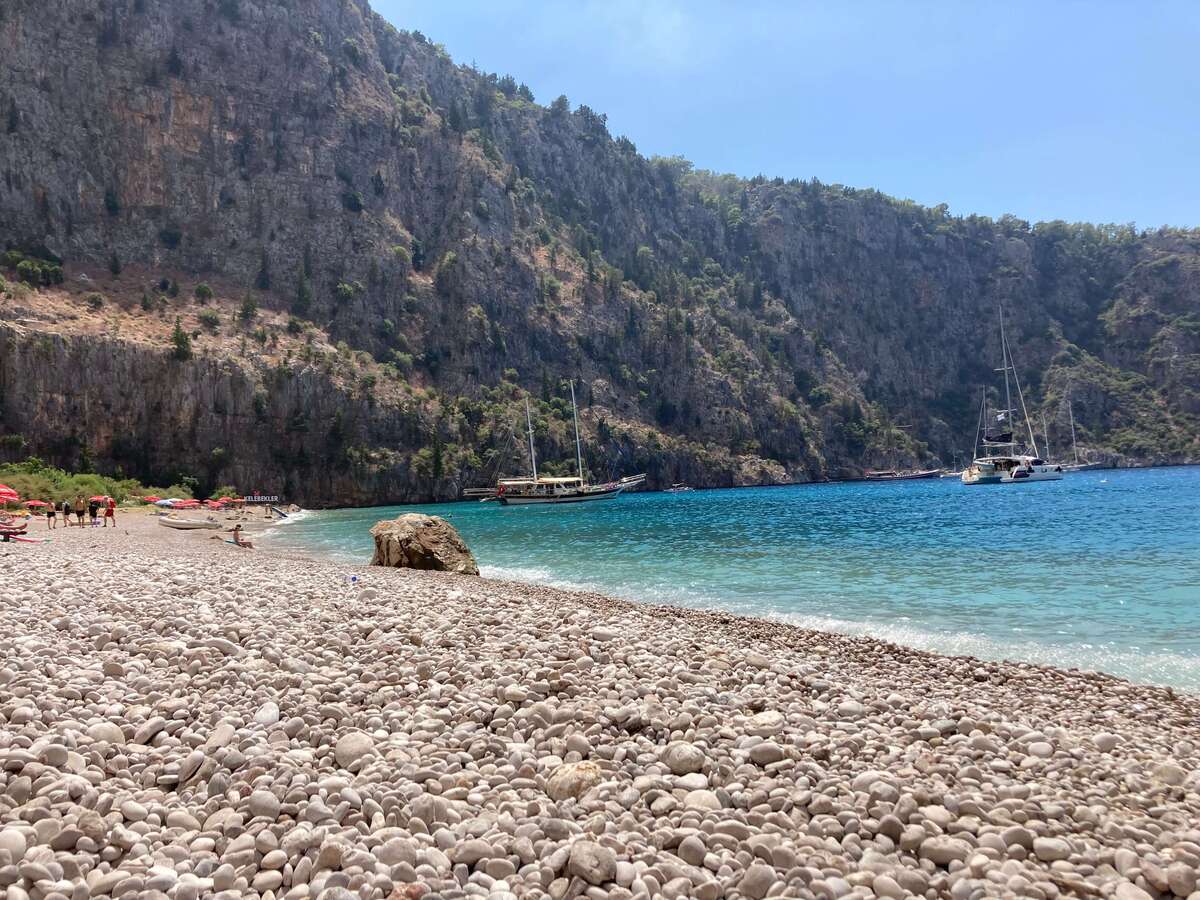 For a quieter escape, get on a boat to explore the enchanting Butterfly Valley, nestled in the middle of a towering gorge just 30 minutes by boat from Oludeniz Beach.
This gorgeous peddle beach is remote and peaceful, and during the right season, is also home to over 80 species of butterflies.
Get an early boat and enjoy a few hours of swimming in the pristine waters. Boats leave from Oludeniz Beach (opposite the bus station on the beach) and depart every hour, on the hour, from 1pm – 4pm. The last boat back leaves at 5pm.
Insider tip: Be sure to get the 1pm boat and leave around 4pm, as the big boat tours come here from 3.30pm onwards and can ruin the peaceful ambiance.
If you prefer quieter beaches, then check out our guide to the best beaches in Fethiye which has some more off-the-beaten-track recommendations.
5. Explore Saklikent Canyon Gorge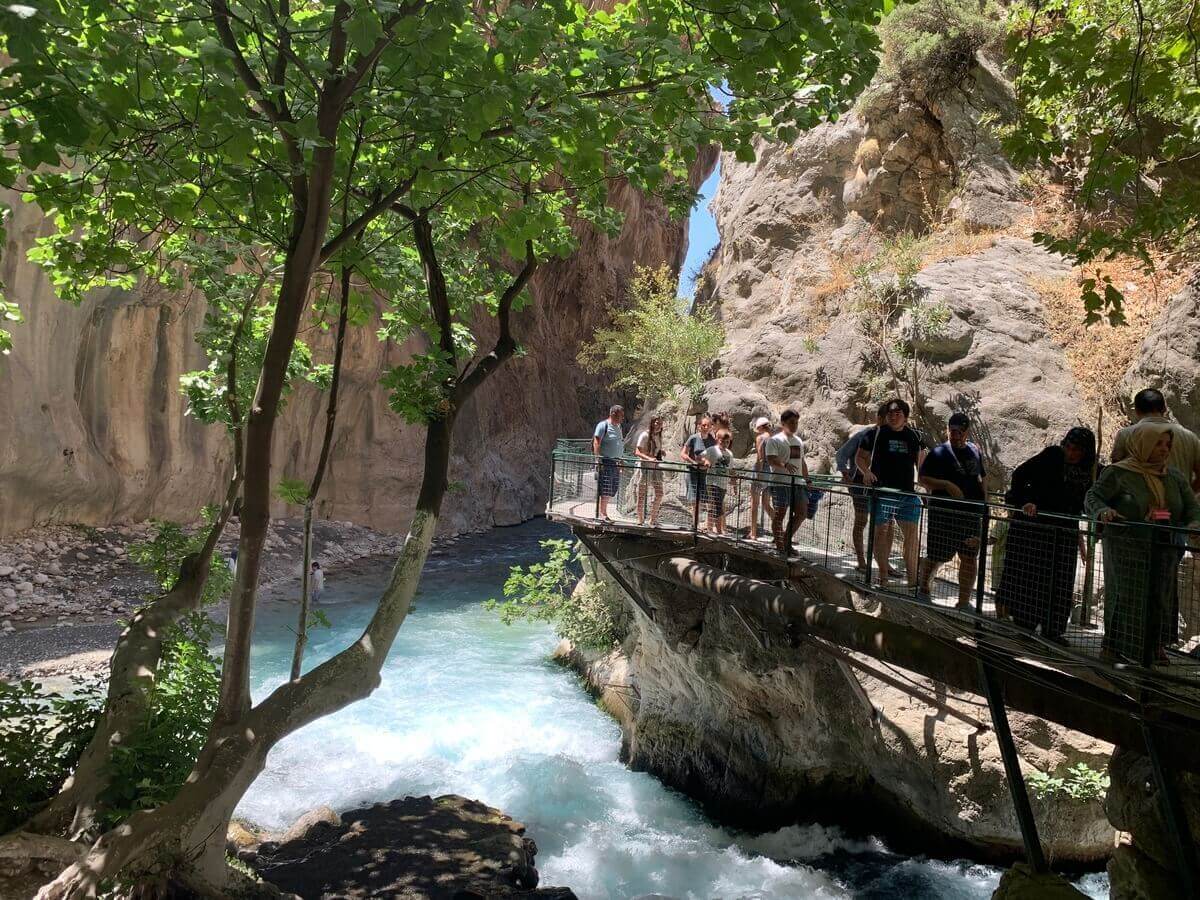 If you enjoyed Butterfly Valley, then you're going to love Saklikent Canyon Gorge, located in the Saklikent National Park.
Venture into the breathtaking Saklıkent Gorge, one of Turkey's most impressive natural wonders. Hike through the narrow canyon, wade through the refreshing waters, and marvel at the towering cliffs surrounding you.
It's an adventure that offers a unique escape into nature's embrace.
6. Experience The Oludeniz Nightlife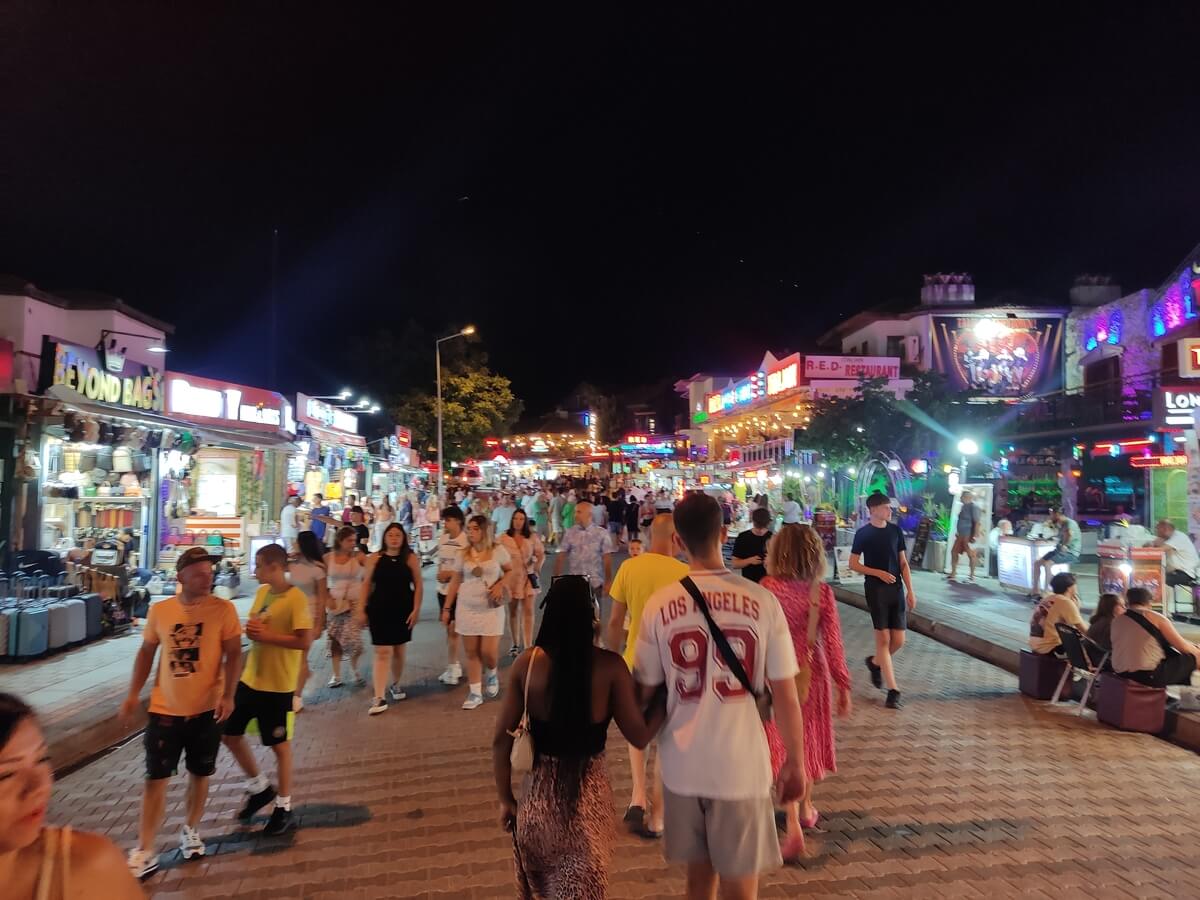 Ölüdeniz nightlife is often vibrant and energetic, attracting thousands of tourists from all over the world (though mainly British and Russian from our experience). The bars in Ölüdeniz come alive at night, with lively party venues and clubs playing loud pop music until the early hours of the morning.
The nightlife in Ölüdeniz typically kicks off around 10.30 pm when the restaurants and bars begin to transition into dancing haunts, with dancers and DJs climbing onto stages and bars, attracting people into their establishments with their vibes.
You can also venture down onto Oludeniz Beach and find a less "party-goer" atmosphere from the beach bars on the strip, which are a bit more laid-back and relaxed, where you can sip cocktails under the starry sky.
Whether you prefer a casual night out or a pulsating club experience, Ölüdeniz nightlife has something for everyone to make their evenings memorable.
If you're not a fan of partying, then I recommend you stay closer to Oludeniz Beach or in Fethiye as the bars in Oludeniz Town Center will be loud and lively every night of the week.
7. Take a Boat Tour on a Pirate Ship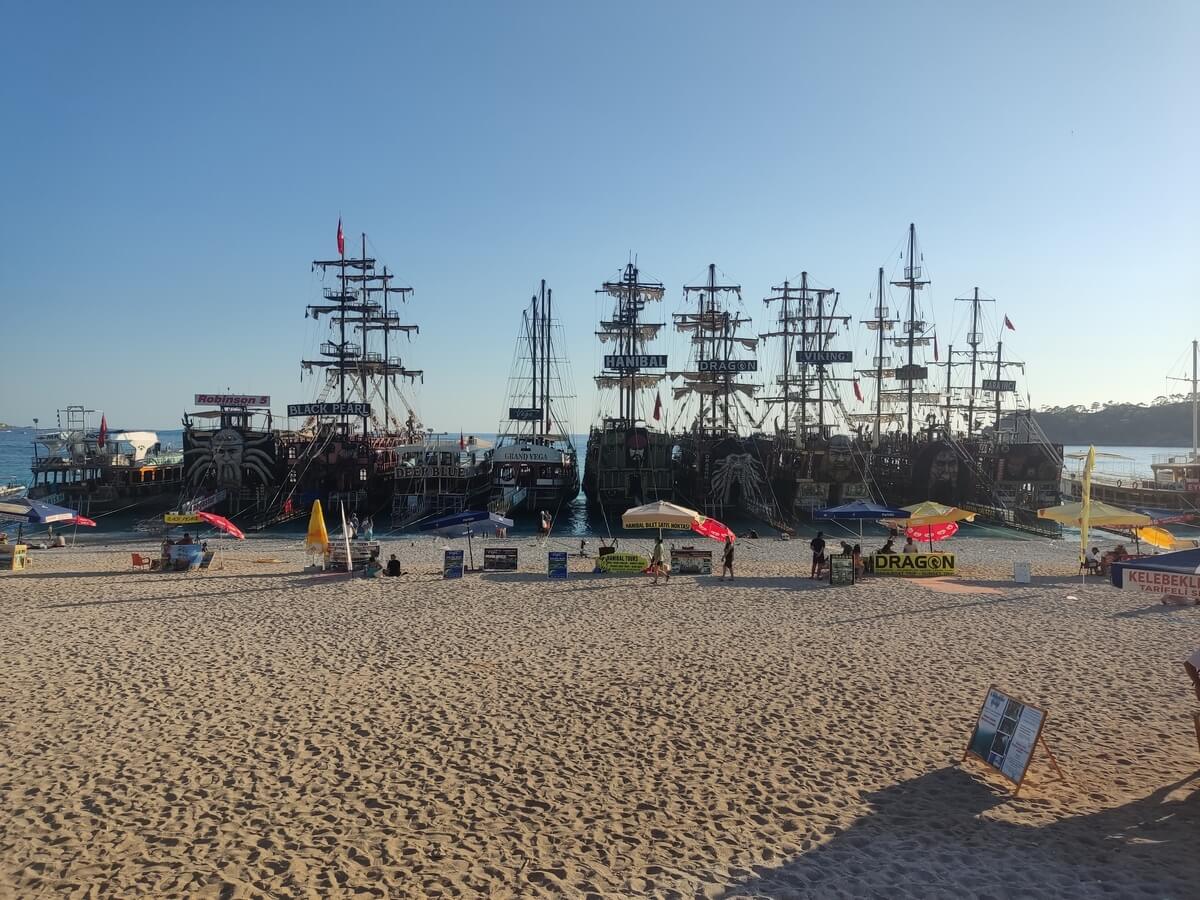 Another top thing to do in Oludeniz is to hop aboard a boat tour and explore the stunning coastline of Ölüdeniz! You can choose between a small group tour on a small speed boat, or climbing aboard one of the iconic pirate ships with hundreds of other people.
Note if you plan to join the ships, there is a real party ethos with loud music, lots of drinking, and dancing.
Personally, I like the smaller boats, which take you to the same locations, but have a more relaxing and intimate experience.
There are several boat tour options you can take, but if you only have time for one, I recommend the 12 Islands Boat Trip which takes you to check out the ruins of the Greek and Ottoman Empires as well as offers many chances to dive into the calm, azure waters of the Mediterranean Sea.
You visit the beautiful Turkish Island, Göcek Island, and have a BBQ, then head over to visit Dockyard Island, see a sea cave at Cavy Bay, and discover hidden beaches accessible only by boat.
8. Pamper Yourself at a Turkish Bath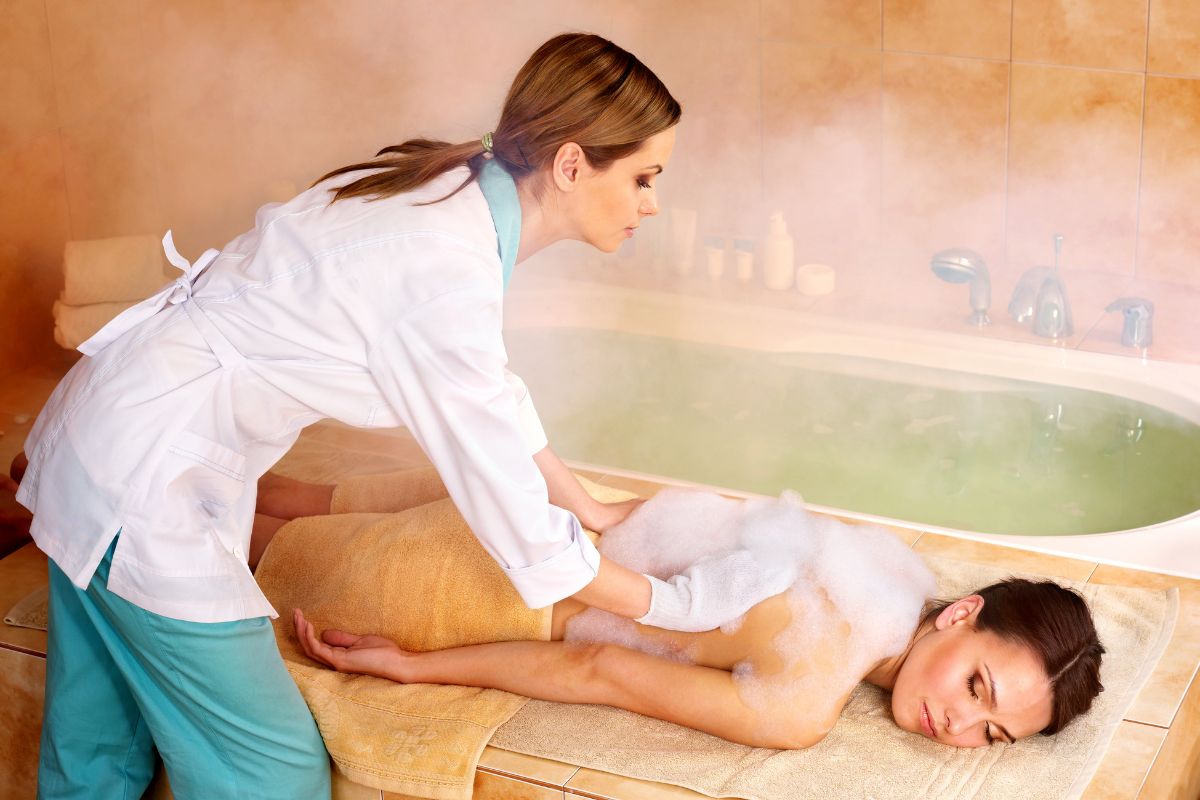 Treat yourself to a rejuvenating experience at one of Fethiye's renowned Turkish baths. Indulge in a traditional hammam, where you'll be pampered with a relaxing foam massage, aromatherapy oil massage, sauna, and invigorating steam bath.
If you've never had a Turkish bath before, consider it a deep cleansing and rejuvenating experience. They have been popular since the Greek and Roman periods and will not only make you feel totally relaxed but also improve muscle circulation.
It's the perfect way to unwind and rejuvenate during your vacation.
9. Go On A Jeep Safari
A Jeep Safari Tour is an exhilarating adventure that allows you to explore the stunning natural beauty surrounding Fethiye and Oludeniz. This tour takes you off the beaten path, giving you a chance to witness breathtaking landscapes and experience the thrill of off-road driving.
The tour begins with a pickup from your hotel and takes you on a journey through rugged terrains, pine forests, and picturesque villages. You'll have the opportunity to visit hidden gems such as Saklikent Gorge and Tlos, an ancient Lycian city, where you can immerse yourself in history and culture.
Throughout the tour, you'll have the chance to swim in refreshing natural pools, enjoy a delicious lunch, and take in panoramic views of the surrounding mountains. The experienced guides ensure your safety and provide informative commentary about the region's history and landmarks.
This Jeep Safari Tour is perfect for adventure enthusiasts and those seeking an adrenaline-filled day exploring the stunning landscapes of the region.
10. Have a Game of Mini Golf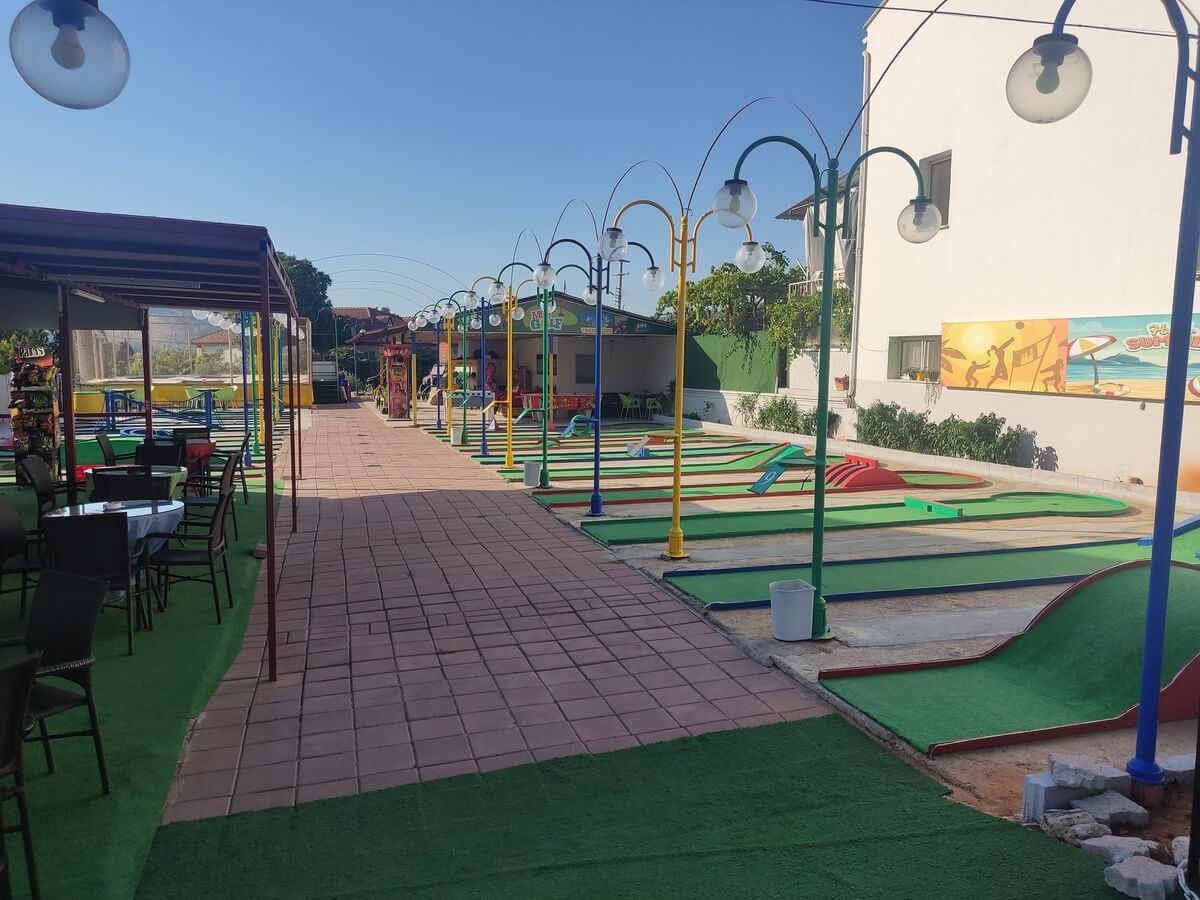 If you're looking for fun things to do in Oludeniz at night, head over to the mini golf course in the town. The courses are creatively designed with some challenging obstacles, tunnels, and features, adding an extra element of excitement to the game. Don't worry though, they are not too challenging so even younger kids can play and have fun.
By playing at night, you can enjoy a game without worrying about the strong sun beating down on you, whilst also seeing the courses light up with LED lighting.
Grab a beer from the bar, grab a few friends, and enjoy a fun family outing or a friendly competition playing mini golf in Ölüdeniz!
11. Take the Kids to Aktur Lunapark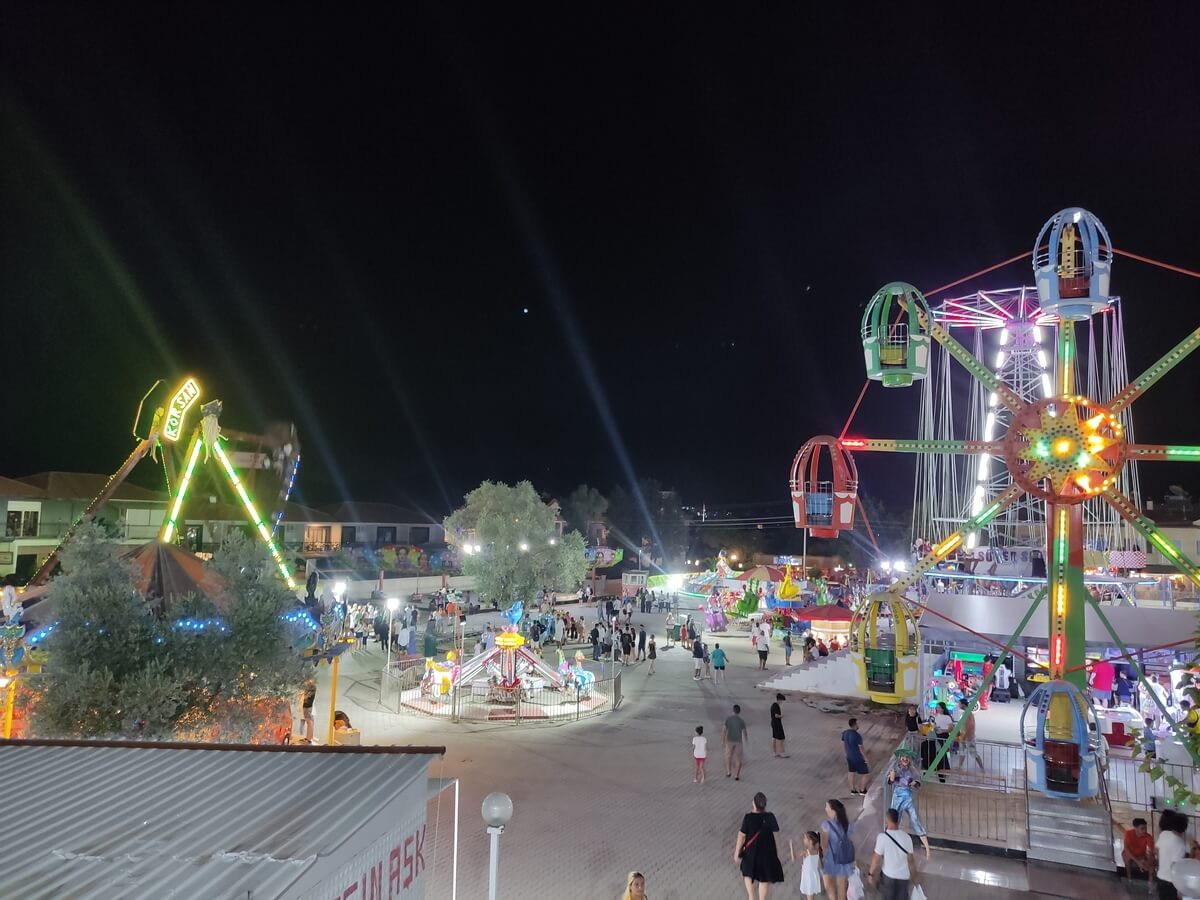 Another fun thing to do in Oludeniz with kids is to visit the Aktur Lunapark, located in the town of Oludeniz.
Aktur Lunapark is a popular amusement park that offers a thrilling and entertaining experience for visitors of all ages. With a variety of rides, games, and attractions, it's the perfect place to unleash your inner child and create lasting memories.
From heart-pumping rides to classic carnival games, trampolines, and a Ferris Wheel, there is something for everyone to enjoy.
The park is small and open until late, so it's the perfect evening activity for before dinner or after the sun goes down.
12. Take the Cable Car to Babadağ Teleferik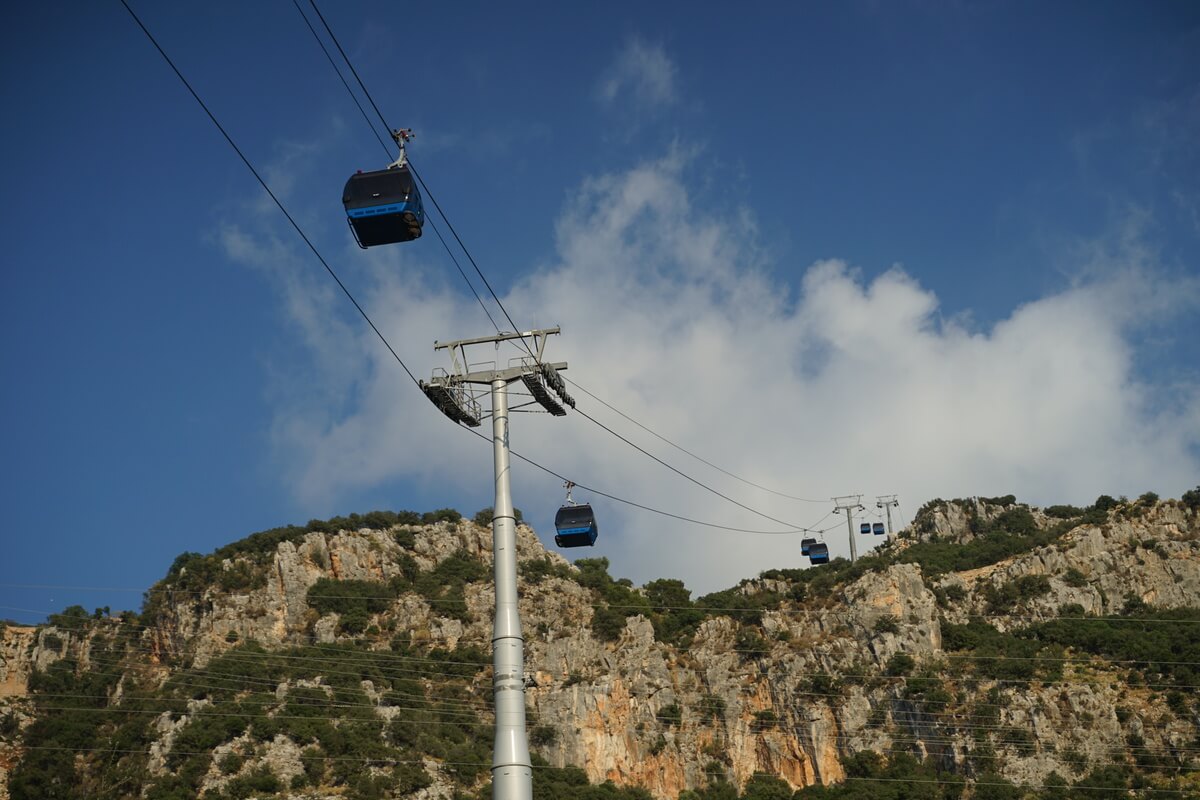 Taking the Cable Car to Babadağ Teleferik is another way to experience incredible views of the coastline and the Taurus Mountains.
As you ascend to the top of Babadağ Mountain, you'll be treated to breathtaking panoramic views of Ölüdeniz, its crystal-clear turquoise waters, and the surrounding picturesque landscapes.
The cable car ride is smooth and comfortable and takes around 16 minutes to the top. Once you reach the summit, you can take in the stunning vistas or simply enjoy a peaceful picnic amidst nature's grandeur.
Whether you're a nature lover, an adventure seeker, or simply looking for a memorable experience, be sure to take this cable car!
13. Hike the Lycian Way for Views of the Blue Lagoon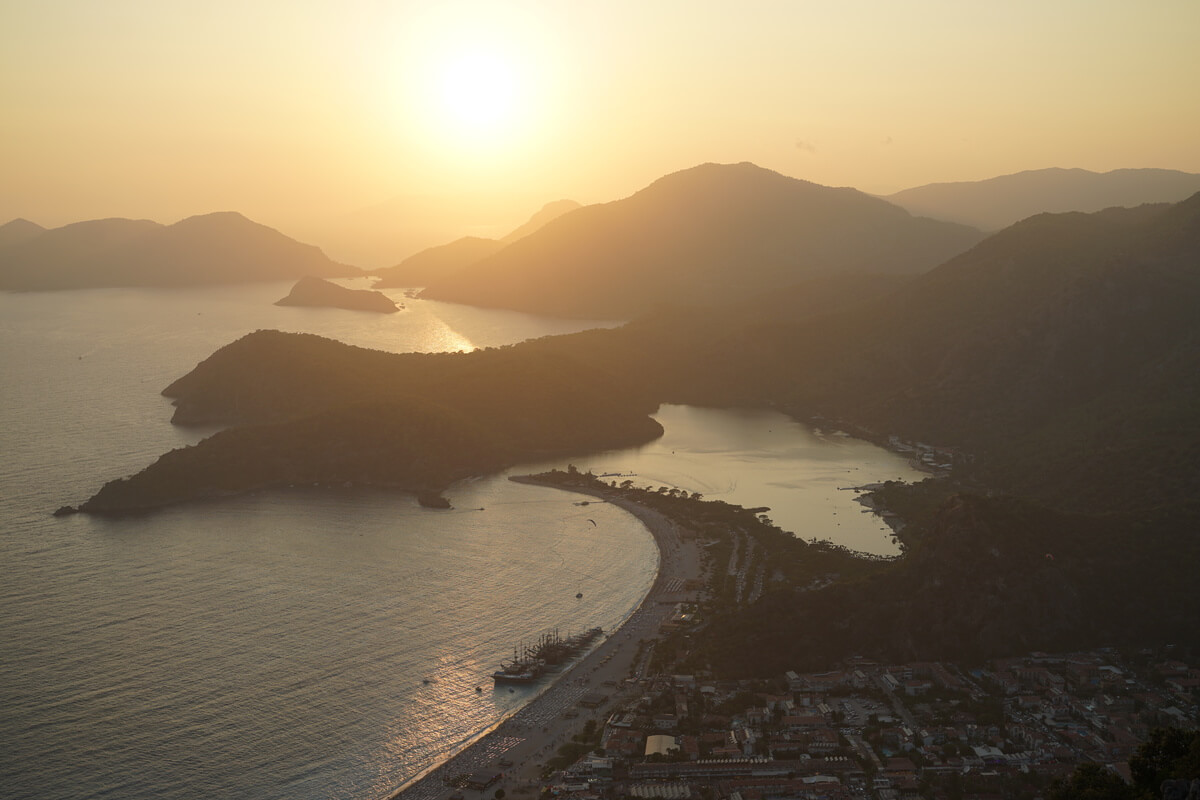 If you want to get those iconic views of the Blue Lagoon from above without paragliding, then the easiest way to do this is to hike the last section of the Lycian Way.
The Lycian Way is a famous, historic multi-day trek from Oludeniz to Antalya, and follows the ancient trade route of the Lycians, an ancient civilization that thrived in the region thousands of years ago. Along the trail, hikers can explore the remnants of this ancient civilization, including ruins, tombs, and other archaeological sites such as cisterns.
Arguably the most beautiful portion of The Lycian Way is the end, which connects to Oludeniz, offering stunning views of the Turkish Mediterranean coast. Hikers can experience a diverse range of scenery, including turquoise blue waters, rugged cliffs, lush green forests, and picturesque beaches.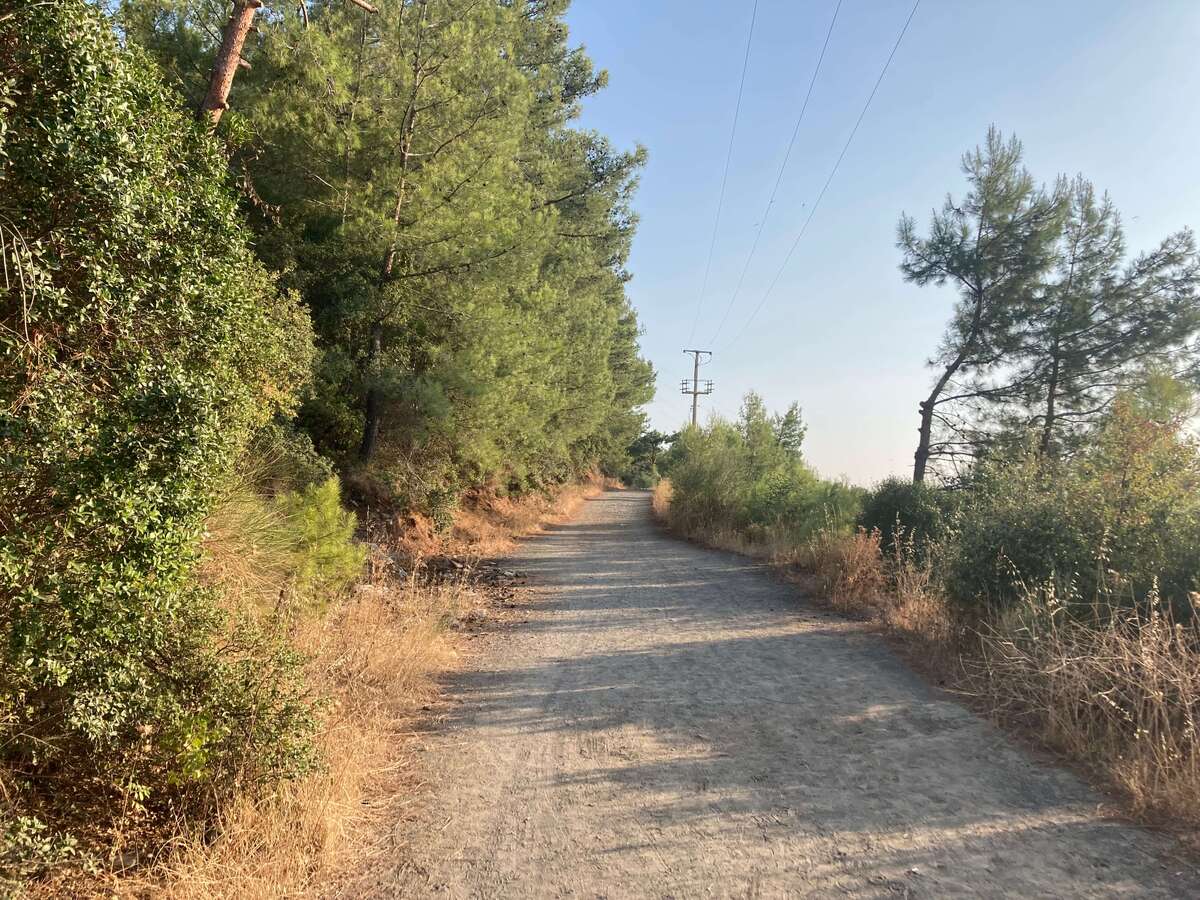 Of course, we don't all have time to do a 25-day, 335-mile (540-kilometer) hike on our holidays, but you can walk to the viewpoint from the town which takes about 20-30 minutes each way, depending on your fitness level. It's an easy hike with very little ascent, so anyone can do it.
Be sure to visit for sunrise for the best photography. We went at sunset, which was beautiful, but the sun sets behind the lagoon and doesn't produce the best photographs of the iconic Blue Lagoon.
Insider tip: Also be careful walking along the road to the start of the trail, as it's busy with traffic!
14. Go Scuba Diving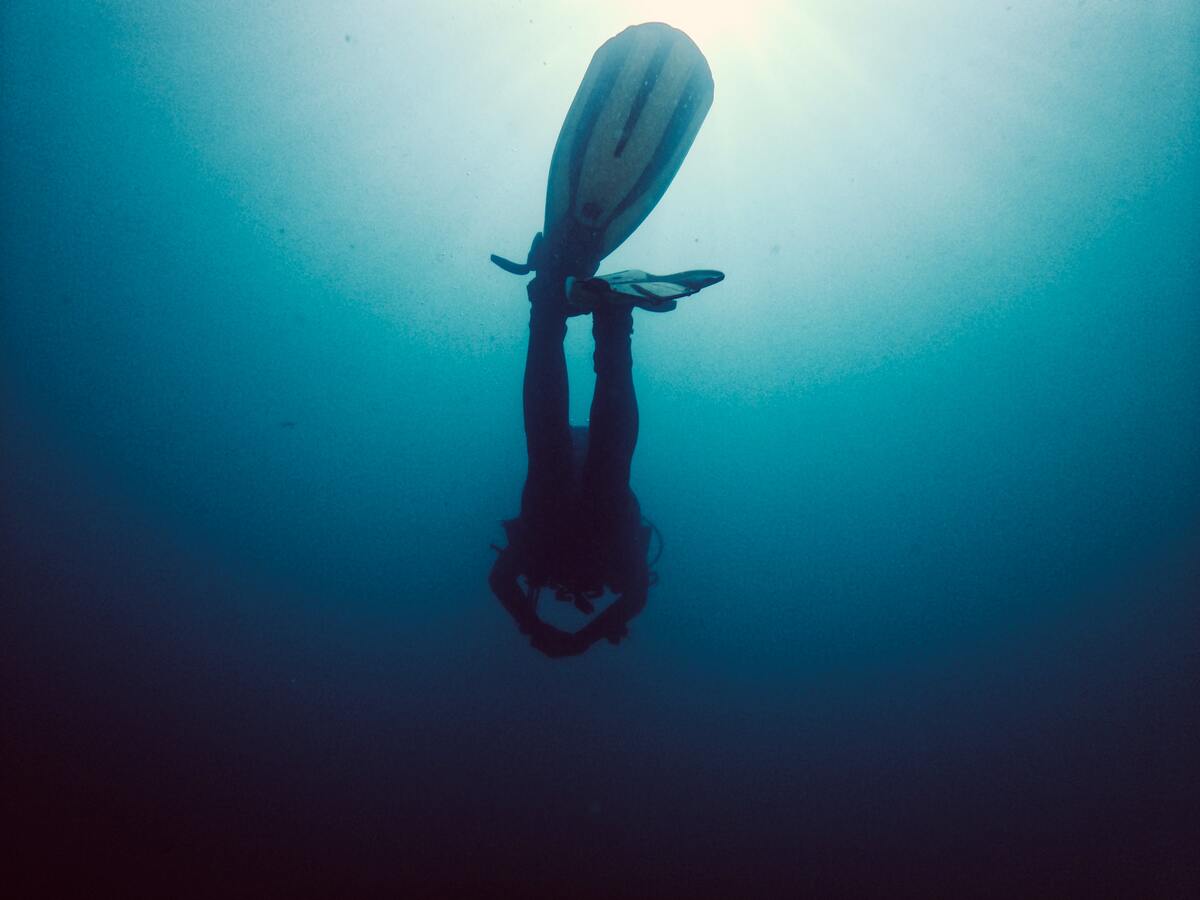 Oludeniz's crystal-clear turquoise waters are home to an abundance of marine life and underwater caves, which make it a paradise for scuba diving enthusiasts. The area is known for its excellent visibility, allowing divers to explore vibrant coral reefs, encounter colorful fish species, and even discover historical artifacts submerged beneath the sea.
Oludeniz offers dive sites suitable for all experience levels, from beginners to advanced divers. Whether you're seeking thrilling wall dives, exciting drift dives, or peaceful shallow dives, there are options available to suit your preferences.
It is always advisable to book scuba diving experiences with reputable dive centers or tour operators that prioritize safety and adhere to international diving standards.
15. Go Horseback Riding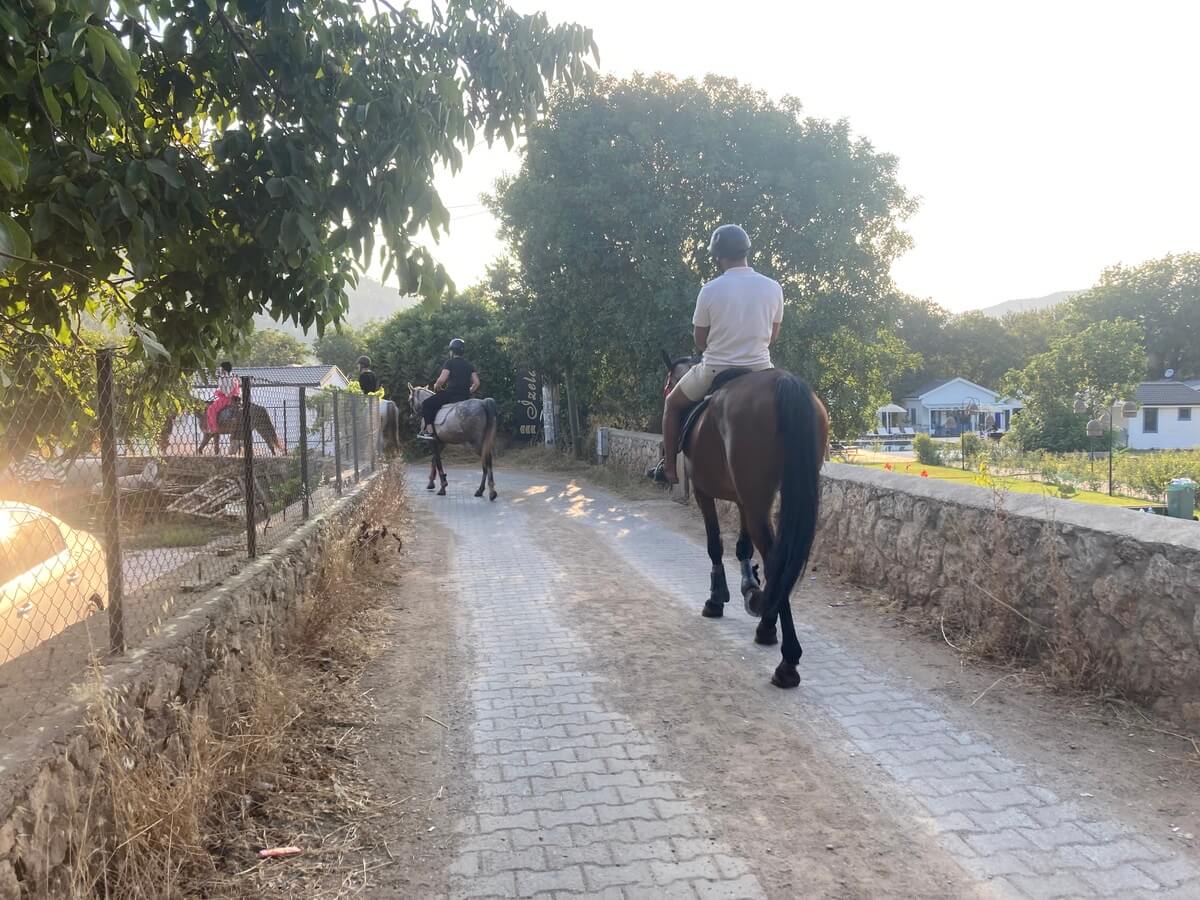 Another popular way to explore the unique surroundings of this beautiful region is on horseback. Horse riding allows you to immerse yourself in these scenic surroundings and enjoy the beauty of nature at a leisurely pace.
Some horse riding tours often take you through traditional villages and local communities, giving you a chance to interact with the local culture and experience their way of life.
It allows you to appreciate the tranquility of the surroundings and form a bond with the horses, creating a memorable and fulfilling experience.
16. Visit the Amyntas Rock Tombs and the Ancient City of Telmessos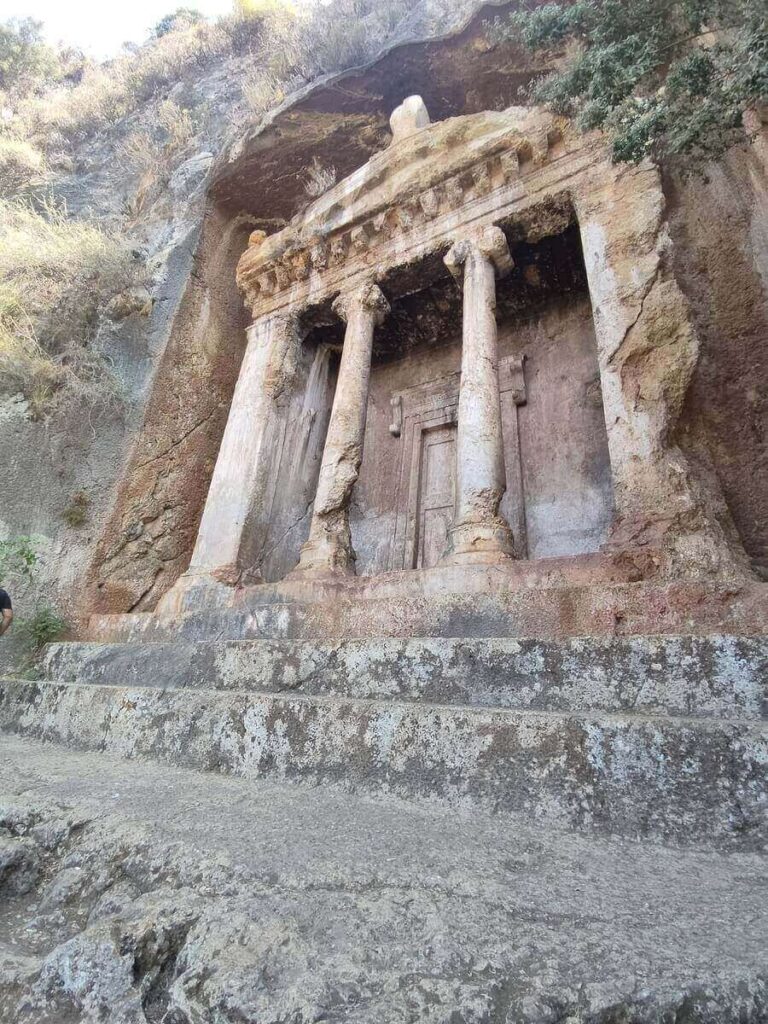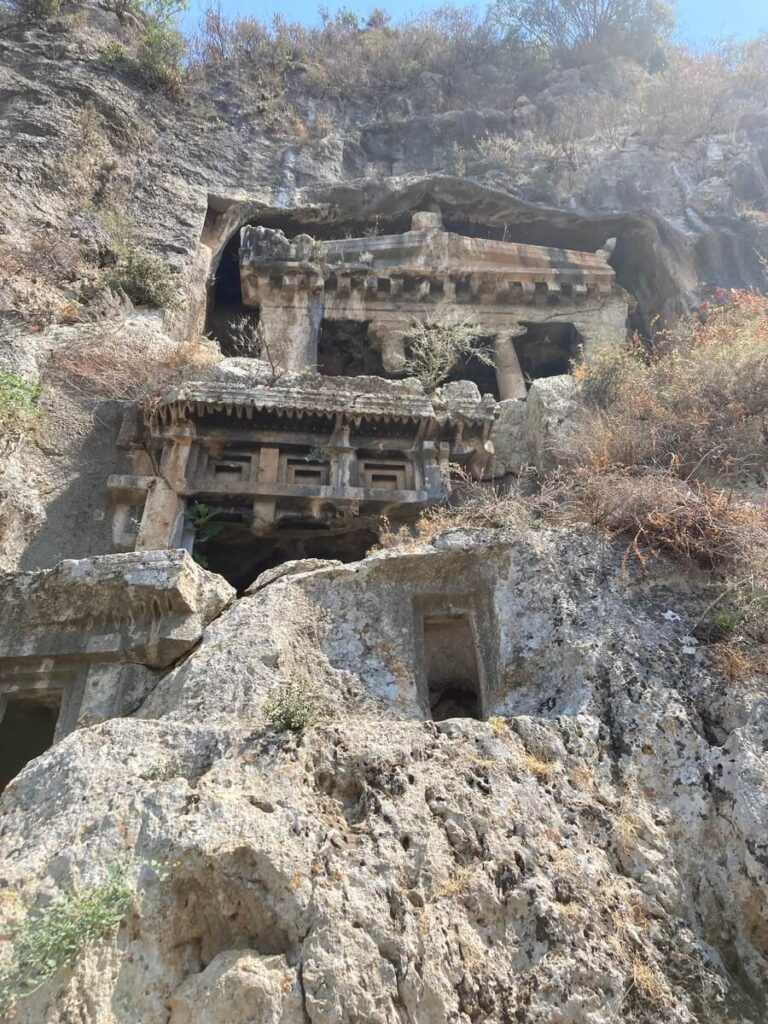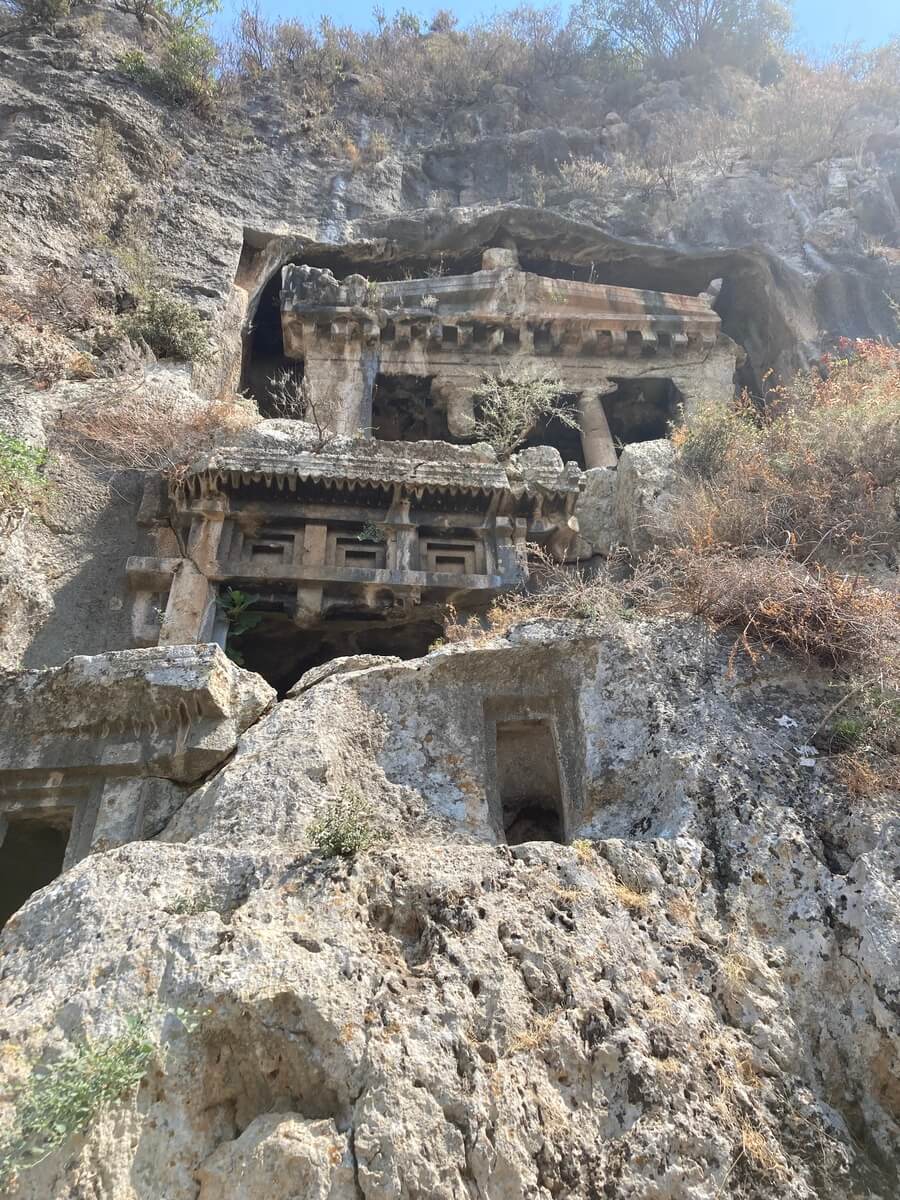 The Amyntas Rock Tombs, also known as the Fethiye Tombs, is a historical site near Oludeniz built in the 4th century BC. The tombs have been carved into the steep slopes of the southern hills and were used by the ancient Greeks. The rock-hewn tombs offer a fascinating glimpse into the rich history and architectural prowess of the Lycian civilization.
Perched on a hill overlooking Fethiye, the tombs provide a breathtaking panoramic view of the town and the bay below. Their ornate facades and superb preservation leave visitors in awe of the craftsmanship and artistry of the ancient Lycians.
You can easily reach the tombs by walking from the bus station in Fethiye to the tombs. The buses run from Oludeniz every 5 minutes, so you never have to worry about standing around waiting for a while. They are also located next door to the Ancient City of Telmessos which features ruins of temples and other Lycian buildings carved into the cliff-face.
17. Splash Around at Orka World Thema Park
Orka World Thema Park in Oludeniz is the perfect thing to do on a hot summer's day when you need to cool off. Orka World boasts an array of thrilling water slides and pools that cater to all ages and adrenaline levels. From steep drops to twisting turns, these slides provide hours of exhilarating fun and adventure.
With dedicated areas for younger children, including splash pools and mini-slides, parents can relax while their little ones have a blast in a safe environment.
If you're looking for a break from the excitement, Orka World offers relaxation areas where you can lounge by the pool, soak up the sun, and enjoy refreshing drinks and snacks from the onsite cafes and bars.
---
FAQs About Things to Do in Oludeniz
Here's what people usually ask us about what to do in Oludeniz…
What is Oludeniz famous for?
Oludeniz is famous for its stunning beaches, rugged landscape, and vibrant nightlife. It's home to the famous Blue Lagoon, which adorns many postcards of Turkey, and is where you can find one of the best paragliding launch sites in the world.
How many days should you spend in Oludeniz?
You should spend at least three days in Oludeniz, however you can easily find enough activities to do to fill a week. It's also only a 10 minute drive to Fethiye, which opens up more attractions and things to do.
Is Oludeniz worth visiting?
Yes, Oludeniz is worth visiting if you love beaches, nightlife and nature. If you visit in July and August, it can be very crowded and overwhelming, however you can still find some quiet beaches and places to escape the crowds.
---
Map of Oludeniz Attractions
To help you plan your visit, here is a map of the attractions in Oludeniz mentioned in this guide…
---
Final Thoughts
With its stunning beaches, adventurous activities, and breathtaking scenery, Ölüdeniz promises to be an unforgettable destination.
Whether you're seeking relaxation, adventure, or a blend of both, this charming town has something for everyone.
Disclaimer: Some of the links above are affiliate links. That means if you book or make a purchase through the links, we will earn a small commission at no extra cost to you! The money will help run this site! Thank you!