Are you looking to explore one of Turkey's most enchanting destinations – Butterfly Valley? Then you've come to the right place!
Nestled along the picturesque Turquoise coast, this hidden gem is a haven for nature lovers, beach enthusiasts, and anyone seeking a tranquil escape.
Butterfly Valley is a place of unmatched beauty, where crystal-clear waters meet lush greenery and towering cliffs.
In this guide, we'll be delving into the wonders of Butterfly Valley, including what you can do there and what there is to see. We'll also tell you the best way to get from Fethiye to Butterfly Valley so you can visit this spectacular place with ease.
---
Why Is It Called Butterfly Valley?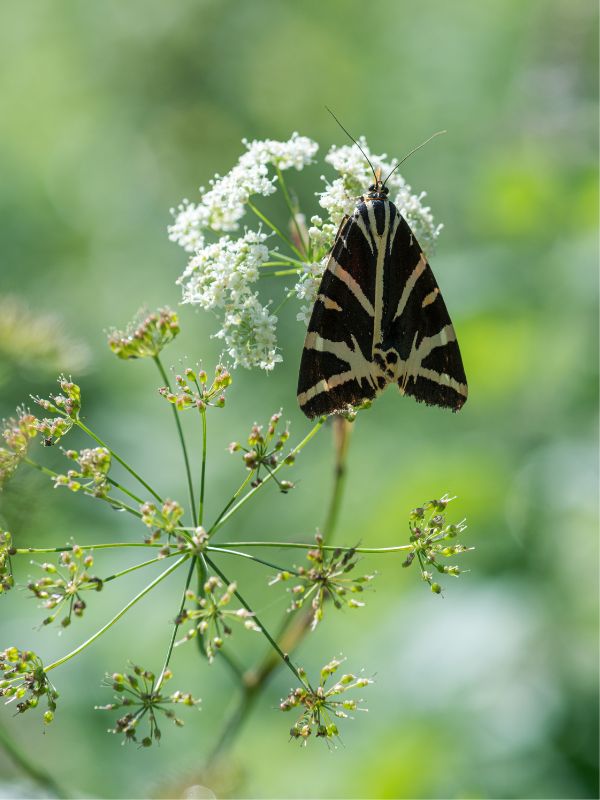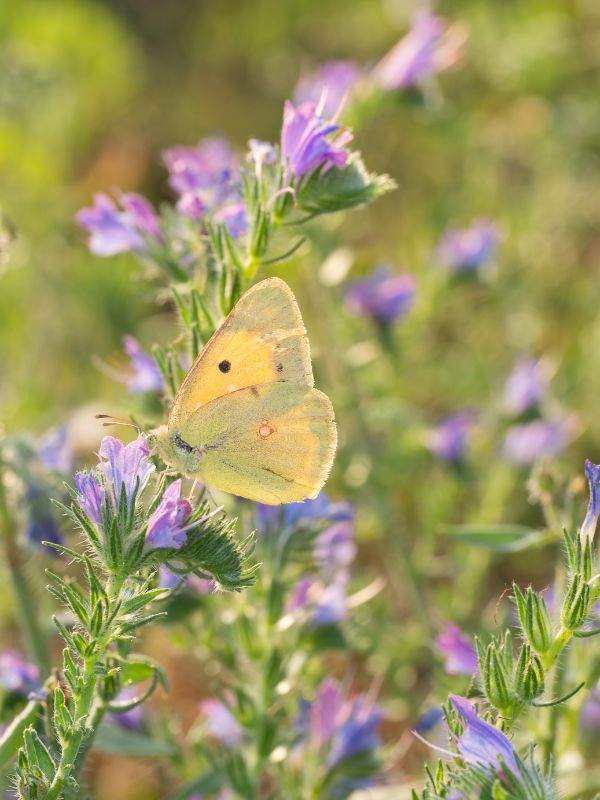 Butterfly Valley is a picturesque gorge on the Mediterranean Coast in Turkey, nestled close to the popular resort towns of Fethiye and Oludeniz.
It's considered one of the most beautiful valleys in Turkey and is known for its lush, pebble beach surrounded by craggy limestone cliffs that reach heights of 350 meters, and gentle pure blue ocean water.
Its most famous though, for its abundance of butterflies, which gives the valley its name. It is estimated there are up to 105 species of butterflies in Butterfly Valley, including 15 species who are native to the valley.
Some of the most common species of butterflies to roam here are the Jersey Tiger, which is famous for its orange and black striped wings, as well as Cabbage White Butterflies, Clouded Yellow Butterflies, Red Admiral Butterflies (Vanessa Atalanta) and Plain Tiger Butterflies.
You can find butterflies of many colors, types and varieties, in the valley. Butterfly Valley is also home to 147 types of plants and fauna, including fragrant olive trees and lavender shrubs.
Related Reading: The Best Beaches in Fethiye
---
How To Get From Fethiye to Butterfly Valley (& How Not To!)
Butterfly Valley is located 14.2 miles (22.9 km) from Fethiye and 5.4 miles (8.7 km) from Oludeniz. It's a popular tourist attraction in Oludeniz and Fethiye and is easy to visit, though the mode of transport you use will largely depend on what you want to see and do there.
Here are the best ways to visit Butterfly Valley from Fethiye.
By Bus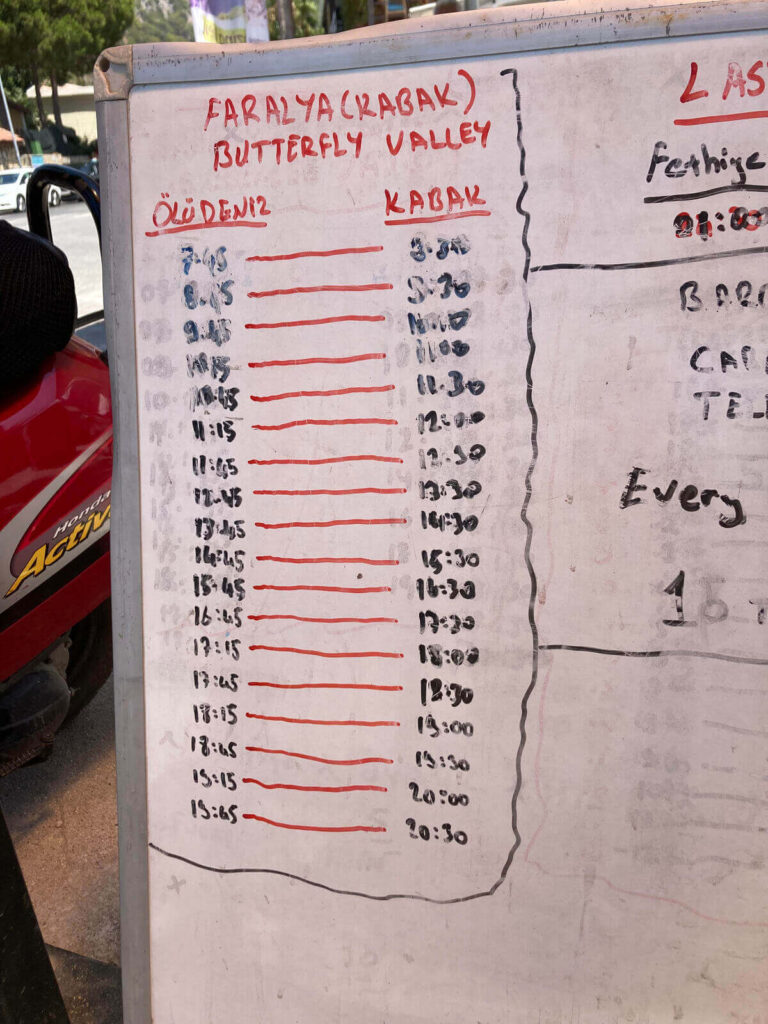 The bus is an easy and convenient way to get from Fethiye to Butterfly Valley, though you should note that the bus cannot take you down to the beach. The bus should only be taken if you wish to visit the viewpoints of the valley from above, as we don't recommend hiking down from the bus stop (more on this later).
To get the bus from Fethiye to Oludeniz, you should catch the shuttle bus from outside Erasta Mall in Fethiye and take it to Oludeniz Beach. The bus departs every 5 minutes from this station, and costs only 16 Lira ($0.59 USD) each way. You can pay using cash or by contactless payment card.
Once you reach Oludeniz Beach, you will need to catch another bus from the same bus station that you depart from. The bus will have "Butterfly Valley" written on a sign in the window, but there is also an attendant at the station telling you which bus to take.
The bus departs from Oludeniz Beach and goes to Kabak. It departs every 30 minutes, see the above photo for the bus times.
To get the bus back, simply flag the bus from the roadside where it drops you off back to Oludeniz Beach, and then change at the bus station to catch the bus back to Fethiye.
By Bus & Boat
This is the most exciting way to get from Fethiye to Butterfly Valley and the best way to visit the beach there, though admittedly more expensive and longer than other options. You must first catch the bus from Fethiye to Oludeniz Beach (see steps above).
Once you reach Oludeniz Beach, walk about 20 meters along the promenade and you'll notice an umbrella on the beach with a man sitting underneath it with a table selling tours. This is the person to buy a boat ticket to Butterfly Valley from.
The boats leave every hour on the hour, starting from 11.00am and leaving Butterfly Valley at 5.00pm (some people say 6.00pm online, but the driver told us that the last boat is now at 5.00pm when we visited in August 2023).
The boat departs from Oludeniz Beach (click here for the exact location) and drops you off at Kelebekler Vadisi Beach (Butterfly Valley Beach). It will pick you up from the same spot and drop you back at Oludeniz Beach in the same spot.
As of August 2023, the price for the boat was 350 Turkish Lira per person (about $13 USD) for a return ticket.
By Boat Tour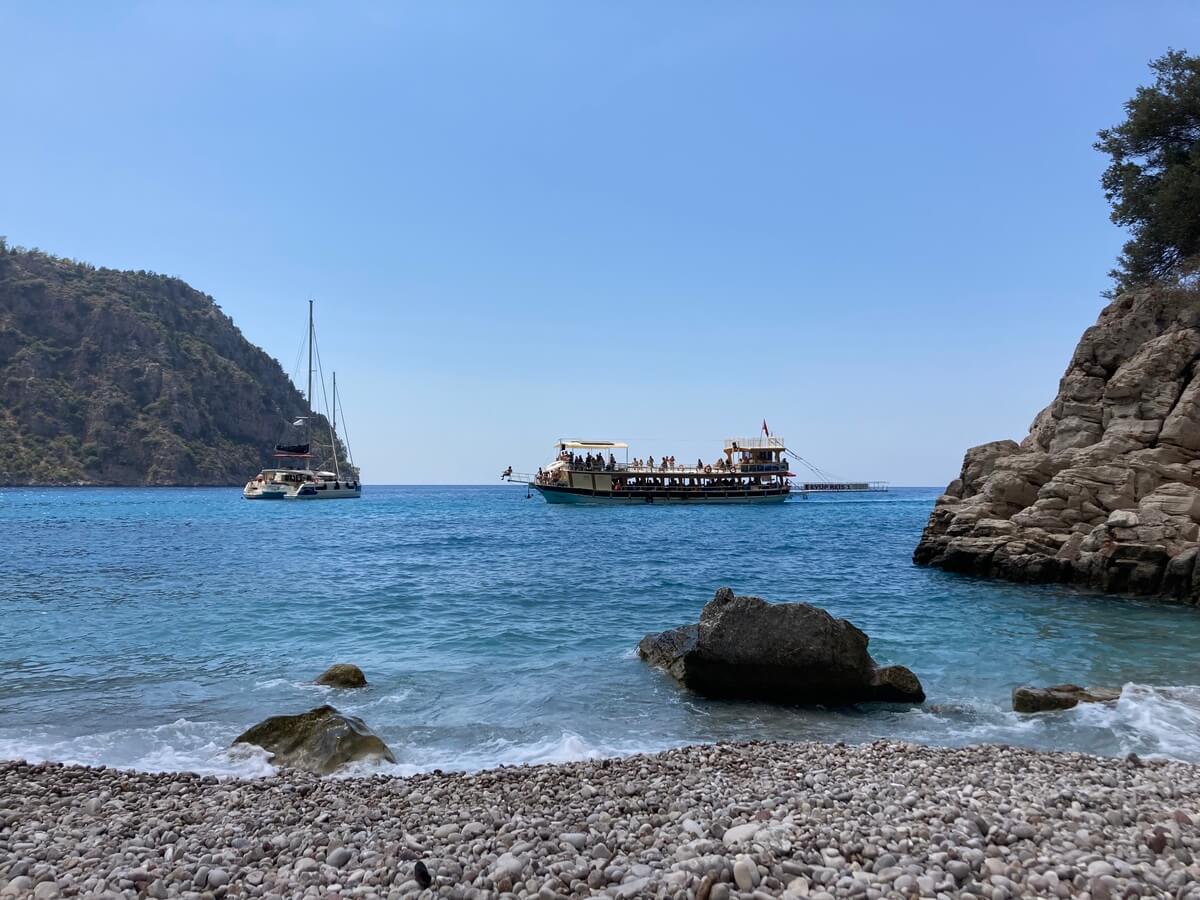 You can also visit Butterfly Valley as part of a boat tour, which is great for those who are short on time and want to see more of this beautiful coastal region.
There are many boat tours that visit Butterfly Valley, which usually depart from Oludeniz Beach (look out for the big pirate ships). If you're not a huge fan of large tour groups, loud music, lots of drinking and lots of other tourists, don't worry, you can get smaller boat tours to Butterfly Valley.
We recommend getting a small boat tour of up to 20 people, that takes you to some of the smaller islands near Fethiye such as Nicholas Island and Coral Spring Bay. Not only do they take you to Butterfly Valley but you also get to visit some beautiful sea caves, including the lagoon of the Blue Cave, as well as some more remote snorkeling spots.
By Hiking (Don't Do It!)
You may hear a lot of people telling you that you can hike to Butterfly Valley, but we don't recommend this. The hiking trail in Butterfly Valley is practically non-existent and is not maintained at all, which means it's very dangerous.
We're avid hikers, and have hiked countless mountains and hiking trails all over the world, but we would not attempt the hike at Butterfly Valley.
The trail is steep, rocky, and with loose terrain – not to mention people have died on the Butterfly Valley hiking trail.
---
What To Do In Butterfly Valley
Now you know how to get to Butterfly Valley in Fethiye, it's time to show you some of the best things to do there. Starting with our favorite activity…
Relax On The Beach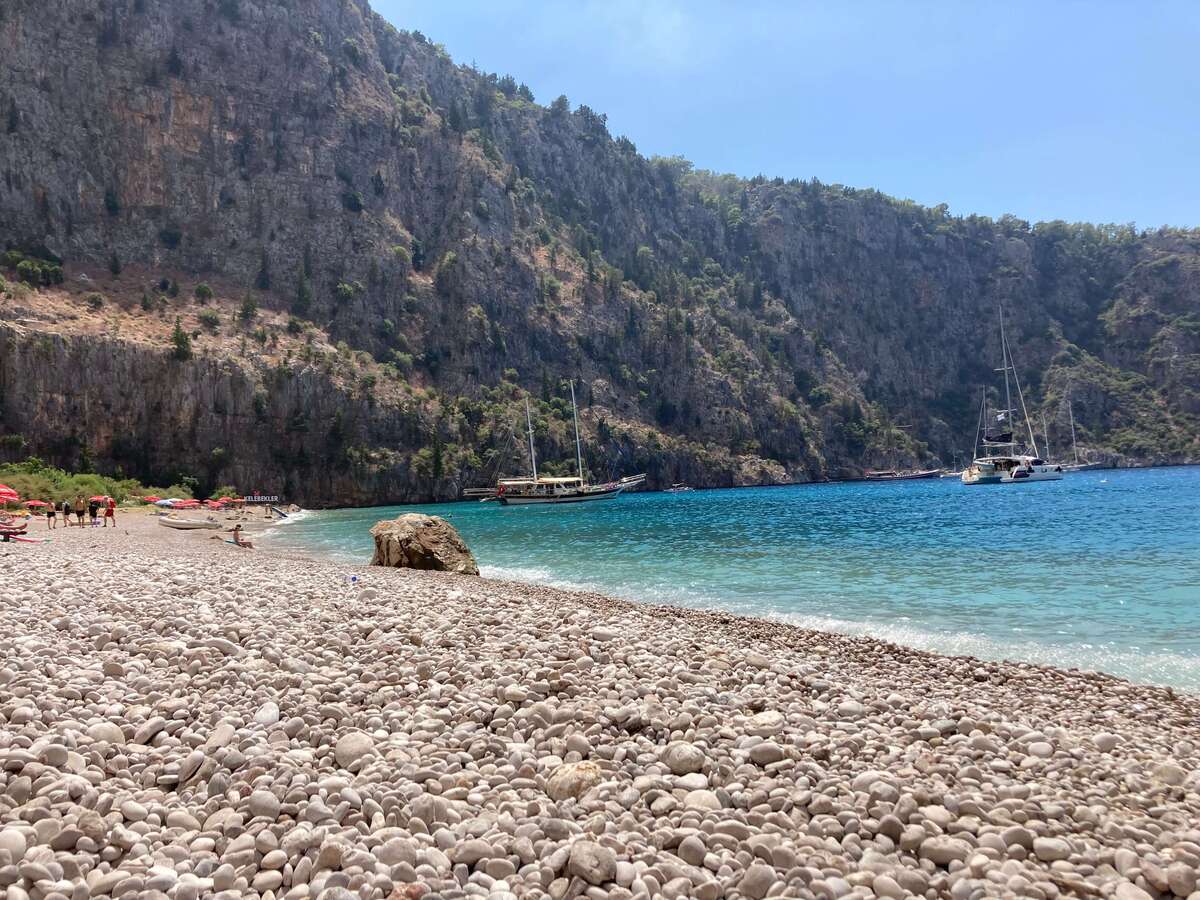 The beach at Butterfly Valley, known as Kelebekler Vadisi Plaji in Turkish, is an idyllic beach retreat that's perfect for escaping the crowds in Oludeniz (especially at the Blue Lagoon in Oludeniz).
Because Butterfly Valley's Beach is only accessible by boat or a challenging and not-recommended hike through a semi-tropical desert canyon, it's possible to find a secluded spot if you visit during the right time of day (early morning).
The picturesque bay, embraced by towering cliffs, creates an enchanting natural setting that allows you to unwind and relax, basking in the warm sun, listening to the gentle lapping of the turquoise waves against the shore.
Take a dip in the crystal-clear waters, or simply kick back with a book. Just remember to leave before the boat tours arrive!
Go Snorkeling
Because Butterfly Valley is protected, it's possible to see marine life swimming near the shore. Swim alongside schools of colorful fish, gracefully gliding through the rocks that cover the seabed.
Butterfly Valley doesn't have as many fish as other parts of the Mediterranean, but if you have a snorkel mask and fins, it's worth bringing them to see what inquisitive fish have come inland. The best spot to see the fish is at the end of the beach near the cafe, where there are more rocks for them to hide in.
The water at Butterfly Valley is usually gentle and calm, making it an ideal spot for snorkeling.
Go Camping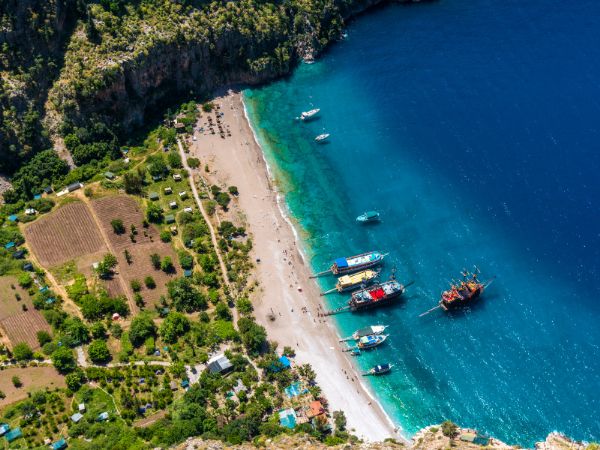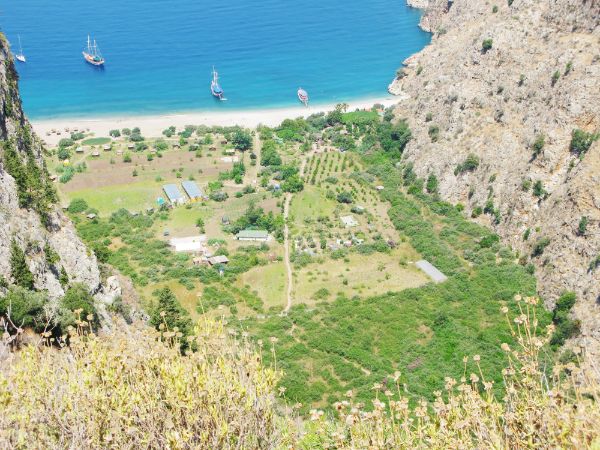 If you're feeling adventurous, one of the best things to do at Butterfly Valley is to go camping, which is also the best way to experience the valley in its quietest and most serene state.
Once the boat tours and day goers leave at around 5.00pm, you'll have the valley pretty much all to yourself. You can book a glamping experience or set up your own tent amidst the lush greenery of the valley, and wake up to the soothing sounds of waves gently crashing against the shore.
There isn't a campground as such at Butterfly Valley, there are some grassy areas and beach camping available, and so there are no facilities such as showers or WiFi, but that's all part of the charm.
Cool Off In The Waterfall
Nestled in the center of the narrow canyon are two waterfalls, which plunge 60 meters (200 feet) into a small pool below. The waterfall is best seen in the winter time after a rainfall, as it can pretty much dry up in the summer.
The waterfall is fed by a small creek which carries water from the nearby Faralya village all the way to the ocean.
To reach the waterfall, we recommend you hike up to it from the beach, rather than try to hike down for the reasons we mentioned above.
Visit The Butterfly Cave & Hunt For Butterflies
We mentioned earlier that the butterflies are best seen early in the morning, but if you're unable to make it to the valley before the heat of the day kicks in, then wander into the valley to discover them in the Butterfly Cave (located near the waterfall).
This mystical cave is where the butterflies shelter from the hot sun and is one of the best spots to see them if you're visiting during the day.
The cave itself isn't that impressive, it's really just a good spot to see the butterflies.
Visit The Butterfly Valley Viewpoint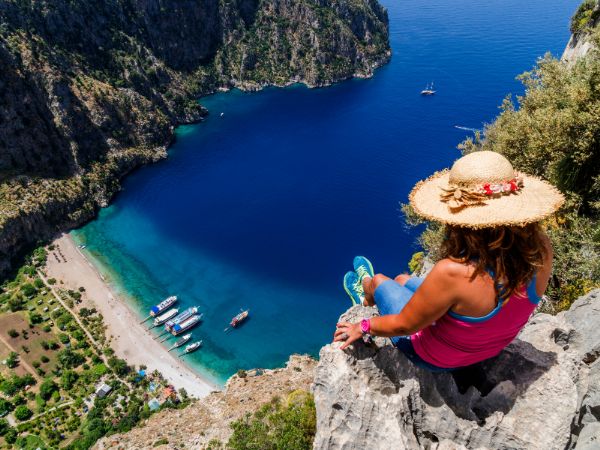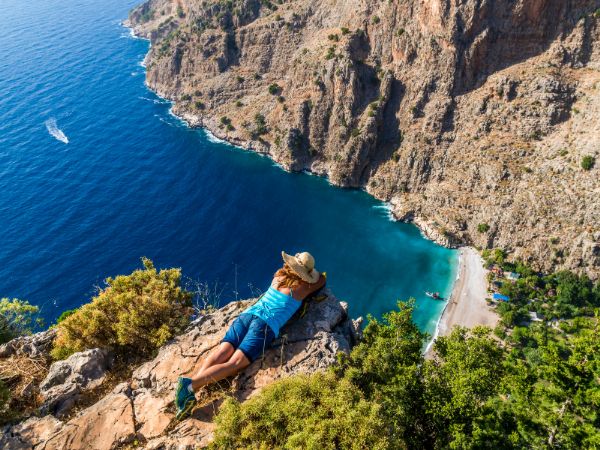 If you want to witness the breathtaking view of the Butterfly Valley from above, then you'll want to visit the viewpoint. Perched atop the dramatic ridges of Mount Babadag, this vantage point offers an awe-inspiring panorama of the craggy gorge below.
Witness the sheer size and magnitude of the cliffs that enclose the valley and encase the turquoise blue waters between it – it's truly a mesmerizing sight.
To get to the viewpoint, you will need to take the bus from Oludeniz Beach to bus stop atop Butterfly Valley (see map below for the location.) From there, you will find a trail that wraps around the top of the valley where you can see views from many different angles.
---
butterfly valley turkey map
To help you figure out how to get from Fethiye to Butterfly Valley and to plan what to do there, here is a map of Butterfly Valley Turkey…
---
When Is The Best Time to Visit Butterfly Valley?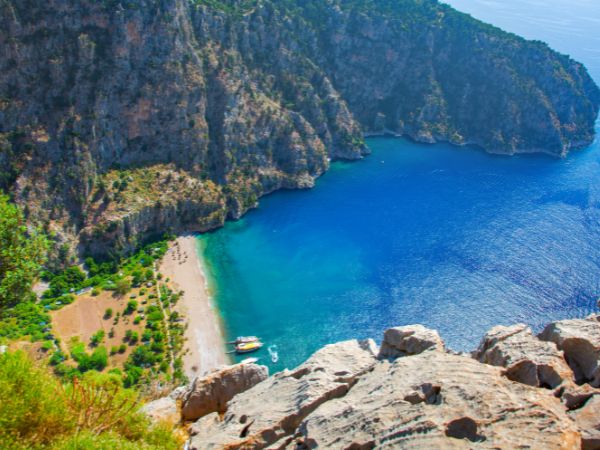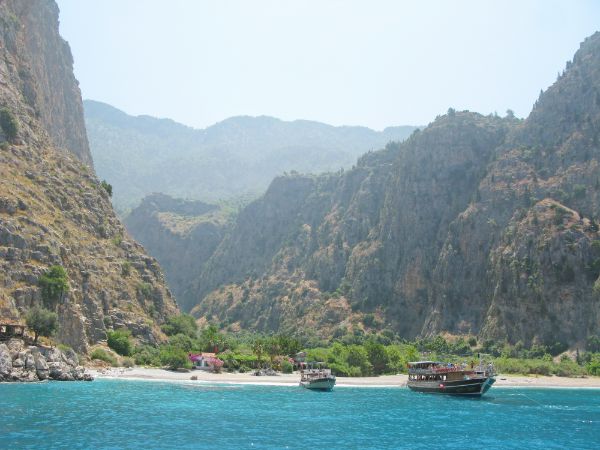 Butterfly Valley is beautiful all year round, so no matter what time of year you visit, you'll be amazed by its natural beauty and serenity anytime.
However, if your purpose is to visit Butterfly Valley to see the butterflies, then you should time your visit for summer (June to September) when the butterflies are most active. Come the autumn, the temperatures become too cold for butterflies and they go into a dormant state until the temperatures warm up in the late spring, with the highest numbers seen in the summer.
The best time to see butterflies is early in the morning as this is when they are most active during the day. If you're not a fan of crowds, then you may also want to make sure you leave Butterfly Valley before 4.00pm as this is when the boat tours arrive in their big ships with loud music, which can disturb the peace and serenity of the valley.
📚Related Reading: Is Fethiye Worth Visiting?
---
Tips For Visiting Butterfly Valley
Before you go, here are some words of advice to make your trip to Butterfly Valley smooth…
Download any apps you need before you go. There is no phone service at Butterfly Valley (unless you're using Airalo, but then the service is slow), so be prepared to be cut off.
Take plenty of water and snacks with you. There are two cafes at Butterfly Valley, but they are not always open.
Wear suncream and mosquito repellent. Despite being in a gorge, Butterfly Valley gets a lot of sunlight, especially in the afternoon, so be sure to protect yourself from the sun.
Bring a parasol or beach umbrella. You can rent them there but they are expensive or all taken, so if you have your own then it's a good idea to bring one with you.
Keep an eye on your little ones. The beach is sheltered and the waves are usually gentle, but the shoreline does shelf off quite suddenly.
Wear sturdy shoes. The beach at Butterfly Valley is pebbled, and not sandy, so you'll want to wear sturdy shoes so your feet don't hurt when walking on the stones.
You may also want to bring water shoes so it's easier walking in and out of the ocean.
Pack a snorkel mask before you go. We didn't see anywhere on the beach where you can rent them, so you'll want to get them from Fethiye or Oludeniz before you go.
Keep an eye on the time and look out for the boats! The boat will leave exactly on time, sometimes even early, so make sure you don't miss it.
---
FAQs About Visiting Butterfly Valley
Is Butterfly Valley worth a visit?
Yes, Butterfly Valley is worth visiting as it's peaceful, beautiful, and has a diverse population of butterflies. However, it's best to visit in the morning and leave before 4pm, as this is when the boat tours arrive and the beach becomes crowded and noisy.
Is Butterfly Valley free to visit?
The Butterfly Valley in Turkey is free to visit in that there is no entrance fee, however the safest way to reach the beach is by boat which costs around 350 Lira ($13 USD) for a return trip per person.
How big is Butterfly Valley in Turkey?
The Butterfly Valley near Fethiye is approximately 86,000sqm (21.3 acres) in size, though the canyon which it is most famous for is around 3-4km in length. The valley has been a protected area by the Turkish Government since 1993 to protect the butterflies and their natural home.
---
Final Thoughts
Butterfly Valley is a beautiful and enchanting place and one of the highlights on our trip to Fethiye. It's one of the few places where you can find peace and quiet, even in the busy summer periods, but we do recommend you plan your visit ahead of time so you can get there early and see it at its best.
We hope you found this guide helpful and insightful. If you have any questions about visiting Butterfly Valley, let us know in the comments.