Fethiye has become a hugely popular destination in Turkey in recent years, and there is a good reason for that. Its proximity to Oludeniz, home to the iconic Blue Lagoon, as well as some of the most beautiful beaches on the Turquoise coast, means it's the ideal place to visit if you're looking to soak up some sun.
For beach lovers, Fethiye is definitely worth visiting. Fethiye's beaches are Blue Flag beaches, which means they have been recognized for their cleanliness and environmental efforts.
However, in the summer, Fethiye is crowded with families and groups of young people who want to soak up the beaches during the day and explore the vibrant nightlife after the sun goes down, so Fethiye might not be for everyone.
In this guide, we share the pros and cons of visiting Fethiye so you can make an informed decision about whether it's the right destination for you…
---
Reasons to Visit Fethiye
1. Close Proximity to Oludeniz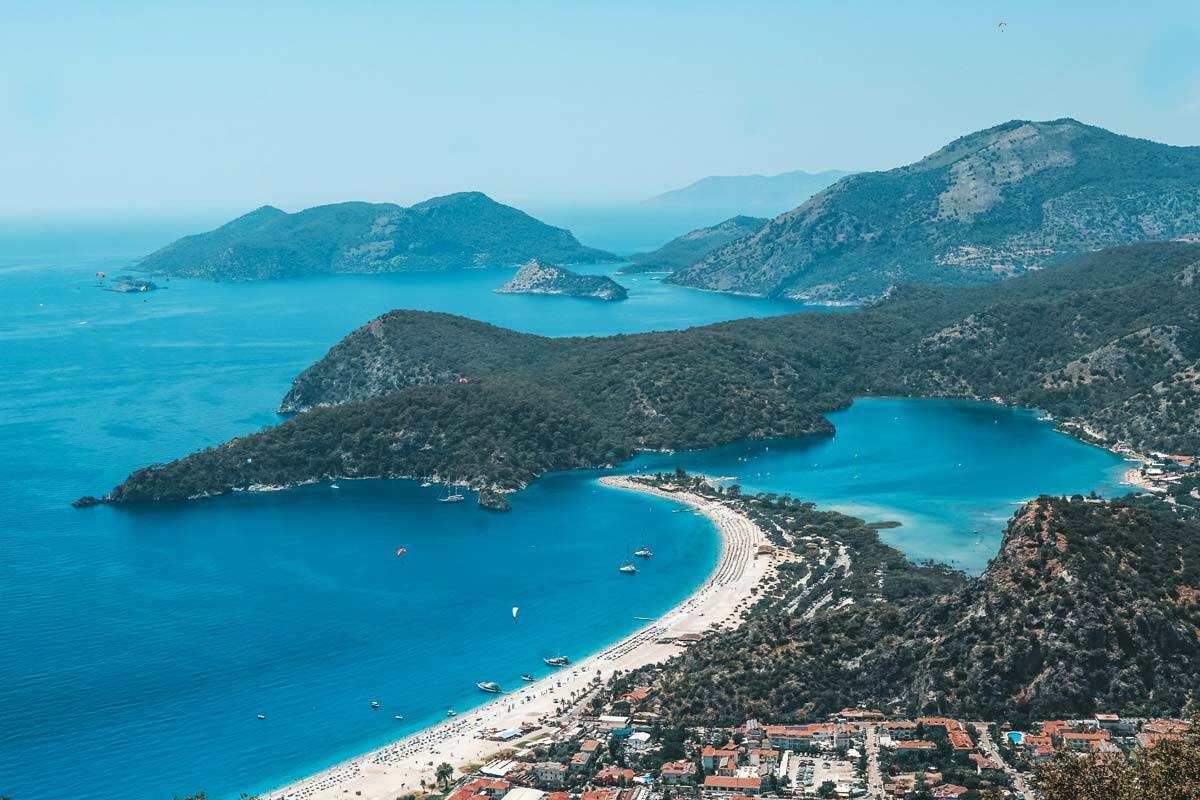 Many people confuse Fethiye with Oludeniz and often think they are the same place. For transparency, Fethiye is the city, and Oludeniz is a small town just a 10-minute drive away from the city center.
Most of the attractions in Fethiye are in Oludeniz, such as the famous Blue Lagoon, the Cable Car to Babadağ Teleferik, and the trailhead for The Lycian Way. It's also where you find world-class paragliding experiences that make this region so famous.
However, Oludeniz can be extremely crowded, especially in the summer. Oludeniz is a small town, so when it's busy with tourists, it feels very busy. So Fethiye provides a bit of an escape from other tourists.
Because it's only a 10-minute drive away, and there are regular dolmus (minibusses) that run between Fethiye and Oludeniz (every 5 minutes), it's really easy to travel between the two places.
2. Excellent Beaches Nearby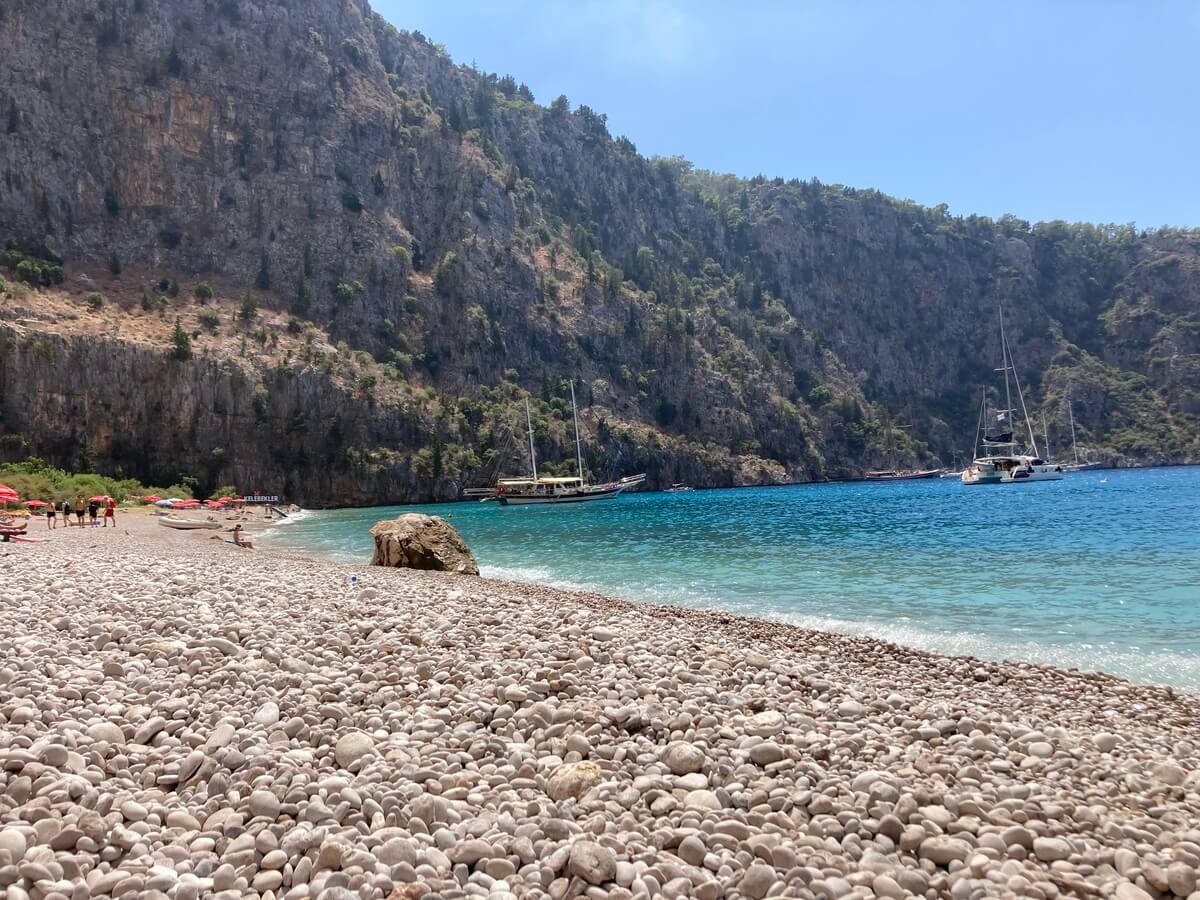 One of the main reasons to visit Fethiye is for the beaches. Nestled on the Mediterranean Sea, the beaches in Fethiye are known for their glistening, turquoise waters.
The beaches come in many shapes and sizes, some with soft sand and others with pebbly beaches. They are usually clean and well maintained since Turkey prides itself on having Blue Flag Beaches (a status given to beaches with impeccable cleanliness and environmental conservation efforts).
They are also usually sheltered by the rocky, mountainous landscape, creating soft waves that the waters perfect for swimming in. However, families should note that most of the beaches we visited in Fethiye didn't slope gradually, so watch your little ones who are paddling in the shoreline and make sure they don't fall in.
3. World-Famous for Paragliding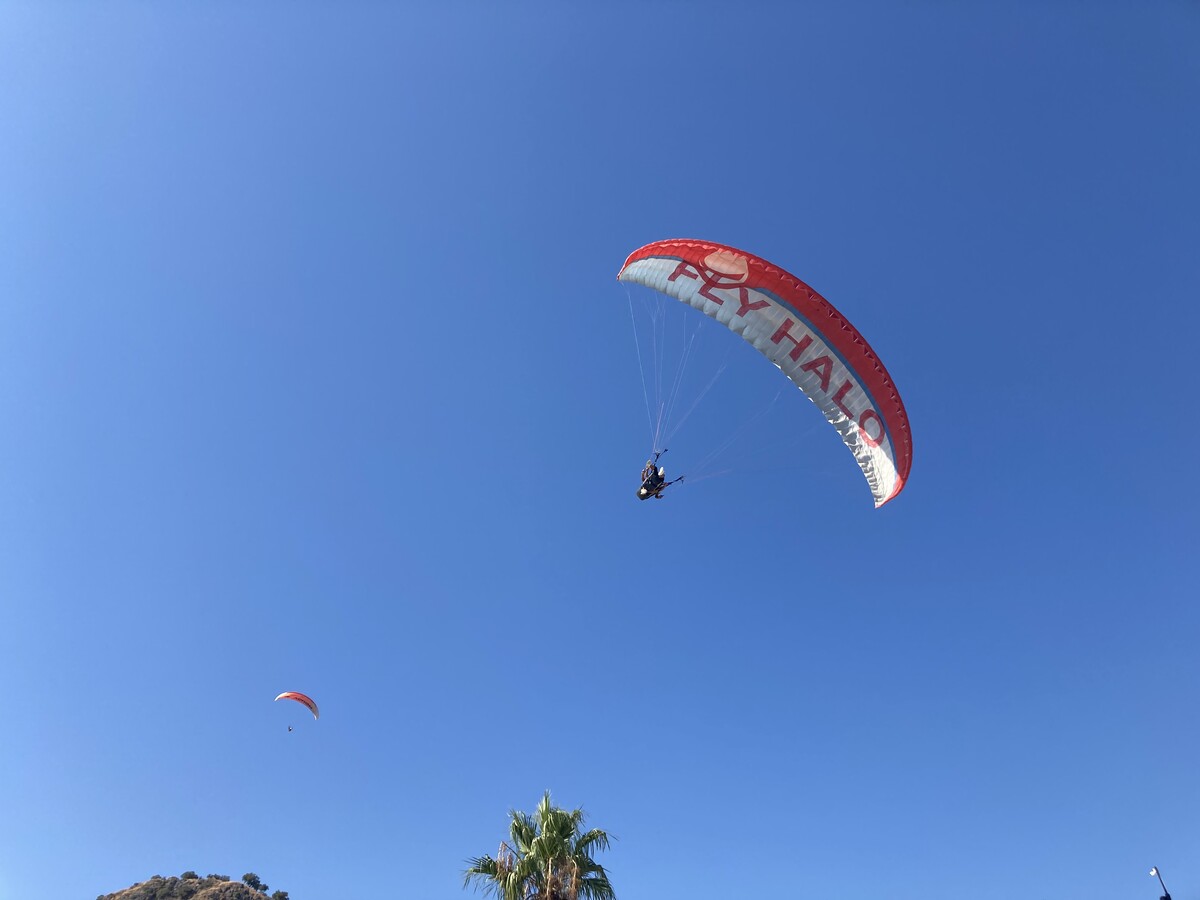 Fethiye is known as one of the best places in the world to go paragliding. From here, you can launch from 6500 ft (1960 meters), which is known as one of the highest take-off points in the world, and get a flight time of around 25 minutes.
There are hundreds of thrill seekers paragliding throughout the day, and it's the best way to experience the beauty of the Blue Lagoon and the arid mountains surrounding it.
What's more, is that the weather is usually always good for paragliding. It's said that 80% of days are flyable.
4. Plenty of Modern Conveniences
If you're looking for a destination that has modern conveniences, such as top-quality hospitals, pharmacies, dentists, as well as supermarkets, and fast WiFi, then Fethiye has you covered.
Nowadays, more and more travelers are working remotely whilst on the road, and so need to have access to facilities they use at home. Fethiye is more than adequate for travelers who need the same modern conveniences you find at home.
5. Lots of Boat Trips You Can Take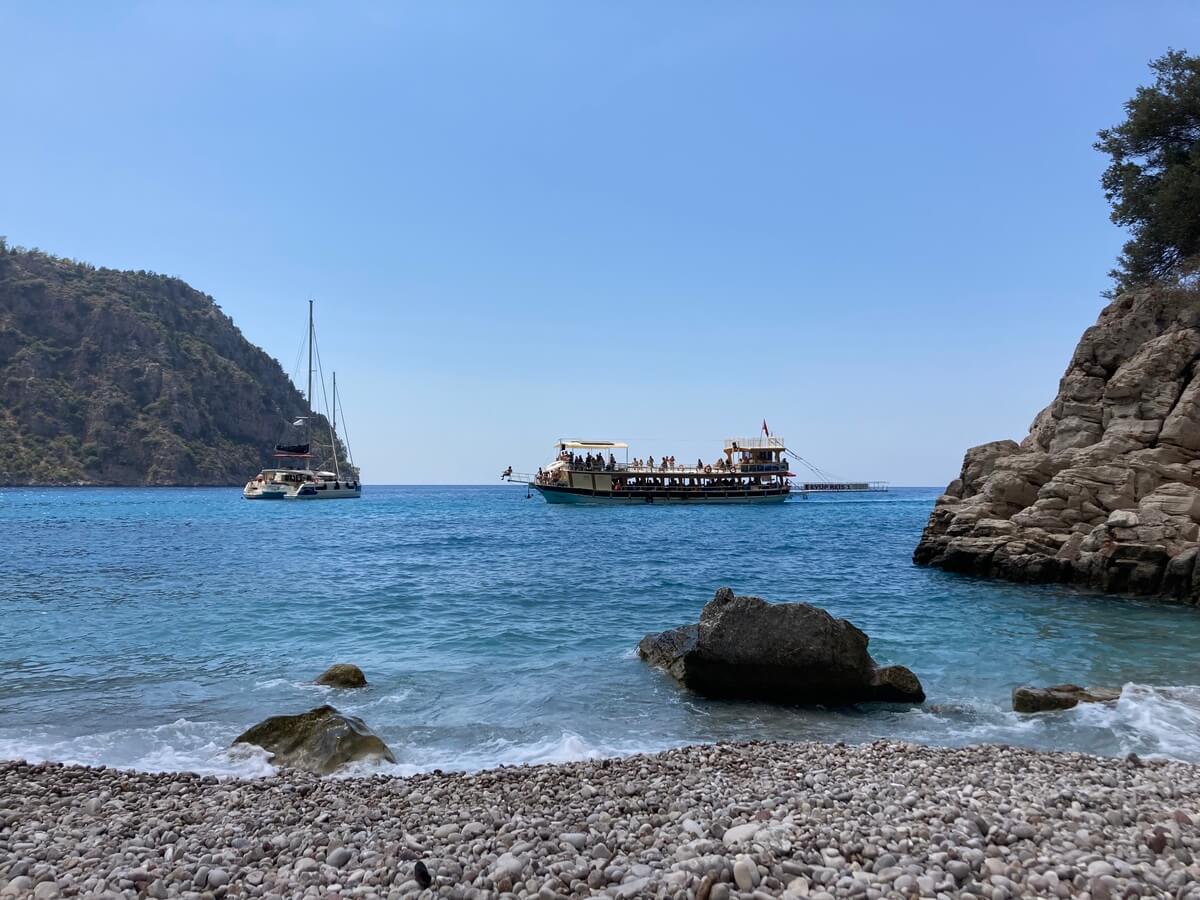 For those who enjoy getting out on the water, the boat tours in Fethiye are some of the best in Turkey. They sail past ancient ruins, take you to secluded beaches, and to crystal-clear snorkeling spots. The boat trips from Fethiye are a great way to soak up the natural wonders of the region.
There are also several different types of boat trips you can take. You can take an iconic pirate ship cruise, which plays loud music and even has BBQs and foam parties, or you can take a more relaxing, small group boat trip on a catamaran.
Either way, it's the best way to experience the best of the Turkish Aegean coast.
6. Close to The Lycian Way Hiking Trail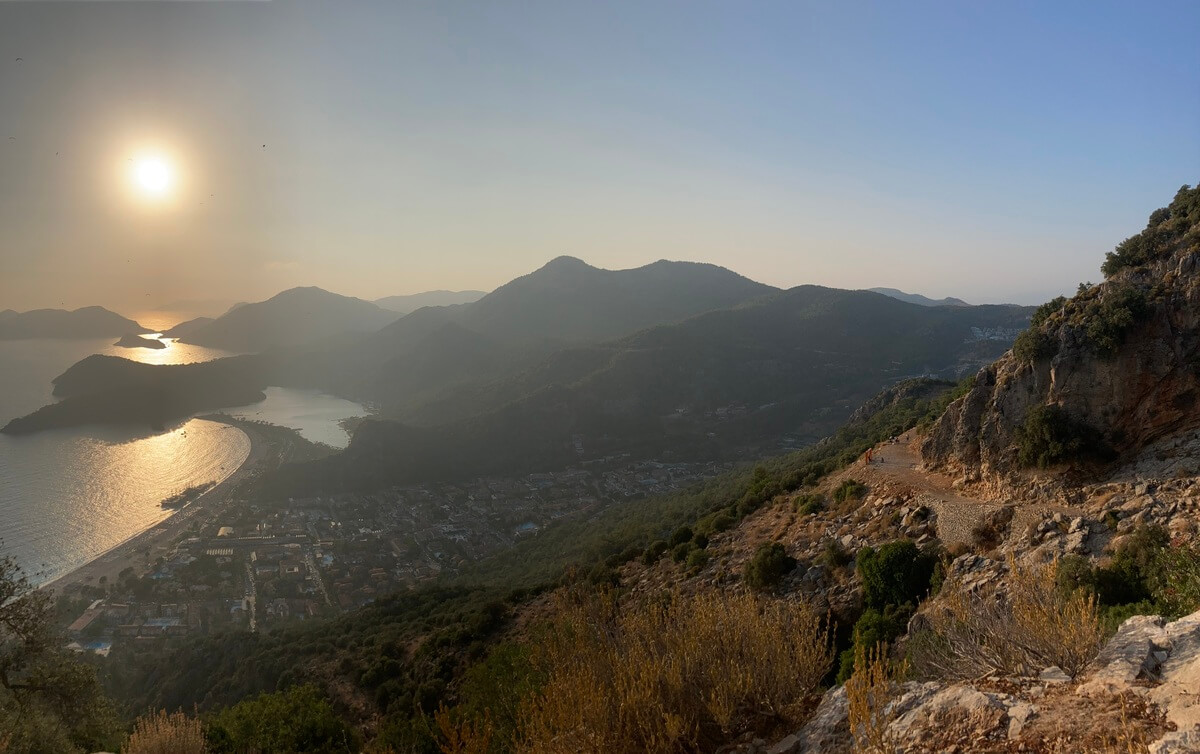 For hiking enthusiasts, Fethiye is where you will find the Lycian Way, one of the most famous hiking trails in Turkey. The trail spans from Antalya to Fethiye, covering a distance of 500+ kilometers.
The ancient trail was once used by merchants during the Lycian period but is now more famous for its stunning coastal views, olive groves, rustic towns, and awe-inspiring ancient ruins.
The varied landscapes and changing scenery make the Lycian Way an exhilarating adventure for nature lovers.
7. Vibrant Nightlife
When it comes to nightlife, Fethiye has got it all. From vibrant bars to energetic clubs, this Turkish coastal town offers a nightlife scene that tourists travel from far and wide to experience.
Whether you're into dancing the night away at VIP Dance Bar or sipping cocktails at Mango Bar, Fethiye has something for everyone.
The mix of local DJs, live performances, and cheap happy hour deals, makes the nightlife in Fethiye a memorable experience.
8. Interesting Historic Attractions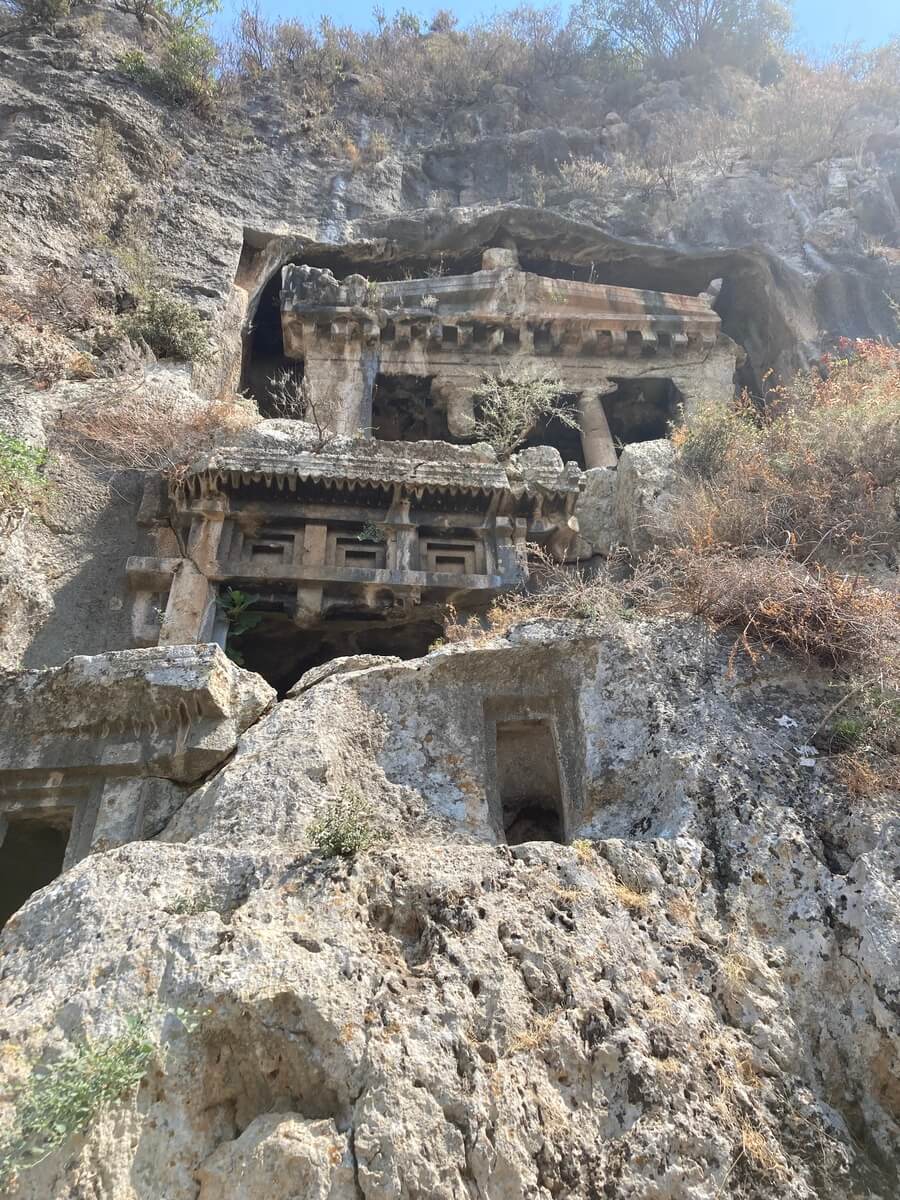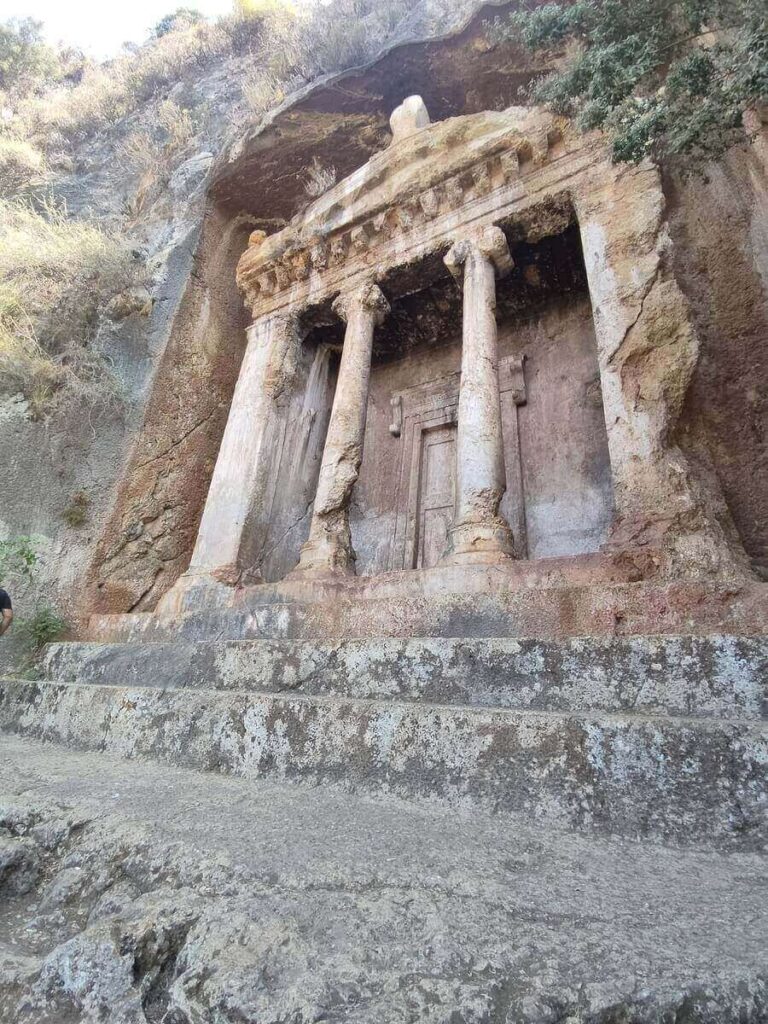 What we personally loved about Fethiye was its historic attractions, which are unique to the area. From the ancient ruins of the Amyntas Rock Tombs, or the crumbling ruins of Kayakoy Ghost Village, Fethiye has many sites that allow visitors a chance to glimpse at an era now gone.
Walking through the Old Town of Fethiye and traversing its winding streets feels like stepping back in time, while if you head further afield, you can take a day trip to see the impressive Lycian Rock Tombs near Dalaman.
For history enthusiasts like us, Fethiye's historic attractions provide an opportunity to connect with the past and learn about ancient civilizations and their contributions.
9. Stunning Natural Beauty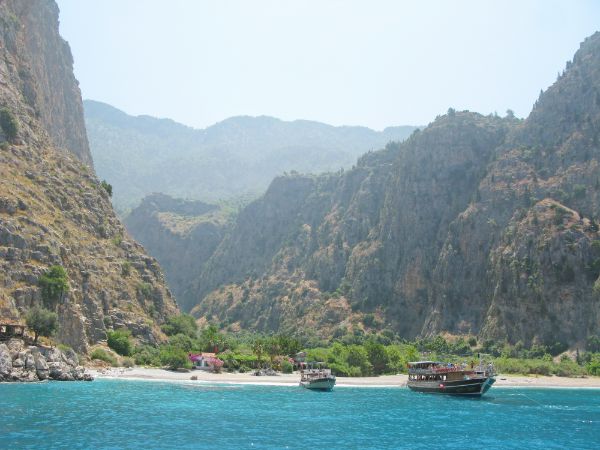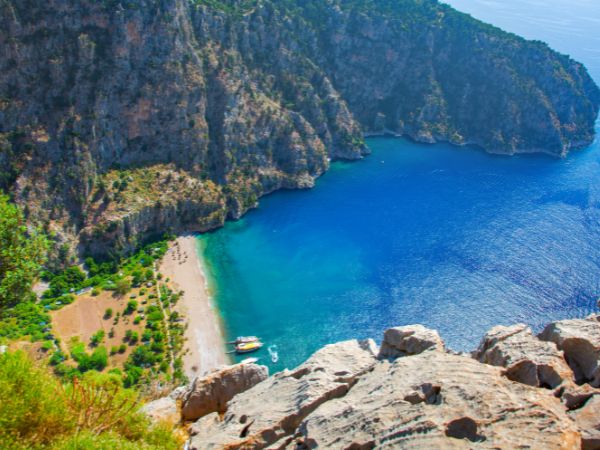 Perhaps the most notable reason to visit Fethiye is to experience its natural beauty. Surrounded by picturesque, rugged mountain ranges, verdant forests, and stunning beaches, there is no shortage of places to escape the crowds and unwind in nature.
Perhaps one of our favorite nature sites in Fethiye is Butterfly Valley, which is famous for its quiet, azure beach and arid landscape, which is where hundreds of butterflies call home.
Kabak Cove, another hidden gem, showcases the unique natural beauty of the region. From tranquil nature parks to breathtaking coastal panoramas, Fethiye is not short of nature spots.
10. Excellent Spot for Sailing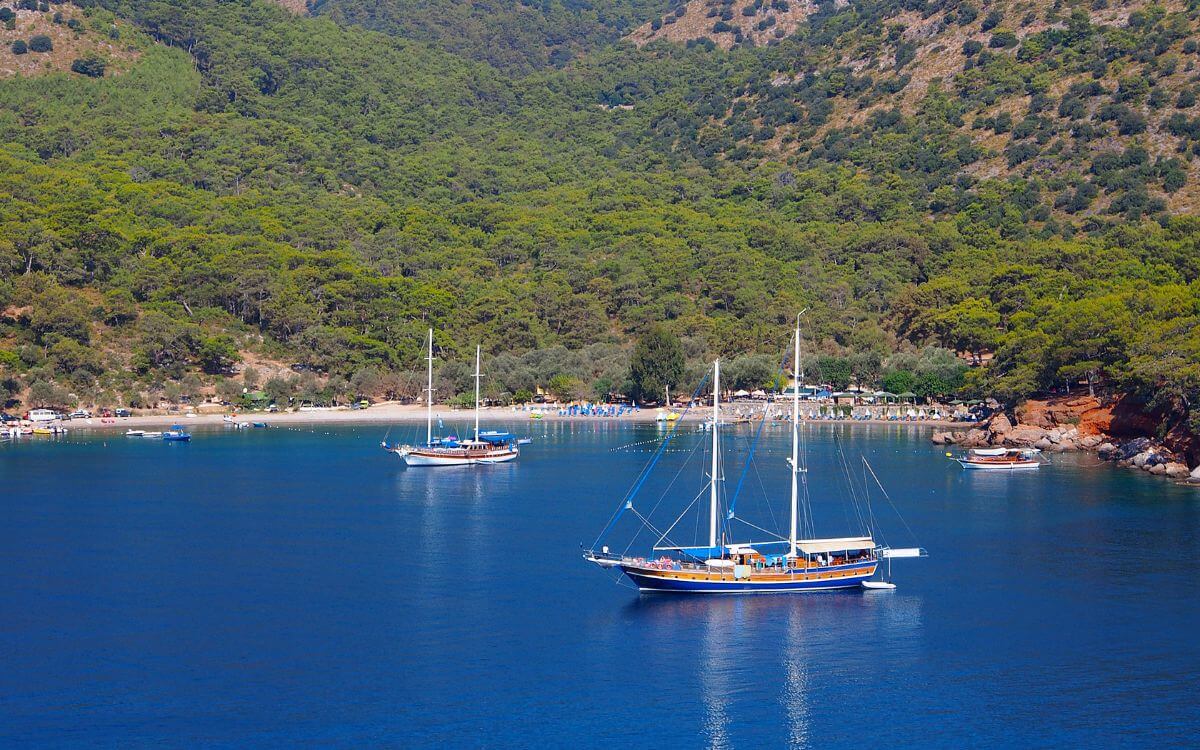 One of the best sailing spots in the world is the Aegean Sea in Turkey, which is known for its crystal-clear, turquoise waters and idyllic coastline. The wind conditions are perfect for sailing, with an average wind speed of 8.8 mph (14.2 kph) in the summer.
The landscape in Fethiye is the perfect backdrop for an unforgettable sailing experience. Just like on a boat tour, you can explore the tranquil bays and hidden coves, but from a sailing boat, you'll feel a sense of freedom and serenity like no other.
Whether you're a seasoned sailor or a beginner, Fethiye offers a range of sailing tours and charters to suit your preferences.
---
Reasons NOT to Visit Fethiye
1. Crowded in the Summer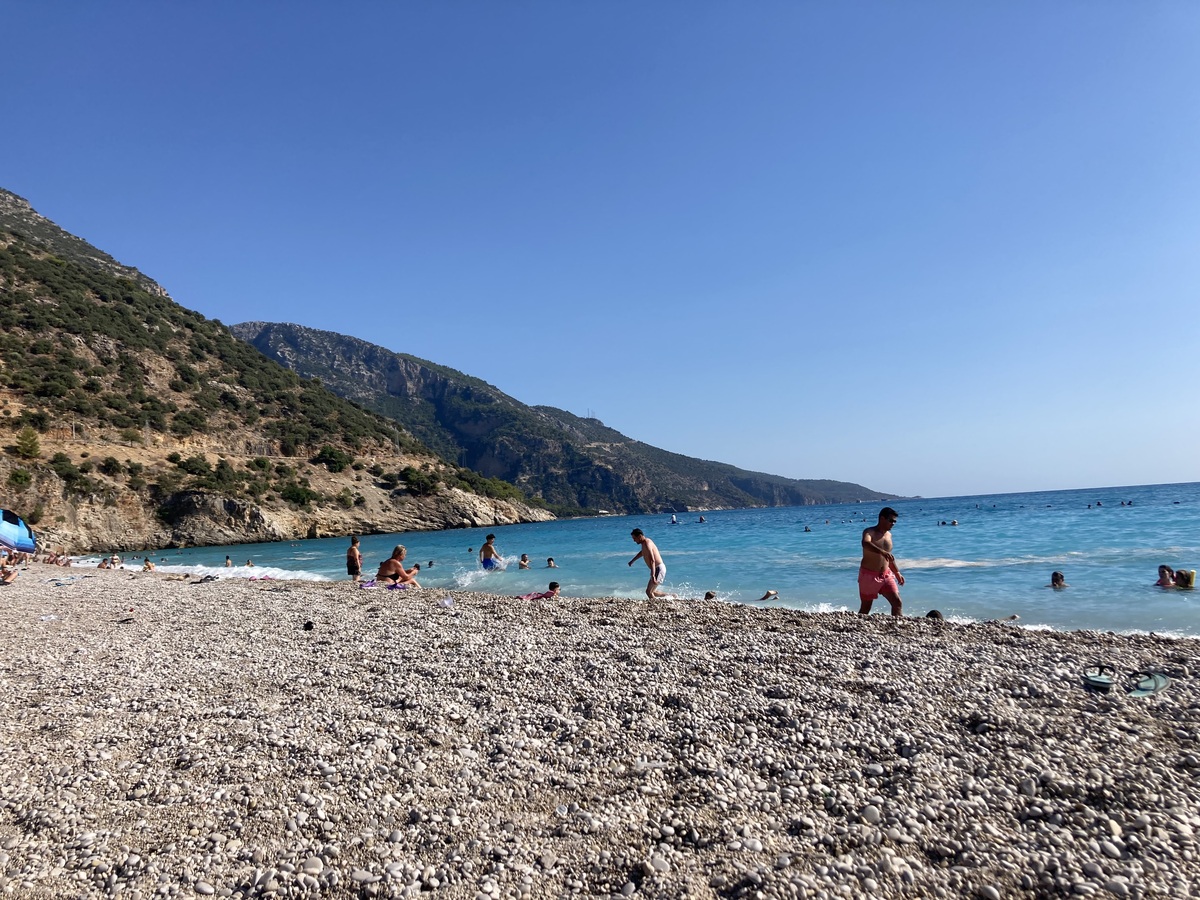 Although Fethiye is undeniably a captivating destination and has a lot of beauty, it can sometimes be hard to appreciate it amid the throngs of crowds.
During peak tourist seasons, such as summer, the popular attractions and beaches can become quite congested, especially on the beaches. Even when visiting quiet beaches, such as Butterfly Valley's beach, the boat tours with their loud music and the sheer volume of people can diminish the tranquility of the place.
You can also expect long queues, crowded streets, and packed restaurants, which can make traveling stressful when take away from the serenity that Fethiye has to offer.
However, you can visit during the winter or Autumn and escape the crowds, though it may be too cold to sit on the beaches.
2. Not Relaxing
A consequence of the above – large crowds means less relaxation. While many praise Fethiye for its natural beauty, I must confess that it may not be the ideal destination for those seeking a truly relaxing experience.
The bustling atmosphere, especially during the peak tourist seasons, can create a sense of constant activity and energy. The vibrant nightlife, lively markets, and crowded streets may not offer the serenity and tranquility that some travelers desire.
The popularity of Fethiye means that certain areas can be crowded no matter what time of day or time of year you visit, making it challenging to find a peaceful spot to unwind. If you're in search of a more secluded and tranquil getaway, then we recommend visiting Kas or Alanya on the East Coast of Turkey.
3. Expensive Compared to Other Turkey Destinations
Turkey is not expensive compared to other destinations in Europe, but Fethiye and other destinations on the coast are more expensive than other popular destinations inland, such as Cappadocia, Istanbul, and Izmir.
The reason for this is that being by the beach is one of the main reasons to visit Turkey, and these coastal towns are not short of tourists looking to part with their cash and enjoy a beach vacation.
The cost of hotels, transport, and food in restaurants, was more expensive than other parts of Turkey from our experience.
4. No Backpacker Vibes
While Fethiye is undoubtedly a popular destination for travelers, it's more suited to families and groups of people, as opposed to backpackers and solo travelers.
The town attracts a significant number of tourists, which can drive up prices for accommodations, food, and activities.
We found the hostels in Fethiye and Oludeniz to be of poor quality (compared to other parts of Turkey) in terms of facilities and price. There are not too many hotels or experiences that cater to a budget-conscious traveler.
Additionally, Fethiye's popularity means that it can be crowded, making it challenging to find available accommodation last minute, especially during peak seasons.
For backpackers looking to immerse themselves in local culture and travel on a shoestring budget, there are other destinations in Turkey that offer a more authentic and affordable experience whilst also allowing you to experience the beauty of the Turkish Coast, such as Antalya.
5. Highly Commercialized / Limited Local Experience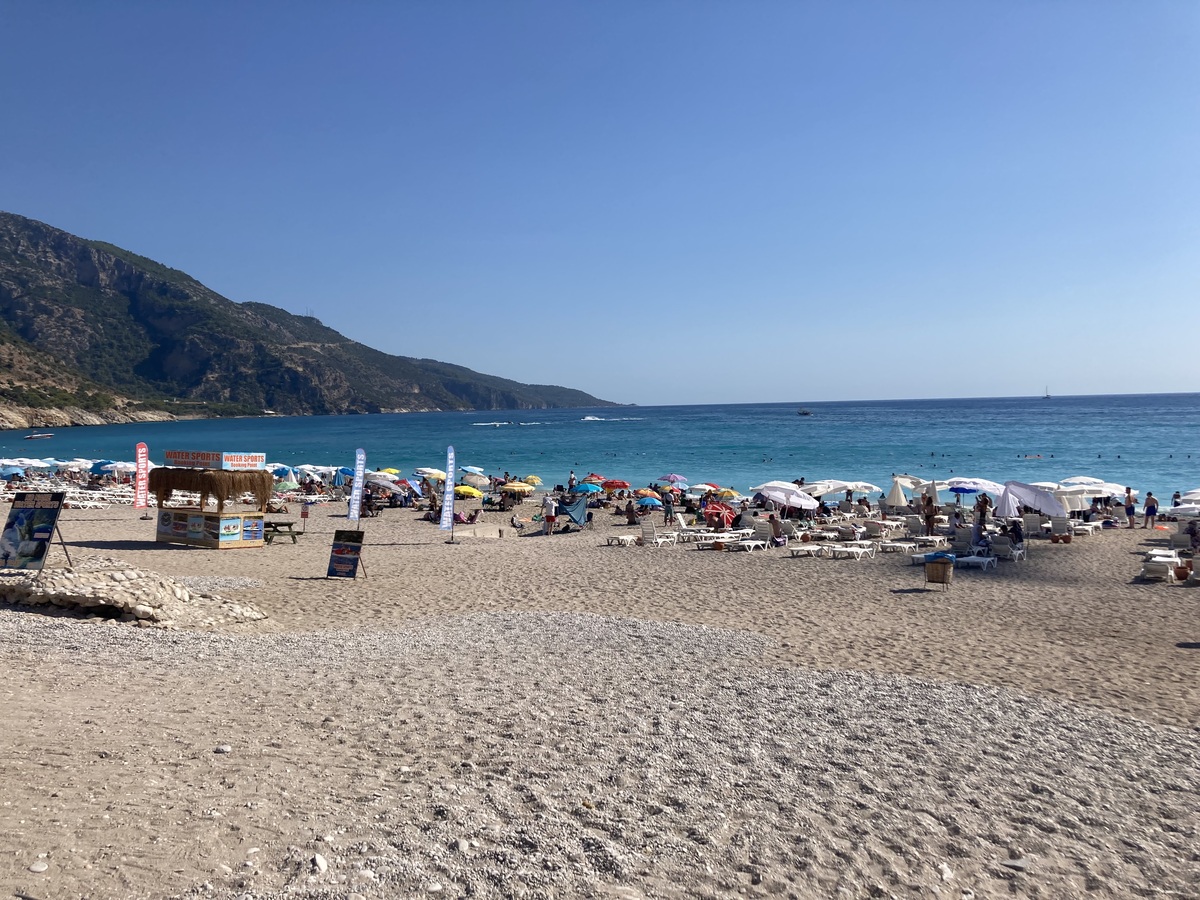 Fethiye may not be the ideal choice of destination for those seeking an authentic and non-commercialized experience. The town has become increasingly commercialized over the years, with a multitude of tourist-focused establishments and activities dominating the scene.
From bustling markets selling mass-produced souvenirs rather than locally made handicrafts to crowded beaches lined with sunbeds that you have to pay 100 Lira to use – the charm of Fethiye can sometimes get overshadowed by its commercial nature.
For travelers yearning for a more off-the-beaten-path experience, where they can connect with the local culture and traditions in a more genuine way, Fethiye is not for you. We recommend exploring destinations like Cappadocia or Konya where you can still get an authentic experience whilst still being tourist friendly.
6. Scorching Summer Heat
Summer is peak season for Fethiye, but it's also the time when the scorching summer heat can get unbearable, which can be a deterrent for some travelers.
With temperatures soaring well above 30 degrees Celsius, the intense heat can make outdoor activities and exploration uncomfortable, especially during the peak summer months.
The relentless sun may limit the enjoyment of popular attractions such as the ancient ruins or hiking trails. While the nearby beaches offer respite, many of them lack shade (unless you pay for the use of an umbrella) and they can also be crowded during this time.
For those who prefer milder climates or are sensitive to extreme heat, it might be worth considering visiting Fethiye during cooler seasons when the temperatures are more pleasant for outdoor adventures.
7. Limited Things To Do Besides The Beach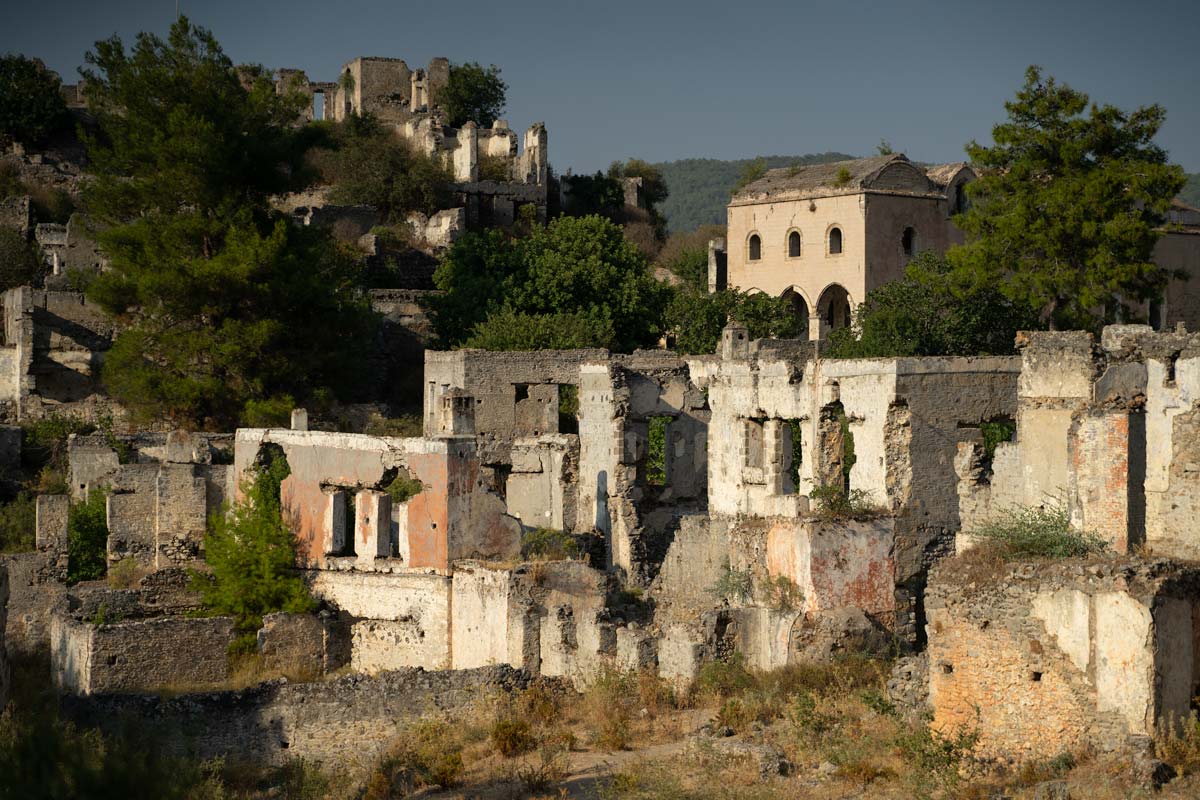 Fethiye is known for its stunning beaches, but for those travelers longing for more diverse attractions, you may find that Fethiye doesn't offer much.
Beyond the beaches, Fethiye may lack the abundance of cultural and historical landmarks found in other Turkish destinations.
Although there are some notable sites like the Lycian Rock Tombs and the Ghost Village of Kayaköy, the options can feel limited.
For travelers craving a mix of beach relaxation and immersive cultural experiences, exploring other regions in Turkey with a more varied array of attractions, such as Antalya, could be a more fulfilling choice.
8. Limited Snorkeling Opportunities
Snorkeling enthusiasts may find themselves disappointed by the lack of colorful fish on the beaches in Fethiye. While there are a few spots suitable for snorkeling in the area, especially if you take a boat tour out to where the corals thrive, the options can be somewhat restricted since you need to travel to find them.
The lack of vibrant coral reefs and diverse marine life may leave avid snorkelers yearning for more immersive experiences. For those seeking a destination with a wider range of underwater wonders, exploring other regions along the Turkish Riviera may provide a more fulfilling and diverse snorkeling adventure.
9. Mosquitoes
Fethiye is known for its mosquito population, especially during the summer season. The presence of mosquitoes can be a nuisance for some people, and these tiny creatures can disrupt outdoor activities and make evenings less enjoyable.
Despite efforts to control their population, it's important to come prepared with mosquito repellents and protective clothing.
Although the issue can be managed with precautions, those who are particularly sensitive to mosquito bites or prefer destinations with fewer insects may want to explore alternative options.
---
Final Thoughts
So there you have it, those are the reasons for and against visiting Fethiye, and as you can see it's a destination that will suit beach lovers and those who don't mind crowds of people. It also has beautiful nature nearby, and hikers will love exploring the mountains around the Fethiye region.
However, it's not the best destination in Turkey for backpackers or those who want peaceful relaxation. It's also not the best destination to visit if you want cultural experiences, since it has become highly commercialized and relies heavily on tourism, so you'll find a lot of Western-style restaurants and bars.
Ultimately, deciding whether Fethiye is worth visiting comes down to the type of traveler you are and what you want to get out of your vacation, but we hope our guide helped you figure out if it's right for you.