Are you unsure when is the best time to visit Izmir? Don't worry, we've got your back.
The best time to visit Izmir is in the late spring and summer between April and September. This time of the year the weather is dry and hot, perfect for enjoying the beautiful beaches and nature surrounding Izmir.
April and May are especially nice as the weather is warm but you just beat the crowds. April is the shoulder season, which is when you will find fewer travellers (compared to July and August), and more moderate temperatures for sightseeing.
Because of its coastal location on the Aegean Sea, you'll want to make sure to visit Izmir during the dry and sunny seasons, so you can take advantage of the stunning beaches nearby. However, the heart of the summer in Izmir can be quite hot and humid, so you will need to think about how much you can handle the heat.
If you cannot visit during the summer, don't worry, because Izmir offers something for travellers all year round. Don't believe me? Keep on reading and find out more about when is the best time to visit Izmir for you!
Climate and Weather in Izmir
| Month | Average Lowest Temperature | Average Highest Temperature | Rainfall (mm) | Rainy Days | Max Sustained Wind (kph) |
| --- | --- | --- | --- | --- | --- |
| January | 4°C, 39°F | 12°C, 54°F | 100 | 7 | 12 |
| February | 4°C, 40°F | 13°C, 56°F | 95 | 8 | 13 |
| March | 7°C, 44°F | 17°C, 62°F | 75 | 7 | 13 |
| April | 9°C, 49°F | 21°C, 70°F | 55 | 6 | 12 |
| May | 14°C, 58°F | 26°C, 80°F | 30 | 3 | 12 |
| June | 18°C, 65°F | 31°C, 89°F | 0 | 0 | 13 |
| July | 21°C, 69°F | 34°C, 93°F | 0 | 0 | 15 |
| August | 21°C, 70°F | 34°C, 93°F | 5 | 0 | 14 |
| September | 17°C, 62°F | 30°C, 85°F | 20 | 2 | 7 |
| October | 13°C, 55°F | 25°C, 76°F | 40 | 4 | 7 |
| November | 8°C, 47°F | 19°C, 65°F | 120 | 8 | 11 |
| December | 5°C, 42°F | 14°C, 57°F | 140 | 10 | 12 |
Izmir's climate is a little bit of a mixed bag so to speak. Summers are ferociously hot, winters are almost usually quite cool, and fall and spring are always warm.
Though one of the best things about Izmir is its coastline location, meaning there's usually always a nice breeze blowing through cooling things off during the day.
Like most places in Turkey, it's hot during the day with the temperature dropping off as the sun sets.
This is more apparent during the months of fall and spring as nights during these months are still pretty chilly whereas, in the summer, it's still really warm, even in the thick of the night.
Izmir in Summer (June to August)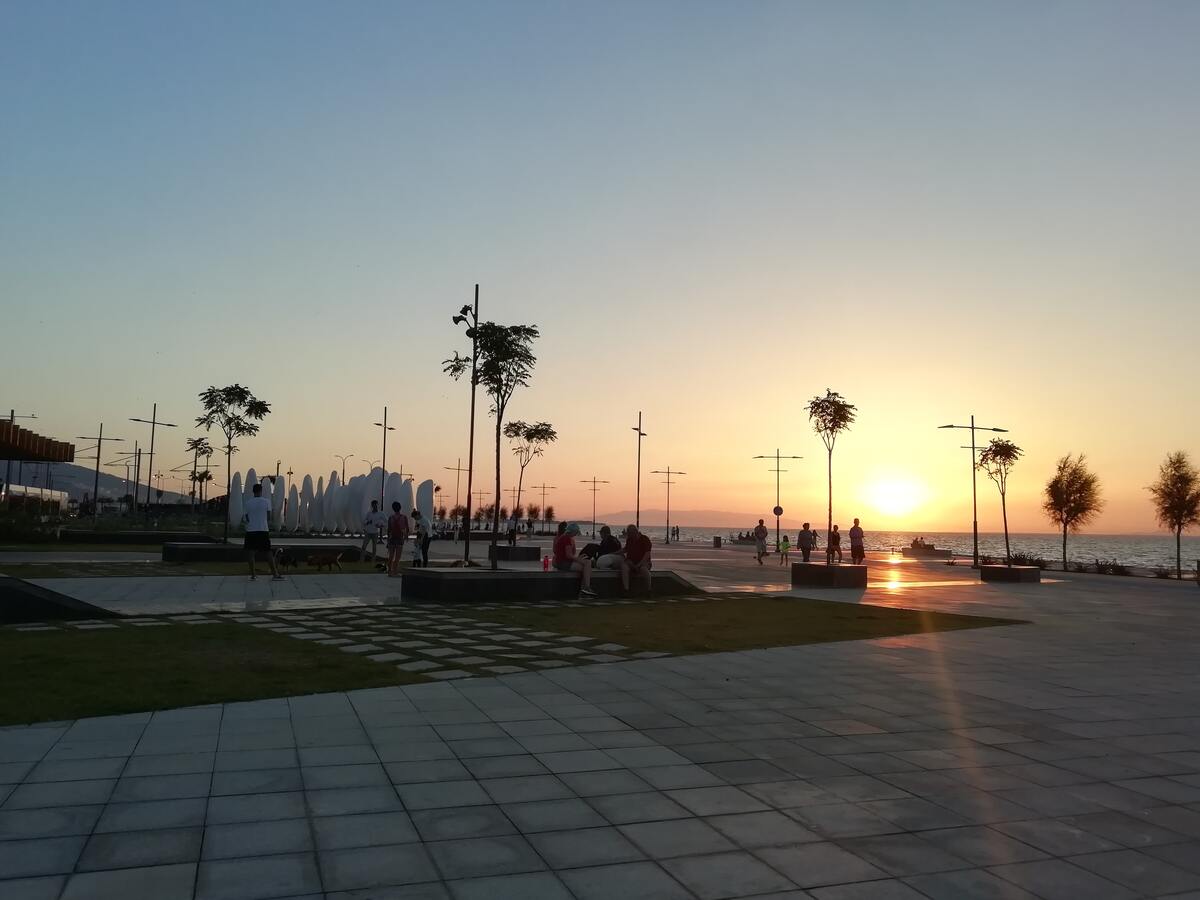 Unsurprisingly, the summer months are the peak season for Izmir and the surrounding area. Populations massively increase due to the sheer number of tourists, foreign and Turkish, that come to visit one of the country's premier regions.
It's not only the main city of Izmir that becomes a vibrant and buzzing city. Izmir's encompassing towns and villages also become a popular calming escape for many people too.
This is primarily due to the weather – it's beautiful. Hot with cloudless blue skies make it the perfect destination for those wanting a summer holiday.
One of the best things about visiting a destination like Izmir is the warm but cooling nights. There's not a lot better than relaxing at one of Izmir's bayside restaurants, dining al-fresco with a cold Efes to hand.
Izmir in Fall (September to November)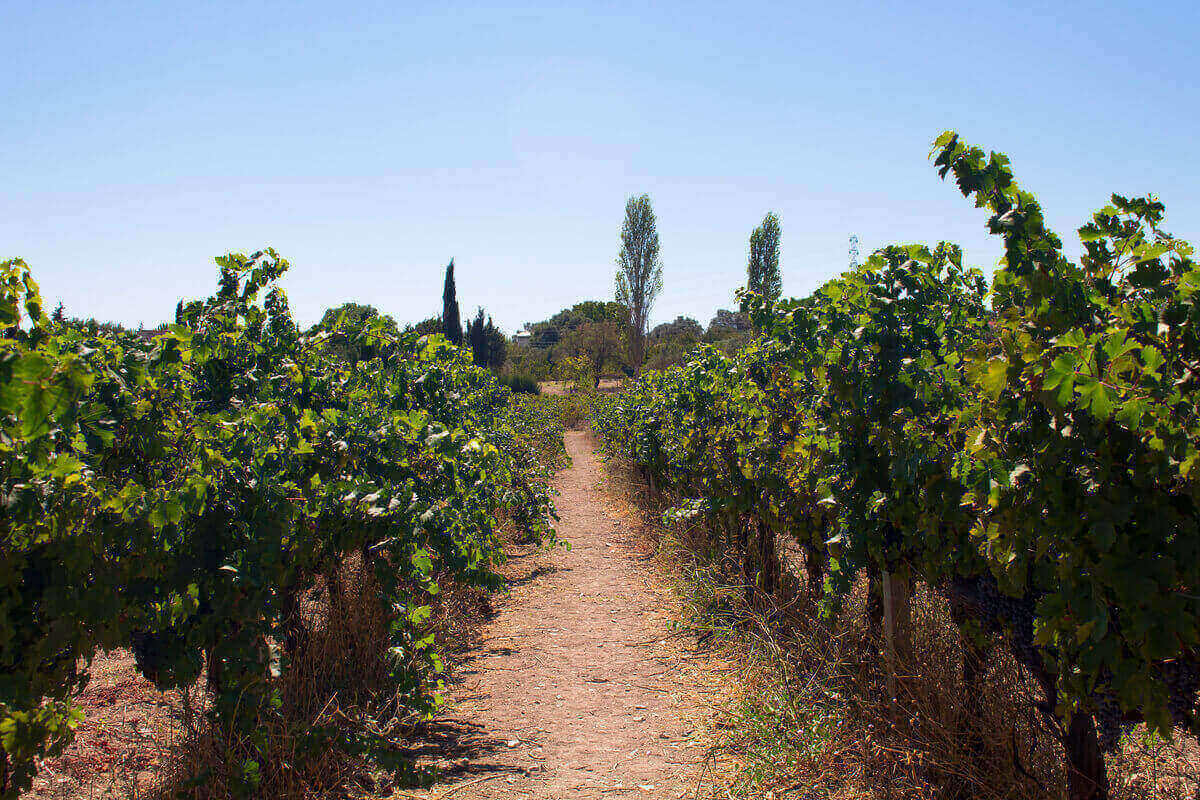 Temperatures in the autumn months in Izmir are still really warm, especially in comparison to the same time in other European countries. This makes it a perfect time to explore, wander around, and just get lost in Izmir's natural beauty without the fear of getting ill from overexposure to the sun.
The villages and towns surrounding Izmir city takes center stage with nature showing its true potential. It's helped by the variety of this region's geography, with countless valleys, mountains, and forests all waiting for you.
Rainfall during these months is still at a minimum, with only a handful of expected days of wet weather. It must be said, this time of year is perfect for the active traveler wanting to get out and see the best of what Izmir has to offer.
Izmir in Winter (December to early March)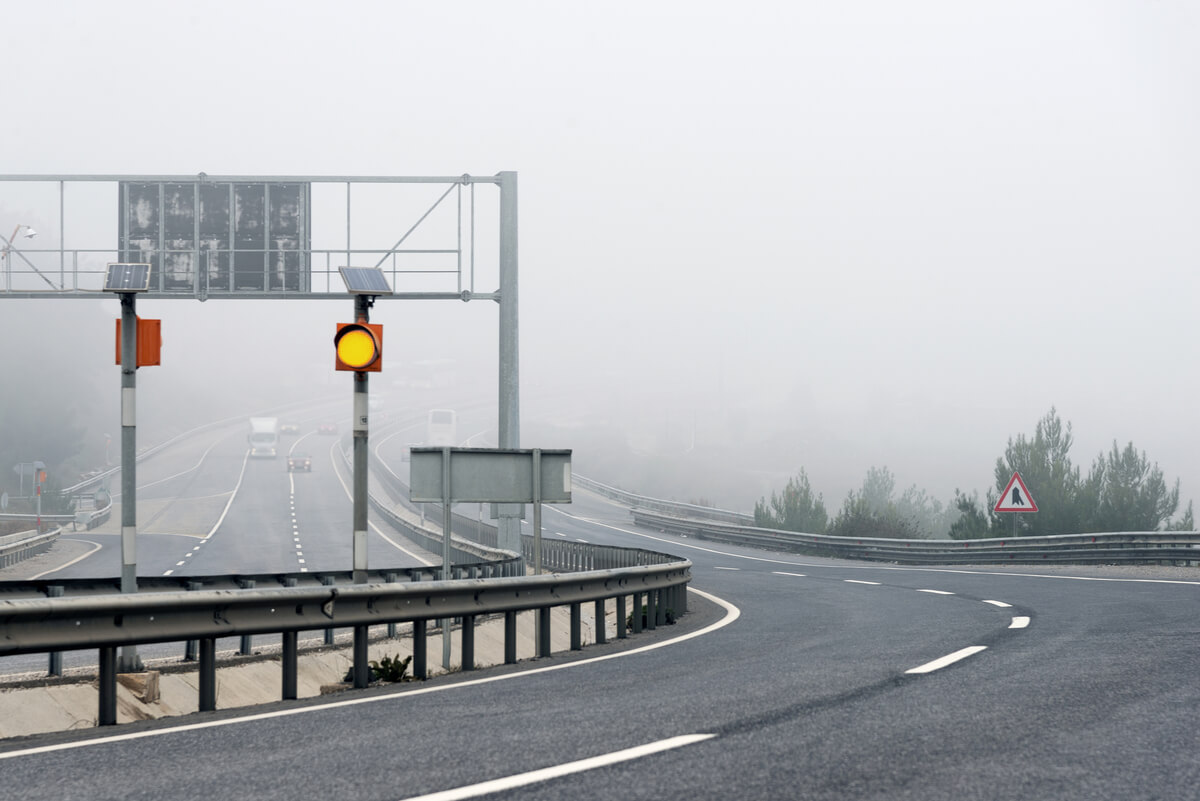 Winters are arguably the least pleasant time of year to visit. The temperatures are super mild, bordering on chilly, even during the day. It's a stark contrast to the summer months, but Izmir is still a great place to visit as there are many things to do while you wait for the showers to pass.
The overwhelming majority of the region's yearly rainfall occurs during these months, with snow sometimes even making a timid appearance.
It's rare, but it does happen, so it's worth making sure you pack suitable clothes if you'll be visiting at this time of the year. The last thing you'll want is to be stuck inside your accommodation because you forgot to pack something waterproof.
Izmir in Spring (Late March to May)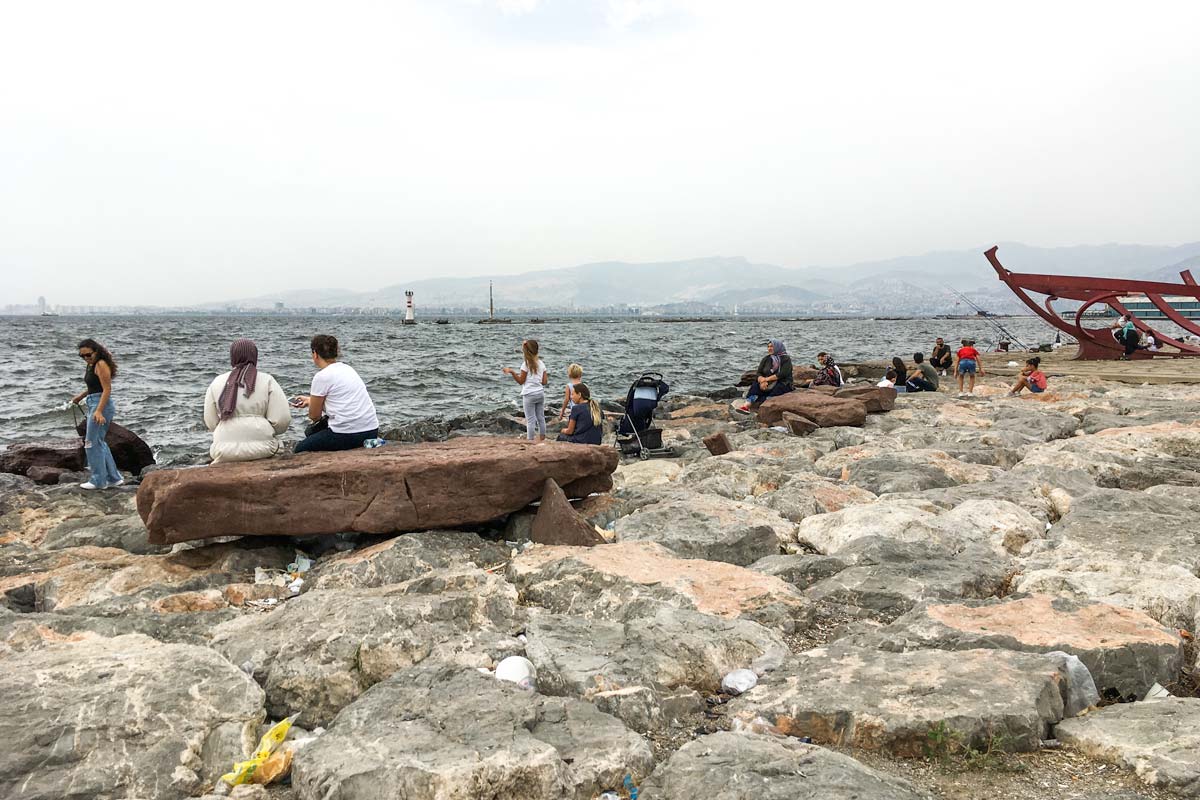 Following a wet winter, much to the relief of the locals, the weather generally starts to improve around March when Spring arrives.
At the start of the month, it'll likely still be fairly cold with chances of rain and the occasional warm spell if the sun decides to make an appearance.
By April however, things start to warm up quite considerably, with May being even hotter and bordering on summer weather. At this time of year, prolonged rains tend to dissipate and won't return until summer is over.
This is a great time to enjoy the beaches in the Izmir province as it'll still be plenty warm enough to go for a swim in the ocean, but won't be so blisteringly hot that you'll need to seek shelter from the midday sun. 
Best Time To Visit Izmir For Sightseeing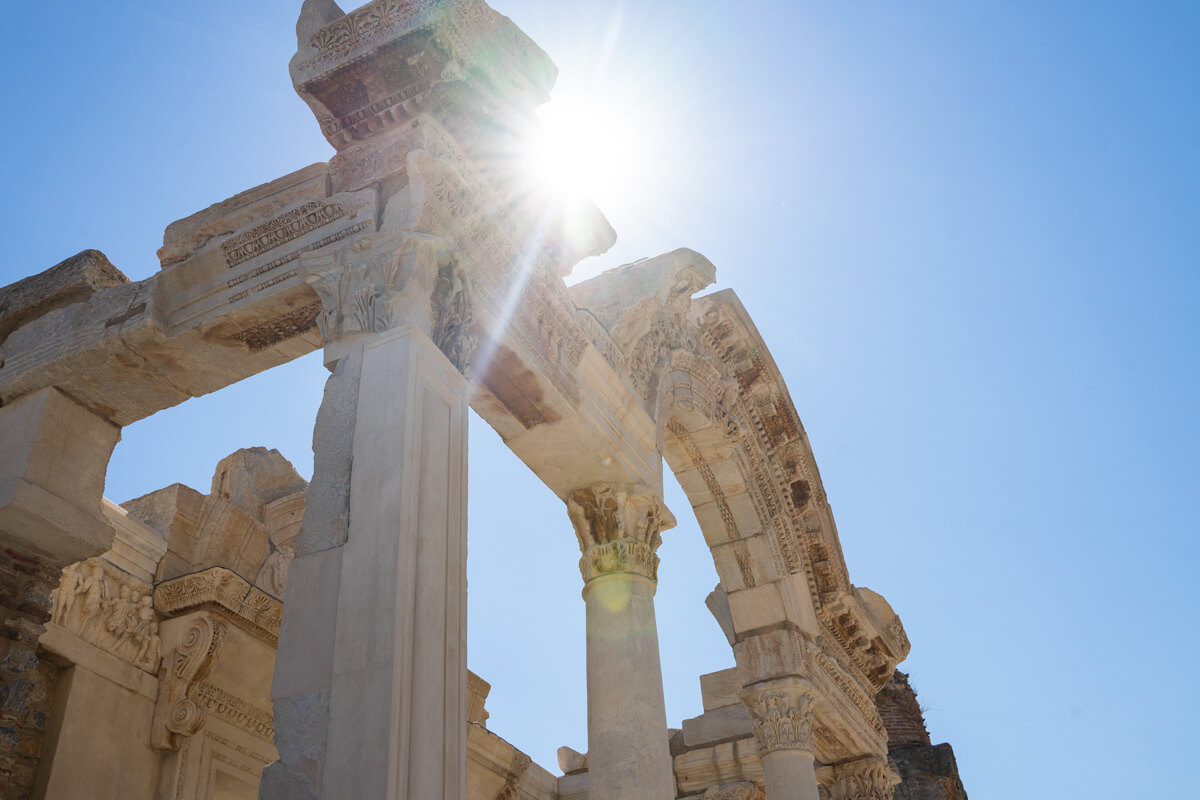 Whether it's wandering around the ancient ruins of Ephesus, strolling through Konak Square, or something a little further afield like visiting the famous natural wonder of Pamukkale, it's always best to double-check what time of year is suitable to give you the best chance of enjoying your trip to the max.
The months on either side of the peak, from September to November, or late March to May are the best for visiting the historical sights. It'll still be beautifully warm and sunny, but not too hot that it becomes unbearable.
Because the vast majority of Izmir's best attractions are outdoors, you're going to need suitable weather. If you visit during the peak summer months between June to August, you're going to be seeking shelter from the sun for most of the day.
Unless you're a hardcore heliophile, it's just going to be too hot to explore. This time of year is best for relaxing on beautiful beaches soaking up the sun or under an umbrella.
Best Time To Visit Izmir for Hiking
Some of Turkey's best hiking spots can be found in Izmir. From the hike to the summit of Mount Boz, walking around Gulcuk Lake or hikes through Behzat Tepe, there's a trail for everyone.
Generally speaking though, by far the best time for hiking in Izmir and its surrounding region would be autumn. This is when the weather is still wonderfully warm, but not too hot.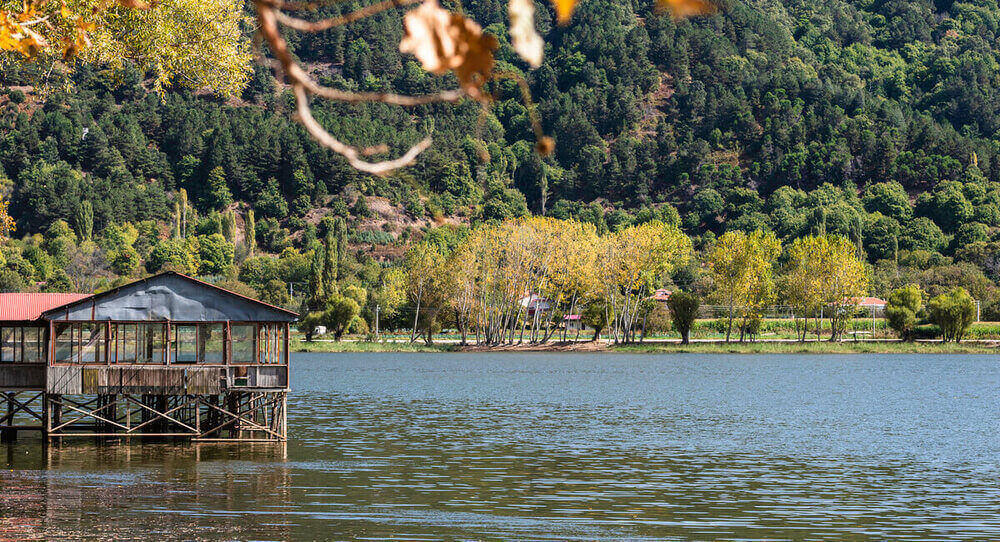 Clear blue skies are pretty much daily giving you some of the best views in the entire country. Put it this way, it's certainly worth all of the effort and calories burnt.
The amount of rainfall is also far less than even the months of spring, ideal for hiking. Trails can get extremely slippery in the cold and wet weather of winter so if you'll be planning on heading out for a hike it's best to do this when it's warm and dry.
Best Time To Visit Izmir to Avoid the Crowds
It's no secret that Turkey is one of the world's most popular summer destinations. Millions of people come from all over the world to experience the best of what this incredible country has to offer. As a result, it's pretty crowded in the peak tourist season, especially in the main cities.
June to August are the worst in terms of crowds, everything from the markets to the beaches will be busy. Luckily there are not many places in Izmir where you'll need to queue to get in, besides the few museums that are in the city.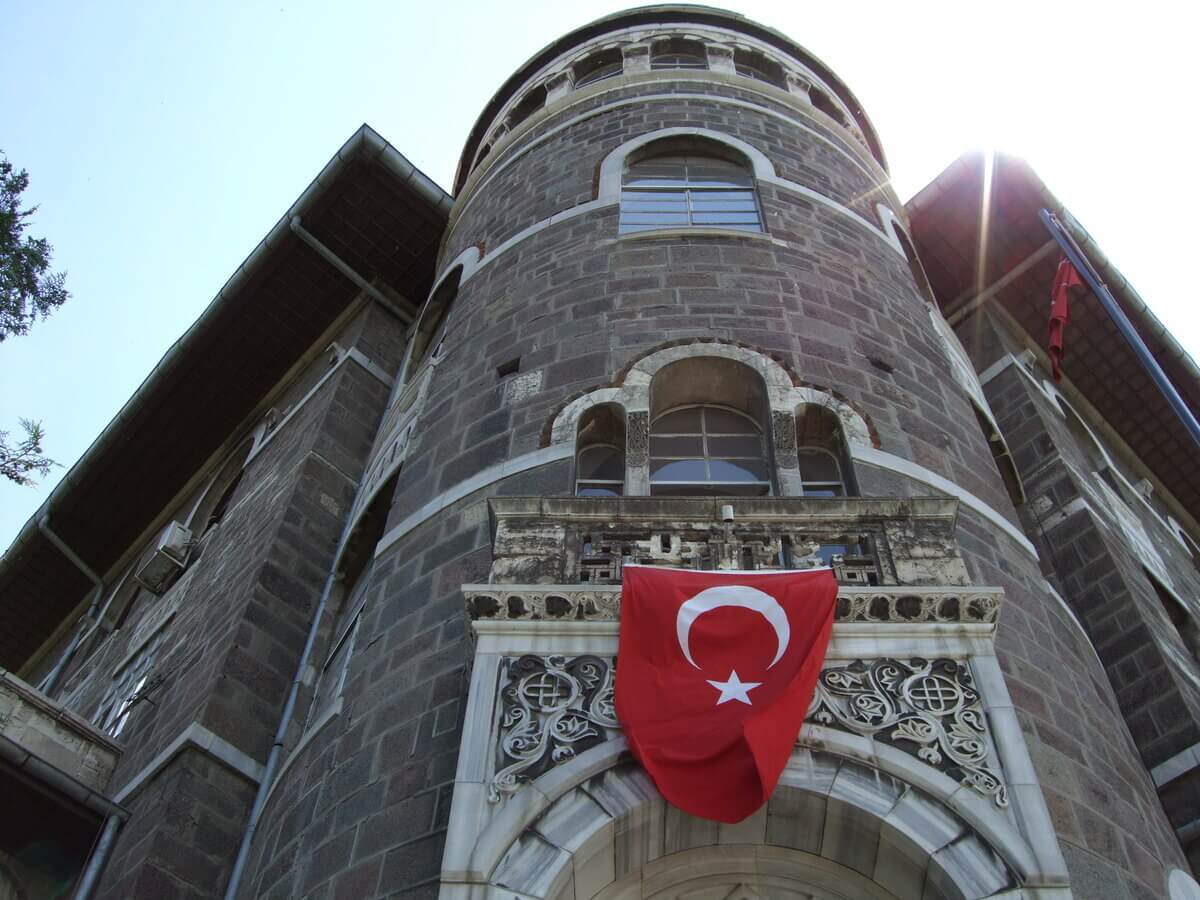 Autumn and spring are good months to travel to Izmir because you'll still get pristine weather but there won't be many tourists.
If you want to have an authentic, 'local' experience, visit during the winter months. It'll be chilly during the day but you'll likely be one of the few tourists in the city. On top of this, you'll likely also get great deals on accommodation and flights too.
It's worth keeping in mind though that some attractions may be closed because of the weather if it rains heavily. Walking around the ancient ruins of Kadifekale, Pergamon, and Ephesus might be a little miserable in the pouring rain, so make sure you time it well if you visit in the winter months.
Best Month To Visit Izmir
Below is a month-by-month analysis of the weather in Izmir. Make sure you check it out before planning your itinerary!
Izmir in January
Average Temperature: between 4°C (39°F) and 12°C, (54°F)
Rainfall: 100mm in 7 days
Maximum Sustained Wind: 12 kph
January in Izmir is when the weather is at its coldest. You can expect the temperatures to be pretty chilly during the day, and at night it can get seriously cold so definitely make sure you pack warm clothes.
If you can bare the cold, traveling to Izmir in January is an underrated time of year to go.
There are not many tourists on the streets which gives you a real authentic experience that you won't be able to get at many other times of the year.
Izmir in February
Average Temperature: between 4°C (40°F) and 13°C (56°F)
Rainfall: 95mm in 8 days
Maximum Sustained Wind: 13kph
February is a good time to visit because it's outside the peak season, meaning fewer crowds at Izmir's archaeological sites. However, it's still winter, and temperatures can be rather chilly, especially near the mountains where there can be wind, rain, and even the occasional snowfall.
Izmir in March
Average Temperature: between 7°C (44°F) and 17°C (62°F)
Rainfall: 75mm over 7 days
Maximum Sustained Wind: 13kph
March is a turning point in terms of the weather. Spring is not too far away and as a result, the temperatures become a little warmer towards the end of the month and the rain isn't as ferocious. The city is also still pretty quiet in all honesty, which could be a bad thing for those after a bustling atmosphere.
Izmir in April
Average Temperature: between 9°C (49°F) and 21°C (70°F)
Rainfall: 55mm over 6 days
Maximum Sustained Wind: 12kph
Well, Spring has finally arrived which means it's starting to get pretty warm. This is an excellent time to visit Izmir because it's well before the summer peak but the weather is great.
At the end of the month, it'll likely even be nice enough to enjoy one of the region's beautiful beaches. As it is only April, you will still have to be cautious regarding the rain.
April averages around 3 inches across the month with this amount not being seen again until October. This can make hiking trails unexpectedly slippery especially if it's not had a chance to dry yet.
Izmir in May
Average Temperature: between 14°C (58°F) and 26°C (80°F)
Rainfall: 30mm in 3 days
Maximum Sustained Wind: 12kph
May is certainly one of the best months to visit Izmir if you're looking for an early summer holiday. Temperatures during the day can reach highs of up to 25 degrees which is pretty much perfect in terms of beach weather.
You'll be able to lay on the beach all day without ever getting too hot, but make sure you top up the sun cream though as the sun is super powerful at this time of year.
Nights can get a little chilly thanks to the cool breeze coming off of the Aegean so make sure to pack something for the evening.
Izmir in June
Average Temperature: between 18°C (65°F) and 31°C (89°F)
Rainfall: no rain
Maximum Sustained Wind: 13kph
With average temperatures often exceeding 30 degrees, June is when things start to heat up. Beaches start to look busy and to cater to the hordes of tourists, a range of water sports becomes available like jet skis, parasailing, and water skiing.
Archaeological sites around Izmir become super busy too and you'll likely have to queue to get into most, especially the ancient of city Ephesus.
Izmir in July
Average Temperature: between 21°C (69°F) and 34°C (93°F)
Rainfall: no rain
Maximum Sustained Wind: 15kph
Just like the vast majority of Europe, July is the absolute peak of summer in Izmir. It's blisteringly hot, which makes sightseeing particularly difficult.
Even relaxing on the beach becomes a hard task, as the Mediterranean sun beams down on Izmir and the wider region.
During July, tens of thousands of tourists descend onto Izmir daily which makes the city center itself buzzing, giving off nice summer vibes especially down by the waterfront.
Restaurants and bars are packed much like the sights and museums of the area. It might be a good idea to take a day trip or two to escape the crowds, Pamukkale or any of the beautiful coastal towns are exceptional at this time of year.
You might want to split your days in Izmir up between indoor and outdoor activities so you don't overdo it in the sun.
Izmir in August
Average Temperature: between 21°C (70°F) and 34°C (93°F)
Rainfall: 5mm in 0 days
Maximum Sustained Wind: 14kph
August is very similar to July in that it's super hot and super dry with temperatures staying more or less the same. The average rainfall for the month is a measly 0.12 inches, which is barely a drop.
This means that for a summer holiday, it's pretty much perfect as you can be guaranteed that it won't rain, or if it does, it'll be minimal.
Because of the intense heat, you should plan your activities accordingly because you don't want to be in the midday sun wandering around ancient ruins. You'll run the risk of getting sunstroke and that's the last thing you want on holiday.
Izmir is generally safe, but the one thing people often don't think about when visiting is the heat, so do be mindful of that if you visit this time of year.
Izmir in September
Average Temperature: between 17°C (62°F) and 30°C (85°F)
Rainfall: 20mm in 2 days
Maximum Sustained Wind: 7kph
Peak tourist season is coming to a close which means that the crowds will be fewer and you might even encounter some good deals on flights or accommodation, though this is more likely in October.
Temperatures are still a balmy 30 degrees which makes Izmir a great out-of-season destination because you'll be able to enjoy the best of what the peak summer months offer but with a lesser crowd.
Evenings will be slightly cooler so it'd be a good idea to pack something to put on when you are strolling back from the restaurant.
Izmir in October
Average Temperature: between 13°C (55°F) and 25°C (76°F)
Rainfall: 40mm in 4 days
Maximum Sustained Wind: 7kph
Don't feel like you've missed the best of the weather if you decide to visit in October. You'll have avoided the intense heat during the day so the temperatures are much more suitable for exploring the archaeological sites, beaches and going for hikes.
There are some excellent trails to be explored and this is the perfect time to do just that. The rainfall has started to increase however so be prepared for a downpour or two. Luckily, you'll dry pretty quickly though!
Izmir in November
Average Temperature: between 8°C (47°F) and 19°C (65°F)
Rainfall: 120mm in 8 days
Maximum Sustained Wind: 11kph
November is still a good time to visit Izmir but the temperatures will quite noticeably begin to drop. Nights will feel cool, sometimes chilly, especially towards the end of the month when the winter begins to close in.
It's also pretty wet too. Almost 4 inches of rain falls across the month, increasing in frequency as the month goes on. There are still some great things to do even if it is raining like a visit to the Archaeological Museum or the Kemeralti Bazaar.
Izmir in December
Average Temperature: between 4°C (42°F) and 14°C (57°F)
Rainfall: 140mm in 10 days
Maximum Sustained Wind: 12kph
December, along with January, is probably one of the worst months to visit Izmir. It's chilly, rainy, and not very busy. Christmas time can be a special time of year in Izmir as there's usually a huge Christmas tree in Konak Square, along with street performances, street lights, and firework displays for New Year's Eve.
If you'll be visiting in December make sure to bring a warm coat as nighttime can get rather cold.
Best Time To Visit Izmir FAQs
Here's what people usually ask us about visiting Izmir…
What is the best month to go to Izmir?
The best month to go to Izmir is April or October, when the weather is warm and dry but not stiffling hot. It also has little chance of rain, and fewer crowds as it's just before and after the peak season.
What is the hottest month in Izmir?
July is the hottest month in Izmir, closely followed by August. You can expect temperatures to reach as high as 34°c (93°F), but it will likely feel hotter at places like Ephesus which sits in a valley and has little wind, and the white stone reflects the heat.
What is the coldest month in Izmir?
January is the coldest month, with average temperatures at around 4°C (39°F).
What is the wettest month in Izmir?
December is the wettest month, and has on average 140mm of rain.
The Verdict: When is The Best Time to Visit Izmir?
Picking the best time to visit Izmir is not easy, as it largely depends on what you want to see and do, as well as your availability.
Though the summers are nice and generally the best time to visit in terms of weather, travelers should be aware of the extremely hot temperatures and crowds.
If you are worried about the heat, the shoulder months of April and October may be the best time to visit Izmir for you, as you have the beauty of warm and dry weather, without the crowds.
Disclaimer: Some of the links above are affiliate links. That means if you book or make a purchase through the links, we will earn a small commission at no extra cost to you! The money will help run this site! Thank you!