If you're thinking of a Turkey vacation and choosing between cities to base yourself in, then it's no wonder Izmir's name has popped up. It's the third most populated city in the country and sits on the Aegean coast, making it an ideal destination for those who need a blend of relaxing beach time and a bustling atmosphere.
With so many historic landmarks nearby, such as the ancient wonder of the world in Ephesus, as well as being home to bustling bazaars, fascinating museums, delicious food, and warm locals, we can confidently say that Izmir is worth visiting.
But if you're still on the fence and not sure why you should add Izmir to your Turkey itinerary, we have listed all the top reasons to visit Izmir in this guide.
Reasons to Visit Izmir
1. Incredible History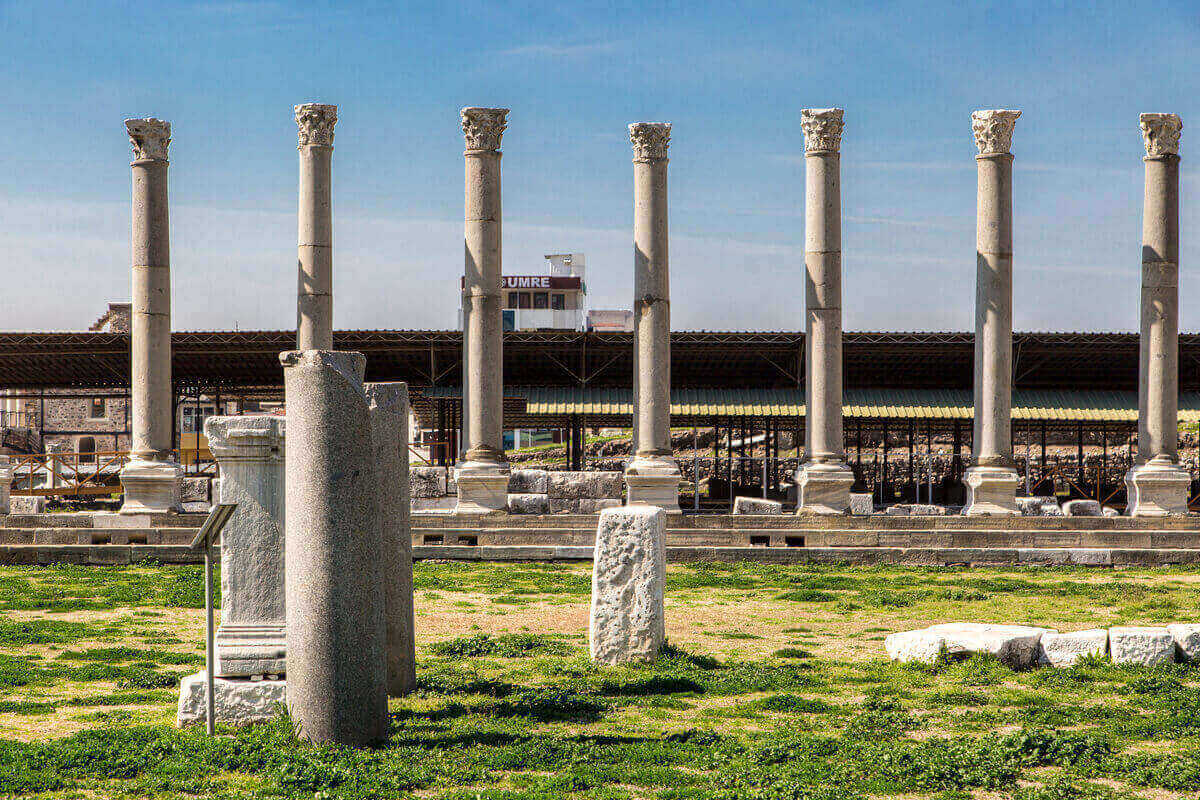 Historically known as Smyrna, the western Turkish city of Izmir is one of the oldest occupied settlements in the Mediterranean. Archaeologists discovered evidence through carbon dating that pins human life in Izmir as far back as the Neolithic period, or in layman's terms, 8,500 years ago.
The actual city itself was founded by the ancient Greeks in the 11th century, and it soon became a vital cog in the trade wheel, continuing with this importance through its Byzantine and Ottoman eras. Alexander the Great even passed through here.
Unsurprisingly, Izmir's rich history has left numerous sites of ancient ruins and landmarks for the traveler to explore – the most famous of these being the ancient city of Ephesus.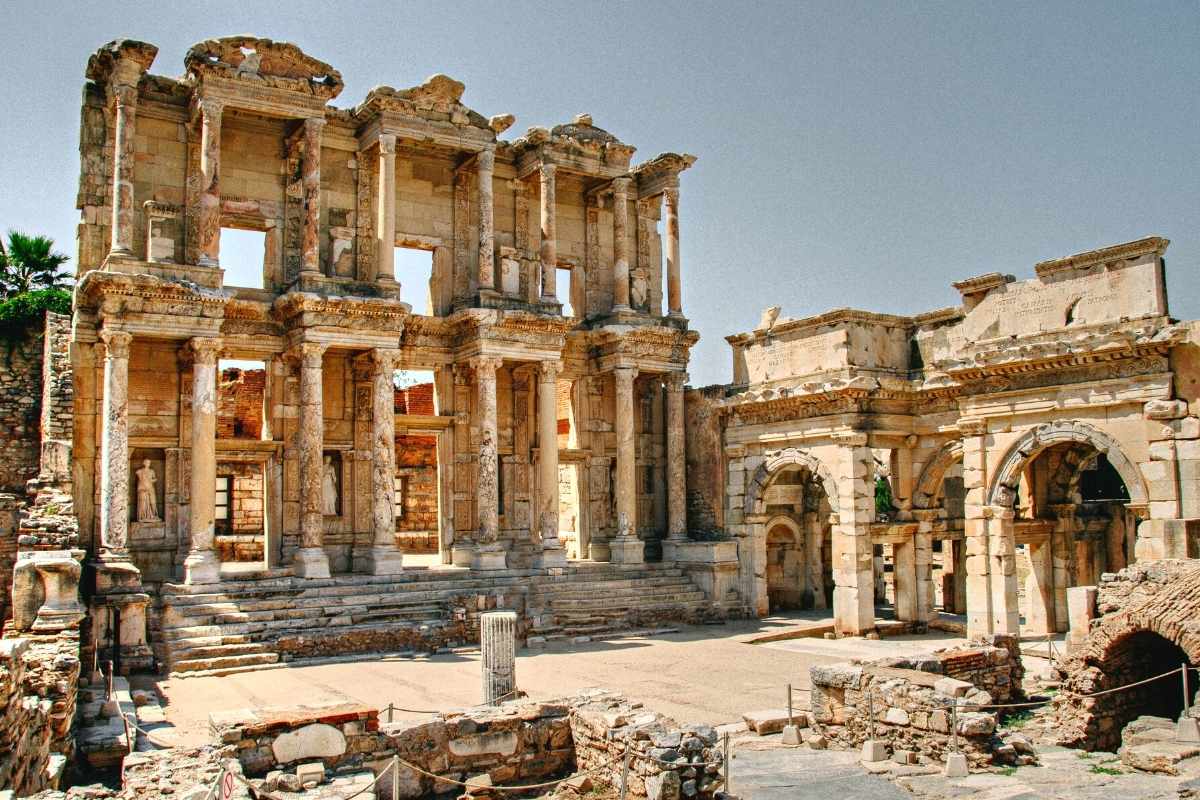 A little over an hour away from Izmir, it's one of the best-preserved ancient cities in the world and visitors to this jaw-dropping complex can explore various important sites that once stood there.
The Velvet Castle, or Kadifekale in Turkish, is a little closer to the city. This crumbling castle dates back to the 3rd century and overlooks Izmir, with unparalleled views of the region.
Exploring Izmir's historical attractions is one of the top things to do in Izmir and one of the main reasons to visit.
2. Delicious Cuisine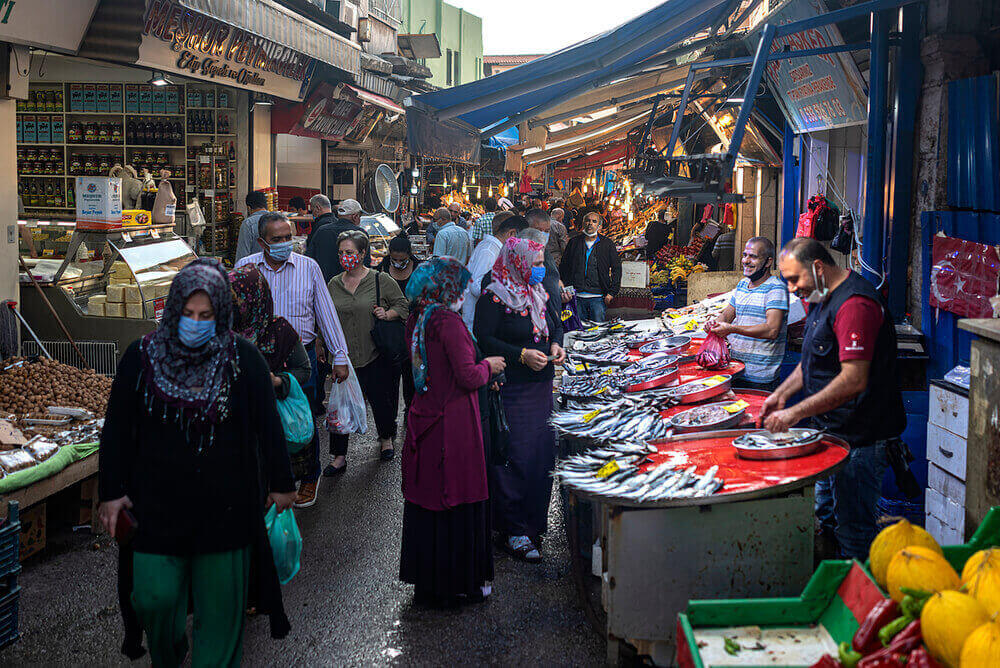 Turkey's Aegean coast is home to several cities that pride themselves on their mouth-watering cuisine. The natural landscape of the Izmir region, with its mountains and valleys, makes it a perfect location for growing all kinds of yummy produce.
That's before we've even mentioned the vastness of the deep-blue Aegean sea, packed full of the freshest seafood brought to shore each and every morning by the incredibly hard-working fishermen.
You can order a dizzying array of fresh seafood at one of Izmir's many restaurants, perhaps overlooking the very waters it came from. Grilled octopus is a particular favorite of the Anatolians, as is the fried calamari and seabass.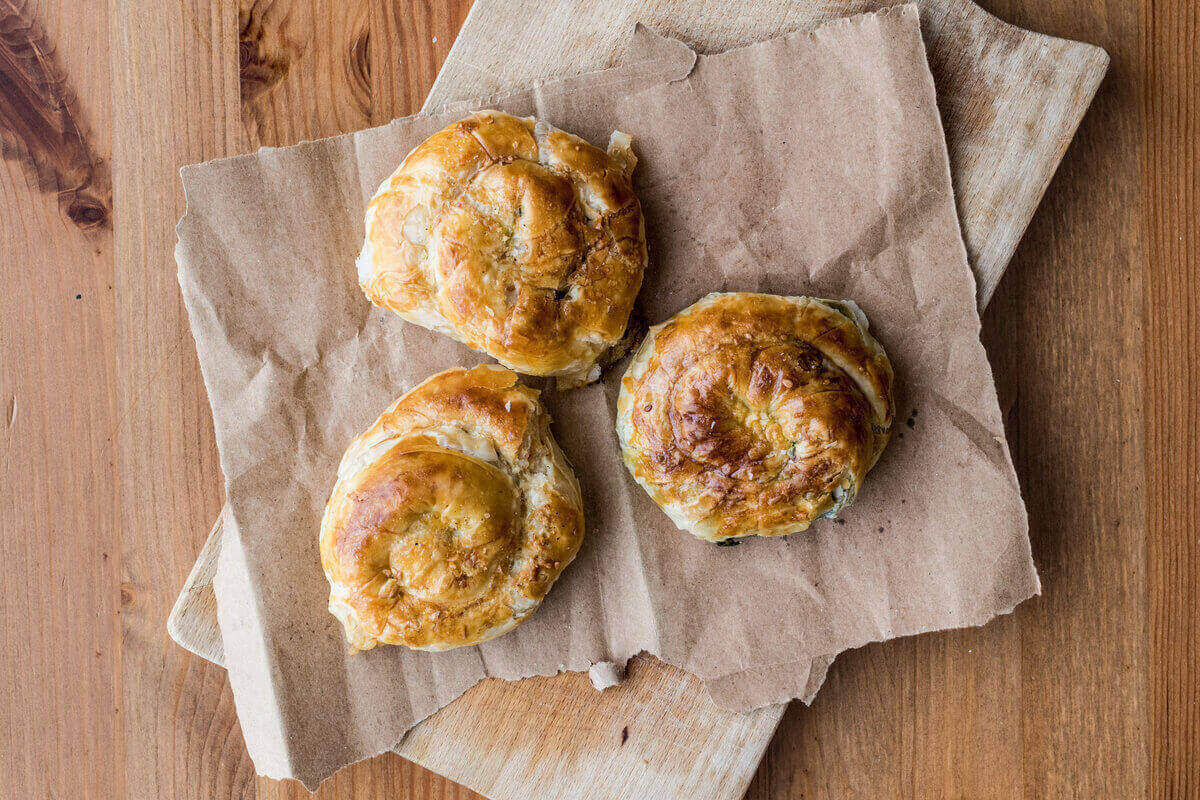 Outside of the pescatarian world, you can also sample some of the best Turkish Meze anywhere in the country including stuffed vine leaves, creamy hummus, and baba ghanoush.
For something a little more on-the-go, you won't have far to go before you come across vendors selling the famous Izmir Kofte. Ground meatballs are delicately flavored with herbs and spices and then grilled, served with some fresh bread and lashings of tangy tomato sauce.
Whatever you decide to feast upon in Izmir, it's almost guaranteed to be out-of-this-world delicious.
3. Stunning Coastline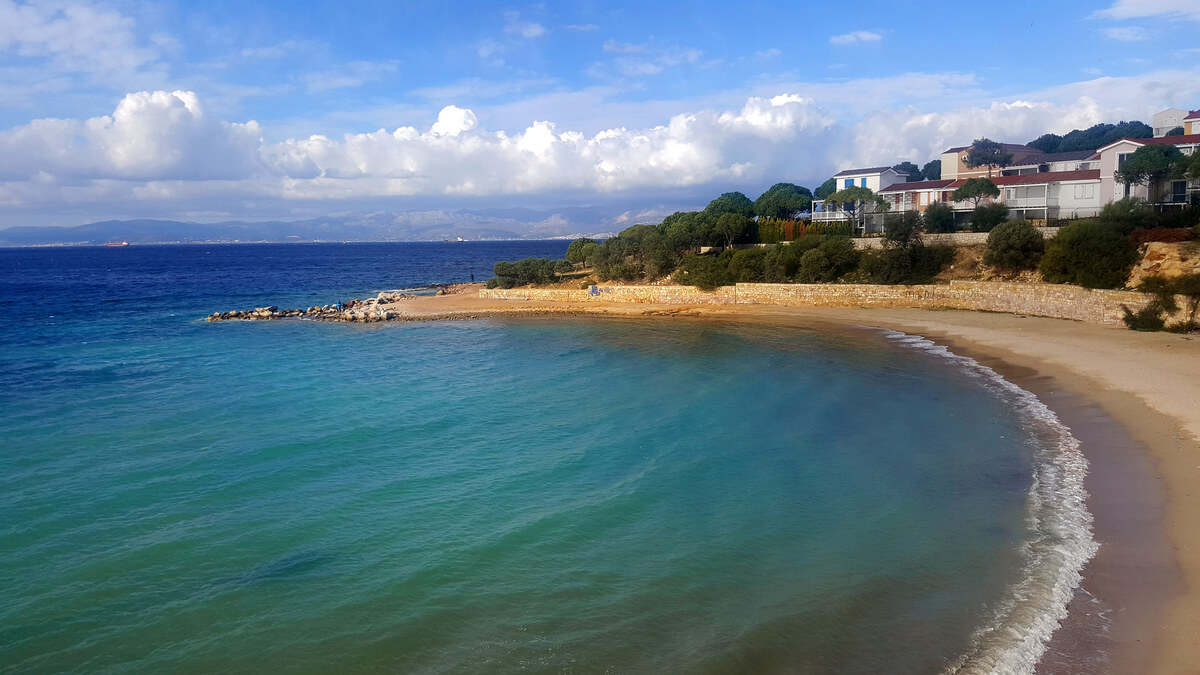 One of Izmir's defining features is the beautiful coastline that, quite literally, runs for miles and miles. Stunning sandy beaches, scenic coves, and the deep-blue, crystal-clear water of the Aegean is certainly the cherry on the cake.
The quaint little seaside towns that adorn the coast aren't half bad either. Cesme is arguably the most famous, and as a result, the busiest. But it's not city busy if that makes sense.
As well as the postcard-perfect maze of windy streets and alleys, the town is the site of an imposing 14th-century fortress overlooking the harbor.
Bergama is another fine example of Izmir's scenic coastline and makes for a perfect day trip from Izmir's city center.
Also known as Pergamon, this once-prospering ancient city is also home to several impressive ruins, with the most famous being the Acropolis of Pergamon – which was added to UNESCO's World Heritage List in 2014.
4. Nature At Its Best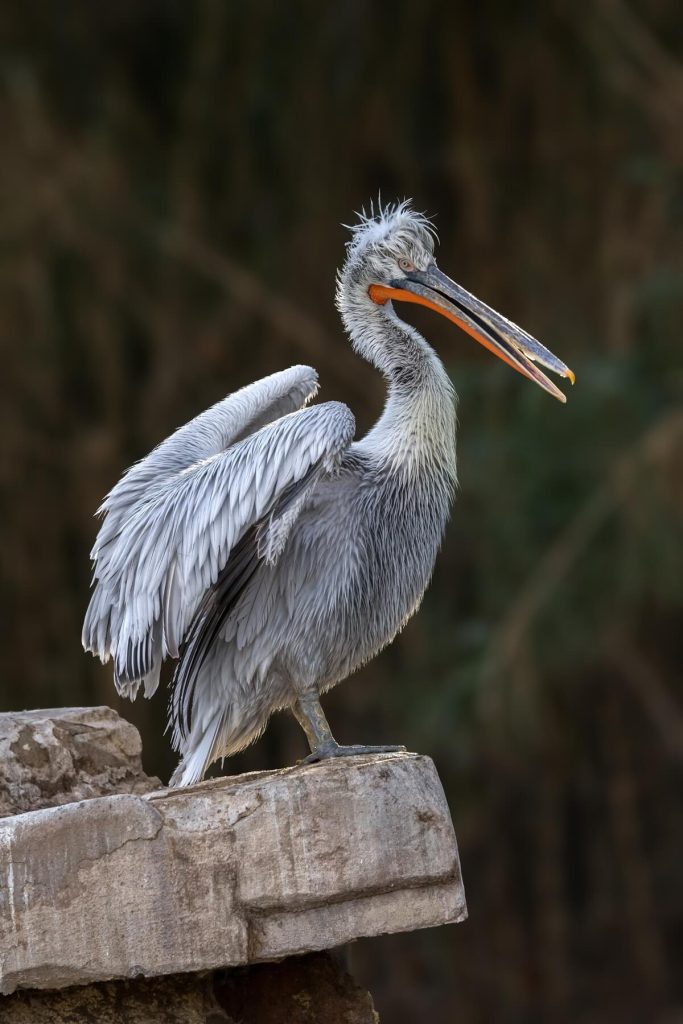 Izmir and its surrounding region are spectacularly beautiful with some of the country's finest locations for you to enjoy. Upon leaving the energetic city, almost immediately you'll notice the vast amount of greenery that dominates the area.
Forests, wetlands, mountains, and valleys all make up the geography of the region with several national parks close by too.
A couple of hour's drive away is the stunning Buyuk Menderes National Park, an area of over 10,000 hectares of pristine wetlands, home to a variety of wildlife including the endangered Dalmatian pelican.
Bird-watching, cycling, hiking trails, and boat & guided tours are all on offer to visitors making this a perfect retreat from the city.
For nature lovers wanting something a little closer to the city, Mount Yamanlar is the perfect option. Located on the city's outskirts, this mountain is a supremely popular spot for locals and tourists to enjoy hiking in the area.
Not only will you be immersed in nature, but you'll also get some superb views of the landscape.
5. Shop Until You Drop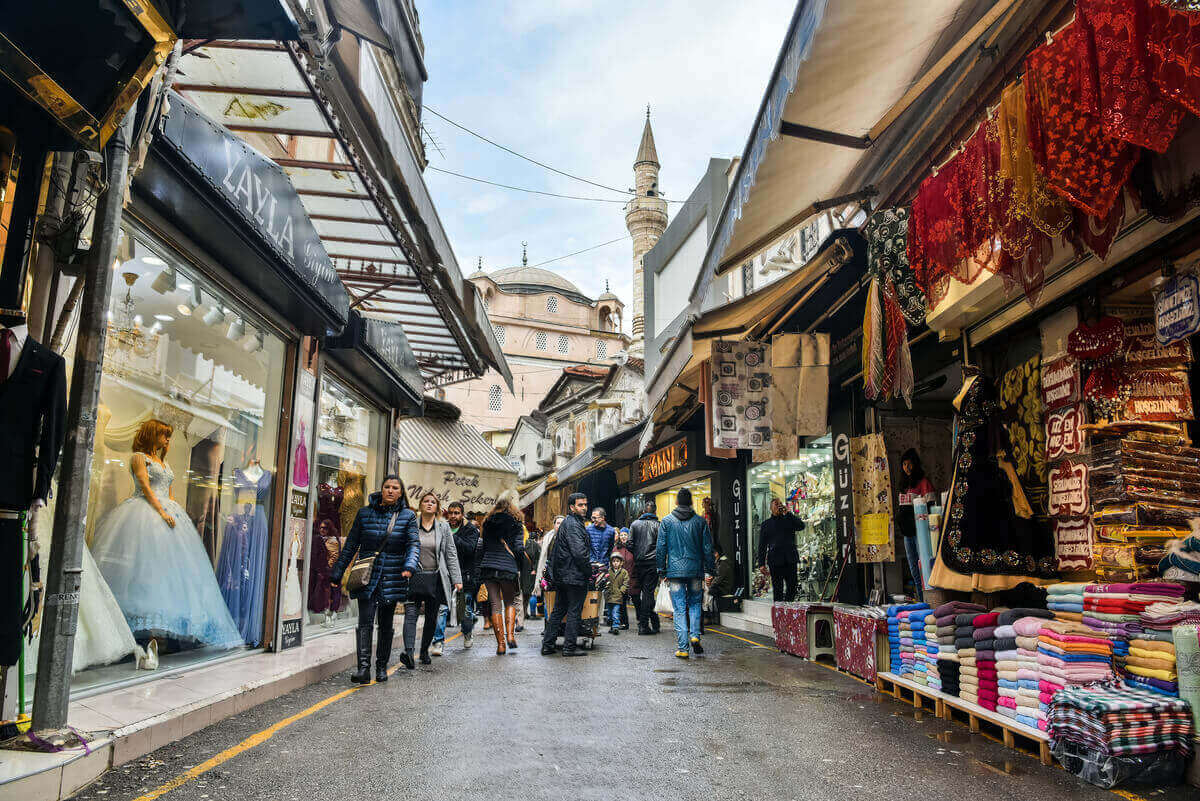 Not only is Izmir perfect for nature lovers and those wanting to experience a new culture, but it's also a shopper's paradise. It's home to a wide variety of shopping options, with everything from classical Turkish bazaars to busy daytime markets, and the more traditional shopping centers.
No trip to Izmir is complete without visiting the Kemeralti Bazaar. Perhaps even more crowded than the world-renowned Grand Bazaar in Istanbul, this historical maze is a sight to behold.
It's been in place for over 350 years, and visitors can step back in time and shop for textiles, spices, souvenirs, and even antiques. Haggling is all part of the fun here, so don't be shy – go out and get a good bargain!
In addition to the Bazaar, Konak Pier is an excellent spot for some shopping. Designed by the famed Gustave Eiffel, the building is one of the oldest and most emblematic of Izmir and today has been converted into a modern shopping center with several notable brands occupying retail space as well as boutique shops and cafes, and even a cinema.
If you're looking to get some shopping done whilst on your travels, Izmir's definitely the spot.
6. Lovely People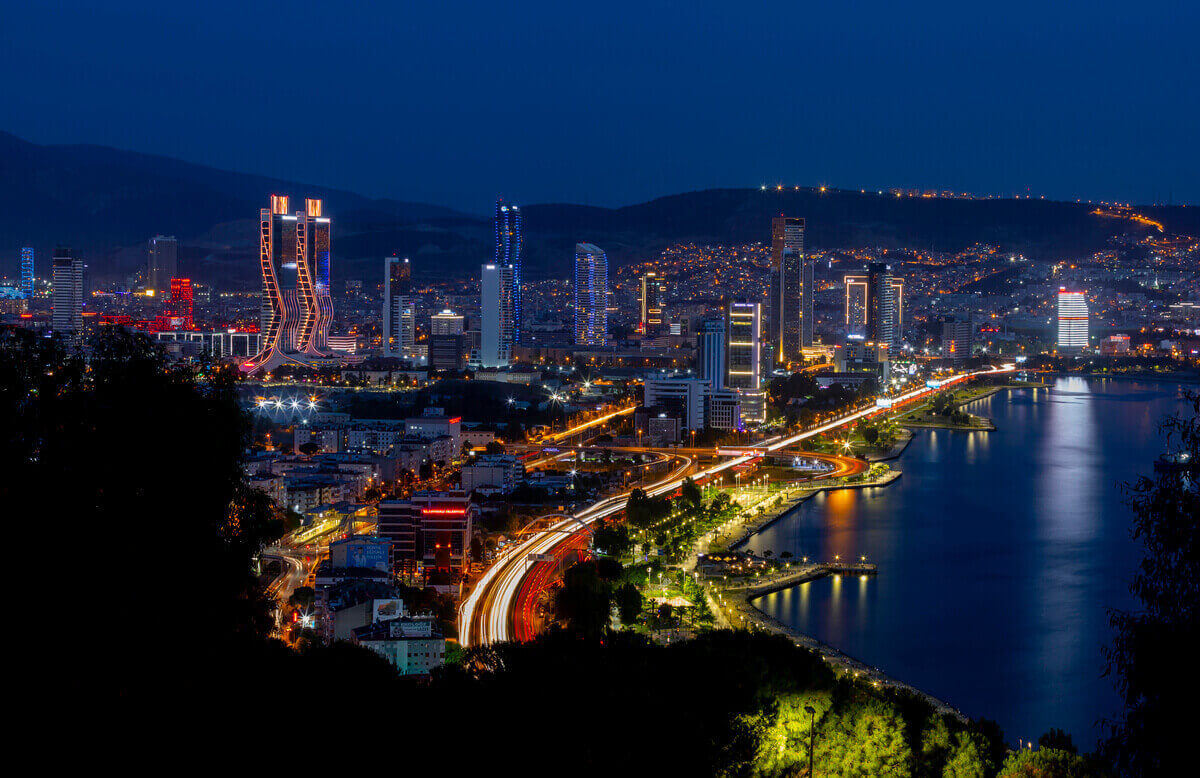 What makes a great trip even better? When the local people are some of the loveliest, and friendliest you'll ever meet. That can be said for the Turkish, and the Izmirians in particular.
Nothing is ever too much trouble for them, whether you've got a little lost on your way and need some help getting back on the right track, or if you're unsure of what an item is on the menu, you'll feel at home in Izmir right away.
Generosity is another typically Turkish trait you'll encounter when visiting. Wander through Izmir's streets and you'll likely encounter locals sitting down sipping on Turkish tea or a glass of Efes.
Give a friendly smile and they'll likely strike up a conversation with you. If you're friendly yourself, you'll almost certainly be invited to join them.
Turkish culture is extremely social which is perfect for the weary traveler as you'll feel comfortable almost immediately after stepping off the plane.
That being said, we should point out that there are certain neighborhoods in Izmir that are populated with Syrian refugees who have fled their war-torn country and ended up in Izmir. Most of them are kind and friendly, but we have experienced a bit of dodgy behavior in neighborhoods like Basmane where we were once followed.
Izmir is very safe, but when walking around some neighborhoods, keep an eye out for pickpockets. You can read more about safety in Izmir in our comprehensive guide on this.
7. Escape the Winter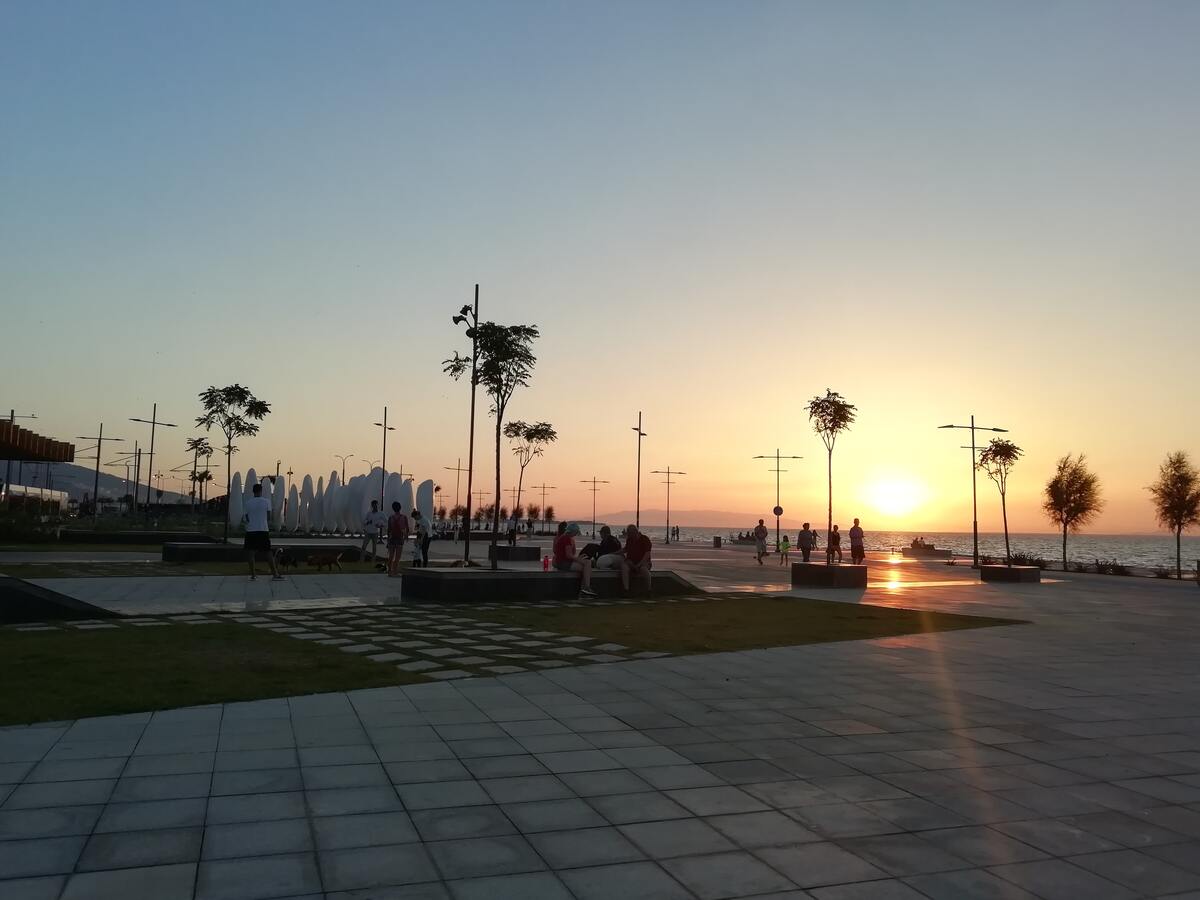 There's just something so unbelievably satisfying about hopping on a plane in the thick of the cold European winter for a little getaway in favor of a milder climate, and if you're lucky, some much-needed winter sun.
Whilst Izmir isn't likely to be as warm as some other more popular winter sun spots, it's still an excellent choice for those seeking a change from chillier temperatures.
You can expect average temperatures to be about 12-15 degrees, which will be a welcome relief amongst the dreariness of Europe in December or January.
Don't be surprised by the odd rain shower during your stay, though it shouldn't be too much of an issue because Izmir is blessed with some superb museums and indoor attractions like the KEY Museum.
But who wants to be stuck inside on a trip anyway? Get outside and make the most of the mild weather by immersing yourself in Izmir's beautiful nature.
Set your alarm early, rent a car, and drive over to Pamukkale and take a dip in its hot springs. With a constant temperature of 35 degrees, even if you're visiting Izmir in winter months, it's a great place to visit and warm up those bones whilst still enjoying the scenery.
8. Perfect Location for Exploring Turkey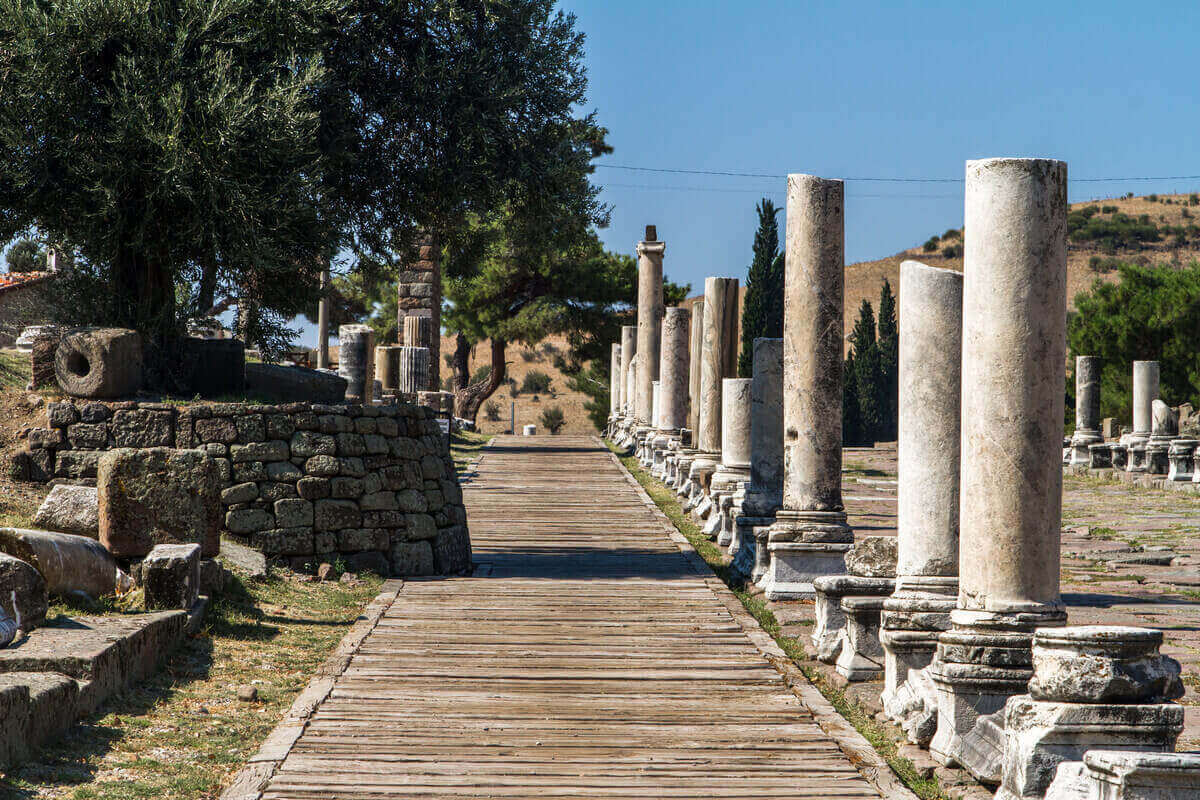 Last but not least on our list of the biggest reasons why Izmir is worth visiting, is because it's in such a perfect location. Plotted on the western coast of Turkey, Izmir has just about everything you could want for a first-time trip to the country. It can quite literally give you a slice of everything that makes this country so unique.
With its many beaches a short drive away combined with the big beautiful bay, it's got supreme access to the stunning Aegean Sea. This provides you with ample opportunities to relax on golden sands, enjoy swimming in crystal-clear waters, and also sample some of the freshest seafood money can buy.
For history enthusiasts, you've got close proximity to a huge number of important historical sights, like the ancient city of Ephesus, the Velvet Castle, and Pergamon among others.
For the more active, Izmir's surrounded by huge mountains and valleys all with excellent hiking trails offering unique views of the region.
Lastly, it's so well connected. You can fly directly into Izmir's international airport, and then once you're finished exploring Izmir itself, you can easily jump on another plane, bus, or train to various other regions of Turkey.
Related post: How to Get to Ephesus From Izmir
Is Izmir Worth Visiting FAQS
Here's what people usually ask us about visiting Izmir…
Is Izmir Good for Tourists?
Yes, Izmir is good for tourists. It offers a mix of beautiful beaches, historical sites, and a variety of activities. It's generally safe and serves as a great base for day trips to places like Ephesus and Pamukkale.
Which Is Better Antalya or Izmir?
People often are torn between visiting Antalya and Izmir, but the two cities offer something different. Antalya is a great city if you enjoy beaches and being in nature, whereas Izmir is better for historic attractions. Both cities make for a great base for making day trips.
Is Izmir Better Than Bodrum?
Another city tourists are often torn between is Bodrum. Bodrum is known for its beaches and nightlife, but it doesn't have much in the way of historical attractions. Izmir has more historic landmarks nearby and you can be at the beach within 30 minutes, so we prefer Izmir to Bodrum.
So, Is Izmir Worth Visiting?
So there you have it, that's what you can expect from Izmir and what it's like to visit. As you can see, it's a destination that offers so much to anyone who visits, from historical landmarks to amazing food, and jaw-dropping scenery nearby.
We hope this guide helped to answer the question of whether Izmir is worth a visit. If you have any more questions, feel free to reach out to us in the comments.
Disclaimer: Some of the links above are affiliate links. That means if you book or make a purchase through the links, we will earn a small commission at no extra cost to you! The money will help run this site! Thank you!