It's recommended to spend an absolute minimum of three days in Izmir. Though to really get to grips with one of Turkey's most incredible cities, you'll ideally want to spend four to five days there.
This will give you enough time to explore the actual city itself, plus day trips to the beautiful beaches and must-visit historical sites in the region.
Izmir is home to one of the oldest human settlements in the Mediterranean (which you can visit!), plus the bare-bone, archaic city of Ephesus, once one of the largest and most important cities in the ancient Greek world.
But how many days in Izmir should you spend? In all honesty, you could easily spend a week or more here, switching between lazy days with the sand between your toes, and sightseeing. But we don't all have the luxury of time.
So here's how many days in Izmir you need…
How To Decide How Many Days in Izmir to Spend?
As frequent travelers ourselves, we know first-hand that people like to travel in different ways. Some like to take a week or two to explore all of the nooks and crannies of just one or two places, and others like to take a similar amount of time to pack in three, four, or even five destinations before jetting off back home.
Are You Planning on Taking Tours?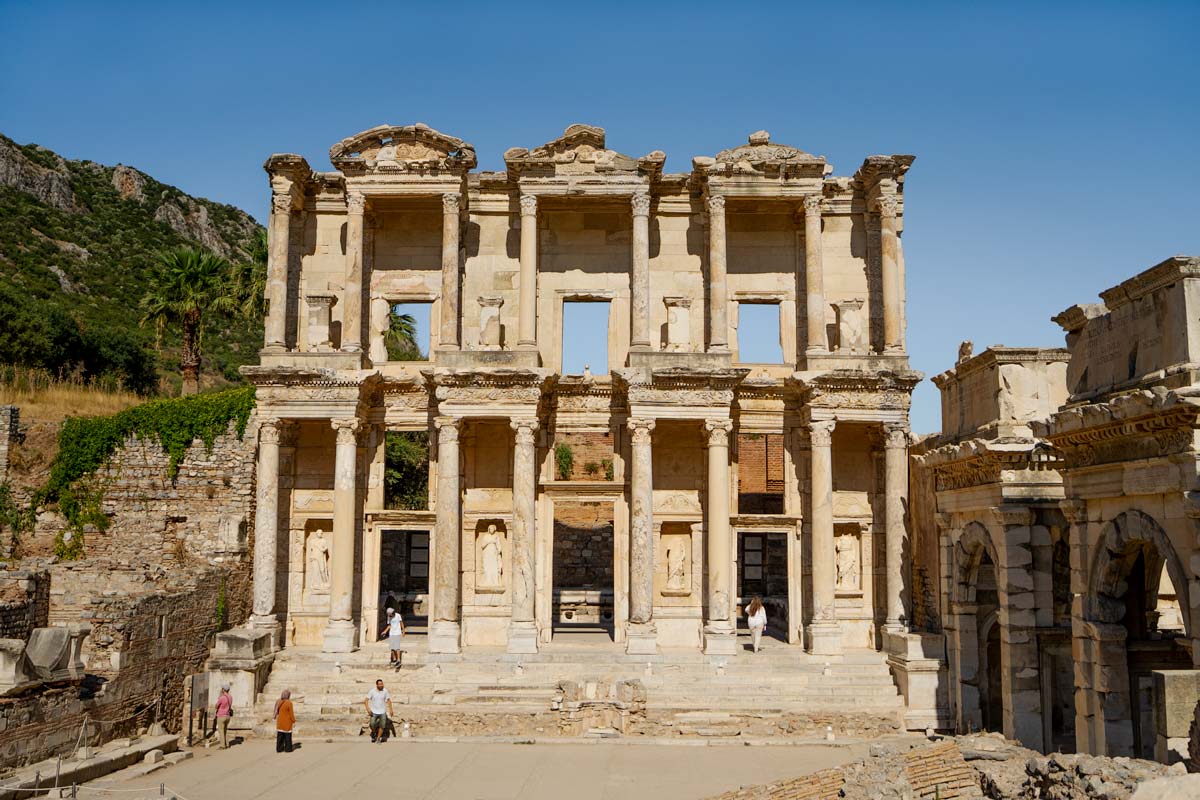 If you're short on time in Izmir, tours can be a great way to squeeze in pretty much everything there is to see in the area. You'll pay more for the luxury of being carted around in an A/C minivan or bus, but it'll enable you to tick everything off of your list.
You'll also get the added benefit of having an English-speaking guide which will come in handy when you're visiting the ancient city of Ephesus for example, or for when you're walking Izmir's bustling streets at night on a food tour and haven't got a clue what that delicious smell is in the air.
Are You Renting a Car?
Having a car at your disposal will give you a lot more freedom than if you were to rely on public transport. Besides, if you venture out of the city's immediate vicinity, even getting a taxi might be hard work let alone a dolmus.
If you're up for it, it's certainly possible to squeeze in all of the must-see things in Izmir across three days. Car rental is always your best bet if you're short on time.
Are You Going to Take Day Trips?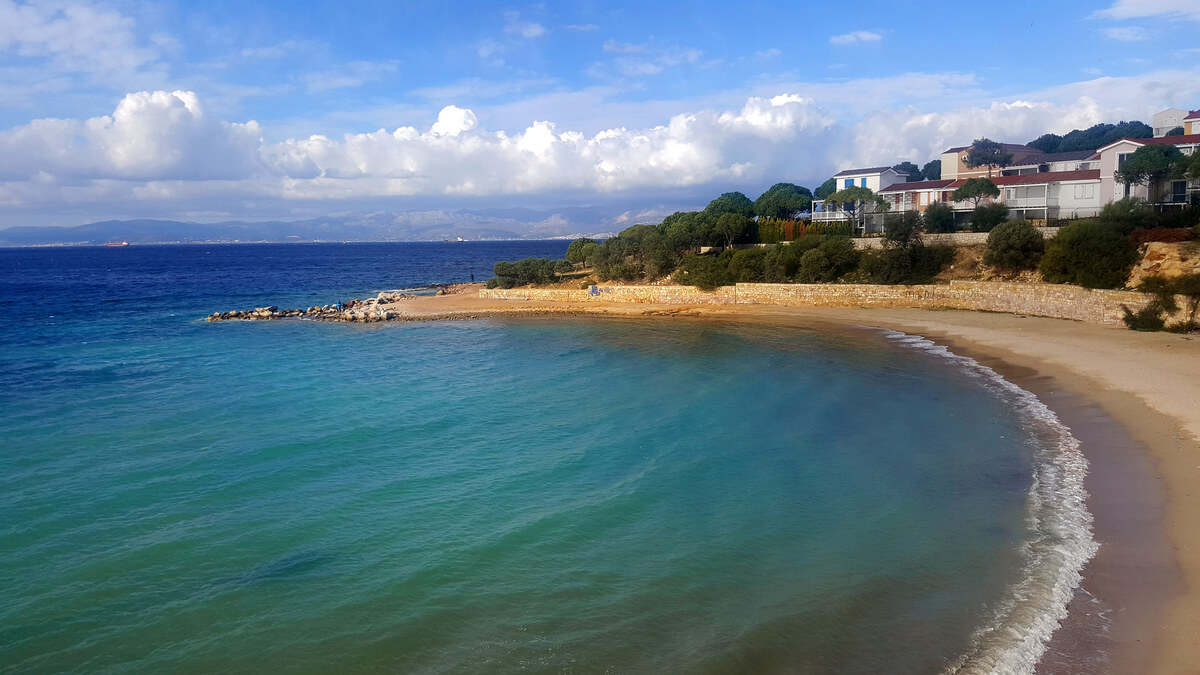 From the ancient city of Ephesus to the stunning coastal town of Cesme, Izmir has several superb day trips available for you to go on. Day trips are always a fun and exciting way of seeing sights that are a little further afield.
Unsurprisingly they do take, well, all day so it's only advised to head out on one if you've got enough time. Not only will they use an entire day out of your trip, but they're often very tiring.
It's usually always an early start, followed by a jam-packed itinerary before being dropped off in the late afternoon. You'll probably want to just chill out the next day too, for a bit of rest and relaxation.
Are You Getting Around on Public Transportation?
Izmir boasts a reliable and affordable public transport system, including the modern Izmir Metro and scenic İzmir Tramvayı (tram).
While the bus network covers the entire city pretty much, frequent stops and traffic may cause delays, and language barriers with drivers can be a challenge.
In our opinion, public transport while convenient does slow down your trip. You have to factor in stops, delays, and the potential to get lost. If you're confident in your navigation skills, you should be fine, but do understand you won't be able to fit in as much if you are getting around this way.
Read more: How to get to Ephesus from Izmir
Izmir Itineraries
To help you decide how many days to spend in Izmir, here are some suggested itineraries you can take.
1 Day in Izmir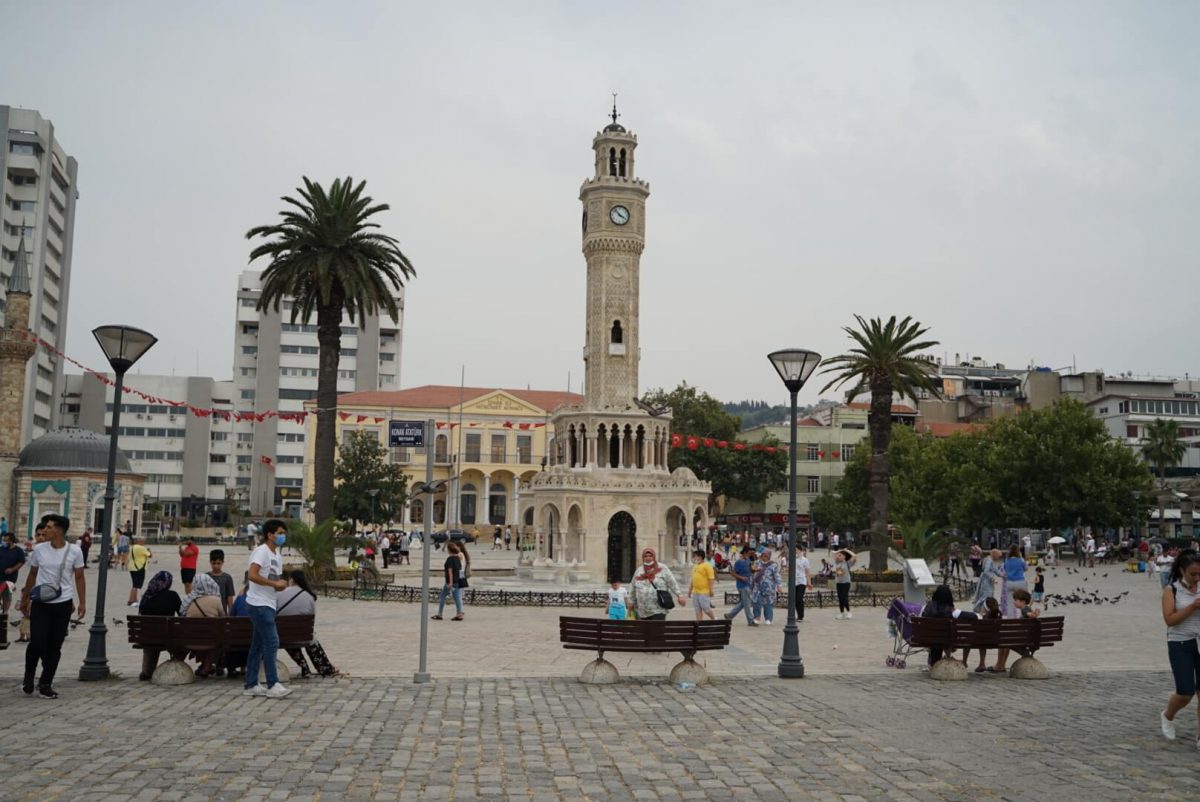 If your schedule only allows you to spend one day in Izmir, you don't need us to tell you that you're probably not going to see a lot. The truth is, one day is not enough time to see Izmir.
But if that's all your schedule allows, here's how we think you should be spending those precious few hours in this wonderful Aegean city.
With such little time, hail a taksi to take you to Konak Square to see its iconic clock tower and soak up the city's atmosphere. Built in 1901, the clock tower is Izmir's main landmark and a must-see.
Just a short 5-minute walk away is the city's famous Kemeralti Bazaar. In place since the 17th century, this electric maze of boutique shops, spice sellers, and street-food vendors is a great way to spend an hour or two.
Grab some lunch at one of Izmir's many restaurants and then spend the rest of the afternoon at Kordon Alsancak Izmir, which is one of the best spots in the city to watch the sun go down.
2 Days in Izmir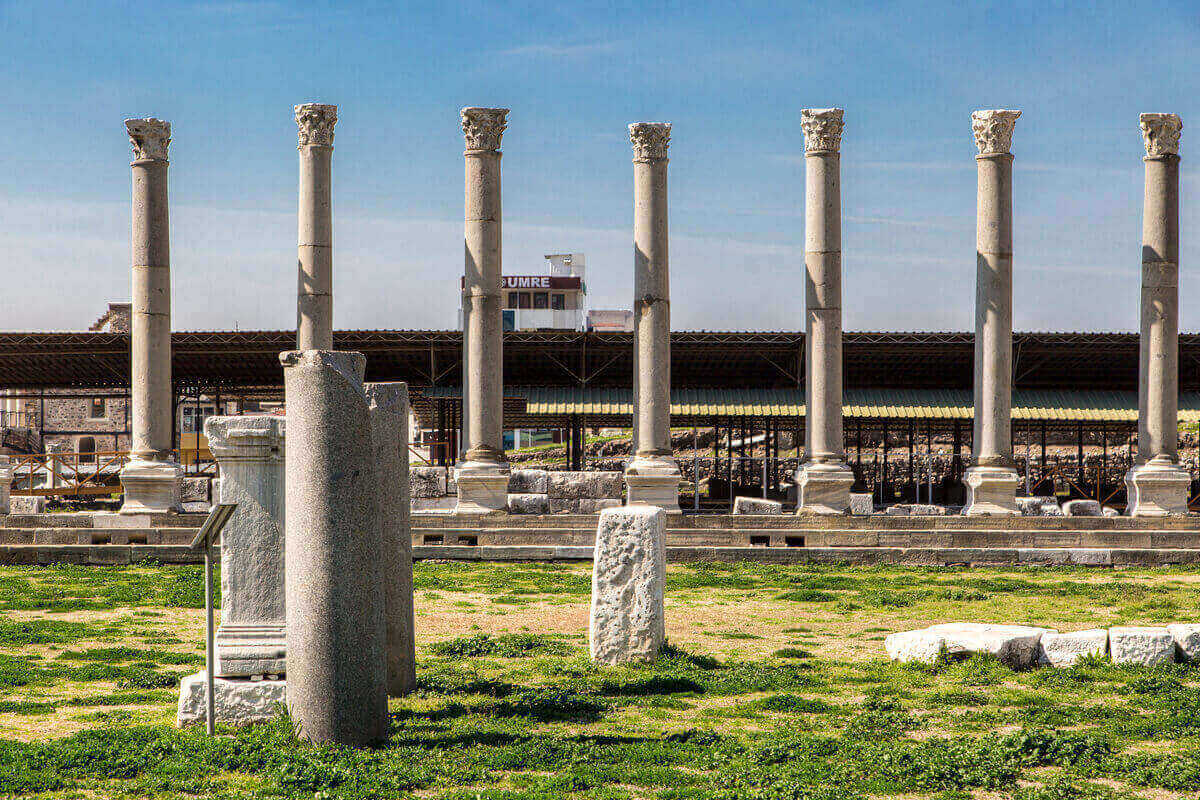 Whilst two days is of course better than one, two days still isn't enough time for exploring Izmir and the best of what it has to offer.
You should definitely visit Konak Square and Kemeralti Bazaar as these are the city's two most popular attractions.
Afterward, you can then get public transport, or walk if you're feeling fit, to other sights like the Konak Pier, designed by Gustave Eiffel himself stopping for a bite to eat along the waterfront.
On day two, you have two options; the first is to set your alarm nice and early, grab an authentic Turkish breakfast of Menemen (creamy scrambled eggs, pan-fried with onions and peppers), and then explore the rest of the city, visiting the Hisar Mosque, Agora Open Air Museum (also known as Agora Archaeological Site of Smyrna) and the Izmir Wildlife Park, which is great for kids.
The second option is to take a day trip to Ephesus, stopping off at the nearby village of Şirince on the way back.
This is at least a half day, if not a full day activity, depending on how much time you want to spend at Ephesus. It's one of the most unmissable things to do in Izmir so if you haven't been already, make sure it's high on your priority list.
3 Days in Izmir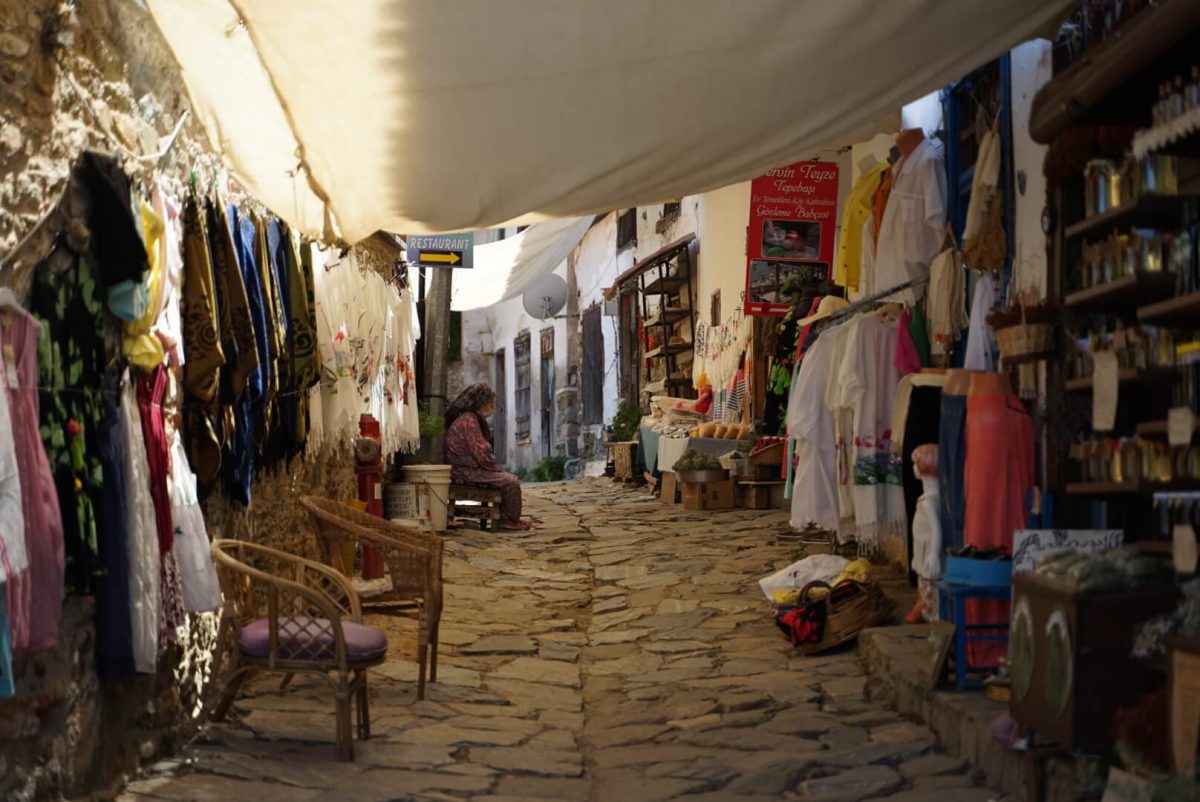 Three days in Izmir is the minimum number of days we would recommend. It's still cutting it fine so to say, but it should give you enough time to be able to tick the majority of things off of your to-do list, providing you're an early riser and are savvy about getting around.
For a three-day itinerary, we would recommend you follow the itinerary above for day two, but instead of picking between either seeing the rest of the city and Ephesus, you can do both! Two days is enough to see just the city, but you should definitely have more time to take a day trip out of the city as it's so ideally located.
4 Days in Izmir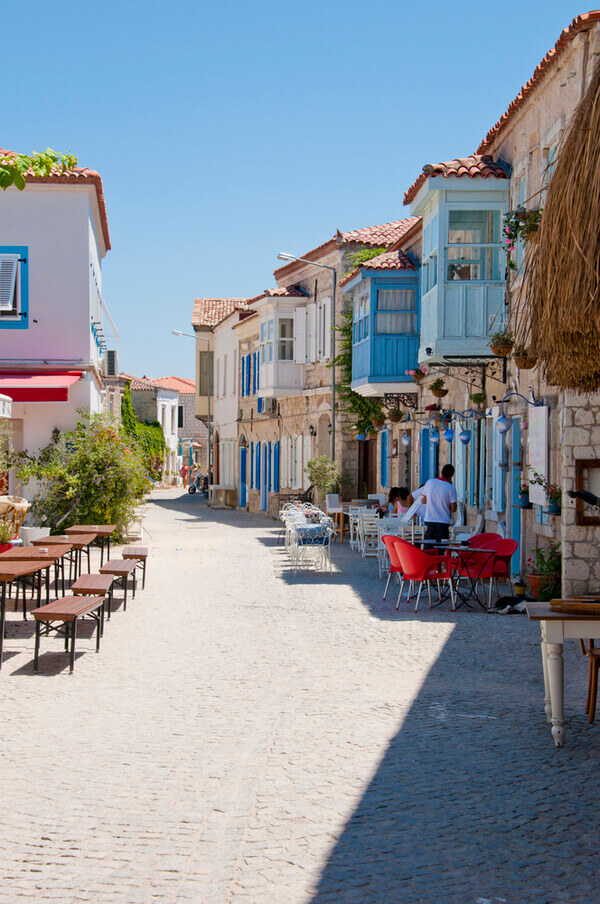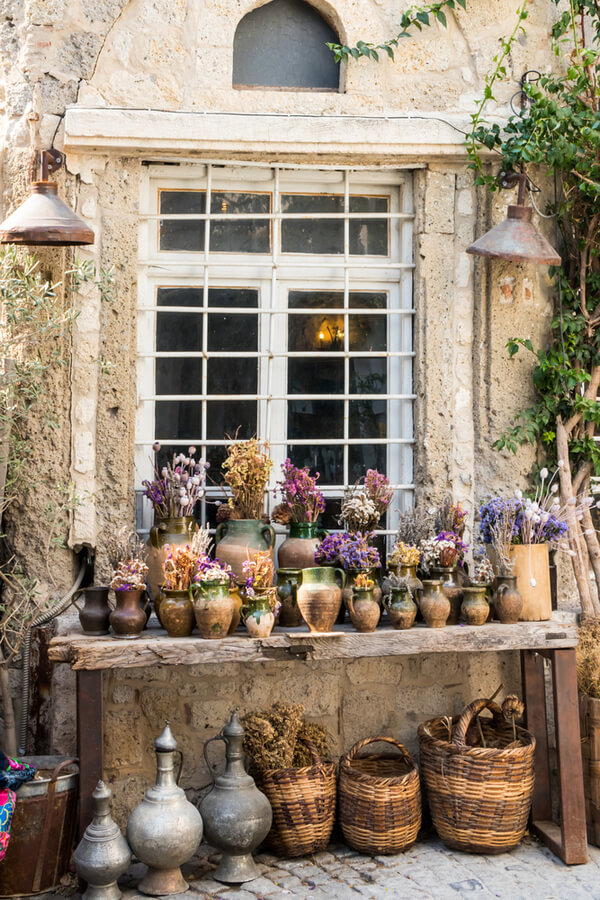 Four days in Izmir is enough time to spend in Izmir to cover all of the must-sees without rushing. There's no point visiting a place if you're going to be stressed out for the majority of the time trying to cram everything in.
You want to be able to enjoy the place you're visiting, taking the time to truly get to know this part of the world and how it works. After all, that's why we travel, right?
Drive out to one of the many beaches that line Izmir's coast and spend a day relaxing, stopping off at one of the many quaint coastal towns such as Alacati for some lunch and a little exploration. You can even travel further afield and visit the famous natural landscape of Pamukkale. 
5 Days in Izmir (or more!)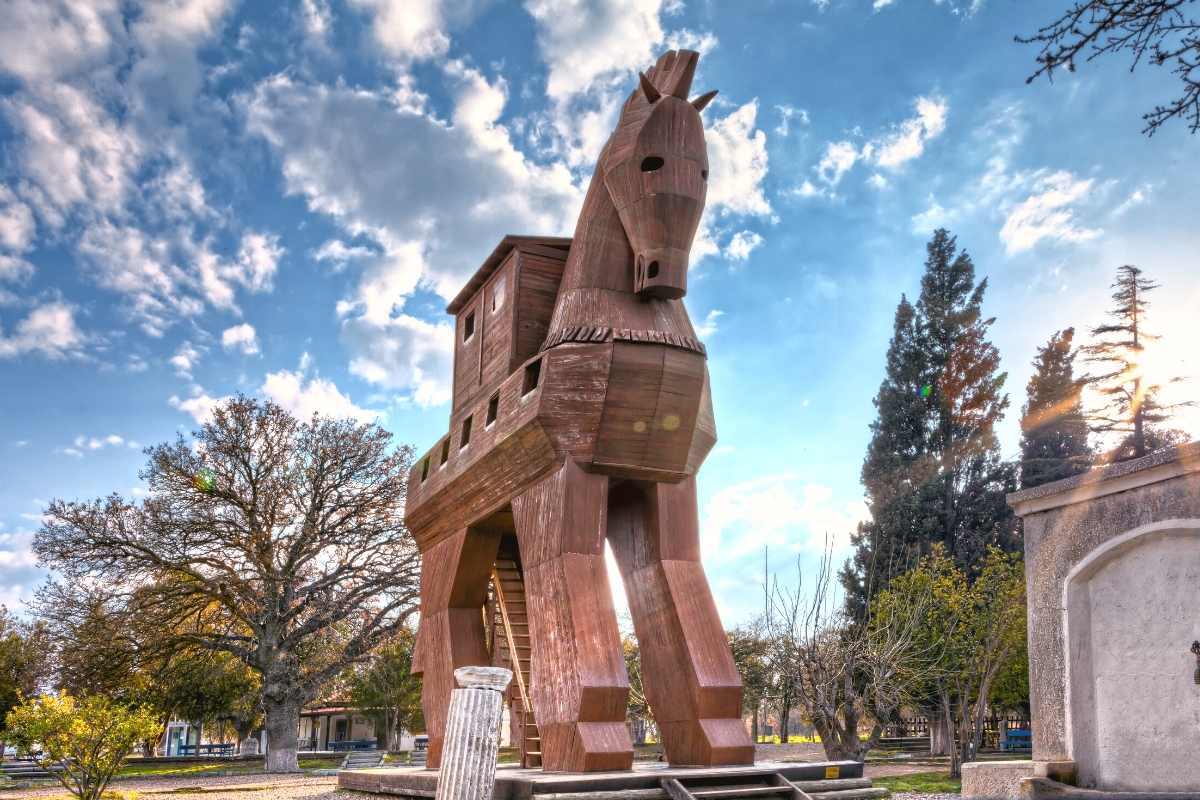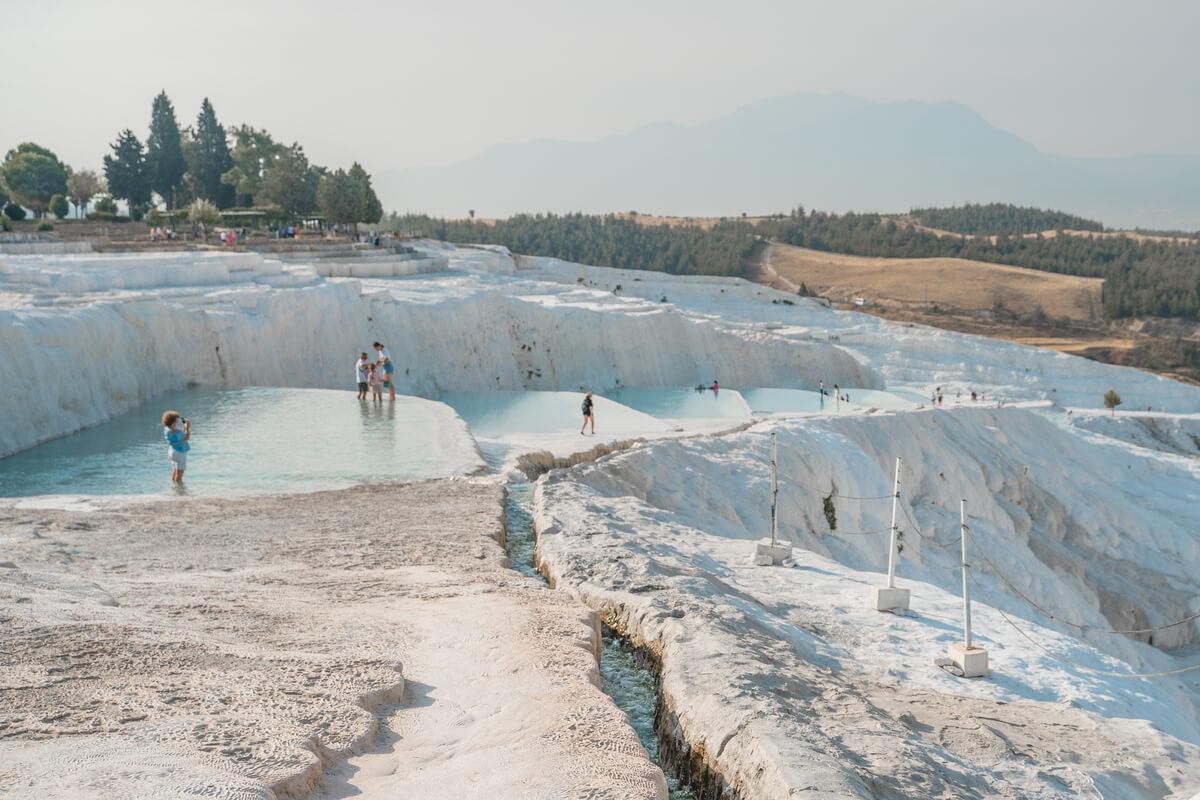 Five days in Izmir may sound like a long time, but in all honesty, you'd probably still only scratch the surface of what's on offer.
Exploring Izmir's beautiful surrounding towns and villages is now an option for you, which helps you to gain a better understanding of the local culture and pushes you out of your comfort zone. Visiting lesser-frequented places allows you to see and experience the 'true' sense of the country.
You could even take a day trip to Pamukkale if you haven't been already. Or perhaps take a day trip over to Cesme and see the trojan horse from Troy. Or you could spend the day museum hopping, as you could easily spend a few hours in the Izmir Archaeological and Ethnography Museum and The Atatürk Museum.
If you do have the option to stay longer, the benefit of this is that certain accommodations may offer better per-day rates if you book for 5 days or more, and as you don't have to rush around, you can afford to take public transport which will drastically reduce your costs.
How To Get to Izmir, Turkey
Izmir is a superb destination to make your base if you're exploring the wider Aegean region and beyond. It's very well-connected, with a variety of methods to get you to and from the city.
By Flight
Taking a flight to Izmir is always going to be the quickest method of transport. Named after the former Turkish prime minister, Izmir Adnan Menderes Airport is very well served by a variety of airlines including Turkish Airlines and Pegasus domestically, and also international airlines like Aer Lingus, easyJet, Eurowings, and Jet2.
The flight from Istanbul takes just over an hour and with Izmir's airport just a short 25-minute drive away from the city center, you could take a morning flight and be sitting on Konak Pier for lunch.
By Long-Distance Bus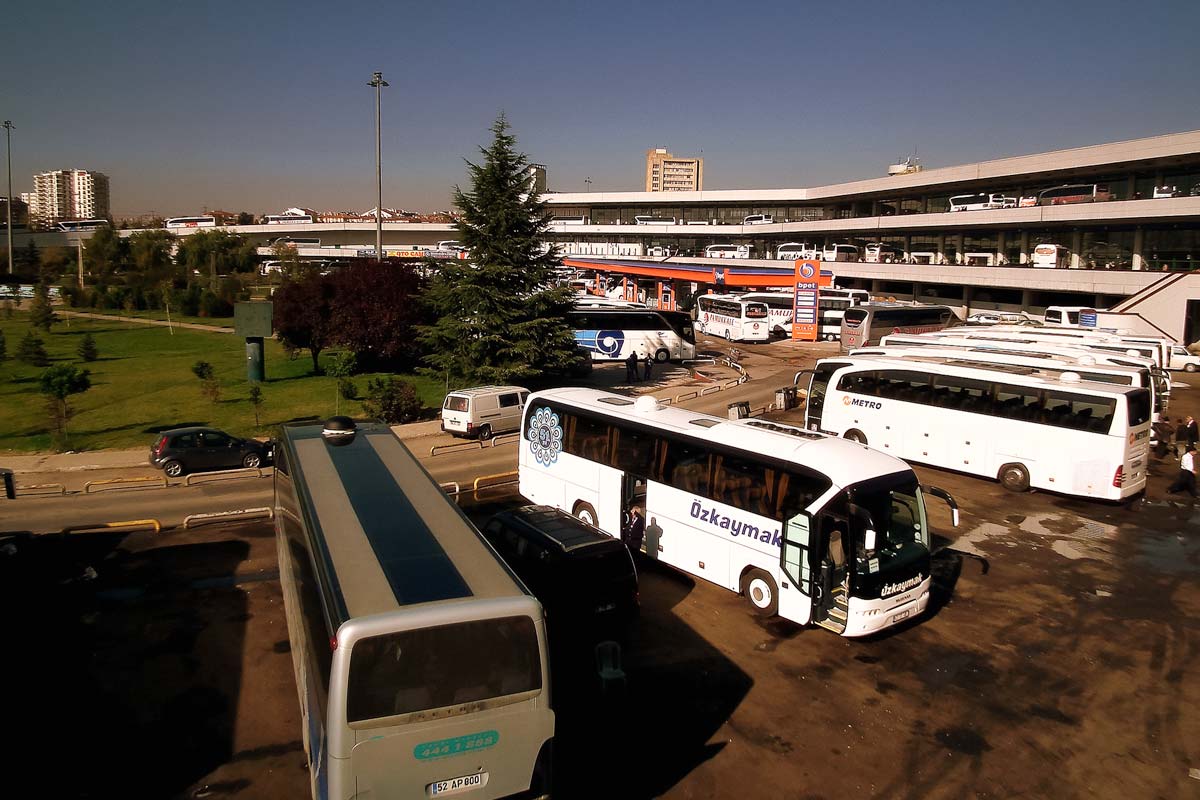 Cross-country buses are one of the best ways to get around the country. They're really affordable and pretty much always run on time. They usually run between most major cities, including Izmir.
It's worth mentioning that if you're short on time, then traveling by long-distance bus should pretty much be out of the equation.
From Istanbul, the bus takes five hours and by the time you've gone to the bus station, boarded the bus, and traveled, it'll take the best part of a full day.
Taking a Train
Traveling by train in Turkey provides a superb opportunity to appreciate the country's stunning scenery as you whizz through the countryside at high speeds.
Numerous train stations serve the city of Izmir, so before heading to the closest station, make sure it's the correct one.
Alsancak Gar is just north of the city center and from here you can take trains to popular cities like Ankara, Balikesir, and Eskisehir, which is where you'll need to change if you're heading to Istanbul.
Where To Stay in Izmir, Turkey
Izmir is one of the few major cities in the country that hasn't been completely overrun by tourists. This means you can stay right in the heart of the city, and still get a wonderfully Turkish experience.
For the best stay possible, we recommend staying in the city's Alsancak district. Serving as the city's historical center, you'll get a real feel of the place here and its bustling streets are popular among locals and tourists alike. It's also close to the city's attractions too.
Here's some accommodation that we recommend…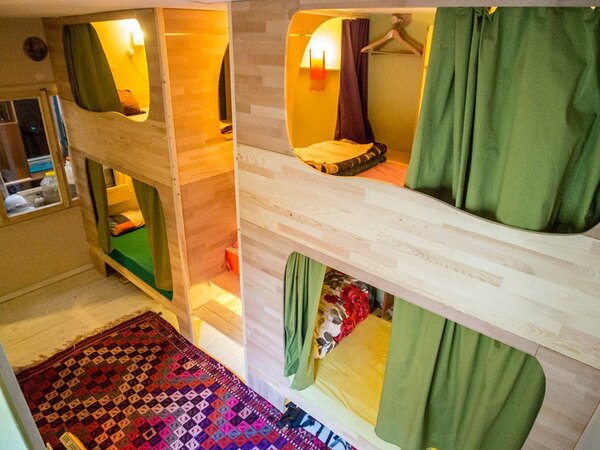 Best Hostel in Izmir – Shantihome Hostel
Shantihome Hostel is the best-located hostel in Izmir in the bustling Alsancak district. It offers comfortable, individually styled rooms and dorms, as well as family rooms, private double rooms, and dorm rooms with four beds. There's a shared kitchen if you want to cook your own meals, and a common area where you can mingle with other travelers.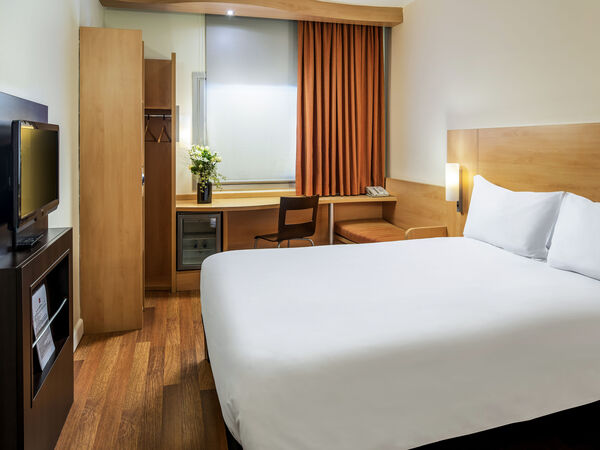 Best Mid-Range Hotel in Izmir – Ibis Izmir Alsancak Hotel
The Ibis Izmir Alsancak is located in the heart of Izmir, just 50 meters from Alsancak Izban Train Station. It has spacious, comfortable rooms with air-conditioning and free WiFi. Each morning, an all-you-can-eat buffet breakfast is served, and tasty meals are offered in the cafe throughout the day.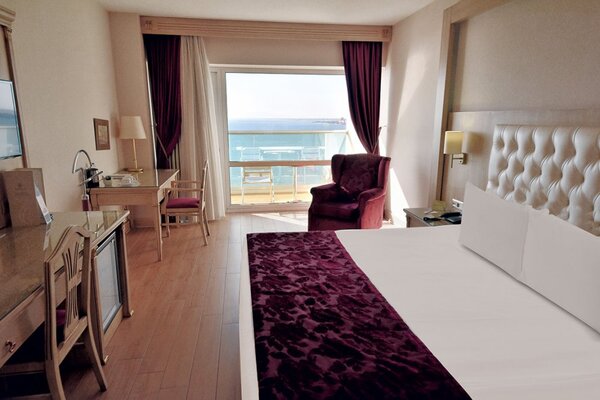 Best Luxury Hotel in Izmir – Ege Palas Izmir Hotel
Ege Palas is situated right across from the Aegean Sea and some rooms even have sea views and a balcony to enjoy them from. Head to the restaurant and bar which has a panoramic view of Izmir Bay. All rooms are spacious and comfortable, and there's even a pillow menu so you can choose the right level of comfort for you. If that's not enough, there's a Garden Tea Room, Salzburg Cafe, fitness center and spa with a sauna.
Best Time to Visit Izmir
Izmir is a massively popular summer destination for tourists from across the world. The gorgeous Mediterranean climate means the weather is pleasant pretty much all year round. Even in the winter months, average temperatures are a relatively mild 13 to 14 degrees.
If we had to choose what months were the best to visit Izmir though, it'd have to be the summer months on either side of the peak (June, July, and August).
Hot days with barely a cloud in the sky are followed by warm, but cooling nights that are perfect for al-fresco dining.
Travel Tips for Visiting Izmir, Turkey
To make sure your trip goes smoothly, here are some top tips for visiting Izmir…
Do research before you arrive. There's a lot to see and do in Izmir and the surrounding areas. Make sure you don't waste any of your vacation time by clamoring around in the hotel room last minute for itineraries to follow. Do some research before you arrive and have a rough plan. It'll save you a lot of hassle in the long run.
Avoid wandering around alone at night. Just like anywhere late at night, you never know who is lurking around the corner and what intentions people might have. Try to avoid wandering Izmir's streets at night, especially if you are a female. Get into a taxi and head straight back to your hotel. Though very unlikely, it'll minimize the chances of something happening to you.
Respect Turkish culture. Turkey is a modest country, with 99.8% of the population being registered as Muslim. It's important to respect the values, traditions, and culture that come with religion. Whilst you don't need to cover up if you're walking around and exploring the city, you will certainly need to if you decide to visit one of the country's beautiful mosques.
Cash is king. Izmir's ATMs aren't the best versions of the currency dispenser. They are frequently broken and many shops and almost all street vendors will not accept a credit or debit card. You should arrive with a good chunk of Turkish Lira, and then when you run out, visit an ATM belonging to a bank and withdraw enough to keep you going for at least a few days.
Visiting Izmir FAQs
Here's what people usually ask us about visiting Izmir…
Is 2 days enough for Izmir?
Two days is just enough time to see the city of Izmir, but many of the reasons to visit Izmir are to visit the attractions outside the city. You would have to choose between seeing the sites of Izmir, and taking a day trip to Ephesus, for example. So no, two days is not really enough.
Is 3 days enough for Izmir? 
Three days is the minimum number of days we recommend spending in Izmir. It's just enough time to see the highlights of the city and include a day trip to Ephesus in your itinerary too.
Is Izmir a good tourist destination?
Izmir is a great tourist destination as it offers a central base near many historical attractions and notable landmarks. You are within a short distance of Ephesus, home to one of the ancient wonders of the world, as well as several beach towns, Cesme, and so many more places.
Final Verdict
To sum up, if you're not sure how many days you need to visit Izmir, then we recommend you spend three days.
3 days in Izmir is enough time to see the highlights of the city and take a day trip to Ephesus, but it's still quite short. If you have the option to stay longer, then you should stay for four or five days so you can explore more leisurely and take multiple day trips.
Izmir's location means you can easily travel out to the small, nearby coastal towns and villages, as well as spend days at the beach. There is so much to do outside of Izmir, that you could easily use the city as a base and explore some more rural parts of Turkey.
We hope this guide helped you decide how many days to spend in Izmir, and if you have any more questions, feel free to reach out to us in the comments.
Disclaimer: Some of the links above are affiliate links. That means if you book or make a purchase through the links, we will earn a small commission at no extra cost to you! The money will help run this site! Thank you!