When looking for a beachside destination in Turkey, it doesn't come much better than the drop-dead gorgeous Aegean coastal province of Izmir.
It's a captivating area of Turkey, seamlessly blending a rich ancient history with Mediterranean culture and natural beauty that rivals anything on Earth.
While the city center doesn't have much in the way of beaches, you will find some of the best beaches in Izmir just outside the hustle and bustle but all within easy reach of the city.
If you're wanting some time frolicking in the sand or swimming in the deep blue of the Aegean Coast, then take a look at my favorite beaches in Izmir and around the city.
---
Does Izmir have sandy beaches?
Yes, Izmir has several sandy beaches. In fact, most of the beaches in Izmir are sandy.
What confuses most people is that the city of Izmir doesn't have a beach but in fact, a promenade that is separated by the sea by a series of large boulders and rocks.
When you travel outside the city and around the province of Izmir, you'll find many sandy beaches that offer crystal-clear waters and soft sand, making them perfect for swimming, sunbathing, and relaxing.
---
Blue Flag Beaches in Izmir
The term "blue flag beach" is common in Europe, but outside of this, you might not know what it means.
Blue flag beaches are considered the highest quality beaches, and are given "award" status by the Foundation for Environmental Education (FEE).
In order to qualify for the Blue Flag, a series of stringent environmental, educational, safety, and accessibility criteria must be met and maintained.-Foundation for Environmental Education (FEE)
So for tourists looking for the best beaches in Izmir, you might want to consider looking at whether it has blue flag status.
This means they are guaranteed to be clean, have the clearest waters, and have ample facilities available for visitors.
---
What Are The Best Beaches in Izmir?
Whether you're looking to spend a day or half a day at the best, you will discover these beaches are all within easy access to Izmir city center by public transportation.
1. Altınkum Beach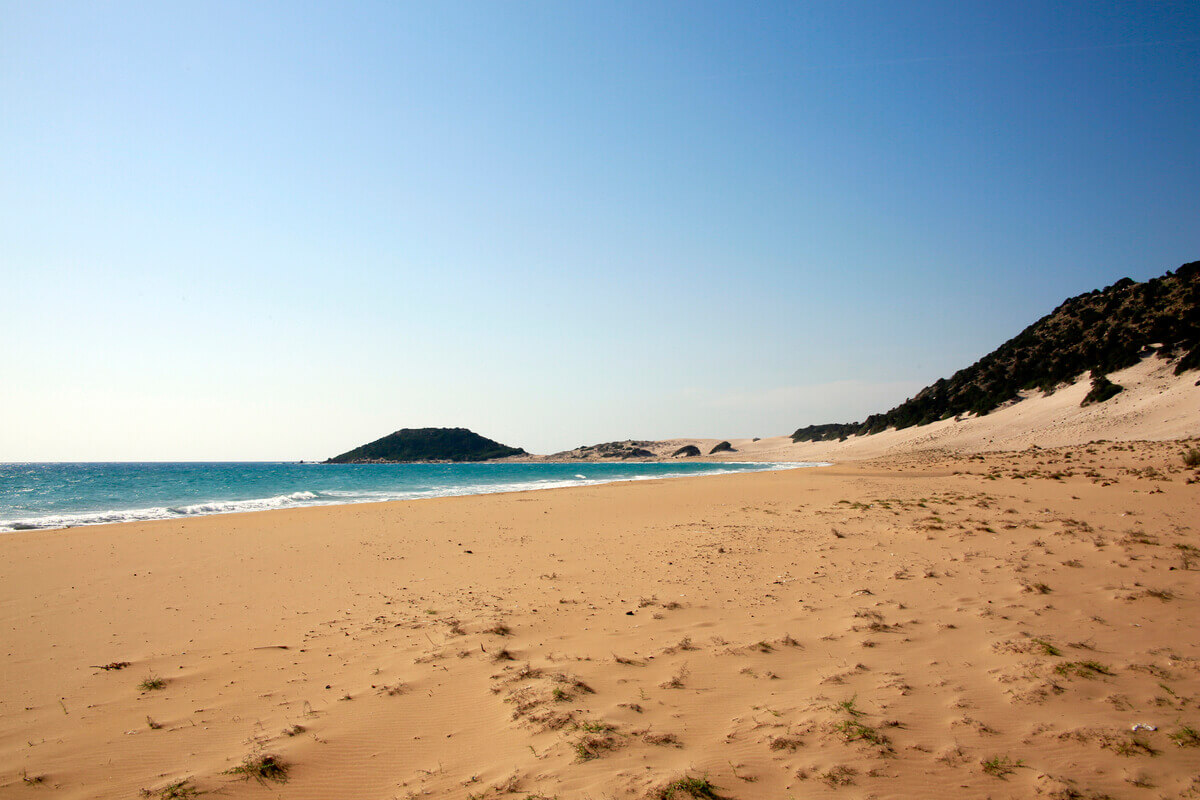 Also known as the Golden Sands, Altinkum Beach is unsurprisingly one of the most beautiful beaches in the province. Its soft golden sand is the highlight, along with the beautiful turquoise color of the water.
It's an excellent beach for people of all ages due to the calm nature of the waves which makes it extremely popular in the summer months which is one of the best times to visit Izmir.
Access to Altinkum Beach is also super easy, with ample parking around the resorts, though if you wish to park for free you will need to walk the last few hundred meters.
Those who are not driving can hop on the Dolmus from Cesme centre with the journey taking about 45 minutes to an hour for a fee of just 5TL one way.
2. Dikili & Kalem Island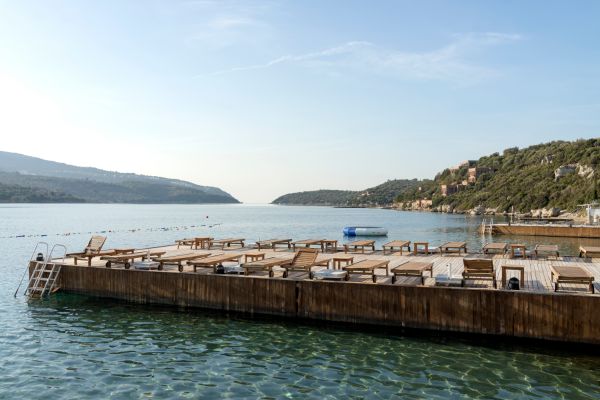 Located just 120km north of Izmir city is the beautiful port town of Dikili. It offers visitors a relaxed, coastal atmosphere that's enhanced by the slower pace of life outside of the hustle and bustle of Izmir city itself.
If you're exploring this northern area of the province, make sure to head over to Kalem Island.
Here, you'll find arguably the most beautiful waters in the entire region with an equally stunning sand beach to match.
You're completely isolated from the mainland which gives you the impression you're on a real desert island.
Reach this island paradise by booking a boat tour or a stay at the lovely Oliveira Resort. If you're feeling super adventurous, a canoe ride over from the mainland is also possible.
3. Pamucak Beach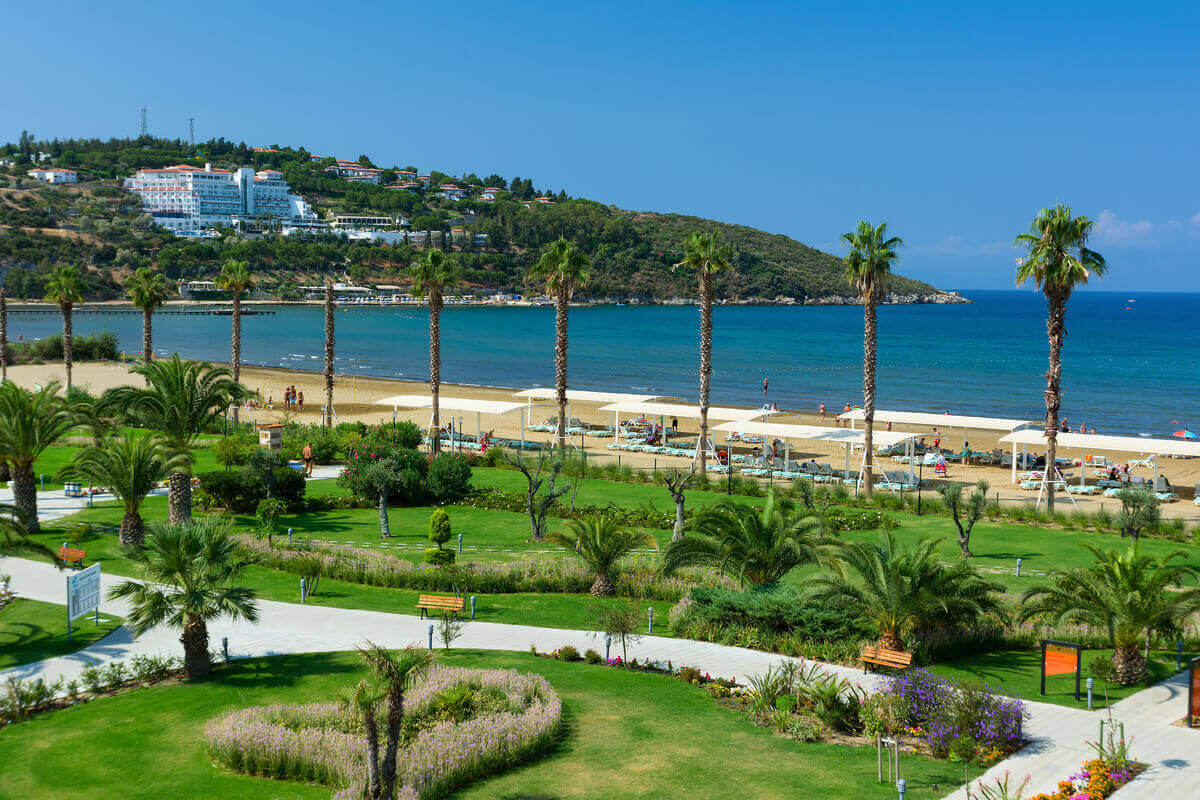 Pamucak Beach is an excellent beach near the town of Selcuk and is great to go to if you will be visiting the incredibly popular ancient city of Ephesus.
It's only a 10-minute drive from the ruins themselves, and an hour or two on this huge, long stretch of sand combined with a visit to the ancient city will make for a superb day out.
I'd suggest visiting this beach after your trip to Ephesus as not only will you be able to relax on the beach after a hard day's exploring, but the sunset on Pamucak Beach is also spectacular.
It's quite a rugged beach so don't be expecting the spotless white sand like that of Altinkum, but it's the location of this beach that makes it worth visiting.
You'll be able to get a Dolmus to the beach from Selcuk for a small entrance fee of just 4.50TL too meaning it's easy and cheap to get to.
4. Ilıca Beach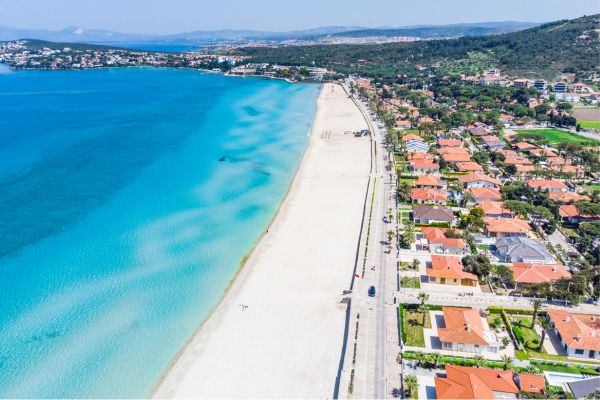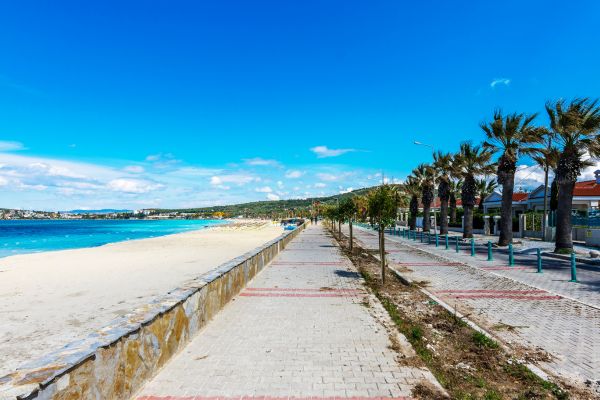 On the Cesme peninsula, just a short 1-hour drive away from Izmir city center is the famous Ilica Beach.
With its powdery white sandy beach and crystal clear water, this stunning Turkish seaside destination is probably the most picture-perfect beach on our list and is just perfect for lounging around in the Mediterranean sun or for going for a swim in the Aegean.
Gaze out to sea at the sailing boats or become part of the marine life with a snorkel, there's a whole heap of activities or things to do here.
One thing that sets Ilica Beach apart from the rest is the fact the water is heated by hot thermal springs rising from the seabed.
As you would expect, things can get really busy here, especially at the peak of summer and at weekends, so if you'll only be here for the day, try to come during the week.
If you make your way off of the beach area, there are plenty of shops and restaurants for a bite to eat or to grab a drink as a respite from the heat and the nearby Ilica Marina is the perfect spot to end your day with a sunset meal and some cocktails.
5. Yoncakoy Beach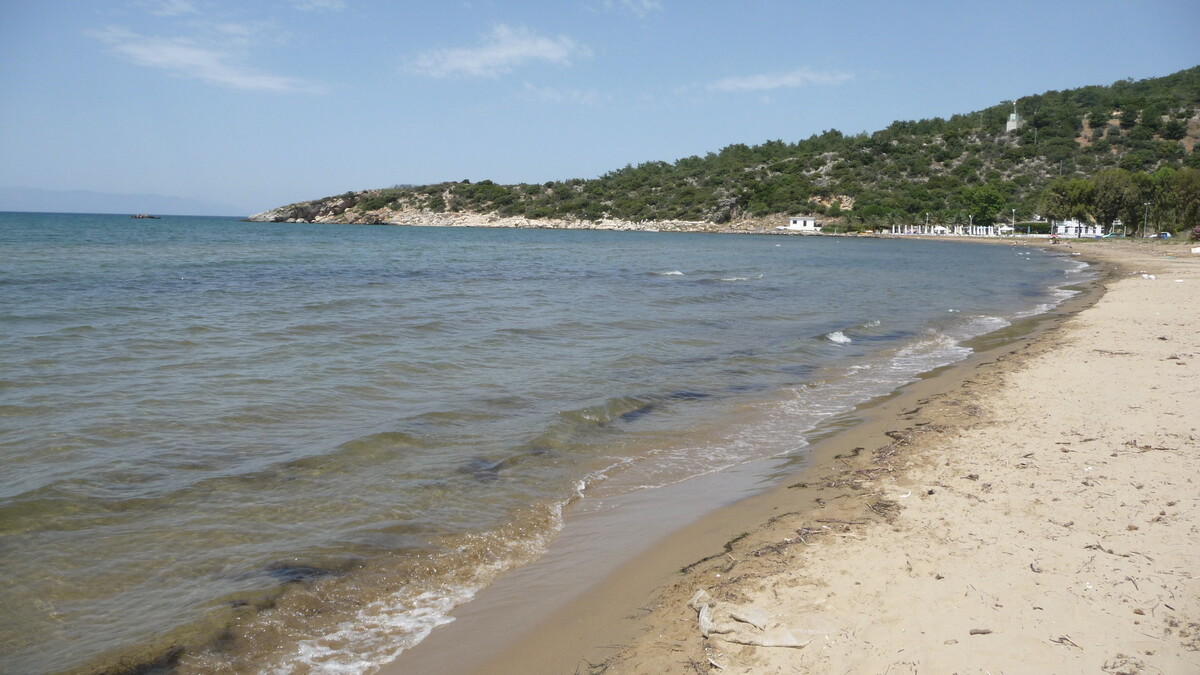 If you're wanting a quiet beach with little footfall in the province of Izmir, then Yoncakoy Beach is an excellent choice.
It's quite a drive from Izmir itself but this particular stretch of beach can easily be visited if you decide to head out to Kusadasi for the day.
If you'll be arriving by car from Izmir, steep clifftop drops make way for a gorgeous bay filled with golden sand, and in the backdrop is the quaint little village of Yoncakoy, where you'll find a couple of small restaurants for a spot of lunch before carrying on to Kusadasi and beyond.
There are few facilities here but as you might have figured, Yoncakoy Beach and its village isn't developed at all, so temper your expectations.
For us, it offers an authentic, tranquil beach experience that can be quite hard to find on most beaches in this ever-popular region of Turkey and that's why Yoncakoy makes the list.
6. Cukuralti Halk Beach
Near the small, traditional fishing village of Ozdere is the immensely popular "Plaji" (Turkish for the beach) of Cukuralti Halk.
This pristine beach is nestled within the Cesme district of Izmir and is a favorite of locals thanks to its clean and clear water and inviting coastal atmosphere.
The water is shallow too, making it perfect for families with children, and unlike many of the beaches on this side of the peninsula, it features various facilities like sun loungers, umbrellas, showers, and toilets.
As we've already mentioned, it's a very popular spot in the summer partly due to the number of restaurants, bars, and cafes that line Cukuralti's promenade so we'd suggest visiting Cukuralti Halk Beach when it's a little quieter, perhaps in September or October.
7. Delikli Koy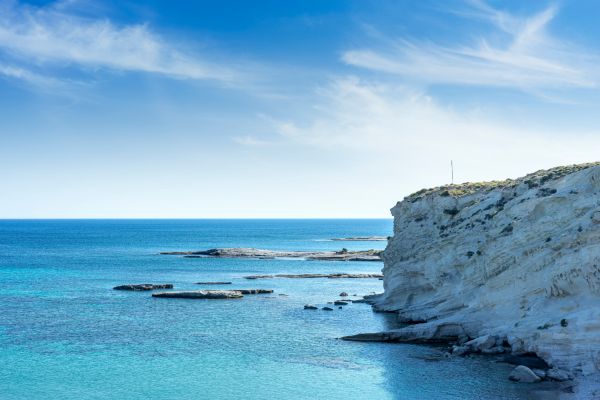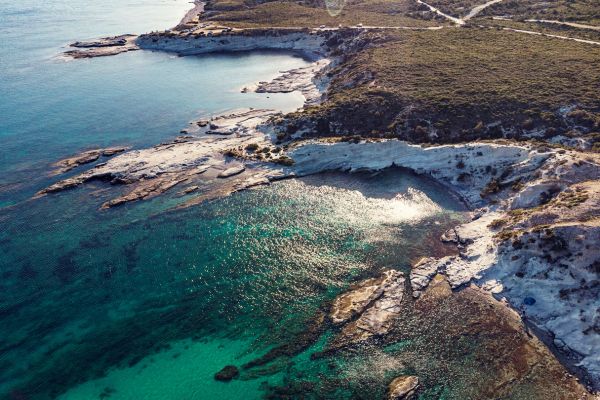 As we've touched on in this article, many of Izmir's beaches are pretty busy during the summer months, but one that seems to avoid the masses even in the peak months of June through to August is Delikli Koy in Cesme.
Hidden from plain sight, Delikili Bay offers a secluded haven that often goes unnoticed and while its pebbly beach may put off some people, what many fail to realize is that this unassuming bay boasts some of the clearest waters in the entire region.
The water temperature of the Aegean Sea here is slightly colder than other beaches because of its location but don't let that put you off, Delikli Koy is one of the natural hidden gems of Izmir – if you don't mind a few pebbles that is.
8. Boyalik Beach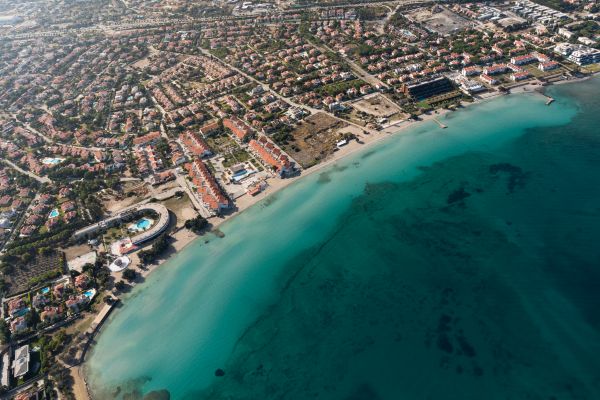 Boyalik Halk Beach is next on our list and is one of the few stretches of sand in Cesme that's not been completely overrun by beach clubs and resorts. Best of all, it's completely free (as it should be!).
Like most beachside destinations today, you'll still find large hotels built here but unlike others in the region, there are no sunbeds and umbrellas to rent.
You'll need to make sure to bring things like your own chairs or an umbrella with you. There's no shade along Boyalik Halk either, so it's a good idea to set up camp for the day, especially if you have young children in tow.
The bay itself is quite long and faces north, which means the winds can get pretty strong at times creating some impressive waves.
Apart from being a bit breezy and lacking shelter from the sun, Boyalik Halk is a beautiful beach to spend the day. You'll be treated to soft, white sand and turquoise waters with shallow water that's perfect for everyone to enjoy.
9. Foca Beach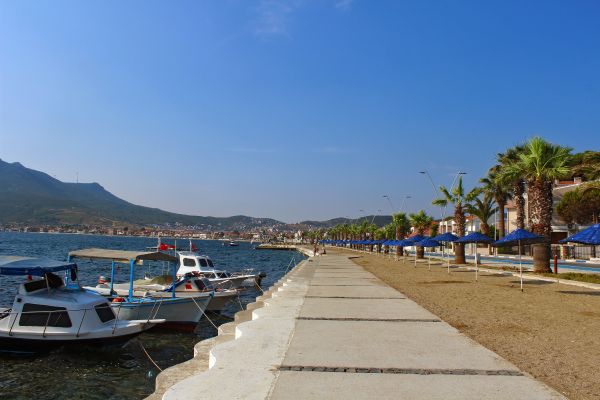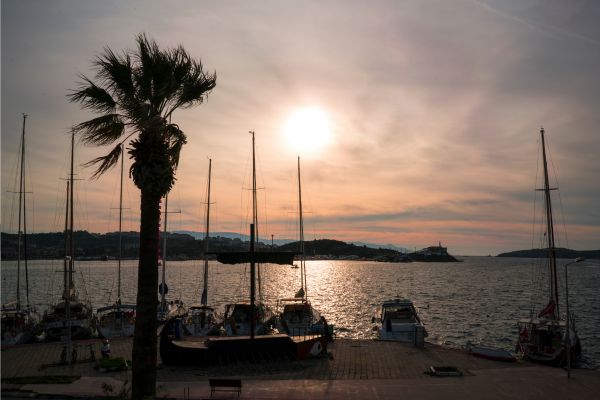 With its stone houses and untouched nature, Foca is a quaint, picturesque little Turkish coastal town located in the north of Izmir province. In comparison to other towns in the region, Foca is tiny but this only adds to its charm.
The town is also home to a small but beautiful beach that comes alive in the summer months when the weather is warm and the city becomes crowded with tourists.
With the gorgeous backdrop of clear blue skies and colorful fishing boats, Foca Beach is a blue flag beach that becomes a hub of activity with families on their holidays, friends playing beach volleyball, or plenty of couples sunbathing and relaxing.
The calm, shallow waters of the Aegean Sea are also perfect to try your hand at a variety of water sports with paddleboards, kayaks, and snorkels available to buy and rent from the independent shops that line the beach.
10. Gumuldur Beach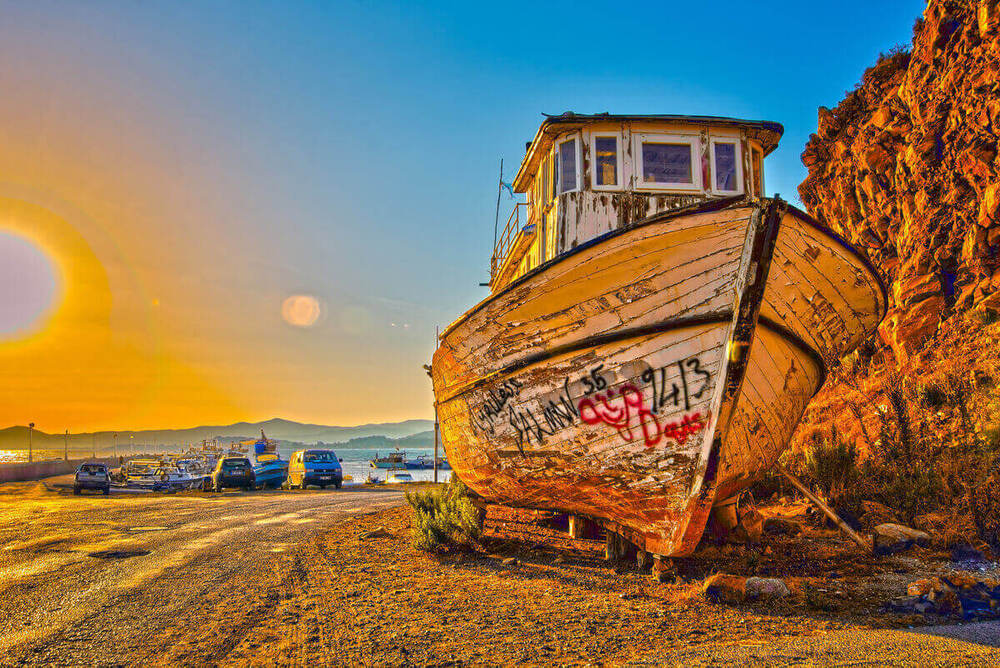 Just under an hour's drive away from the hustle and bustle of Izmir city center is Gumuldur Beach, a popular but quiet beachside destination that offers both locals and tourists the perfect blend of popularity and tranquility, which is the perfect balance for a fun day out to the beach.
From the moment you arrive in Gumuldur, you'll notice the long promenade that stretches along the beach.
Despite the fact Gumuldur Beach is a quieter beach, there are still plenty of facilities like a toilet block and showers, and the option to rent sun loungers and umbrellas in the summer months.
Plus, there are ample parking spaces available making your visit stress-free and convenient.
There's one small gripe with Gumuldur Beach and that is that the sea tends to get deep quite quickly. If you're planning to visit this public beach with children, it's good to keep this in mind.
With that being said, you'll almost certainly have an enjoyable time at one of Izmir's better beaches.
11. Diamond Beach (Pırlanta Beach)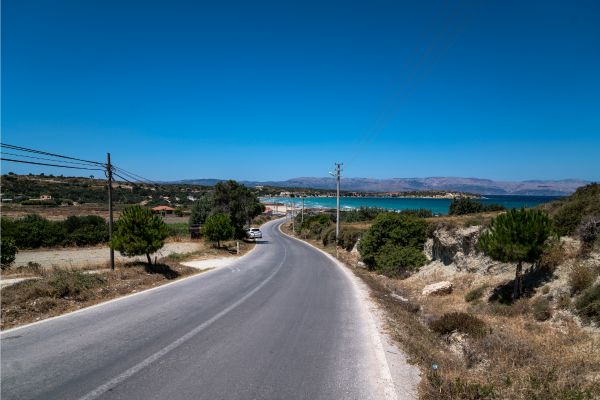 Diamond Beach is a beautiful beach just 10km from Cesme, that features sparkling turquoise waters and white sandy shores that stretch for 500 meters.
It's a great beach to enjoy swimming, sunbathing, and snorkeling in the crystal-clear waters, or simply relax on the beach surrounded by breathtaking views.
It's also ideal for families with small children, since the ocean slopes gradually and the waves are gentle because it's protected by a bay.
There are also some restaurants and bars, and there is also an area where you can pitch a tent and go camping. It doesn't have facilities such as restrooms, showers, and changing rooms, but the restaurants will allow you to use their facilities if you make a purchase.
12. Altınköy Beach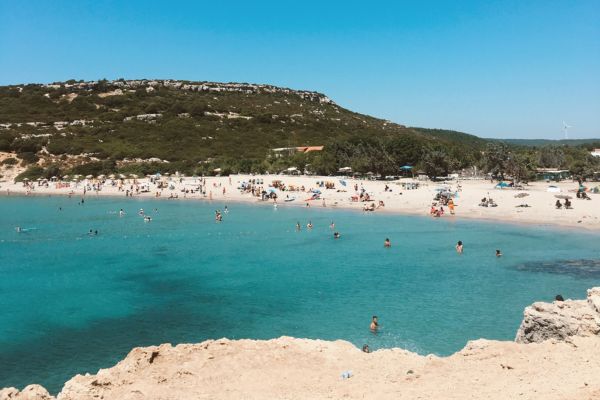 Altınköy Beach is a hidden gem in Çeşme, in the Izmir province. This beach boasts clear blue waters and a long stretch of soft sand beach backed by a lush grassy area where you can seek shade from the sun.
There isn't much in the way of water sports here, it's really more of a relaxing beach where you can go swimming, sunbathing, or play beach volleyball with friends. There aren't many facilities here, but you can rent beach umbrellas.
The beach offers a peaceful atmosphere, away from the crowds of more popular beaches in the area. The shoreline also slopes gradually and the waves are gentle, which makes it a popular choice amongst families.
13. Akarca Beach
Akarca Beach is a charming beach known for its clear turquoise waters and clean sandy shores.
The beach is in the town, which means you have access to several facilities including food kiosks where you can enjoy delicious snacks and drinks as well as beachside restaurants while taking in stunning views of the Aegean Sea whilst dining on Turkish cuisine.
The beach is also popular among windsurfers due to the perfect winds that blow across the bay.
With its beautiful natural scenery and picturesque surroundings, Akarca Beach is the perfect spot to unwind, de-stress, and soak up the beauty of the Turkish coastline.
14. Melengeç Beach
Melengeç Beach is a hidden paradise located in the Cesme district of Izmir, Turkey. This secluded beach features crystal-clear waters and soft white sand, perfect for swimming, sunbathing, and relaxing.
If you're a solo female traveler worried about safety in Izmir, you'll find the beach's policy not to allow single men to enter the beach without a woman reassuring. Men can visit the beach, they just need to be accompanied by a woman.
It has a peaceful atmosphere and the natural beauty of the beach makes it an ideal spot for a relaxing day out. You can rent sunbeds, and there is a public bathroom and showers available.
One of the unique features of Melengeç Beach is its rocky landscape, which provides a beautiful contrast to the white sand.
15. Kocakum Beach
Kocakum Beach is a blue flag beach and one of the most stunning beaches in the Karaburun district of Izmir, Turkey.
It features crystal-clear waters and sandy shores that stretch in a sheltered crescent-shaped bay. Visitors can enjoy swimming, sunbathing, or just sit back and relax at one of the amazing beachside resorts in Turkey.
The beach is surrounded by lush greenery, providing a beautiful contrast to the blue sea.
The beach also offers several amenities such as showers, changing rooms, and food kiosks where visitors can enjoy local cuisine and refreshing drinks.
With its natural beauty and serene atmosphere, Kocakum Beach is the perfect spot for a relaxing day out.
---
Map Of Beaches In The Izmir Province
To help you plan which beach to visit, here is a helpful map that shows you the location of each of the beaches mentioned on this list.
---
FAQs On Beaches in Izmir Province
Here is what people usually ask us about beaches in Izmir…
Does Izmir have a beach?
The actual city of Izmir doesn't have a beach, but a promenade with a rocky shoreline where it meets the ocean. These are popular spots for fishing, but because of the boats that come into the port, it's not a great spot for swimming. You should travel outside the city center to find the best beaches.
Is Izmir a seaside province?
Yes, Izmir is located on the Aegean Coast and is also nicknamed the Pearl of the Aegean Sea. There are many beaches and coastal towns that make it a seaside province.
Are there sharks in Izmir?
There are said to be some basking sharks that live in the waters around Izmir, but it's very rare to see one. They usually stay away from the coast.
---
Final Thoughts on the Best Beaches in Izmir Province
Izmir is not just a city, it's a huge province surrounded by natural beauty and magnificent scenery.
Arguably, the best example of the beauty of Izmir is its beaches. Whether you're a sunbather, snorkeller, or someone that just enjoys a cold beer by the beach one late afternoon, the stunning coastline of Izmir has something to offer for everyone.