If you are planning a trip to Izmir, you must wonder whether Izmir is safe or not. After all, Turkey might not have the best reputation when it comes to safety.
Generally speaking, Izmir is a safe place to visit, especially for tourists. Crimes and terrorism are quite low in the city, but visitors should still be aware of petty crimes such as theft and pickpockets. As long as tourists stay within the tourist areas in Izmir, they should have no issues with safety.
Yes, there are dangerous areas in Izmir, just like cities like Istanbul and Antalya, but normally tourists typically don't just stumble upon those. A rule of thumb for safety in Izmir is to stay north of the railroad tracks. The neighborhoods in those areas tend to be a bit safer.
Being one of the most liberal cities in Turkey with a huge university student life, Izmir is quite a dynamic city of blending cultures and beliefs. In this article, we'll talk about safety in Izmir and how you can have a safe and pleasant trip!
---
Is Izmir Safe For Tourists?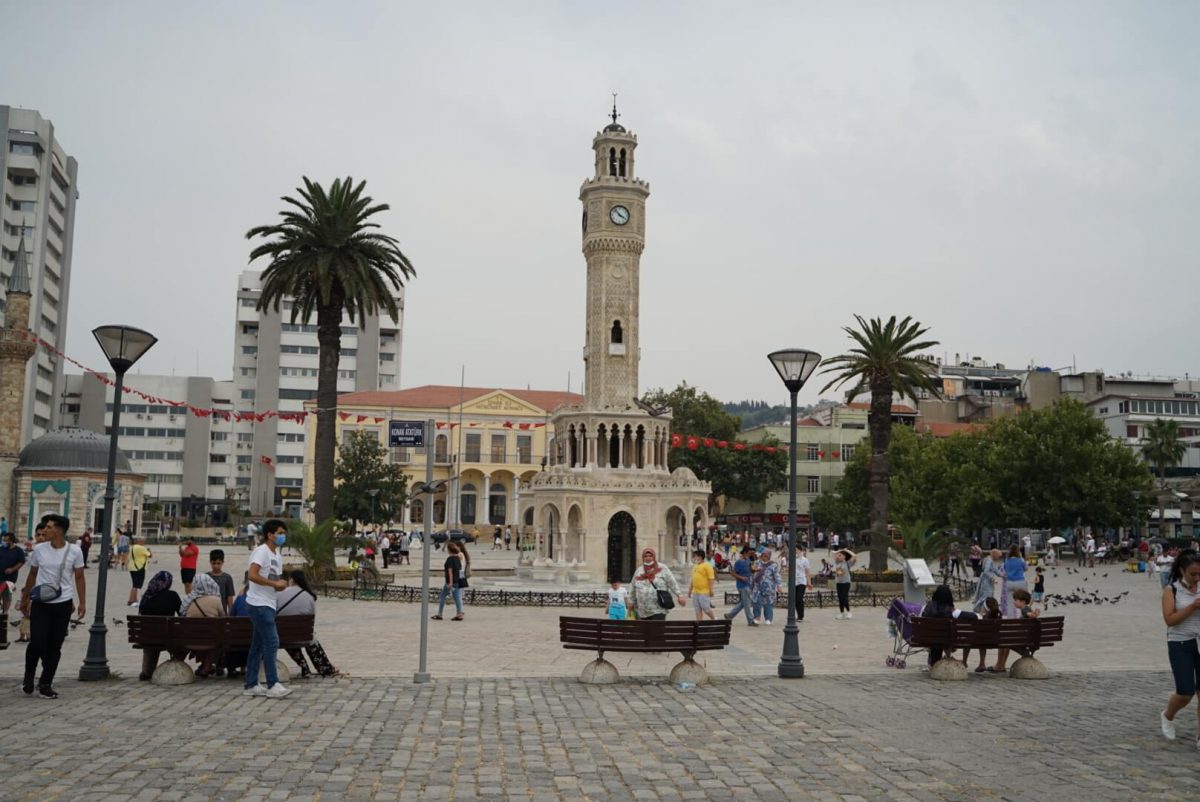 Izmir might be safe for tourists, but since Turkey is not exactly one of the wealthiest countries, tourists tend to become easy targets for scams and pickpockets. Tourists need to be extra careful when exploring the touristic areas of Izmir, as those places are generally where most of the petty theft and pickpockets happen.
The area near Basmane and Kemeraltı is especially busy all year round in Izmir, and visitors should be extra careful of their belongings when exploring those neighborhoods. We don't recommend going south or east of those two areas on foot. The areas in those directions are a lot poorer and certainly not as safe.
Generally speaking, neighborhoods south of the railroad tracks are usually more dangerous, especially areas near Hilal and Halkapınar.
It doesn't matter if you are American, British or German, you can be a victim of crime in Izmir if you are not cautious.
Note: We stayed in Basmane when we visited Izmir because we were unaware of it's reputation and unfortunately had a couple of incidents that made us feel unsafe. We were followed walking back to our hostel from Smyrna Agora Ancient City, and it made us feel very uncomfortable. Another incident we faced was unfortunatelysomeone also stole our shoes from the entrance of our hostel. Ok, it's only a pair of shoes, but it's never a nice feeling being robbed. We highly advise you not to stay in the Basmane neighborhood.
---
Is Izmir Safe At Night?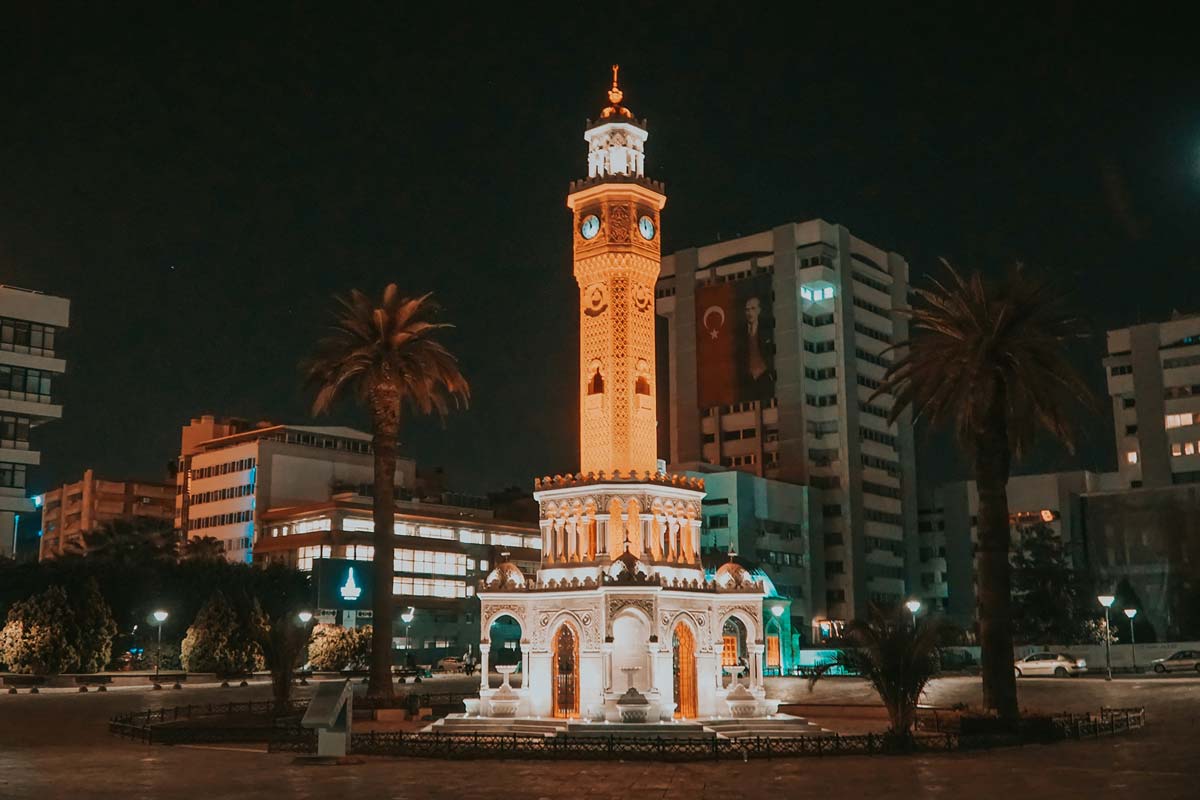 Izmir is generally quite safe in the daytime, but it is a lot more dangerous at night. Some of the streets that were bustling at night are now quiet, and there are plenty of dark narrow alleys where tourists can become victims of crime.
Alsancak is a very popular neighborhood in Izmir for nightlife, but tourists need to be careful of pickpockets in nightclubs and bars. Drink spiking has occurred in the past, but it is not very common nowadays. It is always a good idea to watch your belongings and your drink.
Basmane, Konak, and Kemeraltı are pretty quiet at night. There are lots of homeless and drunk beggars at night, which could jeopardize your safety if they become too aggressive. There are also lots of dark narrow alleys in these areas, which is the perfect place for criminals to take advantage of tourists.
As long as you stay vigilant and use common sense, you can be safer in those neighborhoods. But we recommend getting an Uber if you are traveling in those neighborhoods in Izmir at night.
---
Is Izmir Safe For Solo Travelers?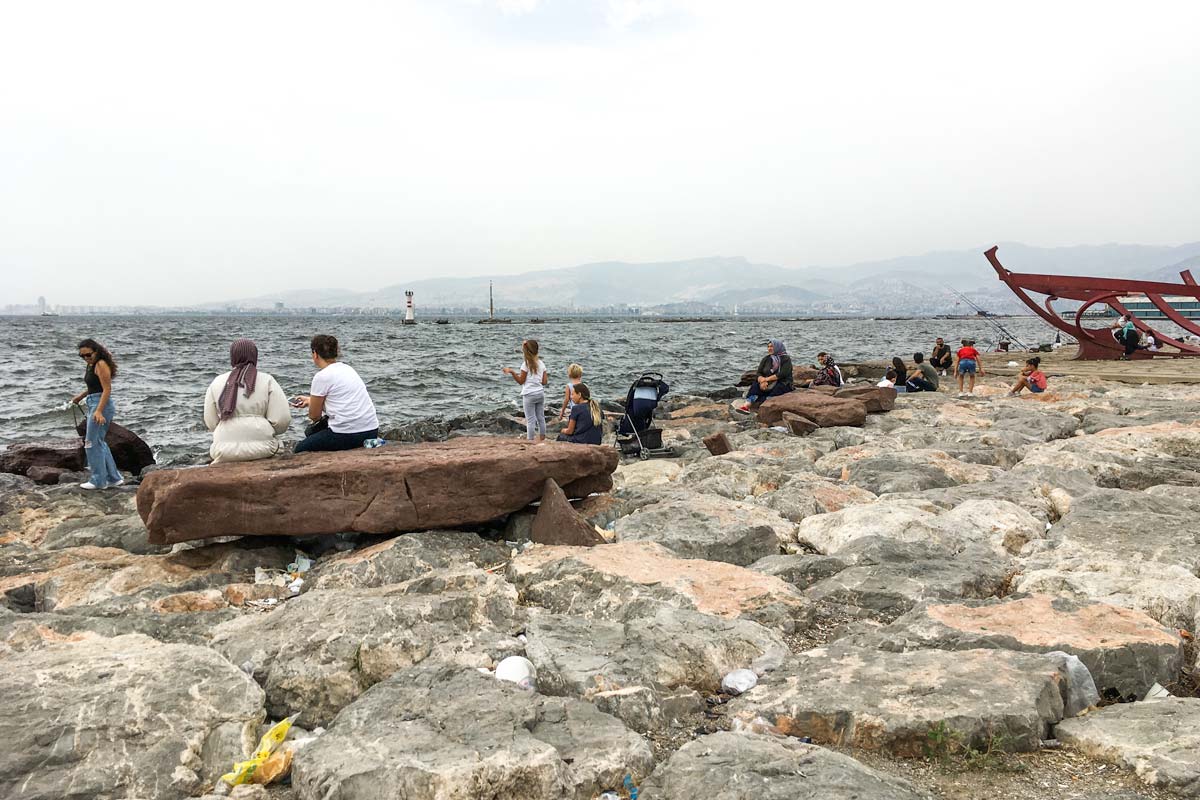 Solo travelers in Izmir are generally safe in the daytime, but you might want to be extra cautious at night. The main concern for solo travelers is getting robbed at night, which usually happens in dark narrow alleys as we mentioned above.
In the daytime, the city is bustling and no one will even notice you are traveling alone. You can explore the city without any worries, as long as you stay in the neighborhoods we mentioned above. Just make sure to keep your belongings close to you and be aware of your surroundings, especially when you are in crowded areas.
Still, it is important that you not wander too far off from the tourist areas. There are lots of neighborhoods that are very poor and might not be the safest.
If you want to be safer, it is best to travel with someone. As long as you are aware of your surroundings, stay in the main touristy areas, and follow our safety tips, you should have no problem staying safe in Izmir.
Related Reading: Things to Do in Izmir
---
Natural Disasters In Izmir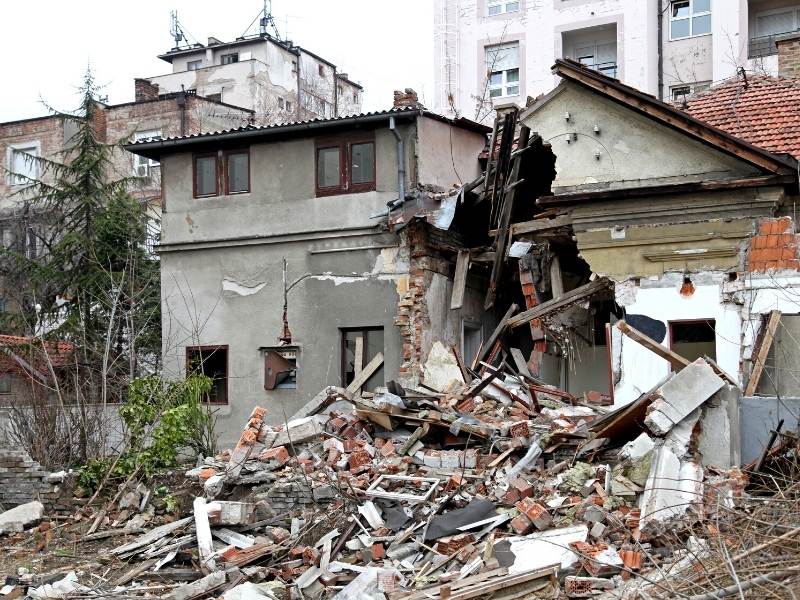 Unfortunately, one of the biggest dangers in Izmir is natural disasters. This beautiful city on the Aegean Sea is not unfamiliar with earthquakes, floods, tornados, and even tsunamis.
Just in 2020, there was a massive 7.0 Aegean Sea earthquake that ravaged Izmir, resulting in 117 deaths in Turkey alone. After the earthquake, a tsunami followed and damaged the city even more.
Matter of fact, because of the geographical location of Izmir, small tremors happen regularly. However, these tremors are so small that you don't feel their effects on the surface.
Floods and tornados occasionally occur in the city, but travelers should be able to avoid those.
By staying up to date with the news and weather, travelers can minimize their risk of natural disasters in Izmir.
---
Crime and Terrorism in Izmir
Though Izmir had issues with terrorism in the past (car bomb in 2017), the city is much safer in terms of crime and terrorism.
Izmir is not a political center of Turkey, but more of a tourist destination and a university town. There is very little reason as to why terrorists would attack Izmir.
Terrorist acts are more common in the capital Ankara, Istanbul, and near the Syrian border in the southeast of the country. But since Izmir is so far from those places, it is generally quite safe.
---
Are Taxis Safe In Izmir?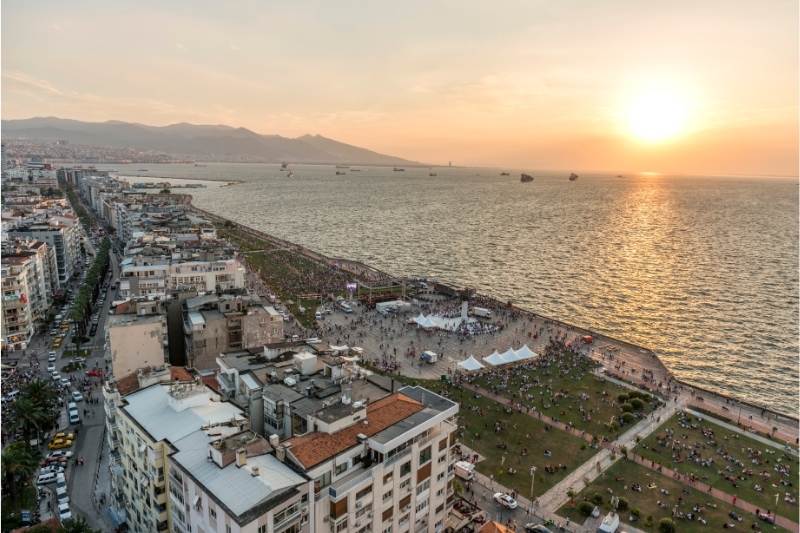 Taxis are typically safe in Izmir, but taxi drivers scamming tourists is far too common. One of the most common ways taxi drivers scam tourists is by taking a detour or a longer route than needed. Since the taxis are metered in Izmir, tourists can easily pay a lot more than they should.
We've encountered this problem many times when we took taxis in Turkey.
It is best to have your navigation on when you are taking a taxi to make sure the taxi drivers are not going in the wrong direction. Sometimes, it is unavoidable to get scammed by taxi drivers as they say that they took the detour to avoid traffic. But if you notice that the driver is going in the opposite direction, speak up or you'll get scammed big time!
Thank god there is Uber in Izmir, so make sure you use an Uber instead of a taxi if you can!
---
Safety Tips In Izmir
Stay Extra Vigilant at Night – Most of the crimes against tourists happen at night, so be careful when going out at night and use taxis and Uber if you can.
Drink Bottled Water – Unlike tap water in Istanbul, the tap water in Izmir is not very high quality. To avoid getting gastrointestinal issues, we recommend drinking only bottled water in Izmir, but feel free to brush your teeth with tap water!
Stay in Tourist Areas – As we have mentioned several times, the safest areas in Izmir are tourist neighborhoods. If you wander too far off the touristy path, you are going to be at a bigger risk.
Take Uber Instead of Taxis – Because of how often taxi drivers scam tourists, it might be best to take an Uber instead.
---
Safety In Izmir FAQs
Is Izmir Safe For Female Travelers?
Female travelers are generally safe in Izmir, but they should be extra careful when wandering around the city at night. Avoid any dark narrow alleys and make sure you watch your drink in nightclubs and bars.
Is Public Transportation Safe In Izmir?
Public transportation is very safe in Izmir. Not only is it safe, but it is convenient, clean and easy to use. It is one of the best ways to get around Izmir. You can even take public transport from Izmir to Ephesus!
Is Tap Water Safe to Drink In Izmir?
Tap water is generally not very safe to drink in Izmir, especially for tourists. A few locals in Izmir drink tap water and do not have issues, but most people stick with bottled water. We recommend that you do the same.
---
Final Verdict
Generally speaking, Izmir is a safe place to visit for travelers and it's definitely worth visiting Izmir. Crime is low in the touristy areas and there isn't much that could get in the way of an amazing trip to this beautiful Aegean city.
However, it is best that you don't explore outside the tourist areas in Izmir and stay extra vigilant at night to ensure your safety!