One of the questions we often get asked is what to wear in Turkey? Although it's well known for its hot and humid climate, Turkey is still a predominantly Islamic country, and therefore it's recommended to dress modestly when visiting.
But what does that mean? How do you know what to pack for Turkey? To help you out, we've created a complete packing list for Turkey so you can plan what to wear, as well as know what other important items you need to bring for your trip.
Let's begin with clothing…
---
What to Wear in Turkey
What you bring with you to wear in Turkey will largely depend on where in Turkey you are visiting. For those visiting Antalya or the Turkish Riviera, you'll likely want to bring beachwear and some loose-fitted clothing for exploring the coastal towns.
Those visiting Istanbul will likely need more smart attire and those planning on hiking in Cappadocia will need to pack some activewear.
To help keep things simple, here is a list of clothing you will need to bring with you to Turkey.
1. Lightweight and breathable clothing for the hot summers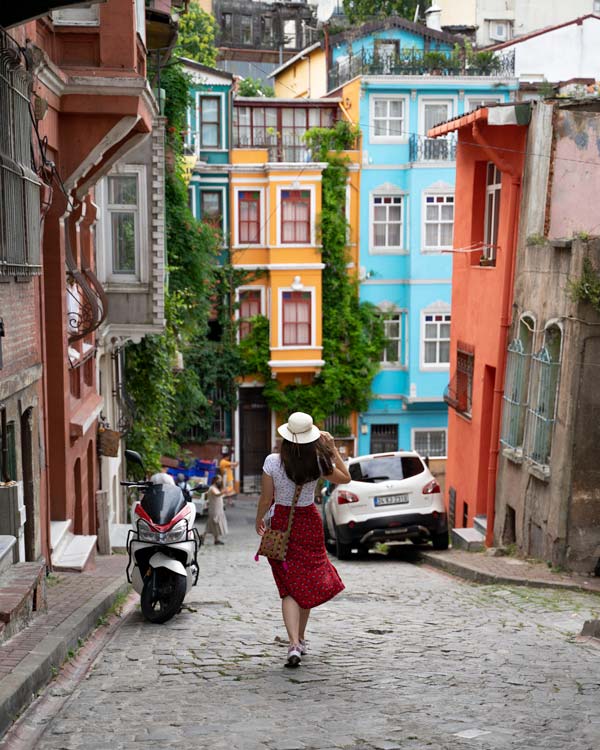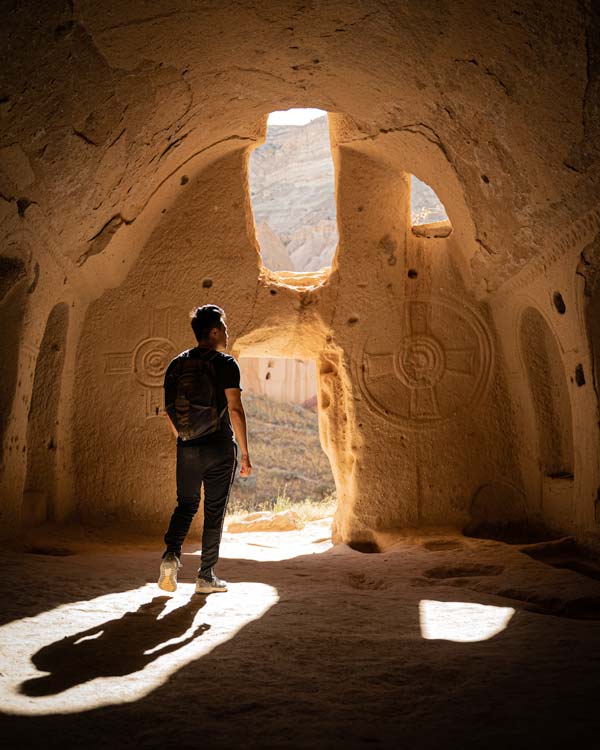 If you're visiting Turkey in the summer, then you will want loose-fitted clothing that is breathable and comfortable when sweating.
You should avoid tightly fitted clothing anywhere in Turkey, especially for men, as it may violate the rules of modesty and privacy.
Additionally, for women, it is better to wear loose-fitting clothing that covers the shoulders and knees to show respect for local customs and traditions.
It is important to note that while there is no official dress code when wandering the streets, dressing immodestly can cause offense to the local people and may mean you cannot enter certain places such as religious sites.
The dress code may also vary depending on the specific destination within Turkey and the cultural context.
If you're not sure how to dress in Turkey as a tourist, just follow this simple rule: keep your shoulders, knees, and chest covered, and you'll be fine.
2. A few long-sleeved shirts and lightweight pants for cooler evenings
Despite being a warm climate in general, Turkey does often have cool evenings, especially if you're planning to visit Cappadocia which has a high elevation, making it much cooler in the evening.
You should pack a few long sleeves just in case it gets cold during the evening.
3. Modest swimwear for beach destinations
Turkey is well known for its beaches, and some all-inclusive resort areas won't mind your beach thongs or G-string bikinis (though do check the resort guidelines before booking).
However, some public beaches will require you to dress modestly. You can usually wear normal beach attire such as a swimsuit or bikini, but bring a shawl or wrap to cover up with when walking around the promenades or when leaving the beach.
When walking along promenades or visiting cafes, you'll want to make sure you put your street clothes back on before wandering in.
Keep beach wear only for the beach.
4. Comfortable walking shoes for exploring cities and archaeological sites
You're likely to do a lot of walking in Turkey, so be sure to pack some comfortable shoes for walking. You don't need walking boots, which is something we often get asked.
Even in hiking regions such as Cappadocia, you will find the trail is not too difficult and easy to do in sneakers. You may want to pack walking boots if you plan on doing any high-elevation hikes, but for general walking around, comfortable sneakers will suffice.
5. Sandals for beach and leisure time
If you plan to visit any beach destinations in Turkey, be sure to pack some sandals for the beach. The sand is often very hot under your feet, so you will want shoes to walk on the beaches.
Some beaches have rocky terrain, so you may even want to bring water shoes if you are planning to do a lot of swimming in the ocean.
6. A lightweight jacket or sweater for cooler nights or higher elevations
Depending on where in Turkey you are visiting, you may also want to bring with you a light jacket for evenings, especially in Cappadocia.
7. A hat or cap to protect yourself from the sun
When the sun is out, there is usually very little cloud cover, so be sure to pack a hat to protect your head from the exposed sun.
Wear sun protection and apply it regularly. Often in beach destinations, there is a cool sea breeze which makes you forget how hot it is, so do be mindful of this when visiting.
8. A rainproof jacket or umbrella, depending on the season
If you're visiting in the winter, the likelihood of rain is quite high. Come prepared and bring a rain jacket or umbrella.
9. A headscarf for women
Most women are unsure of how to dress in Turkey, and many ask whether they need to wear a headscarf. You do not need to wear a headscarf when visiting Turkey unless you are visiting mosques or religious sites.
These are the only places where a headscarf is required, and often they will have one that you can purchase or rent on the door.
It's a good idea to bring one with you, to avoid paying a fee to purchase one.
---
What To Wear When Visiting Mosques
When visiting mosques, it is important to dress modestly and respectfully to adhere to local customs and religious practices.
For women, wear loose-fitting clothing that covers your entire body and avoid tight or revealing clothes. You can opt for a long skirt or pants that cover your legs fully, or at least extend over the knees.
Choose tops with sleeves that cover your shoulders and upper arms. Avoid sleeveless tops, tank tops or low-cut tops.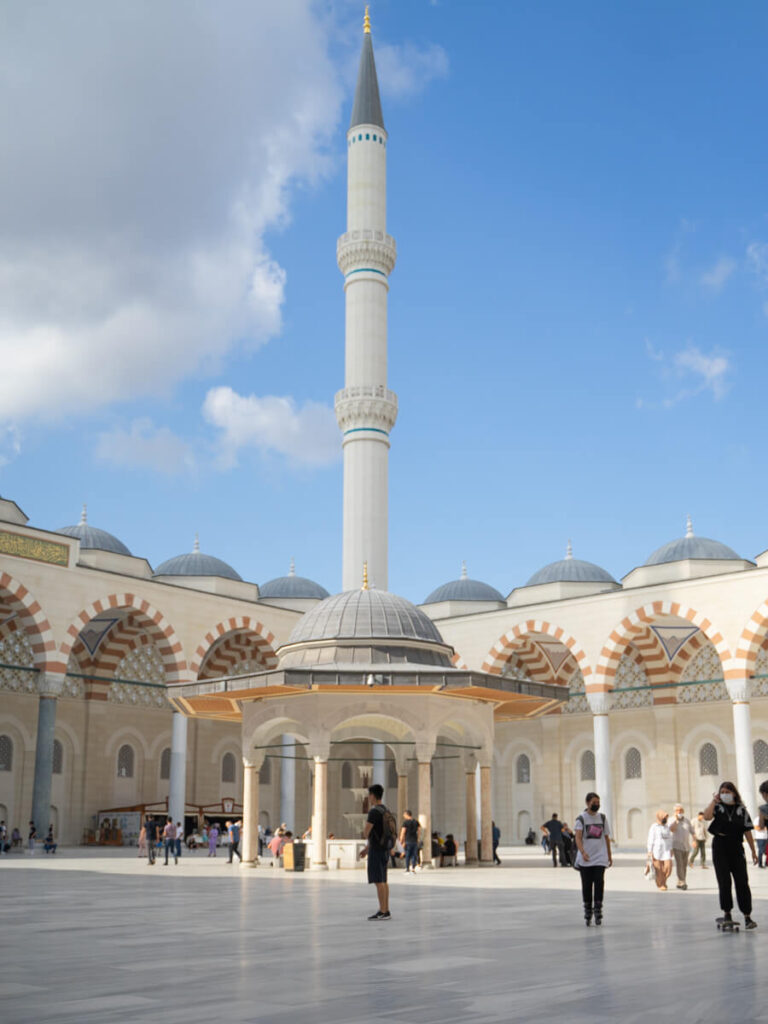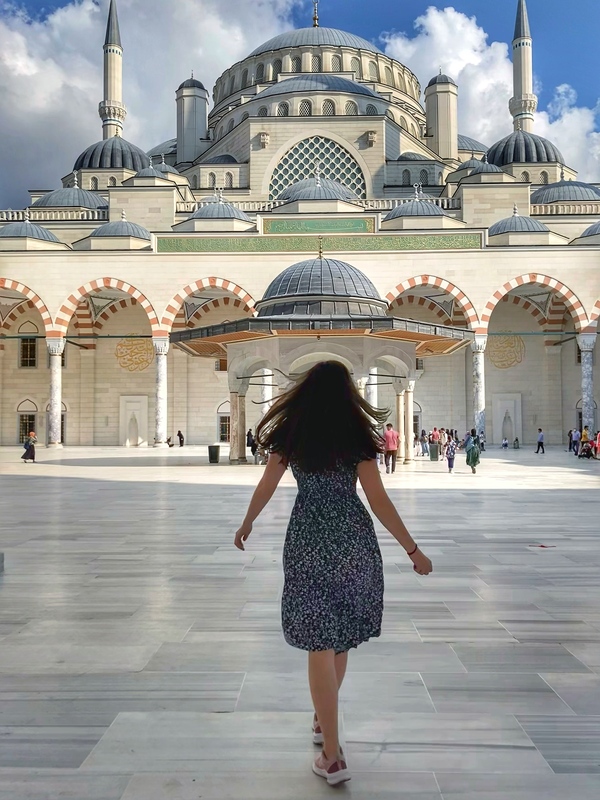 Consider wearing a lightweight cardigan to cover your shoulders and chest, and wear a shawl over your head to hide your hair. You don't usually need to wear the scarf when exploring the outside of a mosque, only if you enter it.
For men, you also need to dress modestly. Wear long pants that cover your legs fully. Shorts are generally not recommended but some mosques will allow them if they cover your knees.
Choose a shirt or t-shirt with sleeves that cover your shoulders and upper arms. Avoid clothing with inappropriate or offensive messages or graphics.
It is common for both men and women to wear socks inside the mosque but shoes must be removed before you enter.
Avoid wearing excessive jewelry or accessories that may distract others during prayer.
Carry a large scarf or shawl in your bag in case you need to cover up further – some mosques may provide robes or scarves for visitors who are not adequately dressed.
---
What To Wear To The Beach In Turkey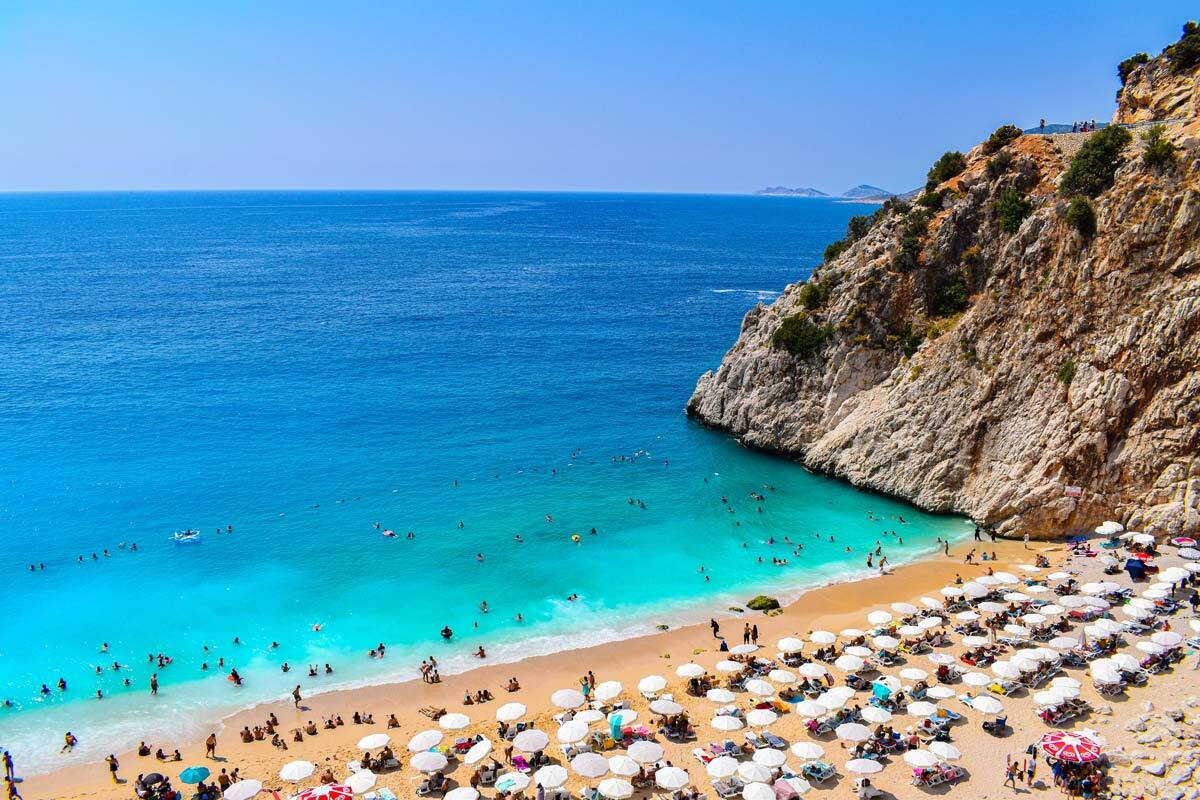 When at the beach in Turkey, the attire is similar to any other beach destination, but you may want to cover up when wandering around the cities and towns.
We recommend you pack comfortable and lightweight shorts for both men and women. For women, you can wear shorts or skirts in most Turkish beach towns but try to avoid ones that are too revealing.
It is also more acceptable to wear tank tops or sleeveless shirts in beach destinations, though you may want to carry a shawl to cover up when you walk around the towns.
It's important to note that these recommendations are specifically for beach resorts and coastal areas in Turkey, and in resorts they will usually have their own rules and dress codes – so be sure to check with where you're staying if they have their own rules.
---
What To Wear In Turkey By Season
The weather plays a big part in choosing what to wear in Turkey, so to help you out, here is a breakdown of what to wear by season.
Spring (March – May)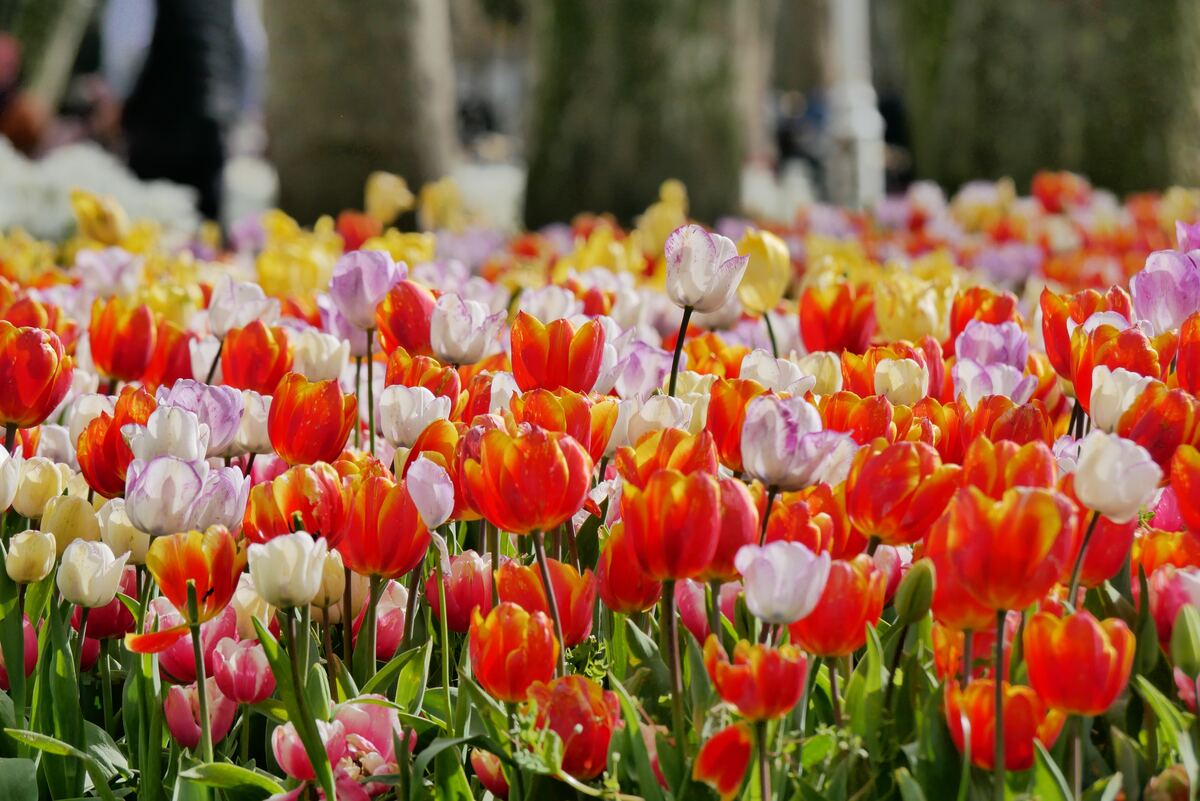 Spring tends to be warm but not hot, with cooler evenings and a few showers. You will want to pack for all weather conditions when visiting in these months. Here are some recommended clothing items we suggest you pack.
Light layers such as long-sleeved shirts, cardigans, and light jackets for cooler mornings and evenings.
T-shirts, blouses, or dresses for warmer afternoons.
Jeans, trousers, or skirts paired with comfortable shoes for exploring.
Summer (June – August)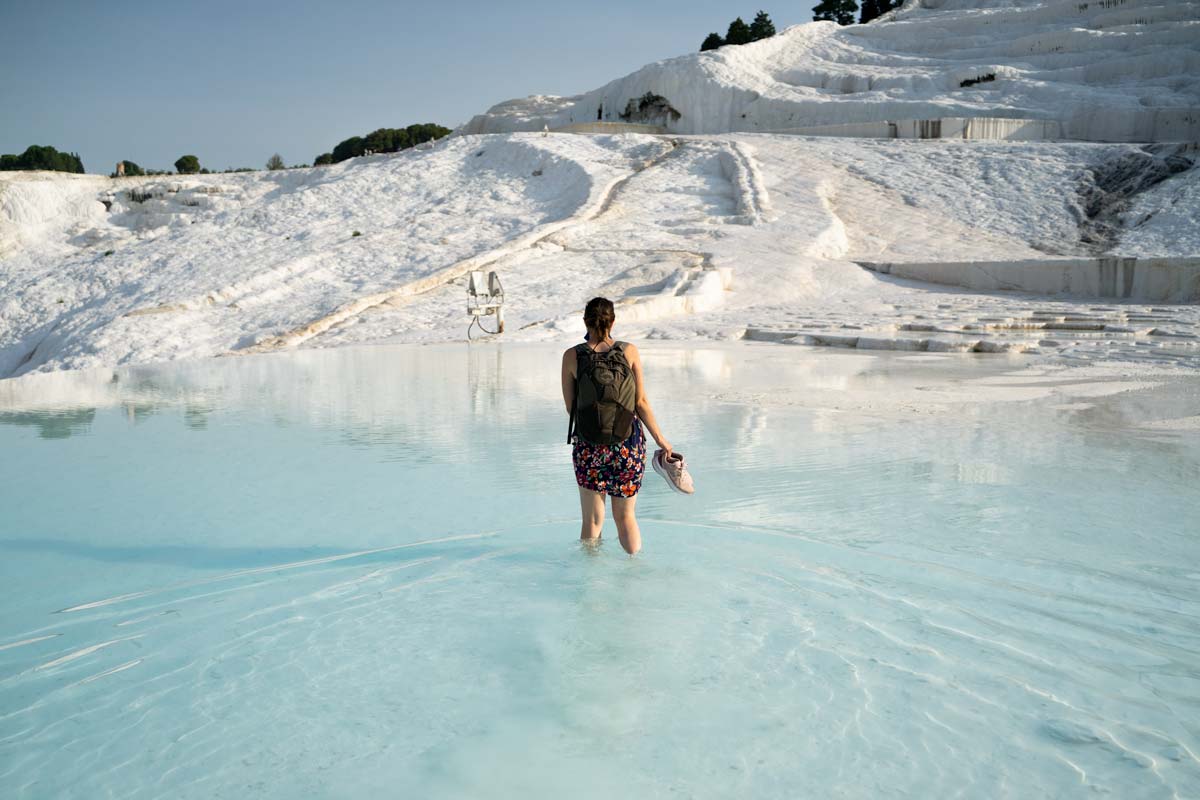 Summers can be stifling hot in Turkey and have very little rain or cloud cover. You will want to pack lightweight clothing and a lot of sun cream. Here are some essential clothing items you should bring when visiting Turkey in the summer…
Lightweight and breathable clothing such as shorts, skirts, and t-shirts due to the hot temperatures.
Dresses and loose-fitting tops made of breathable fabrics like cotton or linen.
Swimwear and cover-ups for beach destinations.
Sun hats, sunglasses, and sunscreen to protect from the intense sun.
Autumn (September – November)
The weather is still warm in the Autumn, though much cooler than in the summer. There is a good chance of rain in the Autumn and the evenings can also see cooler weather. Make sure you wear the following when visiting in the Autumn.
Light layers such as long-sleeved shirts, sweaters, and jackets as temperatures cool down.
Pants, jeans, or skirts paired with lightweight tops.
Comfortable walking shoes or boots for outdoor activities.
Scarves or shawls for cooler evenings.
Winter (December – February)
Winters can be cold and wet. In fact, it is also known to snow in Istanbul. Be sure to pack the following when visiting in the winter.
Warm clothing including sweaters, coats, and jackets as temperatures can drop significantly.
Long pants, jeans, or skirts paired with thermal tops or sweaters.
Boots or closed-toe shoes to keep warm and dry.
Hats, gloves, and scarves for added warmth.
---
Additional Packing List for Turkey
Aside from what to wear in Turkey, you're probably wondering what else you need to pack. Here is a list of other items that you may need for your trip.
Essential Items for Turkey
Valid passport with at least six months remaining.
A printed copy of your travel itinerary and accommodation details.
Photocopy of important documents such as your passport.
International driver's license if you plan to rent a car.
Any necessary visas or travel permits. Be sure to get your e-Visa online before you go.
Travel insurance documentation.
Local currency (Turkish Lira) or a credit/debit card for ATM withdrawals.
Basic toiletries, including travel-sized shampoo, conditioner, toothpaste, and sunscreen.
Medications and any necessary prescriptions.
Insect repellent for outdoor activities.
Suncream.
Electronics
Smartphone and charger.
Digital camera or GoPro and necessary accessories.
Portable power bank for charging devices.
E-reader or tablet for reading during downtime.
Headphones for listening to music or watching movies.
A universal travel adapter or Turkey plug for charging devices.
Read more: Do you have to carry your passport in Turkey?
Miscellaneous Items
Travel-sized laundry detergent for washing clothes.
Ziplock bags for storing snacks, keeping electronics dry, or organizing small items.
Reusable water bottles to stay hydrated and reduce plastic waste.
Earplugs and sleep masks for comfortable sleep.
Travel pillow for long flights or bus rides.
Portable luggage scale to avoid excess baggage fees.
Travel lock for securing your belongings.
Optional Items
Turkish phrasebook or language app to help communicate with locals.
Snacks or energy bars for long journeys or when you're on the go.
Travel-sized sewing kit for minor repairs.
Portable Wi-Fi device for staying connected while traveling.
A travel journal or notebook to document your journey.
Daypack or backpack for day trips and carrying essentials.
---
FAQs About What To Wear In Turkey
Here's what people usually ask us about what to wear in Turkey…
How do women dress in Turkey?
Women in Turkey dress in many different ways. Some women will wear casualwear similar to what you see in Europe such as jeans and T-shirts, whereas other women may dress more traditionally. It's common for Islamic women to wear full-body garments and hijabs in Turkey, though tourists are not expected to.
What do female tourists wear in Turkey?
We recommend that female tourists to Turkey wear long, loose-fitted skirts, dresses, or trousers. Refrain from packing vest tops or tightly fitted clothing as these will likely offend some locals.
Is Turkey strict in dress code?
There is no official dress code in Turkey but you will find that dressing immodestly will offend some locals and will mean you cannot enter religious sites.
---
Final Thoughts
So there you have it, this is what to wear in Turkey and essential things to pack! We hope you found this guide helpful and gave you some insight into what you need to take with you to Turkey.
Remember to check the weather forecast before your trip to pack accordingly. Additionally, consider the activities you'll be doing and any specific requirements they may have.