Not sure how to get from Cappadocia to Pamukkale or vice versa? Worry not.
Cappadocia and Pamukkale are two of the most popular destinations in Turkey. No Turkey itinerary would be complete without a visit to these two unique UNESCO World Heritage Sites.
But getting from Cappadocia to Pamukkale or Pamukkale to Cappadocia is not no easy task. Generally speaking, there are three ways to get there: a long-distance bus, a flight, or renting a car and driving.
Though that might sound quite straightforward, there are a lot of details that you need to plan in order to have a successful trip. That is why have written this guide on how to get from Cappadocia to Pamukkale.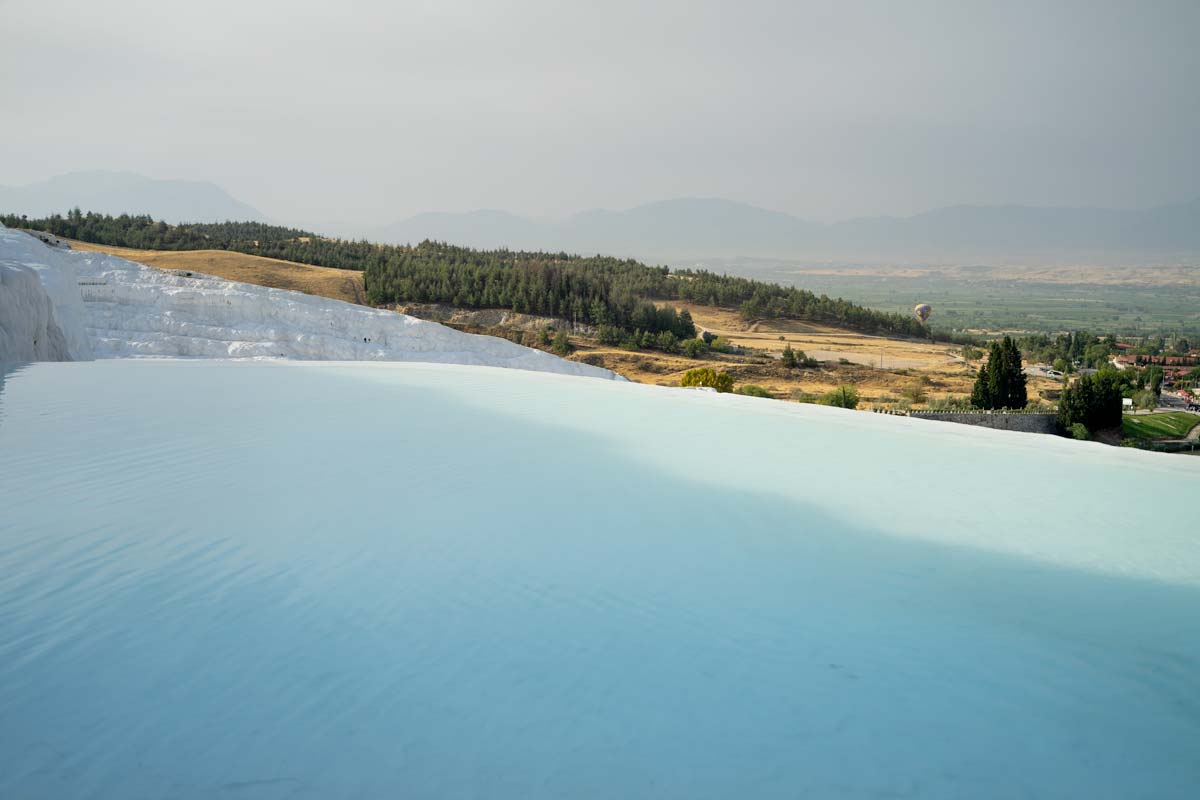 ---
What Is The Distance From Cappadocia To Pamukkale?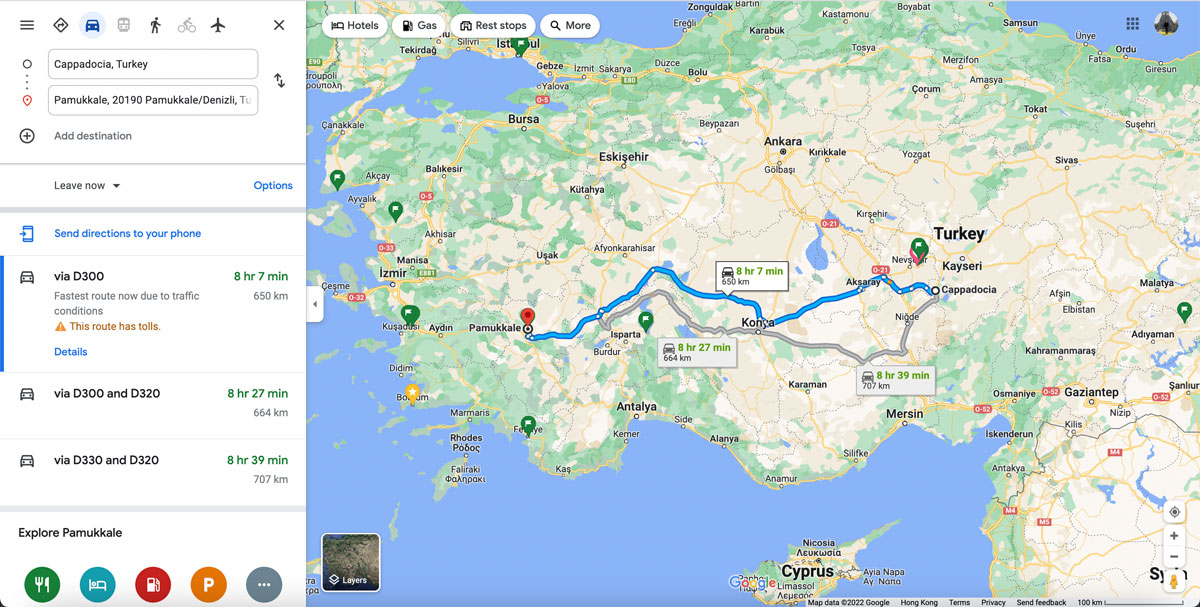 Anyone that is planning to go from Cappadocia to Pamukkale must be aware of the long journey.
The distance between Cappadocia and Pamukkale is about 650 kilometers or 404 miles. On average, it takes about 8 hours to drive from Cappadocia to Pamukkale.
A long-distance bus usually takes a total of about 11 to 13 hours, which includes a change at Denizli Bus Station.
A flight could take anywhere from 4 hours to more than 12 hours to get to the closest airport to Pamukkale, which is the Denizli Çardak Airport. From there, visitors will need to find a way to get from the airport to Pammukale, which is nearly 70 km (43.5 mi) away.
---
Different Ways To Get to Pamukkale from Cappadocia
Below we'll talk about the three more popular ways to get to Cappadocia from Pamukkale:
Long-Distance Bus
Flights
Renting a Car and Driving
Long-Distance Buses From Cappadocia to Pamukkale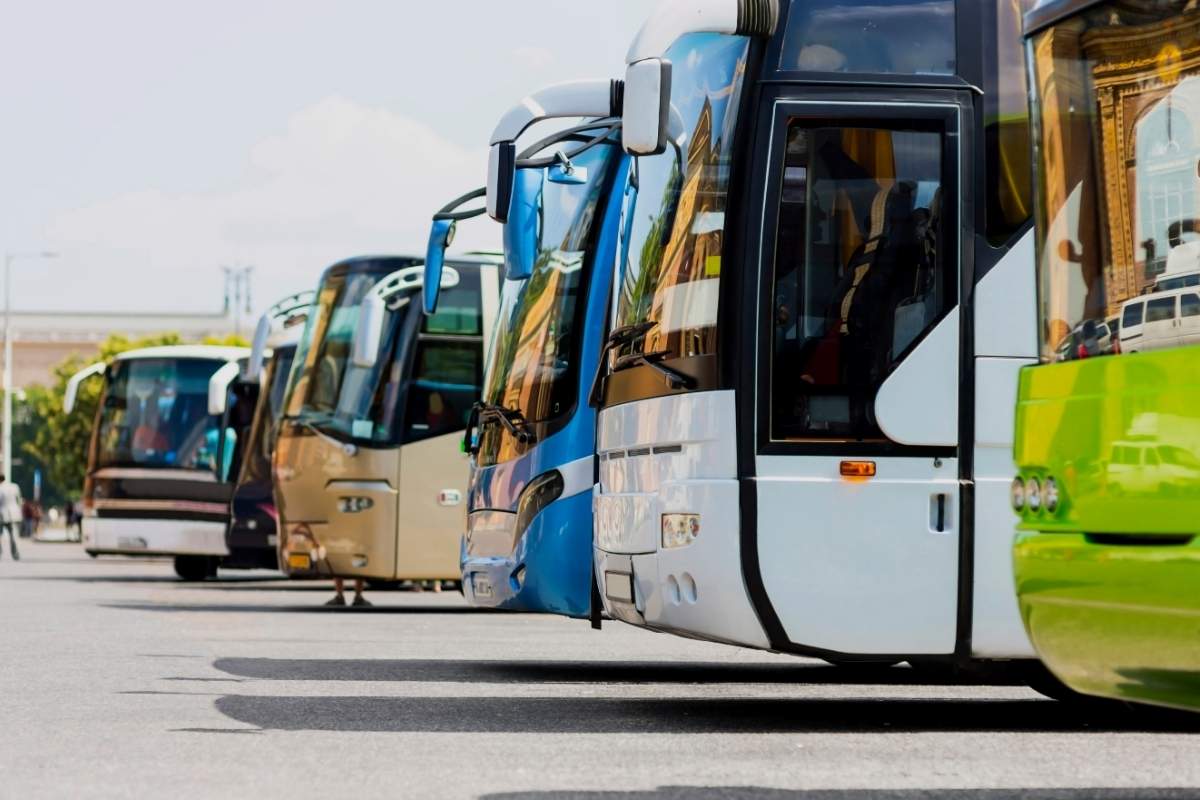 Perhaps the most popular way to travel from Cappadocia to Pamukkale is through one of Turkey's reliable long-distance buses.
Unfortunately, there is no direct bus that goes from Cappadocia to Pamukkale or vice versa. To get to Pammukale, travelers must take a bus to Denizli Bus Station (Denizli Otogar), about 17 km (10.5 mi) away from Pamukkale. From there, you can catch one of the minibusses (dolmus in Turkish) that depart regularly from Denizli to Pamukkale.
The long-distance busses depart from many areas in Cappadocia, which means even if you are not staying in Goreme (the historic center of the region), you can still catch a bus to Pammukale easily.
There are many bus companies to choose from. There are many departures throughout the day and each bus takes a slightly different route. Make sure you check that when you are booking.
Some of the bus companies we recommend are:
Isparta Petrol Turizm
Metro
Nevşehir Seyahat
We have taken a bus from all of those companies in Turkey and found that their quality is quite similar, though the prices for them are usually different.
There is also the international bus company FlixBus, but I found that FlixBus doesn't have its own buses in Turkey, but rather acts as a booking agent for a local bus company. This means the prices are usually a little higher for bookings made through FlixBus but your results might vary.
But perhaps the most important thing about taking a long-distance bus from Cappadocia to Pamukkale (or Denizli) is what time it departs. Though there are departures throughout the day, we recommend either taking one early in the morning or late at night.
That way you can either arrive at night or in the early morning of the next day. You don't want to take one that departs midday because you might end up arriving in Denizli in the middle of the night and get stranded there.
Some of the buses from Cappadocia to Pamukkale take about 10 hours and there are some that take more than 12. Make sure you watch out for that when purchasing your ticket.
The price of the bus from Cappadocia to Denizli is usually around 18 to 20 USD.
You can purchase the tickets online here, or in person at the respective bus companies.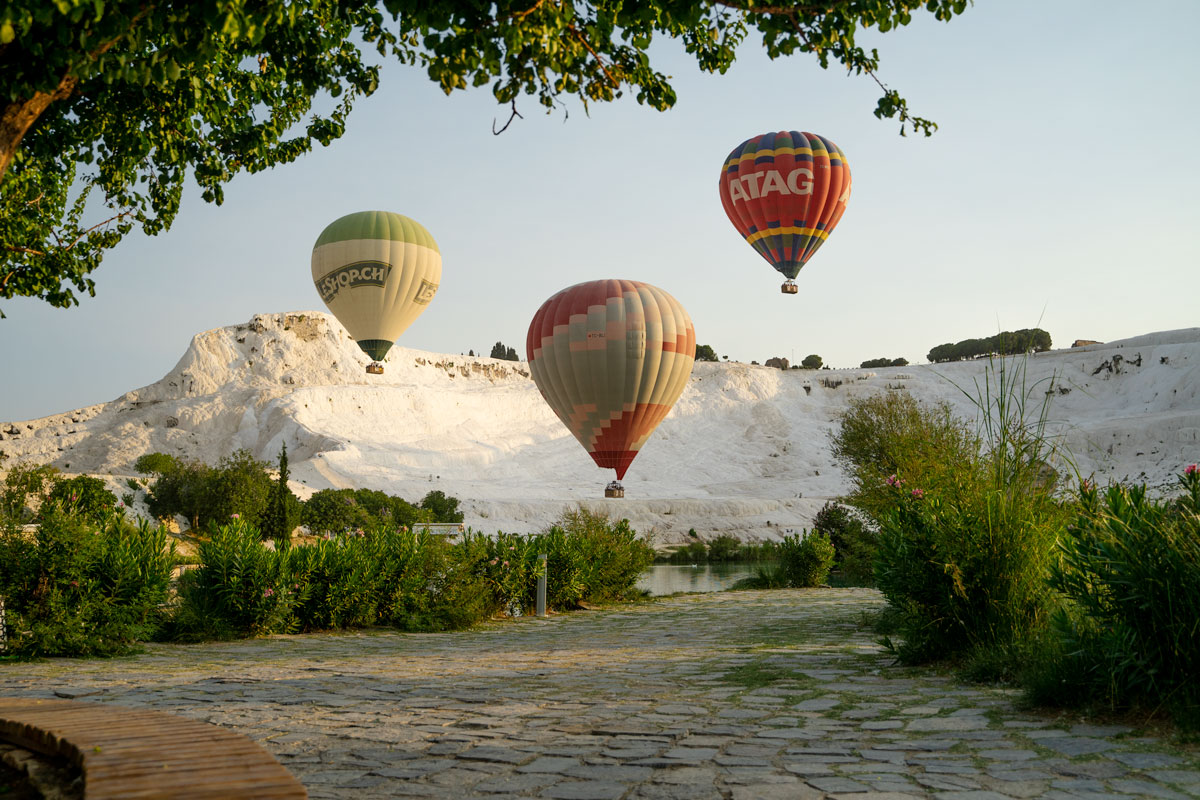 Mini-Bus From Denizli to Pammukale
Once you arrive in Denizli from Cappadocia, you'll need to catch the dolmus (minibus) to get to Pamukkale.
Luckily, the minibus departs at the same bus station where your bus arrives.
There are multiple levels for the Denizli Otogar Bus Station, and you'll want to get to the lower level (B1) where the minibusses depart. Gate 76 is where you'll find the minibusses that go from Denizli to Pamukkale. They depart every 15 to 20 minutes, but they also depart whenever it is full.
The cost of the minibus from Denizli to Pamukkale is 14 TL.
The journey takes about 45 minutes because the bus makes plenty of stops and detours along the way.
Unfortunately, you cannot reserve your tickets online. You pay directly to the minibus driver.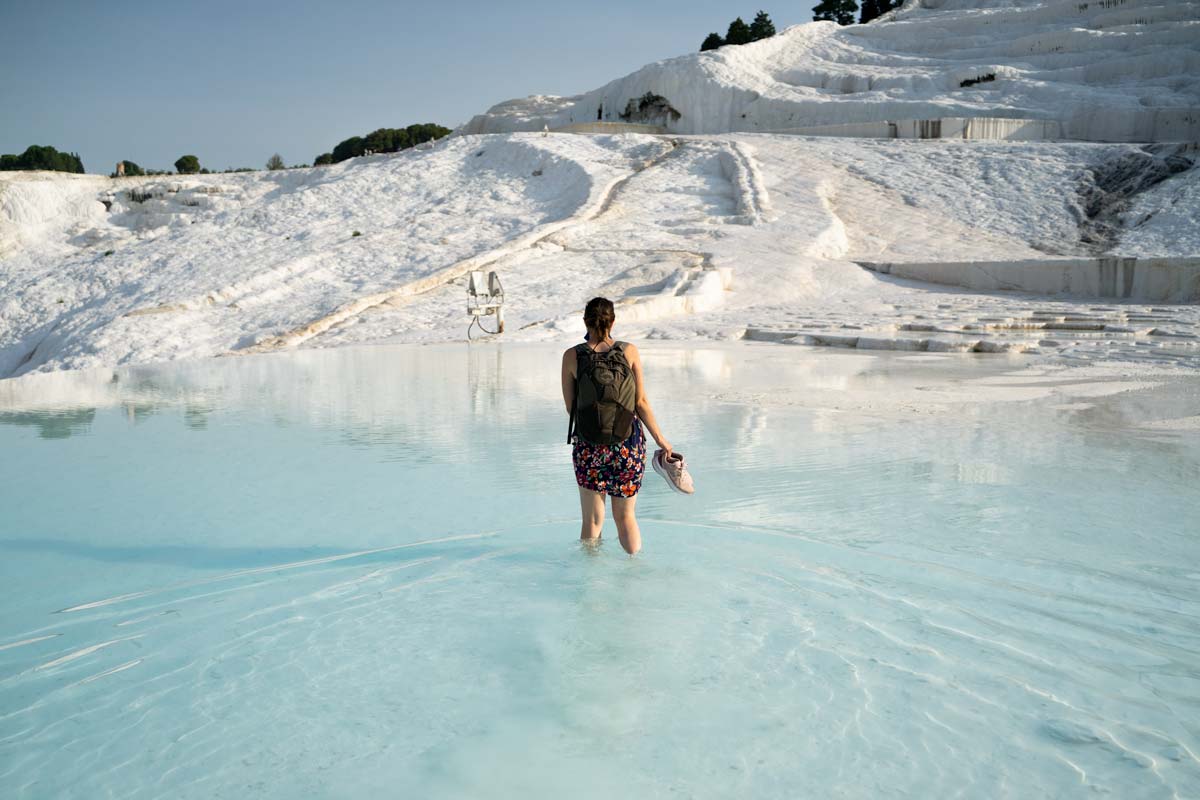 Flights From Cappadocia To Pamukkale
Though not as popular as a bus, another option from Cappadocia to Pamukkale is by flying, especially if you are repulsed by the 10-hour-plus bus journey. However, we do have to warn you, taking a plane from Cappadocia to Pamukkale might not be worth it.
Why?
There is no airport in Pamukkale. The closest airport to Pamukkale is the airport in Denizli, Denizli Çardak Airport. It is situated nearly 70 km (43.5) miles away from Pamukkale and 62 km (39 mi) from Denizli Bus Station.
After you arrive at Denizli Airport, you'll need to find a way to get to Pamukkale. You have two options: taking a private transfer from the airport to Pamukkale, or going from the airport to the bus station and then taking the mini-bus we mentioned above. There is no public transportation from Denizli Airport to Pamukkale. This is not only inconvenient but could add to your budget.
There are also no airlines serving direct flights from Pamukkale to Denizli. Travelers must make a transfer either through Izmir or Istanbul. While you could get a flight with a layover as short as 70 minutes, you might end up with one that's over several hours long.
And if you are taking flights, you want to get there quickly, and not have to wait hours in an airport to get a connecting transfer.
Lastly, you need to factor in the time it takes to get to one of the airports in Cappadocia, Nevsehir Kapadokya Airport (NAV) and Kayseri Erkilet Airport (ASR). It takes anywhere from 40 minutes to an hour to get to one of these airports from Goreme, the historic center of Cappadocia.
Don't forget to factor in the extra hour or two you need to arrive before your flight.
Not only is flying from Cappadocia to Pamukkale a lot more expensive than taking a bus, but you also might not end up saving any time in the end.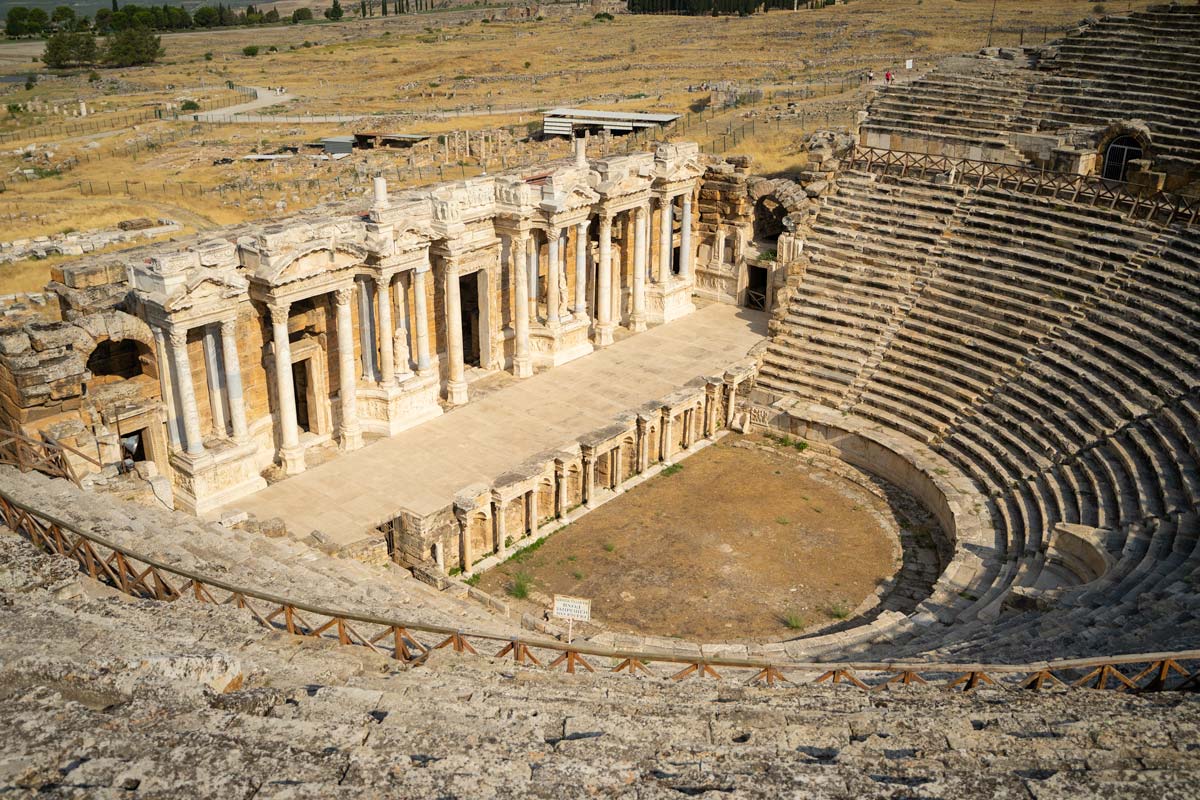 But if you are traveling with kids or anyone that might not survive the long bus journey, here is what you can do to make your experience more pleasant.
Decide which airport in Cappadocia to fly from – Kayseri Airport is generally better but it all depends on the exact time you want to fly. We recommend one that is early and minimizes layover time.
Arrange a private transfer from your hotel in Cappadocia to the airport. (Check our recommended company here!)
Arrange a private shuttle from Denizli Çardak Airport to Pammukale. (Check our recommended company here!)
Arrive at Denizli Airport.
Get on your shuttle and go to Pamukkale!
The process is quite straightforward but visitors need to arrange their transfers ahead of time, otherwise they might have to end up taking overpriced taxis that scam tourists!
Renting a Car and Driving From Cappadocia To Pamukkale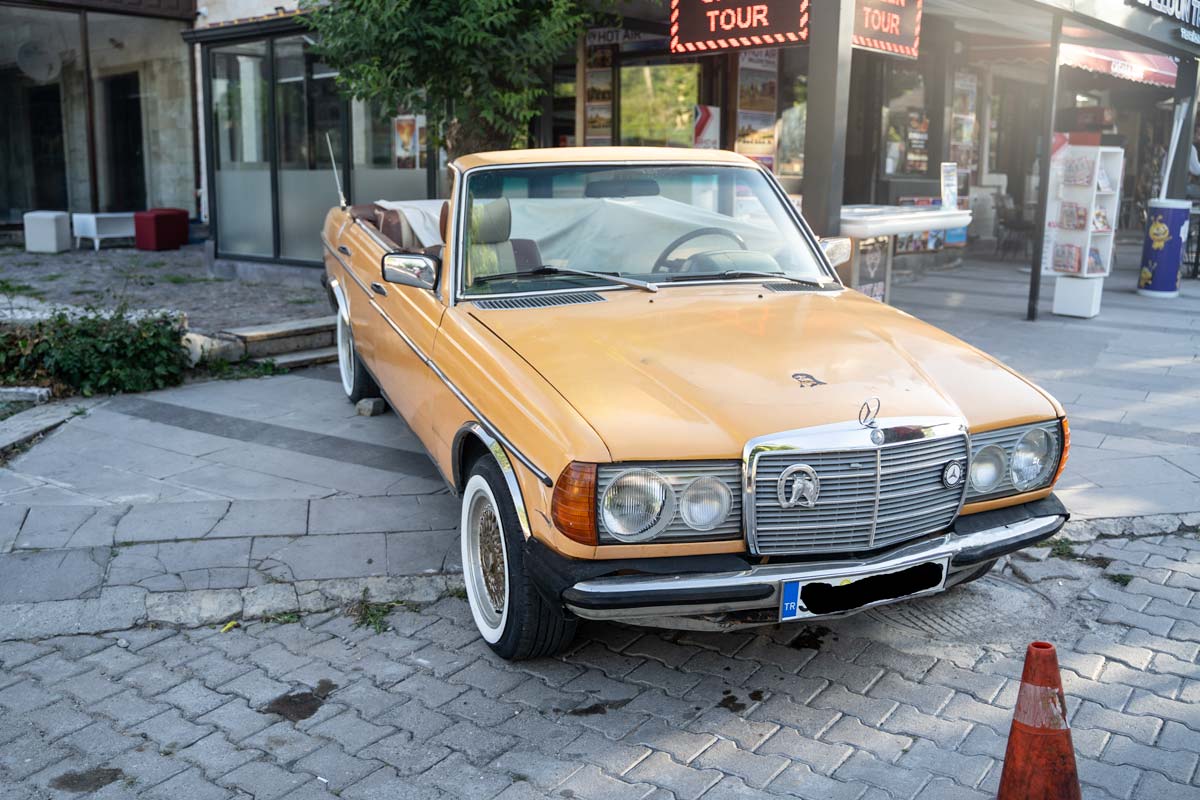 If you are renting a car in Cappadocia or doing a road trip in Turkey, then perhaps you might enjoy driving from Cappadocia to Pamukkale. However, at 650 km (404 mi) apart, the journey isn't exactly short. On average it takes about 8 hours to drive to Pamukkale from Cappadocia, and that is if you don't make any stops along the way.
If you have more than one driver, then this trip might not be too bad. Otherwise, it is quite brutal for just one person.
Would we recommend driving from Cappadocia to Pamukkale? Absolutely, but under one condition. You need to make a stop somewhere and spend a night there.
There are plenty of incredible destinations between Cappadocia and Pamukkale. It would be a shame to drive through them and not stop by any. Not only do you get to break up the journey, but you get to experience some of the hidden gems of Turkey.
Cappadocia to Pamukkale Stop: Eğirdir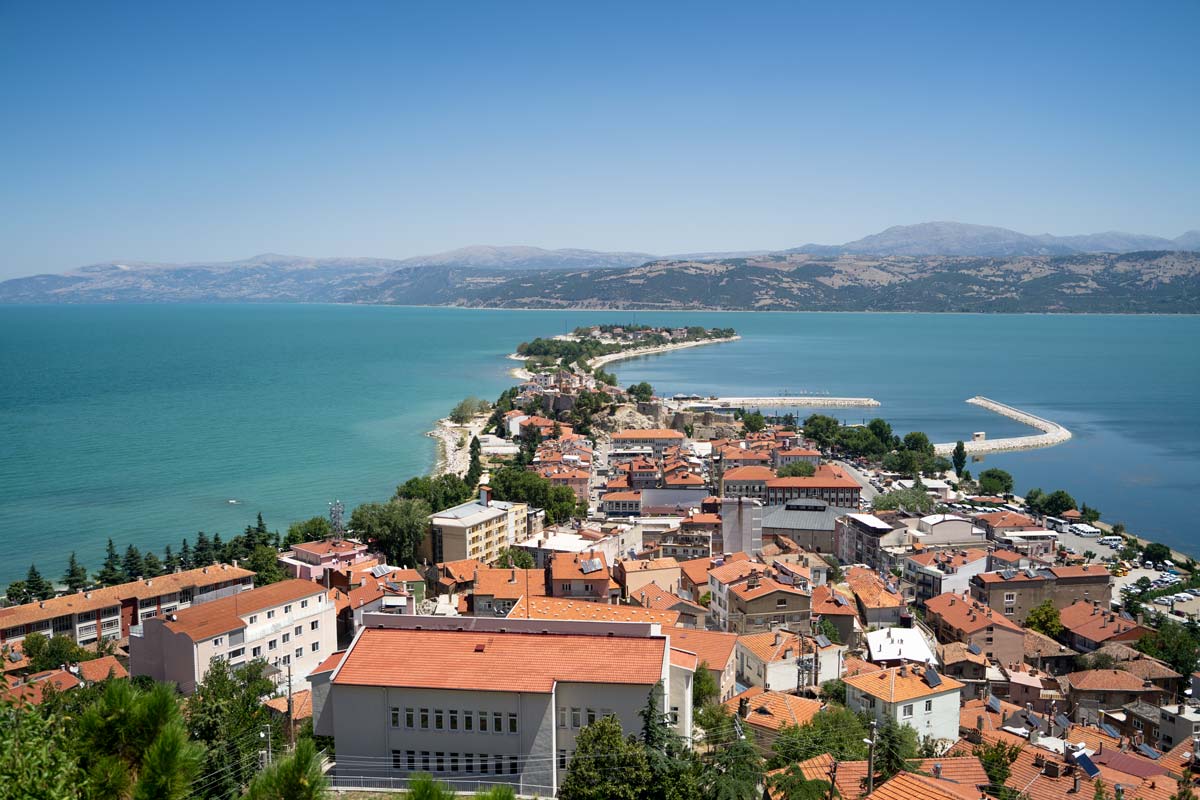 One of the stops we recommend stopping by is Eğirdir. It is a small town located in the Isparta Province of Turkey. Eğirdir is a town full of pensioners, and it is no surprise why many decide to go to Eğirdir their home for the remaining town.
This small town is surrounded by the gorgeous Eğirdir Lake, which is perfect for swimming or just relaxing on the beach. Opposite the lake is an impressive mountain that soars over 700 meters above the town. Avid hikers can climb on top and admire the stunning panoramic views, but those that decide to relax by the beach are blessed with the gorgeous scenery it provides.
It is about a six-hour drive from Cappadocia to Eğirdir, which means if you leave early, you can spend the rest of the day exploring this quaint town. From Eğirdir, it is only about a 2.5-hour drive to Pamukkale, which means if you leave early in the day, you can have plenty of time to explore the UNESCO World Heritage Site of Pamukkale and the Hierapolis!
---
How To Get From Pamukkale To Cappadocia?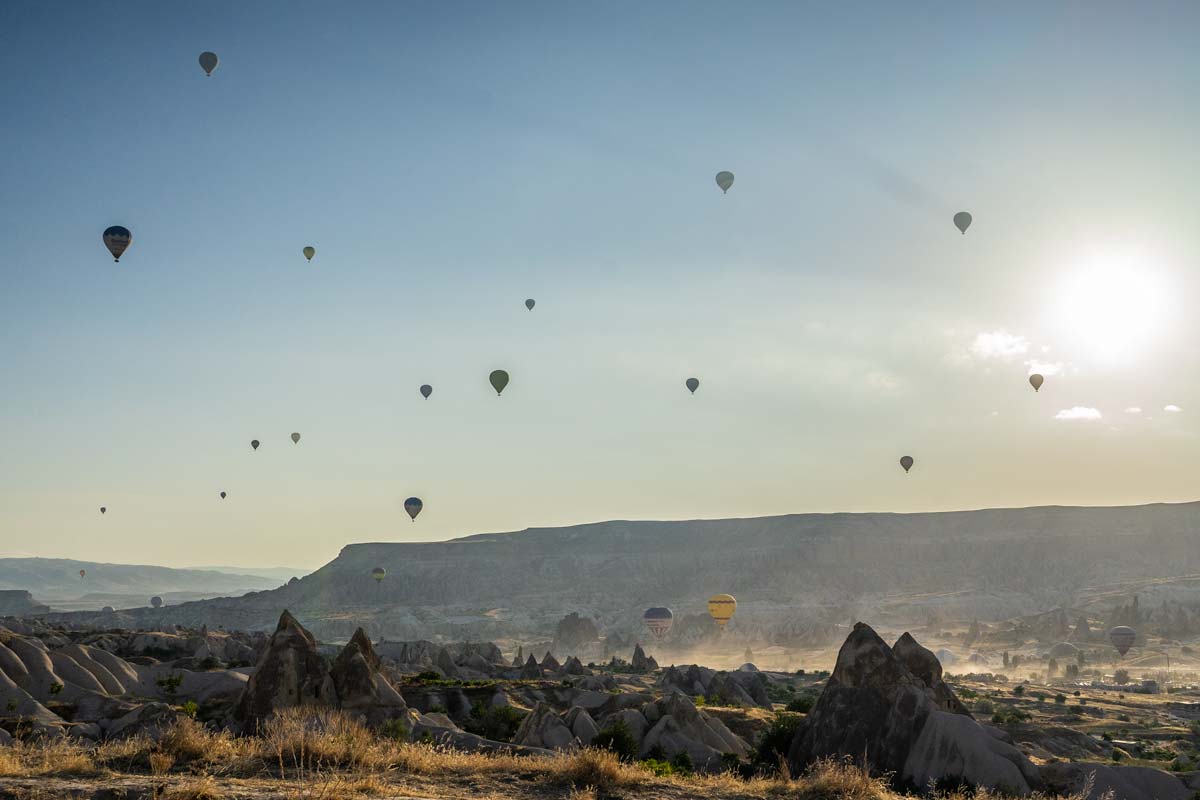 If you are going from the other direction and want to go from Pamukkale to Cappadocia, the process is similar.
For long-distance buses, you'll need to take them from Denizli to Cappadocia. However, it is worth checking with the bus companies throughout town. They are in the process of adding a direct route from Pamukkale to Cappadocia.
For flights, you'll need to get from Pamukkale to Denizli Airport, where you can catch a flight to Cappadocia. Likewise, you'll probably have a connecting flight in Istanbul.
If you are driving from Pamukkale to Cappadocia, you can follow the same itinerary above. Make a stop in Eğirdir and enjoy its serenity before going to Cappadocia.
Since you're likely going to be spending a few days in Cappadocia, there is no rush when it comes to driving.
Read More: How To Get From Istanbul to Pamukkale: 5 Easy Ways
---
Where To Stay In Pamukkale, Turkey?
The town of Pamukkale is quite small, which means you are unlikely to go awry when picking the perfect place to stay. We recommend that you avoid staying in Denizli, as there aren't lots of tourist attractions there. It is also quite different to get around as the locals don't speak much English there.
Here are some of the accommodations we recommend in Pamukkale: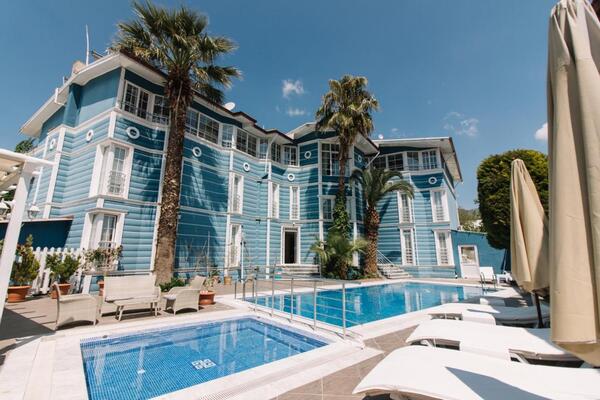 Best Budget Hotel in Pamukkale – Pamukkale Melrose Viewpoint Suites
If you're looking for clean and modern accommodation in Pamukkale but don't want to spend a lot of money, then the Pamukkale Melrose Viewpoint Suites is perfect for you. Its soft blue exterior immediately makes you feel at home. The hotel has an outdoor pool that is perfect for cooling down in the summer, and free breakfast is served on its outdoor terrace with a view. All the attractions of Pamukkale, including Cleopatra's pool are within walking distance away!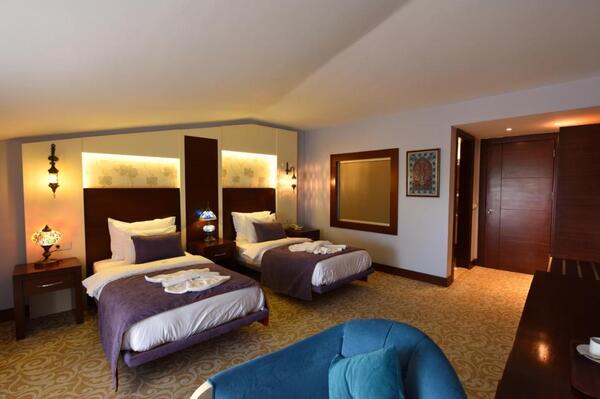 Best Luxury Hotel in Pamukkale – Pamukkale Whiteheaven Suite Hotel
Luxury hotels are hard to come by in Pamukkale, but Pamukkale Whiteheaven Suite Hotel is the perfect place for those that seek luxury and the utmost comfort. This accommodation features a massive outdoor area with a gorgeous swimming pool, which happens to be the place where guests can enjoy their delicious and diverse complimentary breakfast. The rooms are spacious, clean, and modern, and are probably the best in the entire town. You cannot go wrong with Pamukkale Whiteheaven Suite Hotel.
---
Cappadocia To Pamukkale FAQs
Can You Take A Day Trip From Cappadocia To Pamukkale?
A day trip from Cappadocia to Pamukkale is feasible but probably not worth it. If you are short on time, you can arrange a night bus to get to Pamukkale in the morning, explore the pools and the ruins at Pamukkale, and then catch a flight back to Cappadocia in the evening. This is the only way to take a day trip to Pamukkale from Cappadocia, but it is by no means an enjoyable route.
How Many Days To Spend In Pamukkale?
One full day in Pamukkale is enough to experience its travertine pools and Hierapolis archaeological site. But if you enjoy swimming in the pools at Pamukkale, you can spend an additional day relaxing in them!
---
Before You Go
The three ways you can get from Cappadocia to Pamukkale are – long-distance buses, flights, and driving. Each method has its own pros and cons which we discussed above. Hopefully, now you have all the information to get to this Turkish UNESCO World Heritage Site and back!