Is Cappadocia in Istanbul? No, Cappadocia is not in Istanbul. This iconic landmark in Turkey is actually very far away from Istanbul, approximately 800 kilometers or 497 miles to be exact. By bus, it takes about 10 to 12 hours. By plane, it takes about 80 minutes.
You might be disappointed to not only find out that Cappadocia isn't in Istanbul, but that there is a huge distance separating these two stunning Turkish attractions.
No Turkey itinerary is complete without these two sights. Though it might be quite the trip, it is an essential part of the experience.
We have gone from Istanbul to Cappadocia multiple times and are ready to show you what is the best way to see Cappadocia from Istanbul!
How Far Is Cappadocia from Istanbul?
As we have mentioned, Cappadocia is approximately 800 km or 497 miles from Istanbul. Visitors have two options to get there – by bus or by plane.
The bus journey will take around 10 to 12 hours, but the plane journey will only take 80 minutes. The bus is a more affordable option, but the plane is faster and more comfortable.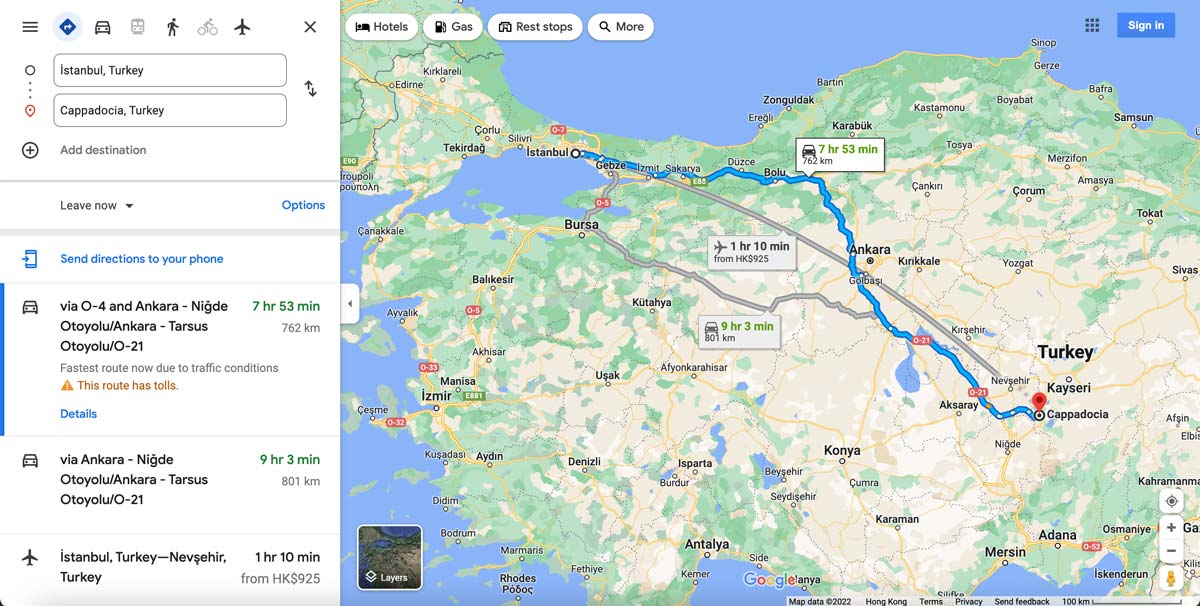 Getting The Bus From Istanbul to Cappadocia
Buses depart regularly from both Istanbul's European side and Asian side. There are a lot of bus terminals in Istanbul, and it is important that you (more importantly, your taxi driver) get it right.
If you are visiting Istanbul as a tourist, chances are, you'll be staying on the European side near Taksim or Sultanahmet. The main bus station on the European side of Istanbul is Esenler Otogarı, which is quite accessible by public transportation.
The buses that depart on the European side do make stops on the Asian side, so if you are staying on the Asian side, just go to the nearest bus stop for Cappadocia.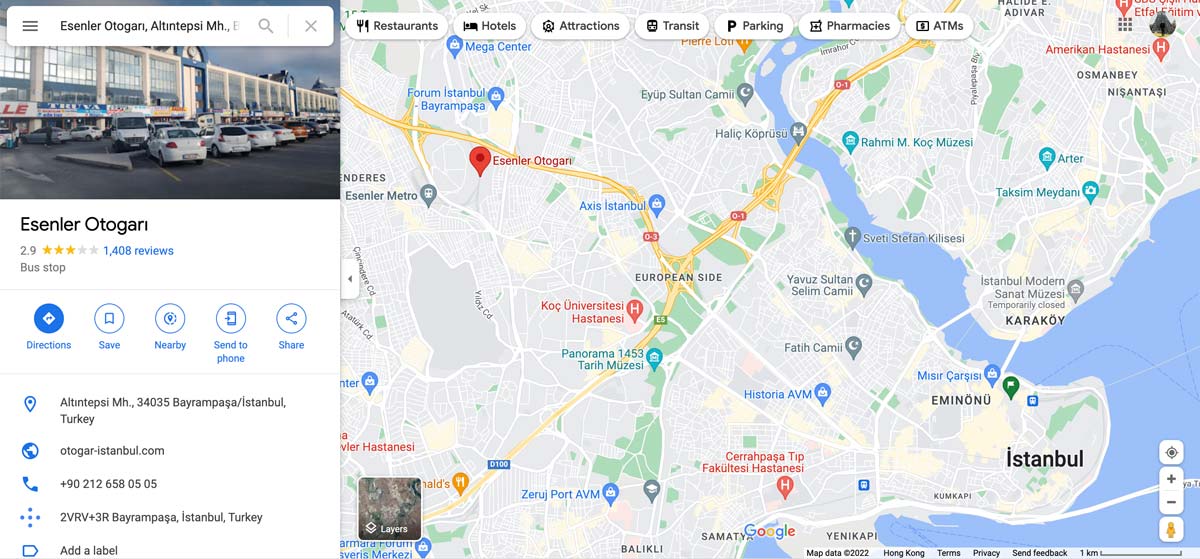 How To Buy Bus Tickets in Istanbul
All bus tickets and schedules can be found on the Turkish official bus site here. Theoretically, you can purchase tickets through this website, but we've never been successful. If you cannot purchase a ticket online, it is important that you get there the day before and buy your ticket, especially in the peak season. Buses do get full, especially if you buy the ticket near its departure time and date.
There are tour agencies throughout the historic center of Istanbul that can help you buy tickets, so you can save the time and effort of going to the bus station and back.
Night Bus or Day Bus?
Because the journey is over 10 hours, we recommend the night bus because you can sleep through most of it. Turkey's long distance buses are quite comfortable and safe, but sleeping might still be a problem for you. If you are traveling on a budget in Turkey, you can even save some money.
Getting The Plane From Istanbul to Cappadocia
Flying is the best way to get from Istanbul to Cappadocia. Not only are flights affordable (not as affordable as buses), but they only take 80 minutes. This is perfect for those with a short itinerary.
Which Airport to Fly Into Cappadocia?
There are two airports in Cappadocia:
Kayseri Erkilet International Airport (ASR)
Nevşehir Kapadokya Airport (NAV)
The Kayseri Airport is generally cheaper, but it is located a little further out of Goreme (the most popular place to stay in Cappadocia). It is about 75 kilometers, or an hour drive, from Kayseri Airport to Goreme.
Nevşehir Airport is a little bit more expensive, but it is located about 40 kilometers (40-minute drive) from Goreme.
Both airports are completely fine to fly into, as long as you have a pre-arranged shuttle waiting for you. Because there is no public transportation from the airports to Goreme, tourists are often scammed by taxi drivers at those airports.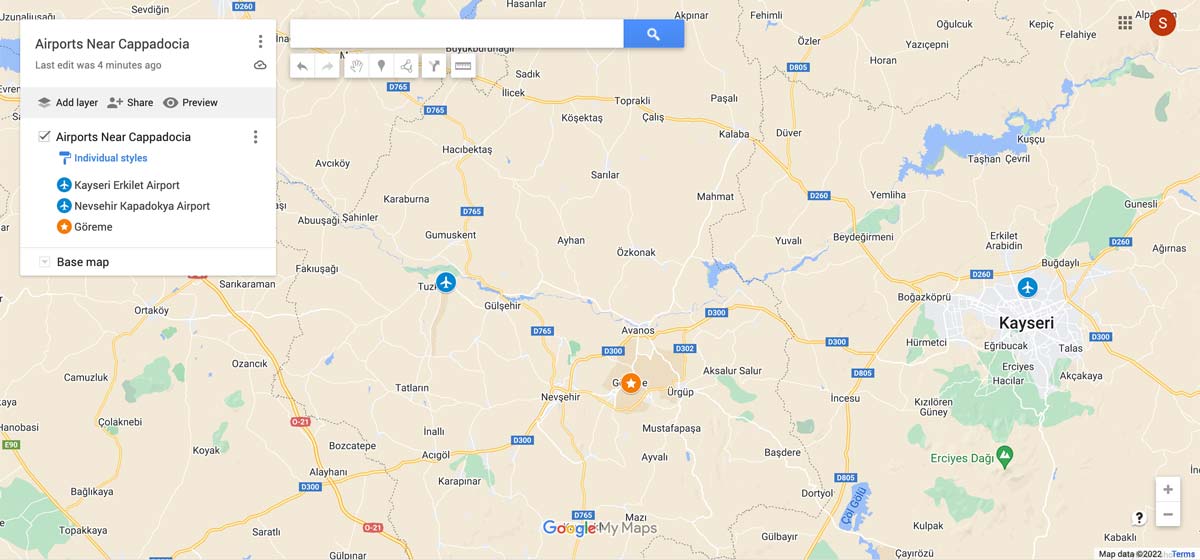 Which Airline to Fly With?
There are three airlines that serve the Istanbul to Cappadocia flight route:
Turkish Airlines
Pegasus
Aztec
Turkish Airlines offer the best quality but since it is such a short flight, it doesn't matter much. It is worth noting that Turkish Airline is the only airline that flights out of Istanbul Airport (IST) on the European Side. The other two airlines fly out of Sabiha Gokcen International Airport (SAW) on the Asian side.
SAW Airport is generally harder to get to, especially as a tourist.
Can You Take A Day Trip From Istanbul to Cappadocia
One of the most often asked questions is "Can you take a day trip from Istanbul to Cappadocia". The answer is yes. Would we recommend it, definitely no!
If you take a day trip to Cappadocia, you have to rush your itinerary and skip out on some of the most notable attractions in Cappadocia. Not only that but you also miss out on the chance to take the legendary (and I mean, LEGENDARY!) hot air balloon rides over the epic landscapes of Cappadocia.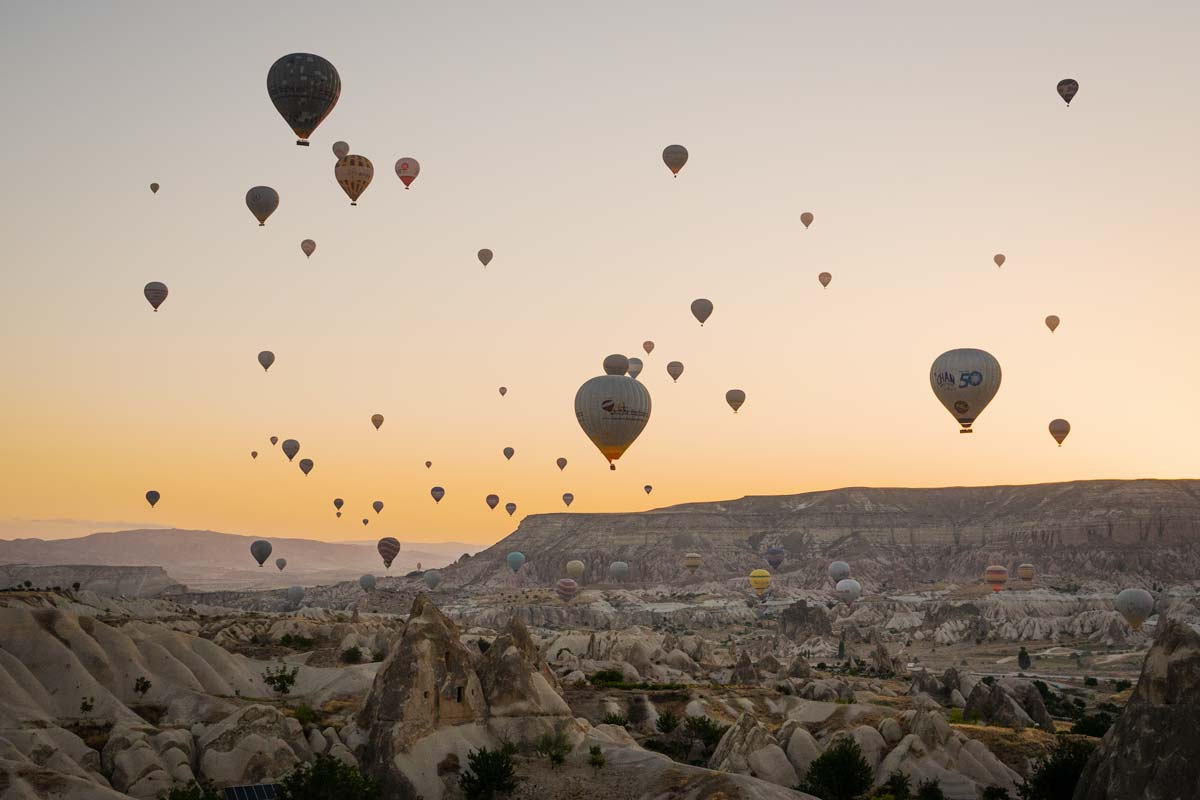 How to Take a Day Trip From Istanbul to Cappadocia
But if you only have a few days in Turkey, you might only be able to see Cappadocia on a day trip, and that is totally fine.
To do that, you must take a flight there. We recommend the earliest flight that departs from Istanbul to Cappadocia, which is at 5:55 AM from SAW airport to Kayseri Airport (ASR). After you get there, you want to either rent a car or take a tour and explore as much as you can. We recommend the red tour if you only have 1 day.
Make sure you don't miss the flight back to Istanbul. The last one is at 11:50 PM so you have plenty of time!
Day Tour from Istanbul to Cappadocia
Because there is a lot of planning involved, we typically recommend taking a guided day tour from Istanbul to Cappadocia. These tours have everything arranged – from flights, transport, food, to places to visit. It is the most hassle-free way of visiting Cappadocia on a day trip.
Though Cappadocia is not in Istanbul, visiting Cappadocia from Istanbul is possible on a day trip. Hopefully, after reading this guide, you know how to get from Istanbul to Cappadocia!
Disclaimer: Some of the links above are affiliate links. That means if you book or make a purchase through the links, we will earn a small commission at no extra cost to you! The money will help run this site! Thank you!