Are you thinking of visiting Istanbul in January? Well, you wouldn't be wrong to do so! The city is a treasure-trove of culture, history, and exciting things to do.
But the question remains, is January a good time to visit Istanbul? Yes, it is. In January, the cruise ship crowd will have dispersed and the weather is cool, but not freezing. It can be rainy, but don't worry, there are plenty of rainy day attractions to explore.
Still not convinced? Read on to find out exactly what Istanbul in January is like…
Planning a trip to Istanbul last-minute?
Make sure you book your tours, places to stay, and airport transfers ahead of time to ensure availability!
Here is our recommended airport transfer in Istanbul:
Here are our recommended tours in Istanbul:
Here are our recommended places to stay in Istanbul:
Magnuara Palace Hotel (Gorgeous hotel in the historic centre!)
Cheers Hostel (Budget hostel near the Blue Mosque!)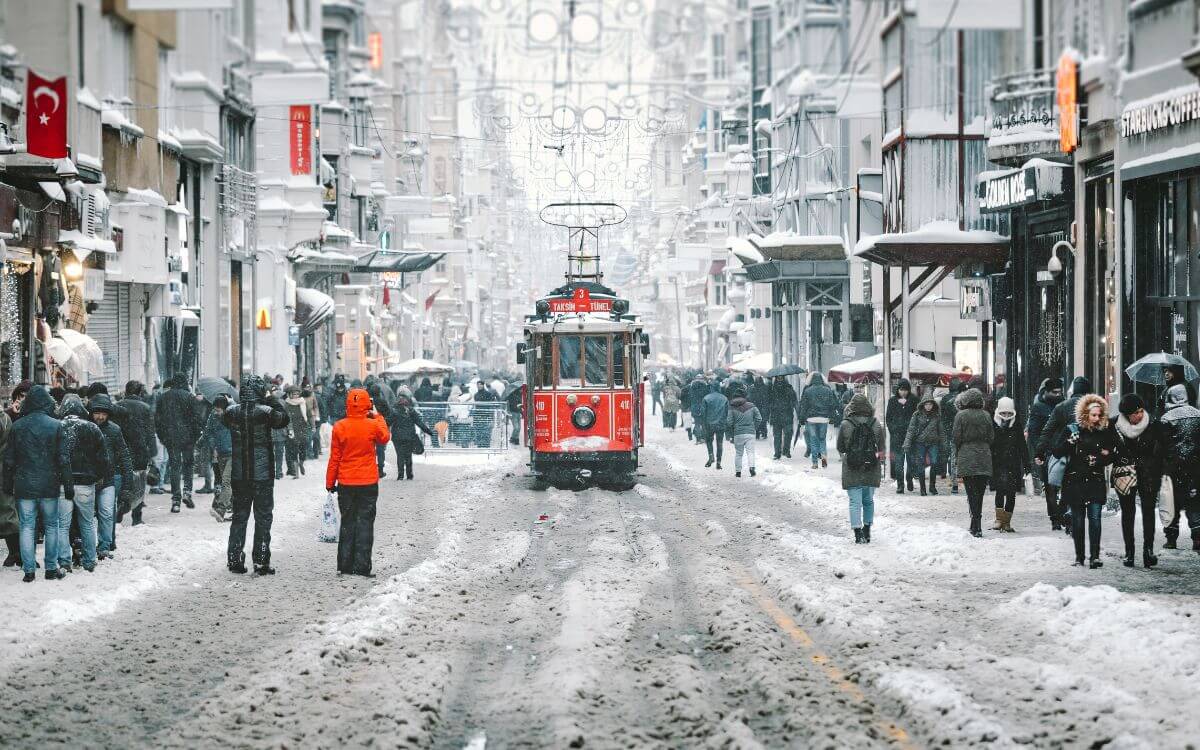 ---
Istanbul Weather in January
Let's begin with the biggest concern for anyone looking to visit Istanbul in January…the weather. The weather is cold as it's the height of winter, but it's not freezing, and it also sometimes snows in Istanbul.
You can expect daytime temperatures to average around the 7.2°C (45°F) mark, and drop to around 6.6°C (44°F) at night. You'll need to wear a warm winter coat, but the temperature won't be too cold that you won't want to go out.
What will make it feel cold though, is the rain. It rains on average for 14 days in the month of January (or 100mm of precipitation throughout the month). The rain is often light and dispersed throughout the day, so as long as you bring an umbrella, it shouldn't get in the way of your fun.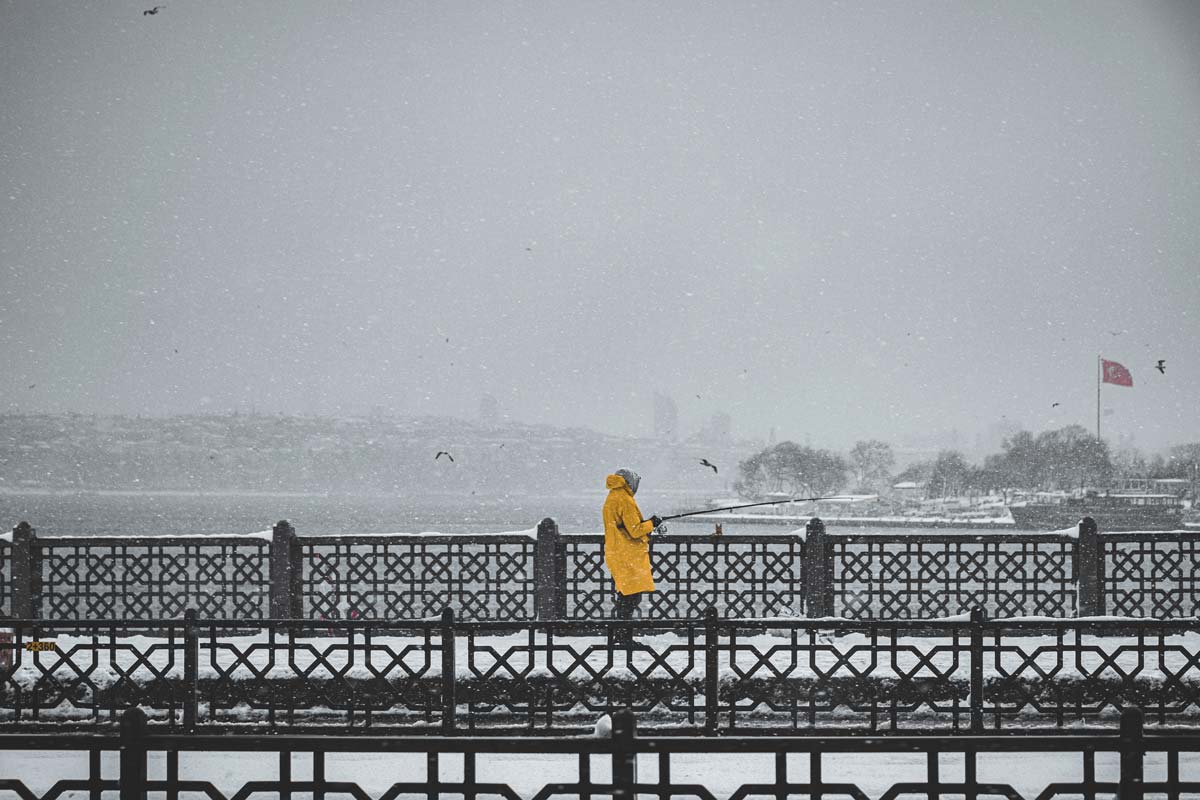 Because of all the rain and moisture in the air, it can get quite humid in January.
The wind speed, however, is biting. It can reach as high as 11.9 miles per hour throughout the month of January, which can make it seem colder than it is. The wind speed tends to pick up throughout the month (February is the windiest month), so will be windier later in January compared to the beginning.
Luckily, much of Istanbul is built up which shelters you from the wind, but you may feel it when walking across Sultanahmet Park or along the harborfront.
The sun tends to rise later in the day in January, too. Sunrise is around 8.30am at the start of the month, and 8.15am towards the end. The sun sets at 5.45pm at the start of the month and 6.15pm at the end of the month.
This isn't a lot of daylight hours, but don't worry, there are plenty of fun things to do in Istanbul at night. As we're about to show you…
| Istanbul Weather in January | Averages |
| --- | --- |
| Temperature (Day) | 7.2°C (45°F) |
| Temperature (Night) | 6.6°C (44°F) |
| Number of Rainy Days | 14 |
| Rainfall (mm) | 100 |
| Wind Speed (miles per hour) | 11.3 – 11.9 |
| Daylight Hours | 9 |
| Humidity | 80% |
Source: Holiday Weather
---
Top Things to Do in Istanbul in January
Considering the weather, you're going to need to look for more indoor activities in Istanbul if you're visiting this time of year. While outdoor attractions such as parks and walking along the promenades are still possible, you might not want to hang around for long.
Don't worry though, as most of Istanbul's attractions are indoors or possible to do in the rain.
1. Visit the Mosques of Istanbul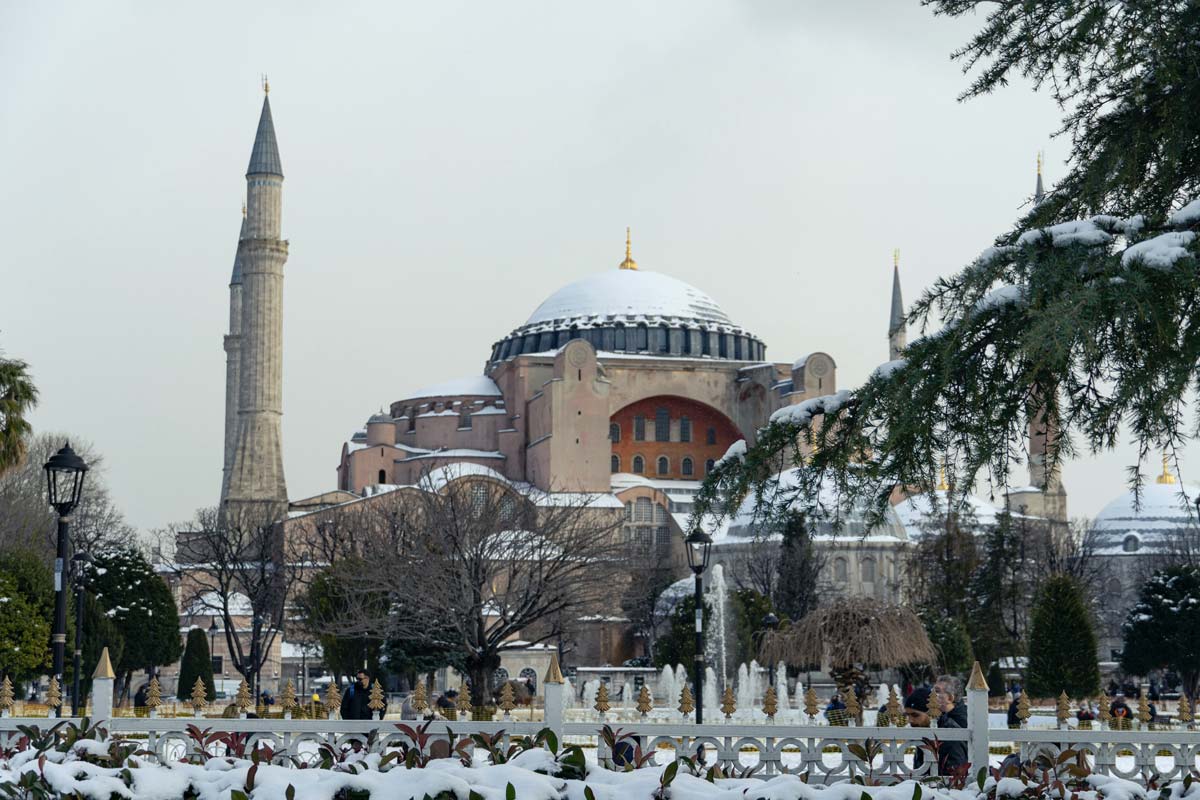 The good news is that the mosques in Istanbul remain open, which is the number one thing to do in Istanbul in January. This is because all mosques in the city are operating mosques, meaning worshippers still come to them to pray.
The only times the mosques may be closed to tourists, is during worshipping times. So be sure to check these out before you visit.
The most notable mosques to visit are the Hagia Sophia and the Blue Mosque. Since they are located across from each other, it's really easy to combine the two.
These are the city's oldest mosques and are famous for their interior beauty, which is fortunate, as you're going to want to be inside!
Another beautiful place to visit is the Camlica Mosque on the Asian side. It's located on top of Camlica Hill which may be windy and cold, but the inside of the mosque is stunning and it will certainly be worth the trek up the hill to see its stone courtyard covered in a blanket of snow.
2. Take a Turkish Bath (Hamam)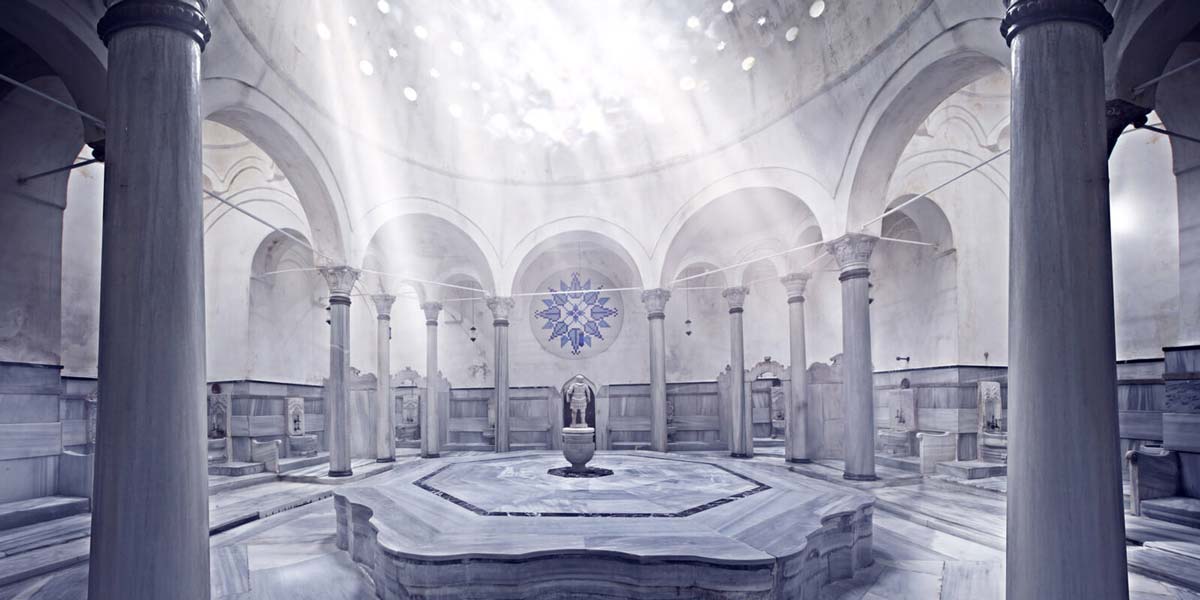 If you need warming up, then undoubtedly the best thing to do in Istanbul in January is to take a Turkish Bath, or hamam. This is a public bathing space where you can dip your frozen limbs into hot, mineral water.
The Turkish Bath is similar to the Roman Baths, in that they are ornately decorated with mosaics and painted tiles, but they are a little less "flashy."
The act of bathing is sacred in Islamic culture, as you need to wash before you pray. The Turkish Bath is therefore not only a relaxing place to warm up but a significant part of Turkey's history and culture.
3. Sail Along the Bosphorus on a Cruise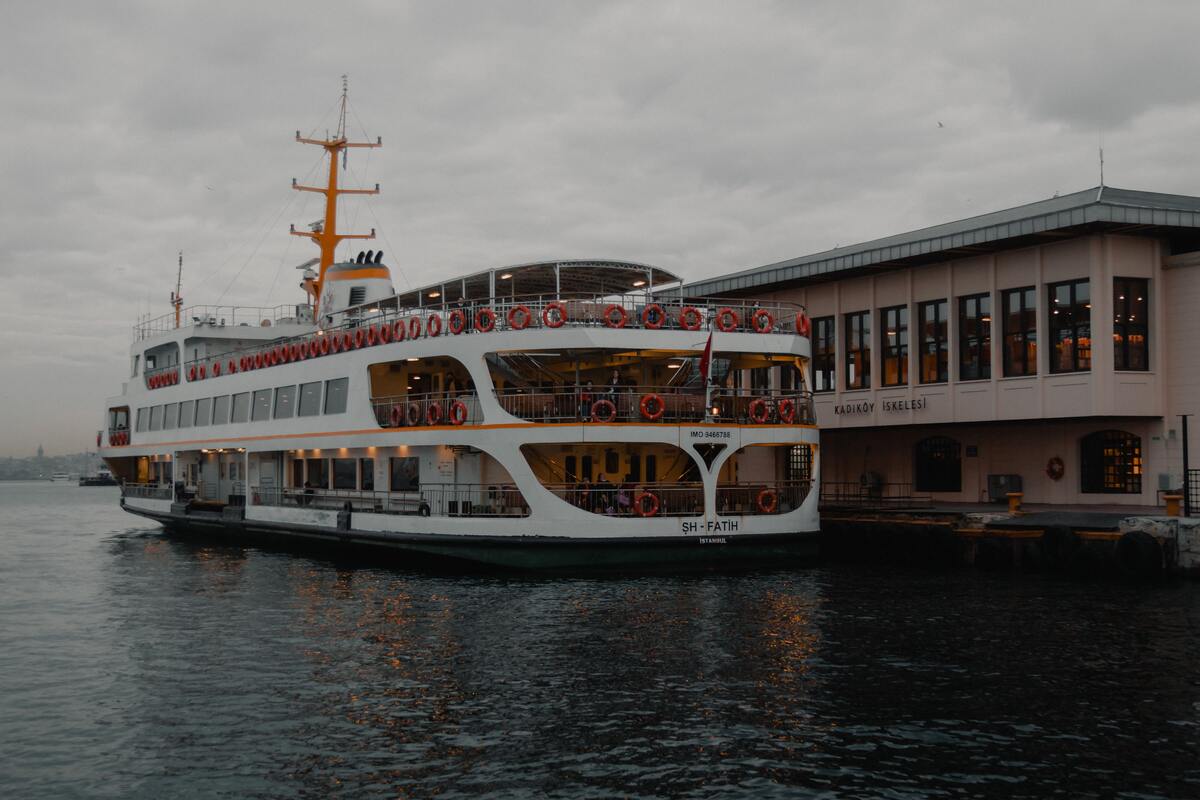 Okay, so this activity will likely depend on how well you deal with sea sickness. One of the top attractions in Istanbul is to sail along the Bosphorus, which gives you a unique perspective of the city's palaces and promenades.
The Golden Horn channel is lined with architecturally stunning buildings and impressive landmarks. In January, the water may be rough and the rain may obscure the view, but hear me out…
Many of these cruises come with food and entertainment. If you're looking for a relaxing activity that also combines sampling some of the best local cuisines and watching some live performances, then you might enjoy a Bosphorus cruise, even in the rain.
4. Watch a Whirling Dervishes Show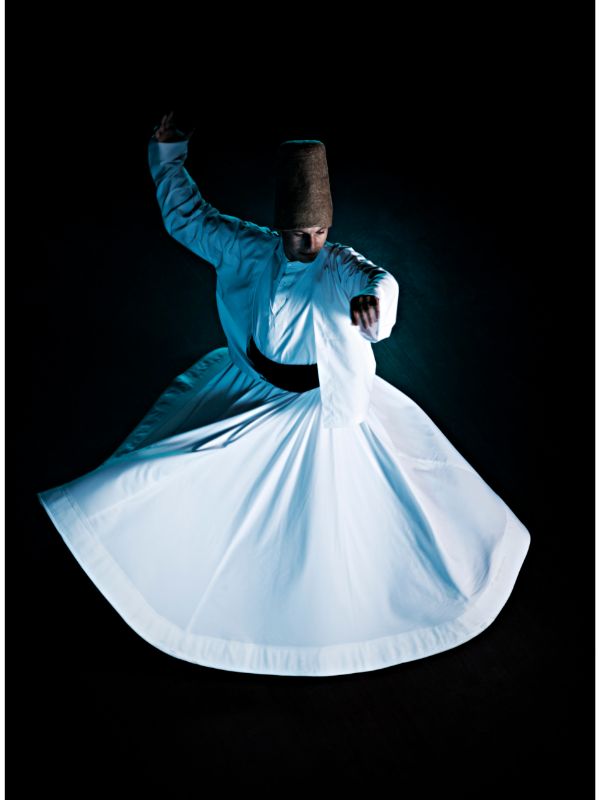 If you are looking for an evening activity, then you'll love watching a whirling dervishes show. This is a traditional Turkish dance where dancers look as though they are floating across the floor.
As well as being a dance, it's an active meditation exercise, which originated from the Sufi tribes in the 13th century. This is one of our favorite nighttime things to do in Istanbul in January.
5. Shop in the Grand Bazaar and Spice Bazaar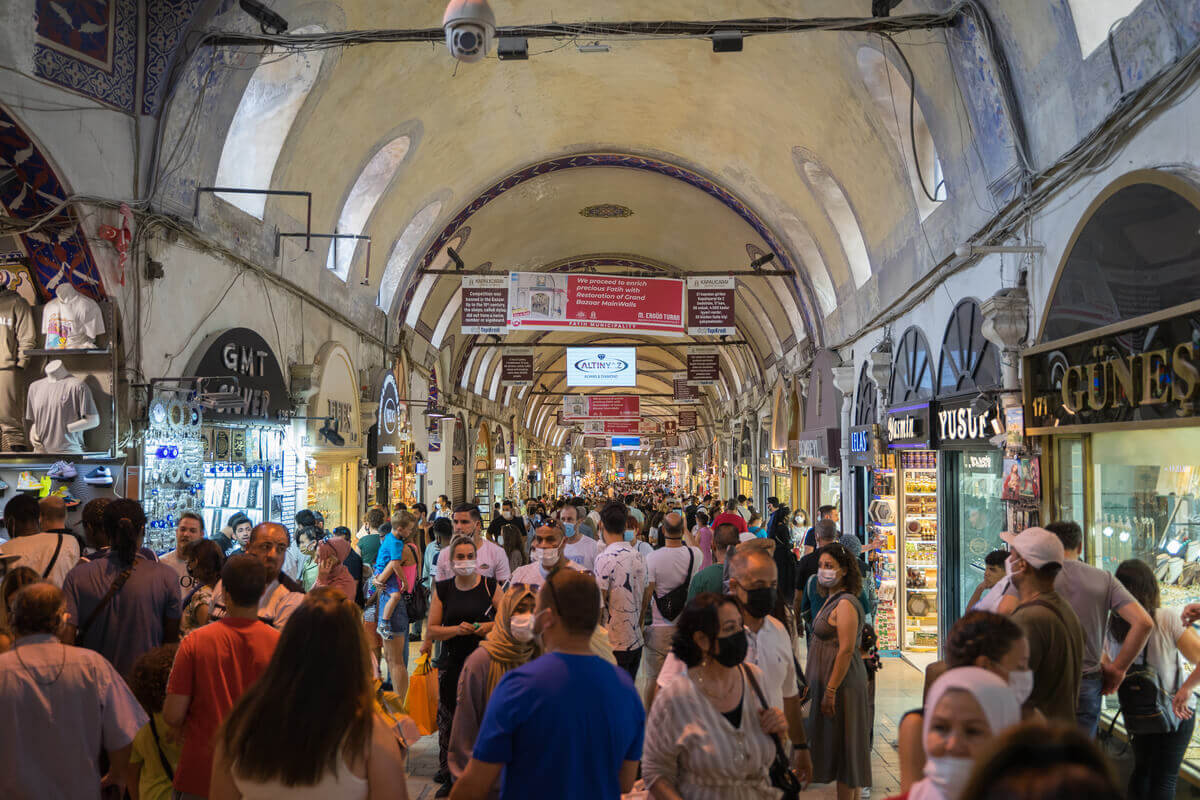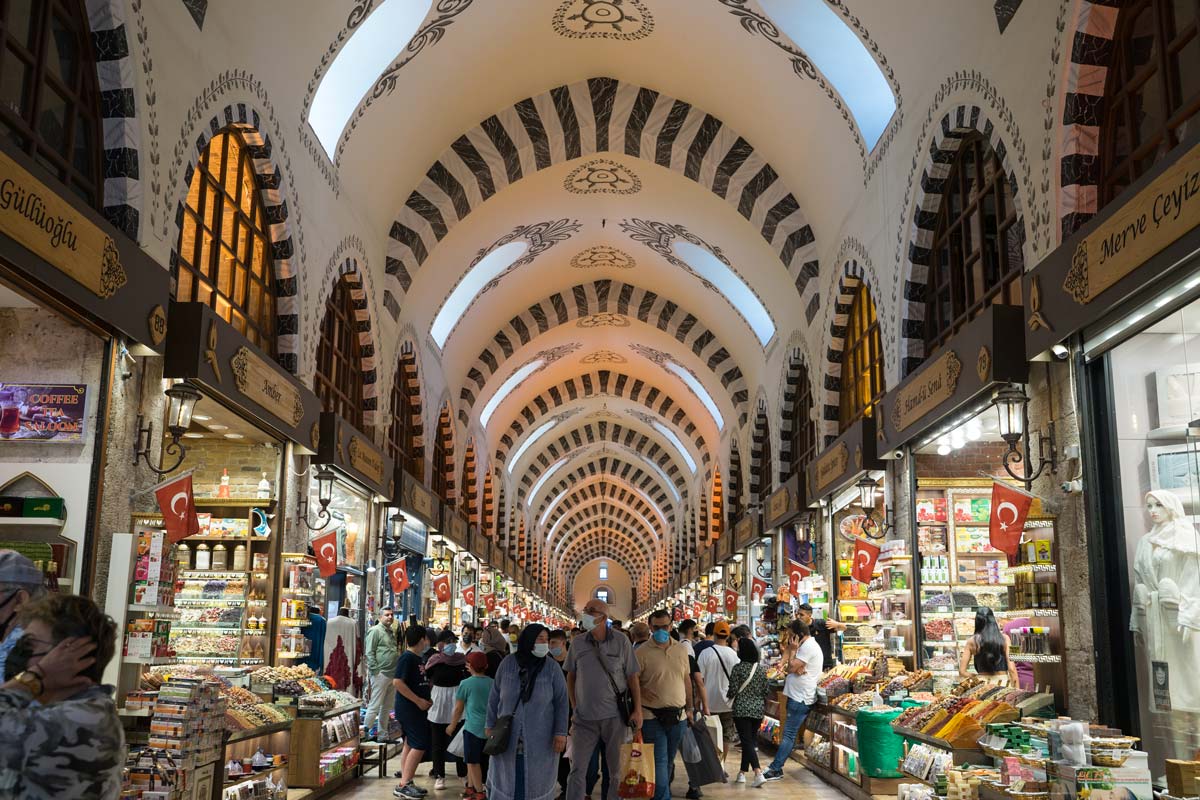 The Grand Bazaar is the largest and oldest covered market in the world, with 61 streets and over 4,000 shops. And the best news? It's all inside, which means you can shop until you drop without worrying about the weather.
It began operating in 1455 after the Ottomans captured Constantinople. The vibrant Grand Bazaar is the best place to pick up Turkish souvenirs, from Turkish delights, Turkish lamps, rugs, towels, and clothes.
Around the corner is the Spice Bazaar. This is another souk market where you can shop for various teas and spices. The spices are said to help with certain medical conditions, from diabetes control to weight loss, and mood enhancers.
6. Go Museum and Palace Hopping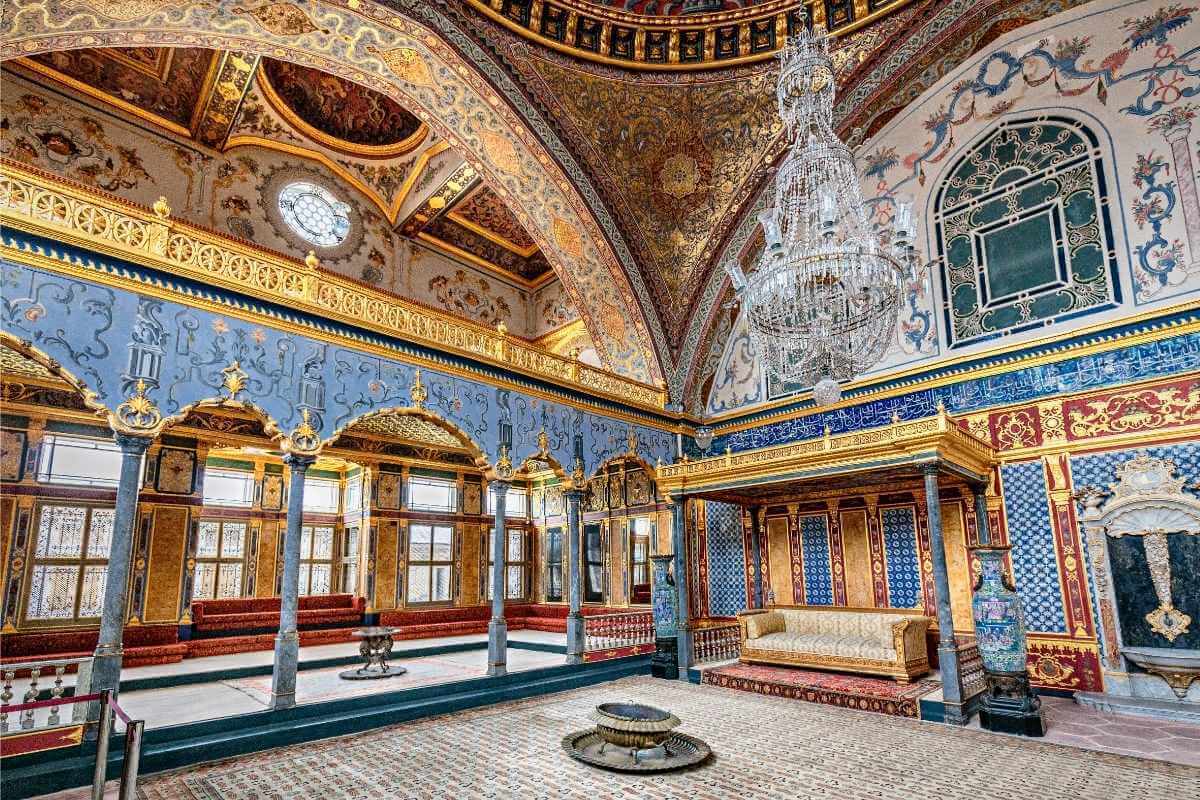 Istanbul is not short of museums and palaces. In fact, there are several palaces that are worth checking out. The most famous is the Topkapi Palace, the former home of the Ottoman sultans in the 15th and 16th centuries.
Today, it is a large museum, showcasing artifacts from the Ottoman era. Not all rooms are open to the public, but the most beautiful ones are. The Ottoman Imperial Harem and the treasury are the main reasons to visit this palace in Istanbul.
The Topkapi Palace was also declared a UNESCO site in 1985 and is one of the most popular tourist attractions in the city.
Another palace to check out is the Dolmabahçe Palace, which was the summer house for the sultans. Ironic visiting it in the winter.
Although the museums and palaces are open in January, their opening hours may differ. It's likely they will close earlier than usual, so check this information before visiting.
7. Sip Turkish Tea or Coffee in Balat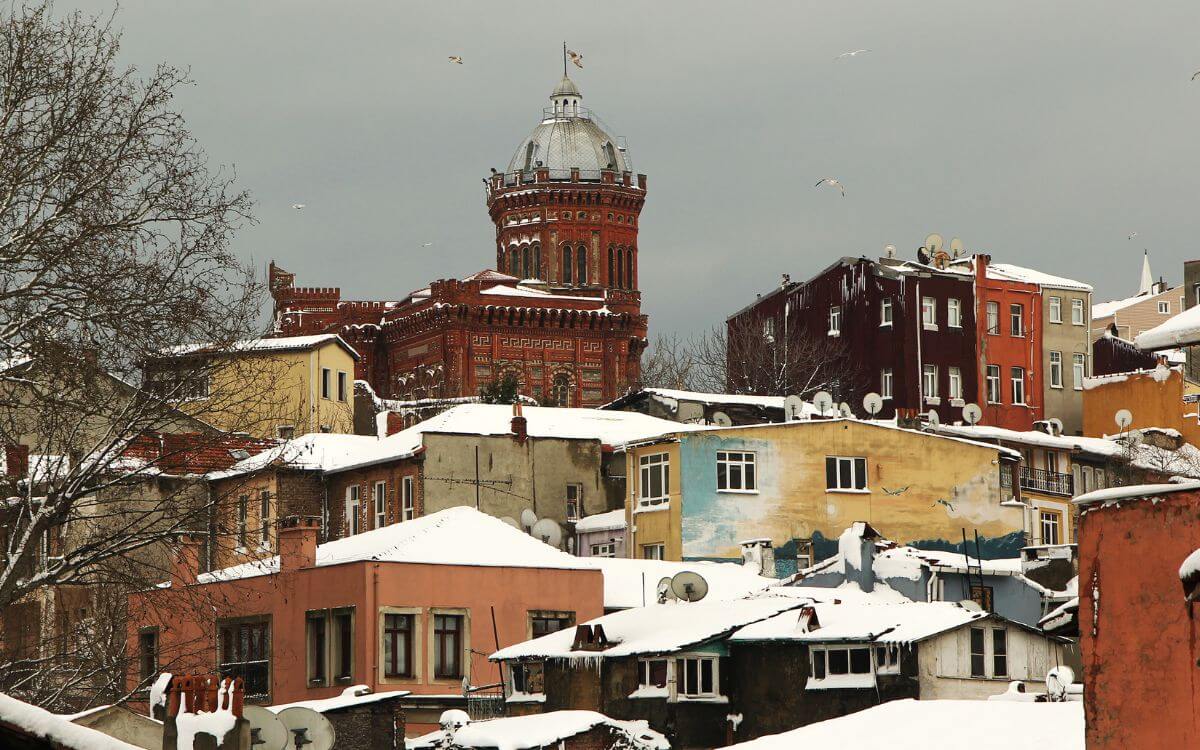 Balat is Istanbul's Jewish Quarter and is famous for its brightly colored buildings. It's located on a hill, with streets of boutique stores, antique shops, and cozy cafes at the bottom.
If you're looking for a quiet neighborhood to sit and drink Cai (Turkish tea) or coffee all afternoon whilst reading a book, then this is the neighborhood to go to.
One of our favorite cafes in Balat is Cafe Naftalin K, which not only has a cute BoHo vibe to it, but it also has cats. Who doesn't love surrounding themselves with kitties while drinking coffee?
8. See The Basilica Cistern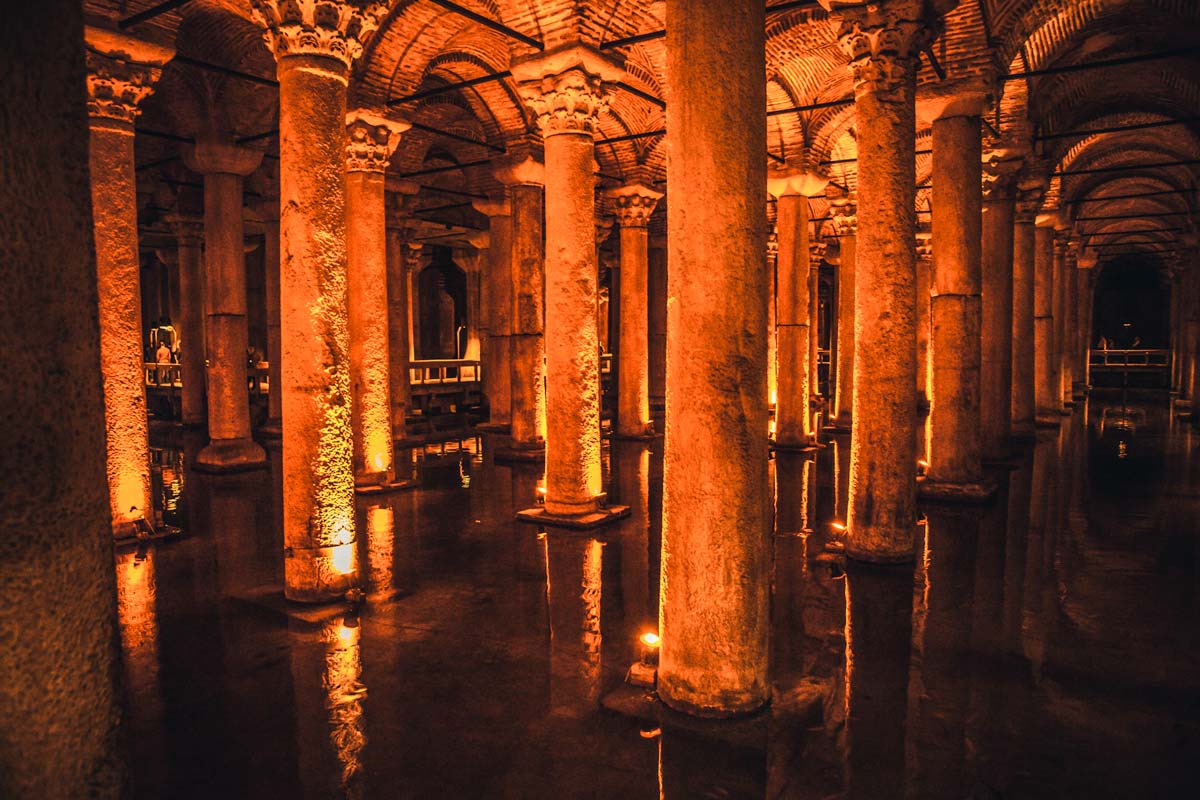 Another indoor attraction in Istanbul to visit on a rainy January day is the Basilica Cistern. It was built during the Roman Empire, as a water filtration system for the city's palaces. There were several cisterns built by the Romans, but the largest and best-preserved cistern in the city is the Basilica Cistern.
It is just 150 meters away from the Hagia Sophia, so it makes sense to see this historical landmark on the same day.
9. Shop Down İstiklal Street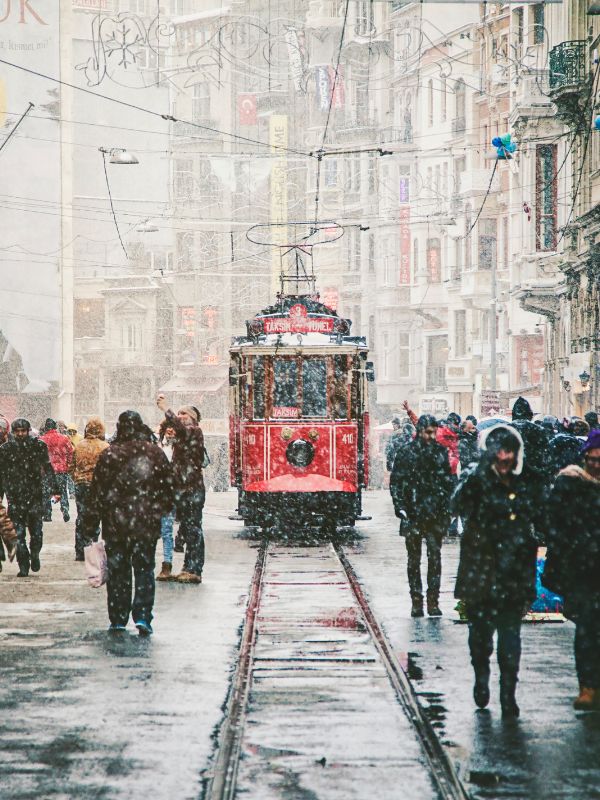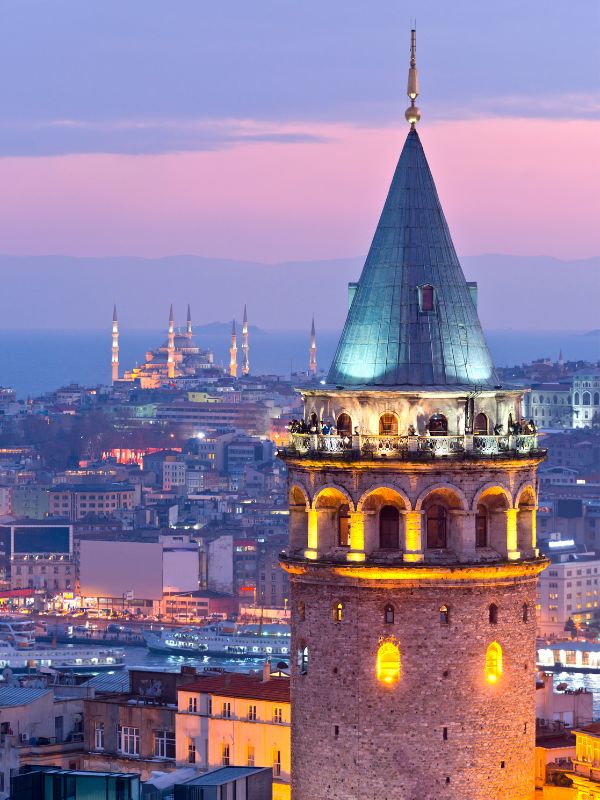 Another place to shop in Istanbul is Istiklal Street, which is the longest shopping street in the city. It's a blend of historic and modern, with recognizable high street brands operating in ancient Roman buildings.
It was historically known as Grand Avenue of Pera, and is a pedestrian-only shopping street made famous for its red tram that rides from one end to the other.
It's a great place to pick up some street food or find a traditional Turkish restaurant down one of the side streets. If you're into nightlife, you'll find vibrant bars in this area.
10. Go on a Pub Crawl in Beyoğlu
If you're feeling cold, you may need to put your wine jacket on. Istanbul has a thriving nightlife scene and that doesn't stop in the winter.
You'll find many bars and nightclubs in the Beyoglu district that are open until the early hours of the morning. Many clubs will have DJs playing, and you'll also find live music and entertainment in many bars.
Grabs a few mates from the hostel and go and explore the town. But before you go, check out our safety tips to make sure you're in for a fun night.
---
Festivals and Events
Another decider on whether January is the right time of year for you is the events and festivals. Here are all the events and festivals that take place in Istanbul in January.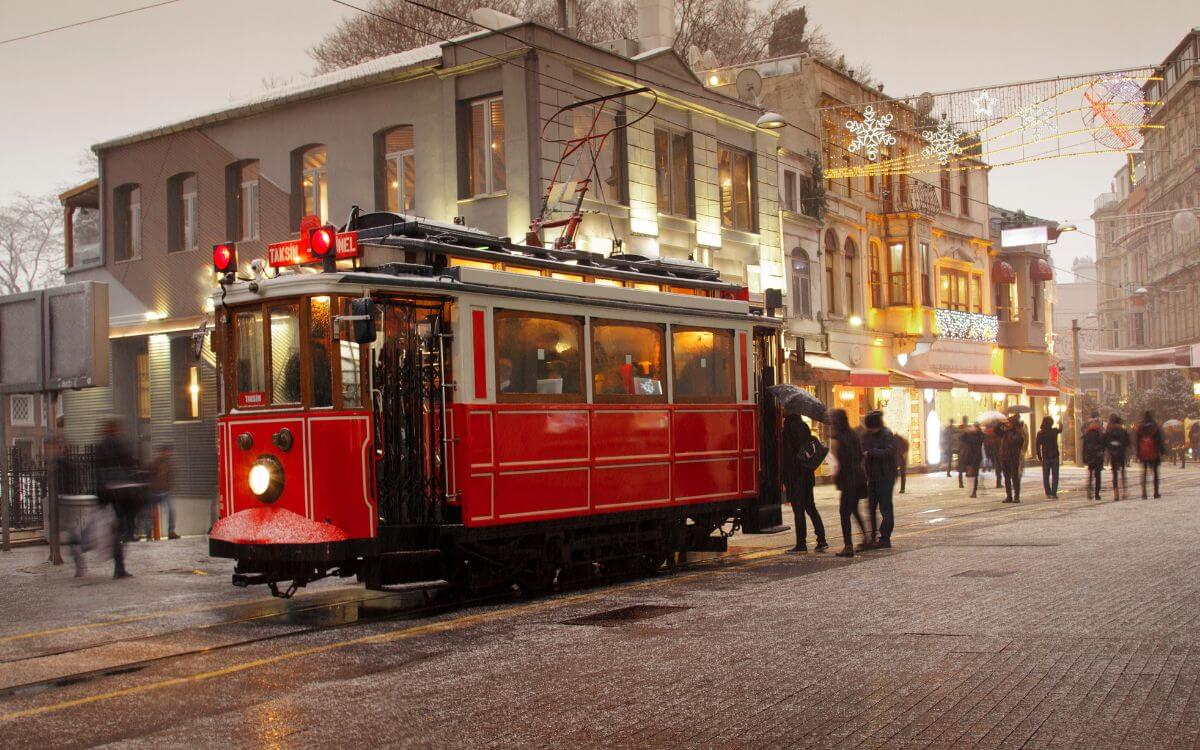 New Year's Day (Yılbaşı)
Date: Sunday, 1 January 2023
An obvious one, but it must be included. New Year is widely celebrated in Istanbul and across Turkey. While celebrations happen across the city on New Year's Eve, the Bosphorus is where to be as this is where you will see fireworks at midnight. You can expect bars and clubs to be open until late, and street parties to continue until the early hours of the morning.
The 1st January is a National Holiday which means everyone will be off work and attractions may be closed (each attraction has different hours, so it's worth looking it up before you visit).
Gaming Istanbul (GIST)
Dates: Fri, 16 – Sun, 18 Sep 2022
For gamers, you may have heard of GIST. This is the gaming exhibition where professional and amateur gamers can come to gether and share their passion for games under one roof.
There is a variety of different games on display at GIST, from FPS or football games to the classic and nostalgic 8-bit games, or desktop FRPs.
Some visitors even dress up as their favorite game characters and test out their Cosplay skills. It's like the Comicon for germs!
Epiphany Celebration in Fener
Though Istanbul is a predominantly Muslim city, it is also home to other communities. For the Greek Orthodox community, the 6th January is Epiphany, where a religious ritual takes place in church.
The celebrations most famously take place in the Fener district of Istanbul, where visitors can see the Patriarch throw a cross into the Golden Horn, shortly followed by a group of young people who jump in after it to rescue it.
The holiday symbolizes the revelation of Christ as the messiah and marks the date of his baptism by John the Baptist.
It's also a time of year for confession.
---
Pros and Cons of Visiting Istanbul in January
If you're still not sure if Istanbul is worth visiting in January, here's a breakdown of the pros and cons.
Pros
It's quiet this time of year, with no cruise ships and fewer tourists.
All attractions remain open.
It snows, which makes the city look magical in a sheet of white.
Cons
Some hotels close in the winter, though not all of them.
The weather is cold and rainy, and the wind is chilly.
It snows, which makes the ground slushy.
The waves are choppy, which is not fun for a Bosphorus cruise.
---
Where To Stay in Istanbul in January
One thing to consider about visiting Istanbul in January is that some hotels may not be open, since it's the off-season. However, there are always places to stay in Istanbul and here are just a few places we recommend.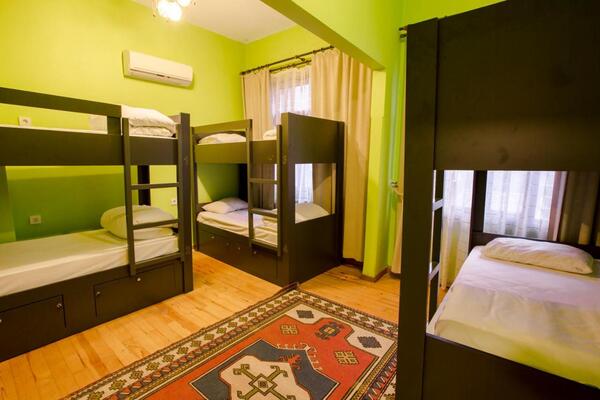 Best Hostel in Istanbul – Cheers Hostel
Cheers Hostel is the best-located hostel in Istanbul, nestled behind the Hagia Sophia and the Blue Mosque. It offers comfortable, individually styled rooms and dorms, with spacious shared bathrooms. The terrace bar and restaurant serve up kebabs and international cuisine for those who don't want to venture far for food and have wonderful views of Istanbul's Old Town.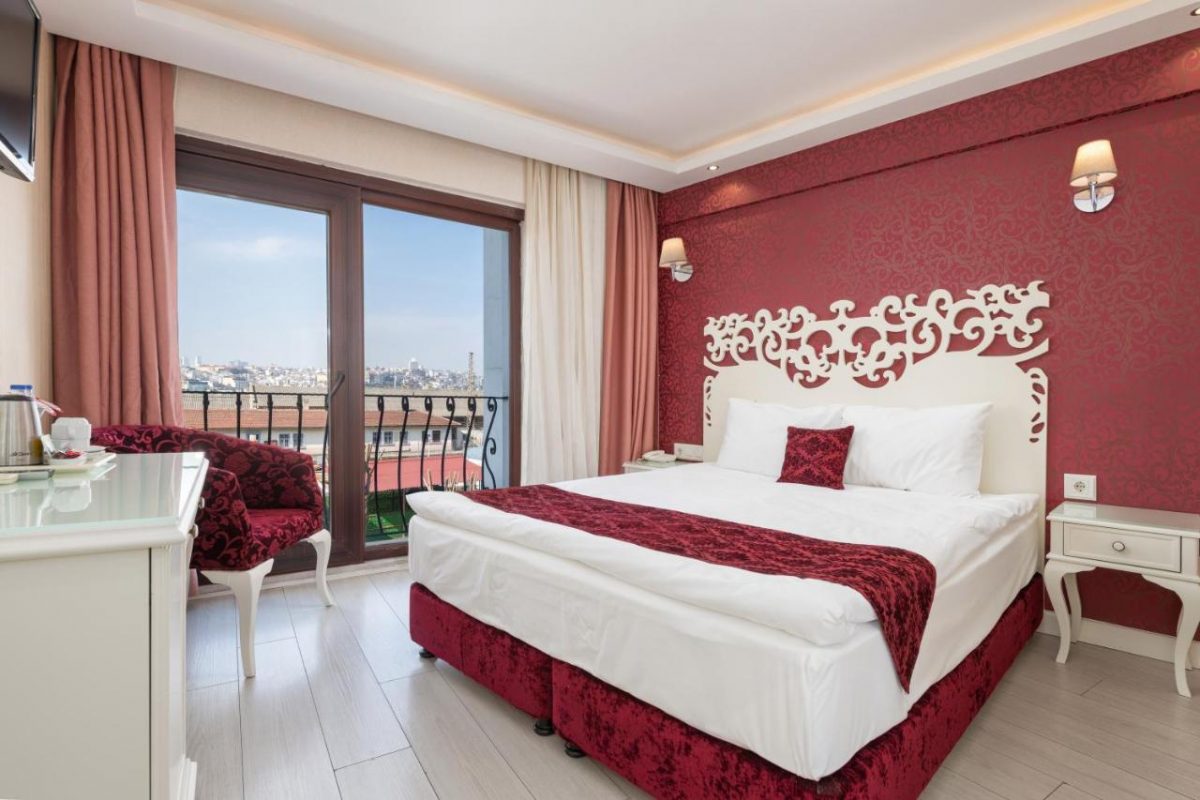 Best Mid-Range Hotel in Istanbul – Dream Bosphorus Hotel
If you're looking for a mid-range hotel in a great neighborhood, then Dream Bosphorus hotel is the ideal choice. It's located in the heart of Old Istanbul, in the Sirkeci area. Each room has been individually styled in traditional Turkish decor and comes with a private bathroom and 24-hour room service. Some rooms have views of the Golden Horn. Each morning a daily breakfast buffet is served and the Dream Café offers soft drinks and snacks throughout the day. Each afternoon, it's worth returning for free cakes and cookies.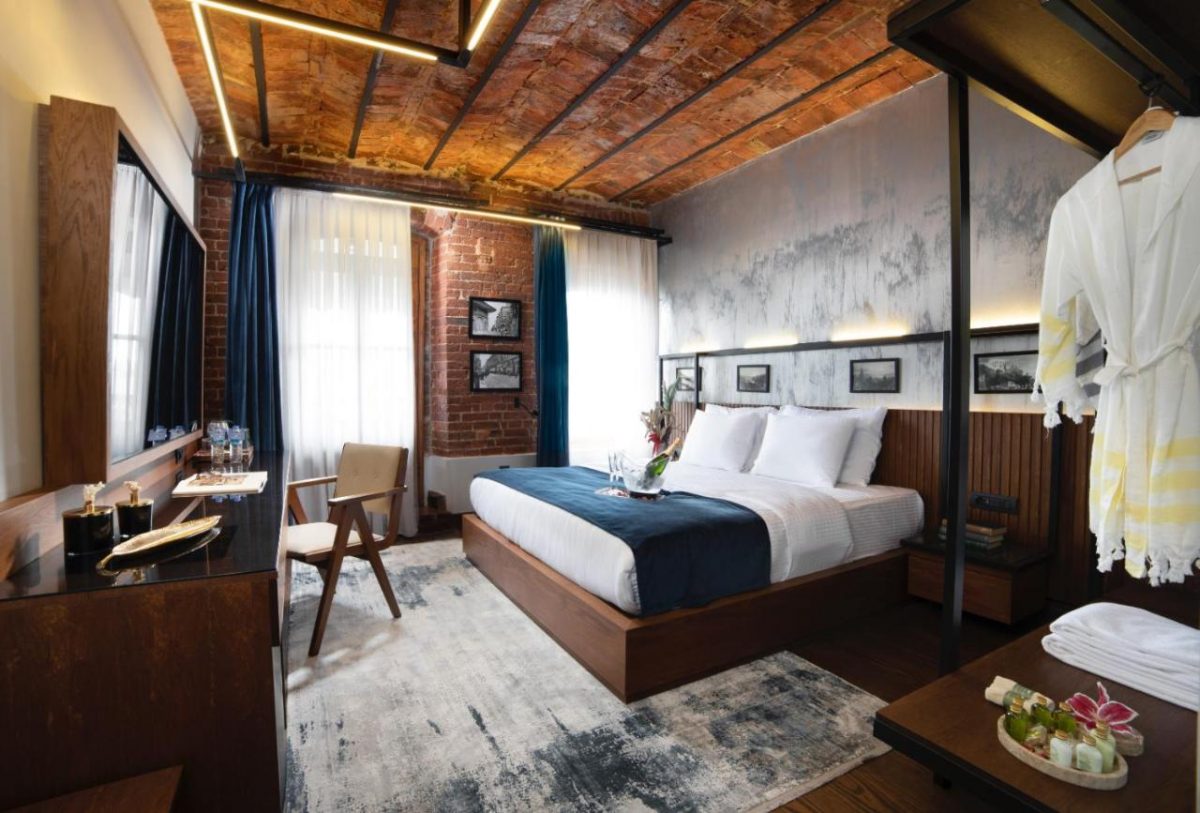 Best Luxury Hotel in Istanbul – Hotel DeCamondo Galata
Located on the riverfront in Kadikoy, the Hotel DeCamondo is the ideal place to stay for a luxury getaway. It has a stunning bar and terrace as well as an onsite restaurant and car rentals. Each morning, a continental or a la carte breakfast is offered, and when it comes to exploring, the hotel can help organize your tours and car rentals.
---
Tips for Visiting Istanbul in January
If you do decide to visit Istanbul in January, here are a few tips to make your experience more enjoyable.
Wear warm winter clothing. It's cold and wet this time of year, so you'll need a thick coat, hat and scarf and all the woolly items you need to keep you warm.
Pack a headscarf if you're a woman. You will need a scarf to cover your hair when entering a mosque. You also need your knees and shoulders covered, which shouldn't be a problem if visiting in the winter.
Get an Istanbulkart at the airport. This is a transport card that enables you to get on buses, metros and trams. It's best to get this at the airport to avoid trying to sort it in the city where it's much busier.
Carry an umbrella and waterproof clothing. You'll likely encounter rain, and maybe even snow, this time of year.
Carry cash for the markets. Many shops still don't accept cards.
Are you reading this from Turkey? Maybe you need a VPN!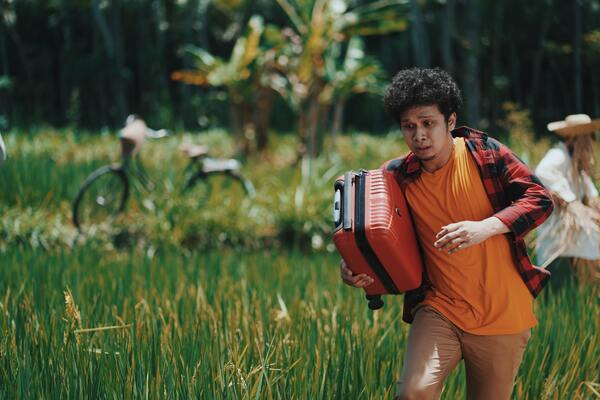 If you're already in Turkey, there is one thing you absolutely NEED: a reliable VPN.
You may find some of your favorite websites and apps are blocked in Turkey, such as popular hotel site booking.com
A VPN allows you to get passed this ruling and enables you to browse these sites without any hassle, and it's completely legal.
We use Express VPN when we're in Turkey and we'd recommend it to anyone. It's affordable, quick, and easy to use.
---
FAQs About Istanbul in January
Here's what people usually ask us about visiting Istanbul in January…
Does it snow in Istanbul in January?
Yes, it has been known to snow in Istanbul on occasion. Snow starts to fall sometime in December and can snow until March, so there is a high chance of snow in January.
Is it good time to visit Istanbul in January?
Yes, January is a good time to visit January. It's less busy, and the iconic attractions are still open.
Is Istanbul hot in January?
No, temperatures in January are quite cold and feel colder due to the rain and wind.
---
Before You Go
So there you have it, this is everything you need to know about visiting Istanbul in January. As you can see, although the weather is cold and wet, there's still a lot of fun to be had.
Many of the attractions remain open in the winter, so don't let the weather stop you from having a great time.
Disclaimer: Some of the links above are affiliate links. That means if you book or make a purchase through the links, we will earn a small commission at no extra cost to you! The money will help run this site! Thank you!