Are you thinking of visiting Istanbul in October and wondering what it will be like? Istanbul is a vibrant city with so much to see and do, and with Autumn rolling in and temperatures sitting at a comfortable temperature, you might just be thinking of Istanbul as your perfect destination in October.
But the question remains, is October a good time to visit Istanbul? October is generally a quiet season in Istanbul and the temperatures are still warm, though Autumn rains start to roll in.
But was is Istanbul in October like? This complete guide will reveal everything you need to know!
Planning a trip to Istanbul last-minute?
Make sure you book your tours, places to stay, and airport transfers ahead of time to ensure availability!
Here is our recommended airport transfer in Istanbul:
Here are our recommended tours in Istanbul:
Here are our recommended places to stay in Istanbul:
Magnuara Palace Hotel (Gorgeous hotel in the historic centre!)
Cheers Hostel (Budget hostel near the Blue Mosque!)
---
Istanbul Weather in October
Summer is soon a distant memory and as Autumn rolls in, so does the rain and drop in temperature. It's much wetter than previous months gone by and coupled with the cooler temperatures, that certainly means that activities like a day trip to the beach are off the cards.
It's not all doom and gloom, however, as the temperatures do drop, but not enough so that the city becomes cold. The average temperature for this time of year is still a pleasant 16°C, so days will be relatively warm, possibly creeping into the high teens if you're lucky. We'd say that's perfect weather for exploring this wonderful city.
Overnight is a slightly different story, however, with low temperatures a very cool 12°C. Walking around at night will feel chilly so make sure to pack a jacket to keep you warm.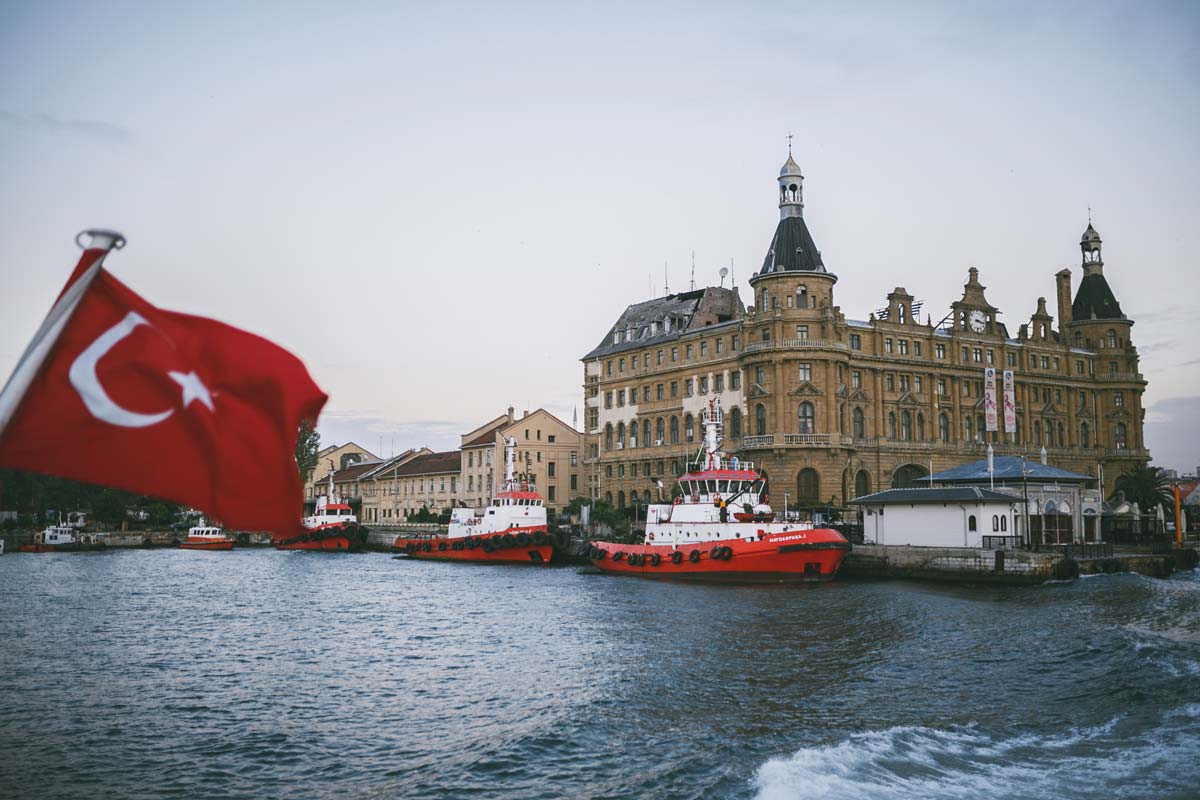 Rainfall significantly increases from this point on, with over 60mm of rain falling during the month on average. We'd say have an umbrella to hand as the rain is also spread over about 10 days over the course of the month. As it's early Autumn, these rains are likely to be light and fairly short.
Any significant rainfall will likely come at the end of the month, so bear that in mind.
Wind shouldn't be too much of a problem, with speeds of about 11mph. This is about average for Istanbul, so as long as you're aware that it'll likely be a little windier along by the water it's likely to not be much of an issue. It'll probably feel a little colder than the wind in July or August, however, so keep that in mind.
By the end of the month, the days are really starting to draw in. There are just under 10 and a half hours of daylight with the sun rising at 07.33 pm on the 31st of October and setting at 6.01 pm. This is a stark contrast to the 14 hours of daylight back in July.
| Istanbul Weather in October | Averages |
| --- | --- |
| Temperature (Day) | 19°C (66°F) |
| Temperature (Night) | 17.4°C (63°F) |
| Number of Rainy Days | 10 |
| Rainfall (mm) | 60 |
| Wind Speed (miles per hour) | 11 |
| Daylight Hours | 10 |
| Humidity | 80% |
Source: Holiday Weather
---
Top Things to Do in Istanbul in October
Summer season might be coming to a close but that doesn't mean the weather instantly turns poor.
On average, there are still only 8 days of rain out of 31, meaning for the rest of the time there will be blue skies and patches of cloud with warm temperatures.
Here's our list of the top things to do in Istanbul in September.
1. Visit the Hagia Sophia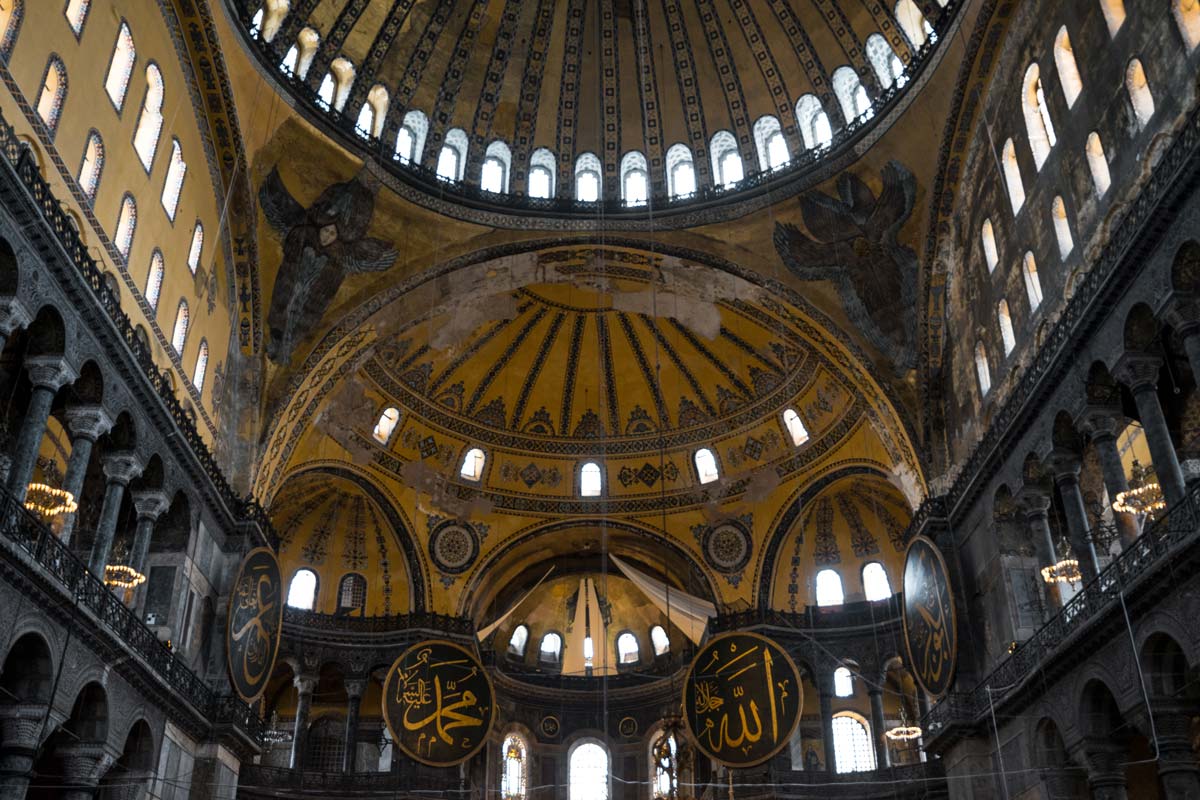 Standing proudly as the centerpiece of Sultanahmet Square, the Hagia Sophia is an unmissable attraction in Istanbul, along with the Blue Mosque. It was originally built an incredible 1500 years ago by Roman Emperor Justinian I.
A Greek Orthodox Church for just over 1000 of those years, it was later converted to a mosque in 1453 following the Ottoman's conquest of Constantinople.
2. Visit the Blue Mosque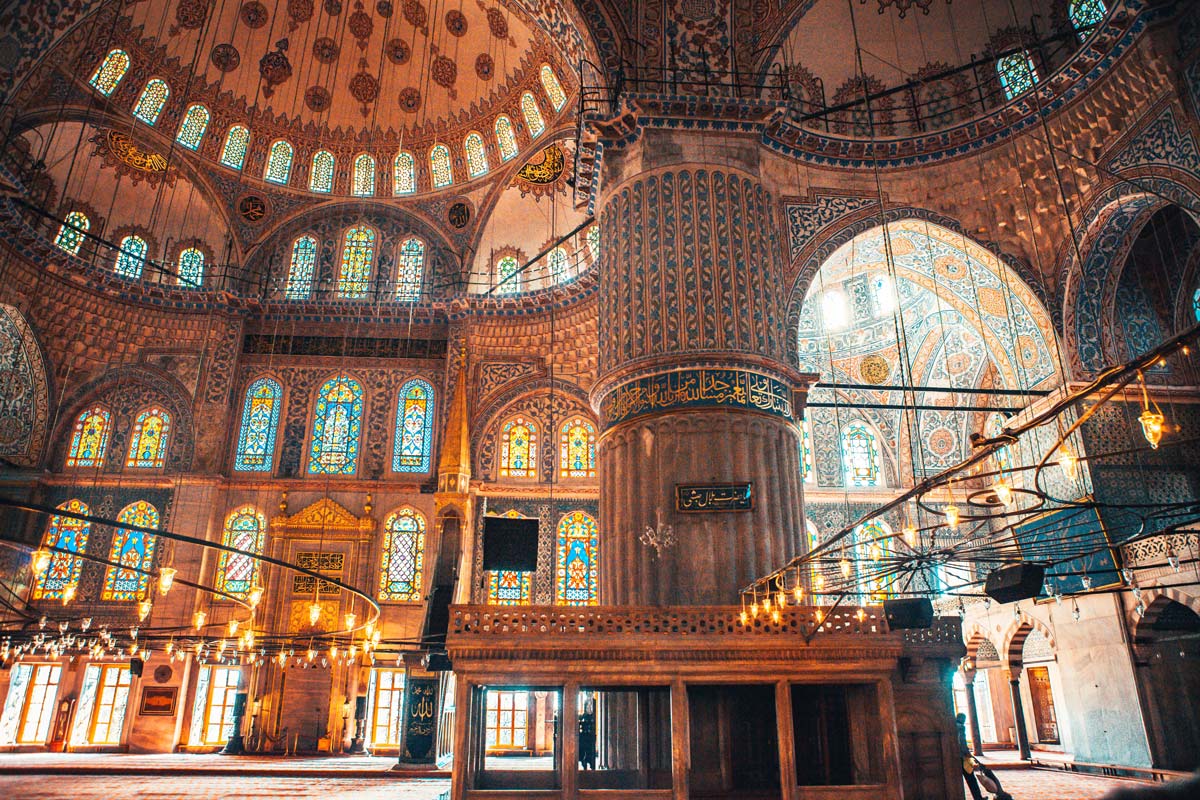 Just a short walk from the Hagia Sophia is possibly one of the most beautiful and striking mosques on the planet – the Blue Mosque.
Famed for its stunning hand-painted blue-tiled interior, it was built by Ottoman Sultan Ahmet I as he wanted a building that would compete with the Hagia Sophia. Stained glass windows adorn the walls providing unique colorful lighting throughout.
3. Stroll down Istiklal Street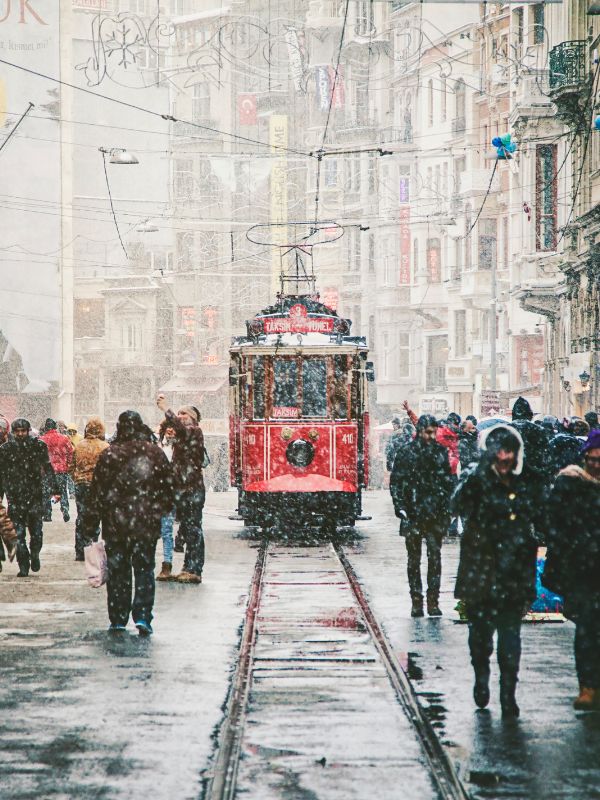 Istiklal Street is one of the best places for shopping and eating out as an abundance of shops and restaurants line the entire length of the street.
Duck in and out of shops if you need to shelter from the Autumnal rain, all whilst dodging the vintage red trams that traverse the street.
When the sun goes down, Istiklal Street comes alive, full of street vendors, performers, and live music. It's the nightlife hub of the city.
4. Day Trip to Buyukada, The Princes' Islands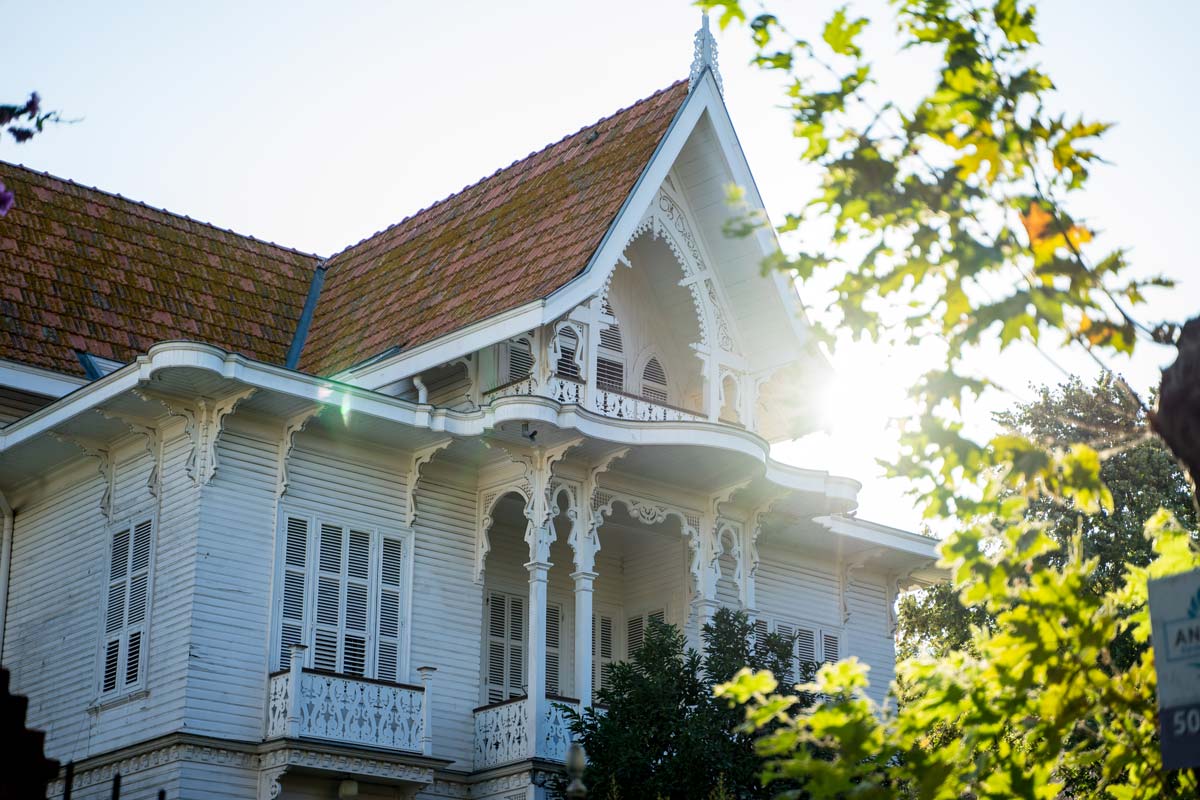 If the weather is favorable and you've had enough exploring all of Istanbul's main attractions, a day trip to Buyukada is one of the best things you can do.
The largest of the Prince's Islands, Buyukada is a stunning pedestrianized island that feels like a mini-getaway from the hustle and bustle of Istanbul itself.
As there are no vehicles on the island, the best way to get about is to rent a bicycle. You'll be able to explore the island at your leisure that way and get a feel for the calm, and peacefulness of this hotspot.
5. Visit the Basilica Cistern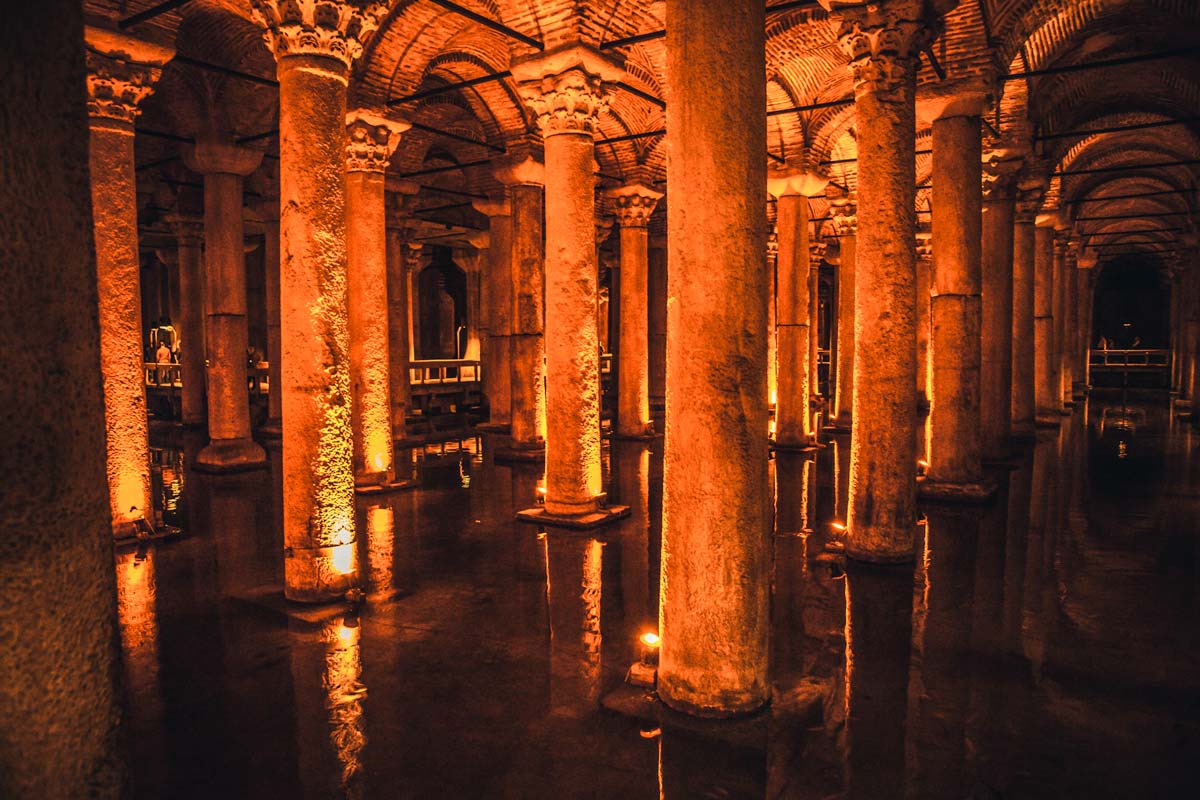 If the rain starts to fall, don't worry, as the perfect way to spend an hour or two sheltering is by heading deep underground. Intrigued? We thought so. The Basilica Cistern is one of Istanbul's oldest sights.
Built in 532 AD, this underground Roman cistern was constructed as a water filtration system for Istanbul's most famous buildings. Today, the 336 columns are eerily lit up, giving the chamber an incredible, medieval feel.
6. Explore the Dolmabahce Palace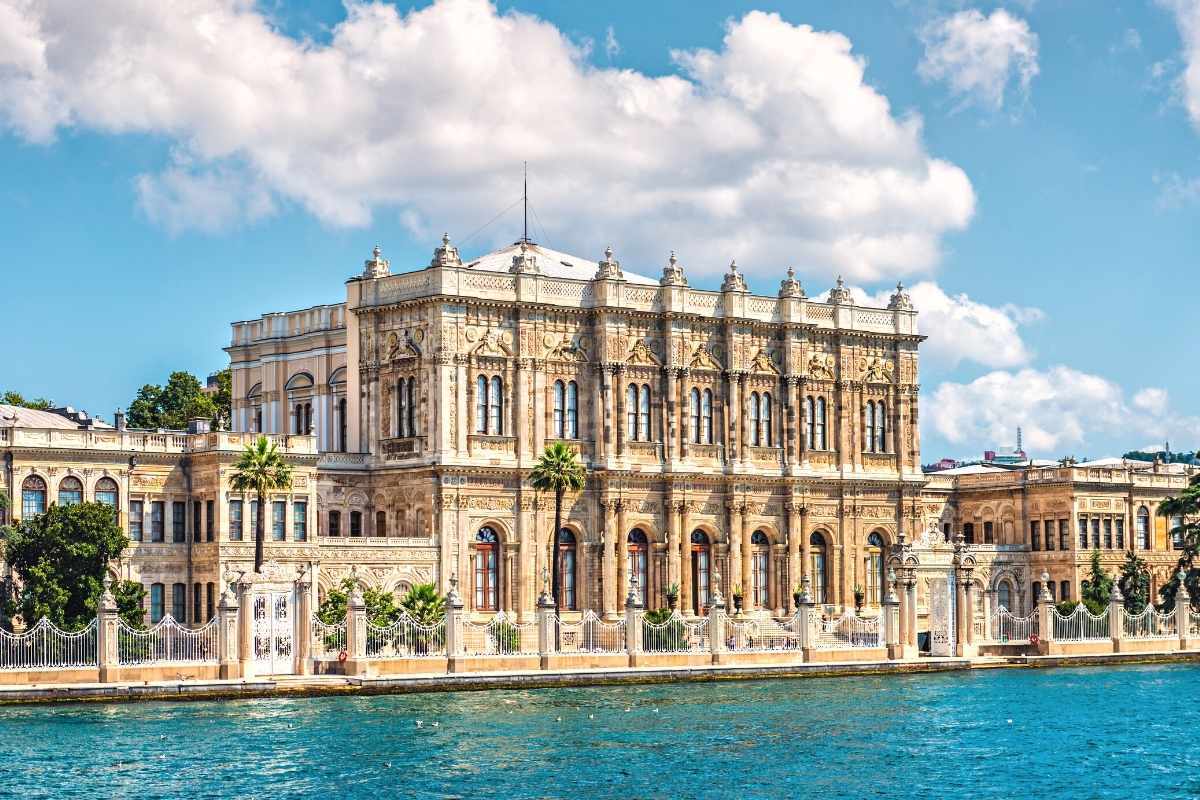 Sitting along the shores of the Bosphorus is the residence of the Ottoman Sultans' – Dolmabahce Palace.
Described by many as one of the most lavish and glamorous palaces anywhere in the world, the Palace today is now a museum that even today, some 150 years later, is still largely unchanged inside.
The Crystal Staircase is mightily impressive, as is the world's largest crystal chandelier hanging in the center.
7. Visit Topkapi Palace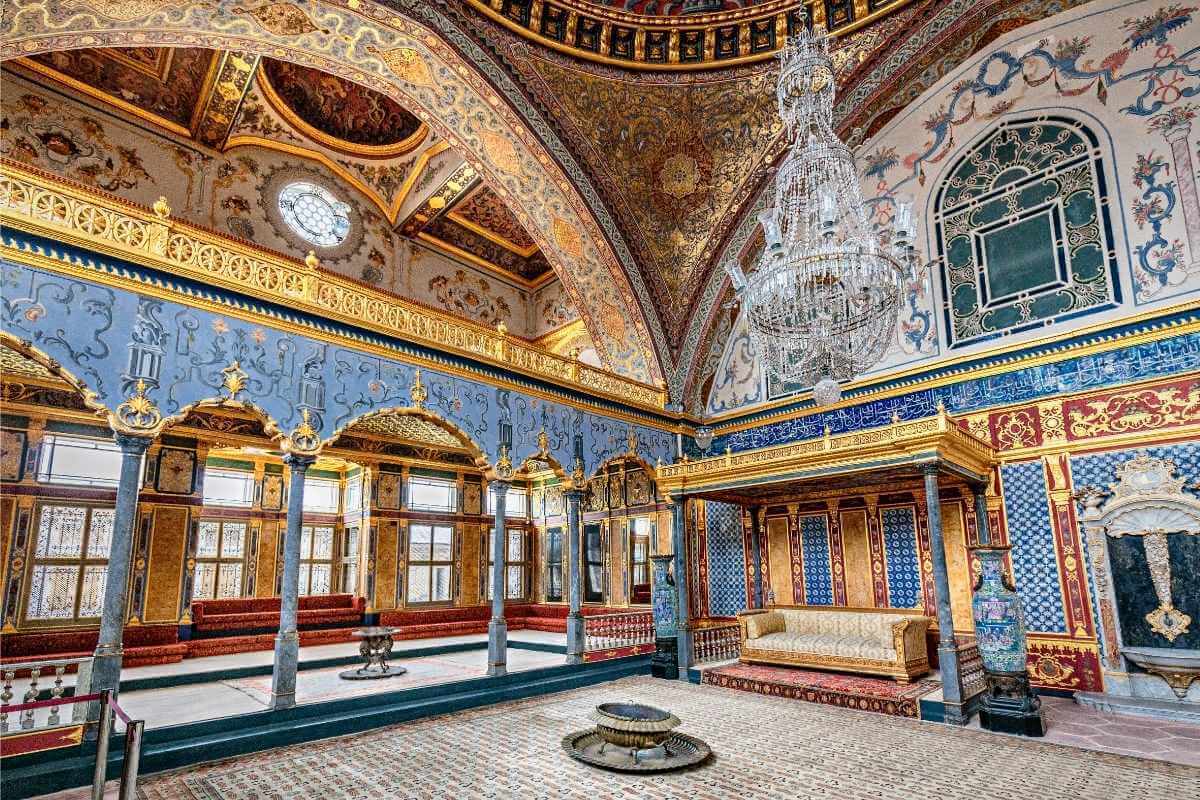 Topkapi Palace had been the home of the Ottoman Sultans for almost 400 years, being constructed shortly after the conquering of Constantinople.
Opened as a museum in 1924, it is now one of the best and busiest in the world. It houses an unbelievable collection of artifacts and collections all from the Ottoman Empire.
To us, there's just something special about wandering the very same corridors and rooms as the previous Ottoman Sultan's, whilst looking at the museum's Ottoman collection.
8. Treat Yourself to a Hammam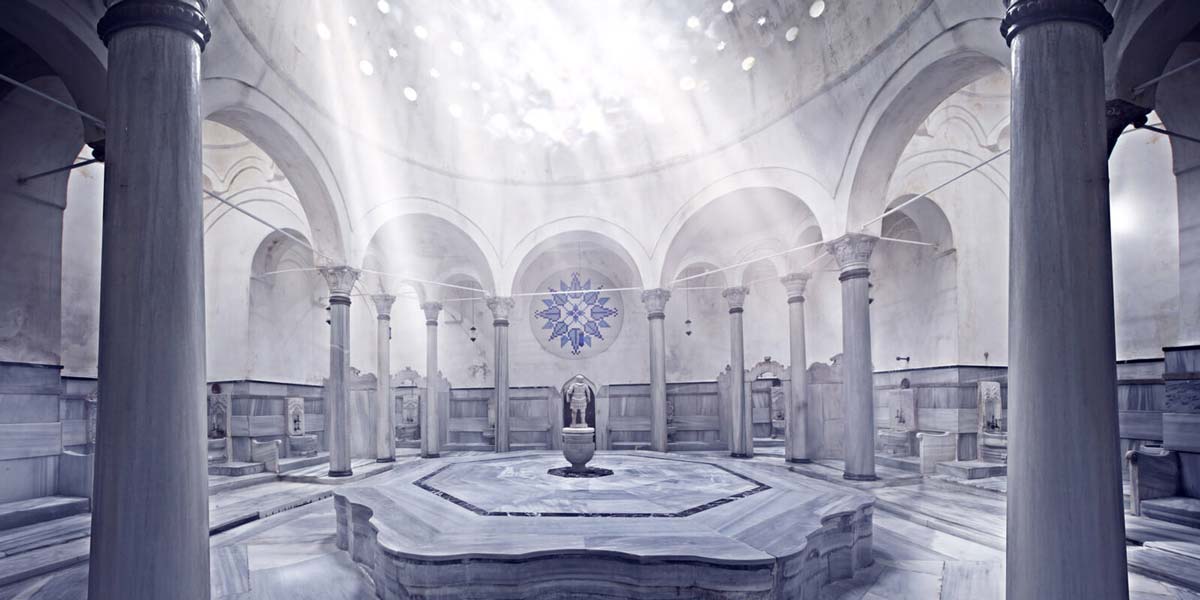 After a long day of exploration in Istanbul, there's no better way than to relax and unwind with a traditional Turkish Hammam.
The Hammam's arrival in then Constantinople was from the Ottoman Empire, so the history of these baths can be dated back to about 1453.
Clean the body and the mind, evaporate the toxins, and come out feeling reborn, ready for a Turkish feast for dinner. Some of the best hammams in Istanbul are the Kilic Ali Pasa Hamami or the Suleymaniye Hamami.
9. Visit the Grand Bazaar & Spice Bazaar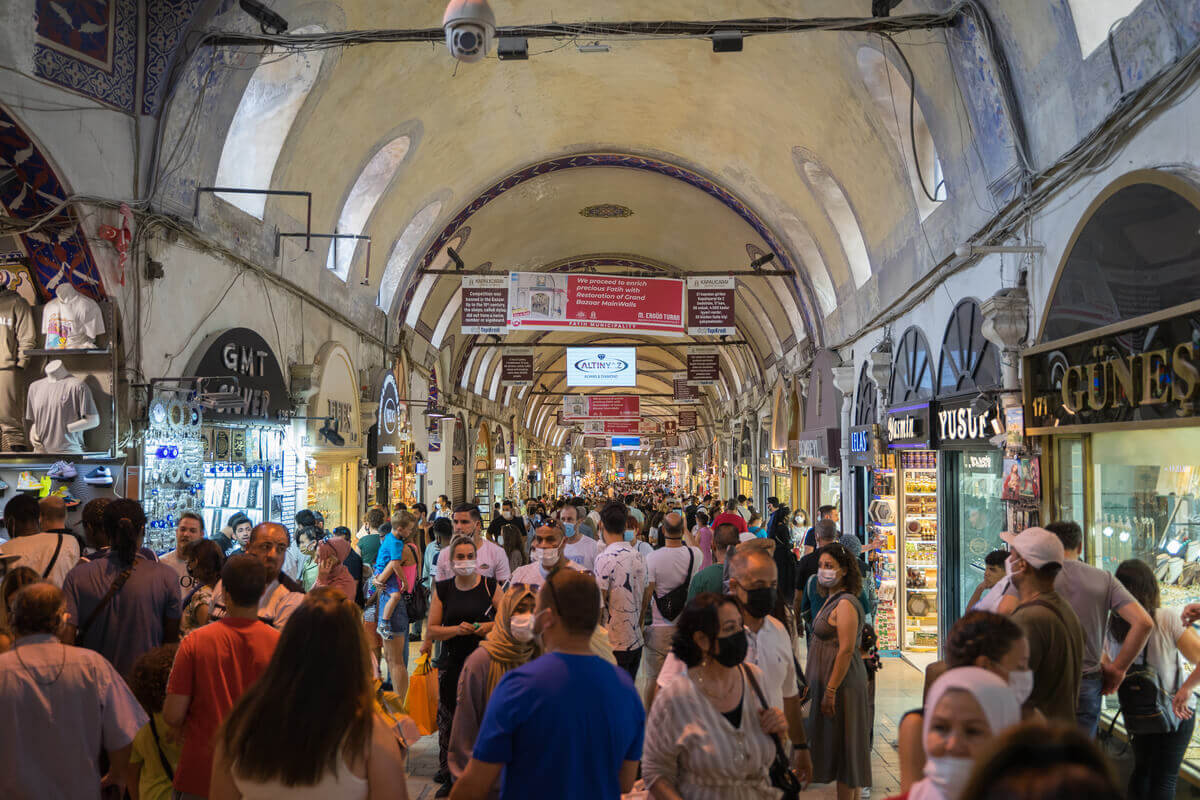 The Grand Bazaar has largely been the center point of all trade in Istanbul for the best part of 500 years.
As a result, it's the largest, and oldest, covered market in the world with over 4000 shops all tucked down a maze of over 60 streets and alleys. You can quite literally buy anything here.
For the foodies, the Spice Bazaar is also impressive with a dizzying array of colorful mounds of spices and other Turkish delicacies available to buy like dried fruit and nuts and of course, Turkish delight. Take a chunk of Lira and sample some of the foods on offer.
10. Take a Turkish Cooking Class
One of our favorite things to do in Istanbul is to visit one of the many incredibly delicious restaurants that are all over the city.
If you feel like getting your hands dirty whilst you're here, and you'd like to learn more about the Turkish culinary ways, why not book a cooking class and combine eating gorgeous Anatolian & Ottoman cuisine with actually making it yourself?
---
Festivals and Events
October has several events happening, just as the seasons begin to change and the weather becomes a little worse. Here's a short list of events happening in Istanbul during October.
1st – 10th October – Akbank Jazz Festival
The Akbank Jazz Festival has been an annual festival of Jazz since 1991.
It's 10 days of celebrating everything jazz featuring performances from some of the genre's best artists and giving emerging talent a stage to perform and become noticed.
Since its inception, it's grown from just performances to expert panels, workshops, and cinema screening sessions on the history of jazz. Safe to say this is one not to miss if you're in Istanbul.
3rd – 27th October – International Istanbul Puppet Festival
October is the month of the International Istanbul Puppet Festival where puppet artists from all over Turkey, Uzbekistan, Germany, Hungary, Czechia and Spain come together to share their gifts.
There are puppet shows as well as workshops for all ages.
29th October – Republic Day
The 29th of October is one of the most important days in Turkey for its citizens. It is the commemoration of the Turkish Republic, proclaimed back on the date in 1923.
Every year, millions of Turkish people celebrate with fireworks shows and ceremonies up and down the country. If you'll be in Istanbul during this date, you'll certainly be in for a treat. Join in the celebrations at Kuzguncuk or Pasalimani.
---
Pros and Cons of Visiting Istanbul in October
So, as we've discussed, Istanbul is an incredible city that has so much to offer in any month of the year. If you're still not sure if Istanbul is worth visiting in October, here's a breakdown of the pros and cons.
Pros
Days are mostly still sunny and warm, though not hot enough to be unbearable.
All attractions are open.
Sea will be calm and warm, from the last month of this until summer.
Potentially some good last-minute deals on flights and hotels.
Cons
One of the rainiest months of the year, so make sure you pack an umbrella.
Days a certainly much shorter than in the summer.
Nights will feel noticeably chillier, perhaps cold.
---
Where To Stay in Istanbul in October
One good thing about visiting Istanbul in October is that the summer crowds are moving away and it's starting to quieten down before the winter comes, but that doesn't mean there's an abundance of accommodation. Be prepared and book accommodation in advance…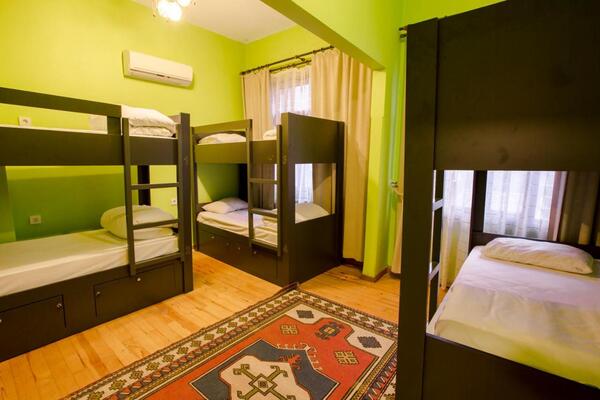 Best Hostel in Istanbul – Cheers Hostel
Cheers Hostel is the best-located hostel in Istanbul, nestled behind the Hagia Sophia and the Blue Mosque. It offers comfortable, individually styled rooms and dorms, with spacious shared bathrooms. The terrace bar and restaurant serve up kebabs and international cuisine for those who don't want to venture far for food and have wonderful views of Istanbul's Old Town.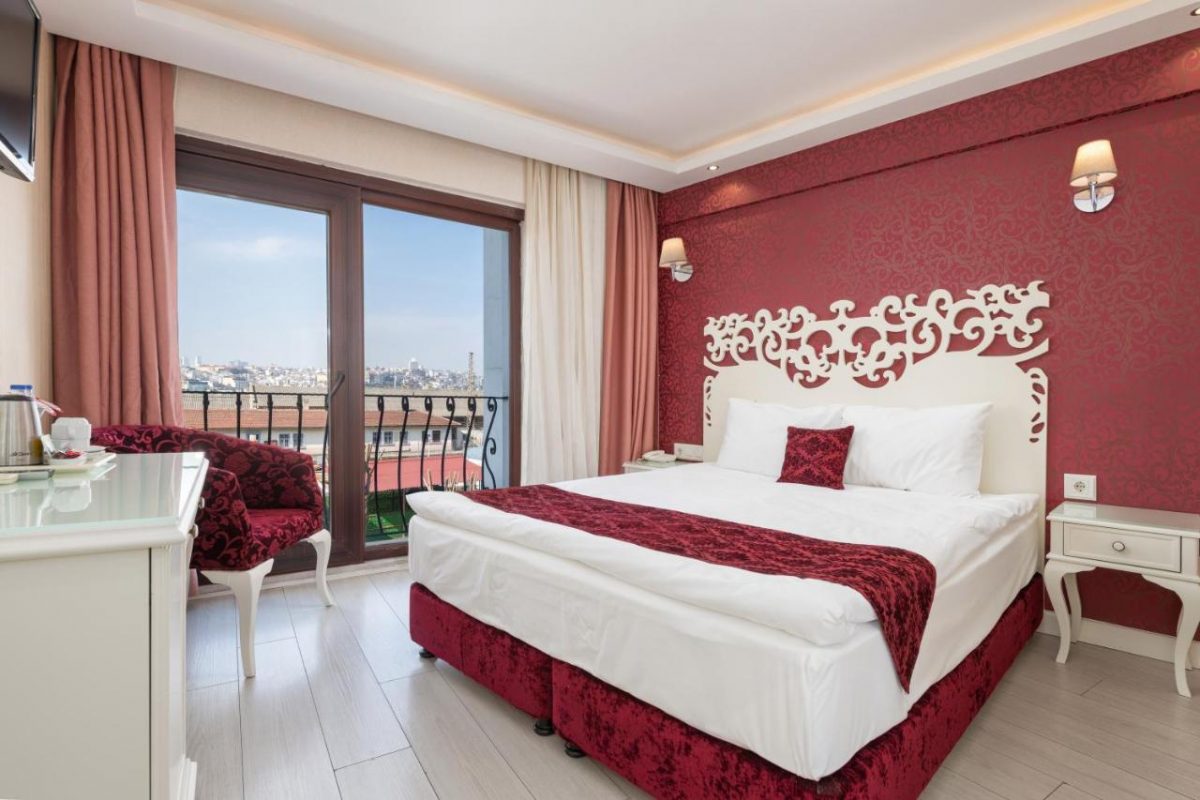 Best Mid-Range Hotel in Istanbul – Dream Bosphorus Hotel
If you're looking for a mid-range hotel in a great neighborhood, then Dream Bosphorus hotel is the ideal choice. It's located in the heart of Old Istanbul, in the Sirkeci area. Each room has been individually styled in traditional Turkish decor and comes with a private bathroom and 24-hour room service. Some rooms have views of the Golden Horn. Each morning a daily breakfast buffet is served and the Dream Café offers soft drinks and snacks throughout the day. Each afternoon, it's worth returning for free cakes and cookies.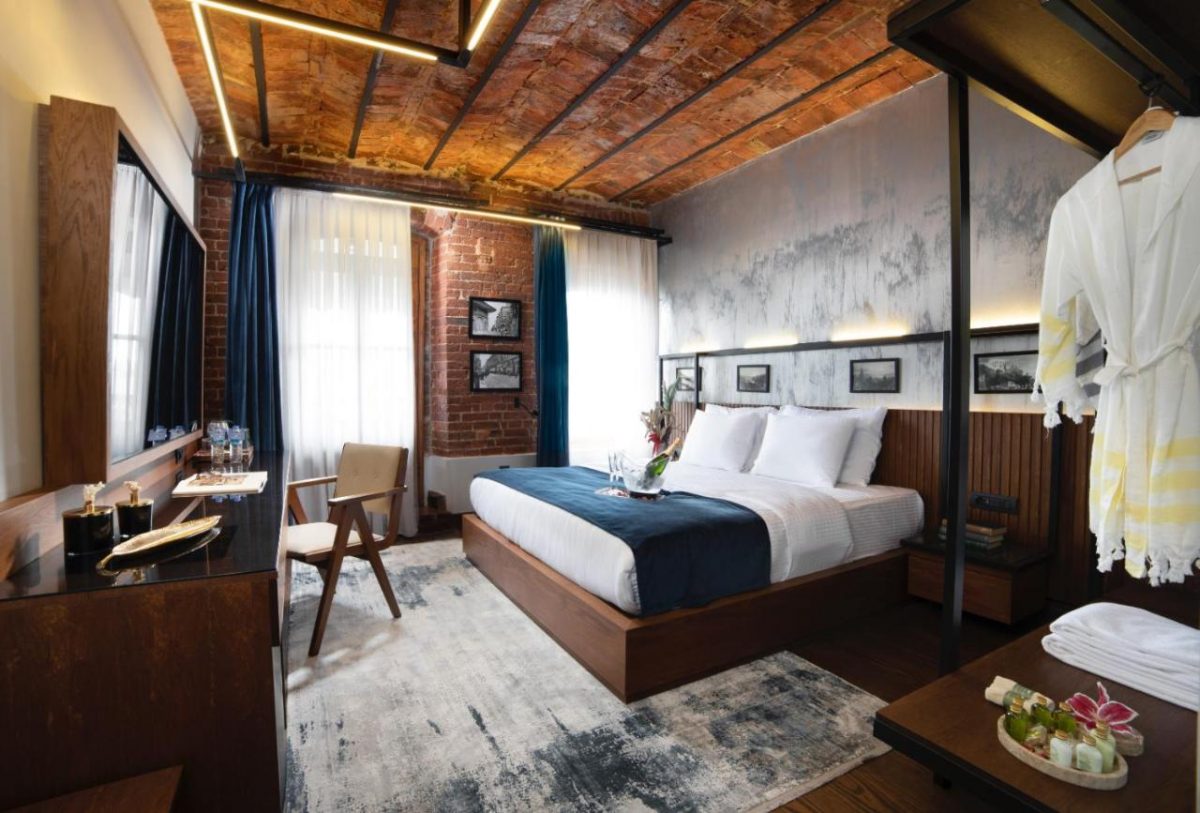 Best Luxury Hotel in Istanbul – Hotel DeCamondo Galata
Located on the riverfront in Kadikoy, the Hotel DeCamondo is the ideal place to stay for a luxury getaway. It has a stunning bar and terrace as well as an onsite restaurant and car rentals. Each morning, a continental or a la carte breakfast is offered, and when it comes to exploring, the hotel can help organize your tours and car rentals.
---
Tips for Visiting Istanbul in October
If you do decide to visit Istanbul in October, here are a few tips to make your experience more enjoyable.
Bring a jumper and warm clothing for the evenings. Although it's warm in the daytime in October, it is still cold at night and you'll want to bring a warm jumper to wear when going out for dinner.
Bring waterproofs. October can be wet, so pack an umbrella!
Pack a headscarf if you're a woman. You will need a scarf to cover your hair when entering a mosque. You also need your knees and shoulders covered, which shouldn't be a problem if visiting in the winter.
Carry an umbrella and waterproof clothing. You might have a small chance of rain this time of year so be prepared with your waterproof gear.
Carry cash for the markets. Many shops still don't accept cards.
Are you reading this from Turkey? Maybe you need a VPN!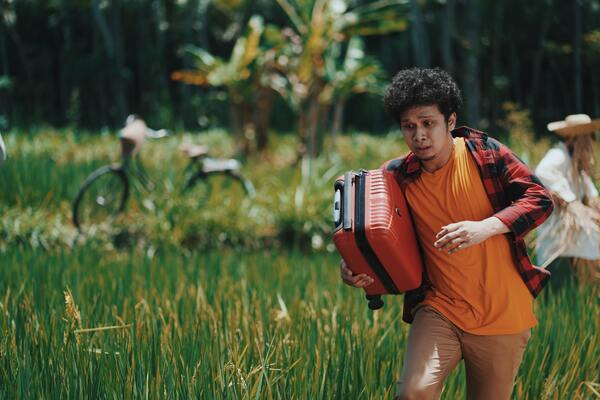 If you're already in Turkey, there is one thing you absolutely NEED: a reliable VPN.
You may find some of your favorite websites and apps are blocked in Turkey, such as popular hotel site booking.com
A VPN allows you to get passed this ruling and enables you to browse these sites without any hassle, and it's completely legal.
We use Express VPN when we're in Turkey and we'd recommend it to anyone. It's affordable, quick, and easy to use.
---
FAQs About Istanbul in October
Here's what people usually ask us about visiting Istanbul in October…
Is October a good time to visit Istanbul?
October sees warm weather and the summer crowds dispersing, so we would say it's a good time to visit Istanbul.
Is Istanbul crowded in October?
No, Istanbul is not too crowded in October. The summer crowds have dispersed and the city is quietening.
Is October cold in Istanbul?
The weather is usually warm during the day in October, but cold at night. Pack a jacket to wear in the evenings.
---
Before You Go
So there you have it, this is everything you need to know about visiting Istanbul in October. As you can see, the weather is warm and there are more sunlight hours for exploring, but do make sure to bring warm clothing for the evenings.
The rainy days are starting to roll in and you'll see fewer crowds as the summer crowds disappear.
As this is the beginning of Autumn, expect to see some more festivals and events closing for the season, though you can still catch a few good ones!
We hope you have a great time exploring Istanbul in October!