Turkish Cinema, or Türk sineması as it's known in the country, only really began to take shape in the early to mid-1900s.
Compared to other nations across the world, you might class Turkey and its film scene as a bit of a late bloomer, but don't let that put you off. There's an endless amount of world-class Turkish-produced films for you to enjoy.
Since the early 1950s, some of the best high-quality films have been coming out of Turkey year after year, and these can be watched right in your own home thanks to the streaming service, Netflix (cheers for that, Netflix!).
So, sit back, relax, and take a few minutes to read our guide to the best Turkish movies on Netflix that you can watch right now.
Let's jump straight in.
---
The Best Turkish Movies on Netflix
1. Miracle in Cell No.7 (2019)
An adaptation of the widely successful South Korean comedy-drama of the same name, Miracle in Cell No.7 is one of the few on the list that has also managed international success.
The heartwarming story focuses on the daughter of a mentally disabled father, and her plight to prove her father's innocence after he is accused of murder.
Over 5.3 million people watched Miracle in Cell No.7 making it the most-watched film of 2019 in Turkish cinemas. It was so well received in fact, that it was the Turkish entrant into the Best International Feature Film category at the 93rd Academy Awards.
Are you reading this from outside Turkey? Maybe you need a VPN!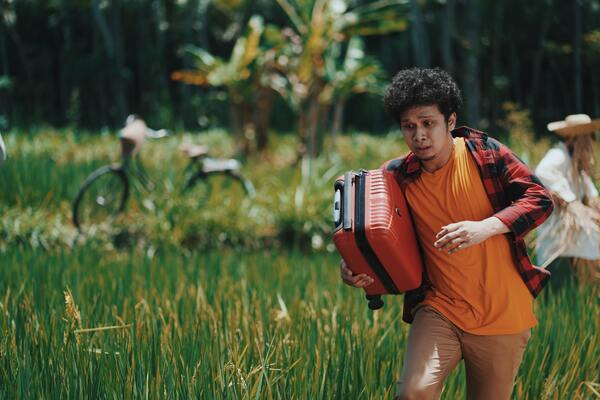 If you're reading this outside Turkey, you may NEED a reliable VPN to watch these movies on Netflix.
A VPN is a way to get passed IP blocks and access the servers in Turkey, so you can still watch your favorite movies, shows, and TV series. And it's completely legal.
We use Express VPN and we'd recommend it to anyone. It's affordable, quick, and easy to use.
2. Cici (2022)
Cici, meaning 'beautiful' or 'pretty' in the Turkish language, is an immersive and heartfelt drama that captures the very essence of what family means to the Turkish people.
After a tragic and devastating death, a family moves away from their rural Turkish village in favor of a better life and future in the city.
Thirty years later, they reunite in the same village that they fled years prior, allowing previously buried feelings and emotions from the past to come back to light.
A compelling storyline and wonderful performances from the cast certainly affirm 'Cici' as one of the best Turkish films on Netflix.
3. My Mother's Wound (2016)
My Mother's Wound is a captivating drama that shines a light on the lives of Bosnians during the Bosnian War, and in particular, an orphan teenager named Salih.
After turning 18, Salih sets off in search of his parents, but he discovers some riveting information that sets him on the path of revenge.
Posing as a job seeker on his search, he finds work on a farm, eventually learning to like the life he's made for himself.
The performance of Turkish-born Bora Akkas, who plays Salih, is exceptional, and combine this with the powerful narrative, characters, and equally as impressive cinematography, and you've got an absolute gem of a film.
4. The Miracle (2015)
If you're after a film that shows viewers a different side of Turkey than you might have imagined, then The Miracle could be the film you're looking for.
Set back in the 1960s, the film shows what life was like in rural Kurdish villages, and how simple, remote and impoverished these locations really were.
A school teacher, used to the hustle and bustle of the city, is transferred out to a quiet village, and after trekking over two mountains to reach said village, is surprised to see how basic it is.
After realizing there isn't even a school, an unlikely friendship is formed with a disabled local and they build a small building that can be used for education.
A deeply moving film, The Miracle is often described as a Turkish masterpiece by director Mahsun Kırmızıgül and for good reason too. Just remember to have a box of tissues handy!
5. Don't Leave (2022)
A familiar tale for many, Don't Leave documents the pain and hardship of a sudden break-up that leaves Semih stunned.
There were no warning signs, no paper trails of infidelity, just a stone-cold ending to what was, or so he thought, a blossoming relationship.
After coming to terms with his loss, Semih is sent in search of answers all whilst battling the perils of his daily life.
Don't Leave puts the spotlight on what might happen to those unfortunate enough to be in a similar situation to Semih, and how emotions can completely override any thoughts of rationality.
Read More: 17 Best Turkish Series on Netflix You Must Watch
6. Grudge (2021)
The first thriller on the list, Grudge is a fast-paced film full of twists and turns that'll certainly keep you on the edge of your seat.
After the capture and arrest of a criminal gang in the city of Istanbul, a well-respected police chief is expecting a well-earned promotion.
Before he can rise up the ranks, he becomes involved in a rather sinister plot that concerns one of his previous cases.
Grudge has a wonderfully unique story that sets it apart from other Turkish-made thrillers, and the acting is superb. Don't even think about turning it off early either. The ending is the cherry on the cake!
7. In Good Hands (2022)
If you're wondering what film perfectly summarizes Turkish cinema, In Good Hands is surely up there.
It hits all of the feelings you want when watching a drama and romance, and as the Turks have shown to favor a tragic love story, In Good Hands is exactly that.
A terminal diagnosis is everyone's worst nightmare, and for Melissa, that nightmare has become a reality.
A mere five months to live accelerates her life ten-fold, and as she's trying to come to terms with the fact her 6-year-old will be without a mother in a matter of months, she meets bachelor Firat, who might have the potential to look after her son after she's passed.
An interesting and thought-provoking piece, In Good Hands is an easy watch that'll pull on the heartstrings of even the coldest of hearts.
8. My Father's Violin (2022)
The power of music is something genuinely extraordinary. It brings different backgrounds, religions, and even distant family members together.
My Father's Violin is the beautiful story of a Turkish concert conductor and the coming together of his orphaned niece he barely knows.
Forming a strong bond over music, social services attempt to break them apart but, as cliché as it may sound, love prevails.
The simple, yet powerful plot will leave you feeling all kinds of emotions, and the classical compositions put together for the film are an absolute treat to your ears too.
It's a true feel-good movie perfect for a bit of light-hearted watching.
9. Vizontele (2001)
One of the older films on our list is none other than the Turkish classic, Vizontele.
It's easy to forget how much of a privilege owning and watching your own television used to be, and famous Turkish director Yilmaz Erdogan highlights just that.
You might be thinking how boring that may sound as the plot of a film, but trust us, you're not going to want to skip over this film if you have the chance to watch it.
Residents of the rural Turkish town of Gevas have never seen a TV before, and when the town mayor becomes the first to own a set, chaos ensues.
A hilarious film with a stellar cast that is just so simple and pure, Vizontele broke pretty much all of the box office records in Turkey at the time and is arguably one of the best films in history to have ever come out of the country.
10. G.O.R.A (2004)
There's not a great deal of Turkish-made sci-fi films floating around, but of the ones that are, G.O.R.A might just be one of the best Turkish movies period.
A sci-fi/comedy crossover, the film follows the story of Arif, a carpet seller and fake UFO photo maker that is abducted by aliens and taken to the extraterrestrial planet of G.O.R.A.
A meteorite strike threatens to wipe out the planet and Arif is at the forefront of the aliens' plan to escape.
A superb script and funny scenes help to keep this film feeling fresh, not to mention the excellent acting on show from Cem Yilmaz and the rest of the cast.
11. Locked On You (2018)
For an easy daytime watch, look no further than the charming comedy Locked On You.
A friendly and bubbly meatball seller, Zekeriya, becomes caught in the crossfire of a mafia shoot-out in the bustling city of Istanbul.
As a witness to this terrible situation, Zekeriya unsurprisingly flees to the Aegean Island of Gökçeada to set up a new life in a beautiful location.
Unfortunately for him, the gangsters follow him to his new home which creates quite a stir.
A fun comedy that's great for all of the family, Locked On You is without a doubt an enjoyable way to spend a couple of hours.
12. Paper Lives (2021)
One of the best things about Turkish movies is that no matter what genre it is, they'll usually always have a story that leaves a lasting impression on you long after you finish watching.
The next film on our list is Paper Lives, a dark yet soulful watch that follows the story of Mehmet who runs a waste warehouse that's located in a poor Istanbul neighborhood.
Known for lending a helping hand to anyone in need, Mehmet meets and befriends a homeless boy that effectively changes Mehmet's life for the better.
Handsome Turkish actor Cagatay Ulusoy is famed for his performance in Paper Lives and you can totally see why it's regarded as Oscar-worthy.
13. Aile Arasinda (Among Family) (2017)
With an amazing script written by the famous Gulse Birsel, Aile Arasinda, or, Among Family in the English language, is our next choice.
Solmaz, a Turkish romantic singer, has a daughter Zeynep, that's become engaged to her long-term boyfriend Emirhan. Emirhan's family is conservative, meaning that it'll be frowned upon if they find out Zeynep's parents are unmarried and no longer together.
To tackle this major problem, Solmaz enlists the help of a friend and shopkeeper Fiko to act as Zeynep's father at the wedding.
As you can imagine, things don't exactly go to plan. Plenty of laugh-out-loud moments make this an amazing family film.
14. Pek Yakinda (2014)
New to Netflix is the highly-rated comedy Pek Yakinda by director Cem Yilmaz. A completely original plot, Pek Yakinda (Coming Soon) documents the life of pirate DVD seller and movie fanatic Zafer.
Before selling his DVDs, Zafer was actually an extra in various movies, a job that he was proud to have. Pirate DVDs are, of course, illegal and his wife decided that as long as he was selling illegal DVDs, she didn't want to be with him.
Zafer, a hopeless romantic now faced with divorce, spontaneously decides to make a movie with his old film buddies to try and win the love of his life back.
The casting in this film is excellent and all the characters really help you to feel engaged in the film. Pek Yakinda is a great representation of what a Turkish drama romance should be.
15. Ayla: The Daughter of War (2017)
Our next film on the list is one of the best Turkish movies on Netflix full stop. Ayla: Daughter of War is one of those amazing movies that'll leave you stunned – honestly!
Set during the formidable Korean War, Sergeant Suleyman discovers a frightened little girl on the battlefield.
Shielding her from the horrors of war, Suleyman renames her Ayla and grows attached, as does the girl. Months go by and with the war coming to an end, the battalion is told they will be returning to Turkey – and Ayla cannot come.
Ayla: The Daughter of War is undoubtedly a gem, an absolute must-watch, and can hold its own against the filmmaking heavyweights of the world.
16. Dabbe: The Possession (2013)
What's a list of the best Turkish movies on Netflix without any horrors? Well, we've got you covered, as our last, but most definitely not least pick is the Turkish horror Dabbe: The Possession.
Now, admittedly, many people may see the opening image of this film on Netflix and skip straight over it because it looks quite, well… cheesy? But believe us, it's anything but cheesy!
The Turks aren't known for their love of horror, and nor does the Turkish film industry pump them out in their droves, but this one is actually seriously good and seriously scary. As horrors go, Dabbe: The Possession has it all.
17. One Way To Tomorrow (2020)
One Way To Tomorrow is a romantic film directed by Ozan Açıktan and written by Faruk Ozerten. The story follows two strangers who meet on a train journey from Ankara to Izmir, played by actors Metin Akdülger, Dilan Çiçek Deniz, and Tevfik Kartal.
The movie is very sweet and the storyline is very simple. It begins as a young woman named Leyla, boards the train to Izmir without a ticket.
When she meets Ali, a talkative young lawyer, who is on his way to object to his ex-girlfriend's wedding, the two have a rocky start. But when Leyla gets into trouble, Ali decides to help her.
What happens next is a 14 hour journey where the pair make peace through conversation. As they learn more about each other, they realize their journeys are more intertwined than expected…
18. Husband Factor / Kocan Kadar Konus (2015)
Husband Factor, or Kocan Kadar Konus in Turkish, is a romantic comedy about a young Turkish woman under pressure from her family to find a husband.
Efsun, played by the gorgeous Turkish actress Ezgi Mola, is a 30-year-old woman who believes in true love. Rather than marrying for the sake of marrying, she would rather marry for love.
Her family considers her the "black sheep" of the flock because of her views, and even though she's looking for love, she doesn't know how to attract a man.
The good news is that her family is dedicated to helping Efsun learn the ways of attraction and ensure that she gets her happily ever after.
Under the capable hands of the women in her family, Efsun is ready to meet a man. Coincidentally, she runs into her former high school friend and crush, Sinan.
Can Efsun reignite something with the one who got away?
---
Final Word on Turkish Movies on Netflix
So, there you have it! That concludes our list of the best Turkish movies on Netflix available for you to watch right now. I hope it gives you some inspiration for what to watch tonight.
Invite your friends and family over, grab some Baklava, Rakia, and some dried Apricots and you've got yourself an amazing Turkish-themed movie night. You may as well be in Istanbul's Cinemaximum!
If you know of any other Turkish movies on Netflix that you'd recommend, drop us a comment!
If you think these Turkish movies sound exciting, then you make sure to check out some Turkish series and dramas as well!