If you are visiting Istanbul in the summer, you might want to consider visiting some of the Istanbul beaches. Bordering both the Sea of Marmara and the Black Sea, this popular Turkish city is home to plenty of beaches where visitors can enjoy soft golden sand and refreshing clear water.
The city has miles of coastlines that feature a unique mix of both sandy and rocky shorelines, making them incredibly diverse and unique. Istanbul also features a variety of public and private beaches, which can appeal to any type of beach-goers from families to couples.
Having been to many of the beaches in Istanbul ourselves, we've decided to write this guide so you too can enjoy the soft sand and beautiful waters of Istanbul!
Note: The word beach in Turkish is Plajı, so don't be confused if we use them interchangeably!
Planning a trip to Istanbul last-minute?
Make sure you book your tours, places to stay, and airport transfers ahead of time to ensure availability!
Here is our recommended airport transfer in Istanbul:
Here are our recommended tours in Istanbul:
Here are our recommended places to stay in Istanbul:
Magnuara Palace Hotel (Gorgeous hotel in the historic centre!)
Cheers Hostel (Budget hostel near the Blue Mosque!)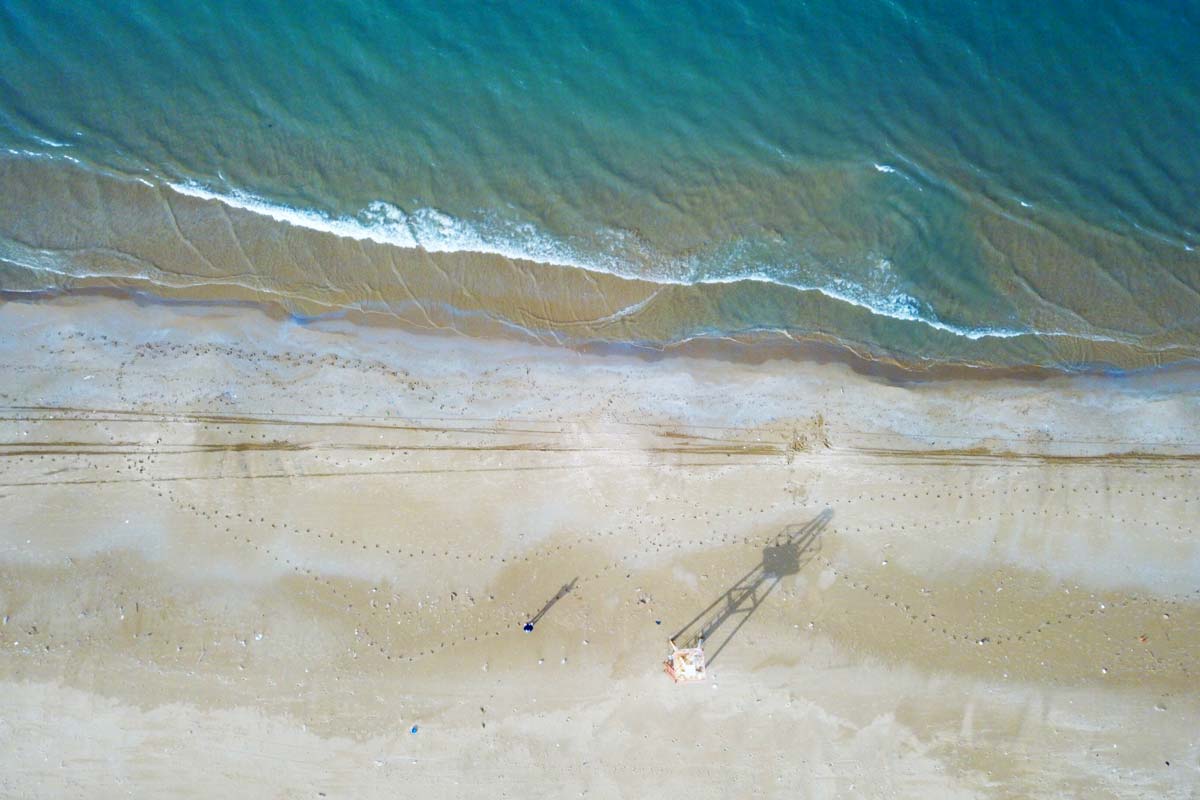 ---
Quick Summary
Typically, the more sandy beaches in Istanbul are located near the Black Sea. But the strong sea undercurrents can be dangerous for inexperienced swimmers, especially children.
There are two types of beaches in Istanbul: public and private. Private beaches require an entrance fee and parking fee, but the facilities are usually nicer. There is typically a restaurant on site where you can order food and drinks. Sunbeds are available for rent.
Istanbul has lots of nice beaches, but there are also lots of subpar ones. It is not surprising that beaches aren't the top attractions in Istanbul. Make sure you do your research or else you might not have a good time.
The beaches in Istanbul are situated far from the historic center (Sultanahmet), be prepared to take a day trip if you want to visit them.
---
What Are The Best Beaches In Istanbul?
1. Uzunkum Beach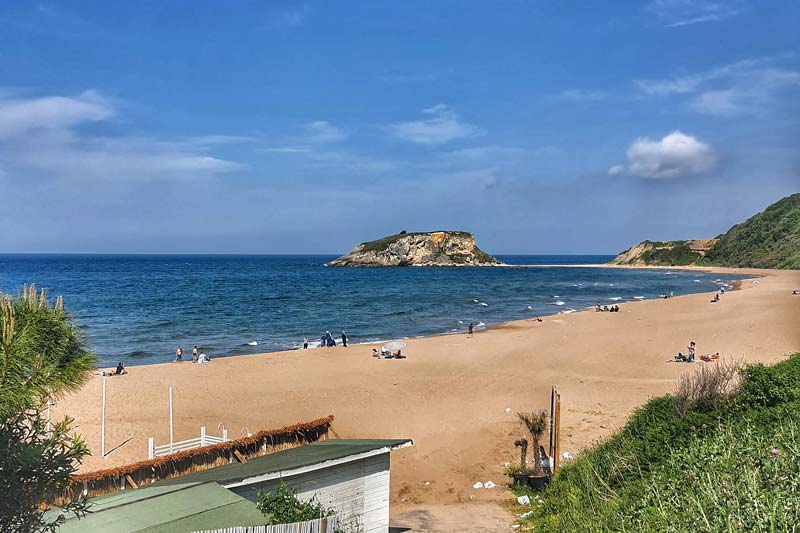 Uznukum Beach is one of the three blue flag beaches in Istanbul. This means that not only is the beach much cleaner than typical standards, but the beach also has high-security measures to ensure everyone's safety. There are plenty of lifeguards on the beach, and visitors will need them considering the choppy waters of the Black Sea.
Uzunkum Beach is located on the outskirts of Istanbul near a small town called Sile. This is perfect for those looking for a more remote beach experience where they can suntan in peace. The beach is very sandy, and typically very clean. The water is also very clear with little seaweed and jellyfish.
Visitors can also rent sunbeds and enjoy a meal at one of the restaurants on the beach. The beach is quite massive, and visitors will surely find plenty of facilities here.
2. Sedef Adası Beach
Sedef Adası Beach is located on Sedef Adası, one of the nine islands on the Marmara Sea that makes up the Princes' Islands, or Adalar in Turkish. Sedef Adası is a small island with a handful of streets, perfect for those that want to escape the hustle and bustle of Istanbul.
Sedef Adası Beach is a private beach, meaning that there is a small entrance fee to use the beach. With the entrance fee comes the use of one of their 800 sun loungers and other facilities such as showers.
The beach is approximately 500 meters long. It has a restaurant and a hotel on-site for those that would like to spend the entire day here relaxing and swimming in the Sea of Marmara.
Read More: Most Luxurious Beach Resorts In Turkey!
3. Anadolufeneri Beach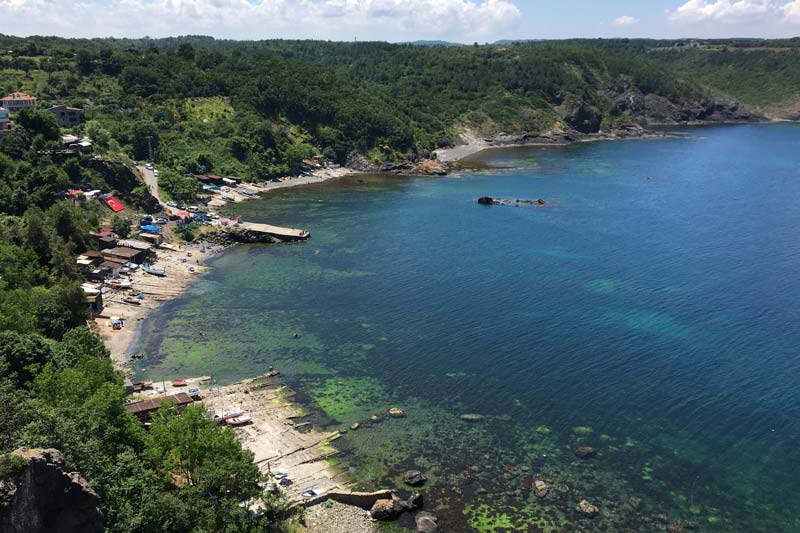 If you are looking for a beach in Istanbul to take incredible photos, then Anadolufeneri Beach is where you need to go. This small beach is located at on the Asian Side of Istanbul right on the mouth of the Bosphorus Strait.
The beach is home to a number of boats that make this beach so photogenic. Along with the beautiful cliffs and greenery that surround the beach, it can be one of the most gorgeous places in Istanbul for sure.
However, visitors that want to swim here must be aware of the sharp rocks. This beach is not the sandiest beach in Istanbul and swimming is not typically what people do here. We recommend you to wear water shoes if you plan on swimming here.
4. Caddebostan Beach 2
Caddebostan Beach 2 is one of our favorite Istanbul beaches for swimming, thanks to its easy to reach location and free entrance. The Caddebostan Beach is situated in Kadikoy District on the Asian Side of Istanbul.
It is surrounded by Caddebostan Park, which hugs the southern coastline. Visitors can enjoy a nice stroll at the park, go swimming on the beach, and admire the gorgeous sunset.
The beach is separated into two parts: a paid area and a free area. The free area is unregulated, which means that it is often a lot dirtier and has no sunbeds for guests to enjoy. Nonetheless, it attracts plenty of visitors, especially people that are traveling Istanbul on a budget.
The paid area is usually much nicer, and this is where we recommend you spend your time if you don't mind spending a little bit of money. Here you can have a sunbed with an umbrella, and the beach is generally cleaner because the staff takes care of it.
There are a few cafes surrounding Caddebostan Beach, perfect for visitors that want to spend an afternoon there. The beach also has small changing rooms and a public shower, which is honestly very impressive for Istanbul.
5. Ayazma Beach
Ayazma Beach is another of Istanbul's blue flag beaches and it is easy to see why – the water is clear, the sand is soft, and there are plenty of facilities available. But wait, that is not all! Ayazma Beach is free to enter!
However, there is a catch. Ayzama Beach is in Sile, which is quite far from the center of Istanbul. This means that visitors will typically have to drive there (or take the 139T bus, but it takes forever). Parking is not free, and so are the changing rooms, toilets, and showers!
So even though you might not spend any money entering this beach in Sile, you might end up paying for some things in the end.
This Black Sea beach in Istanbul is quite rough, and visitors should be extremely cautious when swimming. However, the wide stretches of soft sand are perfect for all other kinds of activities, such as a picnic or sports like beach volleyball or beach football!
6. Yeşilköy Çiroz Beach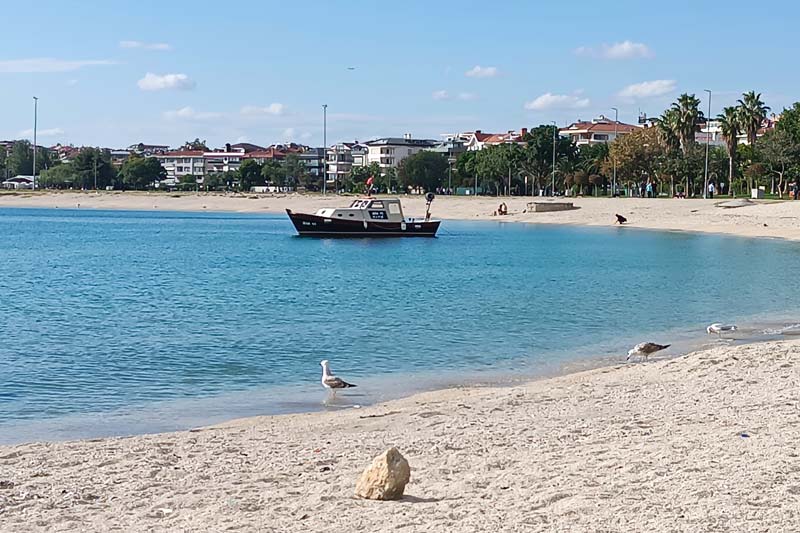 Located near the old Ataturk Airport (one of the three airports in Istanbul), Yeşilköy Çiroz Beach is one of the quietest beaches in Istanbul. Yeşilköy Çiroz Beach is situated in a small cove, so the waves are quite mild and even kids can enjoy swimming in the sea.
Yeşilköy Çiroz Beach is a public beach so it is completely free to enter. However, because of that, the beach can sometimes be dirty, with lots of cigarette butts laying around.
But when it is not dirty, the soft sand is inviting for anyone that wants to sunbathe or just relax. There is a small bathroom where you can change, but you have to pay for that.
7. Florya Güneş Beach
Though it is considered a public beach, the beach is associated with the Istanbul Metropolitan Municipality. This means that visitors must pay a small entrance fee when entering.
There are plenty of wooden umbrellas on the beach for visitors to enjoy and sunbathe. The sand is also quite fine and soft, which is perfect for just strolling around barefoot.
However, we found that Florya Güneș Beach isn't always the cleanest. There have been many times when there were lots of cigarettes, glass, and other trash on the beach. The water can also be hit-or-miss. Sometimes it's nice and clear, but sometimes it has lots of algae.
8. Madam Marta Koyu
The Madam Marta Koyu Beach is located on Burgazadası, one of the nine islands that make up the Princes' Islands. It is by far our favorite beach on the Princes' Islands, especially since it's completely free.
The Beach is located on the northwestern part of the island, and it is as remote as a beach in Istanbul can get. To get to the beach, you'll need to do a small hike down.
The beach is rather rocky, but that doesn't stop visitors from swimming in the sea. Because it is the Marmara Sea and the Princes' Islands ferry often passes, sometimes you'll find trash in the sea. But generally speaking, it is rather clean, calm, and ideal for swimming. We recommend you wear some water shoes so the rocks and shells don't cut up your feet.
Facilities are limited there, but you'll find a place where you can rent some sunbeds and have a drink or two. Madam Marta Koyu Beach is also a popular beach for camping in Istanbul, as you can fully immerse yourself in nature here.
9. Tırmata Balık & Beach
Tırmata Balık & Beach is a private beach club located in Kilyos, a small seaside resort town in the Istanbul District known for its beaches and beach clubs. There is a hefty entrance fee to the beach, but it is totally worth the price given how clean the beach is.
There are also plenty of facilities on the beach for guests to enjoy, and even an excellent restaurant serving delicious seafood and Turkish dishes. If you don't mind spending some money here, you'll have an amazing time.
Visitors will find sunbeds, sun loungers, and umbrellas for rent to enjoy, and the sand is extremely soft and clean. The water is very clean here, perfect for a dip on a warm summer's day. However, since Tirmata beach is located on the Black Sea, swimming is not advisable because the waves can be quite strong.
This beach club is quite popular on the weekends, so make sure you come early for a good spot!
10. Uzunya Plajı
Uzunya Plajı, or Uzunya Beach, is another private beach in Istanbul. The concept is similar to other private beaches in the city, where visitors have to pay for entrance and have access to the beach's facilities.
Uzunya Beach has a nice grassy area where visitors can lounge in the sun without getting sand everywhere on their body. The portion of the beach is situated inside a cove, which helps alleviate the strong undercurrents from the Black Sea. Swimming here is a lot safer when compared to all the other Black Sea beaches in Istanbul.
However, this private beach comes with a hefty price. The entrance fees are fairly high, and the on-site Uzunya Beach restaurant has even higher prices. Though it can be a good time at Uzunya Beach, be prepared to spend quite a bit of money here.
11. Aqua Beach
Aqua Beach Club in Sile is another one of our favorite Istanbul beaches. It is situated adjacent to Uzunkum Beach, a public blue flag beach. Aqua Beach provides the clean waters and soft sand of Uzukum Beach plus all the modern facilities for a comfortable visit.
After paying to enter Aqua Beach, guests can have their own sunbeds and a thatched umbrella for shade. There is a cafe on-site for visitors to enjoy some food as they enjoy the sea breeze, glorious sun, and relaxing atmosphere.
The sand and water at Aqua Beach are some of the best in Istanbul. But since it is situated on the Black Sea, we recommend that you swim with caution.
12. Kısırka Village Beach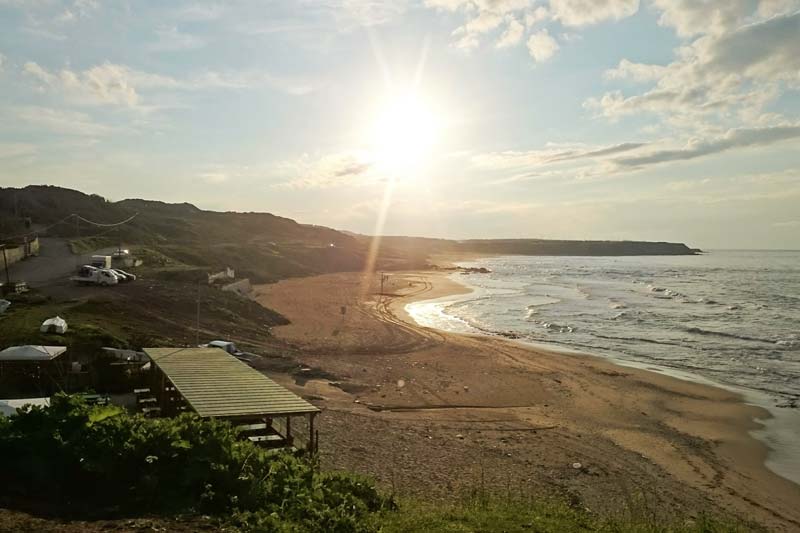 If you are looking for a beautiful Black Sea beach in Istanbul, then check out the secluded Kısırka Village Beach. As the name suggests, this beach is located in Kısırka Village, about an hour away from central Istanbul.
The beach has a wide stretch of soft sand and beautiful views of the sea. The clear waters are inviting, but the beach is very unprotected, meaning that the currents are VERY strong at this beach. It is one of the most dangerous beaches in Istanbul to go swimming.
However, that doesn't stop many locals and travelers alike from traveling over an hour to this scenic spot. There is little to no facilities here, minus a few shops where you can find some food and drinks. Visitors can also do horseback riding on the beach, which can be a memorable experience, especially during the sunset.
There are lifeguards on the beach.
---
Best Beaches In Istanbul Map
Above is an interactive map featuring all of the beaches in Istanbul we've talked about above. You can click on the star next to the name of the map and save it onto your own personal device, perfect for planning your Istanbul itinerary. Using this map, you can better estimate how long it will take to get to some of the beach locations, and whether it might be worth it to do a day trip or stay somewhere overnight.
---
Istanbul Beaches FAQs
Are There Sandy Beaches In Istanbul?
Istanbul has plenty of sandy beaches, but most of them are situated far from the city center. The majority of them are situated on the Black Sea coast, but the undercurrents in the Black Sea can be dangerous for swimming.
Are There Any Beaches In Istanbul?
There are plenty of beaches in Istanbul, thanks to its unique location between the Black Sea and the Marmara Sea. Along with the Bosphorus Strait and the Golden Horn, Istanbul is literally surrounded by water. However, for nice beaches, visitors will have to travel quite far from the city center!
---
If you are looking for a beach in Istanbul for your tropical vacation, then hopefully our article can help you plan your itinerary!