Istanbul is a city where history comes to life. As the former capital of the Roman Empire, Constantinople, and then the capital of the Ottoman Empire, it has housed many different civilizations over the centuries.
Remains of these civilizations are best found in the Istanbul Archeological Museums, which contain important relics, artifacts, and documents that help us piece together the stories of Istanbul of old.
But with a history as long and varied as Istanbul's, one museum is not enough to contain everything, so the Istanbul Archeological Museums is split between three different museums, all within the same complex.
In this guide, we will share with you everything you need to know about the Istanbul Archeology Museums, including what there is to see and what makes each museum important.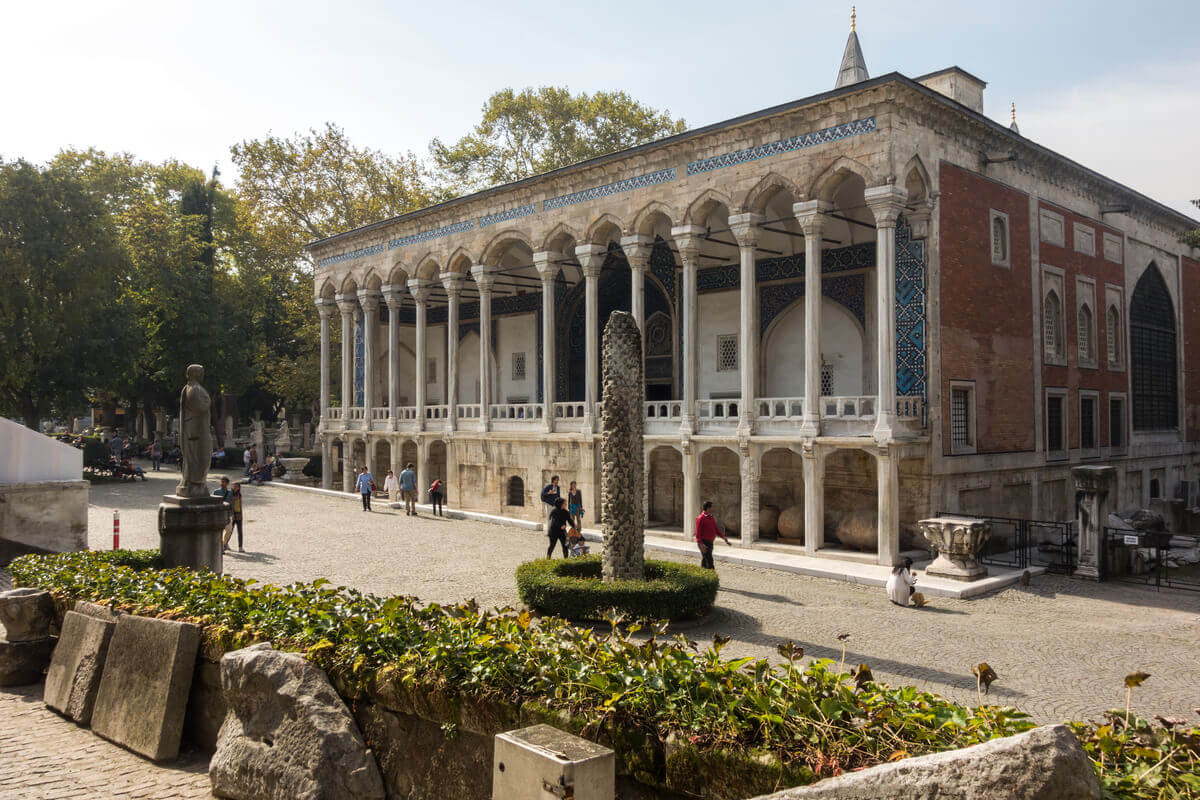 Planning a trip to Istanbul last-minute?
Make sure you book your tours, places to stay, and airport transfers ahead of time to ensure availability!
Here is our recommended airport transfer in Istanbul:
Here are our recommended tours in Istanbul:
Here are our recommended places to stay in Istanbul:
Magnuara Palace Hotel (Gorgeous hotel in the historic centre!)
Cheers Hostel (Budget hostel near the Blue Mosque!)
About the Istanbul Archeological Museums
Hours: 9.00am – 18.30pm (box office closes at 17:30)
Entrance fee: 100 TL
Address: Alemdar Caddesi,Osman Hamdi Bey Yokuşu,Gülhane
Included on the Istanbul Museum E-Pass? Yes
The Istanbul Archeology Museums first opened their doors in 1869, after the Ottoman Sultan Abdülaziz visited the archaeological museums in Paris, London, and Vienna and decided it was time for one to be formed in Istanbul.
It was then that he turned the Church Hagia Irene into the "Müze-i Hümayun" or "Imperial Museum" in English. It became the first museum in Turkey.
But Hagia Irene was not built to be a museum and due to space constraints, the museum and its collection had to move. Its collection was transferred to the Tiled Kiosk, a pleasure palace for Sultan Mehmed II, between 1875-1891.
Meanwhile, the museum's first curator was Osman Hamdi Bey, a painter and archeologist, and son of the Ottoman Grand Vizier, was appointed in 1881. He was an accomplished artist for his time, and in 2019, his painting Girl Reading the Quran sold for £6.3 million.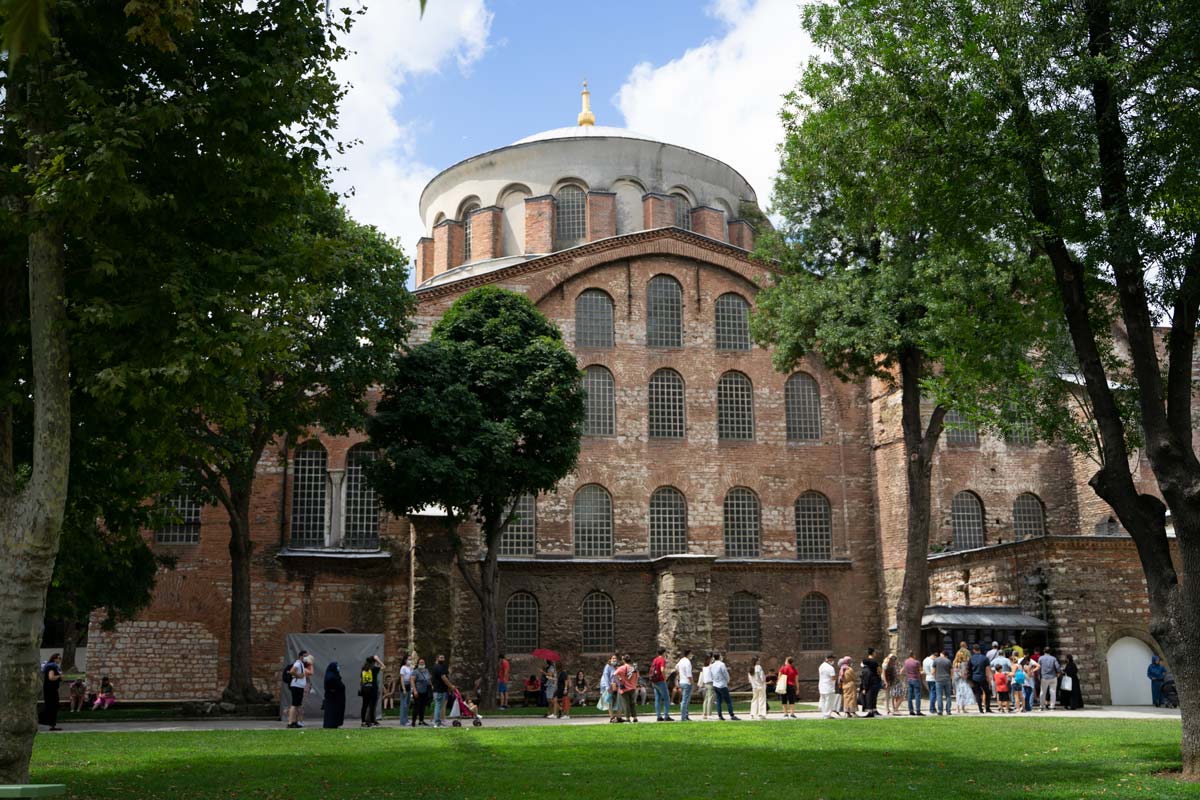 The construction of the main building of the Istanbul Archeology Museums started in 1881 and was officially opened to the public in June 1891. It was designed by the architect Alexander Vallaury, and draws inspiration from the Alexander Sarcophagus and Sarcophagus of the Mourning Women, which both reside in the museum.
Osman Hamdi Bey also commissioned the construction of The Museum of the Ancient Orient in 1883 which was intended as a fine arts school. It was reorganized and opened as a museum in 1935.
Today, the three museums under Osman Hamdi Bey have been grouped together as one institution, and are still considered the top places to visit to appreciate Turkey's culture and historic evolution.
The museums can be found in the Eminönü quarter near Gülhane Park and Topkapı Palace.
The Three Istanbul Archeological Museums
Now you know a little bit about how these museums in Istanbul came to be, here's some more information about each museum in the Istanbul Archeological Museums complex…
Istanbul Archeology Museum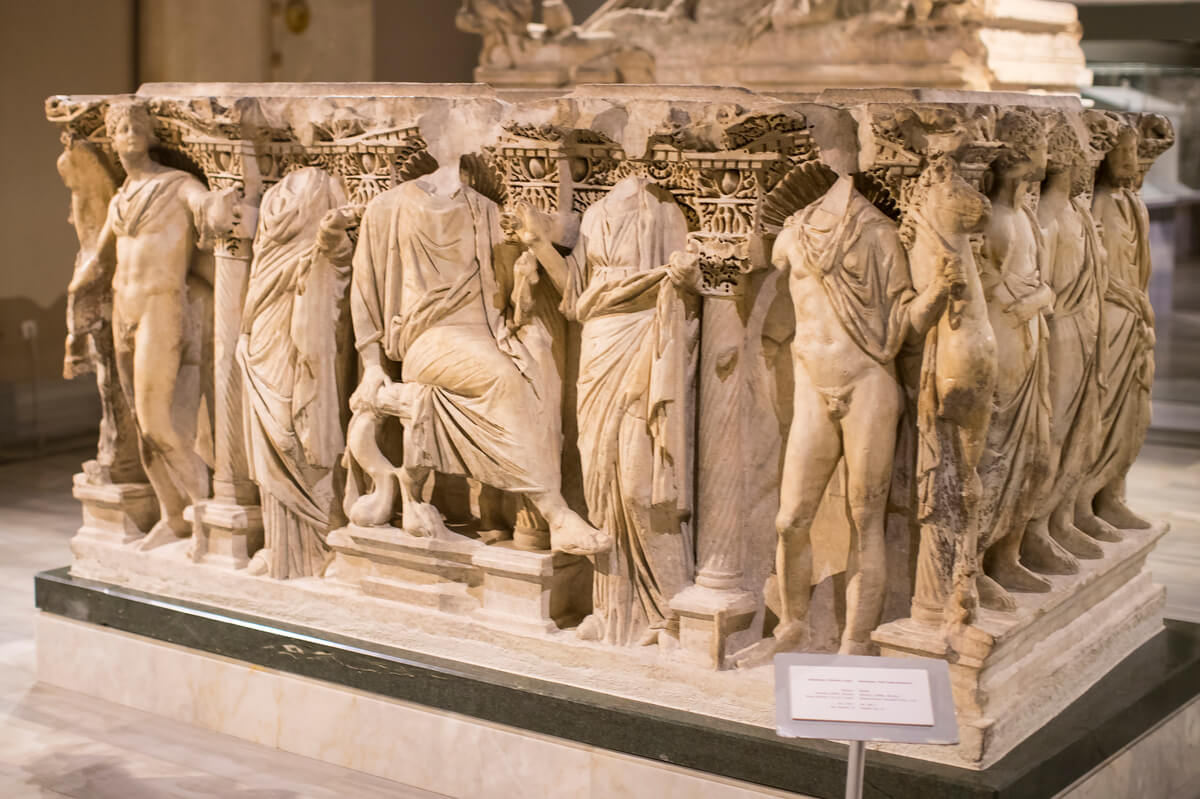 Istanbul's Archeology Museum is a paradise for those interested in history. Containing around 1 million artifacts from ancient cultures, visitors can spend hours there exploring and learning here.
The museum has displays from the Greek, Roman, and Ottoman Empires, as well as smaller Egyptian, Byzantine, Mesopotamian, Arabic and Anatolian cultures.
It's also home to some of the most important artifacts in Turkey's history, including The Alexander Tomb, the resting place of Alexander the Great, as well as other funeral pieces. It also has a vast collection of coins, medallions, decorations, and a whole library of books from the Ottoman period.
Another highlight of the museum is the Troy exhibit, which contains a collection of classical statues and a Thrace-Bithynia.
There are numerous galleries within this vast museum with photo exhibitions, archaeological site diagrams, educational videos, and more.
It's no wonder that Istanbul's Archeology Museum continues to attract an increasing number of visitors each year to explore its astonishing cultural wealth.
The Museum of the Ancient Orient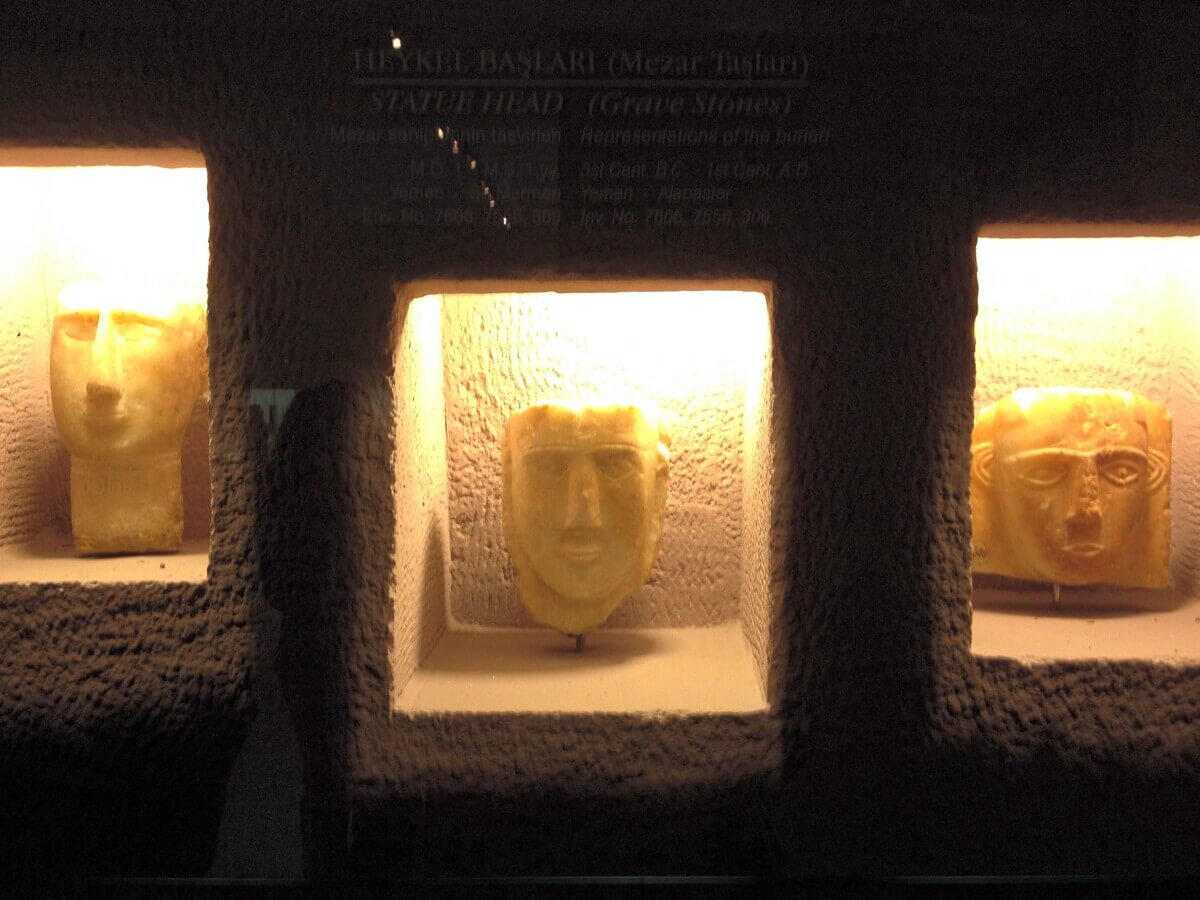 The Ancient Orient Artifacts Museum is a treasure trove of cultural history and one that should be on everyone's list.
The impressive museum which was first opened as a fine art school contains a vast array of artifacts from Mesopotamia, Egypt, and Anatolia
Visitors have the opportunity to observe iconic ancient carvings, statues, jewelry, scarabs, sarcophagi, and pottery pieces dating back to the prehistoric period.
Some notable pieces in the museum are the statue of Shalmaneser III (858-824 BCE), the Assyrian king, and a large glass box containing an Egyptian Grave with two coffins, mummies, and canopic jars used to store the organs of the mummified bodies.
Tiled Kiosk Museum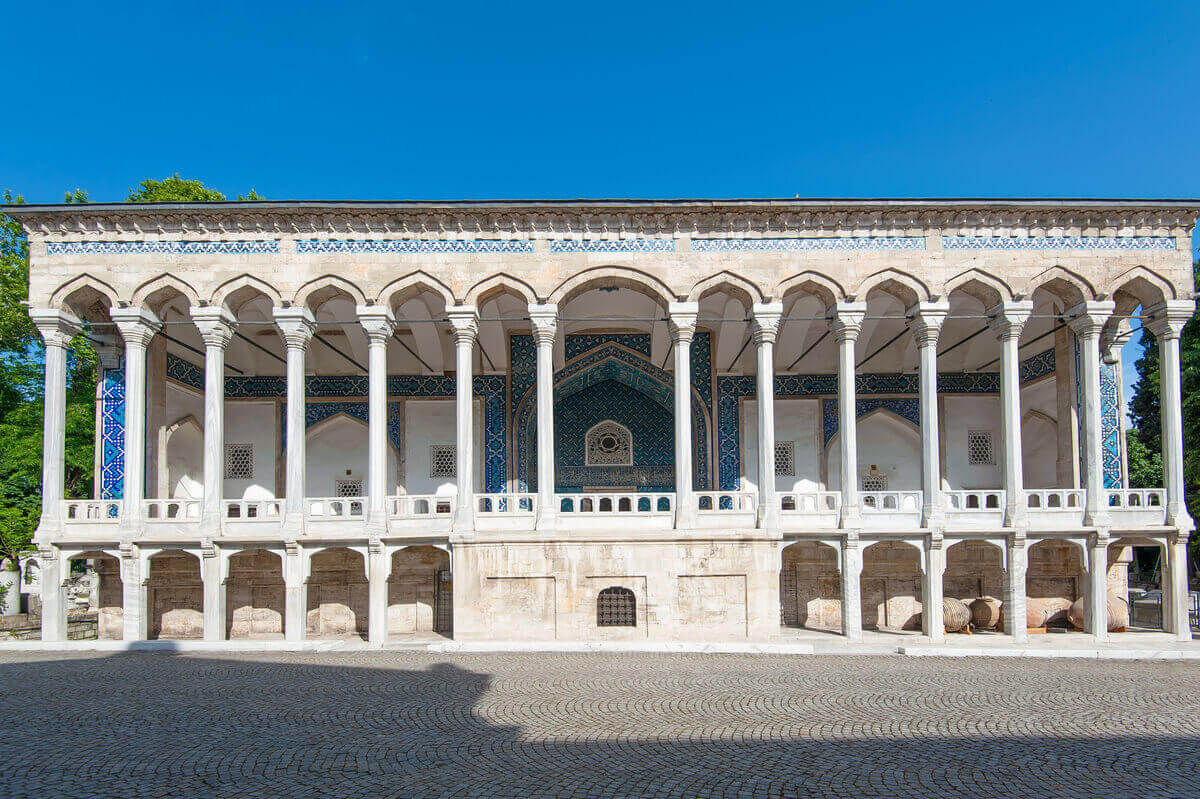 The Tiled Kiosk Museum is a magnificent structure and the oldest building in the complex dating back to 1472 CE. It contains an impressive collection of tiles and ceramics, which showcase some of the oldest Islamic art and architecture from around the Ottoman realm.
Inside this two-floor edifice, visitors can delve into a world of geometric patterns and colorful tilework.
There are also artifacts on display such as ceramics and textiles that provide insight into the historical culture of Istanbul.
Beyond admiring the collections inside, visitors can also tour the palace garden located next to the museum building – it's a tranquil spot where locals come to relax and enjoy spectacular views of the Bosphorus Strait.
The Tiled Kiosk Museum offers a great opportunity to explore centuries of history right in the heart of Istanbul which makes it an unforgettable experience!
How to Get to Istanbul Archeological Museums
Located in the buzzing Sultanahmet district, the Istanbul Archeological Museums are very easy to get to.
You can get here easily by tram. The nearest stop is Gülhane istasyonu (T1 line), and then walk for roughly 5 minutes across the park.
If you plan to take the metro, you will need to take it to Marmaray Sirkeci İstasyonu and walk for 10 minutes.
By taxi, ask your driver to take you to Gülhane Parki and from there you can walk for 5 minutes.
FAQs About the Istanbul Archeological Museums
Here's what people usually ask us about the Istanbul Archeological Museums…
How long does it take to see all the Istanbul Archeological Museum?
Depending on your interests and what fascinates you, it can take anywhere from 2-4 hours to see it all. You should definitely plan to spend at least half a day exploring them all.
Is it one ticket for all the Istanbul Archeological Museums?
You can purchase separate entrance tickets or you can purchase a combined ticket for 100 Turkish Lira.
When are the Istanbul Archeological Museums open?
They open daily from 9.00am – 18:30pm with the box office closing at 17:30pm. The hours may differ in the winter and on public holidays.
Final Word on Istanbul Archeology Museums
Istanbul Archaeological Museums are a must-see for any traveler to Istanbul.
Within them, you can explore the rich history of the city, from the Ancient Greek Period through the Ottoman Empire.
Its expansive collection of artifacts provides an in-depth view of Istanbul's culture and past civilizations, with everything from coins and pottery to exotic sculptures and frescoes.
With over 1 million artifacts to check out, it's easy to spend an entire day exploring these three different museums and their detailed exhibits.
Regardless of history knowledge, visiting the Istanbul Archaeological Museums is surely a worthwhile experience for anyone!